This lentil vegan taco salad is one of those meals that I love making. I have my favorite additions, but it is so versatile that it's a hit with everyone in the family.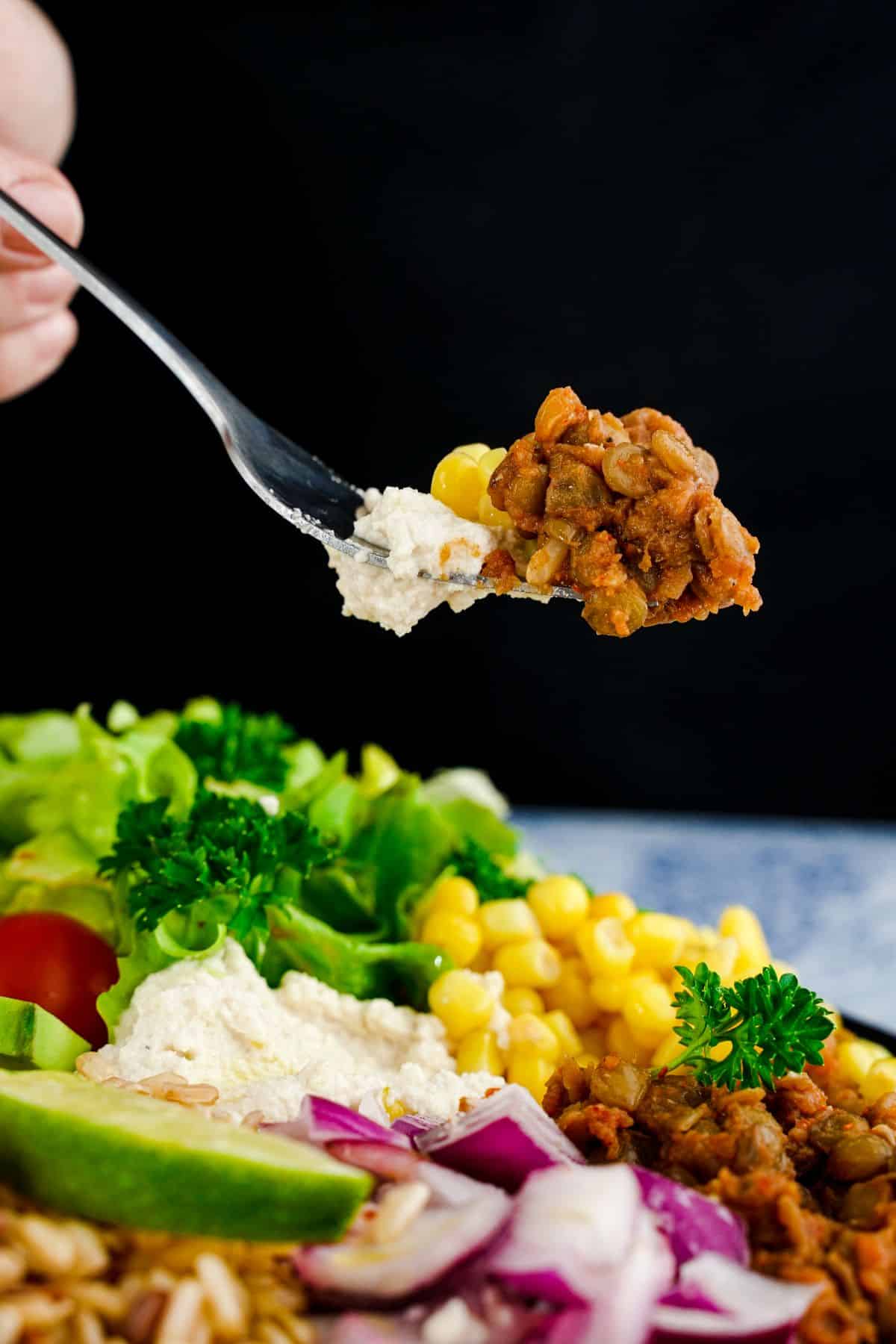 A simple but flavorful Americanized version of a taco - what's not to like about that?
If you like this, you might also want to try our Mexican chopped salad recipe. Great flavors and tons of vegetables in every bite.
Jump to:
Ingredients
This recipe has three distinct portions to prepare. The actual salad portion, the lentil "meat", and vegan sour cream. They are separated for your convenience below. You can see the quantities needed in the recipe card below.
For the salad:
Lettuce
Cooked brown rice
Whole kernel corn
Cherry tomatoes
Avocado
Onion
Cilantro
Lime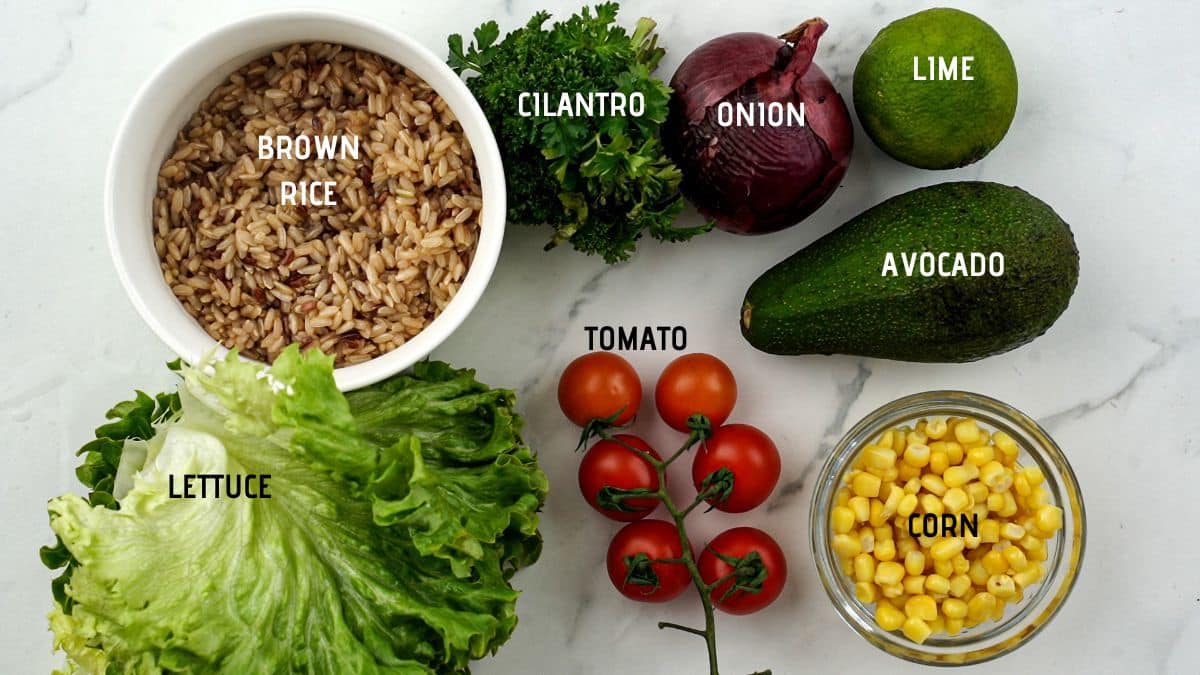 For the cashew sour cream:
Cashews
Water
Lemon juice
Apple cider vinegar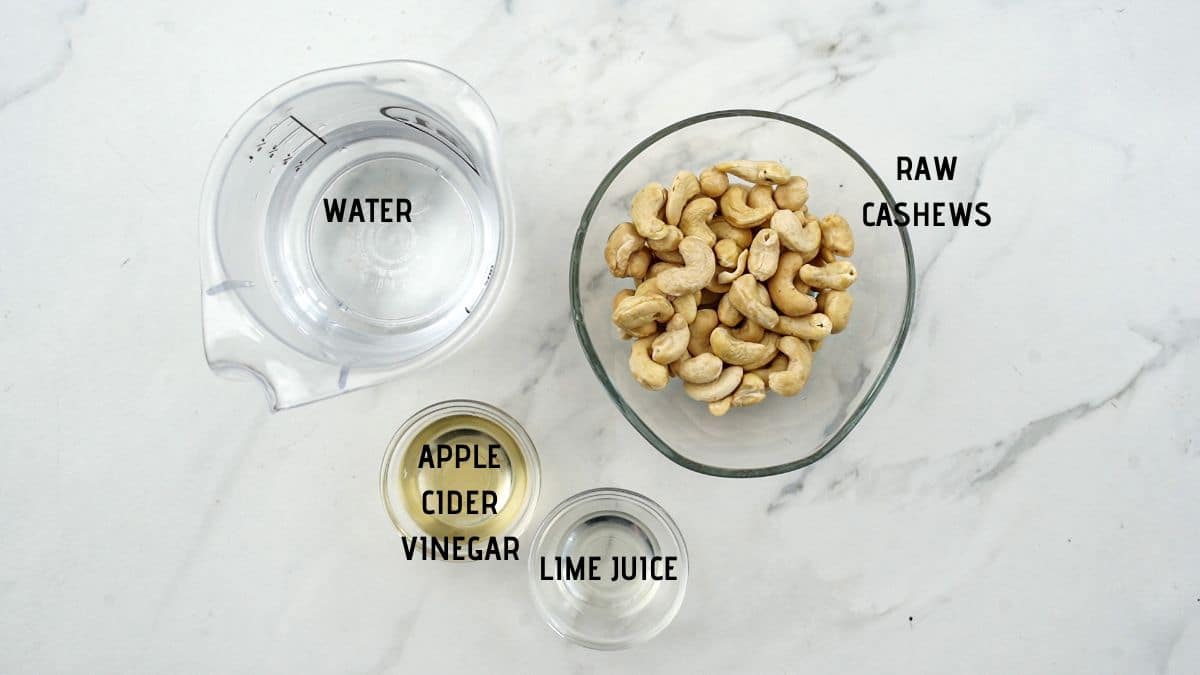 For the lentil taco meat:
Lentils
Chili powder
Garlic
Cumin
Salsa
Smoked paprika
Salt
Black pepper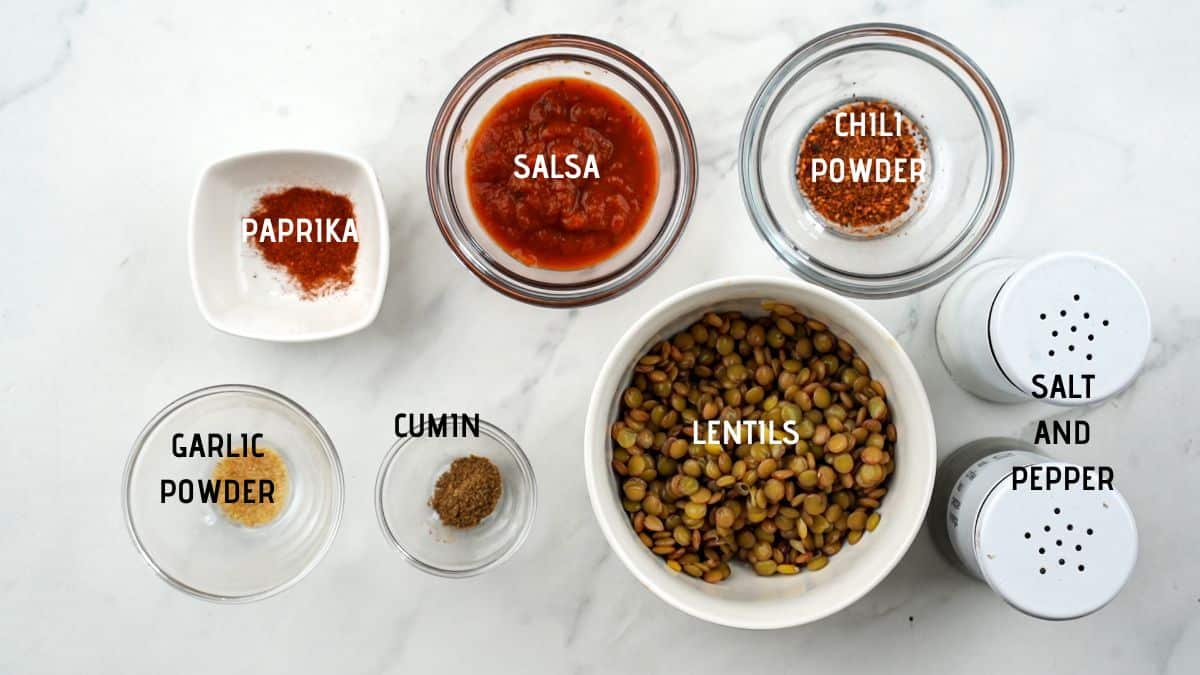 Instructions
Begin by preparing the "meat" for your taco salad. In a medium saucepan, add the lentils and 1 ½ cups of water. Bring to a boil and cook for 10 minutes, until the lentils are soft and the water has evaporated.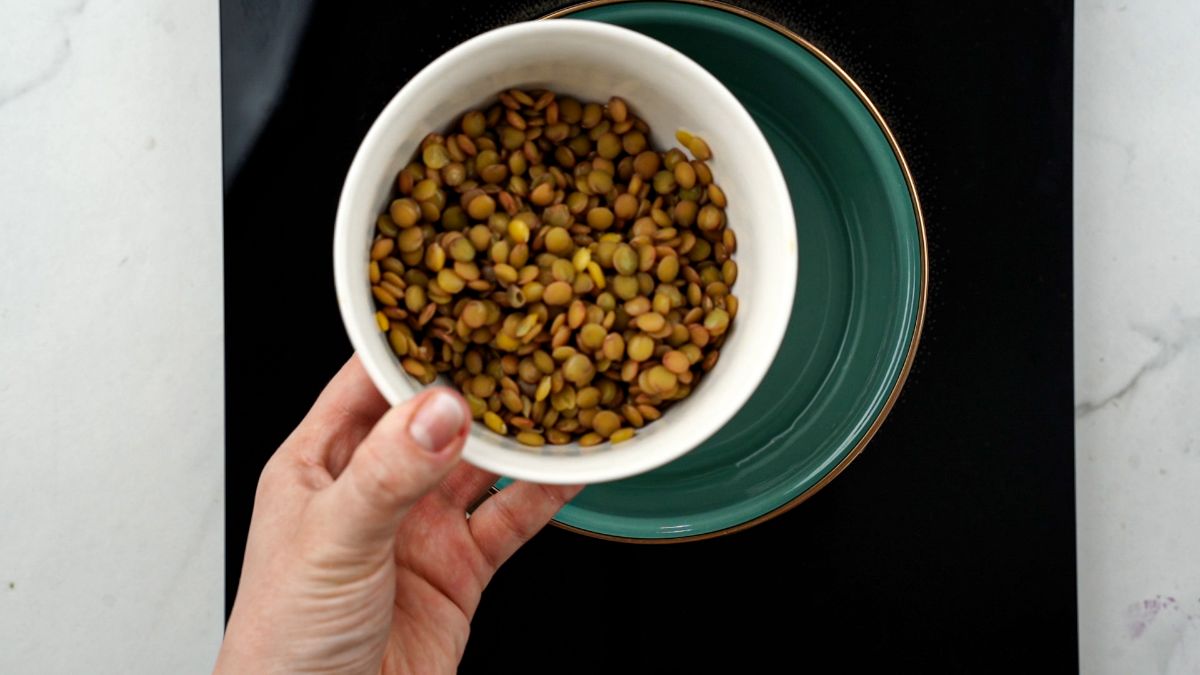 Once they are cooked, stir in the chili powder, garlic, cumin, salsa, paprika, salt, and pepper. Stir this together and cook for another 3 to 4 minutes, then remove from the heat and set aside.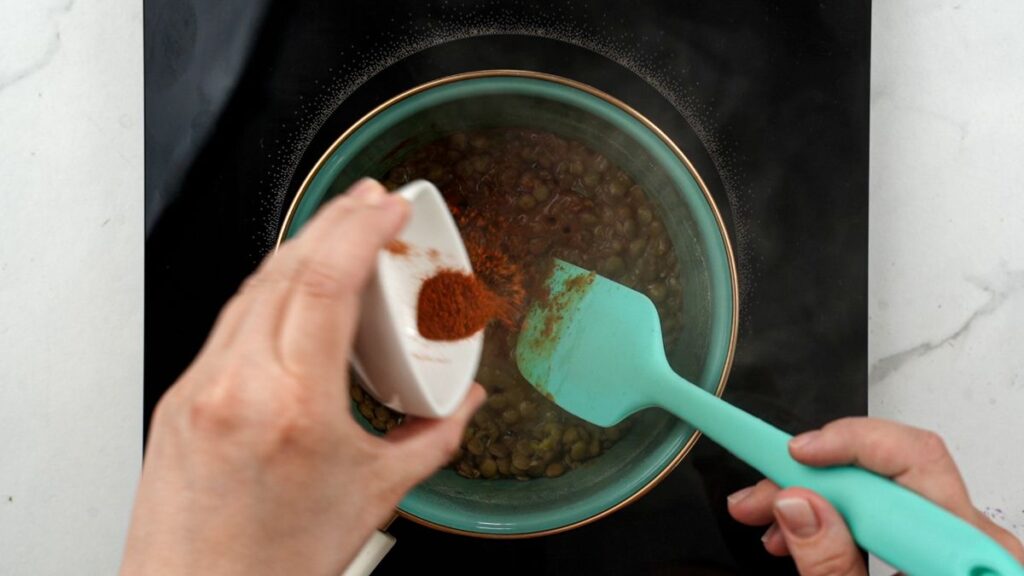 Next, you will place your soaked cashews, water, lemon juice, and apple cider vinegar into a food processor and pulse until the cashews are blended into a smooth sauce.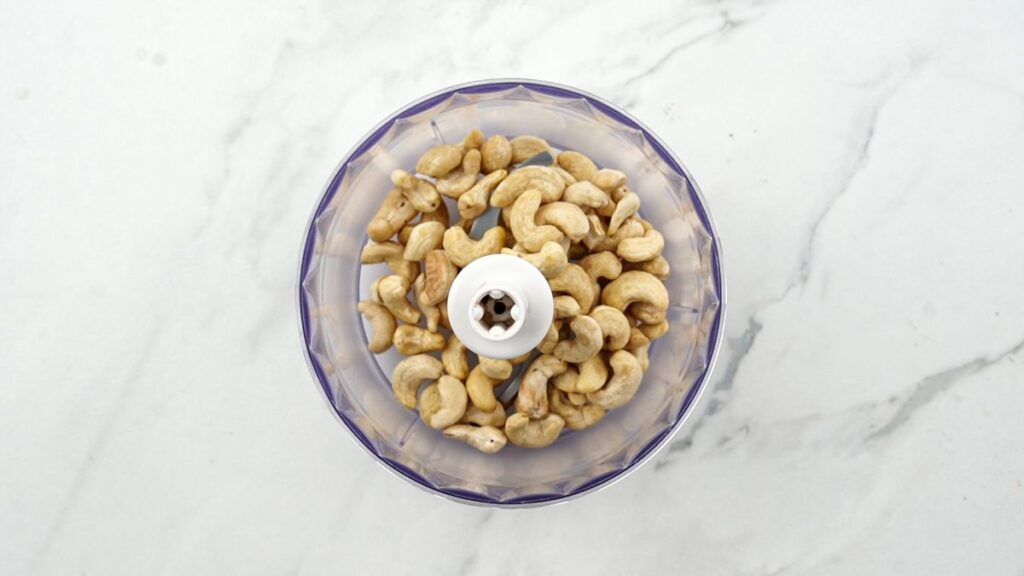 Now you will prepare your vegetables and assemble your salad.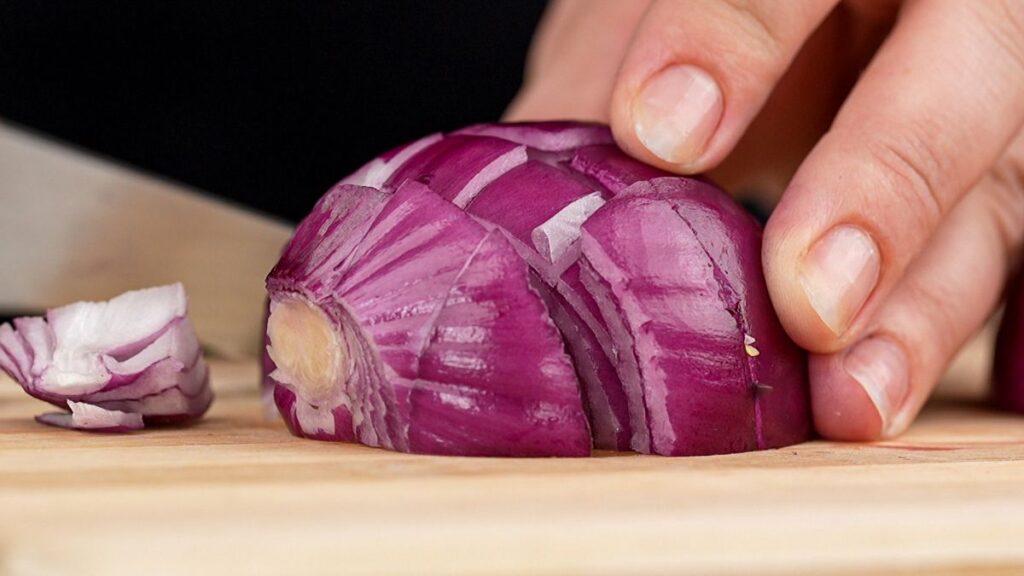 I like to put lettuce in a bowl, then add the vegetables, then some rice, and lastly the lentils. A spoon of vegan sour cream on top along with fresh lime on the side and it is ready to serve.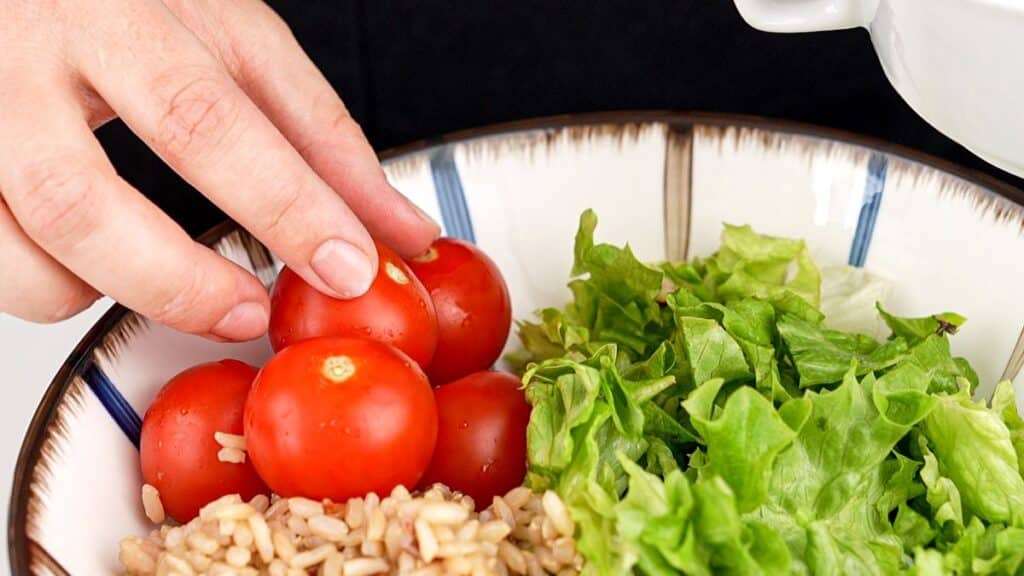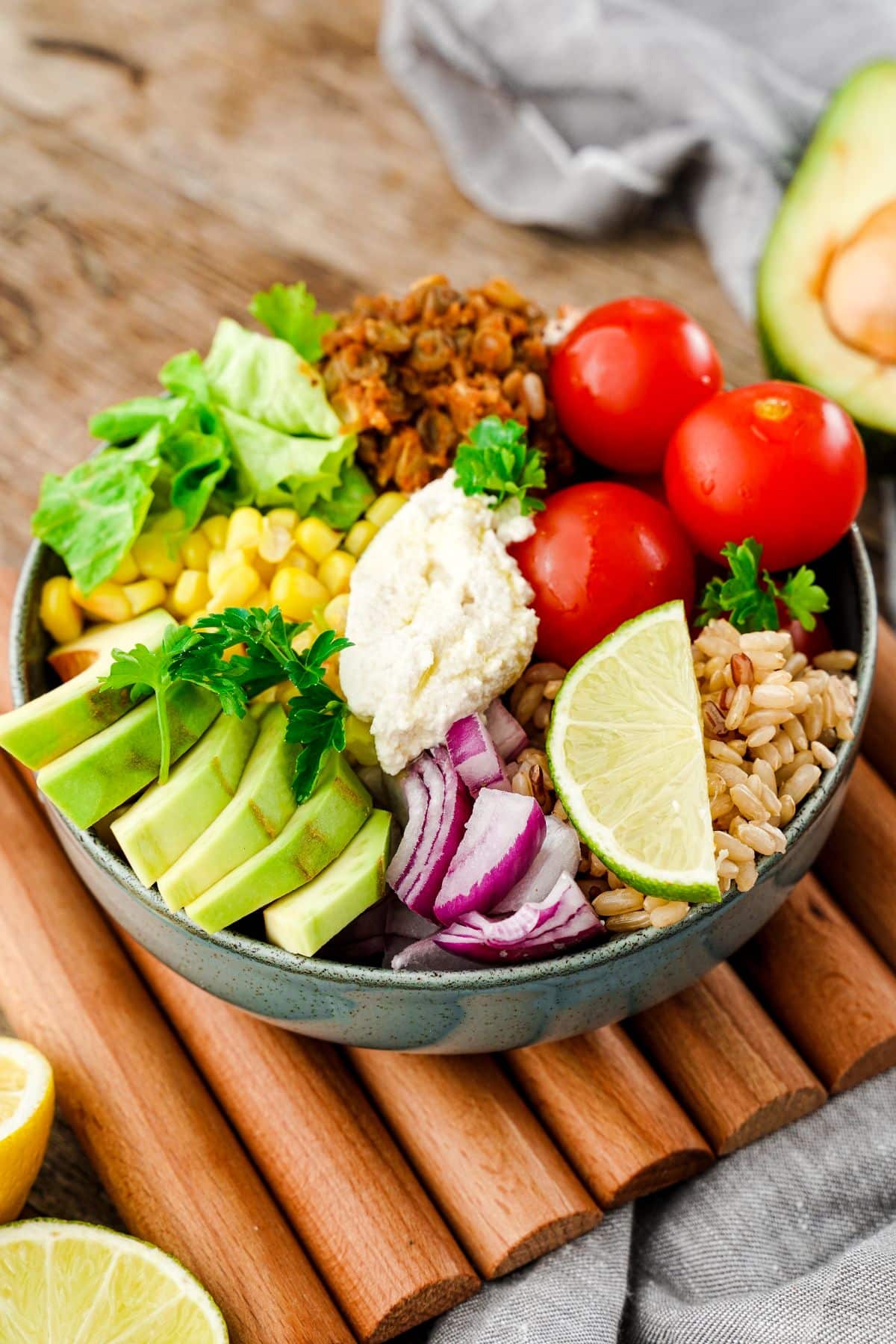 Hint: If cooking lentils from dry, do so in large batches. Let them cool then divide them into 1-cup portions and place them into freezer bags. These can be frozen for up to 4 months, and are great for pulling out and adding to meals.
Substitutions
Don't have all of these ingredients on hand? Don't worry! There are lots of options that fit into this recipe. A vegan taco salad is super versatile and easy to adjust to what you have on hand. Check out the tips below for ideas.
Instead of lettuce, try using kale or spinach as your base
If you don't have brown rice, white rice or quinoa would also work well
Swap out the cherry tomatoes for diced bell peppers or shredded carrots
Use red onion instead of Vidalia onion if you prefer a stronger onion flavor
If you're not a fan of cilantro, try parsley or basil instead
Swap out the cashews for silken tofu to make a nut-free version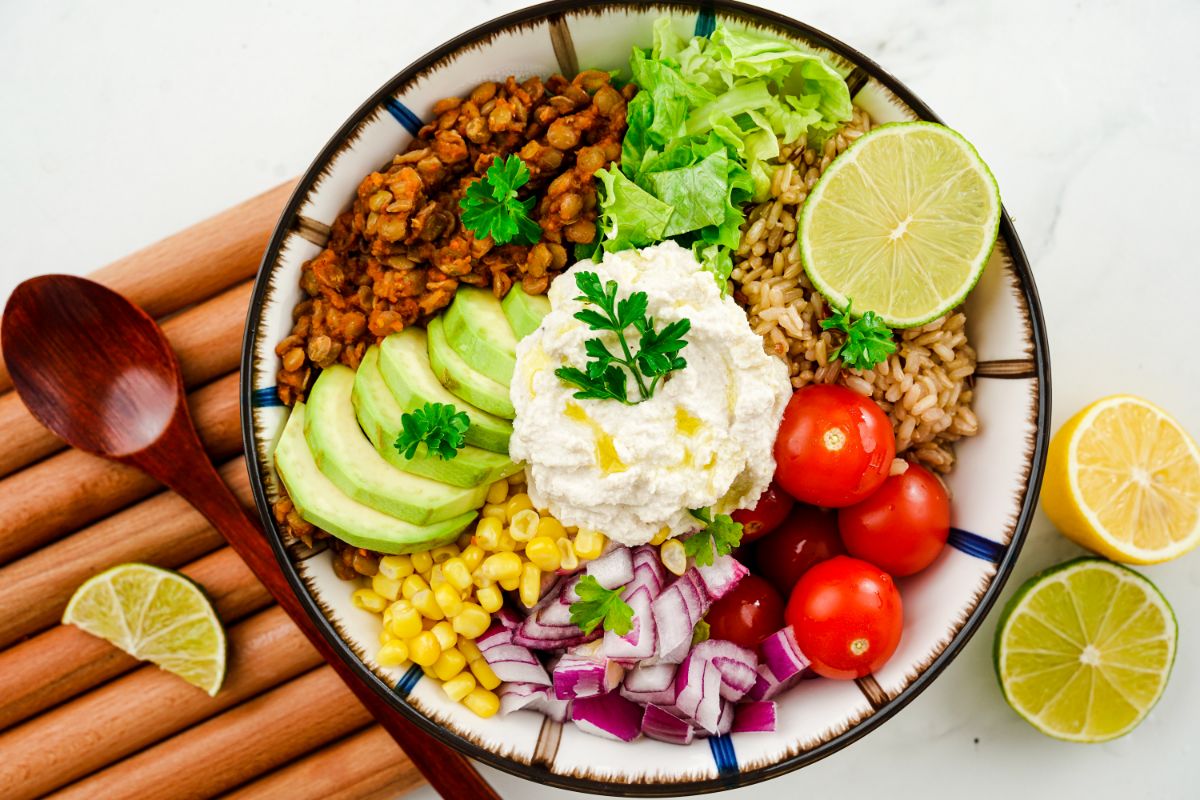 Variations
The substitutions above are great for making this when you don't have everything on hand. Below are some variations that add a different texture or flavor to the lentil taco salad.
Instead of lentils, try using black beans, chickpeas, or this homemade vegan taco meat
Top your salad with crushed tortilla chips for some added crunch
Add some heat by mixing in a diced jalapeño or hot sauce to your taco meat mixture
For a creamier salad, mix the cashew sour cream directly into the salad instead of using it as a dressing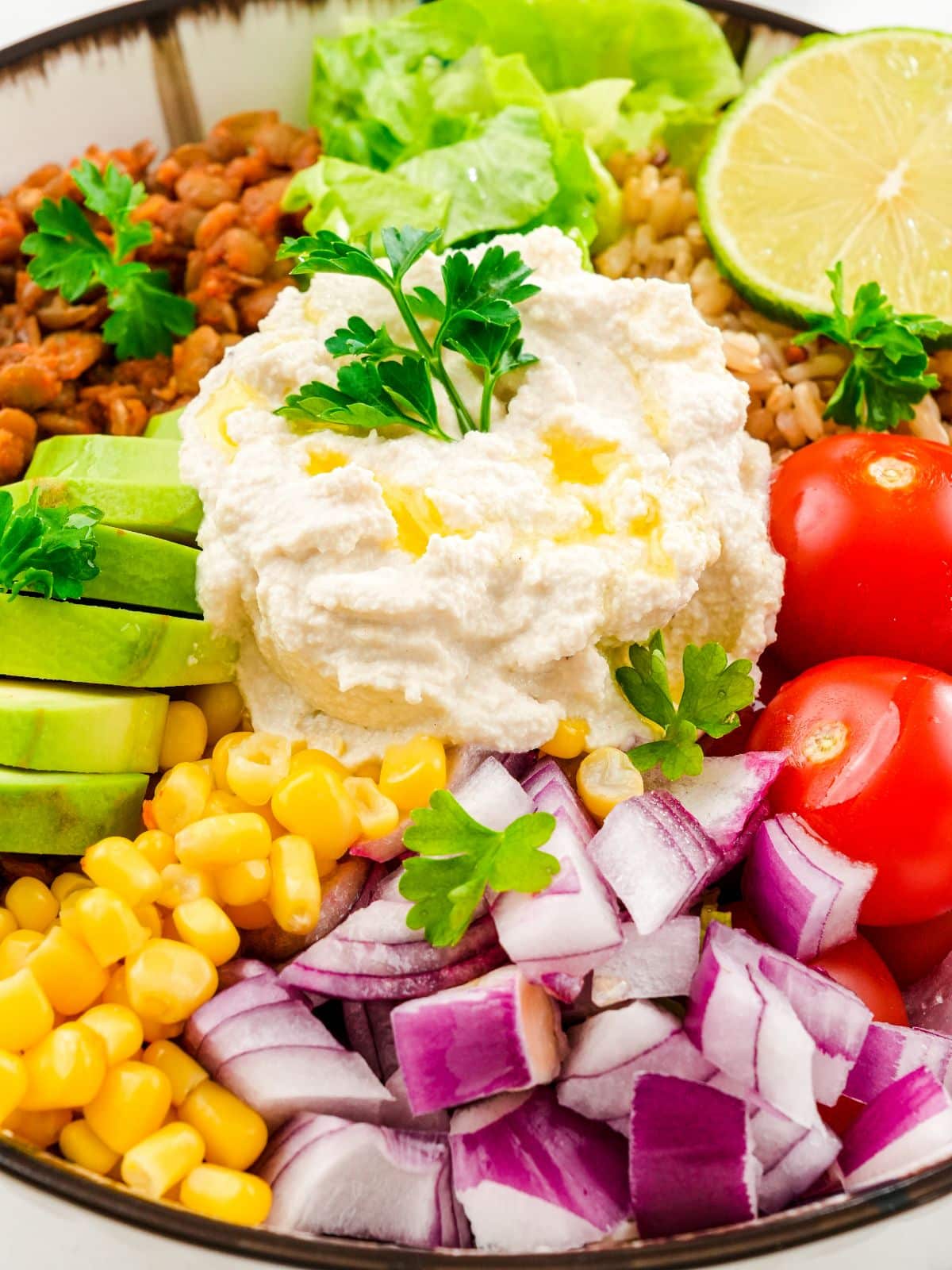 Equipment
Below are the tools used to prepare this meal. If you don't have them on hand already, I recommend adding these to your kitchen as useful options you'll need on a regular basis.
Storage
This recipe is great for making ahead of time and serving over a few day's time. I do recommend keeping all ingredients separate until it is time to assemble the salad.
Salad greens and fresh vegetables can be stored individually in your favorite refrigerator storage containers.
Lentil taco meat is good in an airtight container in the refrigerator for 5 days.
Cashew sour cream is good for up to 3 days in the refrigerator.
Brown rice can be stored in the refrigerator for up to 4 days.
Both the rice and lentil meat can be frozen for up to 3 months if needed, but can also be made in small enough portions you may prefer to just cut the recipe down to have just what you need.
Top Tip
The key to making this salad great is to make sure your lentil taco meat is well-seasoned. Taste as you go and adjust the seasoning as needed to ensure maximum flavor.
FAQ
What kind of lentils should I use for vegan taco salad?
You can use any type of lentil for vegan taco salad, but I recommend using brown lentils. They have a hearty texture that holds up well in the salad.
Can I make vegan taco salad ahead of time?
Yes, you can make vegan taco salad ahead of time. Simply cook the lentils and prepare the toppings, then store them separately in the refrigerator. When you're ready to serve, simply assemble the salad and enjoy.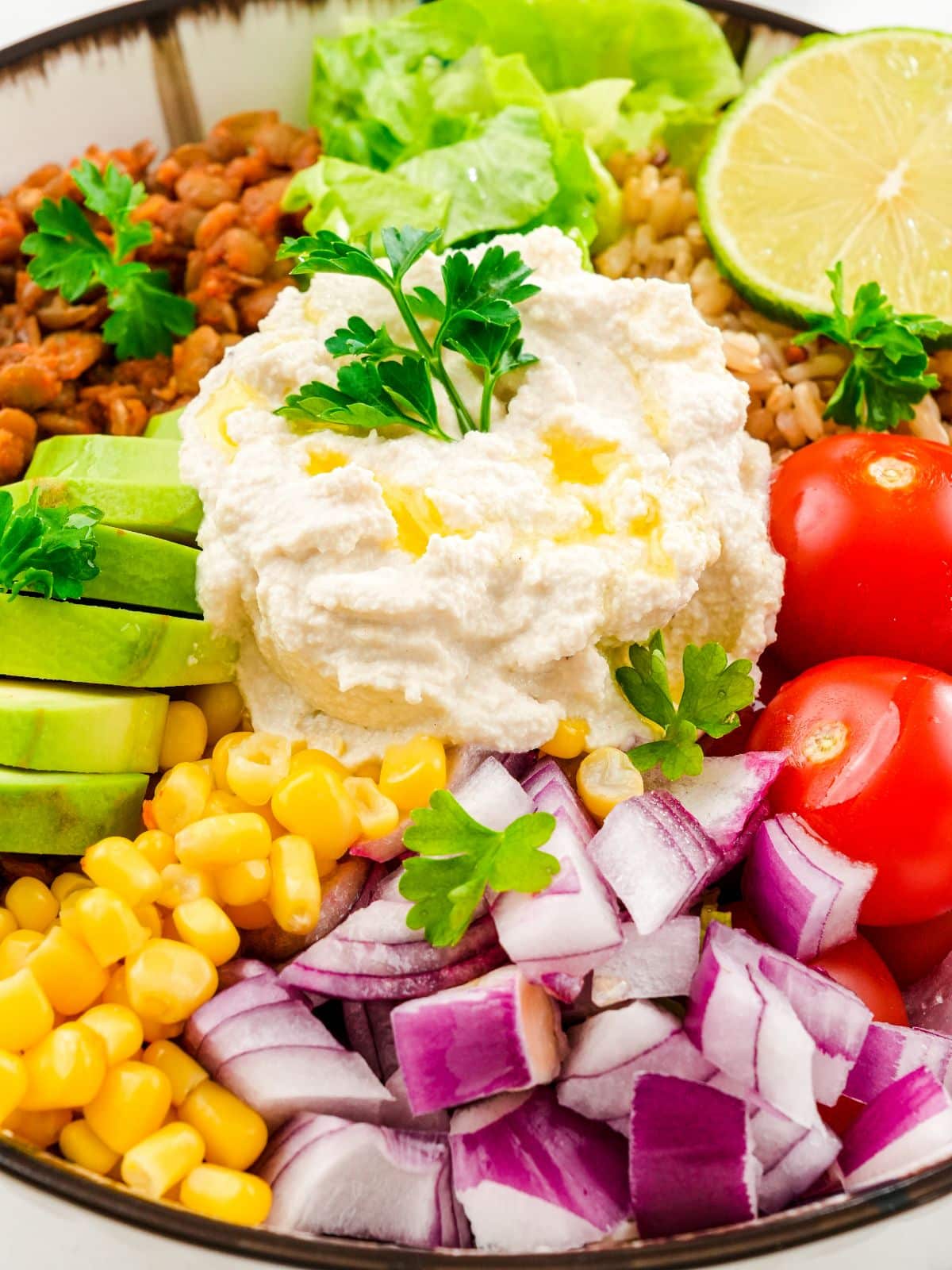 Related
If you like Mexican or Tex-Mex flavors, then you will love the recipes below. Take a look and bookmark your favorites to make soon.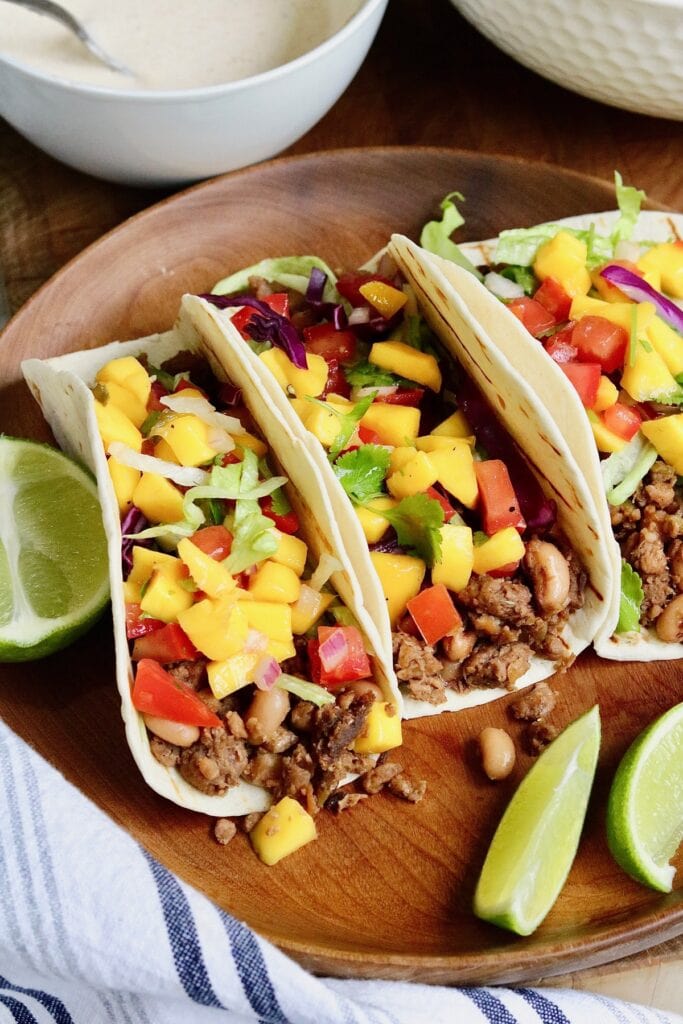 Pairing
Don't miss the recipes below! These are perfect for serving alongside this tasty lentil vegan taco salad for dinner.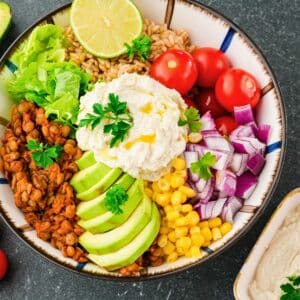 Easy Vegan Taco Salad
Looking for a healthy yet flavorful meal? Look no further than this vegan taco salad recipe, complete with lentils, avocado, and fresh cilantro. Try it today and satisfy your cravings!
Ingredients
For the cashew sour cream:
For the lentil taco meat:
Instructions
To start, get your taco salad filling ready. Take a medium-sized saucepan and pour in 1 ½ cups of water along with the lentils. Let it come to a boil and simmer for 10 minutes or until the lentils are soft and the water has evaporated.

After cooking, add chili powder, garlic, cumin, salsa, paprika, salt, and pepper to the lentils. Mix everything well and cook for an additional 3 to 4 minutes. Then, take it off the heat and set it aside.

Now, it's time to make the cashew sauce. Place soaked cashews, water, lemon juice, and apple cider vinegar in a food processor and blend them until they turn into a smooth sauce.

Once the filling and sauce are ready, move on to assembling your taco salad. Take a bowl and start with a layer of lettuce, then add in the vegetables and rice, followed by the lentils. Drizzle the cashew sauce on top and add a dollop of vegan sour cream. Serve with a slice of fresh lime.
Notes
Prepare lentils ahead of time and season to taste just before assembling the salad to save time throughout the week.
Top the salad with guacamole, vegan cheese, salsa, or any other classic taco toppings. It's even nice with vegan Ranch dressing.
Nutrition
Calories:
515
kcal
Carbohydrates:
80
g
Protein:
17
g
Fat:
17
g
Saturated Fat:
3
g
Polyunsaturated Fat:
3
g
Monounsaturated Fat:
9
g
Sodium:
140
mg
Potassium:
1140
mg
Fiber:
16
g
Sugar:
10
g
Vitamin A:
2155
IU
Vitamin C:
27
mg
Calcium:
95
mg
Iron:
6
mg
Food Safety
When preparing food for yourself or guests, it is always a must to stay safe. Below are a few of our favorite tips for food safety in the kitchen.
Always sanitize countertops, cutting boards, utensils, and cookware thoroughly between each use.
Wash your hands in warm soapy water, rubbing for at least 20 seconds before rinsing. Remember, "FROG" means friction rubs off germs.
After serving food, allow it to cool, then place it into the refrigerator or proper storage immediately. Food should be at room temperature for no more than 2 hours for safety.