Delight in a flavorful Vegan Salmon Rice Bowl packed with plant-based goodness. This recipe features marinated tofu, and tangy miso paste, with a smoky touch.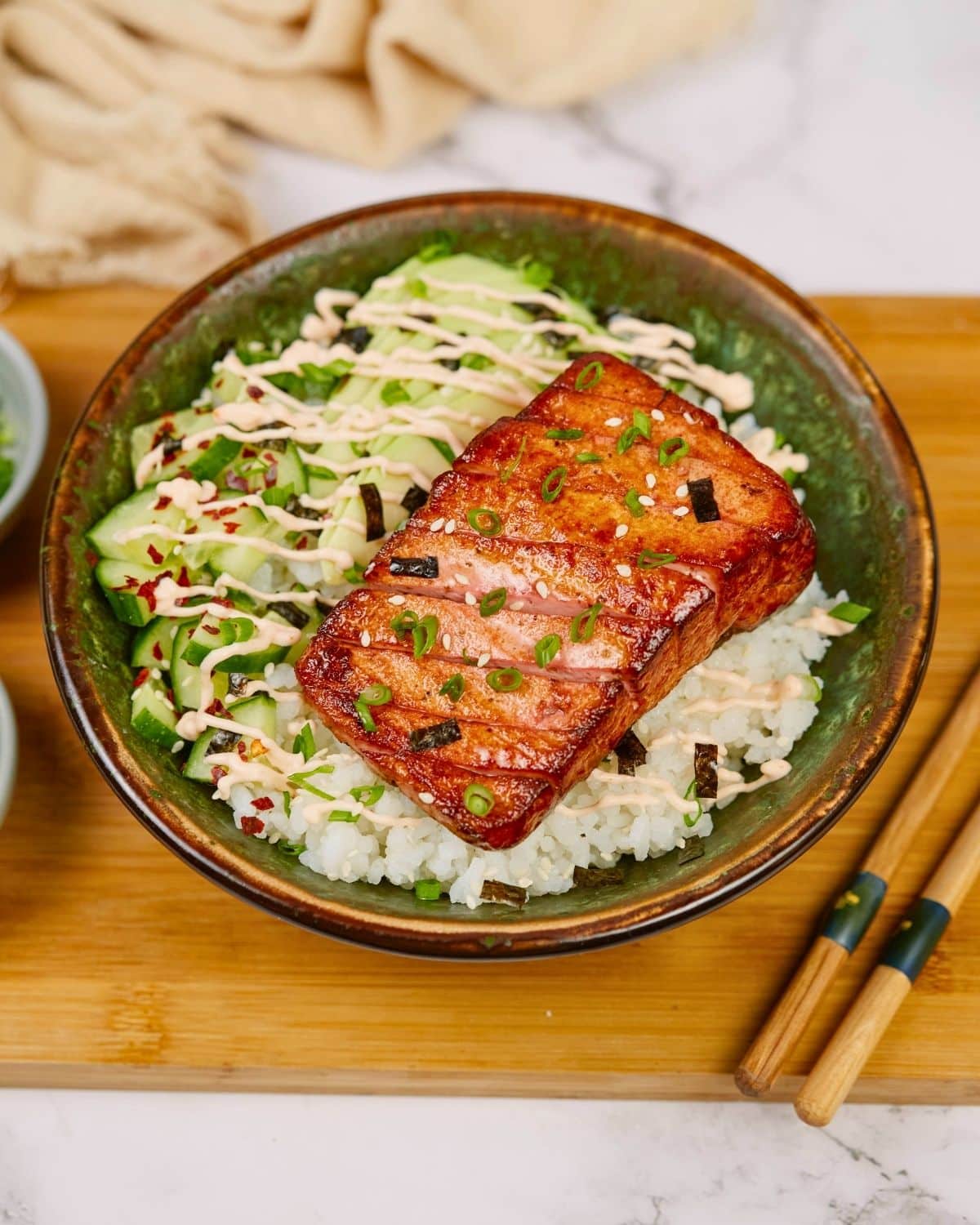 Topped with creamy avocado, sriracha mayo, and a sprinkle of sesame seeds, this bowl is a culinary delight.
If you enjoy this dish, make sure you check out our tasty sweet and sour tofu recipe too.
Jump to:
🥘Ingredients
Below you will find two ingredient lists for the vegan salmon rice bowl. The first shows how to make vegan "salmon" and the second list is all of the optional toppings. For exact measurements, see the printable recipe card at the bottom of this post.
Beet juice
Dark soy sauce
Rice vinegar
Oil
Miso paste
Liquid smoke
Water
Garlic
Nori
Paprika
White pepper
Tofu
Sushi rice
Avocado
Green onions
Sriracha mayonnaise
Sesame seeds
Chili flakes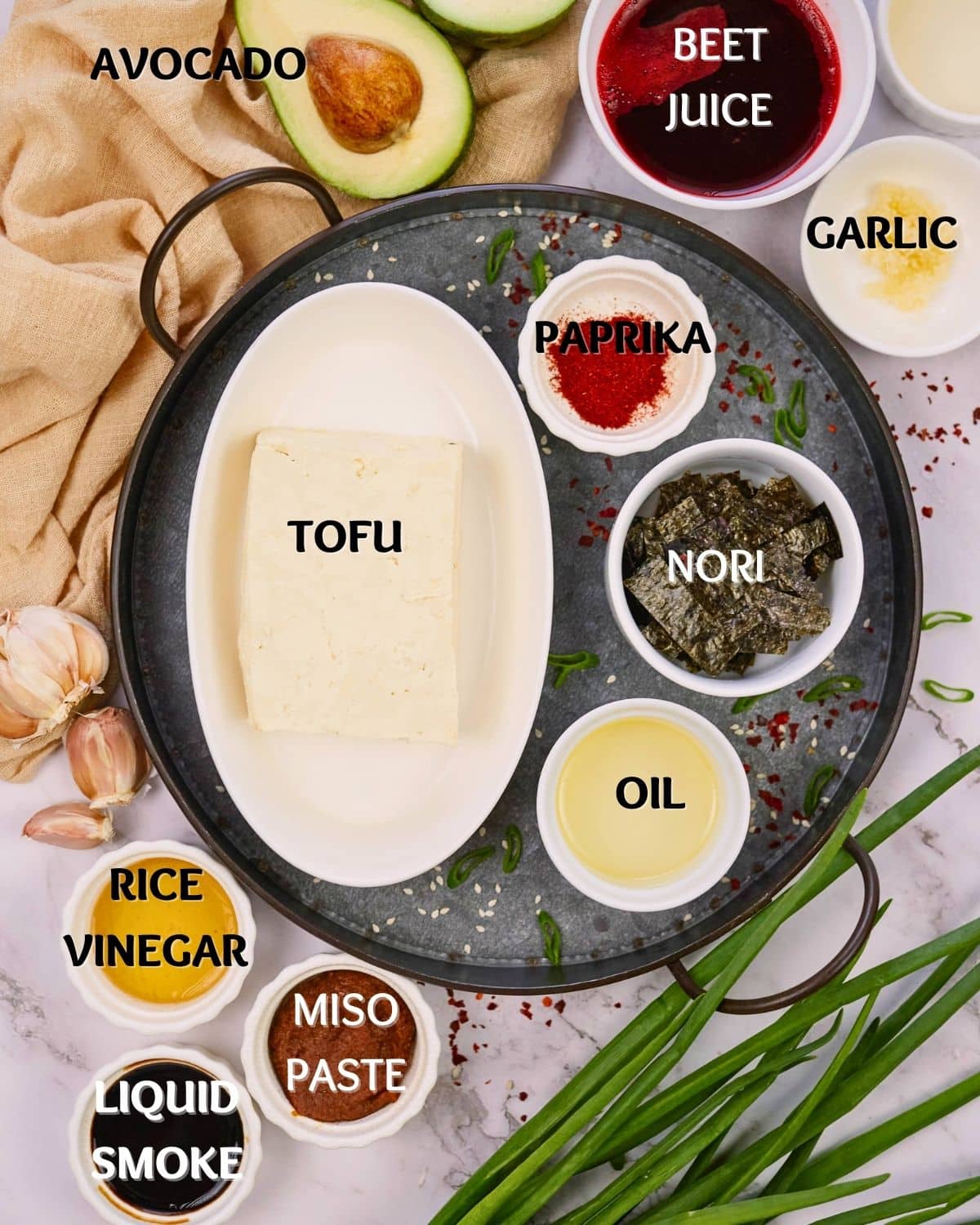 🔪Instructions
In a large bowl, whisk together the beet juice, soy sauce, vinegar, oil, miso paste, liquid smoke, water, garlic, paprika, white pepper, and nori. Whisk or blend everything to combine.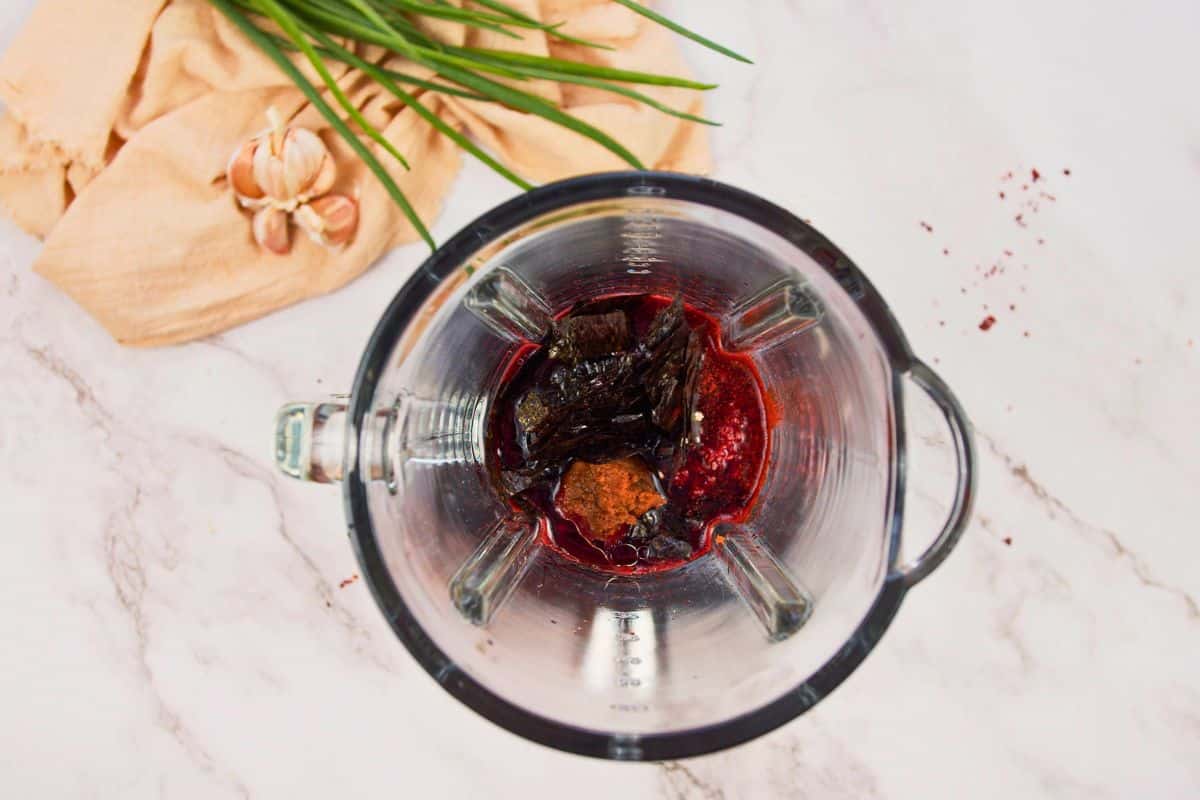 Slice the tofu into "filets" and then make cross marks over the top for the marinade to soak into. Place the tofu in a shallow bowl, and cover with the marinade. Cover and refrigerate for 2 hours, up to overnight.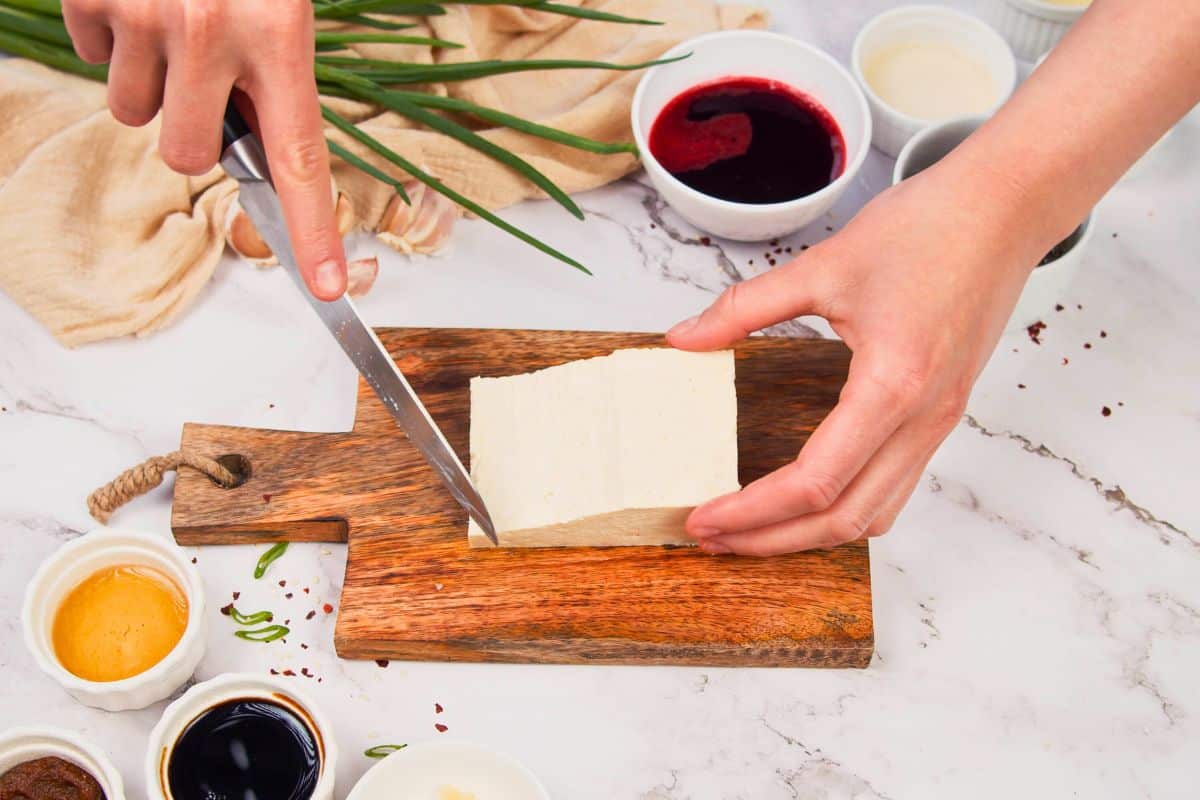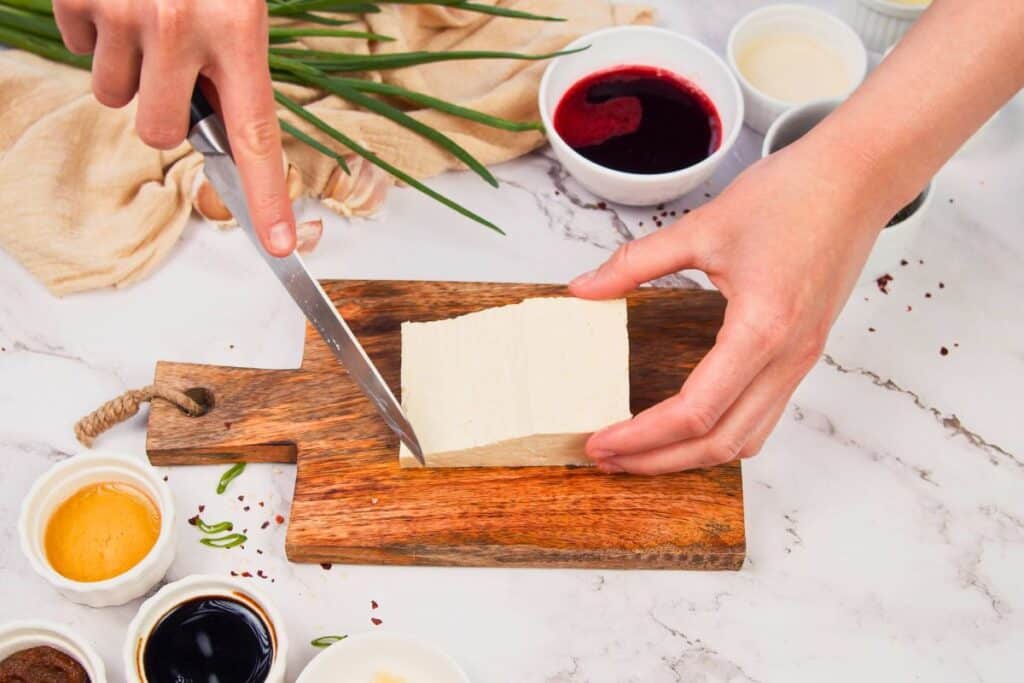 Prepare the sushi rice (according to package directions), slice the avocado, and chop the green onions. Set this aside until ready to serve.
Remove the tofu from the marinade and pat it dry with paper towels.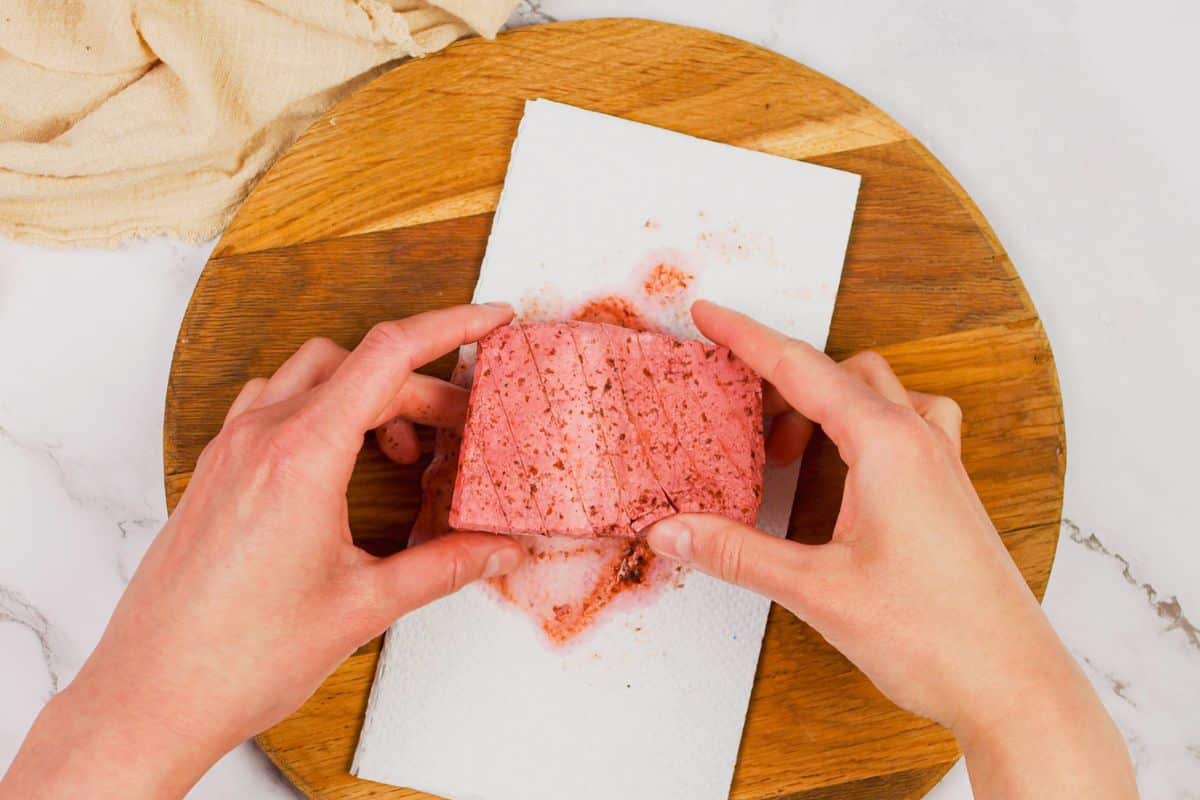 In a large skillet, add the oil over medium heat. Once hot, add the tofu slices and brown for 2 to 3 minutes per side, or until browned and crisp.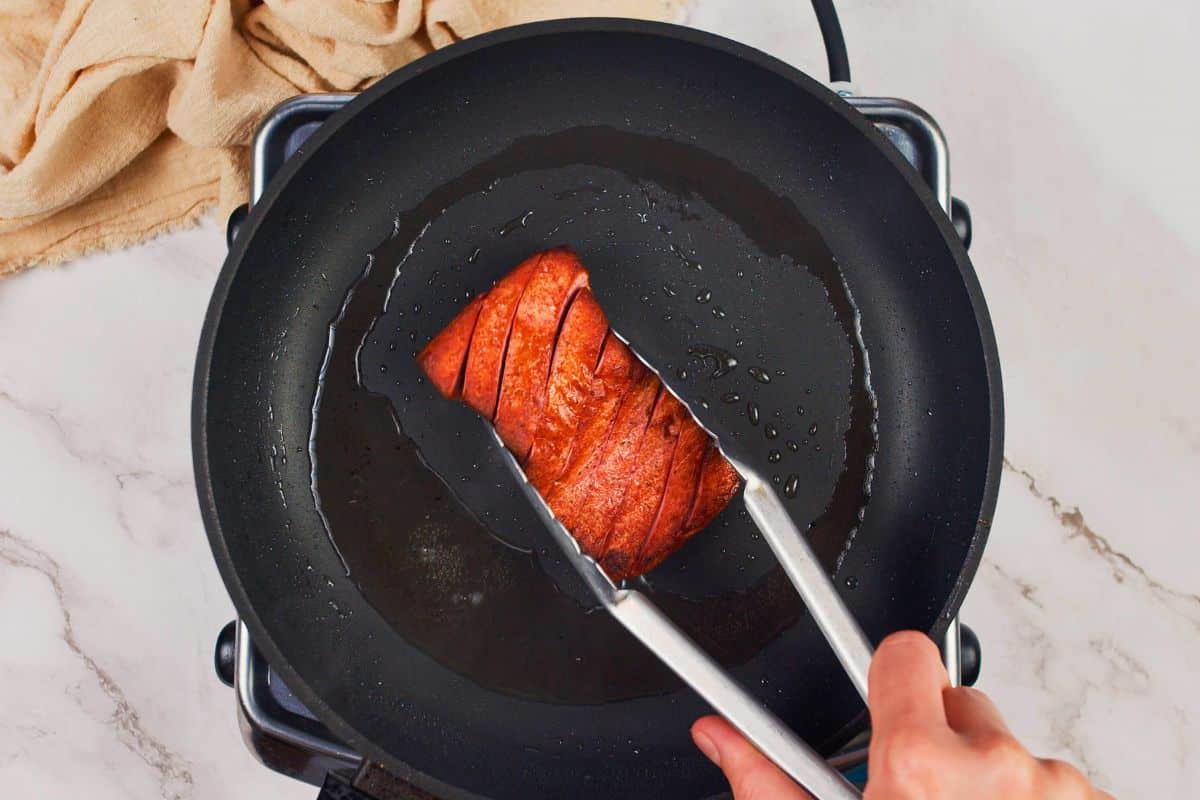 Serve the "salmon" over a bowl of rice with the sliced avocado, a drizzle of mayonnaise, sesame seeds, and chili flakes.
📋 Substitutions
If you don't have everything on hand but still want to make this dish, check out the substitutions below.
Firm Tofu: If you prefer a different protein substitute or if you have dietary restrictions, you can replace the tofu with tempeh or seitan. Both tempeh and seitan have a texture that can mimic the texture of salmon.
Rice Vinegar: If you don't have rice vinegar, you can substitute it with apple cider vinegar or white vinegar. However, note that the flavor may be slightly different.
Vegetable Oil: Any neutral-flavored oil such as canola oil, sunflower oil, or grapeseed oil can be used instead of vegetable oil.
Light Miso Paste: If you don't have light miso paste, you can use white miso paste or yellow miso paste as a substitute. The flavor profile may change slightly.
Liquid Smoke: Liquid smoke provides a smoky flavor to mimic the taste of salmon. If you don't have liquid smoke, you can omit it or add a small amount of smoked paprika for a smoky flavor.
📖 Variations
Want something even more unique? Check out the ideas below that take this to another level.
Instead of using tofu, you can use thinly sliced carrots or eggplant marinated in a similar mixture of ingredients to create a "veggie salmon."
Add some heat to your bowl by drizzling spicy sriracha sauce or adding sliced jalapeños or chili peppers as a topping.
Squeeze some fresh lemon or lime juice over the "salmon" and rice bowl to add a citrusy twist.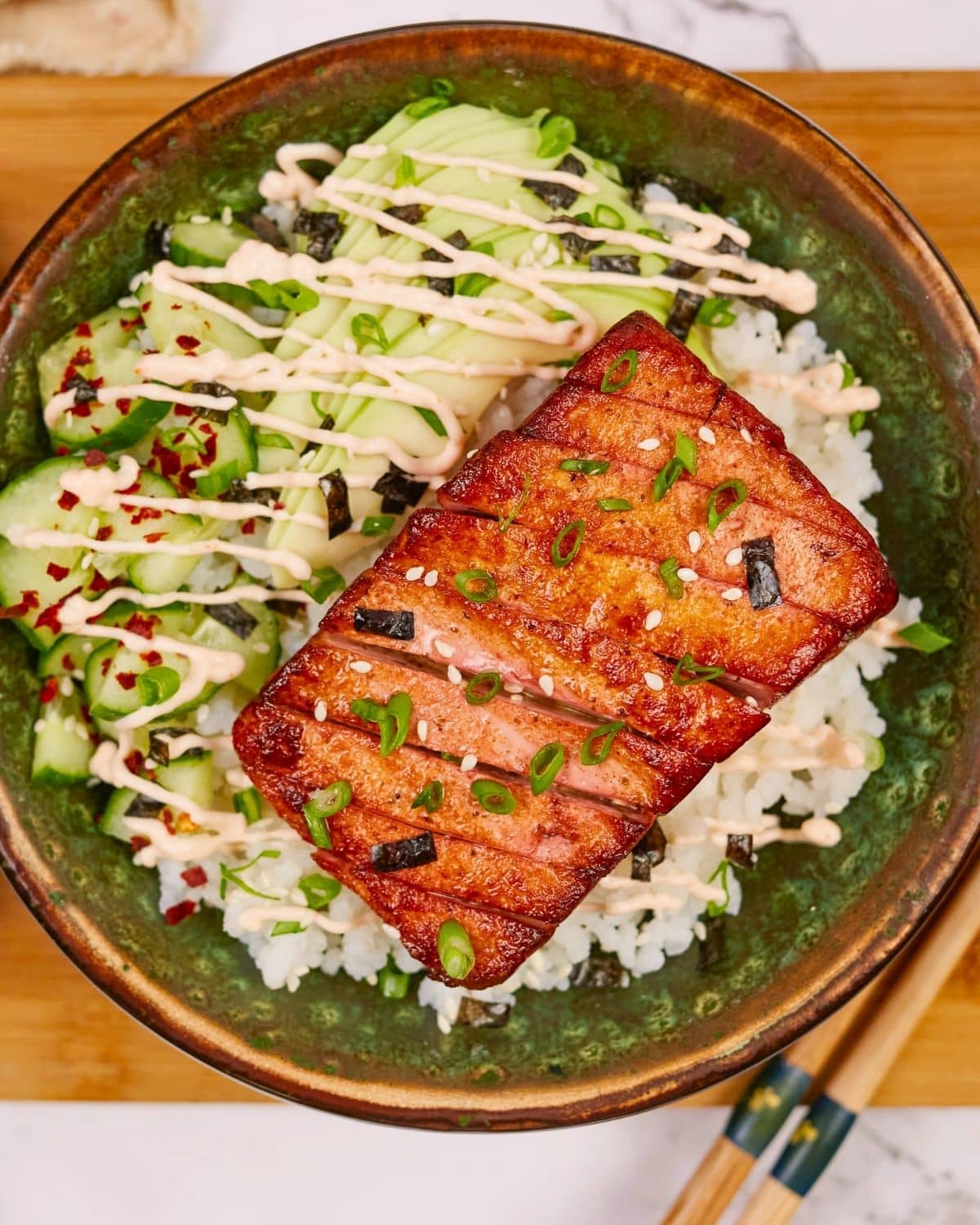 🥘 Storage Tips
If you have leftovers, you can store them in an airtight container in the refrigerator for up to 3-4 days. Keep the components separate (tofu, rice, and toppings) to maintain freshness. When ready to eat, reheat the tofu separately and assemble the bowl with fresh toppings.
🍽 Equipment
Is your kitchen fully stocked for any recipe? If not, you might want to invest in some of the tools below!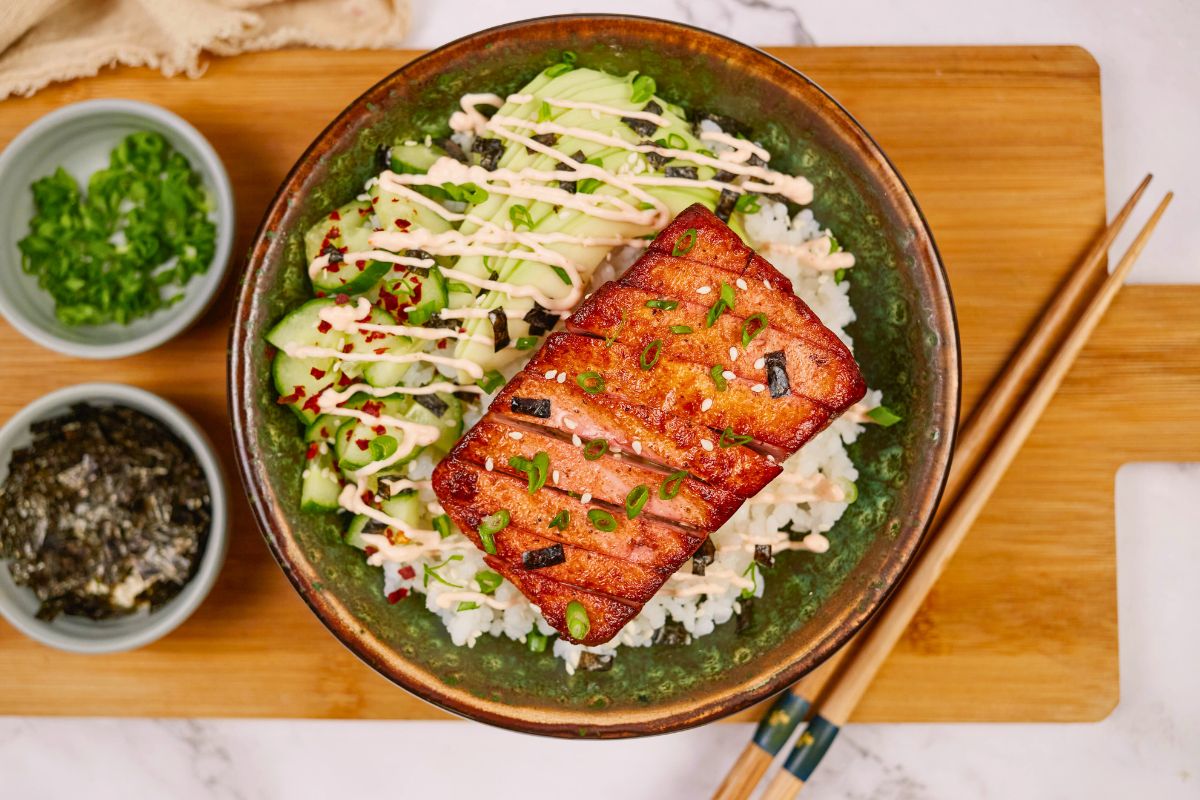 👩🏽‍🍳Top Tip
Investing in a tofu press is a great way to ensure you get your tofu ready to marinate. It removes the excess moisture and will result in a much nicer texture once cooked.
💭 FAQs
How do I get the best flavor in my tofu salmon?
Allow the tofu to marinate for at least 30 minutes to absorb the flavors fully. You can also marinate it overnight in the refrigerator for even better flavor.
What ways can I customize a vegan rice bowl?
Have a variety of toppings on hand such as avocado, scallions, chili flakes, sesame seeds, sprouts, or even chopped nuts.
Related
Want to add more recipes like this one to your menu? Check out a few favorites below and bookmark them today.
Pairing
Below are some great additions you can make and serve alongside this vegan salmon rice bowl.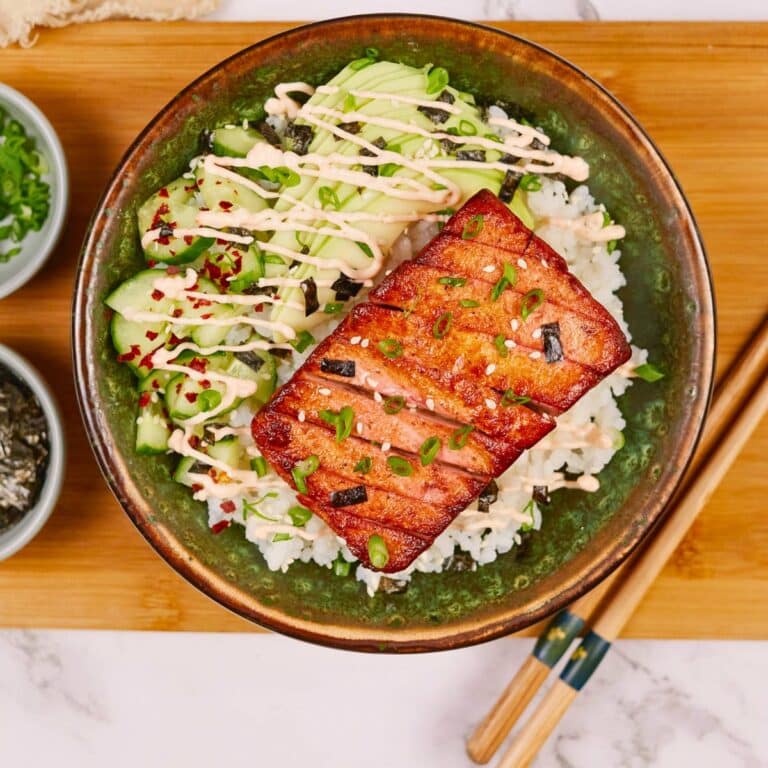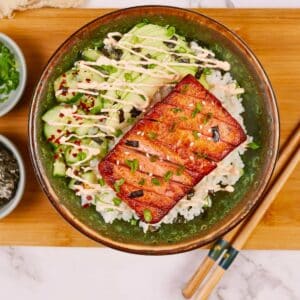 Vegan Tofu Salmon Rice Bowl
Enjoy a heart-healthy Vegan Salmon Rice Bowl, rich in flavor and ready in minutes.
Instructions
Whisk together the beet juice, soy sauce, vinegar, oil, miso paste, liquid smoke, water, garlic, paprika, white pepper, and nori in a large bowl.

⅓ cup beet juice,

3 tablespoon dark soy sauce,

2 tablespoon rice vinegar,

1 tablespoon miso paste,

1 tablespoon liquid smoke,

½ teaspoon water,

2 garlic cloves,

1 nori sheet,

¼ teaspoon paprika,

¼ teaspoon white pepper

Cut the tofu into filet-like pieces and then cut a criss cross pattern on top for letting the marinate soak into the tofu. Place the tofu in a shallow bowl and cover with the marinade. Cover and refrigerate for 2 hours up to overnight.

In the meantime, cook the sushi rice as per the instructions on the package, carve the avocado into slices, and mince the green onions. Keep these ready for serving.

Take the tofu out of the marinade and pat it dry using paper towels.

Heat a large skillet and pour in the oil over medium heat. When it's hot enough, add the tofu slices and let them sizzle for 2 to 3 minutes on each side until they're browned and crispy.

2 tablespoon vegetable oil

Serve over rice topped with avocado, sriracha mayo, sesame seeds, green onions, and chili flakes.

1 avocado,

4 green onions,

4 tablespoon sriracha mayonnaise,

1 tablespoon sesame seeds,

1 ½ teaspoon chili flakes
Notes
Serve over any preferred rice, couscous, farro, millet, or quinoa
Make your own vegan sriracha mayonnaise by combining 1 part sriracha with 3 parts mayonnaise
Nutrition
Calories:
833
kcal
Carbohydrates:
174
g
Protein:
33
g
Fat:
59
g
Saturated Fat:
9
g
Polyunsaturated Fat:
28
g
Monounsaturated Fat:
21
g
Trans Fat:
0.1
g
Cholesterol:
12
mg
Sodium:
2094
mg
Potassium:
921
mg
Fiber:
16
g
Sugar:
5
g
Vitamin A:
1053
IU
Vitamin C:
17
mg
Calcium:
295
mg
Iron:
8
mg
Food Safety
Always follow the top food safety practices when working in your home kitchen. Review our tips below.
Always sanitize countertops, cutting boards, utensils, and cookware thoroughly between each use.
Wash your hands in warm soapy water, rubbing for at least 20 seconds before rinsing. Remember, "FROG" means friction rubs off germs.
After serving food, allow it to cool, then place it into the refrigerator or proper storage immediately. Food should be at room temperature for no more than 2 hours for safety.