Looking for a scrumptious and vibrant summer salad recipe? The recipe below is a perfect balance of flavors and textures that will leave your taste buds craving more.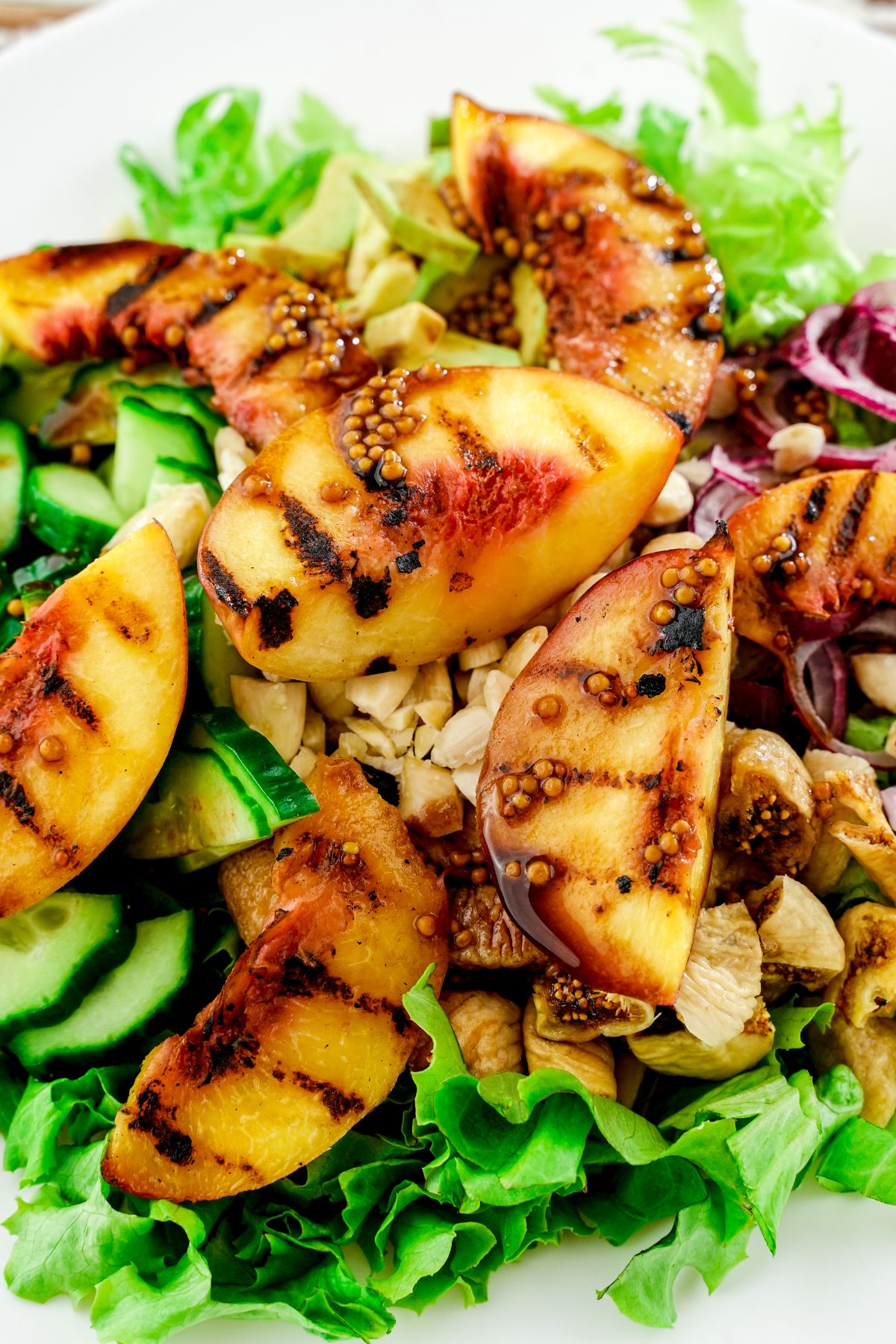 This savory salad combines crisp lettuce, creamy avocado, crunchy cucumber, zesty red onion, sweet dried figs, silvered almonds, and juicy peach, all tossed in a tangy balsamic vinegar, raspberry jam, and whole grain mustard dressing.
If you enjoy this, then make sure you check out our vegan Mexican street corn salad for another veggie-packed side dish.
Jump to:
🥘 Ingredients
You will need the ingredients for the base of the savory summer salad and a simple vinaigrette ingredient list. For exact measurements, check the printable recipe card at the bottom of the post.
For the salad:
Mixed greens or lettuce
Cucumber
Red onion
Avocado
Peach or tangerine
Almonds, walnuts, or pecans
For the dressing:
Olive oil
Balsamic vinegar
Dijon mustard
Raspberry preserves
Garlic powder
Salt
Note: You can also use ¼ cup frozen raspberries that have been pureed with 1 ½ teaspoon sugar instead of the preserves.
📋Instructions
This recipe is easy to throw together. You'll want to wash and slice the peaches first, then put them on a grill pan and cook for 1 minute per side, until heated through and starting to color. Set these aside.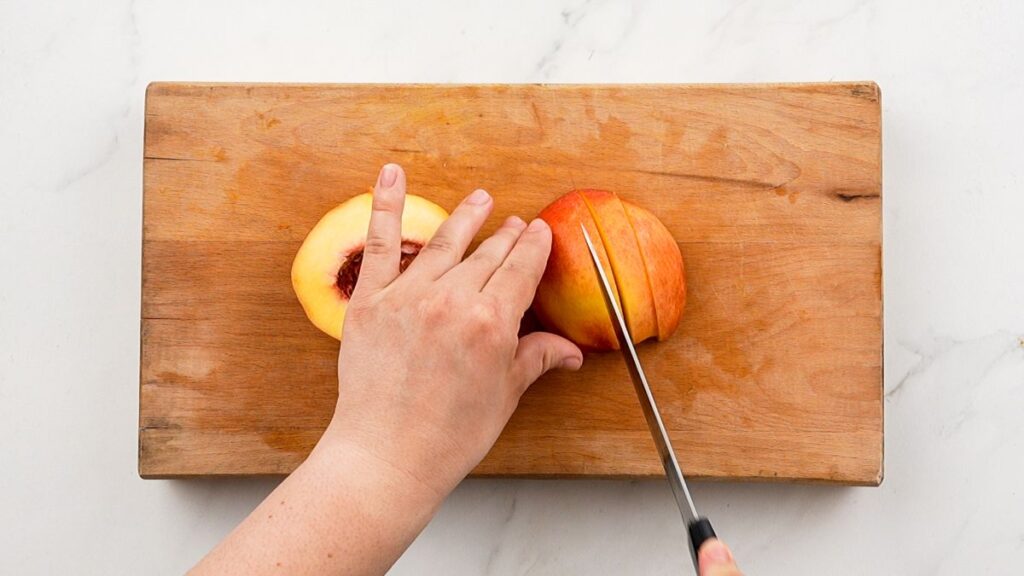 Then peel and chop the avocado into small chunks. Wash and pat dry the lettuce. Cut or tear into bite-sized pieces, if needed.
Chop the onion, cucumber, and figs into small pieces.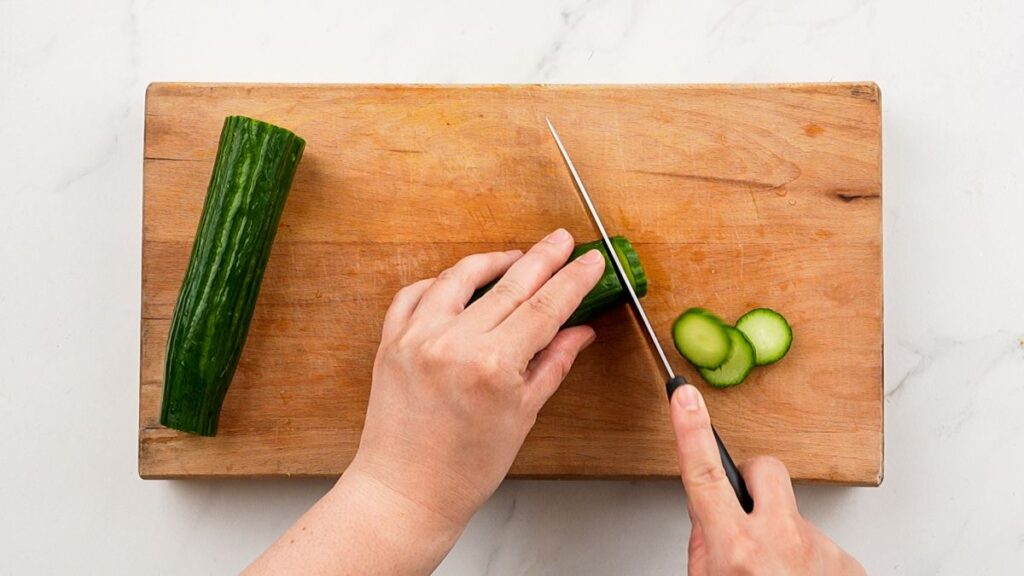 Add olive oil, balsamic vinegar, mustard, raspberry preserves, garlic powder, and salt in a jar or blender. Pulse until combined and mixed well.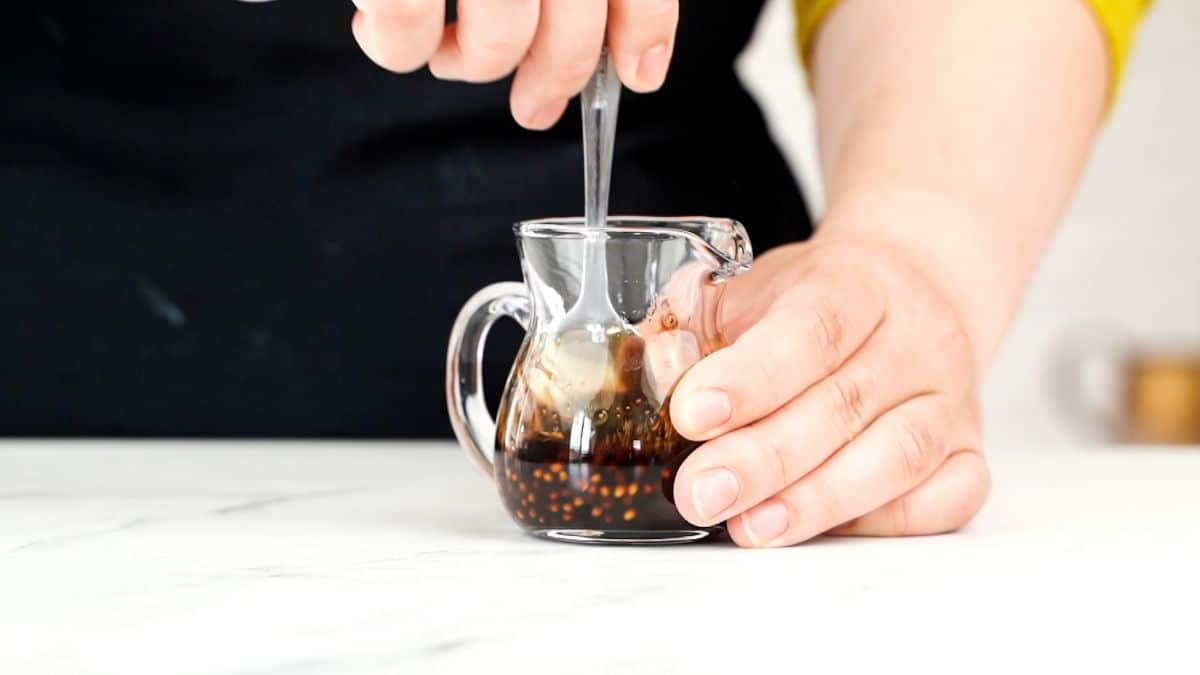 Combine everything in a large bowl and toss the savory summer salad with the dressing until coated well.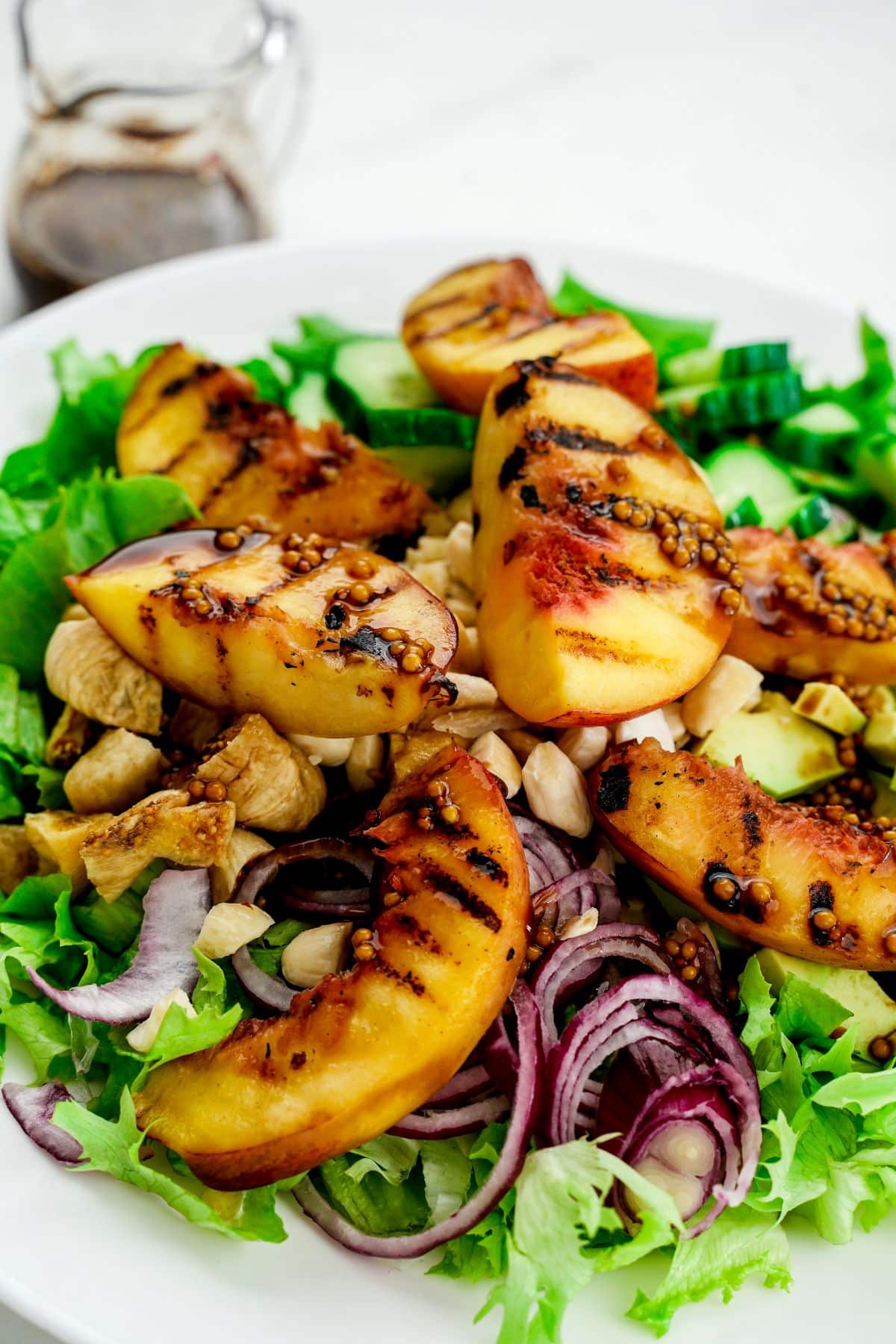 🔪Substitutions
Below are some good ideas for using in place of the ingredients we used for this salad.
Substitute lettuce with other leafy greens like spinach, kale, or arugula
Skip the avocado and add a bright twist with sliced tomatoes instead
Replace the cucumber with crispy celery
Green onions are a great replacement for red onion
Figs can be replaced by dates, dried cranberries, raisins, or even dried cherries
Use any preferred nut in place of almonds for the crunchy texture
Grill pineapple slices instead of peach for a sweet fruit addition
📖Variations
Do you love this recipe but want something a bit unique? Check out some favorite variations below.
Crumble some vegan cheese over the salad for a tangy flavor.
Sprinkle fresh basil, mint, or cilantro leaves for a herbal twist.
Add cooked quinoa, couscous, or farro to make it a heartier salad.
Swap out the balsamic vinegar for lemon juice or apple cider vinegar.
Experiment with different fruit jams like strawberry or apricot instead of raspberry.
Dijon mustard can be used instead of whole-grain mustard.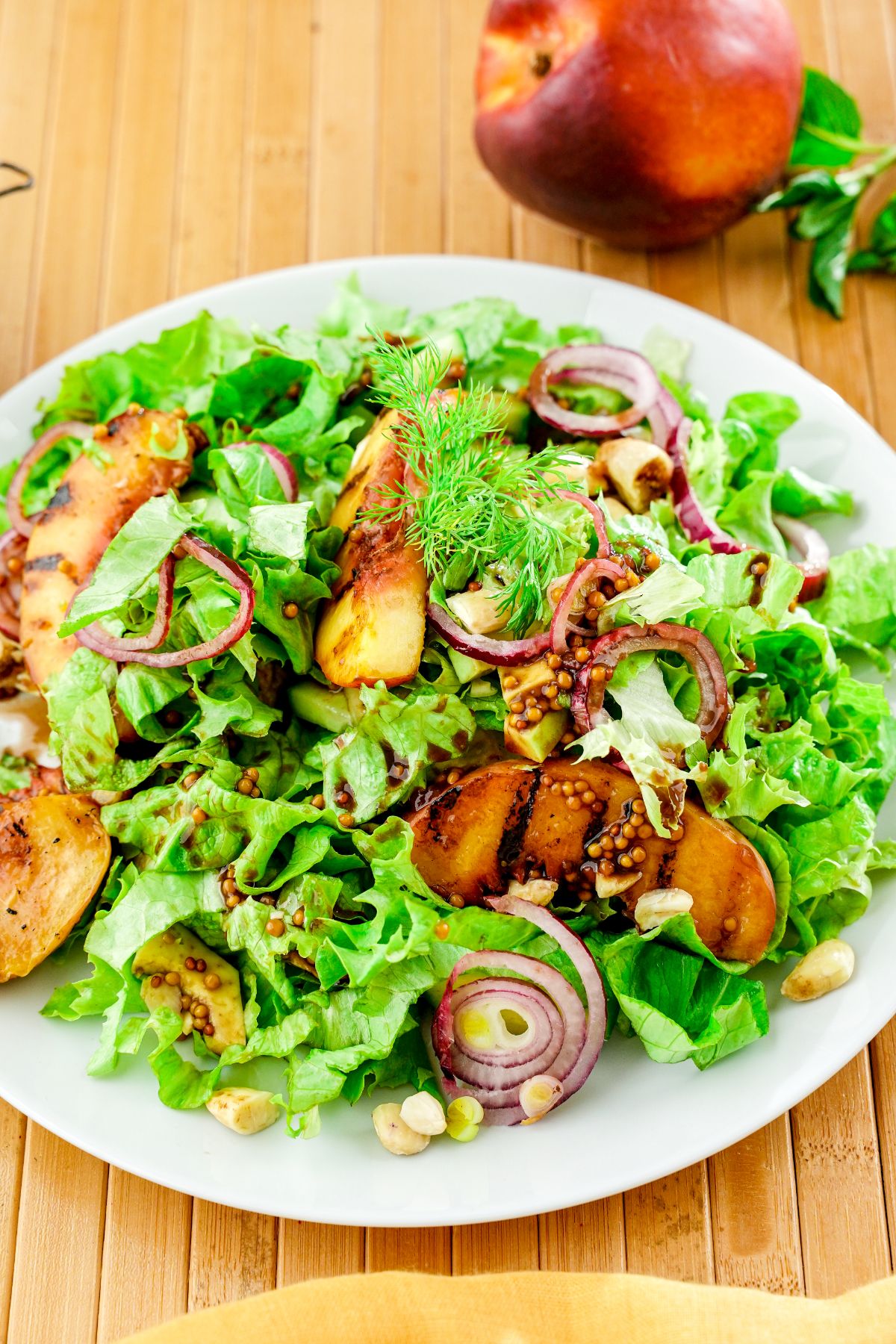 🫙Storage Tips
Keep the salad ingredients separate from the dressing until serving to prevent wilting. Store the washed and chopped lettuce, cucumber, red onion, and peach in airtight containers or resealable bags in the refrigerator for up to 2-3 days. Avocado should be sliced just before serving to prevent browning.
Store the dressing in a sealed jar or container in the refrigerator for up to a week. Before using, whisk or shake to combine.
🍽Equipment
Is your kitchen ready to make this recipe? If you don't have all of the tools you need, check out our list below for some recommendations.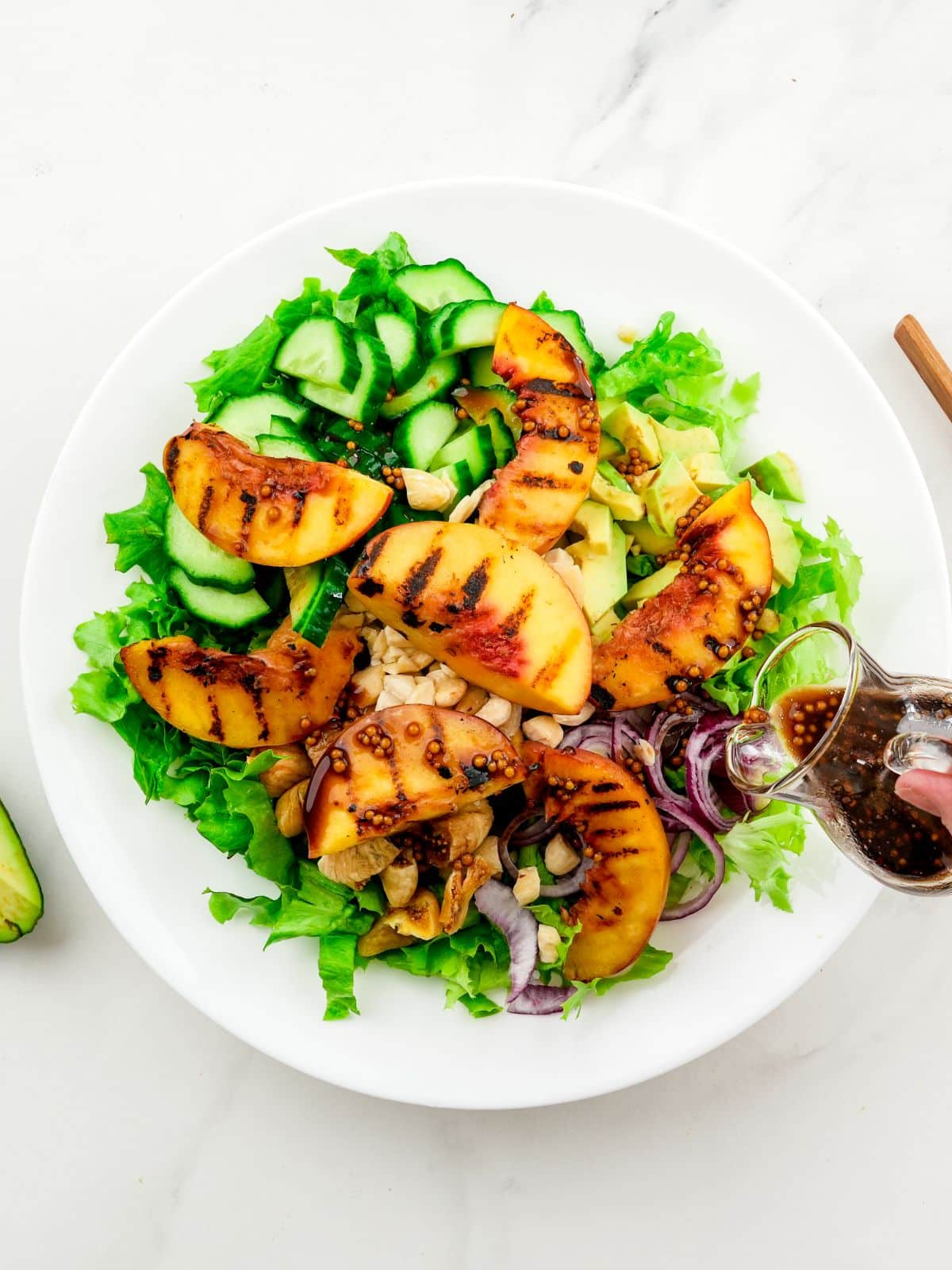 💭Top Tip
Assemble the salad just before serving to maintain its freshness and crunchiness. Toss the salad with the dressing right before serving to ensure that all the flavors are evenly distributed.
❓FAQs
What is the ratio of a vinaigrette?
When making a homemade vinaigrette, I suggest sticking to a 3 parts oil to 1 part vinegar ratio. As this has additional ingredients, you may do 2 parts oil to 1 part vinegar and still have good results.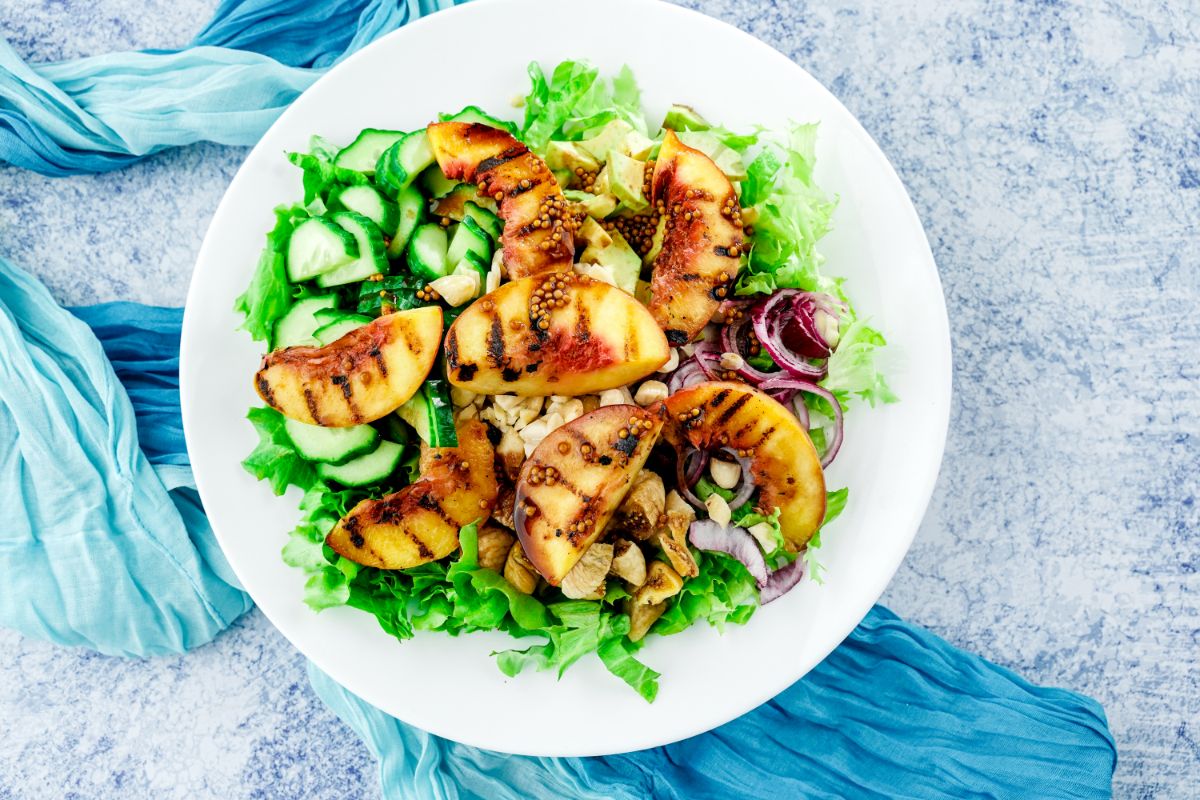 Related
Need a salad to add to your meal plan? Check out our favorites below.
Pairing
Not sure what goes with this salad? Check out some of our favorite proteins below.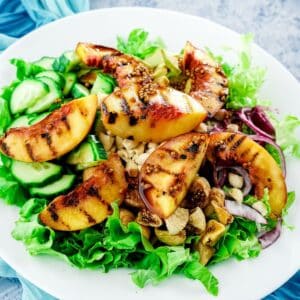 Sweet and Savory Summer Salad with Raspberry Vinaigrette
Refreshingly vibrant summer salad with raspberry vinaigrette for a perfect balance of sweet and savory flavors.
Ingredients
4

cups

mixed greens

or lettuce of choice

1

medium cucumber

chopped

1

red onion

diced

1

avocado

peeled and cubed

1

peach

sliced

6

dried figs

chopped

⅛

cup

slivered almonds

2

tablespoon

olive oil

1 ½

tablespoon

balsamic vinegar

¼

cup

raspberry preserves

1

teaspoon

whole grain mustard

¼

teaspoon

garlic powder

¼

teaspoon

salt
Instructions
Wash and pat dry the lettuce, then tear or cut into small pieces. Peel and dice the avocado into small pieces.

4 cups mixed greens,

1 avocado

Chop the onion and cucumber into bite-sized pieces. Dice the figs and almonds.

1 medium cucumber,

1 red onion,

6 dried figs,

⅛ cup slivered almonds

Heat a grill pan over medium temperature and spray with non-stick spray. Grill the peaches until just heated through (around 1 minute).

In a blender, combine the dressing ingredients and puree until blended and creamy.

2 tablespoon olive oil,

1 ½ tablespoon balsamic vinegar,

¼ cup raspberry preserves,

1 teaspoon whole grain mustard,

¼ teaspoon garlic powder,

¼ teaspoon salt

Toss everything together before serving.
Notes
Use a ready-made vinaigrette if you prefer.
Replace the peaches with grilled pineapple.
Add 1 cup of cooked quinoa or brown rice to make the dish more fulfilling.
Add fresh raspberries to the salad.
Nutrition
Calories:
599
kcal
Carbohydrates:
76
g
Protein:
8
g
Fat:
33
g
Saturated Fat:
4
g
Polyunsaturated Fat:
4
g
Monounsaturated Fat:
22
g
Sodium:
380
mg
Potassium:
1268
mg
Fiber:
14
g
Sugar:
46
g
Vitamin A:
1413
IU
Vitamin C:
45
mg
Calcium:
130
mg
Iron:
3
mg
Food Safety
Are you practicing safety when preparing meals at home? Make sure you stay on top of current food safety with our tips below.
Always sanitize countertops, cutting boards, utensils, and cookware thoroughly between each use.
Wash your hands in warm soapy water, rubbing for at least 20 seconds before rinsing. Remember, "FROG" means friction rubs off germs.
After serving food, allow it to cool, then place it into the refrigerator or proper storage immediately. Food should be at room temperature for no more than 2 hours for safety.