These Vegan Jerk Tacos are packed with flavor thanks to the jerk seasoned vegan ground beef and mango tomato salsa. Enjoy them for a spicy weeknight dinner or on taco Tuesday!
Bring a little excitement to taco Tuesday with these Vegan Jerk Tacos. Loaded with jerk seasoned vegan ground beef, mango tomato salsa, and a tangy sauce, the flavors in every bite will blow you away.

Jerk tacos are so much more than just "smoky" or "delicious". There are just too many flavors! They are:
Spicy
Savory
Refreshing
Juicy
Sweet
Tangy
Comforting
And so much more!
The tender and smoky vegan beef is well balanced when you get the juicy mango salsa and creamy jerk aioli in each bite. They pair perfectly with Street Corn Salad and a few margaritas on the side. Allow the flavors to transport you to the Caribbean while you sit back and enjoy!
Jump to:
What is "jerk"?
"Jerk" or "jerking" refers to the Jamaican cooking method of grilling meat (usually chicken) over an open flame. Nowadays, the meat is coated in a dry rub or wet marinade before being cooked. This is where authentic Jamaican jerk chicken gets its signature spicy, smoky, and savory flavors.
This vegan jerk taco recipe has similar flavors to real jerk chicken but it isn't close to authentic. Vegan ground beef is seasoned with a homemade jerk seasoning blend and cooked in a skillet on the stove. It's a quick and easy alternative that anyone can make at home.
Ingredient notes
Vegan ground beef - The taco filling begins with vegan ground beef. I like to use Beyond Meat Spicy Hot Italian Sausages, but Gardein, Lightlife, or Impossible vegan ground beef are all delicious as well.
Black eyed peas - I love adding extra substance to vegan taco meat with either black eyed peas, mushrooms, black beans, or lentils. Feel free to leave them out if the beef is hearty enough for you.
Jerk seasoning mix - Make your own jerk seasoning using simple spices or head to your local Caribbean market for a storebought blend. Making it at home is the preferred method because it's so easy to adjust the spice and salt level.
Mango tomato salsa - Juicy mangoes and tomatoes are experts at toning down the spice in these jerk tacos. It's easy to put together with fresh mangos, tomatoes, and a handful of other flavor boosters. Enjoy them on all kinds of vegan tacos or with tortilla chips instead.
Creamy sauce - Finish each taco with a drizzle of this zesty, creamy taco sauce made from vegan mayonnaise, lime juice, and more jerk seasoning.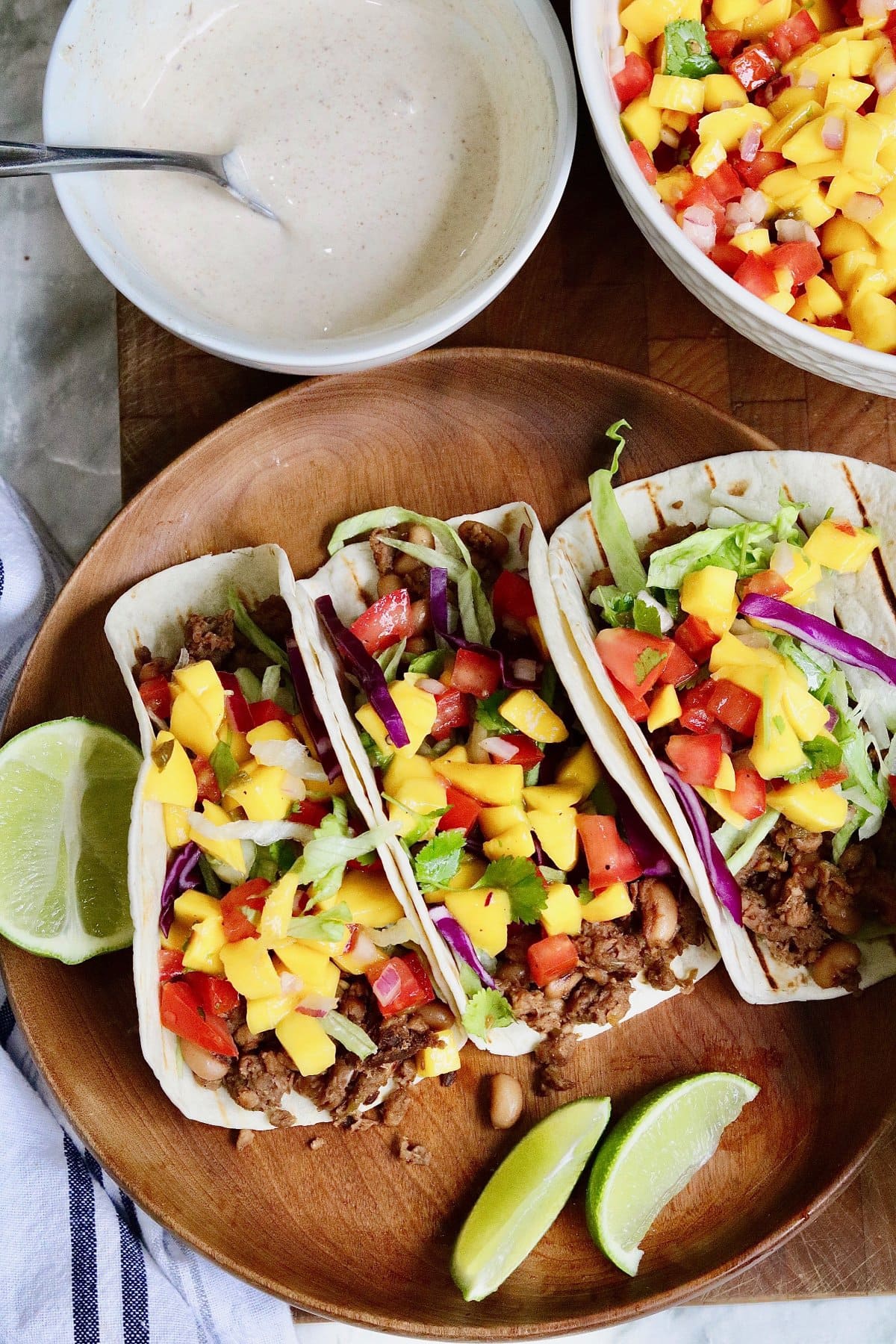 How to make jerk tacos
Despite the larger-than-life flavors, jerk tacos are easy to put together in less than 30 minutes! Here's how it's done:
Make the salsa: Mix all of the salsa ingredients together in a bowl. Adjust the seasonings as needed, then put it in the fridge while you prepare the rest.
Make the jerk taco sauce: Whisk the sauce ingredients together in a small bowl.
Cook the ground "beef": Fry the vegan ground beef in an oiled skillet until it's browned and a little crispy. Add the pre-cooked black eyed peas and jerk seasoning mix, then stir to combine. Take the skillet off the heat and stir in the green chilies, green onions, and vinegar.
Assemble the vegan tacos: Fill warm tortillas shells with the vegan jerk taco meat, then top with salsa, lettuce, and a drizzle of creamy sauce. Enjoy! For full ingredients and instructions see printable recipe card below.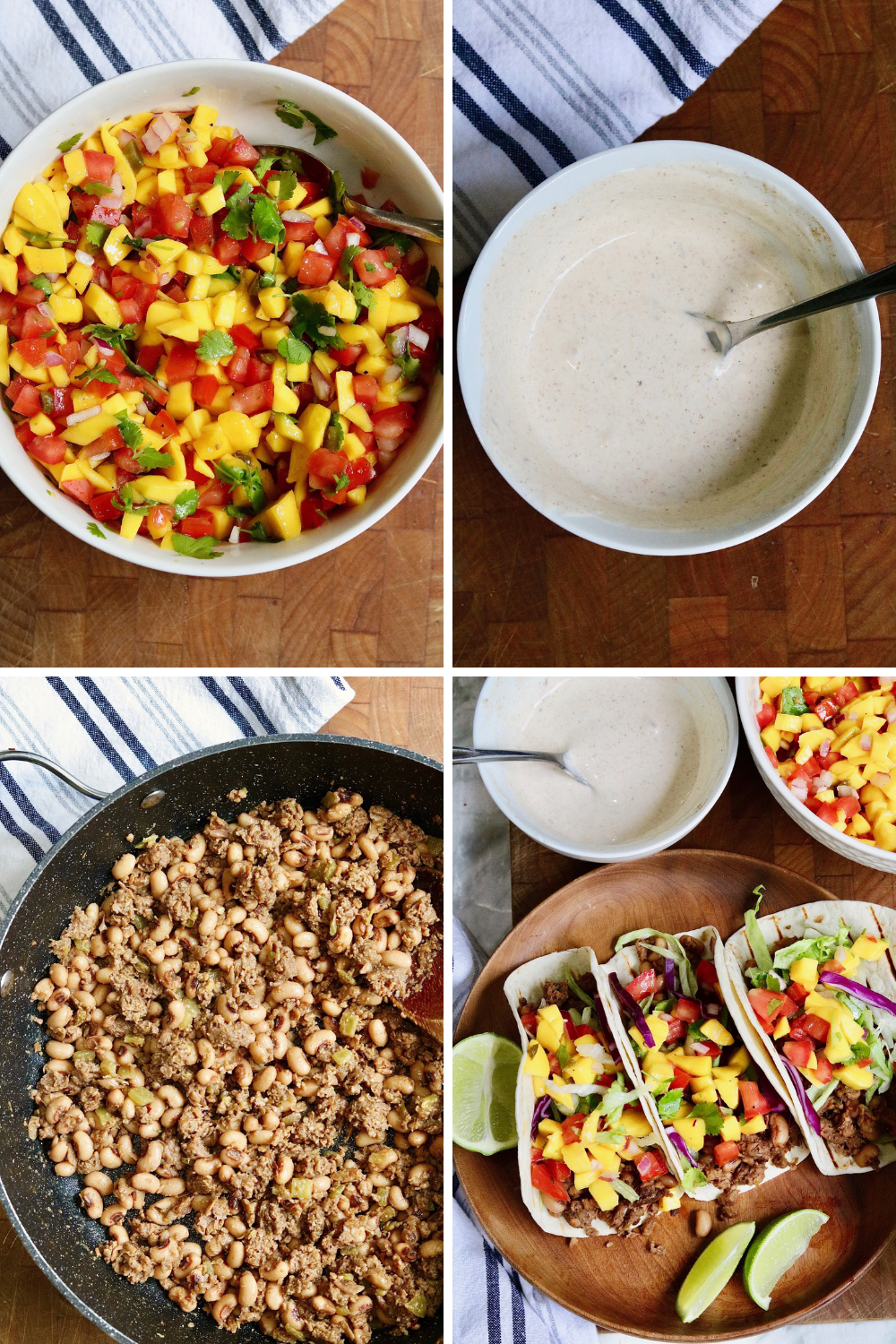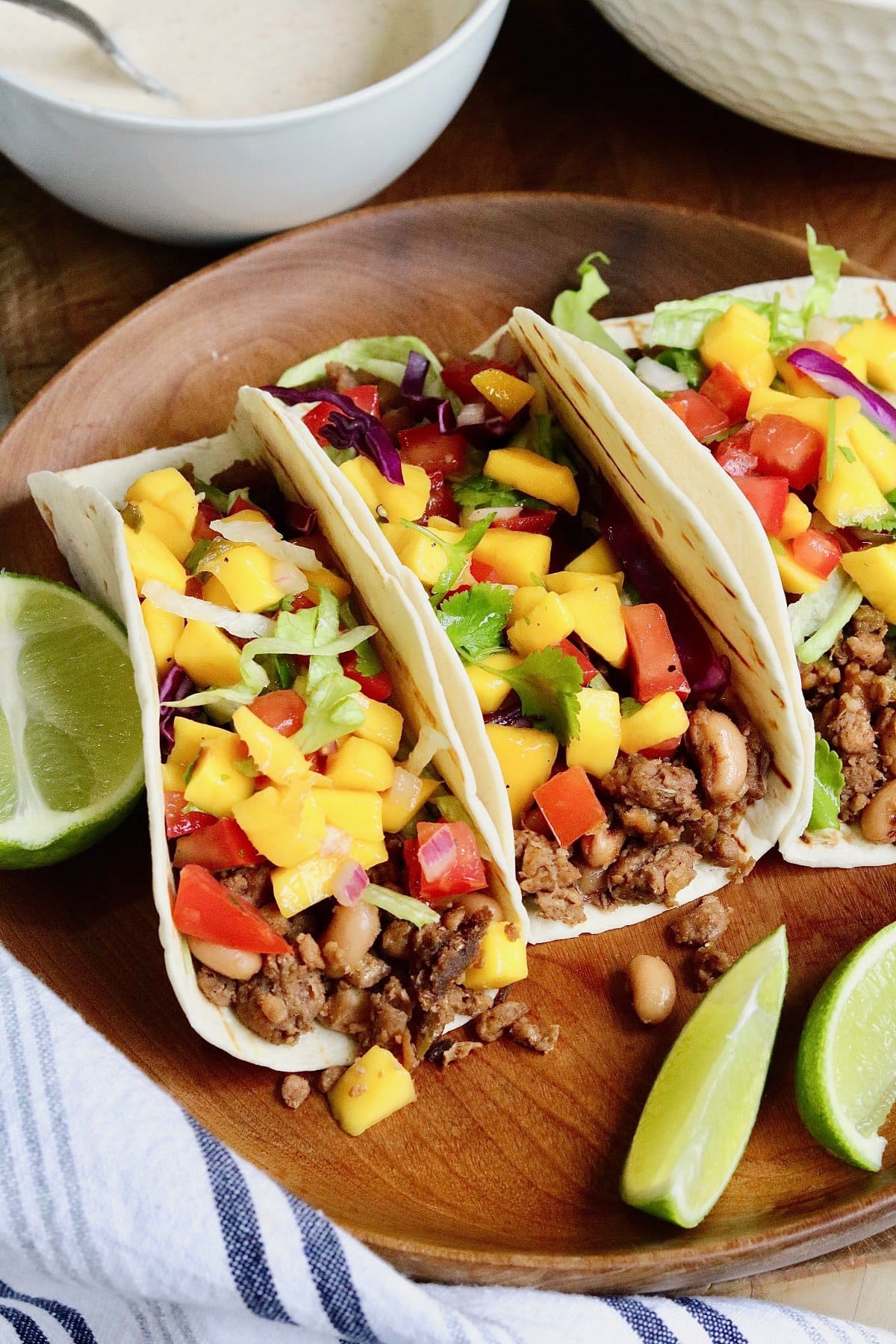 Tips and variations
Make vegan jerk chicken tacos instead - Slice up 2 cups worth of vegan chicken or a block of crumbled tofu. Prepare and season it just as you would the vegan ground beef and enjoy!
If you don't have vegan ground beef - Use a can of black beans for the taco filling instead.
Jerk sauce - I haven't tested this recipe with jerk sauce. If you do try it, omit the seasoning mix from the vegan beef or else it will be too spicy and unbalanced.
Gluten free vegan tacos: use corn tortillas instead of flour. The "meat" filling is already gluten free!
More vegan taco toppings
Looking for even more flavor? Pile each jerk taco with all kinds of toppings, such as:
Pineapple
Sauteed peppers and onions
Pickled red onions
Avocado
Jalapenos
Vegan cilantro lime crema
Salsa verde
Purple cabbage
Shredded lettuce
Hot sauce
Storing
Save some time by preparing the mango salsa, filling, and creamy sauce a few days ahead of time. The salsa and sauce will stay fresh for 1 or 2 days in the fridge and the "beef" filling can be stored for up to 5 days.
Serve the vegan tacos next to these recipes and more:
Enjoy everyone! Happy Day! Please feel free to comment below and give this recipe a rating. Your feedback is greatly appreciated!
Follow me on PINTEREST and INSTAGRAM for more tasty Plant Based & Vegan Recipes❤️
Subscribe here for free weekly recipes delivered right to your inbox! No need to scour the internet. Your one stop shop for recipes is here😊 No spam I promise!
Print
Vegan Jerk Tacos
---
Author:

Verna

Total Time:

30 minutes

Yield:

12 good size tacos (approx.)

Diet:

Vegan
Description
These Vegan Jerk Tacos are packed with flavor thanks to the jerk seasoned vegan ground beef and mango tomato salsa. Enjoy them for a spicy weeknight dinner or on taco Tuesday!
---
"Meat" filling:
1 package vegan ground beef (340 g) I use beyond beef or impossible meat (see notes for subs)

1 can black eyed peas, rinsed and drained (could use black beans or lentils, etc..)

2 tablespoons homemade jerk seasoning mix*

⅓ cup diced green onions

2 tablespoons distilled white vinegar

4 tablespoons canned diced green chilies
Mango tomato salsa:
3 cups diced fresh ripe mango, I use 4 ataulfo mangos

2 cups seeded and diced roma tomatoes ( 3 or so)

⅓ cup red onion, diced small

⅓ cup chopped cilantro

1 to 2 tablespoons chopped pickled jalapenos

3 to 4 tablespoons fresh lime juice

¼ teaspoon salt (to taste)

Pinch of cracked black pepper
Creamy jerk sauce:
For serving:
12 small flour tortillas or soft or hard corn tortilla taco shells, warmed

4 cups or so shredded iceberg lettuce, can mix with some red cabbage
---
Instructions
Make salsa:

mix all salsa ingredients in a medium bowl. Adjust seasons if needed. Set aside on the counter or fridge.

Make sauce and shred veggies: whisk sauce ingredients in a small bowl, set aside. Prep lettuce.

Make filling: Fry the vegan ground beef in a large non-stick pan over medium heat until cooked, browned and a little crispy. 6 minutes or so. Stir in the black eyed peas, and jerk seasoning mix. Cook for a couple of minutes. Remove from heat and stir in green chilies, green onions and vinegar.

Assemble and serve the tacos: Warm tortillas in the oven, grill pan or microwave. Fill the taco shell with "meat" mixture (¼ cup or so) then top with lettuce and salsa. Drizzle with jerk sauce and enjoy! Photos, tips, suggestions and more in above post and notes section.
Notes
Meat filling substitutions:

Use your favorite plant based ground beef, gardein, lightlife etc,...A package of beyond meat spicy hot italian sausages are excellent in this filling (break apart as they cook)

For "jerk chicken tacos'' use chopped seitan chicken (about 2 cups or so) or a block of crumbled fried tofu.
Gluten free tacos: use corn tortillas. Filling is already gluten free.

Can use all vegan ground beef or use all black eyed peas or beans of choice if you don't like mock meats (for 100% plant based filling)

Jerk mix:

highly recommend using my homemade Jamaican jerk spice. You can control the heat and it is much better than store bought varieties and not as salty. Have not tested with jarred jerk sauce.
To store:

Salsa best served same day but will keep for 1-2 days in fridge.

Filling will keep in fridge for 4-5 days and is suitable for

freezing.
Prep Time:

20 Minutes

Cook Time:

10 Minutes

Category:

Mains, Gluten free,

Method:

Skillet

Cuisine:

Caribbean, Jamaican
Keywords: vegan jerk tacos, vegan tacos,