If you are looking for something bright and refreshing, this vegan spinach quinoa salad is the perfect choice for lunch. Packed with nutrient-rich ingredients and a zesty homemade dressing, this salad is a showstopper for any occasion.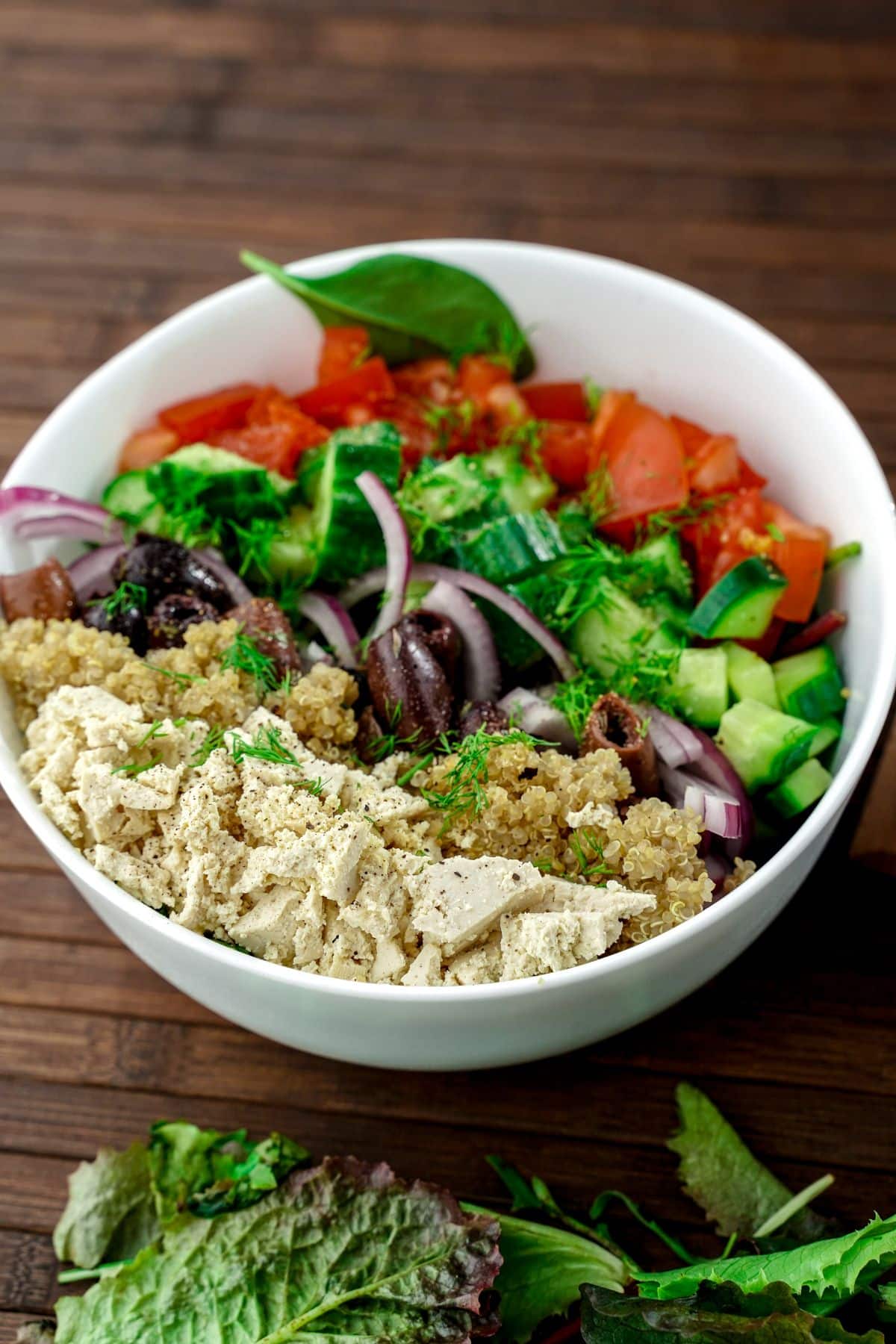 This is the perfect way to incorporate vegan-friendly quinoa with 8 grams of protein per 1 cup serving.
If you enjoy quinoa, you'll love our Greek quinoa salad with vegan feta.
Jump to:
📋Ingredients
Below you will find ingredients needed for the salad, and a separate list for the homemade Greek salad dressing. For exact measurements, see the printable recipe card at the bottom of the post.
1 cup quinoa
2 cups water
1 teaspoon salt
½ teaspoon black pepper
¼ teaspoon garlic powder
1 medium cucumber
1 medium tomato
¼ red onion
5 cups baby spinach
1 tablespoon fresh dill
¾ cup crumbled tofu
½ cup kalamata olives
For the dressing:
Olive oil
Red wine vinegar
Dijon mustard
Dried oregano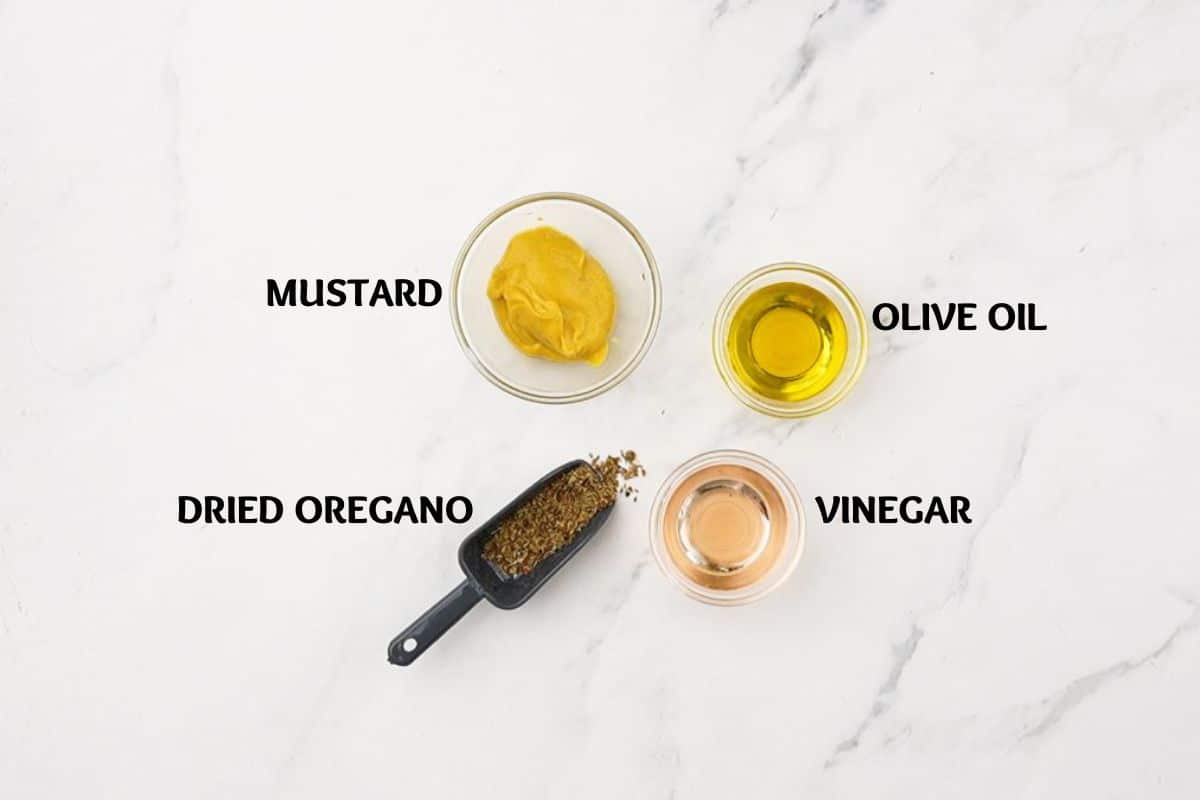 🔪Instructions
Begin by preparing the quinoa. Rinse it well, then place it into a small saucepan with 2 cups of water, salt, black pepper, and garlic powder. Stir and bring to a boil. Once boiling, reduce the temperature and cook for 8 to 10 minutes, or until the water has been absorbed Remove from the stovetop and set aside to cool.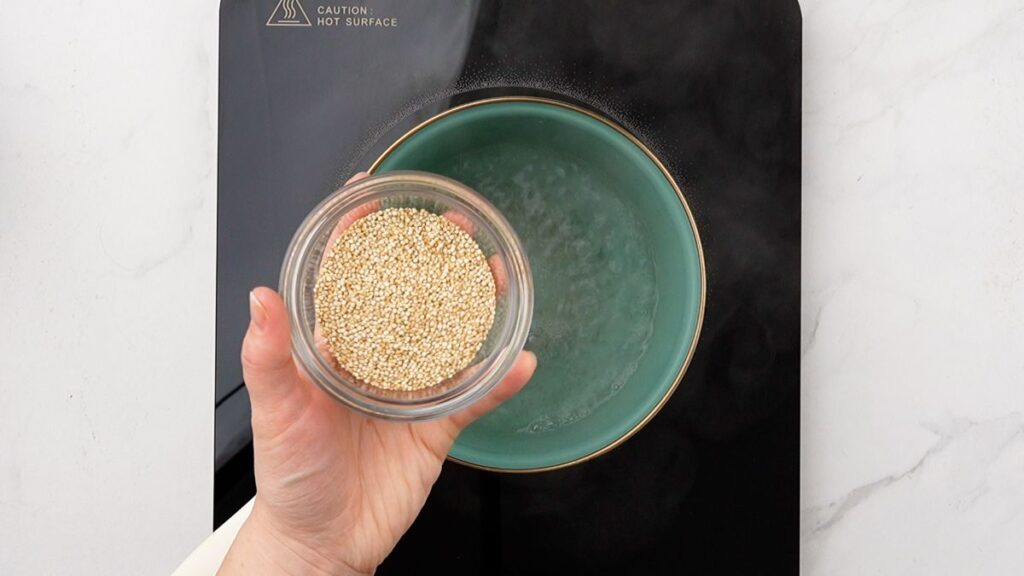 While the quinoa is cooking, prepare the rest of the ingredients. Dice the cucumber and tomato into bite-sized pieces and slice the onion.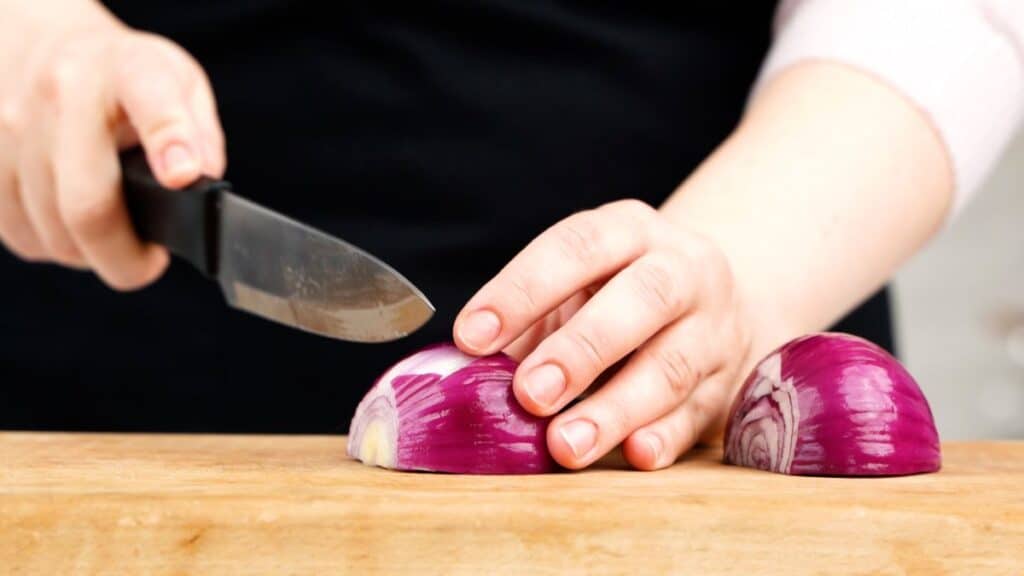 Crumble the tofu and pat dry if desired.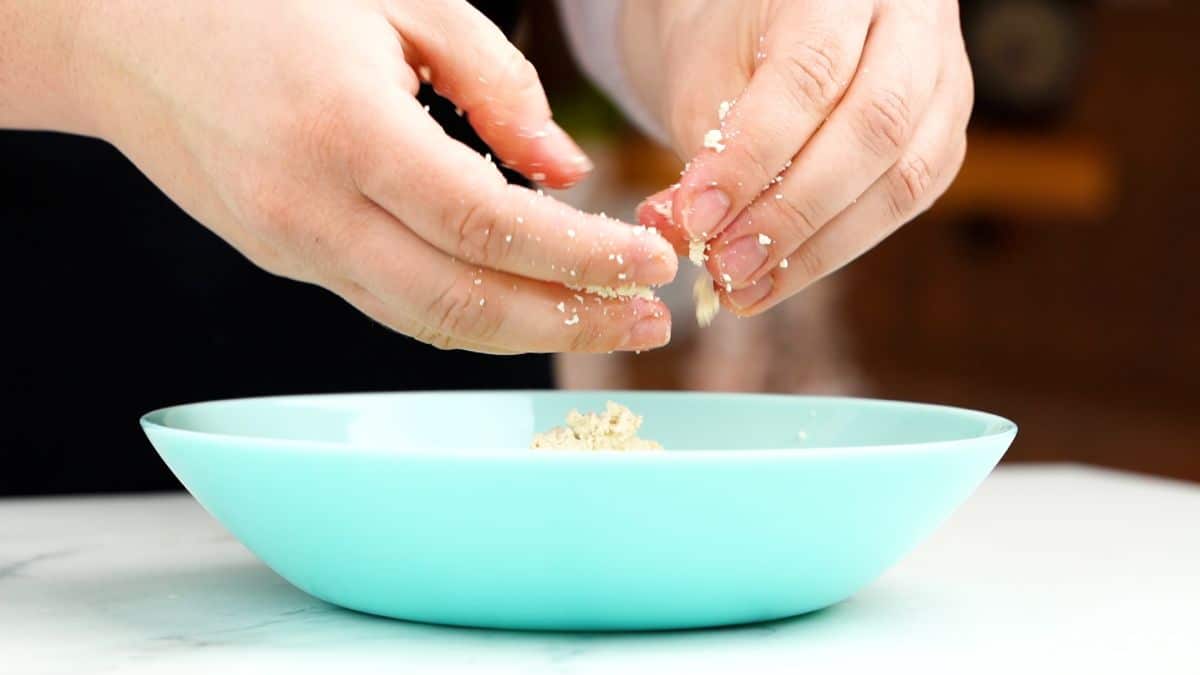 In a small bowl, whisk together the red wine vinegar, olive oil, mustard, and oregano. Taste and add more seasoning if desired.
Now, layer the salad with greens on the bottom. Top that with fresh vegetables. Then add the quinoa and olives. If using tofu, add to the salad.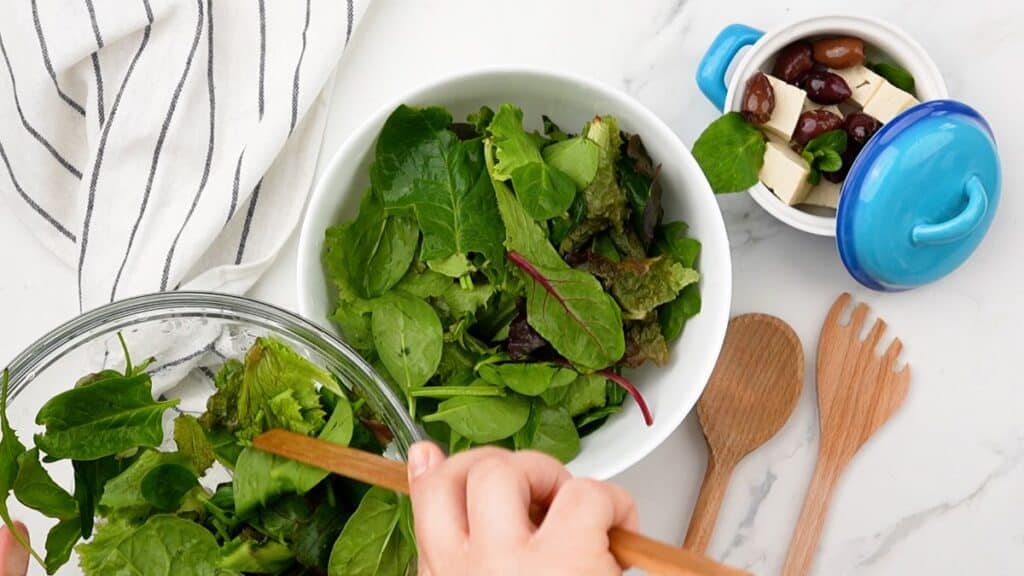 Drizzle with the salad dressing just before serving and then toss together to coat the ingredients.
🥘Substitutions
Flexibility is the name of the game when it comes to this vegan spinach quinoa salad. You may not have everything on hand, but that is okay. There are some great options to substitute here.
Use any preferred mixture of lettuce or salad greens
Replace the chickpeas with black beans or kidney beans
Use brown rice or barley instead of quinoa
Don't be shy to experiment with different herbs like basil or parsley to infuse diverse flavors into your bowl of goodness.
📖Variations
Customization is key! We love the zesty flavor of the Greek-inspired dressing for this salad, and the vegetables really pair well with the quinoa. You might want something a bit different, so check out some of our suggestions below.
If quinoa isn't your grain of choice, try swapping it with farro or bulgur for a heartier texture.
Looking to add a hint of sweetness? Dried cranberries or chopped figs could be a fantastic addition.
A handful of toasted nuts can provide a satisfying crunch.
Use whole-grain mustard and different herbs in the salad dressing.
Add air fryer tofu rather than crumbled tofu.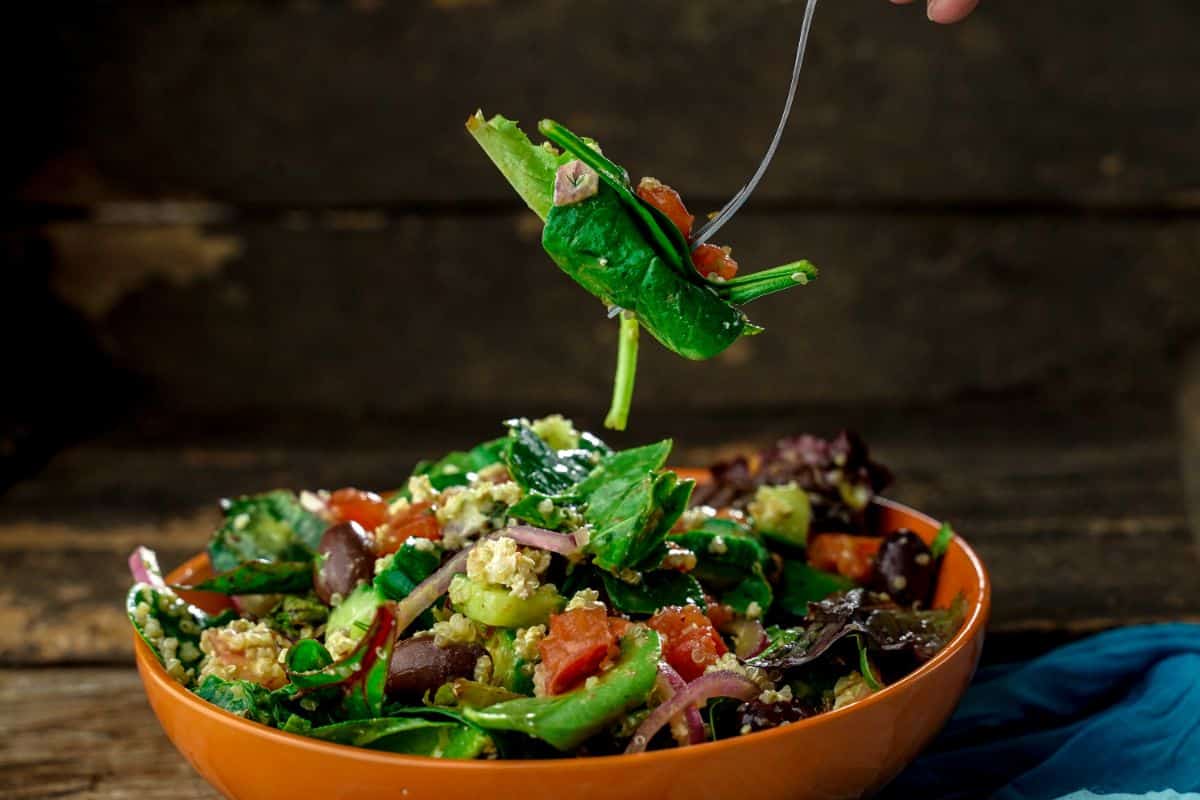 🍽Equipment
If you are new to cooking, you may not have all of the supplies needed for this recipe. Below you will find the items I used when preparing this meal.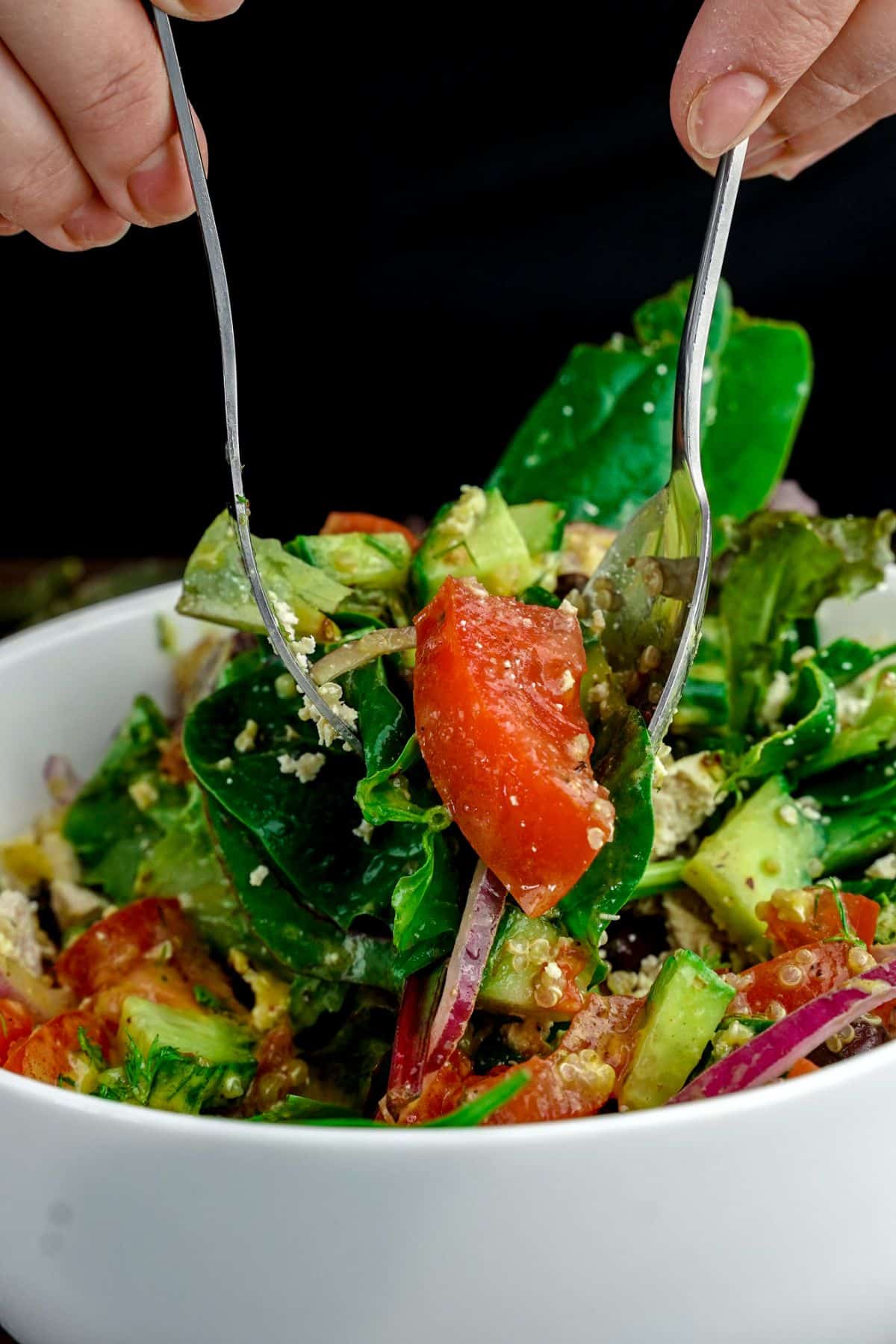 ⏲️Storage
Keep your salad fresh and inviting by storing the dressing separately. Pop it into an airtight container and store it in the fridge for up to 3 days.
As for the salad itself, assemble it right before serving to maintain that perfect crispness of the greens.
The quinoa is good for up to 1 week when stored alone in an air-tight container in the refrigerator. It may also be frozen for up to 12 months/1 year. When freezing quinoa, I recommend spreading it onto a lined baking sheet to flash freeze. Then put into the container. This helps the individual pieces stay separate instead of clumping together.
💭Top Tip
To ensure your vegan spinach quinoa salad is bursting with flavors, drizzle the dressing just before serving. This will prevent your greens from becoming soggy and keep everything as vibrant as possible.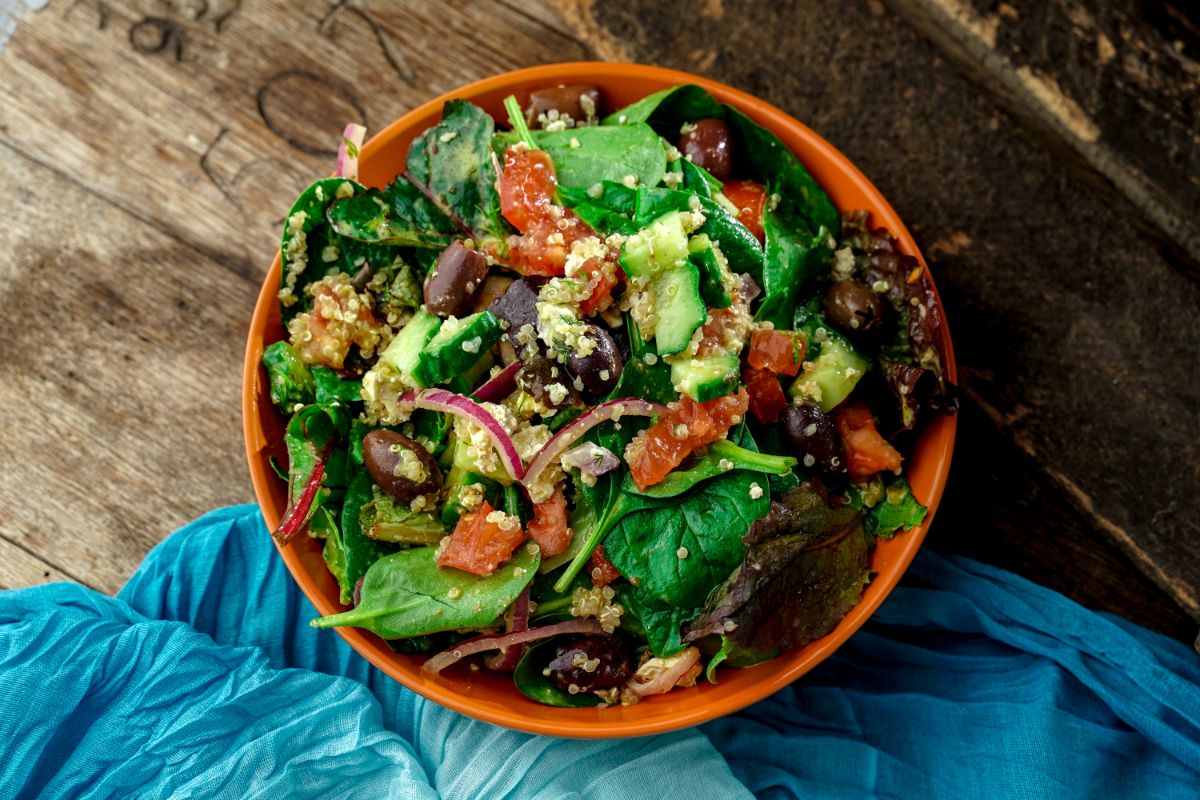 FAQ
What are some good protein options to add to a spinach quinoa salad?
Aside from tofu, chickpeas, and black beans, you can also throw in some tempeh or seitan for a protein-packed punch.
Can I make the salad dressing ahead of time?
Absolutely! In fact, allowing the flavors to meld together for a few hours can actually enhance the taste of the dressing.
How do I keep the spinach fresh and crisp in my quinoa salad?
To maintain the freshness of your spinach, store it in an airtight container or a resealable bag with a paper towel to absorb excess moisture. This will help your greens stay crisp and ready to shine.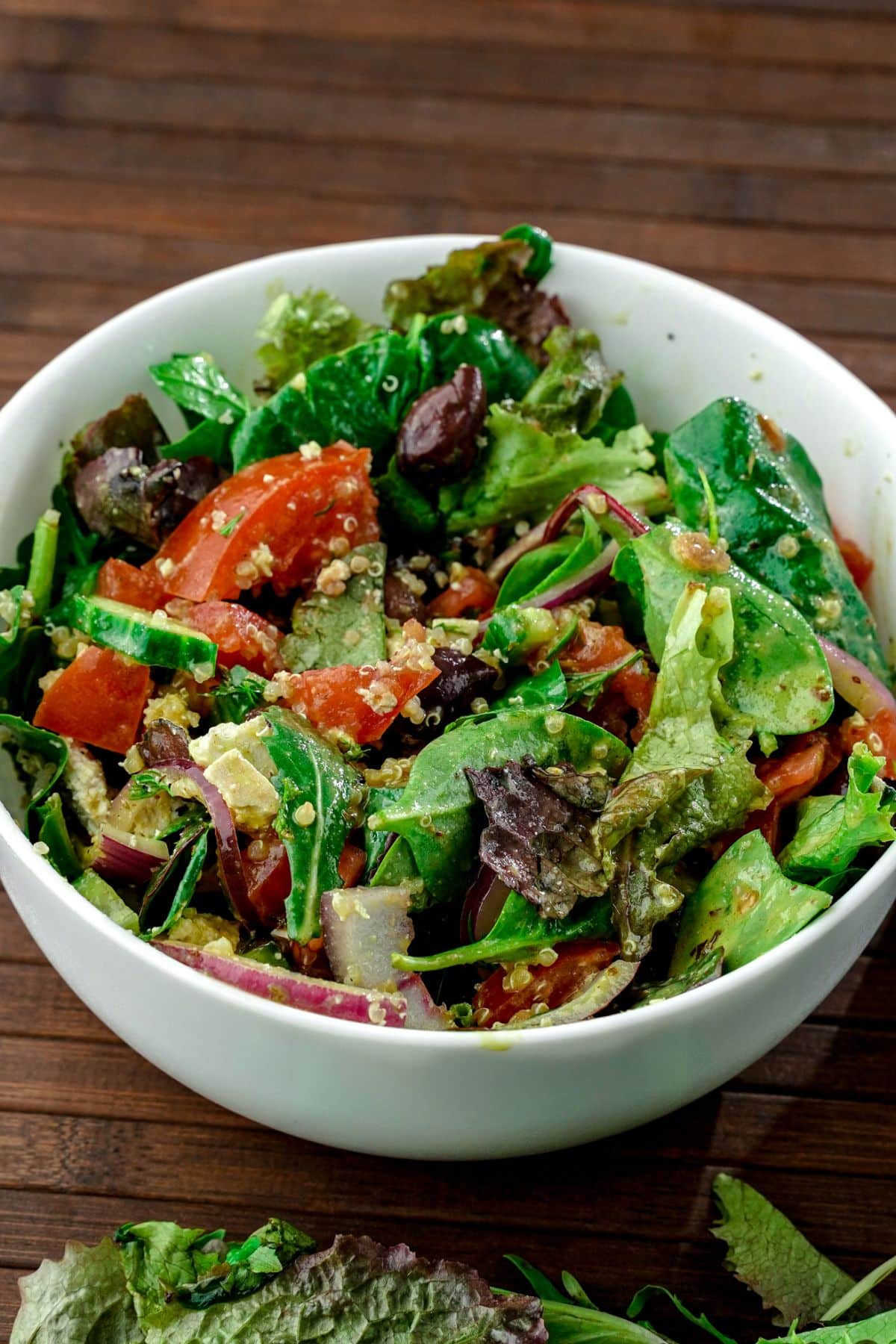 Related
If you like salads like this one, then you'll love our favorites listed below.
Pairing
Want to add this as a side to a meal? It pairs wonderfully with the recipes below.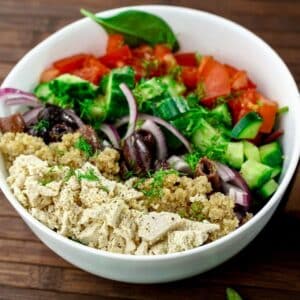 Spinach Quinoa Salad with Homemade Dressing
Indulge in a nourishing spinach quinoa salad, complete with homemade dressing, for a delightful and effortlessly prepared lunch.
Instructions
Rinse the quinoa, then place into a saucepan with 2 cups water, salt, pepper, and garlic powder. Bring to a boil, then reduce to low and cook for 8 to 10 minutes, until the water has absorbed. Set aside to cool.

1 cup quinoa,

2 cups water,

1 teaspoon salt,

½ teaspoon black pepper,

¼ teaspoon garlic powder

Chop the cucumber, tomato, and onion into bite-sized pieces. Pit the olives if needed, and chop if desired. Set aside.

1 medium cucumber,

1 medium tomato,

¼ red onion,

½ cup kalamata olives

Whisk together the vinegar, oil, mustard, and oregano. Add more seasoning if desired.

3 tablespoon red wine vinegar,

1 tablespoon olive oil,

1 teaspoon Dijon mustard,

1 teaspoon dried oregano

Layer the salad with greens, dill, vegetables, quinoa, olives, and drizzle the top with salad dressing before serving.

5 cups baby spinach,

1 tablespoon fresh dill,

¾ cup tofu
Notes
Save time by cooking quinoa in bulk and then allowing it to cool. Portion into 1 cup servings, and freeze for up to 1 year.
Feel free to use any preferred vegan salad dressing.
Nutrition
Calories:
565
kcal
Carbohydrates:
69
g
Protein:
25
g
Fat:
22
g
Saturated Fat:
3
g
Polyunsaturated Fat:
7
g
Monounsaturated Fat:
12
g
Sodium:
1805
mg
Potassium:
1319
mg
Fiber:
12
g
Sugar:
5
g
Vitamin A:
7835
IU
Vitamin C:
36
mg
Calcium:
308
mg
Iron:
8
mg
🥗Food Safety
Always keep your space clean and ready to prepare foods by following the tips below.
Always sanitize countertops, cutting boards, utensils, and cookware thoroughly between each use.
Wash your hands in warm soapy water, rubbing for at least 20 seconds before rinsing. Remember, "FROG" means friction rubs off germs.
After serving food, allow it to cool, then place it into the refrigerator or proper storage immediately. Food should be at room temperature for no more than 2 hours for safety.