This delightful recipe for a Simple Arugula Salad with Beets is going to become a favorite lunch that is plant-based and delicious. It's a breeze to prepare and perfect for those looking for a quick, healthy, and satisfying meal. Whether you're a seasoned salad lover or new to the salad scene, this recipe is a must-try.
This salad is the epitome of freshness, featuring earthy beets, peppery arugula, crunchy cucumbers, zesty onions, toasted sunflower seeds, and a Sweet Dijon dressing that ties it all together.
If you like the flavor of this salad, you'll enjoy this summer farro salad recipe.
📋Ingredients
For exact measurements, see the printable recipe card at the bottom of the post. Feel free to substitute or add as desired.
Water or broth
Quinoa
Salt
Beet, red onion, and cucumber
Sunflower seeds
Avocado oil
Apple cider vinegar
Dijon mustard
Maple syrup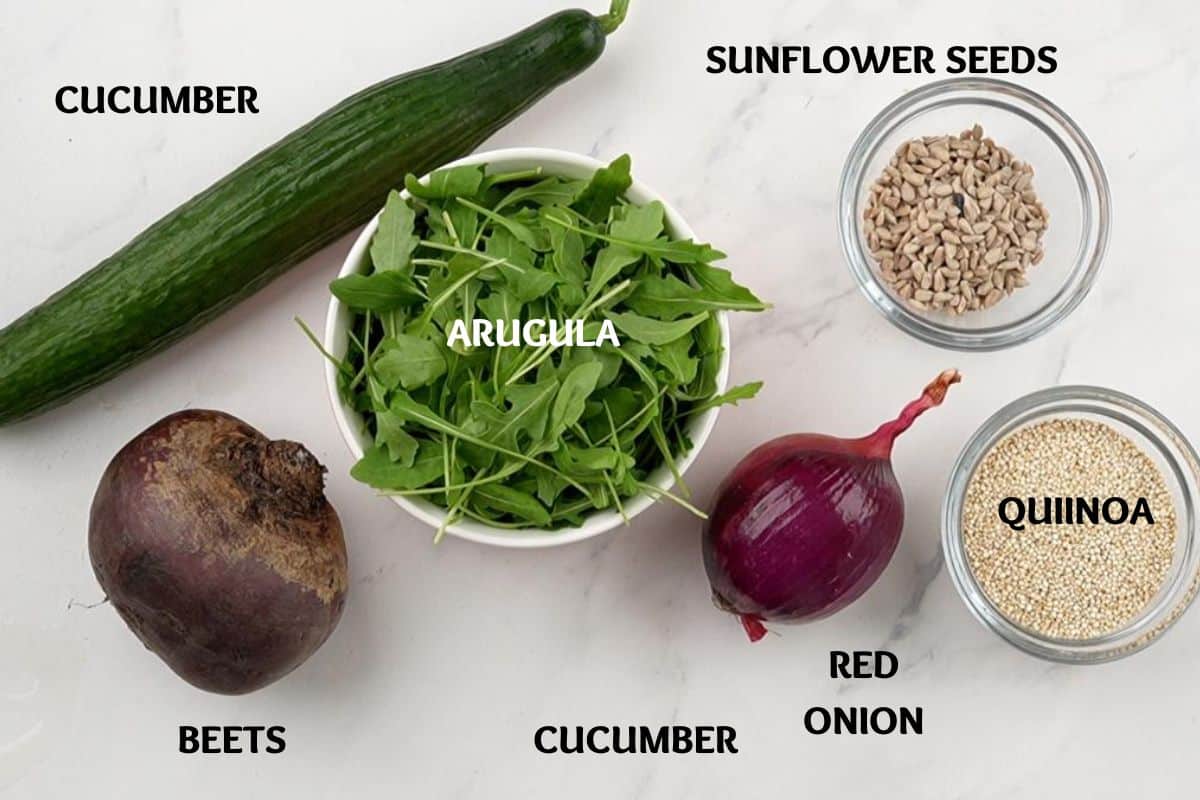 🔪Instructions
Video Recipe
Begin by cooking the quinoa first. Add it, the water, and salt to a medium saucepan and bring to a boil. Reduce to low and simmer for 15 minutes or until the water is absorbed. Remove from heat and cover.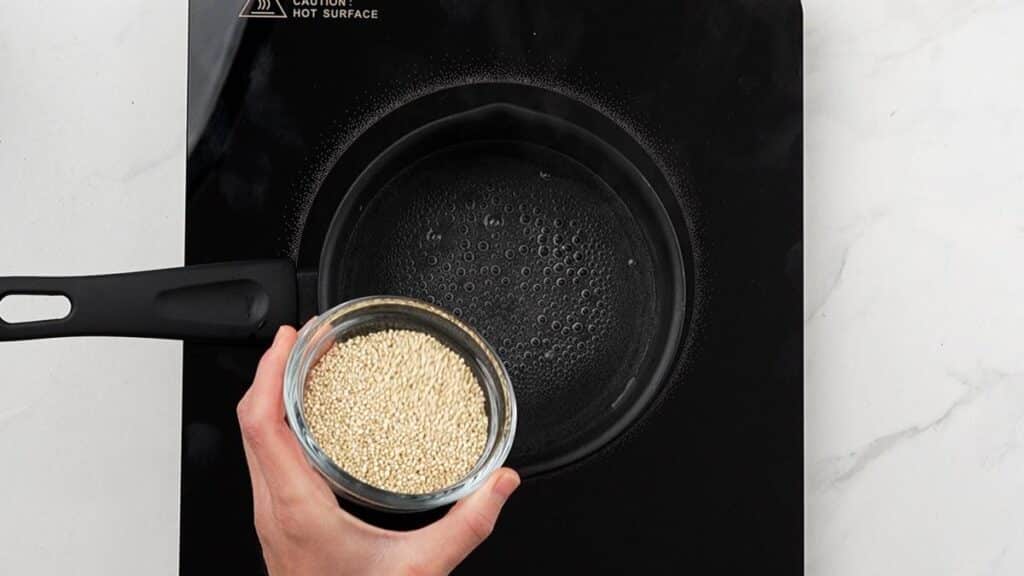 Then you will slice the onion and cucumber into bite-sized pieces.
Grate the beets into fine pieces and set them aside.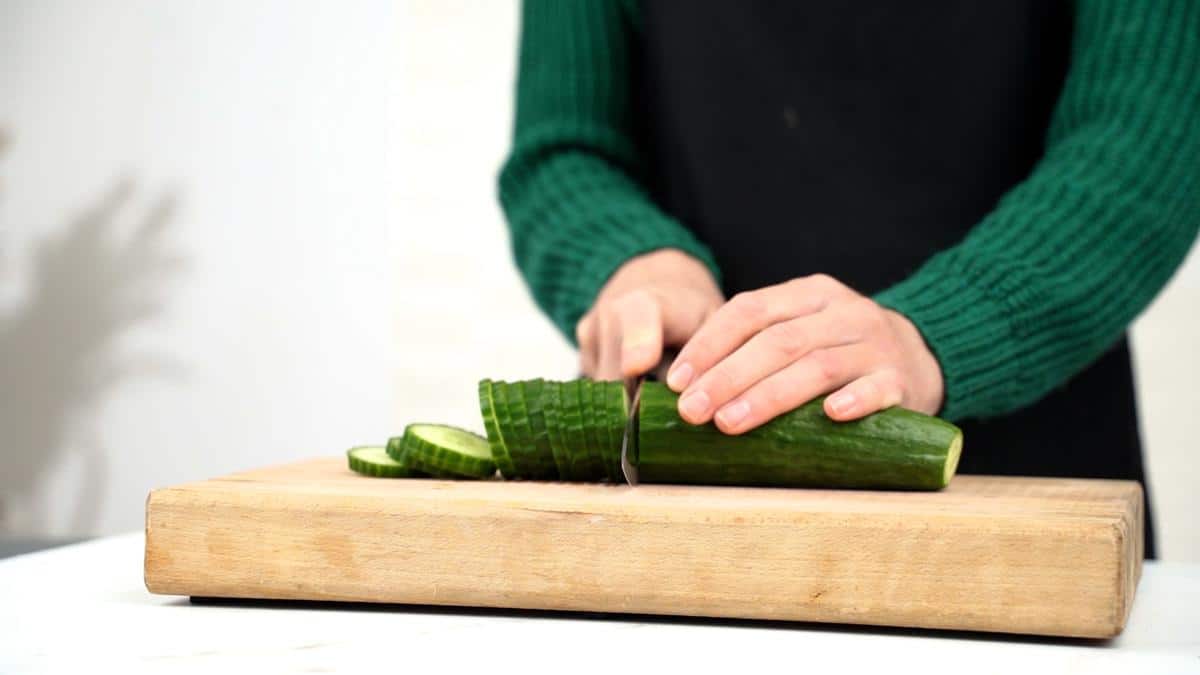 In a small bowl, whisk together the vinegar, syrup, mustard, and oil. Taste and season if needed.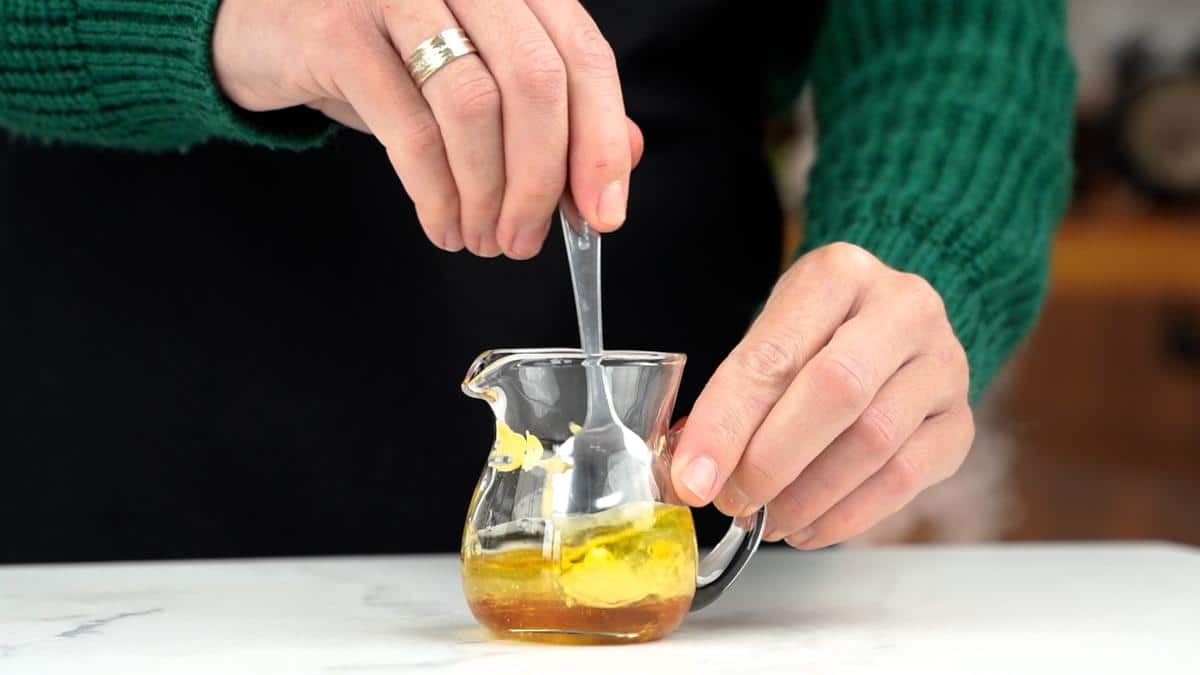 Now, assemble the salad with arugula first, then the beet, cucumber, and onion. Add the quinoa and sunflower seeds.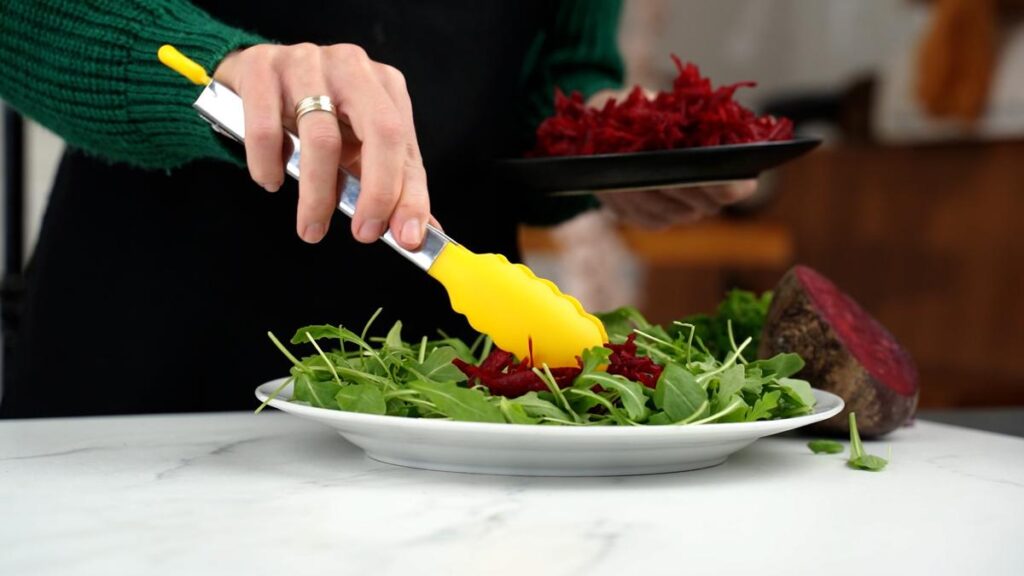 Drizzle with dressing and toss just before serving.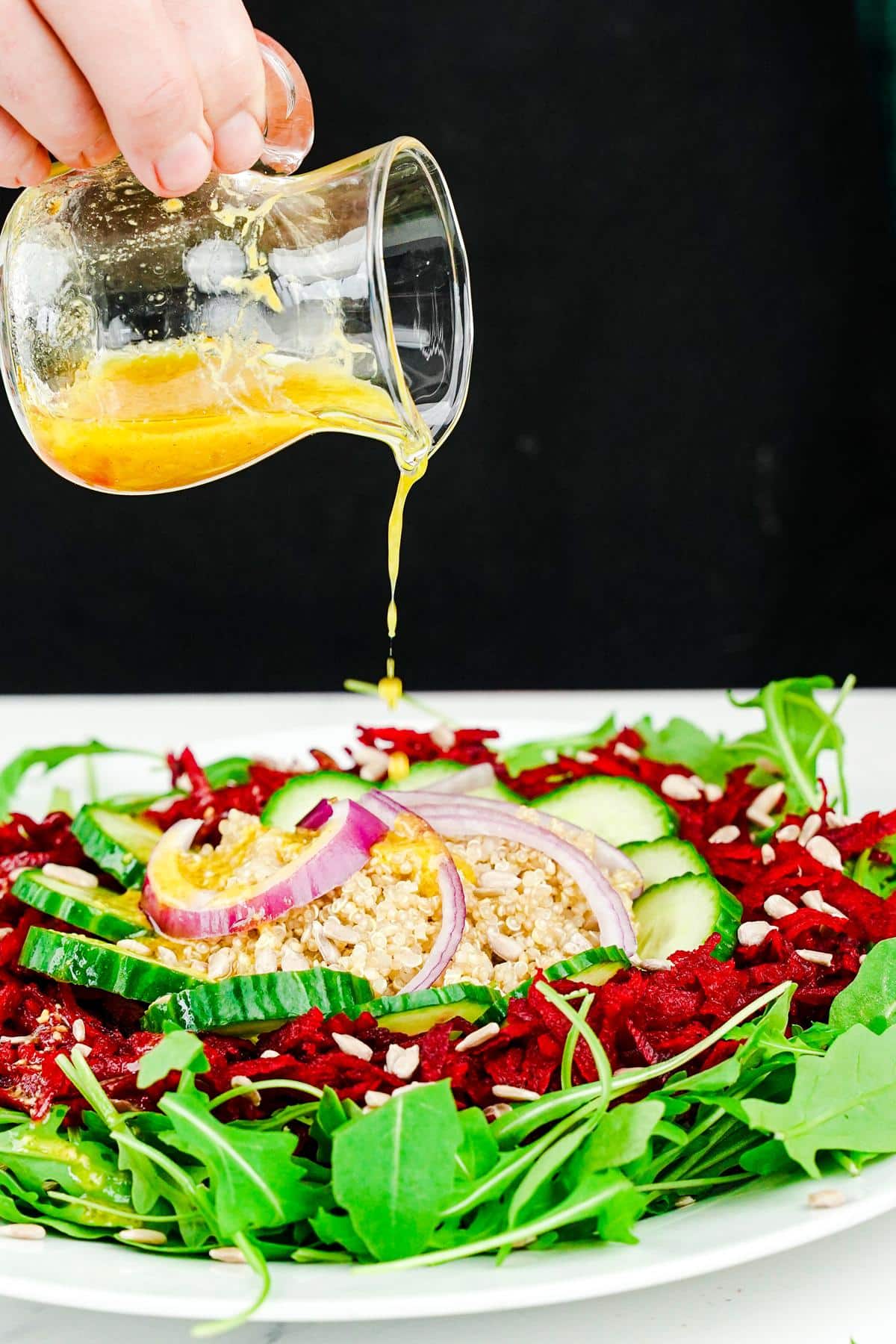 🥘Substitutions
If you don't have all of the ingredients on hand or happen to have a preference, it's perfectly acceptable to make substitutions. Below are a few ideas that work well with this simple arugula salad and can make it tasty for everyone.
Swap quinoa for couscous or bulgur if you prefer a different grain.
Use spinach or mixed greens instead of arugula for a milder flavor.
Substitute sunflower seeds with chopped almonds or walnuts for added crunch.
Use any ready-made plant-based dressing you prefer.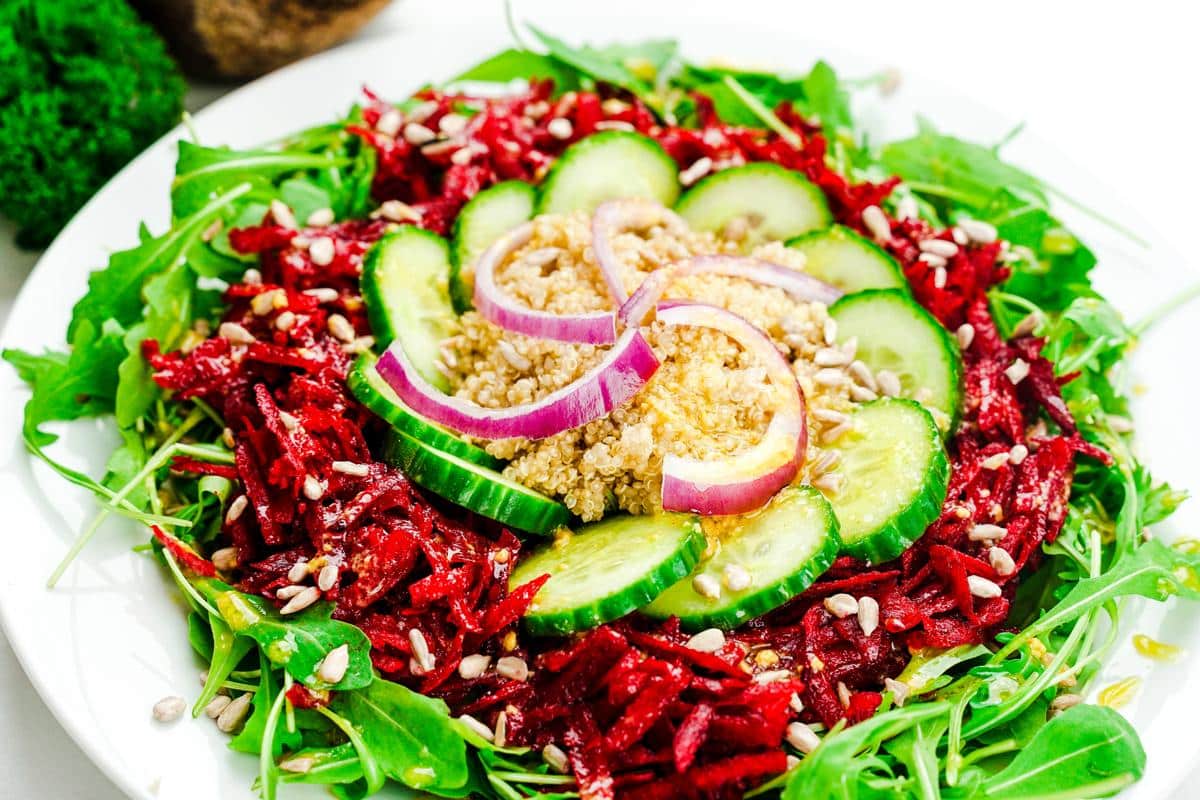 📖Variations
If you like the basics of this salad but want it to be just a little different, then check out some of the variations below that are sure to please your palate. Pick your favorites and make your salad unique.
Add more protein with chickpeas, black beans, edamame, tempeh, tofu, or seitan
Replace the beets with shredded zucchini
Toast the sunflower seeds in oil with chili powder for an extra kick of spice
Add crumbled vegan feta or another non-dairy cheese
For crunch, toss a few croutons into the salad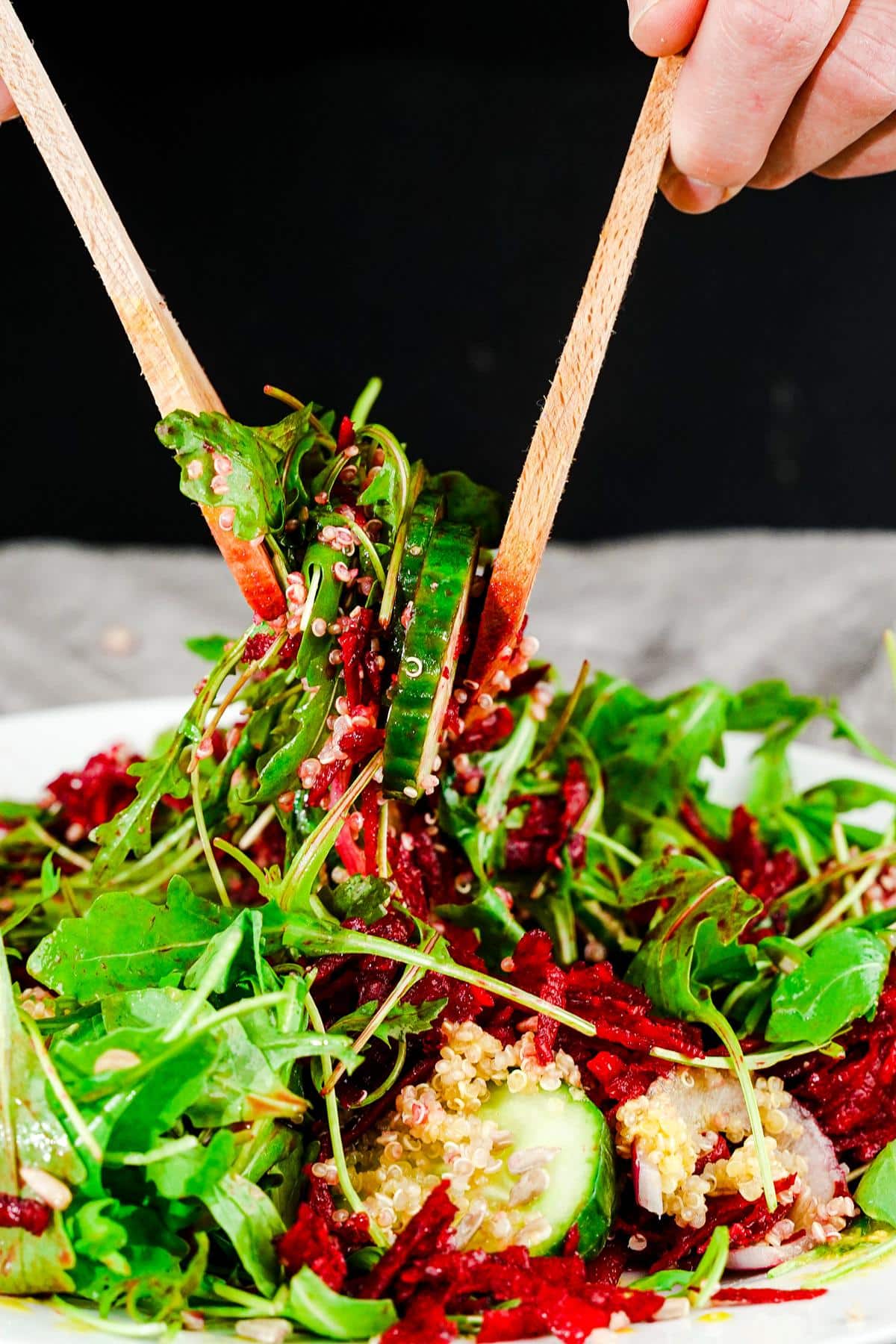 🍽Equipment
Is your kitchen stocked with all of the tools you need? If not, check out the items below and add them to your shopping list. These are what we used for this recipe and love having on hand.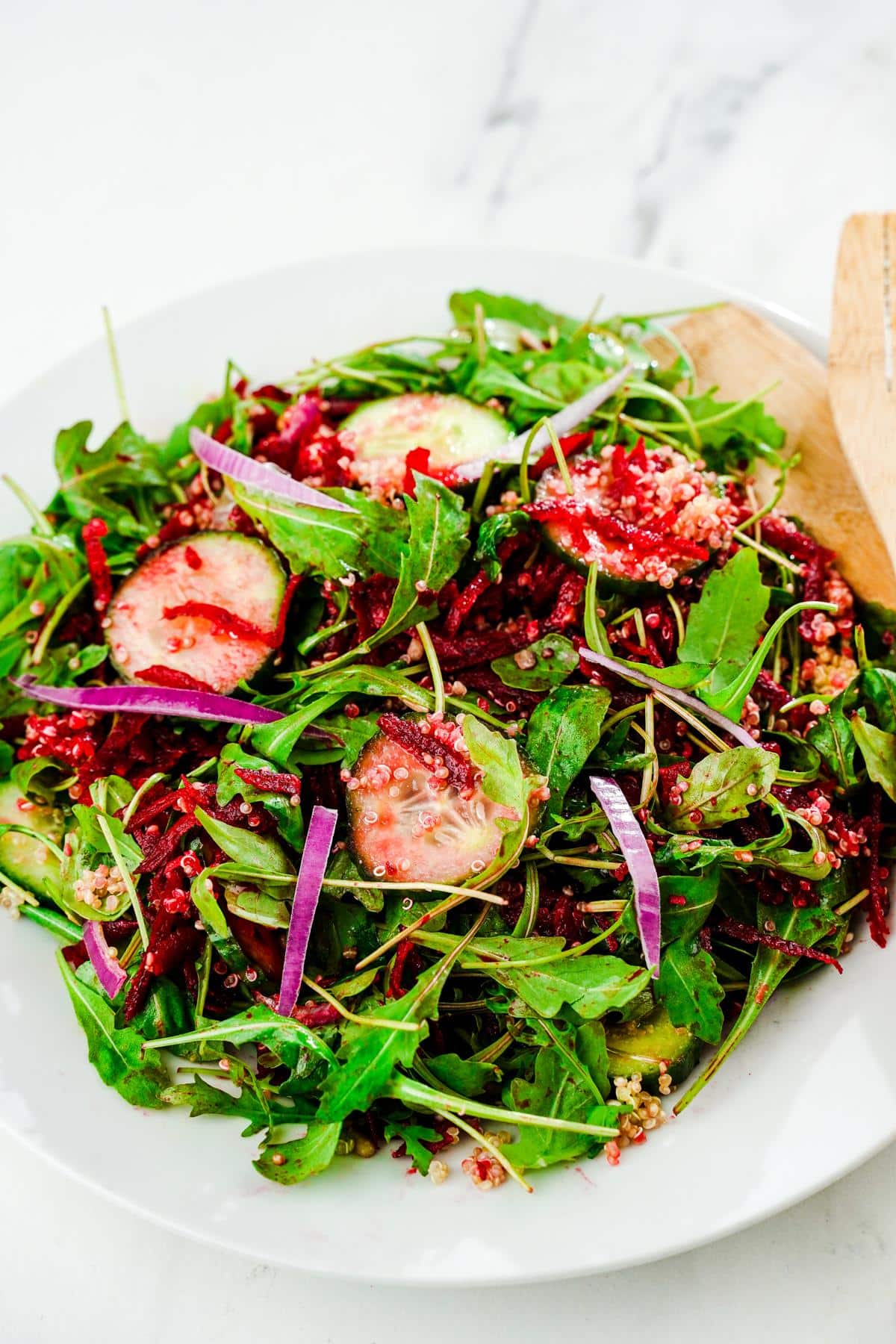 ⏲️Storage
This salad is good for up to 3 days when stored in an airtight container in the refrigerator. I recommend keeping the ingredients for the salad and the prepared dressing separate until just before serving so the arugula doesn't wilt.
While the salad does not freeze well as a whole, you can prepare the quinoa in advance and freeze for up to 1 year.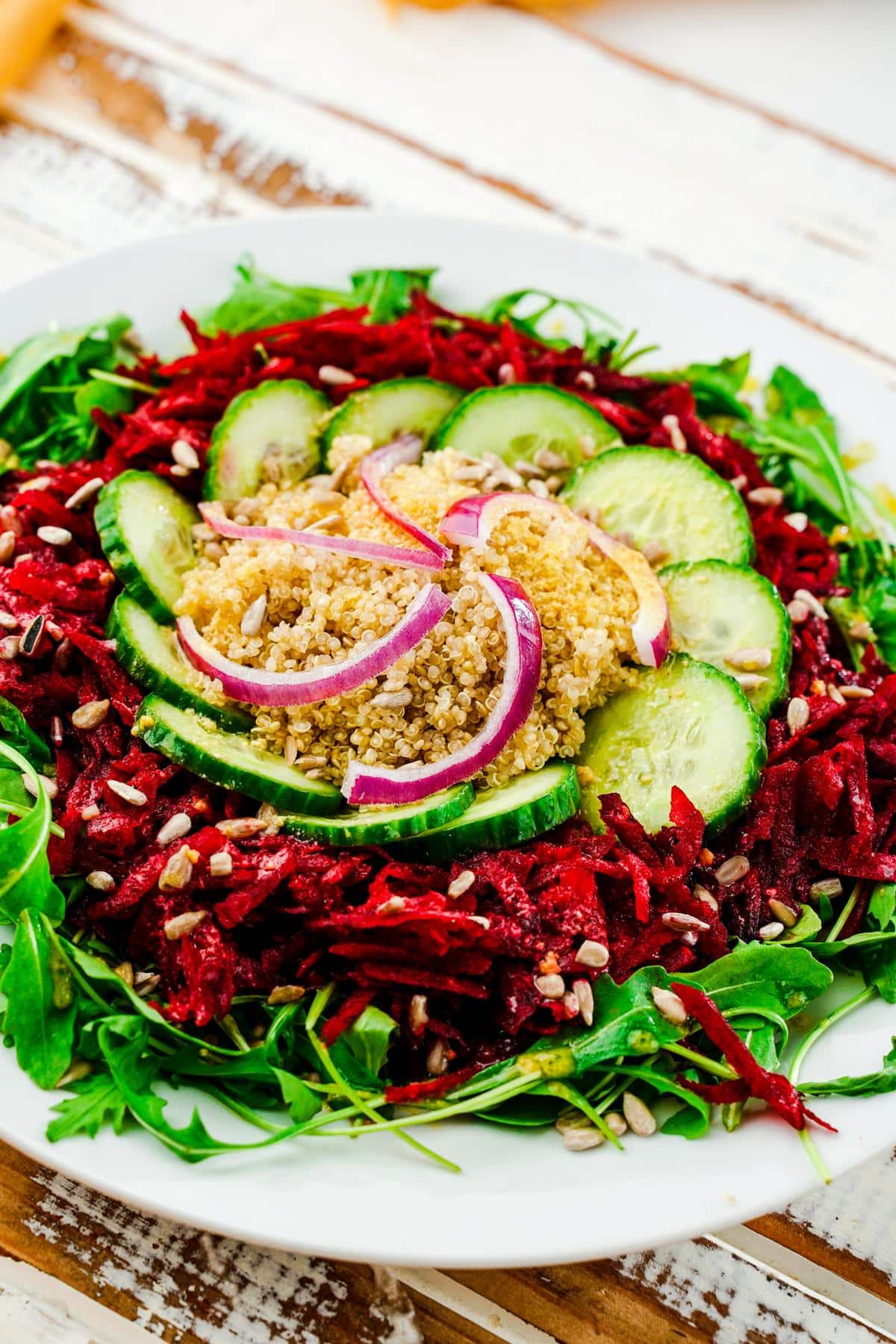 💭Top Tip
To enhance the flavor of your salad, toast the sunflower seeds in a dry pan over medium heat until they become golden and fragrant. This simple step adds a delightful nutty crunch to your dish.
FAQ
What can I use in place of beets?
If you're not a fan of beets, try using roasted sweet potatoes or carrots for a similar earthy sweetness. Another alternative is to use shredded zucchini or squash for that crisp raw texture.
What's the best way to grate beets for this salad?
For this salad, the best way to grate beets is to use a box grater with medium-sized holes. It ensures the perfect texture and consistency.

You can use a food processor, but be careful to just grate and not turn the beets into a mushy texture.
What benefits do beets have in this salad?
Not only are beets great for digestion and full of fiber, they are loaded with vitamins, minerals, and antioxidants.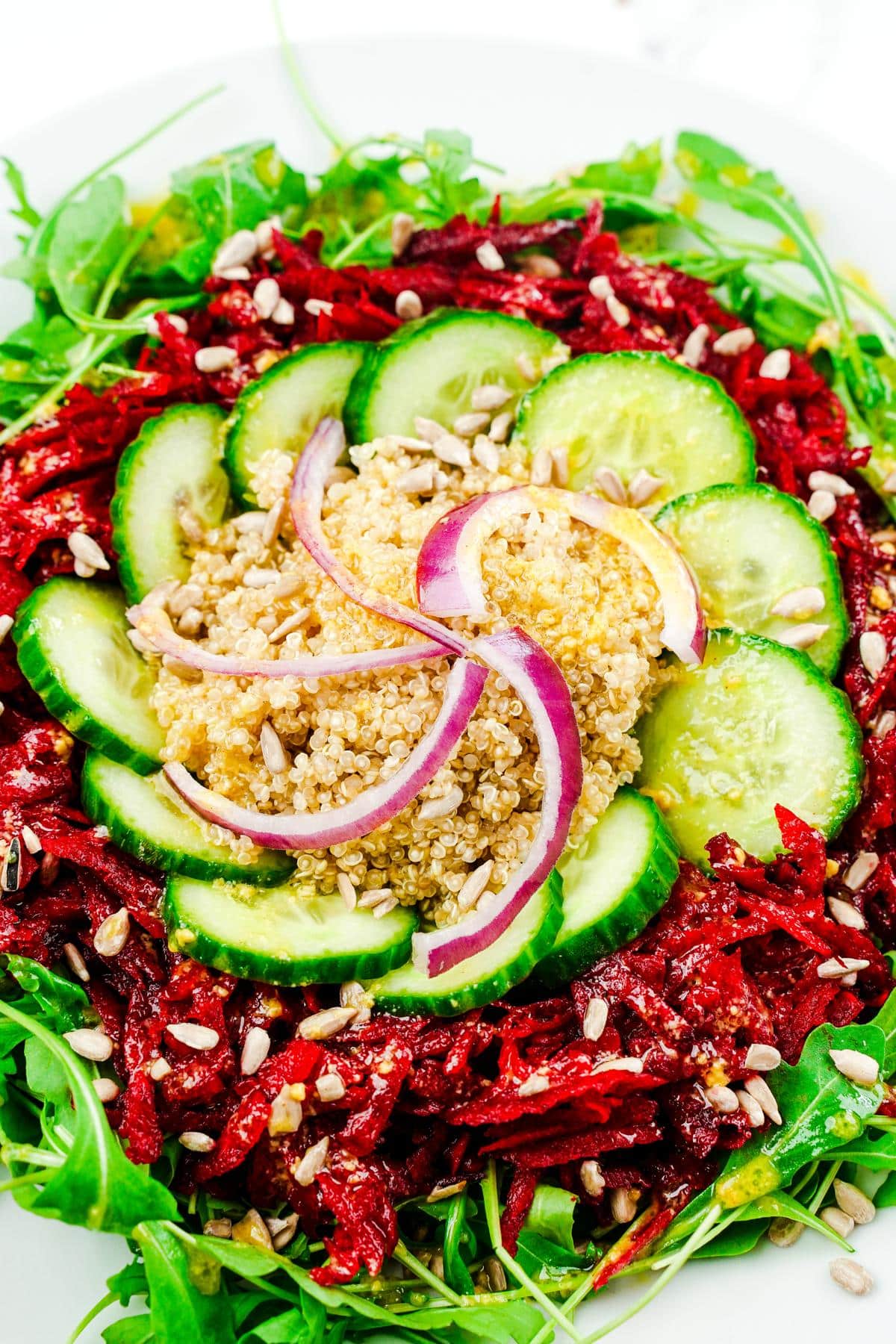 Related
If you enjoy a nice salad for a meal, then check out some of our other favorites listed below. There are so many delicious choices! Bookmark your favorites to add to your meal plan soon.
Pairing
This salad is great by itself, but it is elevated even more when you pair it with one of these protein sources. Pick your favorite and make the next time you want this simple arugula salad.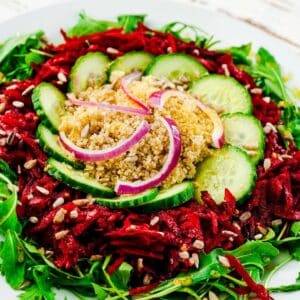 Arugula Salad with Beets
Discover the simplicity of our Arugula Salad with Beets, a quick and flavorful delight that's perfect for any day.
Instructions
Pour the water, quinoa, and salt in a medium saucepan. Bring to a boil. Reduce to low. Simmer for 15 minutes. Remove from the stove, cover, and let sit for at least 10 minutes.

1 ¾ cup water,

1 cup quinoa,

½ teaspoon salt

Slice the onion and cucumber.

¼ red onion,

1 medium cucumber

Whisk together the vinegar, maple syrup, Dijon mustard, and avocado/olive oil in a small bowl.

1 tablespoon apple cider vinegar,

1 teaspoon maple syrup,

1 teaspoon Dijon mustard,

1 teaspoon avocado oil

Assemble the salad with arugula, beets, cucumber, onion, quinoa, and sunflower seeds. Toss with dressing just before serving.

2 cups arugula,

½ cup sunflower seeds
Notes
Swap the arugula for a milder green such as spinach or mixed greens if desired.
Keep your hands clean by using kitchen gloves when handling fresh beets.
Nutrition
Calories:
578
kcal
Carbohydrates:
71
g
Protein:
21
g
Fat:
25
g
Saturated Fat:
2
g
Polyunsaturated Fat:
11
g
Monounsaturated Fat:
9
g
Sodium:
652
mg
Potassium:
1076
mg
Fiber:
11
g
Sugar:
7
g
Vitamin A:
620
IU
Vitamin C:
10
mg
Calcium:
138
mg
Iron:
7
mg
🥗Food Safety
Make sure you follow our top tips for food safety in your home kitchen! Keep everything sanitary and ready to prepare your meals!
Always sanitize countertops, cutting boards, utensils, and cookware thoroughly between each use.
Wash your hands in warm soapy water, rubbing for at least 20 seconds before rinsing. Remember, "FROG" means friction rubs off germs.
After serving food, allow it to cool, then place it into the refrigerator or proper storage immediately. Food should be at room temperature for no more than 2 hours for safety.