Are you ready to spice up your weeknight dinner game with a dish as delicious as it is nutritious? I've got just the recipe for you: spicy potato bowls with tahini dressing!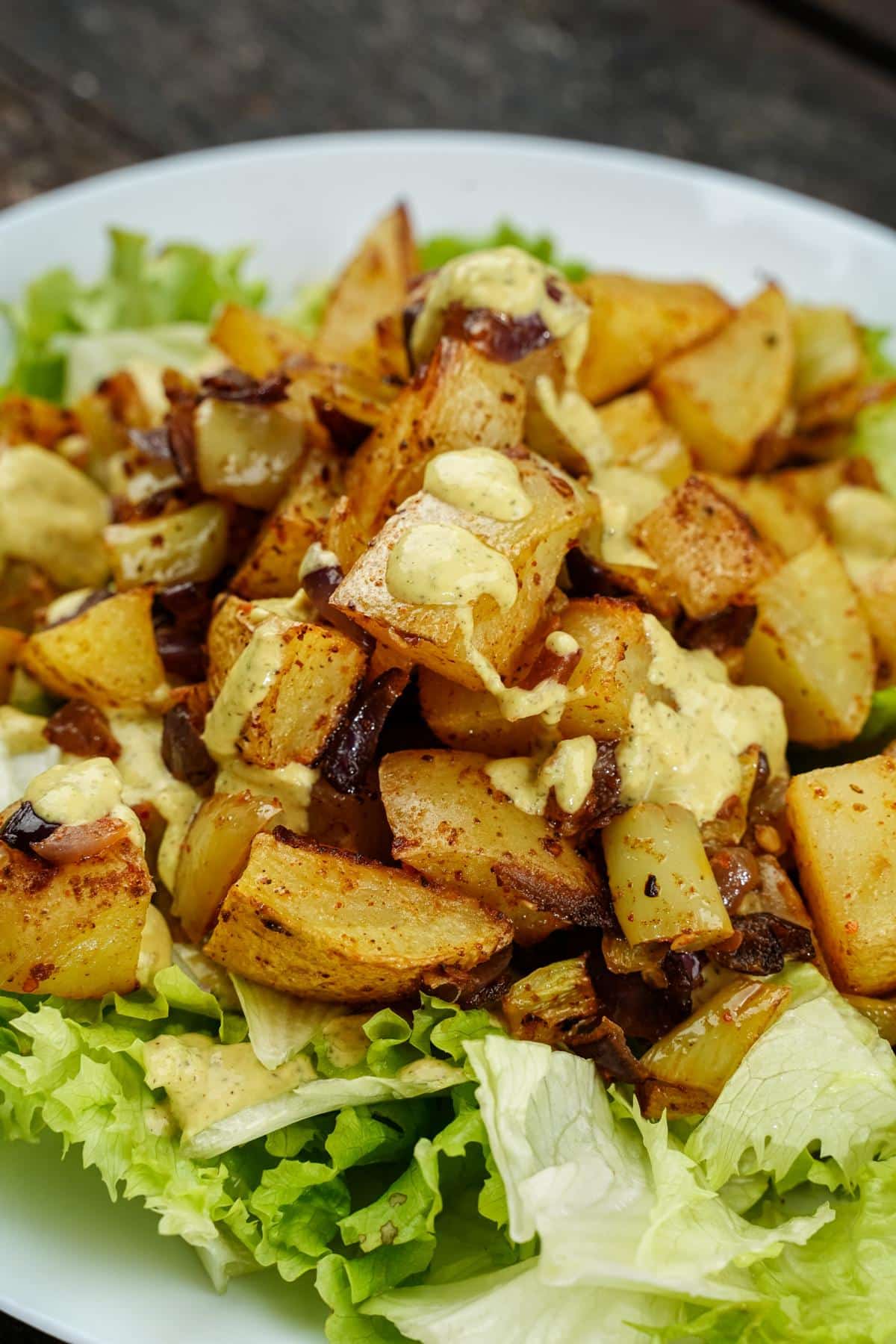 This vegan dish is loaded with flavor, protein, and healthy carbs, making it the perfect meal for those looking for a satisfying and nourishing dinner.
If you love a spicy dish like this, then you are sure to love this jalapeno cheddar vegan mac and cheese recipe. Another tasty meal!
Jump to:
🥘Ingredients
This recipe requires ingredients for the potatoes, the dressing, and of course the salad base.
🥔For the Potatoes
Potatoes
Green bell pepper
Jalapeno
Red onion
Olive oil
Red pepper flakes
Chili powder
Salt
Black pepper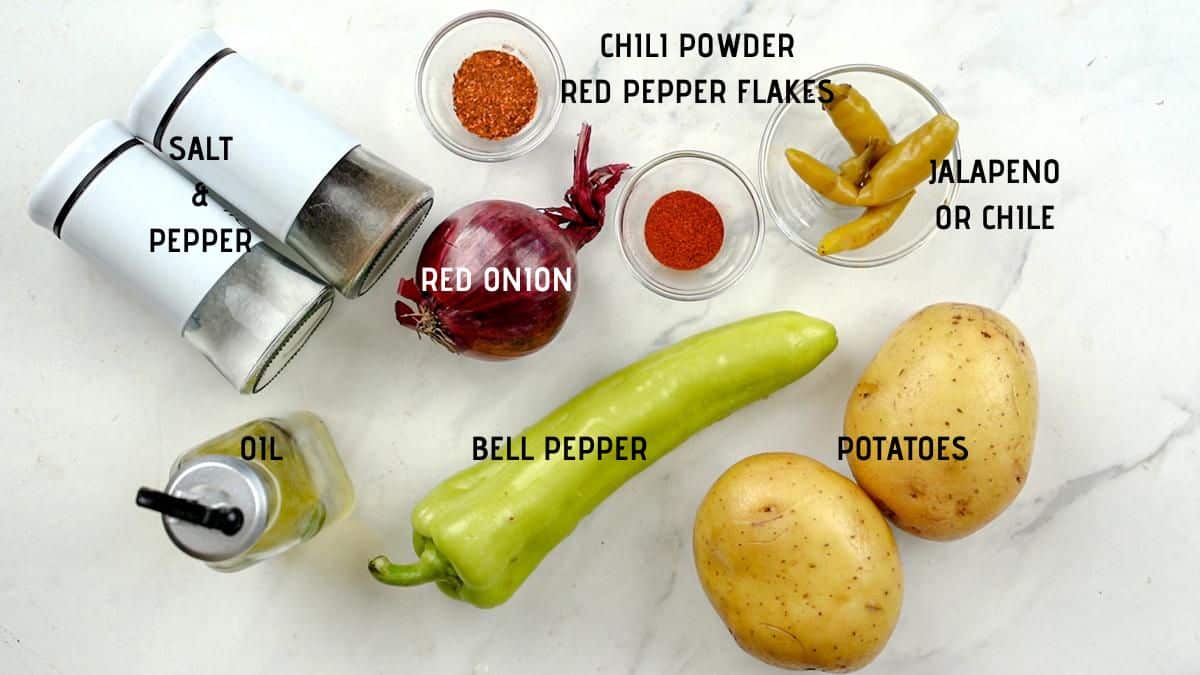 🧂 For the Dressing
Tahini
Yellow mustard
Red wine vinegar
Lemon juice
Dried oregano
Garlic salt
Black pepper
Water
🥗For the Salad
1 head of lettuce
Juice of 1 lemon
🔪Instructions
Preheat the oven to 400°F and then line the baking sheet with parchment paper and set it aside.
Slice the potatoes, green bell pepper, and jalapeno, and then pour into a large bowl. Combine the vegetables with red pepper flakes, chili powder, salt, and black pepper. Add the olive oil and toss to coat well.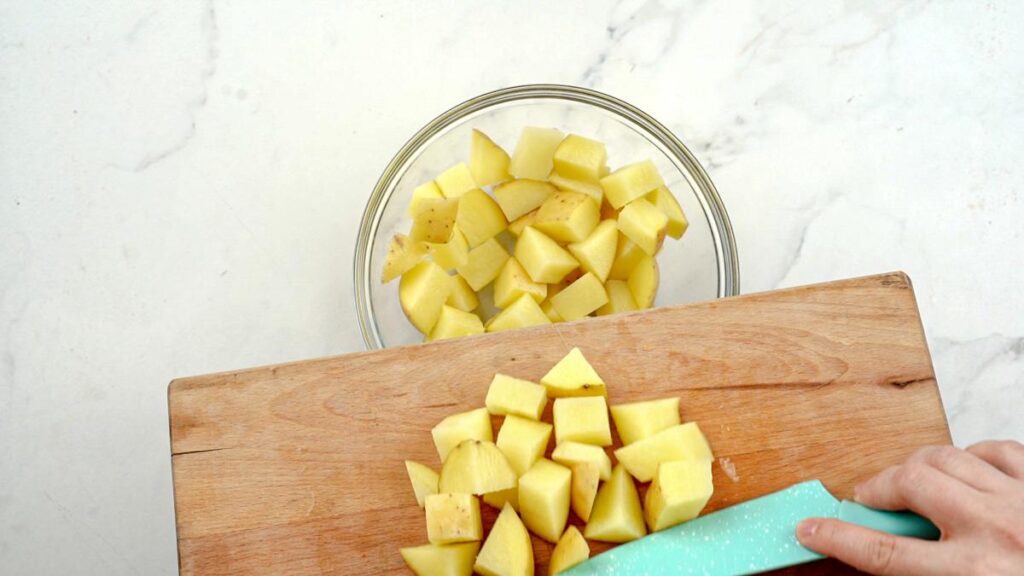 Spread the vegetables onto the baking sheet in an even layer, then bake for 30 minutes, until tender and golden.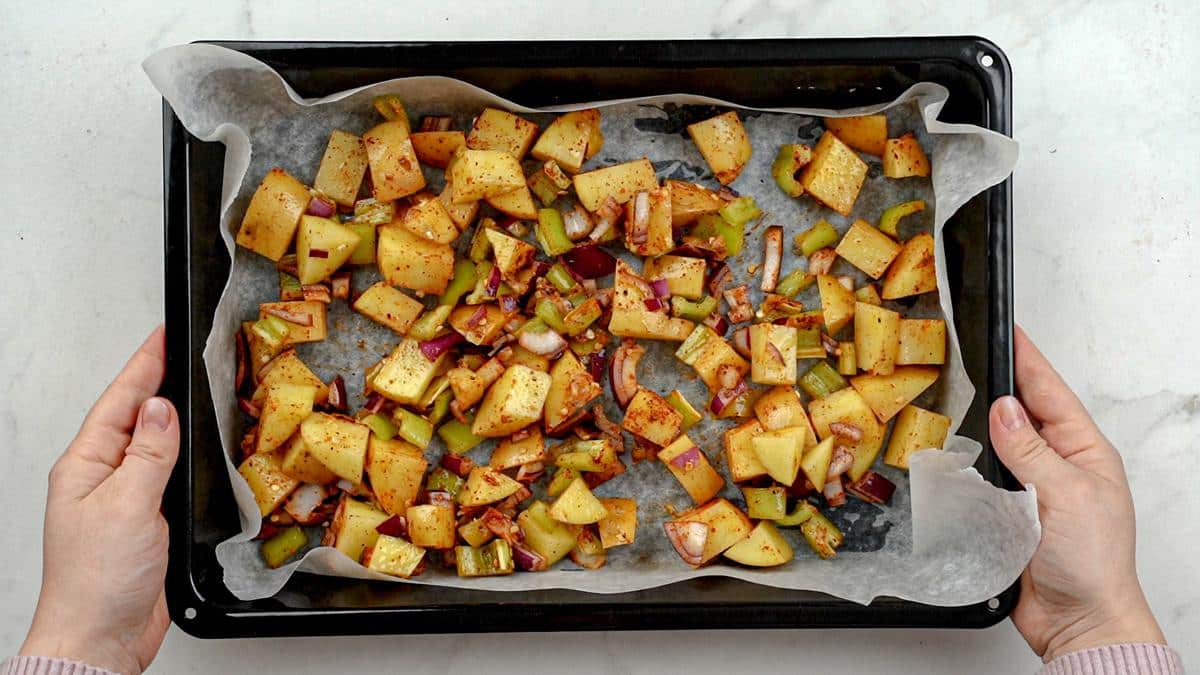 While the vegetables are baking, mix the tahini with the mustard, vinegar, lemon juice, oregano, garlic salt, black pepper, and water. Pour into a jar, cover, and refrigerate until ready to serve.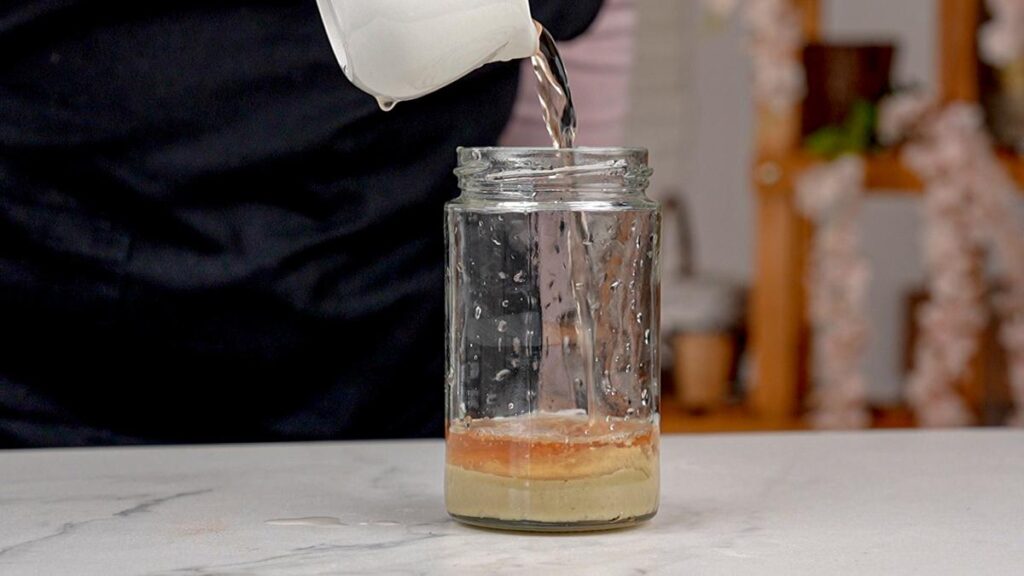 In a large bowl, toss the lettuce with lemon juice, then add the potato mixture and a drizzle of tahini dressing on top.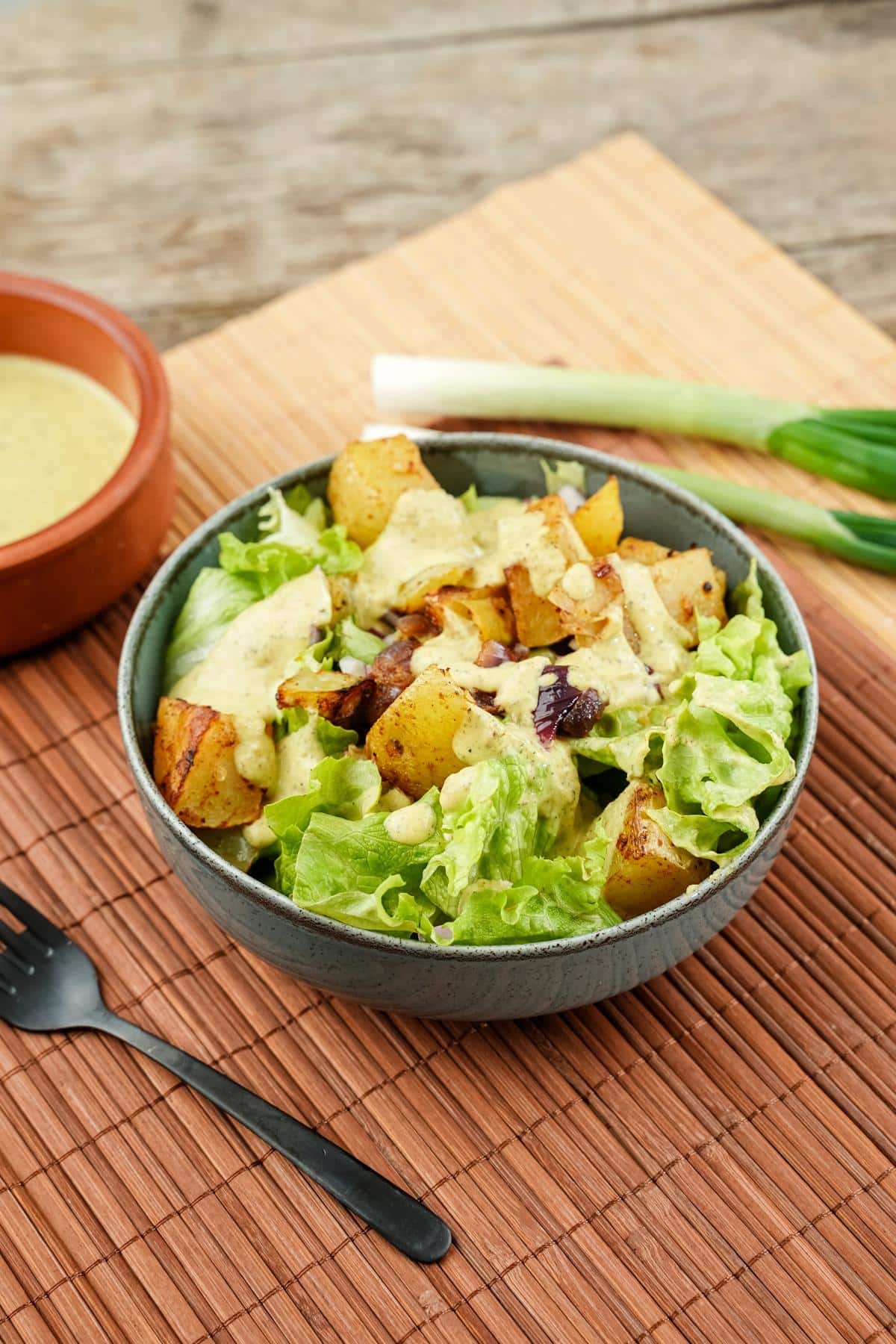 📋Substitutions
This recipe is a delicious choice, but sometimes you want this but a little different. If you are missing ingredients or prefer something different, below are some good options to consider.
Replace tahini with almond butter, cashew butter, sunflower seed butter, or non-dairy yogurt with a ½ teaspoon of sesame oil
Use whole grain or Dijon mustard
Add fresh herbs to the dressing for brightness
Try a different vinegar such as apple cider vinegar or a balsamic vinegar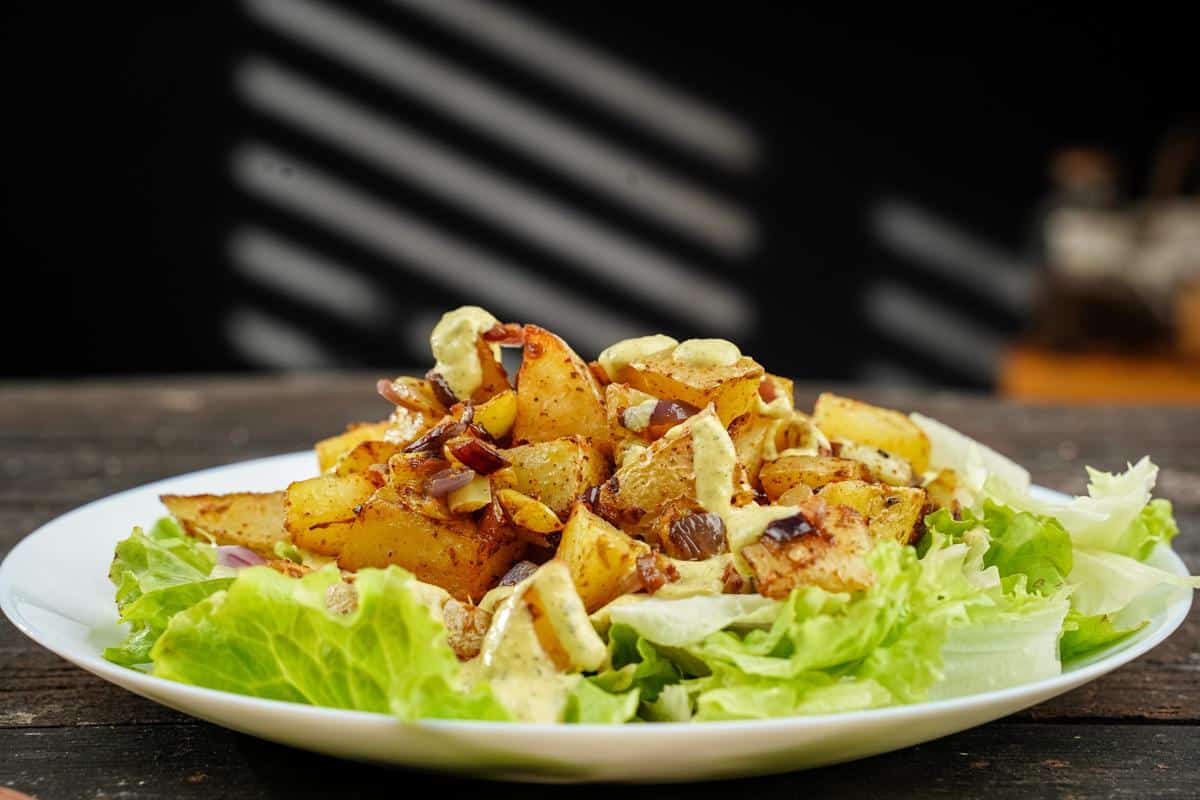 📖Variations
Want to use this same dressing and base but make it just a bit unique? Check out these ideas!
Sweet Potato Bowl: substitute regular potatoes with sweet potatoes, omit jalapeno, and use honey or maple syrup instead of red pepper flakes for sweetness.
Cauliflower Bowl: substitute potatoes with cauliflower florets, and add turmeric powder and cumin powder to the chili powder for more flavor.
Quinoa Bowl: substitute potatoes with cooked quinoa, and add diced zucchini and cherry tomatoes for extra vegetables.
Chickpea Bowl: substitute potatoes with chickpeas, and add smoked paprika and ground cumin for smokiness.
Tofu Bowl: substitute potatoes with firm tofu, and add soy sauce and sesame oil to the dressing for an Asian twist.
Mushroom Bowl: substitute potatoes with sliced mushrooms, and add balsamic vinegar and thyme to the dressing for a tangy flavor.
Eggplant Bowl: substitute potatoes with roasted eggplant, and add harissa paste and coriander powder for a Moroccan-inspired taste.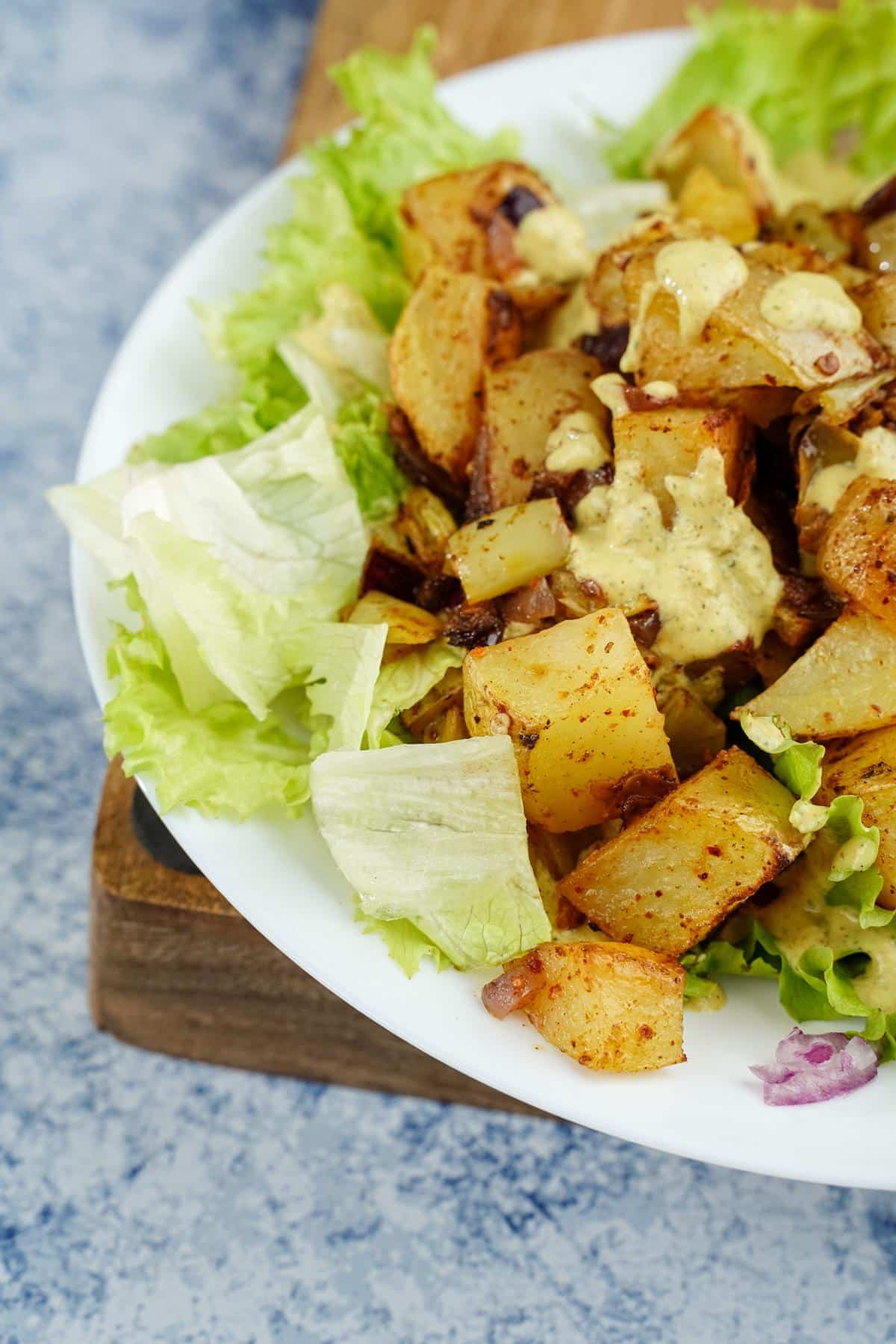 🥣Storage
To store leftover spicy potato bowls, first, let them cool down to room temperature. Then, transfer the leftover potatoes and vegetables to an airtight container and store them in the refrigerator for up to four days.
It's best to store the dressing and salad separately in their own airtight containers. The dressing can be refrigerated for up to one week, and the salad should be consumed within two days for the best quality.
When you're ready to enjoy the leftover spicy potato bowls, you can reheat the potatoes and vegetables in the microwave or oven until heated through. Then, mix in the dressing and serve with the salad.
This recipe does not freeze well so it is not recommended.
🍳Equipment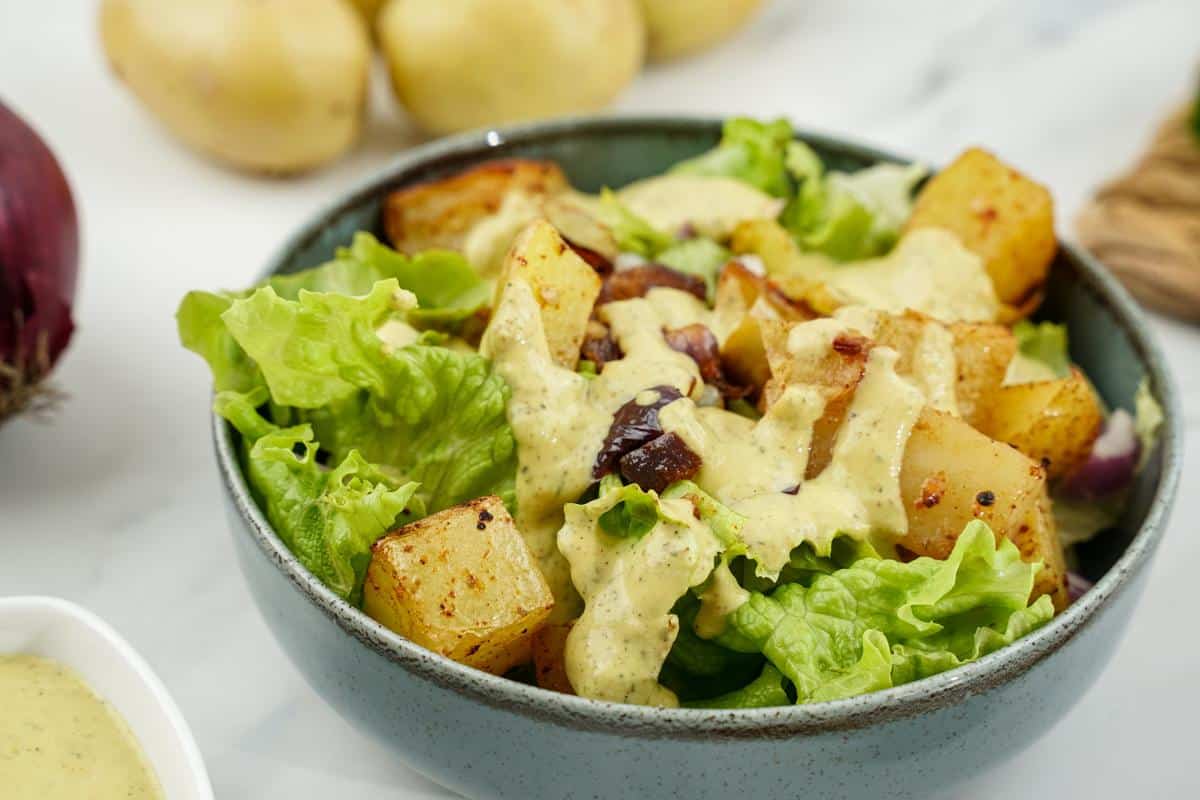 💡 Top Tip
The top tip for this recipe is simply to use a variety of flavors to add spice to the mixture. Vegetables and potatoes are delicious, but elevating them with fresh herbs and your favorite spice blends takes it to the next level.
❓FAQ
Can I make this recipe without tahini?
Yes, you can definitely make the dressing without tahini. See the substitutions list above for ideas to replace the roasted sesame paste in the dressing.
What kind of potatoes should I use?
For this recipe, you can use any potato you have on hand. I like a simple russet or Yukon gold, but you could even use fingerling, or a fun variety of potatoes for extra color.
How can I reheat this recipe?
Spicy potato bowls are easy to reheat. When storing, keep the salad, dressing, and vegetables separate. You can serve it chilled, or reheat the vegetables in the oven until hot all the way through, then mix as you would before serving.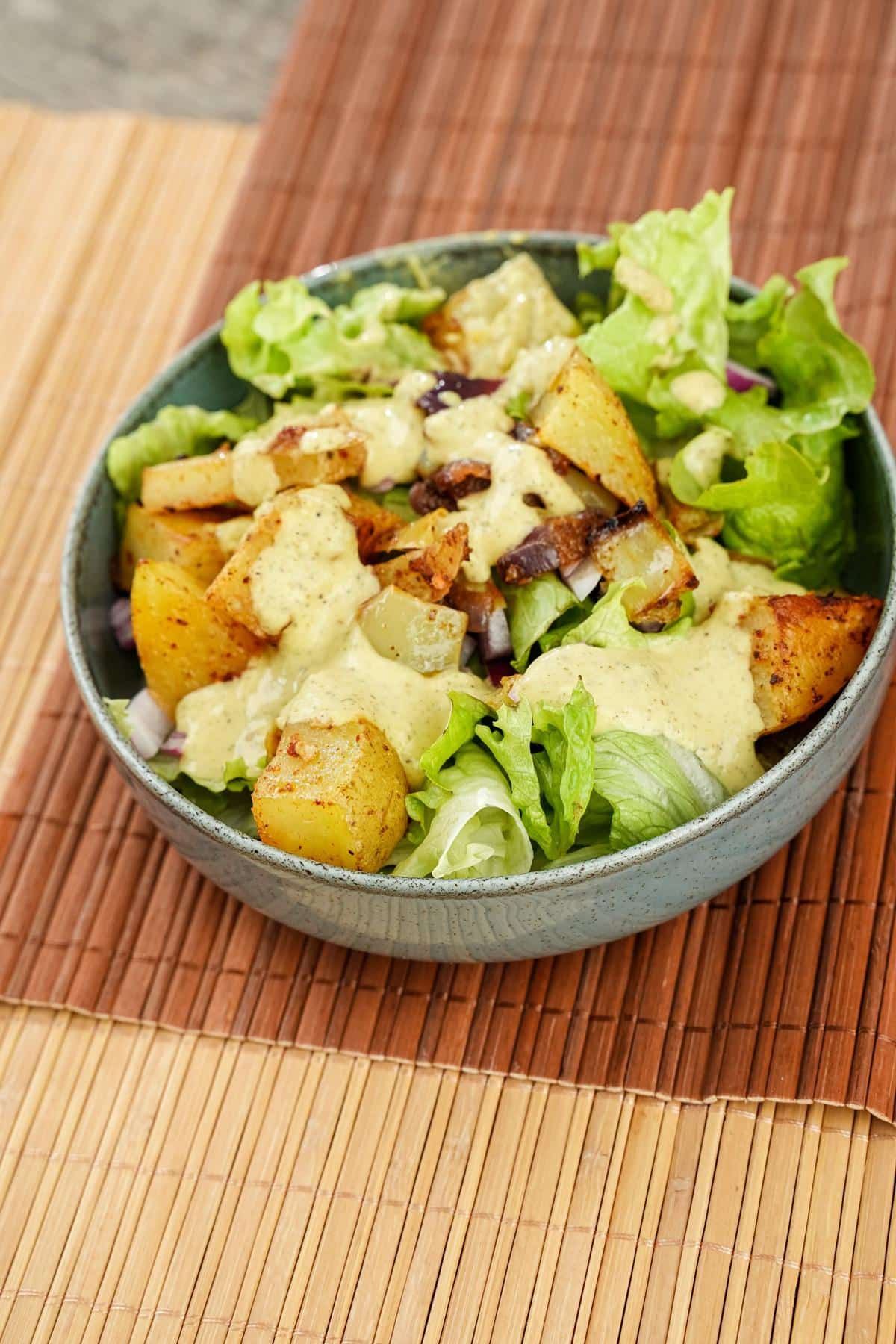 Related
This recipe is a favorite but you may want something a little more unique. Below are a few more dishes with potatoes at the center!
Pairing
Want to make this go further? Serve with one of our favorite proteins below!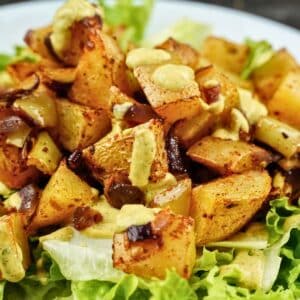 Spicy Potato Bowls with Tahini Dressing
Indulge in the mouthwatering Spicy Potato Bowls accompanied by the delectable Tahini Dressing recipe. The dish is impeccably seasoned and garnished with a smooth and creamy dressing that will gratify your taste buds and fulfill your appetite.
Instructions
Start by preheating your oven to 400°F. Then, line a baking sheet with parchment paper and set it aside.

Next, slice your potatoes, green bell pepper, and jalapeno and place them into a large bowl. In the same bowl, add red pepper flakes, chili powder, salt, black pepper, and olive oil. Toss everything together to make sure the vegetables are coated evenly.

Take the coated vegetables and spread them out onto the baking sheet. Place the sheet into the oven and bake for 30 minutes or until they become tender and golden brown.

While the vegetables are baking, mix tahini, mustard, vinegar, lemon juice, oregano, garlic salt, black pepper, and water in a jar. Cover the jar and place it in the refrigerator until it's ready to use.

When the vegetables are done, take them out of the oven and set them aside to cool. In a large bowl, toss the lettuce with lemon juice. Next, add the potato mixture and drizzle some tahini dressing on top.
Notes
You can prepare the ingredients a day in advance. Simply store separately before assembling into the salad.
Use a mixture of red, yellow, and purple potatoes for added color.
Add more or less jalapeno to taste. If daring, use different chile for added spice.
Nutrition
Calories:
344
kcal
Carbohydrates:
36
g
Protein:
10
g
Fat:
20
g
Saturated Fat:
3
g
Polyunsaturated Fat:
8
g
Monounsaturated Fat:
9
g
Sodium:
412
mg
Potassium:
960
mg
Fiber:
7
g
Sugar:
6
g
Vitamin A:
1024
IU
Vitamin C:
70
mg
Calcium:
105
mg
Iron:
3
mg
Food Safety
Follow the tips below and others to keep your kitchen safe.
Always sanitize countertops, cutting boards, utensils, and cookware thoroughly between each use.
Wash your hands in warm soapy water, rubbing for at least 20 seconds before rinsing. Remember, "FROG" means friction rubs off germs.
After serving food, allow it to cool, then place it into the refrigerator or proper storage immediately. Food should be at room temperature for no more than 2 hours for safety.