Greetings fellow coffee lovers! Today, I want to introduce you to my latest obsession – the brown sugar shaken espresso and it is entirely vegan! No more expensive coffee shop prices when you can make this at home. It's ideal for a start to your day, or to help you through the afternoon slump!
Jump to:
Vegan Shaken Espresso
Now, before we dive into the recipe, let's address the elephant in the room – is brown sugar vegan? The answer is yes, but it's important to note that not all brown sugar is vegan. Some manufacturers use bone char during the refining process, which is derived from animal bones. Therefore, make sure to choose a brand that explicitly states that it's vegan or uses alternative refining methods.
And if you want to make this even better, make sure you serve it up with a slice of our vegan coffee cake recipe. It's easy to make and the perfect pairing for this iced coffee drink.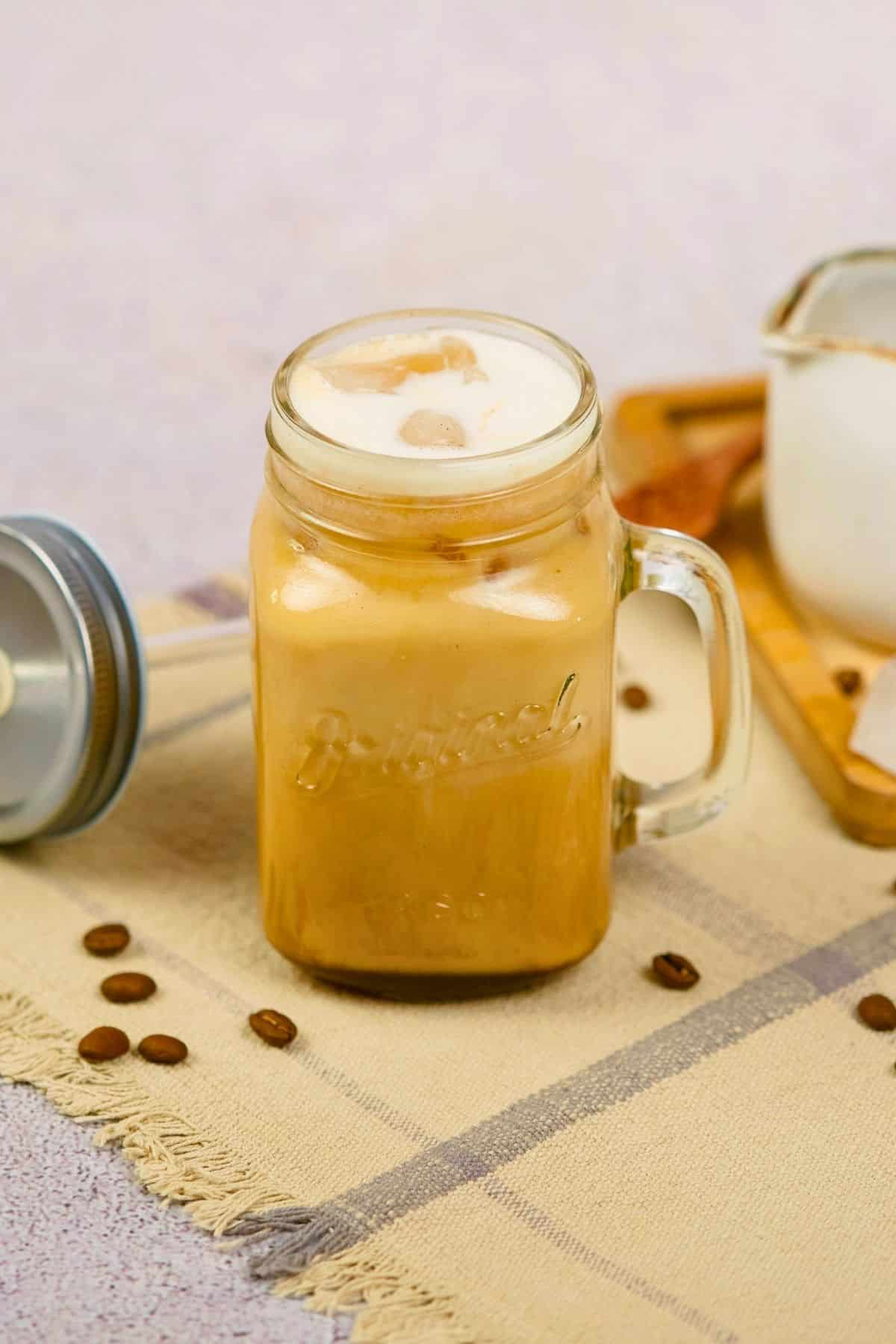 Ingredients
Serves: 2 to 4
½ cup ground coffee (or instant espresso)
2 cups water, boiling
½ cup brown sugar
½ cup plus 2 tablespoon water
¼ tablespoon ground cinnamon
A pinch of salt
1 cup non-dairy milk
Ice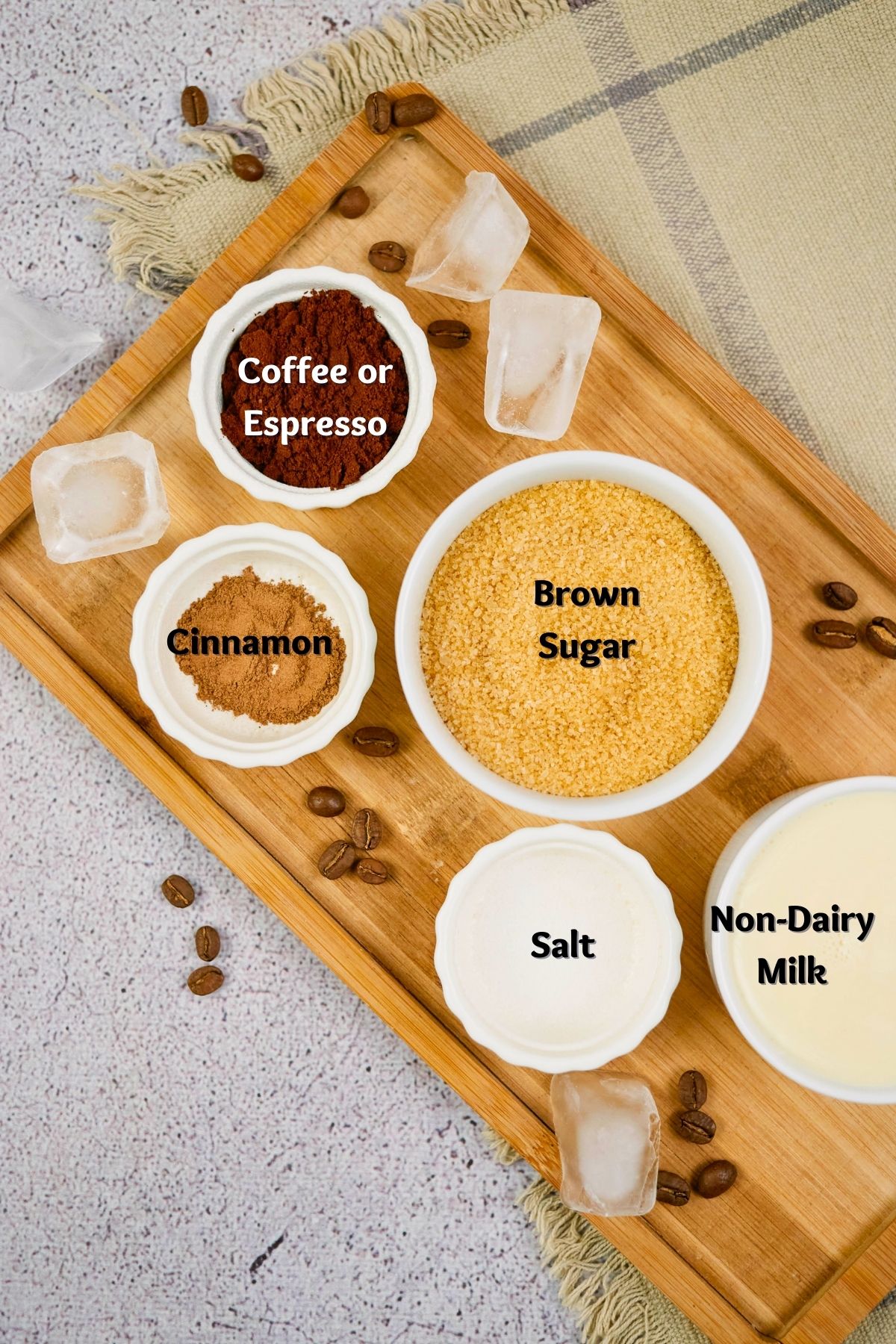 Kitchen Tools Used: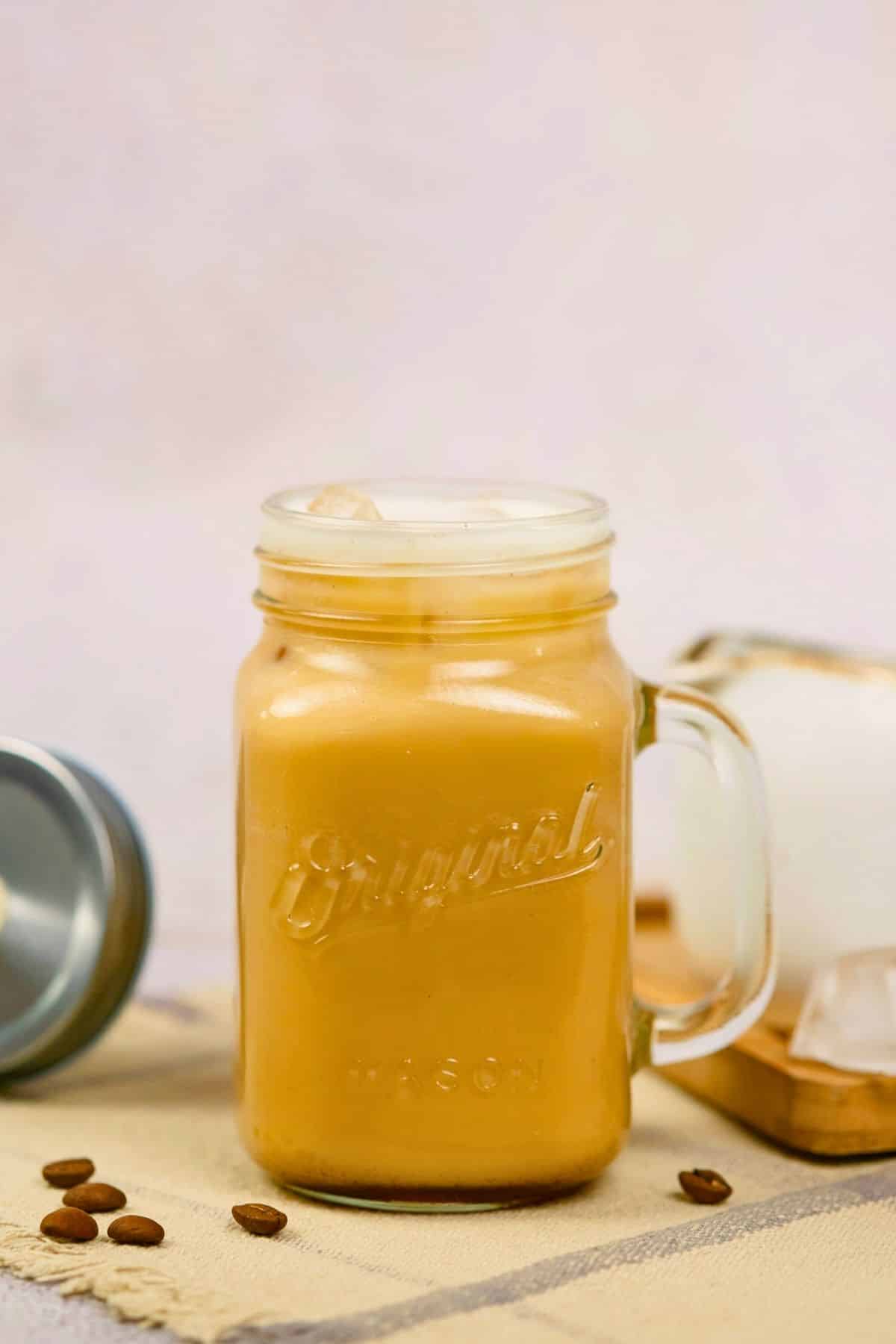 How to Make a Brown Sugar-Shaken Espresso
In a French press, add ½ cup of quality dark roast ground coffee. Then cover it with 2 cups of boiling water and set it aside for 5 minutes. Press and pour the coffee and then pour it into a jar and then set it aside to cool.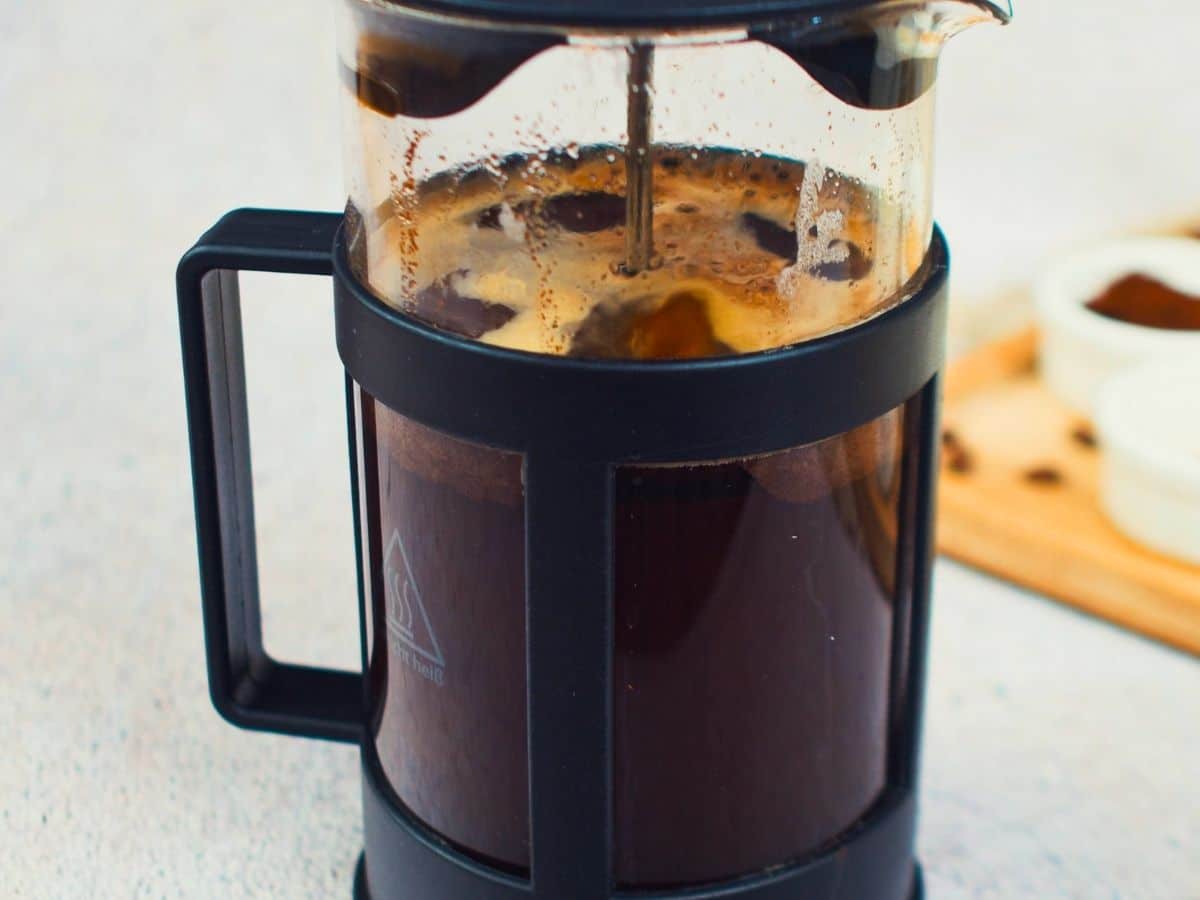 While the coffee brews, add the brown sugar, salt, cinnamon, and ½ cup plus 2 tablespoons of water to a saucepan. Whisk this together, and bring it to a boil for 10 minutes, over low heat. Pour the syrup aside to cool.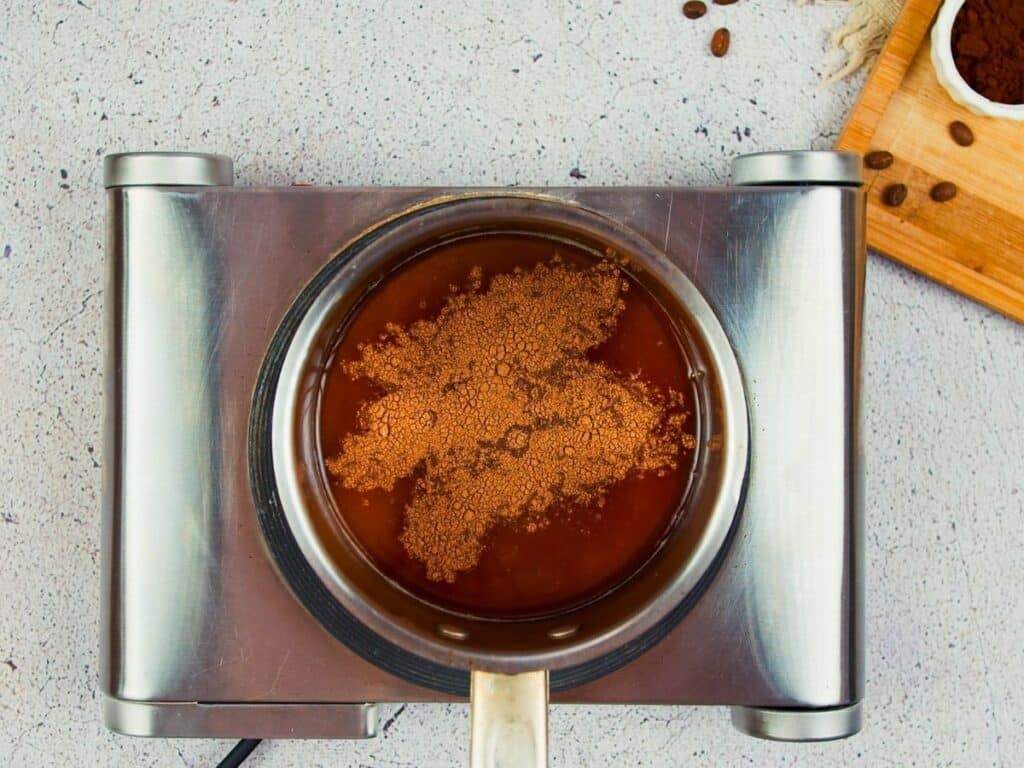 Now, to a cocktail shaker or a mason jar, add the coffee and brown sugar syrup with ice. Shake this until frothy and chilled.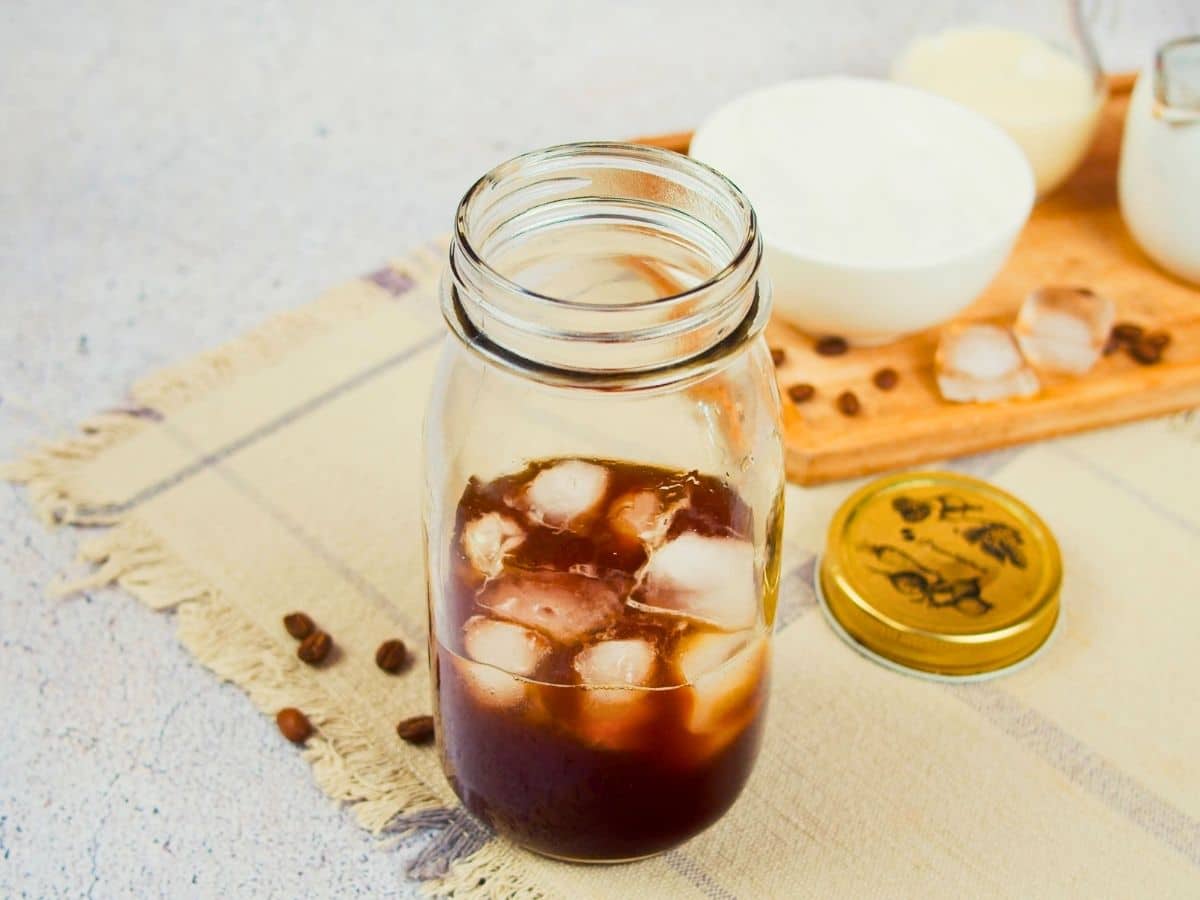 Fill your mugs or glass with ice, then pour and divide the coffee mixture over the ice. Fill the remaining space in the glass with non-dairy milk.
Frequently Asked Questions
Is brown sugar vegan?
While some versions are not vegan, most brown sugar will be vegan. I always recommend checking before use to verify it was not made using bone char.
What is the best non-dairy milk to use in a vegan brown sugar shaken espresso?
Oat milk is a classic option for an iced coffee beverage, but you may also use almond milk, coconut milk, soy milk, or even hemp milk.
Can I make a large batch of vegan brown sugar shaken espresso and store it in the fridge?
Absolutely. If you plan to have this on a regular basis, or perhaps every morning, then make the mixture in advance. Just keep the brown sugar coffee mixture separate from the milk. Make a large batch, pour it into a jar with a lid, and then refrigerate for up to 4 days. Assemble and serve when desired.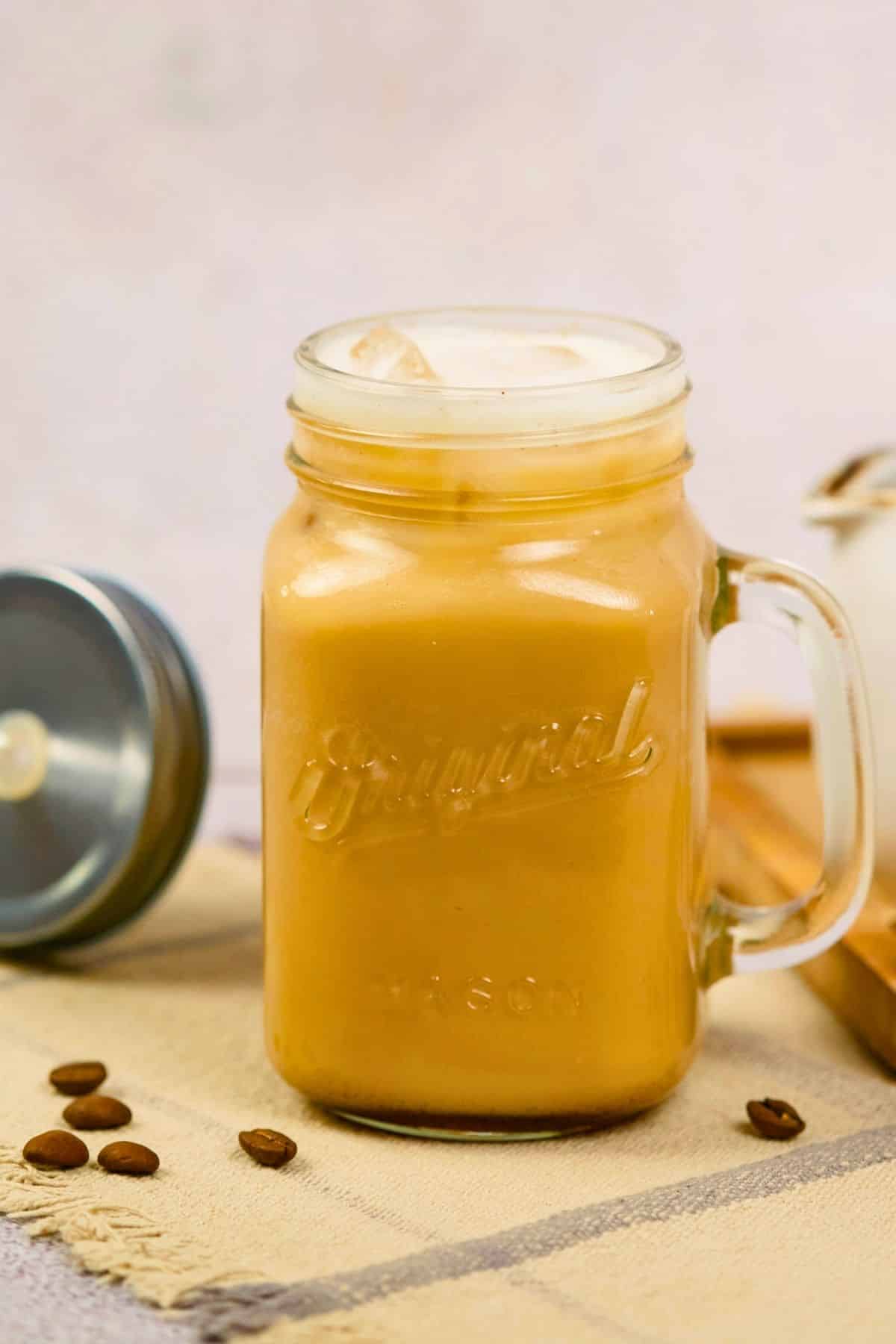 More Drink Recipes
Coffee is just the beginning of my favorite things to make, and when it comes to a vegan drink, below are some great ideas. These are fun options for a treat, snack, or a start to your day. Take a moment to check these out, bookmark your favorites, print out the recipes, or pin them to Pinterest to make soon!
Brown Sugar Shaken Espresso
Elevate your morning routine with our Brown Sugar Shaken Espresso - a delightful coffee drink that's both sweet and energizing. It's the perfect way to kickstart your day!
Instructions
For a fresh brew, add ½ cup of ground coffee to a French press and pour 2 cups of boiling water over it. Let it steep for 5 minutes before pressing down slowly. Alternatively, use ¼ cup of pre-made espresso.

To make the brown sugar syrup, combine brown sugar, salt, cinnamon, and water in a saucepan and boil over low heat for 10 minutes. Once done, pour it into a jar and let it cool.

In a large jar or cocktail shaker, combine coffee 1 cup of the or espresso with around 2 tablespoon of cinnamon syrup and ice. Shake vigorously until frothy.

Fill a serving mug with ice and strain the shaken coffee on top. Finally, top it off with oat milk.
Notes
Make the brown sugar syrup in larger batches and refrigerate for up to 1 week to add to any coffee beverage when desired.
Try using a flavored coffee for added flavor in this drink.
Use your preferred non-dairy milk such as almond milk, soy milk, oat milk, coconut milk, rice milk, or hemp milk.
Nutrition
Calories:
150
kcal
Carbohydrates:
39
g
Protein:
1
g
Fat:
1
g
Saturated Fat:
0.1
g
Polyunsaturated Fat:
0.4
g
Monounsaturated Fat:
0.4
g
Sodium:
96
mg
Potassium:
100
mg
Fiber:
8
g
Sugar:
27
g
Vitamin A:
44
IU
Vitamin C:
1
mg
Calcium:
250
mg
Iron:
1
mg