Red Lentil Dahl is ​​a comforting and budget-friendly Indian-inspired meal that's sure to fill you up. It's a simple one pot recipe loaded with protein-packed lentils, warm spices and aromatics, and layers of earthy flavors. Scoop it up with vegan naan bread and enjoy!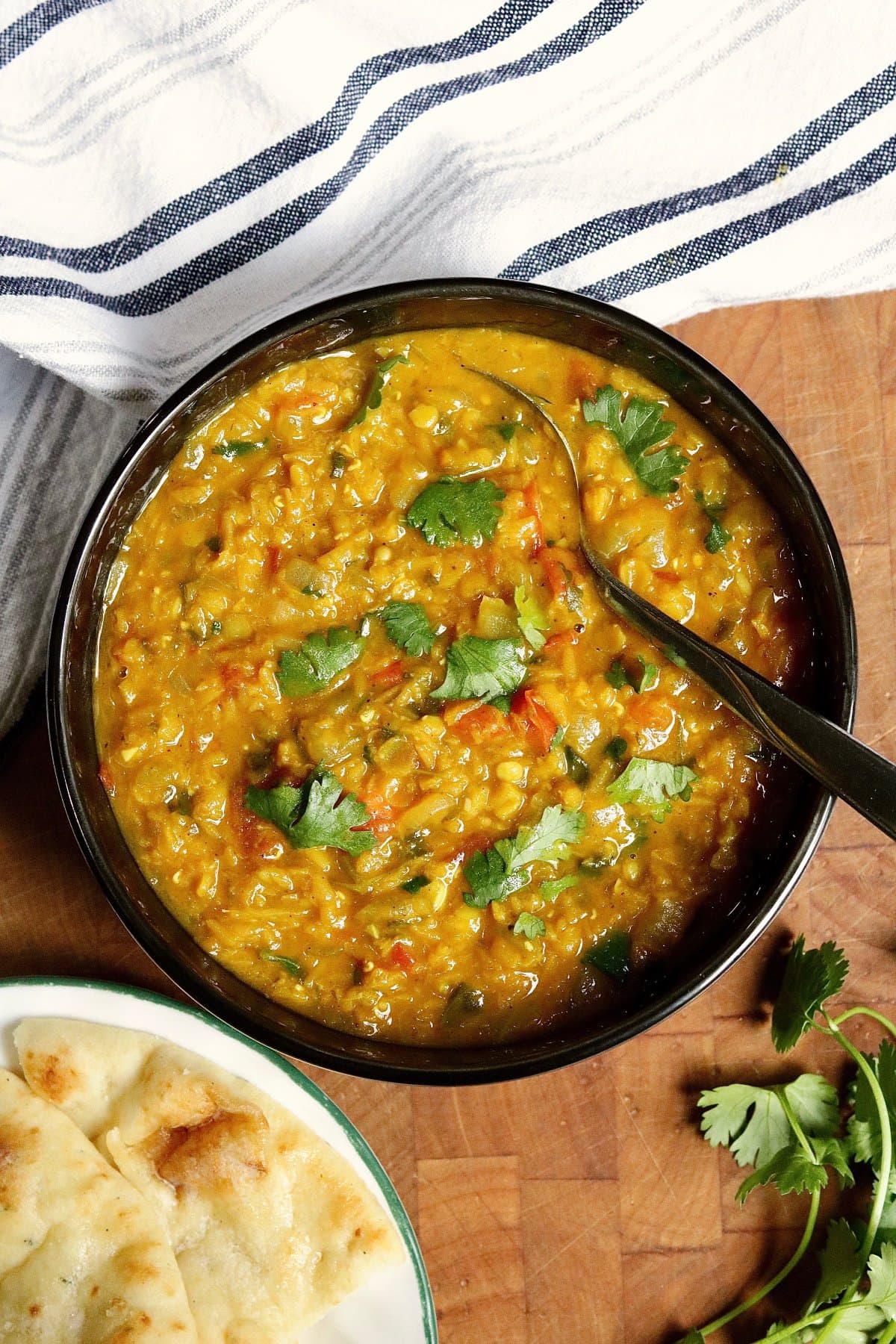 If you're searching for a recipe that's easy to make, healthy, loaded with flavor, and doesn't cost an arm and a leg, look no further than Red Lentil Dahl. It's practically the perfect vegan recipe. Even if you aren't a big fan of Indian cuisine, you're sure to love this dish!
Lentil dahl recipes (also known as dal, daal, or dhal) are a staple throughout India. "Dahl" is a term that refers to dry, split pulses that don't need to be soaked before cooking. Red lentils are featured in this recipe, although many other recipes use yellow split peas or green peas.
The consistency and flavor is close to a curry or Indian-inspired soup or stew. The lentils are cooked in a large pot filled with diced tomatoes, water, spices, and aromatics. It thickens as it cooks and the lentils become soft, buttery, and tender. In the end, the lentil dahl tastes deliciously creamy, earthy, and savory.
Jump to:
Ingredients needed
Dahl recipes are notoriously flexible, welcoming additional spices, herbs, chili peppers, and more. Here's what I used to make this vegan lentil dahl:
Dry red lentils - This recipe will only work with dried red or yellow lentils. Green or brown lentils will not work because they take much longer to cook and don't break down into soft and buttery bites.
Aromatics - Just like in many soups and stews, onion, garlic, and ginger work together to give the dahl a deep, yet vibrant baseline of flavor.
Spices - You'll need garam masala, curry powder, turmeric, cumin, and red chili flakes.
Asafoetida - AKA hing powder. This is a common yellow powder used in Indian recipes. It has a strong, almost sulfur-like smell but becomes much more garlicky and savory as it cooks. Feel free to leave it out if you can't find it.
Chopped tomatoes - Or use a can of diced tomatoes to speed things up.
Diced green chilies - For a touch of heat. You can leave them out if you don't want a lot of spice.
Lemon juice - For a layer of brightness and balance at the end.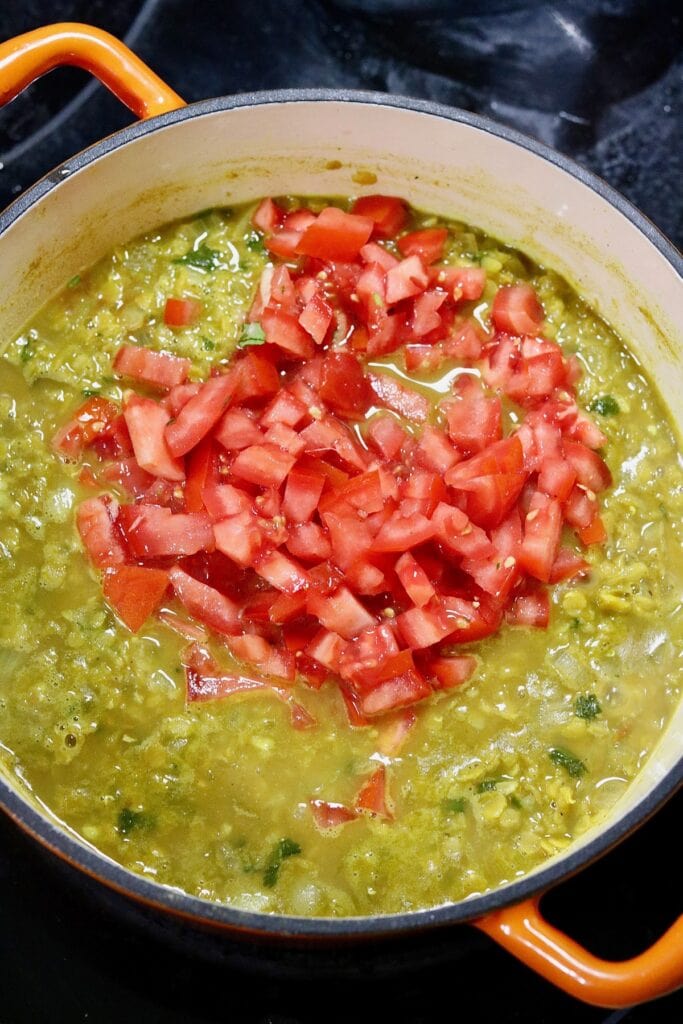 How to make red lentil dahl
Step 1: Prep the lentils. Add the lentils and some water to a bowl and swirl them around. Drain the water and repeat until the water goes from cloudy to clear.
Step 2: Saute the aromatics. Saute the onions in an oiled pot until they're soft. Next, add the garlic, ginger, and spices. Cook until fragrant.
Step 3: Cook the lentils. Stir the cleaned lentils, water, and half of the cilantro into the pot. Bring it to a boil, then lower the heat to a simmer.
Step 4: Keep simmering. After about 15 minutes, add the tomatoes and green chilies. Let the dahl cook for another 10 minutes or until the lentils are nice and tender.
Step 5: Adjust the flavor. Take the pot off the heat and add the rest of the cilantro, salt, and lemon juice. Taste and add more salt or acid if needed.
Step 6: Serve. The dahl will thicken slightly as it cools, after which you can scoop some into a bowl with basmati rice and vegan naan on the side. Enjoy! For full ingredients and instructions see printable recipe card below.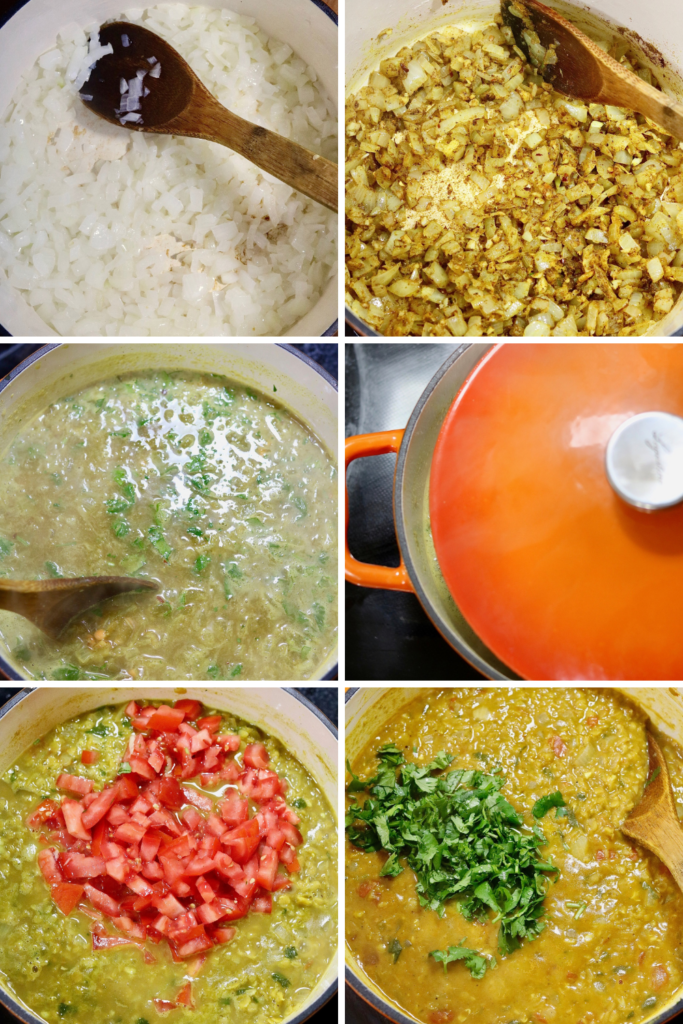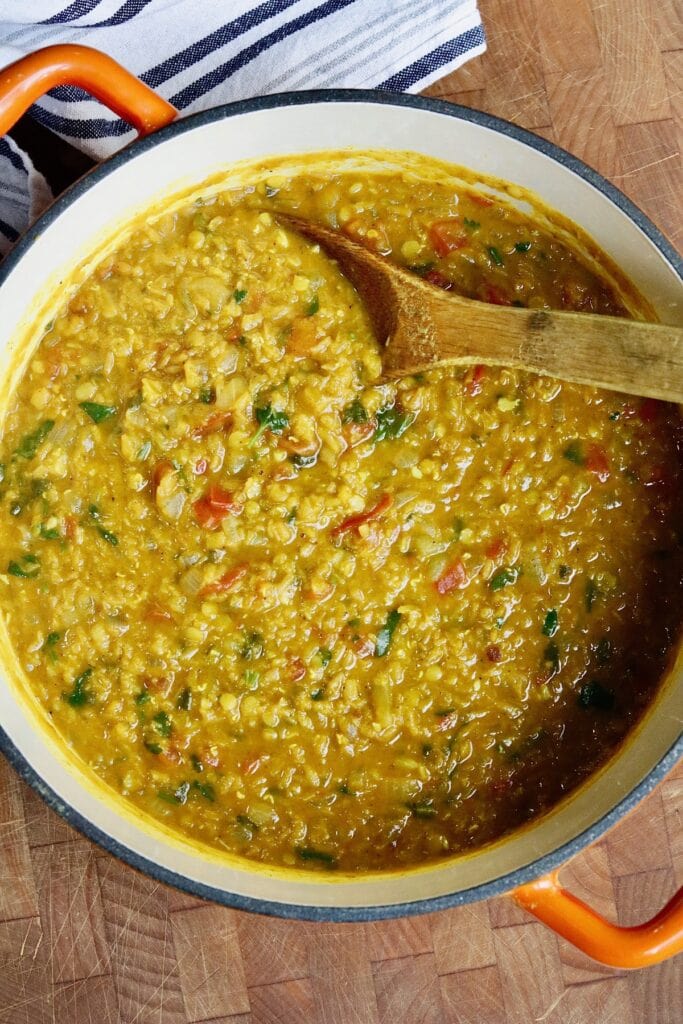 Tips for success
Before you even think about cooking lentils, sift through them to remove large pieces of dirt and debris. Afterward, rinse them well in a bowl of water. Washing lentils not only makes them nice and clean, but also helps them break down properly when cooking.
Only use fresh, dried lentils. Check the expiry date on the bag before getting started.
Only add salt at the end. If the dish is overly salted in the beginning, the lentils will take longer to cook.
Serve the dahl over a bowl of cooked white rice, brown rice, or quinoa. You can top it with vegan raita for an extra creamy finish, and serve each bowl with vegan naan or roti on the side.
Variations
Coconut red lentil dahl: Stir ½ cup of canned coconut milk when you add the tomatoes. Dahl with coconut milk is extra creamy and smooth!
Add more vegetables: Feel free to stir leafy greens (like spinach) in at the end.
Play with the herbs and spices: Red lentils are a blank slate that soak in flavor so well. In addition to the spices in the ingredients list, you could also add a bay leaf, a sprig of rosemary, or replace the water for vegetable broth. All of these options will add extra layers of flavor.
Oil free dahl: Saute the onions in water or vegetable broth instead of oil.
Frequently asked questions
Can you make red lentil dahl in the Instant Pot?
You sure can! Saute the aromatics and spices in the oiled pot using Saute mode until everything is soft. Cancel Saute mode before stirring in the lentils, water, tomatoes, chilies, and half of the cilantro.

Seal the lid on top and cook on High Pressure for 10 minutes. Let the pressure release naturally for 5 minutes, then release the rest. Once the pin has dropped, press Cancel, remove the lid, and stir in the salt, lemon juice, and the rest of cilantro.
Is lentil dahl good for you?
Yes, it's a very healthy meal full of plant-based protein, fiber, B vitamins, magnesium, and much more. All in all, red lentil dahl is a feel good meal that will keep you full without making you feel heavy.
Is it gluten free?
Yes and No. Hing powder usually contains wheat but not always which means this recipe isn't inherently gluten free. If you need the dahl to be gluten free, simply omit the powder all together or find a gluten free brand.

How do you store the leftovers?
They can be stored in an airtight container in the fridge for 4 to 5 days. They also freeze well!
Looking for more easy vegan dinner ideas?
All of these recipes are just as easy to make as vegan lentil dahl, if not more so! They're perfect for dinner tonight:
Enjoy everyone! Happy Day! Please feel free to comment below and give this recipe a rating. Your feedback is greatly appreciated!
Follow me on PINTEREST and INSTAGRAM for more tasty Plant Based & Vegan Recipes❤️
Subscribe here for free weekly recipes delivered right to your inbox! No need to scour the internet. Your one stop shop for recipes is here😊 No spam I promise!
Print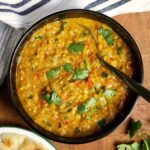 Red Lentil Dahl
---
Author:

Verna

Total Time:

45 minutes

Yield:

4-6 Servings

Diet:

Vegan
Description
Red Lentil Dahl is ​​a comforting and budget-friendly Indian-inspired meal that's sure to fill you up. It's a simple one pot recipe loaded with protein-packed lentils, warm spices and aromatics, and layers of earthy flavors. Scoop it up with vegan naan bread and enjoy!
---
1 and ½ cups dry red lentils

2 tablespoons coconut oil, or other neutral oil*

2 medium-large yellow onions, diced

2 tablespoons fresh minced garlic (4-6 cloves)

1 and ½ tablespoons fresh grated ginger

2 teaspoons garam masala

1 and ½ teaspoons curry powder

1 teaspoon turmeric

½ teaspoon asafoetida (hing powder - Optional -omit for gluten free- see notes)

½ teaspoon ground cumin

½ teaspoon red chili flakes

3 and ¾ cups water, or low sodium vegetable broth

⅔ cup chopped cilantro, divided

1 and ½ cups fresh chopped tomatoes and the juices or sub 1- 14 oz can diced tomatoes

4 tablespoons canned diced green chilies

1 teaspoon salt, more to taste if needed

2 to 3 tablespoons fresh lemon juice, or to taste
For serving (optional)
White or brown rice

Vegan naan, roti, etc..

Dollops of vegan yogurt or raita on the side
See notes for optional add ins and instant pot option
---
Instructions
First wash/rinse the lentils (

important step!

): add lentils to a large bowl and cover with cold water. Swish the lentils around with your fingers. The water will be cloudy. Drain, refill and repeat until water runs clear. Drain and set aside.

In a large pot (I use my 4 qt dutch oven) saute the onions and oil over medium heat for about 7 minutes until softened, stirring frequently. Stir in the garlic, ginger and spices (not the salt) Cook for 1 minute until fragrant.

Stir in the lentils then add the water and half of the chopped cilantro. Bring to a boil on high heat. Reduce to a simmer (medium-low), partially cover with lid and cook for 15 minutes, stirring occasionally. Stir in the tomatoes and green chilies and once simmering again cook for an additional 10 minutes uncovered. The lentils should be fall apart tender.

Remove from heat stir in the salt, rest of the cilantro and lemon juice. Season with more salt if needed. It will thicken a little as it cools. If too thick add a splash of water or broth.

Serve with brown or white rice and/or vegan naan, roti, etc,... Enjoy! For step by step photos, Tips Instant pot option and more see above post and notes*
Notes
Add ins:
For coconut red lentil dahl:

stir in ½ cup canned coconut milk when adding the tomatoes.

Add spinach to dahl:

stir in a couple handfuls of spinach at the very end.

For Oil free:

saute onions in water instead of oil.
Instant pot option: First follow 1st step for stovetop version (wash lentils). Use the saute function and cook the onions and oil for 7 minutes. Stir in the garlic, ginger and spices (not the salt). Press cancel then stir in the lentils, water, tomatoes, chilies and half the cilantro. Seal and lock the lid and set at high pressure and cook for 10 minutes. Let pressure release naturally for 5 minutes. Then release the pressure, once the pin has dropped press cancel and stir in the salt, lemon juice and rest of cilantro. Serve and enjoy!
Hing powder (asafoetida):

most hing powders contain wheat so use a gluten free variety if needed or omit completely.

Store

: will keep in an airtight container in the fridge for 4-5 days and is suitable for freezing.
Prep Time:

15 Minutes

Cook Time:

30 Minutes

Category:

Mains

Method:

Stovetop

Cuisine:

Indian
Keywords: red lentil dahl