Indulge in a delectable dish of vegan scalloped potatoes made with shallots, onions, garlic, thyme, and rosemary. This creamy and cheesy recipe is dairy-free, using vegan cheddar cheese and unsweetened soy milk.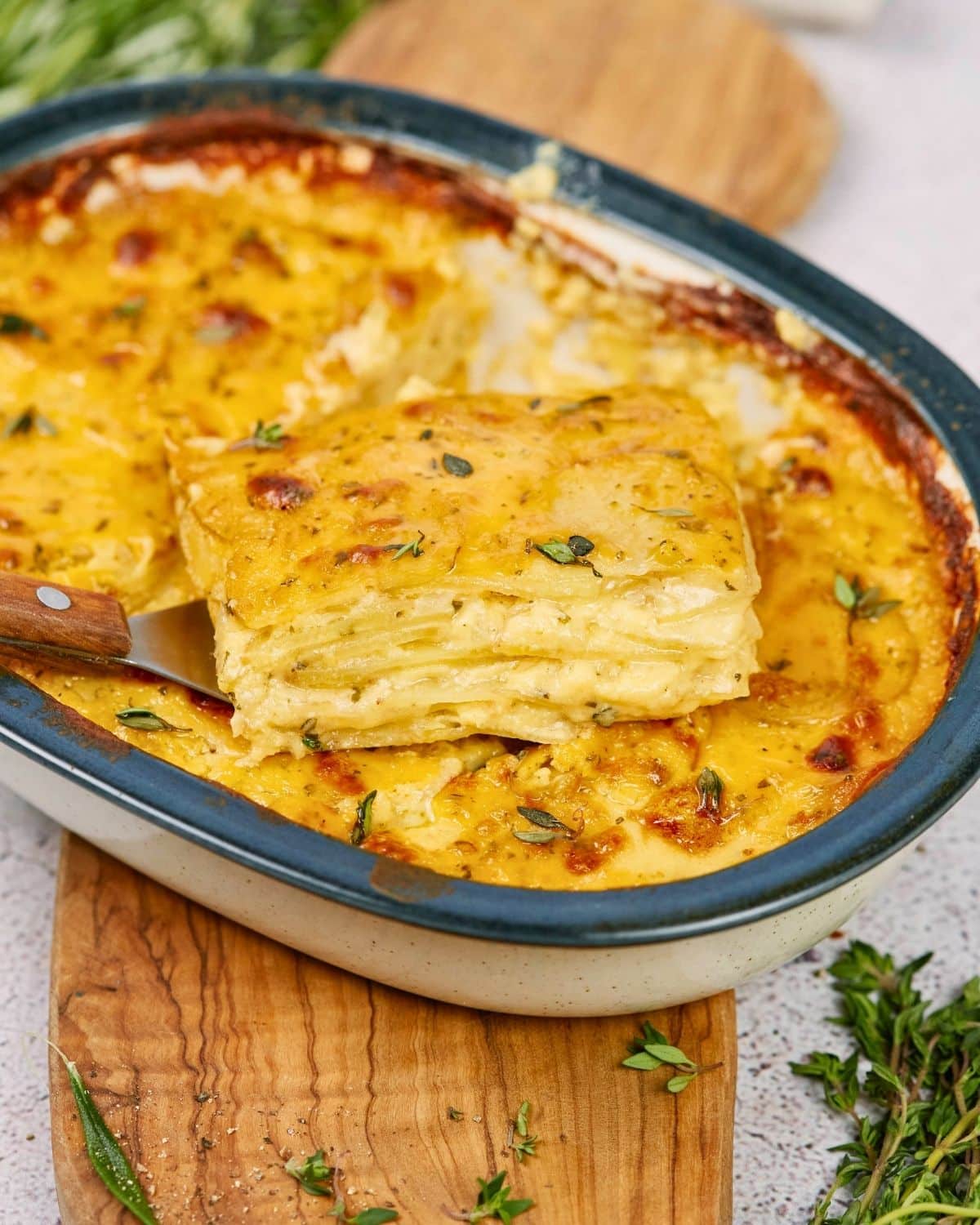 Perfect for a plant-based feast or a comforting side dish. Vegan scalloped potatoes are creamy, cheesy, and perfect for anyone who follows a vegan diet or just wants to try something new.
If you like this dish, then make sure you check out our vegan cheesy fiesta potatoes too!
Jump to:
🥘Ingredients
For the exact measurements for this vegan scalloped potatoes recipe, see the printable card at the bottom of the post.
Olive oil
Potatoes
Onion
Shallot
Garlic
Thyme
Rosemary
Non-dairy milk
Flour
Vegan cheddar cheese
Salt
Black pepper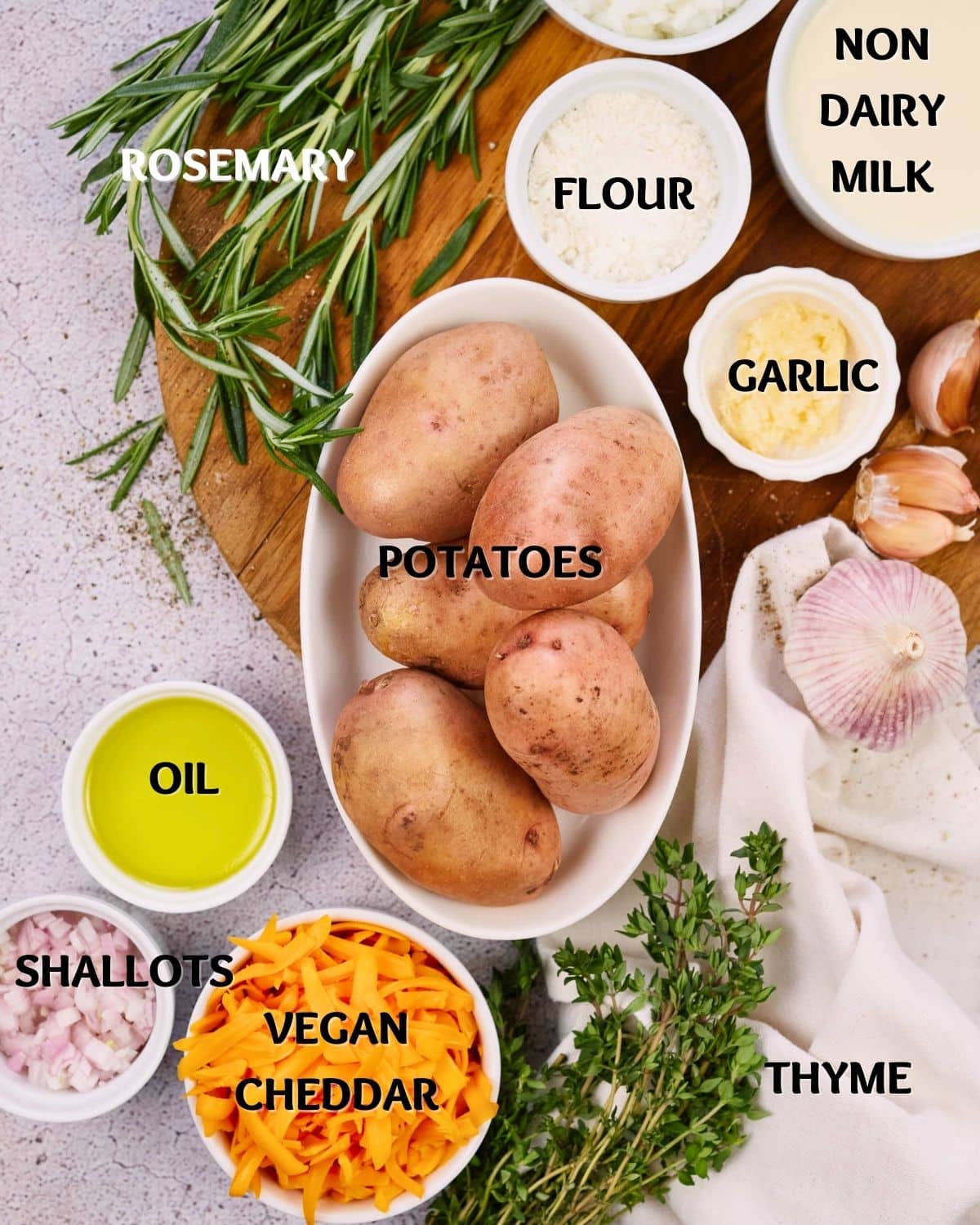 🔪Instructions
Start by preheating your oven to 350°F/180°C. You will also want to spray your baking dish with non-stick spray or grease with vegan butter. Set this aside.
Wash and dry your potatoes, and peel them if desired. Slice the potatoes into thin rounds then place in a bowl and cover with water. A mandolin slicer works best for this.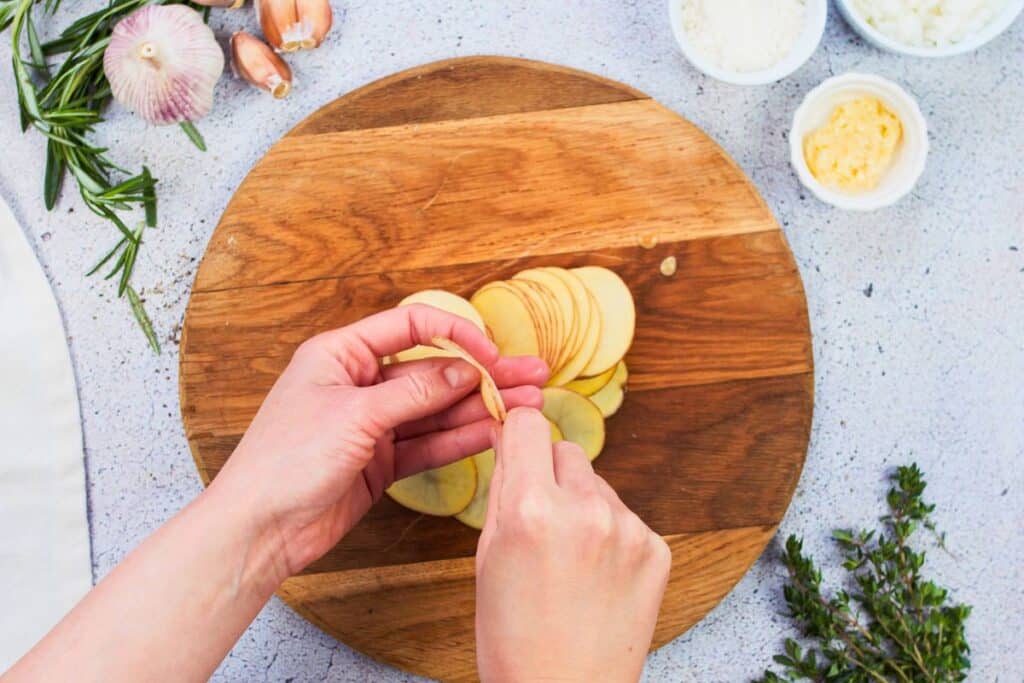 In a medium saucepan, add the olive oil over medium heat. Add the onions, and cook for 5 minutes until tender and browning. Then, add in the fresh herbs and garlic. Cook this for another minute, stirring regularly.
Now, add the flour and mix well. Cook for 30-seconds to combine, but don't brown/burn.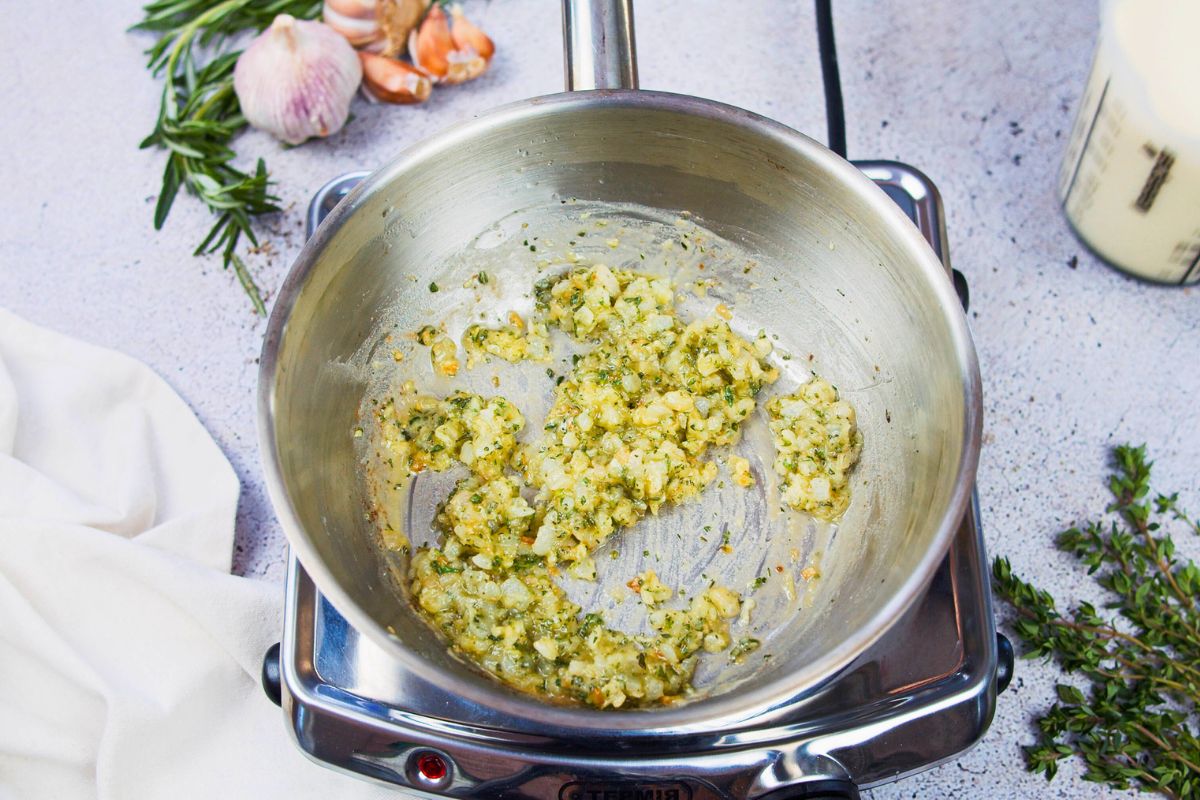 Now, whisk in the non-dairy milk. Once it is combined, let this simmer for 5 to 7 minutes, until it has thickened. Make sure to stir it regularly as it cooks.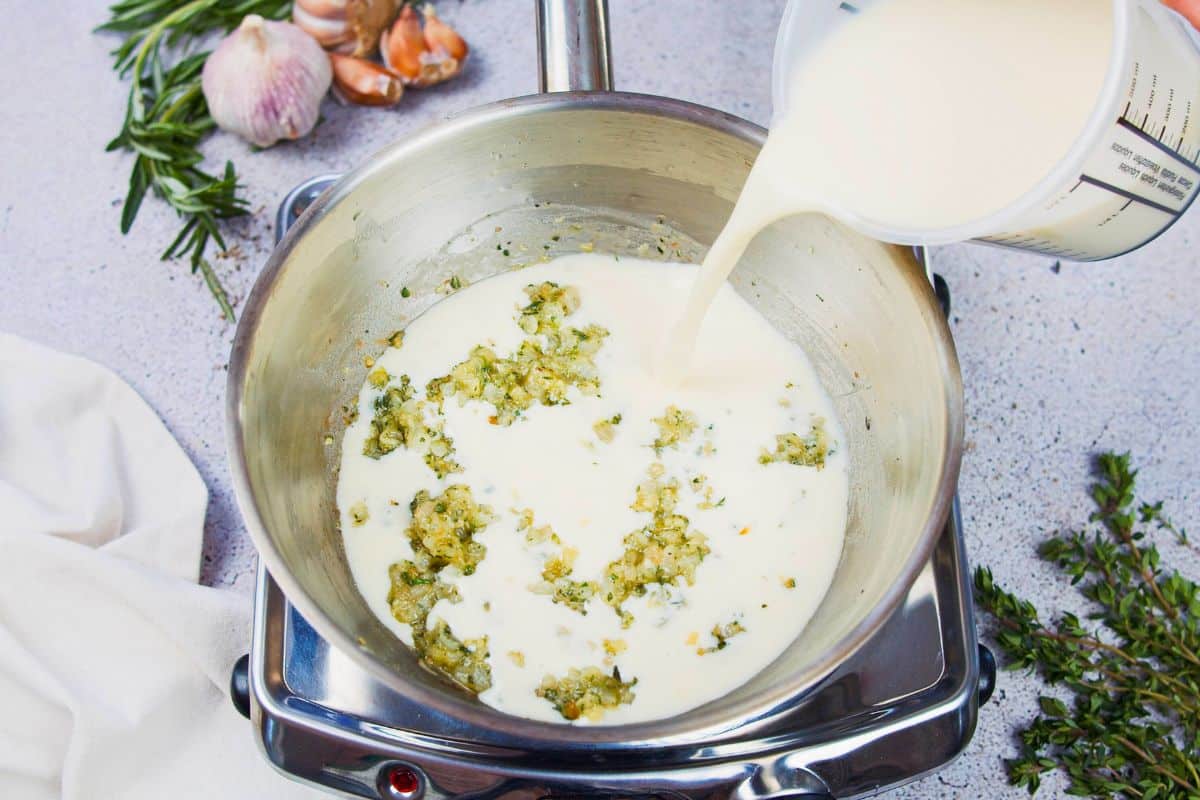 Now, mix in the vegan cheese and cook until it has fully melted.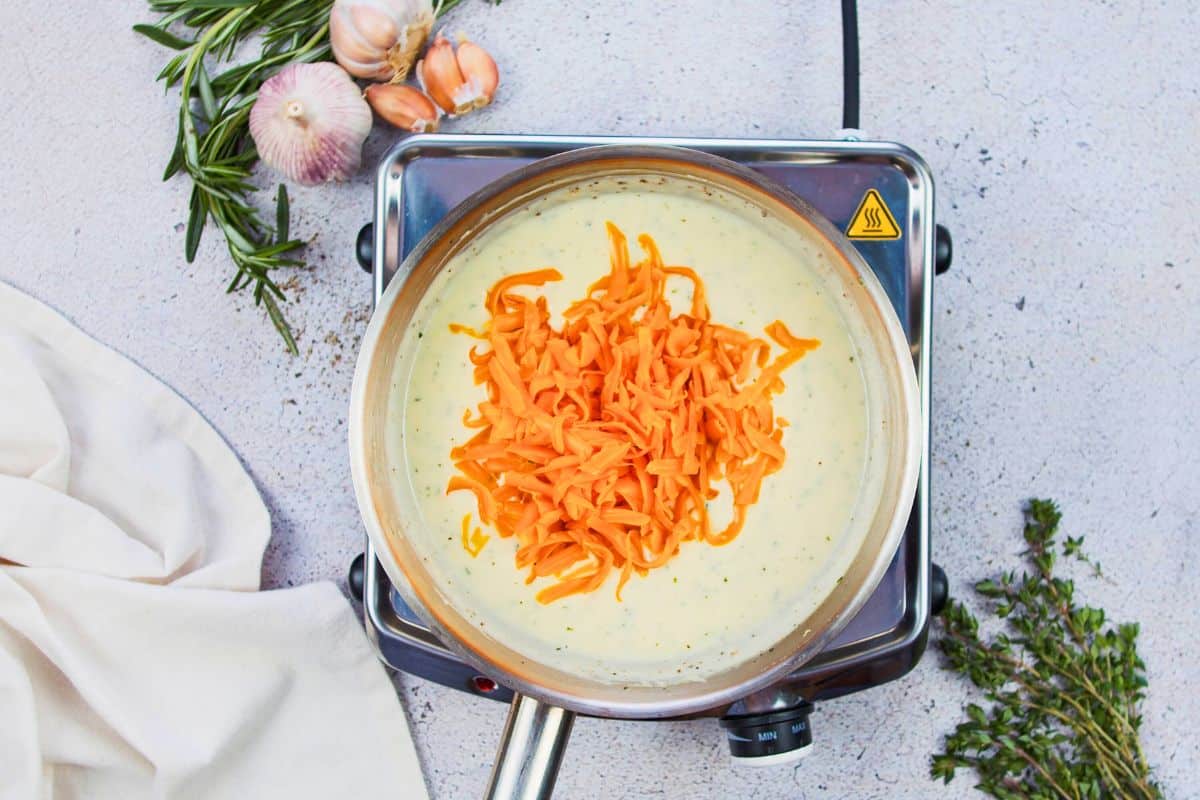 Drain and pat dry the potatoes you sliced earlier, then begin making layers. Place ¼ of the potatoes into the pan, season with salt and pepper, then cover with ¼ of the sauce.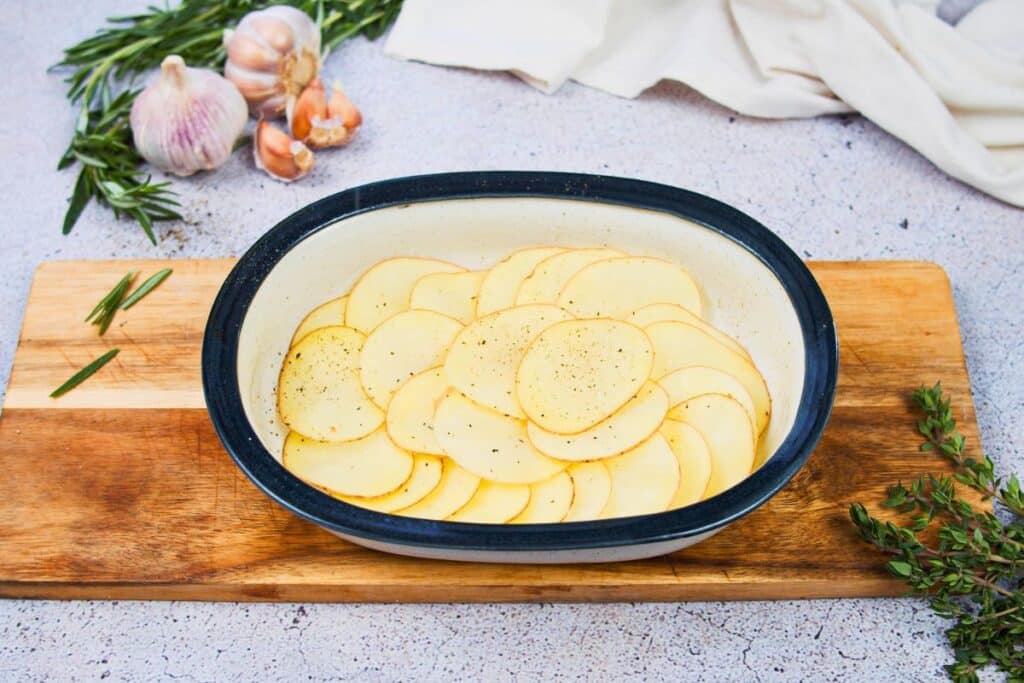 Repeat this process until all of the potatoes and sauce have been used. Sprinkle the top with black pepper, cover with aluminum foil, and bake for 1 hour and 20 minutes.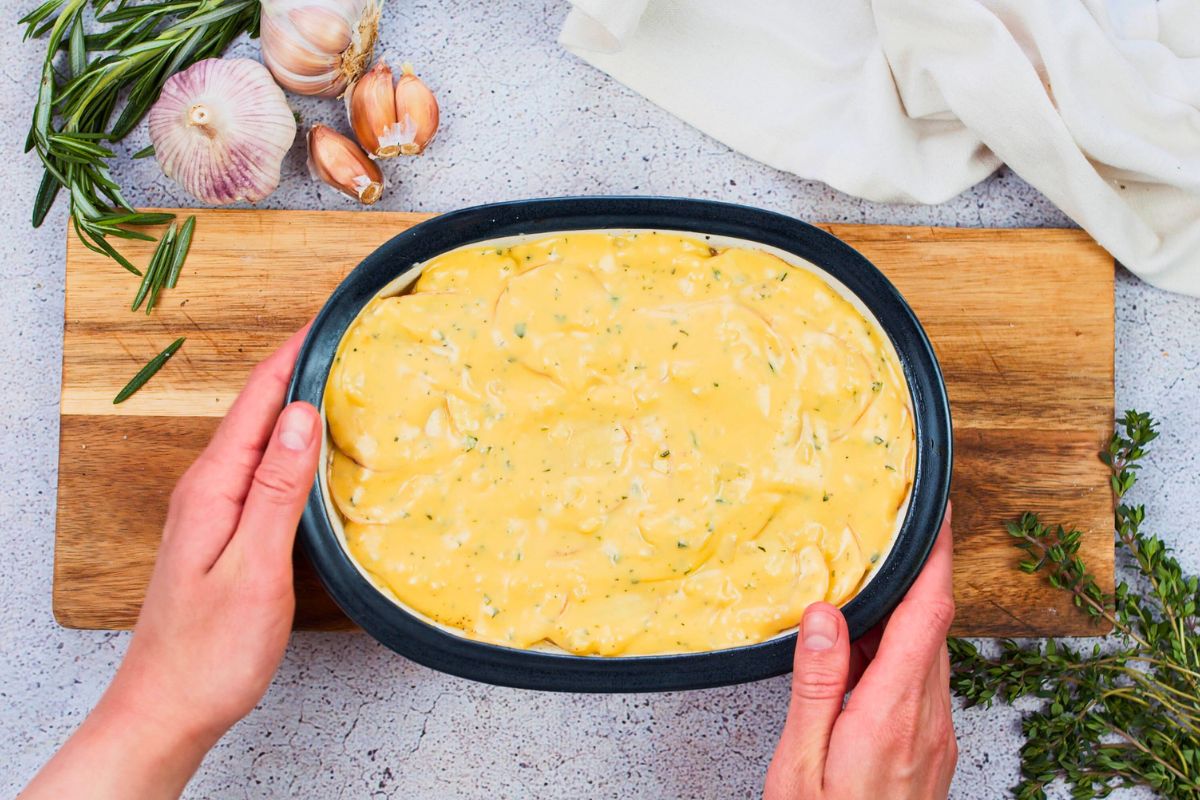 Remove the aluminum foil, add cheese if desired, and continue baking for another 30 to 40 minutes.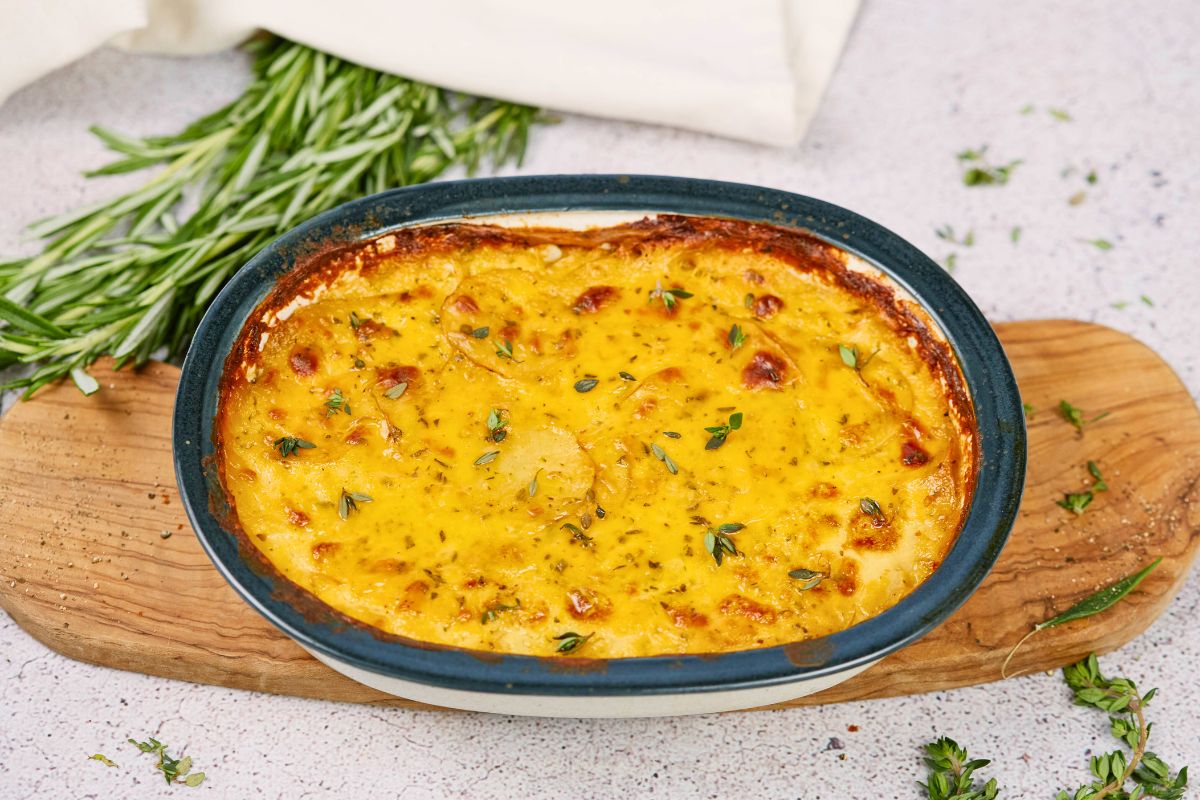 📋 Substitutions
Don't have everything on hand? Check out the tips below!
If you don't have shallots, you can substitute them with an equal amount of finely chopped red or yellow onion.
Instead of white onion, you can use yellow onion or even sweet onion for a milder flavor.
If you don't have fresh thyme and rosemary, you can use dried herbs. Adjust the quantities since dried herbs are more potent than fresh ones. For every 1 tablespoon of fresh herbs, you can use 1 teaspoon of dried herbs.
Unsweetened almond milk or oat milk can be used as alternatives to soy milk if you prefer.
Instead of all-purpose flour, you can use a gluten-free flour blend if you have dietary restrictions.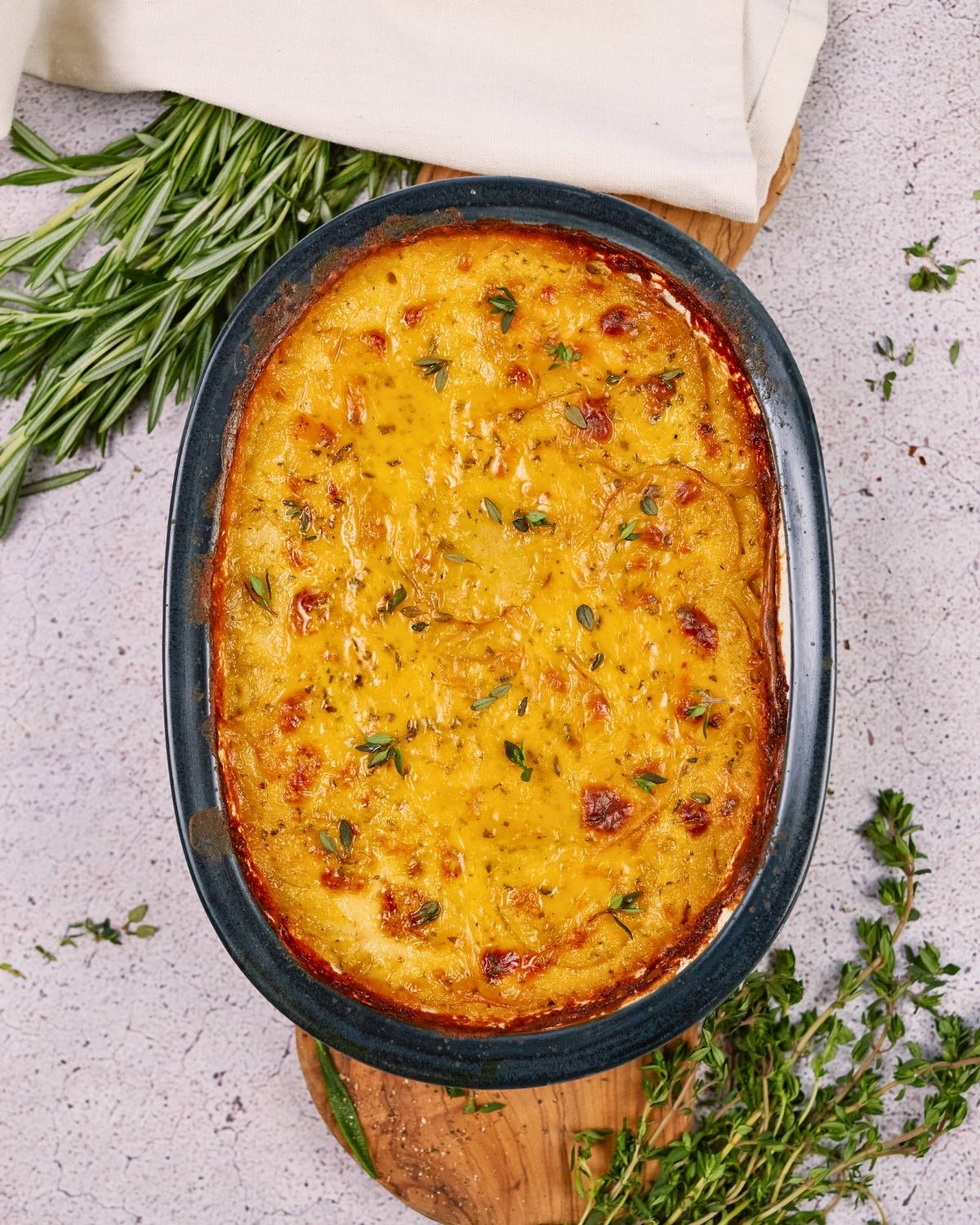 📖 Variations
Do you like this but you want something a bit different? Follow this recipe with a few changes below for a new flavor profile!
Add a layer of thinly sliced vegan ham or tempeh bacon between the layers of potatoes for added flavor and texture.
For a cheesy twist, you can sprinkle some vegan Parmesan or nutritional yeast on top of the potatoes before baking.
If you like a bit of heat, you can add a pinch of cayenne pepper or a sprinkle of paprika to the sauce for a subtle kick.
To make it more colorful, you can mix in some cooked spinach or kale between the layers of potatoes.
🥘 Storage Tips
Vegan scalloped potatoes are best enjoyed fresh out of the oven. However, if you have leftovers, store them in an airtight container in the refrigerator for up to 3-4 days.
🍽 Equipment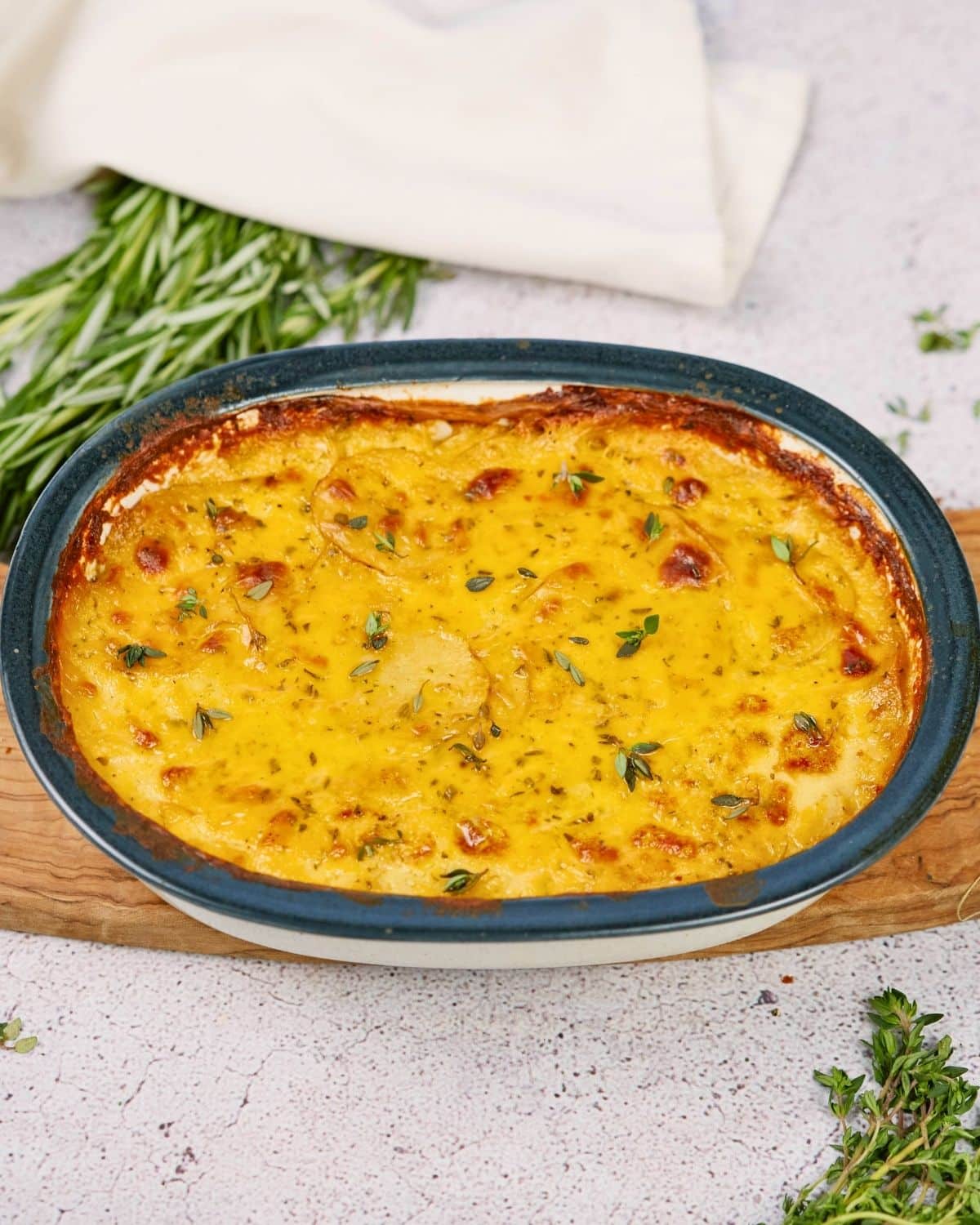 👩🏽‍🍳Top Tip
The best tip I can give you for this recipe is to use starchy potatoes. Russet or Yukon Gold potatoes are great choices for scalloped potatoes as they have a higher starch content, which helps thicken the sauce and gives a creamy texture.
💭 FAQs
How do I reheat leftover scalloped potatoes?
To reheat, place the desired portion in the oven at a low temperature (around 300°F or 150°C) until heated through. You can cover the dish with foil to prevent excessive browning.
How can I get the potatoes sliced thinly?
You can use a mandoline slicer or a sharp knife to achieve consistent slices.
What if it browns before the potatoes are tender?
Making sure you have thin even slices is important, but you can also cover the baking dish with aluminum foil or a lid for the first half of the cooking time. Remove the lid in the last 15 minutes to brown the top.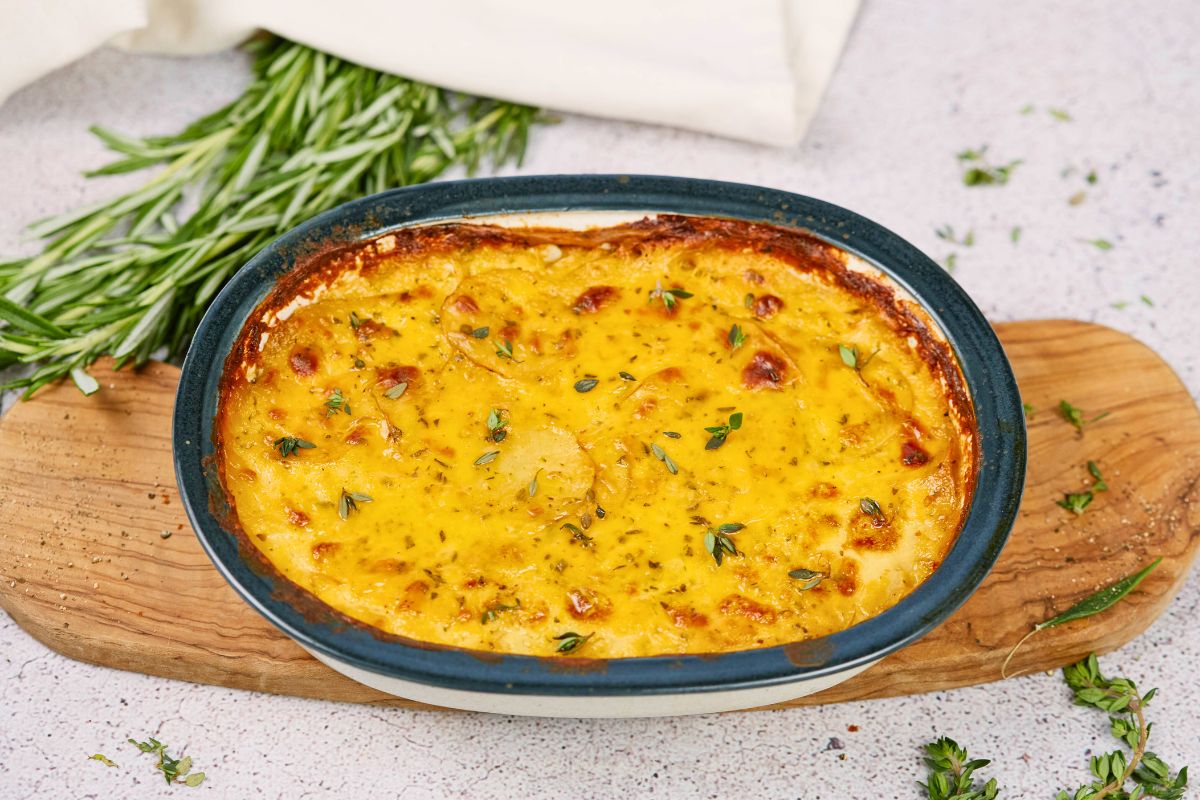 Related
Want more potato recipes on your menu? Check out these favorites below!
Pairing
This is a delicious side dish for any meal, but can also be served by itself. Check out some pairings below.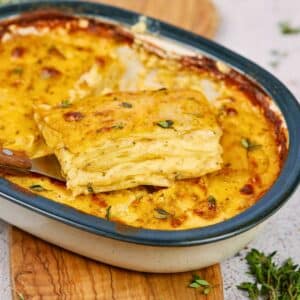 Vegan Scalloped Potatoes
Enjoy creamy and flavorful vegan scalloped potatoes for a comforting and plant-based twist on a classic dish
Instructions
Preheat the oven to 350°F/180°C and grease the baking dish with non-stick spray or vegan butter.

Thinly slice the potatoes and place them in a bowl of cold water. Set this aside.

In a saucepan, sauté onions in olive oil for 5 minutes. Add the garlic and herbs and cook for an additional minute. Sprinkle flour into the pan and mix thoroughly. Cook for 30 seconds.

4 tablespoon olive oil,

1 white onion,

1 shallot,

3 garlic cloves,

3 tablespoon fresh thyme,

2 tablespoon fresh rosemary

Gradually pour soy milk into the saucepan while whisking continuously. Cook the sauce for 5-7 minutes until it thickens and becomes bubbly. Add shredded cheese and continue cooking until fully melted.

2 ½ cups non-dairy milk,

6 oz vegan cheese,

1 teaspoon salt,

½ teaspoon black pepper

Pat the potato slices dry with paper towels and arrange them in a baking dish, creating a single layer. Season lightly with salt and pepper. Pour ¼ of the sauce over the potatoes. Repeat the layers until all the sauce is used. Cover the baking dish with foil and bake for 1 hour and 20 minutes. Remove the foil and bake for an additional 40 minutes.
Notes
Russet potatoes are best for this recipe with Yukon gold being the next best selection.
Slice yellow onions and layer between the potatoes for more texture and flavor.
Top with additional shredded vegan cheese in the last half hour of baking.
Nutrition
Calories:
399
kcal
Carbohydrates:
52
g
Protein:
9
g
Fat:
18
g
Saturated Fat:
4
g
Polyunsaturated Fat:
2
g
Monounsaturated Fat:
7
g
Sodium:
735
mg
Potassium:
1110
mg
Fiber:
7
g
Sugar:
5
g
Vitamin A:
578
IU
Vitamin C:
57
mg
Calcium:
209
mg
Iron:
3
mg
Food Safety
Follow our tips below for keeping everything safe in the kitchen.
Always sanitize countertops, cutting boards, utensils, and cookware thoroughly between each use.
Wash your hands in warm soapy water, rubbing for at least 20 seconds before rinsing. Remember, "FROG" means friction rubs off germs.
After serving food, allow it to cool, then place it into the refrigerator or proper storage immediately. Food should be at room temperature for no more than 2 hours for safety.