There's something special about stuffed potato cakes - they're like little flavor-packed parcels, perfect for a satisfying meal or a tasty snack. But what makes them even better? Making them vegan, of course! With vegan stuffed potato cakes, you can enjoy all the goodness of traditional stuffed potatoes without any animal products.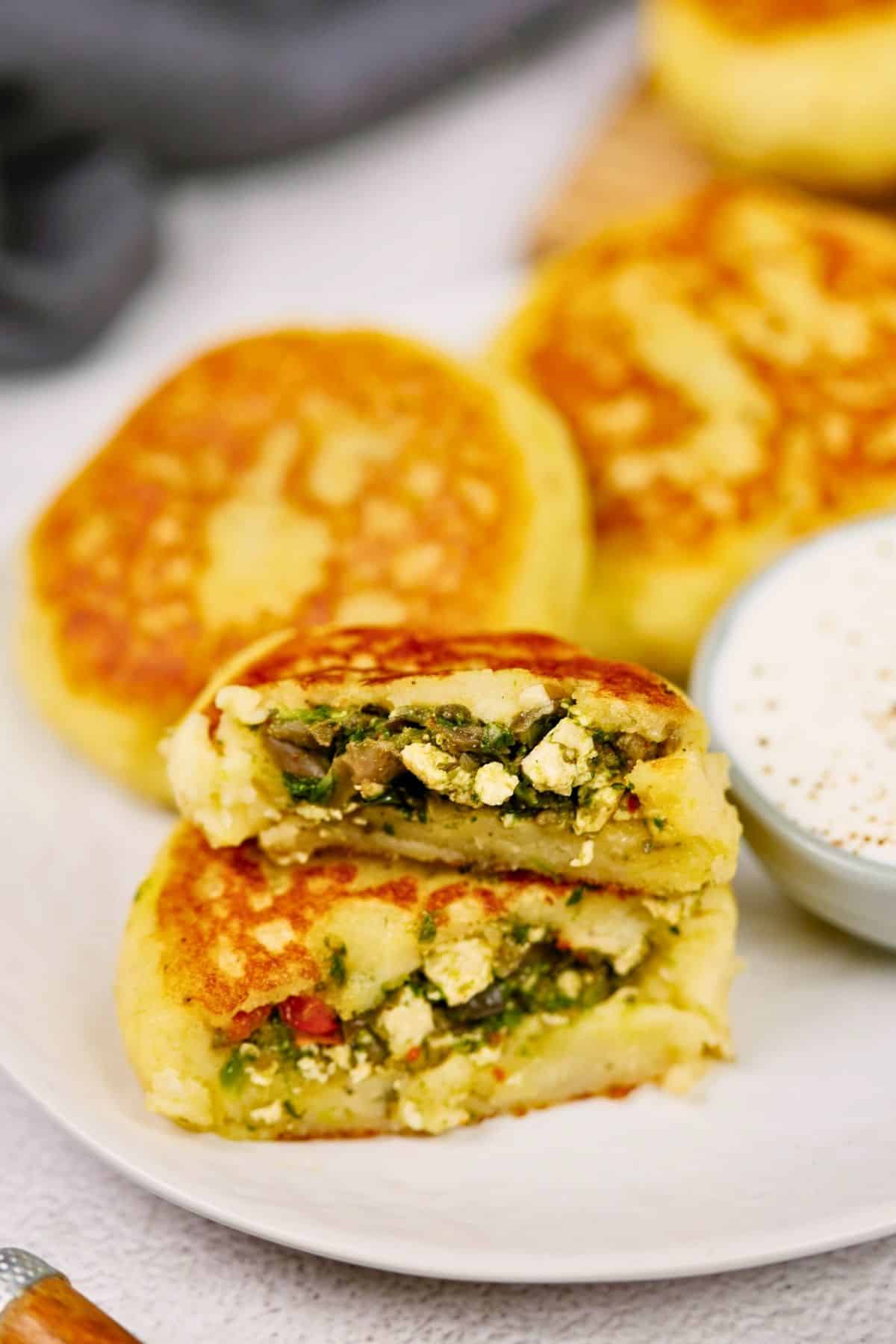 Jump to:
Stuffed Potato Cakes
One of the best things about stuffed potatoes is that you can fill them with just about anything you like. You can mix and match different veggies to suit your tastes and get creative with the seasonings. Peppers, onions, mushrooms, and spinach are all excellent options for vegan stuffed potato cakes. And don't forget the tofu - it's a great way to add some extra protein to your filling.
So what can you serve with vegan stuffed potato cakes? Well, they're pretty versatile, so you can pair them with just about anything. A simple side salad is always a good choice, but if you're feeling more adventurous, you could try serving them with some roasted veggies or a creamy sauce.
Ingredients
Serves: 4
2 pounds potatoes, peeled
⅓ cup rice flour
½ cup cornstarch
½ teaspoon ground nutmeg
1 teaspoon salt
½ teaspoon black pepper
10 oz oyster mushrooms, chopped
1 medium white onion, chopped
½ bell pepper, chopped
1 teaspoon garlic powder
1 teaspoon dry Italian herbs
¼ teaspoon chili flakes
½ cup frozen spinach, thawed and dried
1 small block of tofu, crumbled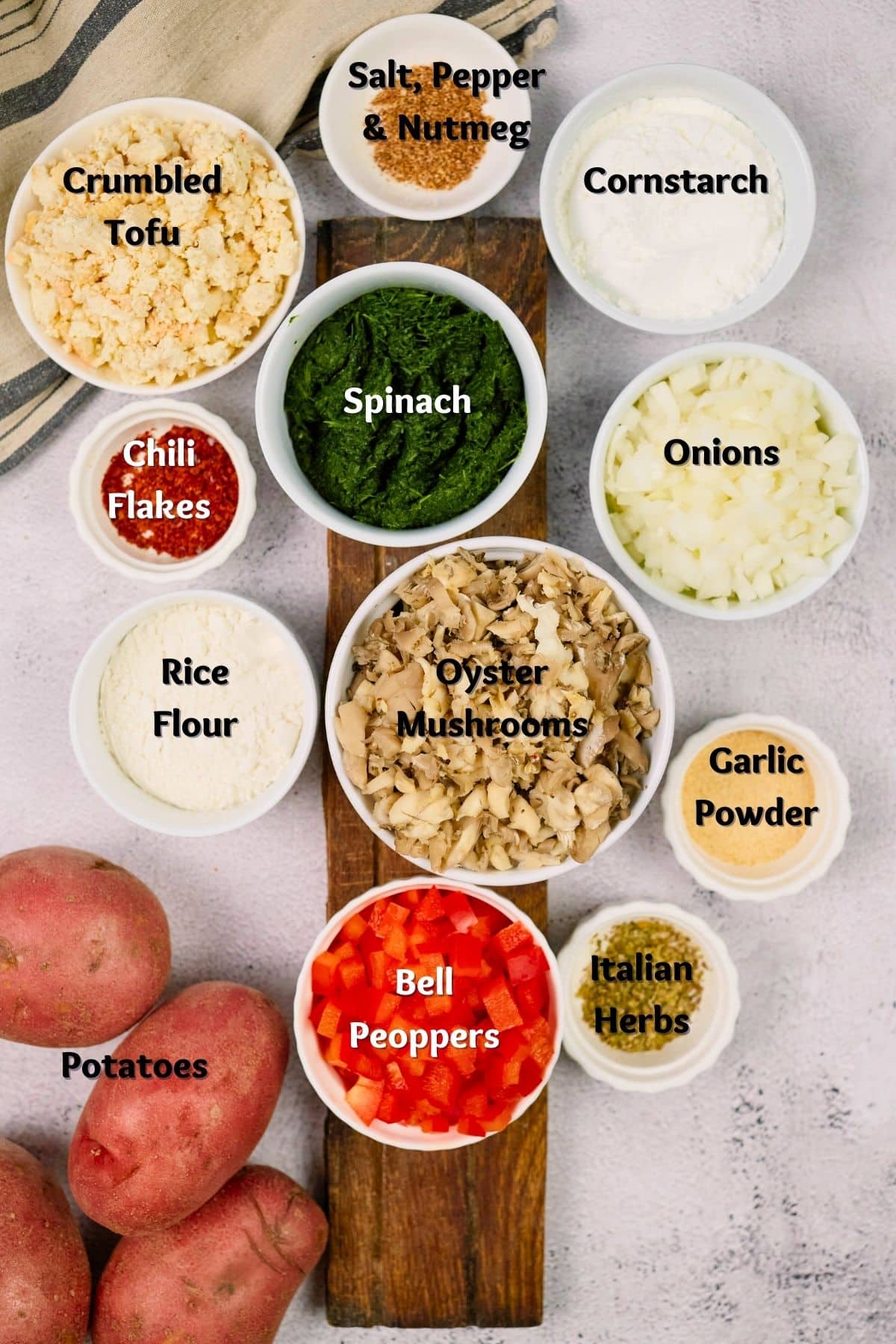 Kitchen Tools Needed: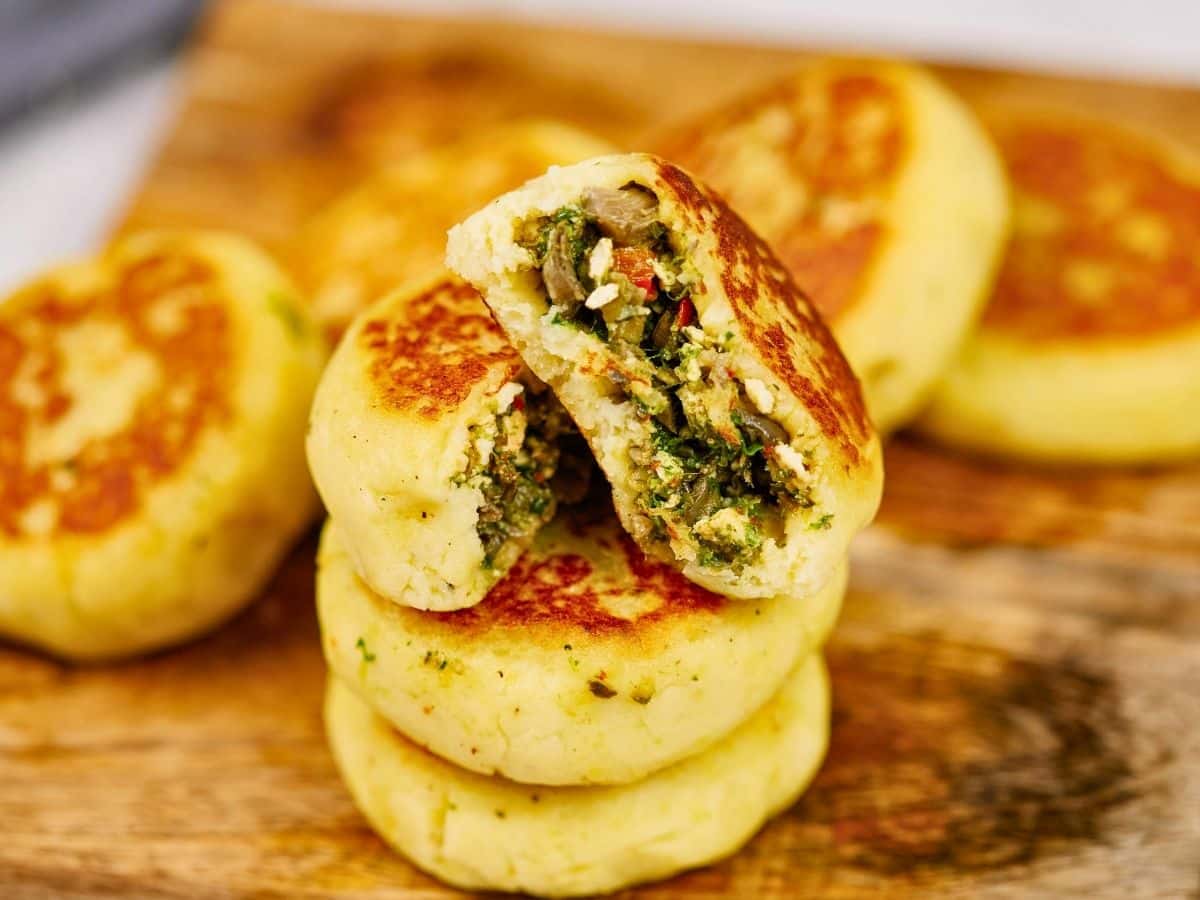 How to Make Vegan Potato Cakes
Video Recipe:
After washing and peeling the potatoes, cover them with water in a large stockpot or saucepan. Salt the water and bring it to a boil. Boil for 15 minutes, or until the potatoes are tender. Drain them, and then pour them into a large bowl.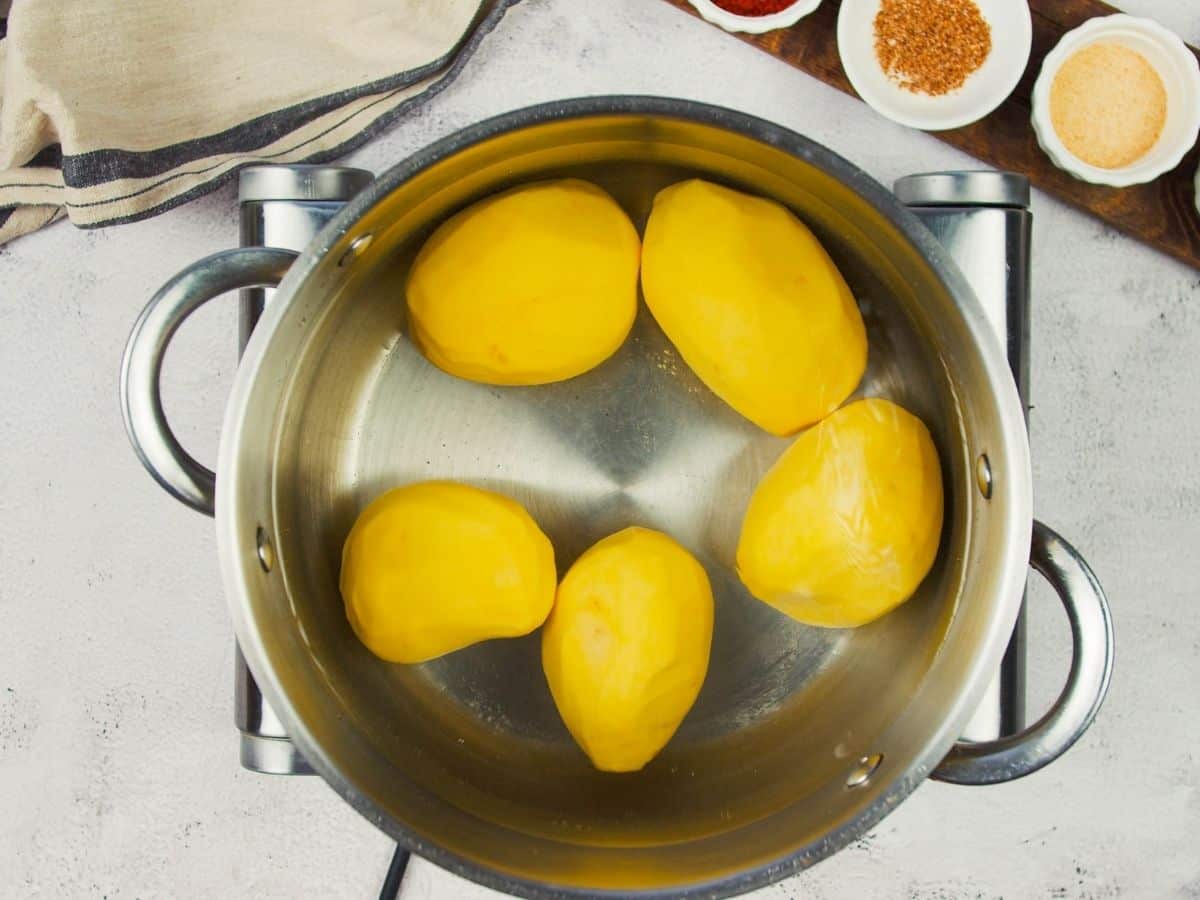 Mash the potatoes or press through a ricer. Then, add in the cornstarch, rice flour, salt, and black pepper. Set them aside.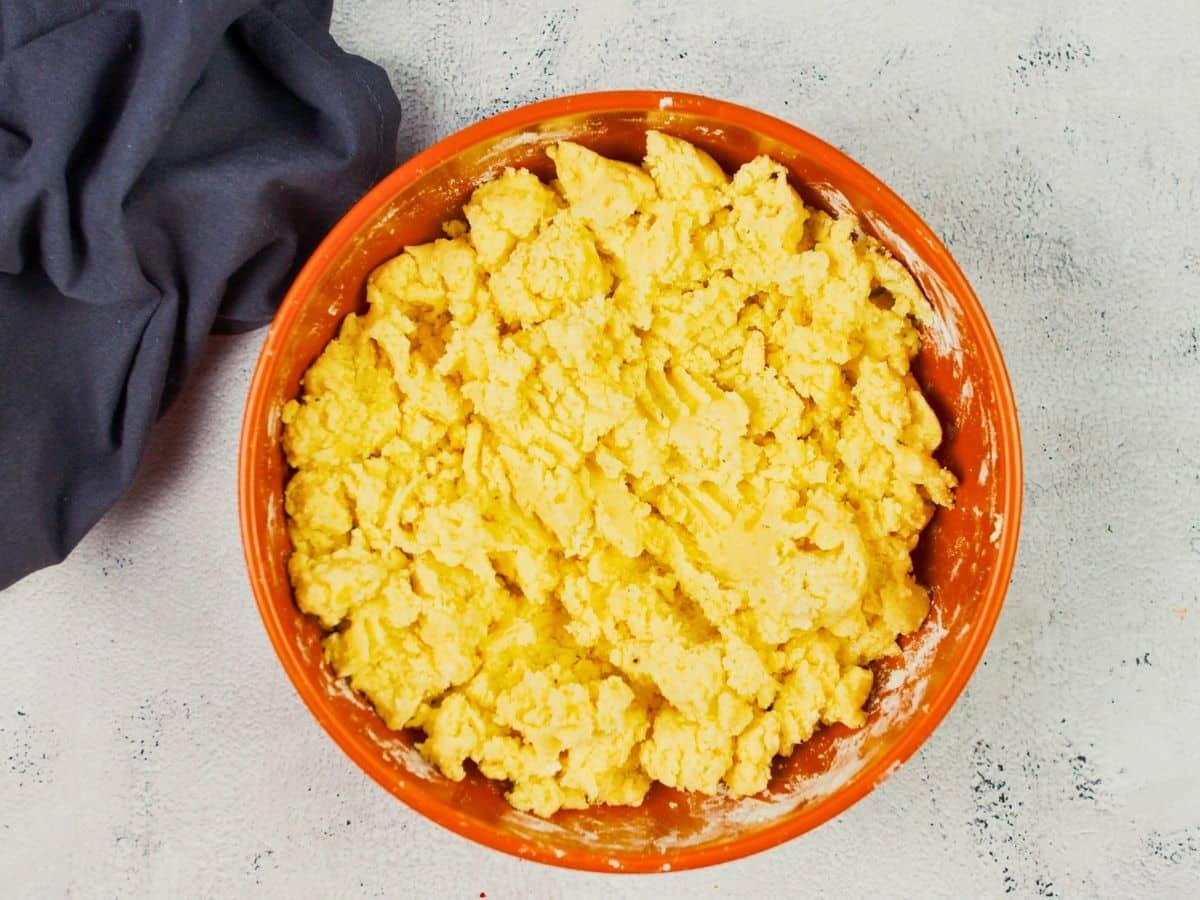 Now, in a medium skillet, add the olive oil over medium heat. To this, add the onions and peppers and cook, stirring regularly for 5 to 7 minutes.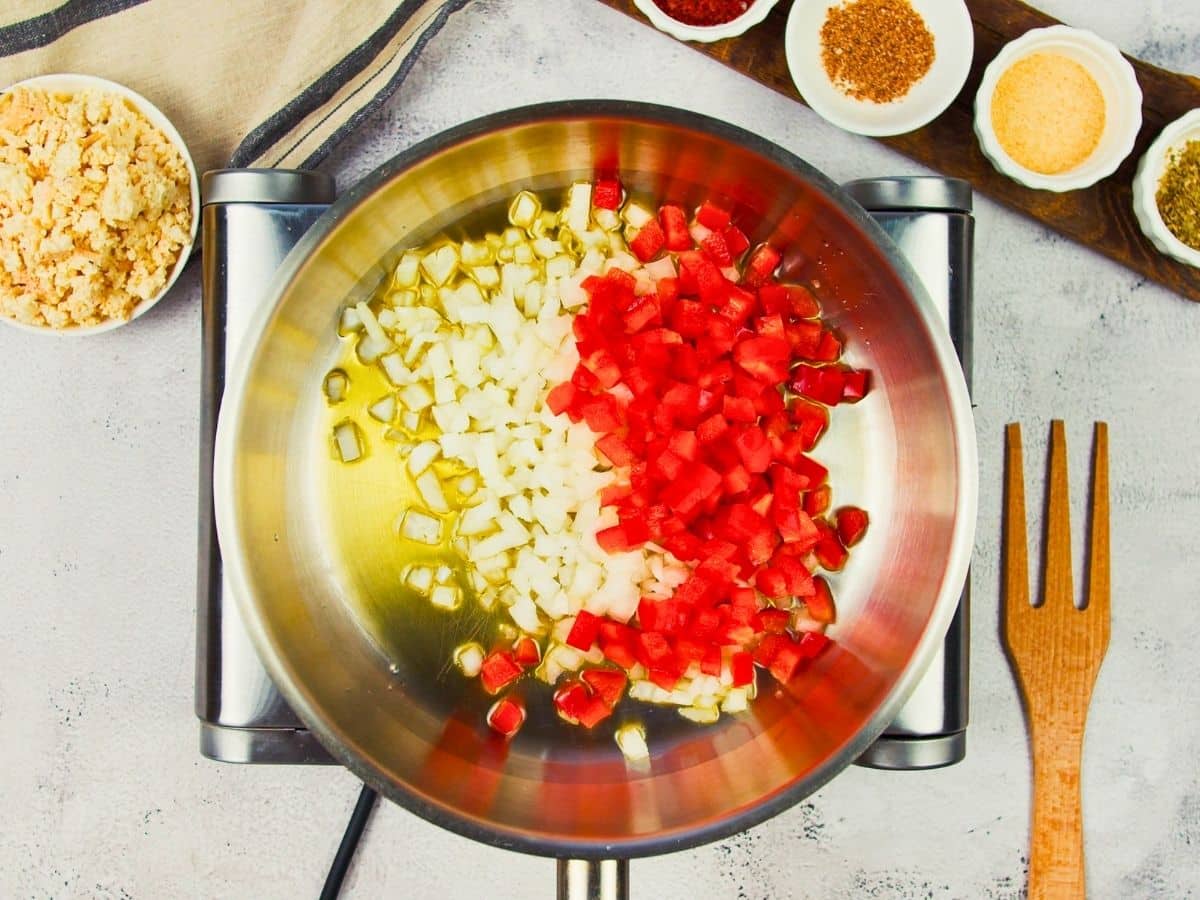 Add the mushrooms and continue cooking for another 10 minutes, until reduced and browned.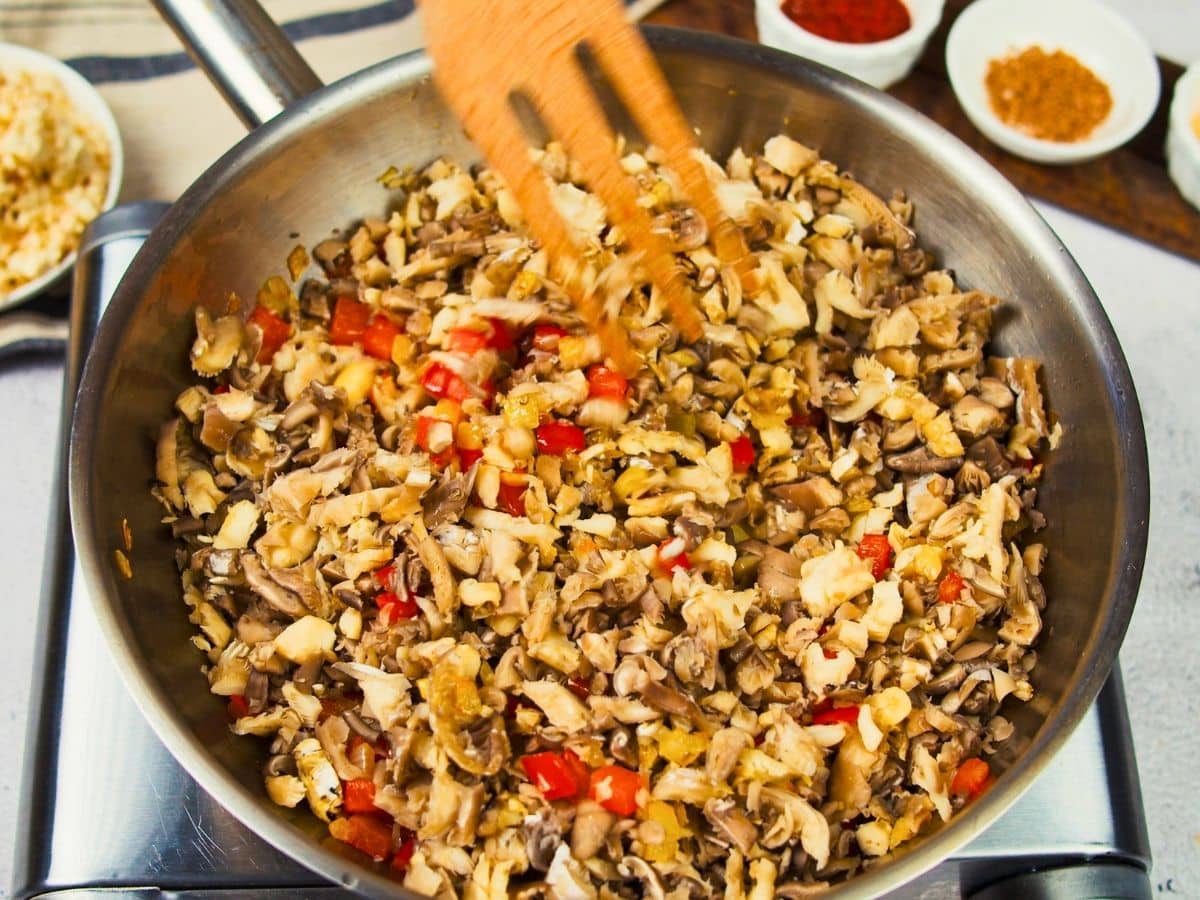 Crumble in the tofu, and then cook for another 5 minutes. Add in the spinach and continue cooking for another 2 to 3 minutes.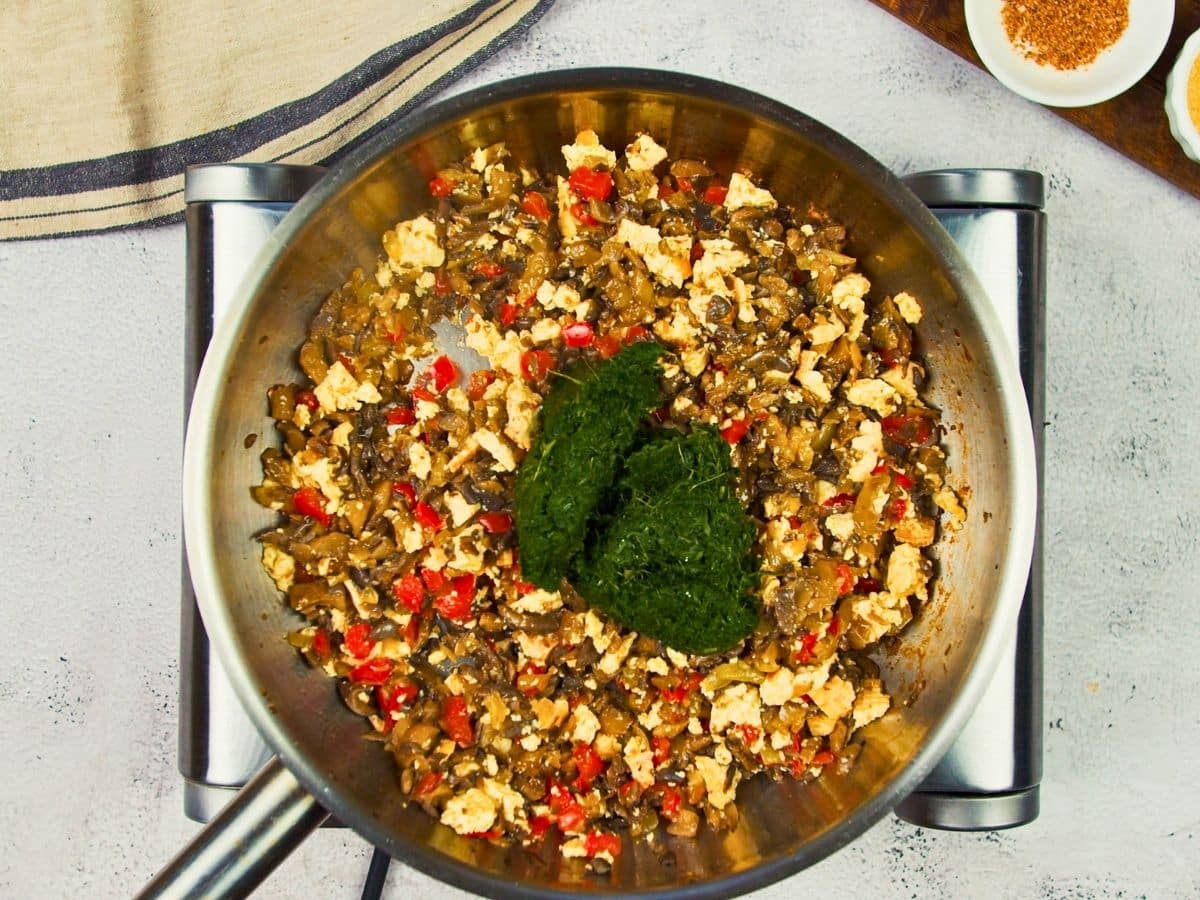 Season the vegetables with garlic powder, Italian herbs, and additional salt and black pepper to taste. Then set this aside to cool slightly.
Now, divide the potato mixture into 9 equal balls, then flatten each of them out. Add a heaping tablespoon of the vegetable and tofu mixture to the center of the potato. Then, pinch the edges together to cover the filling, and pat to form a round patty.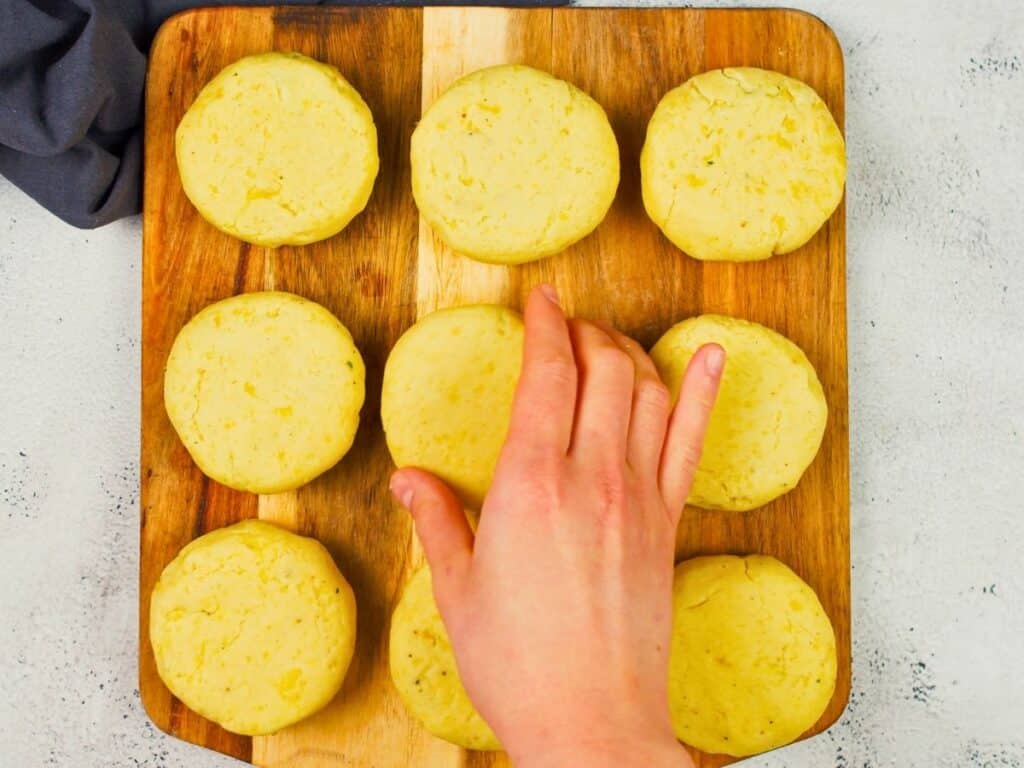 In a clean skillet, heat a bit of vegetable oil for frying. Cook for 2 to 3 minutes per side over medium heat until crispy and golden on all sides.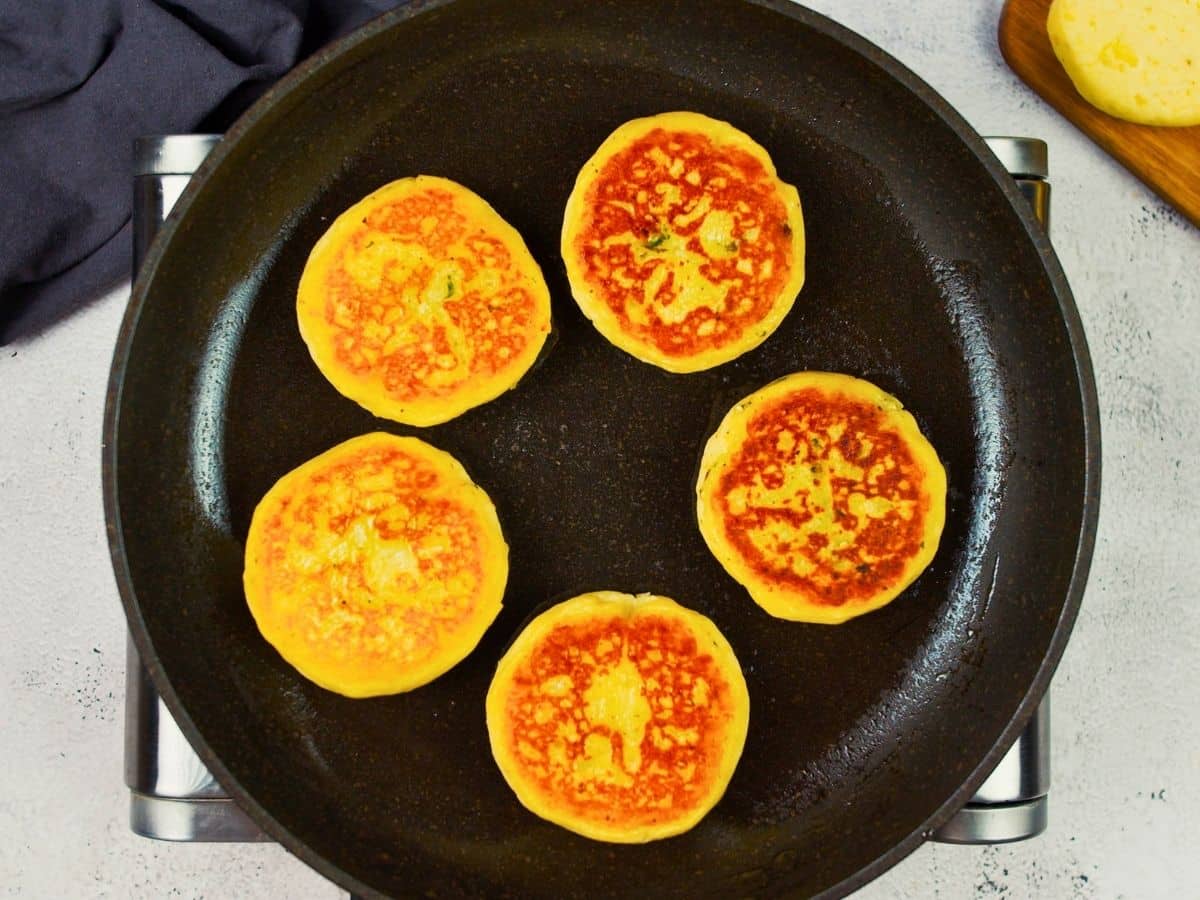 Serve with your favorite dipping sauces.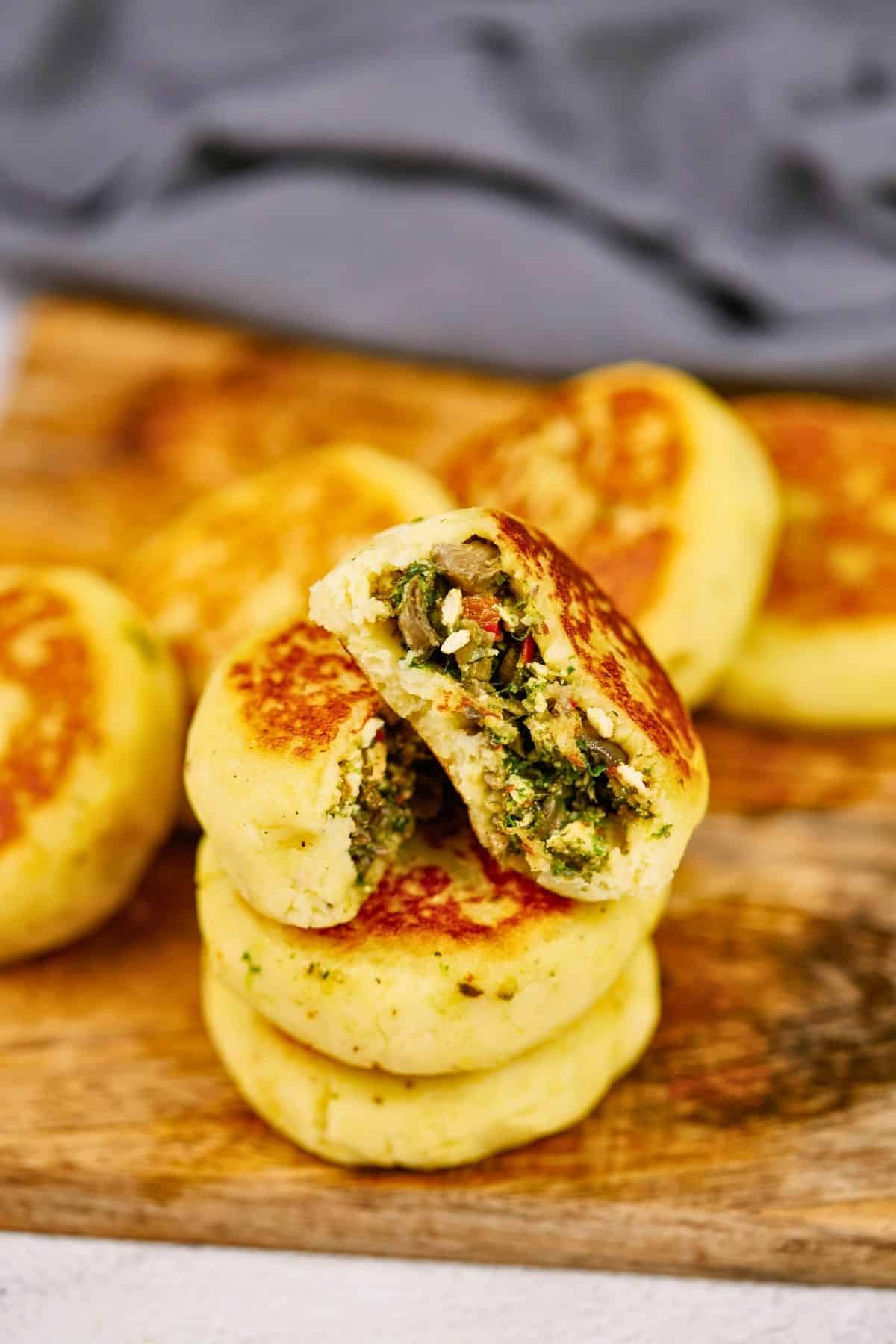 Frequently Asked Questions
What are some good vegetables to use in vegan stuffed potato cakes?
This recipe uses bell pepper, onion, mushrooms, and spinach. You can use other vegetables such as celery, zucchini, squash, carrots, cauliflower, or broccoli if you desire.
Can I use sweet potatoes instead of regular potatoes?
Absolutely! Sweet potatoes will add a depth of flavor and added nutrients to the recipe and your menu. Plus, it gives a bit of savory and sweetness that is appealing to many.
Can I make the filling ahead of time?
Absolutely. You can cook both potatoes up to 2 days ahead of time. Just assemble and fry when ready to serve.
Can I freeze the potato cakes?
Yes! I recommend laying them uncooked or cooked on a baking sheet to flash freeze for 2 hours. Then transfer them into a freezer storage container or freezer storage bag. Label and freeze for up to 3 months.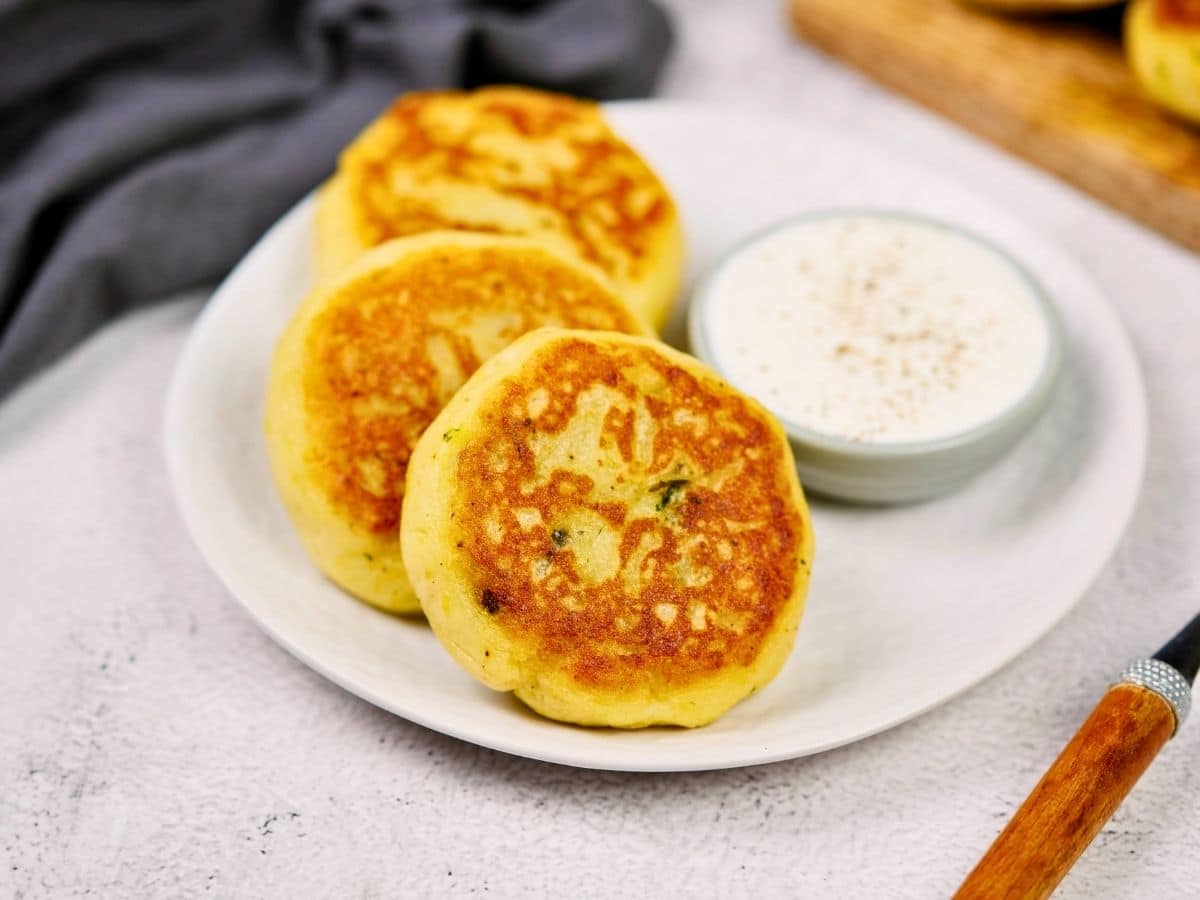 More Vegan Potato Recipes
Potatoes are the base of many of my favorite meals, and this snack or meal is a great addition to your menu. If you like potatoes as much as I do, then you'll also love the recipes below. Just take a few minutes to check them out. Bookmark them, print out the recipes, or pin them to Pinterest to make soon!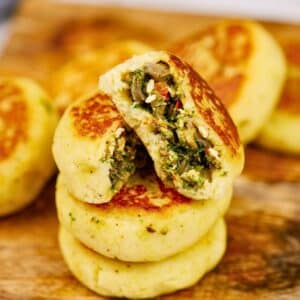 Vegan Stuffed Potato Cakes
Try our vegan stuffed potato cakes recipe for a delicious and filling meal! Perfect for any occasion, these cakes are sure to impress!
Instructions
Start by boiling whole potatoes until they are soft, then let them cool down before pressing them through a potato masher. Mix in starch, rice flour, salt, and pepper, and set aside.

Next, in a medium pan, heat up some olive oil and sauté peppers and onions for 5-7 minutes. Add mushrooms and cook for an additional 10 minutes. Then, mix in crumbled tofu and cook for another 5 minutes. Add spinach to the mixture and cook for 2-3 minutes. Season with garlic powder, Italian herbs, salt, and pepper to taste. Let the filling cool down slightly.

Now it's time to assemble the stuffed potato cakes. Divide the potato mixture into 9 equal balls, then flatten each ball out and add a heaping tablespoon of filling in the center. Carefully pinch the edges of the potato mixture together to cover the filling and form a patty.

Finally, cook the potato patties in vegetable oil until they are golden on both sides. This will give them a delicious crispy texture that pairs perfectly with the flavorful filling.
Notes
Instant potatoes can be used in a pinch, but fresh are best.
This recipe is great for using leftover mashed potatoes.
Season and fill with taco-flavored ground meat crumbles and vegan cheese for a unique flavor.
Nutrition
Calories:
149
kcal
Carbohydrates:
33
g
Protein:
4
g
Fat:
0.5
g
Saturated Fat:
0.1
g
Polyunsaturated Fat:
0.1
g
Monounsaturated Fat:
0.05
g
Sodium:
279
mg
Potassium:
633
mg
Fiber:
4
g
Sugar:
2
g
Vitamin A:
1262
IU
Vitamin C:
30
mg
Calcium:
33
mg
Iron:
2
mg