This seitan-based Vegan Roast Beef is easy to make and tastes tender, savory, and delicious! Slice it up for beef dip sandwiches or serve the roast whole for the holidays.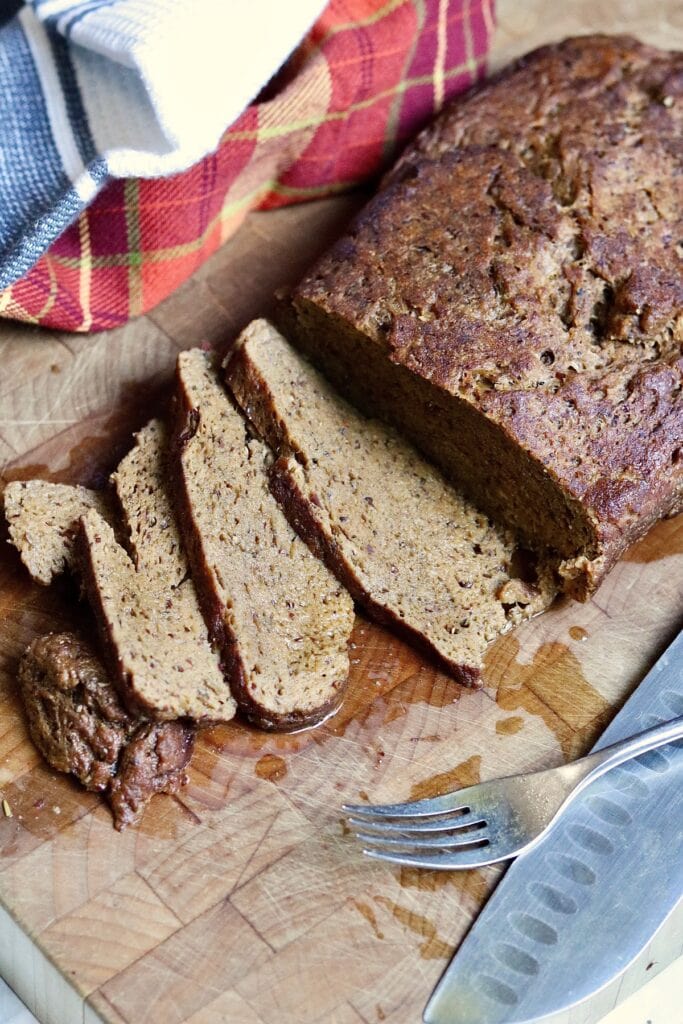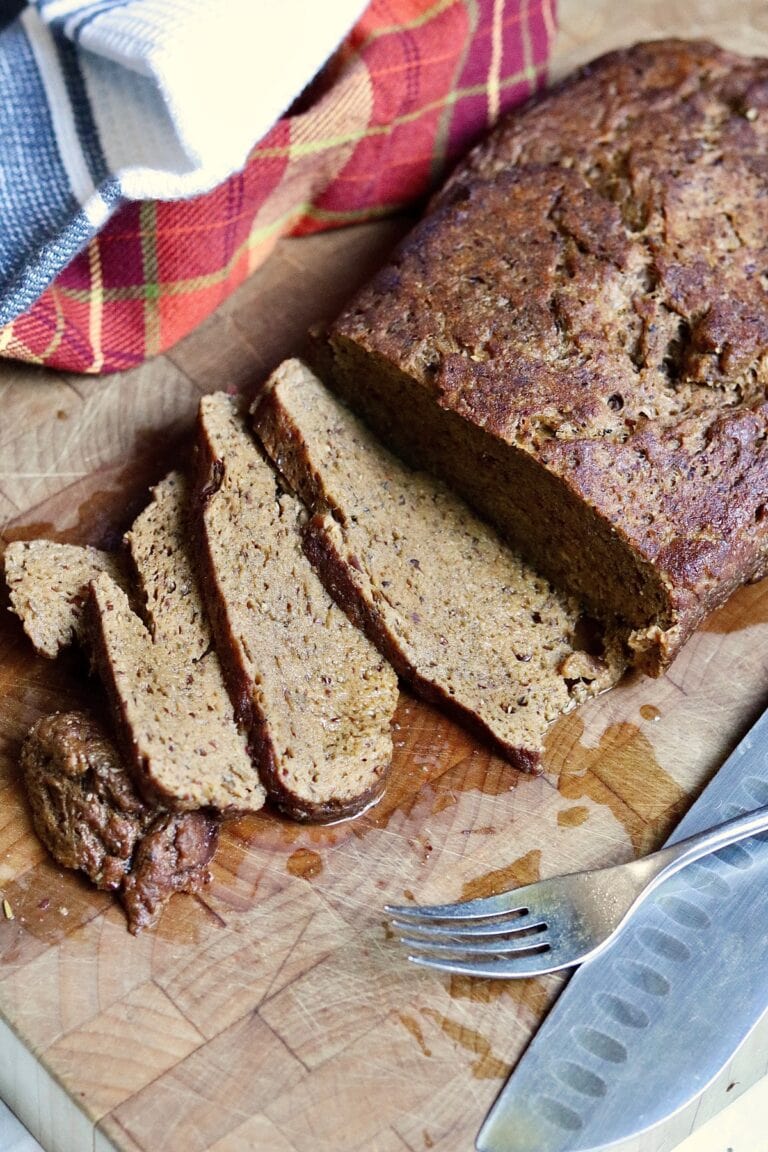 It doesn't take much to make a comforting, meaty, and satisfying vegan dinner! This Vegan Roast Beef has everything you love about the classic main dish. Slice it up for vegan roast beef sandwiches, seitan beef dips, or serve it around the holidays with plenty of gravy.
This vegan roast is made from seitan. A magical vegan meat replacement, seitan is easy to make using vital wheat gluten, seasonings, and vegetables. With a few simple adjustments to the ingredients, seitan can transform into vegan turkey, corned beef, roast chicken, and so much more!
This vegan seitan roast is so easy to love because it's:
Surprisingly easy to make.
Stores and freezes really well.
Budget-friendly! Forget about splurging on a Field Roast, Tofurky, or Gardein holiday roast.
Perfect for Thanksgiving, Christmas, Sunday dinners, or simple deli meat sandwiches.
Tender, juicy, savory, and delicious!
Jump to: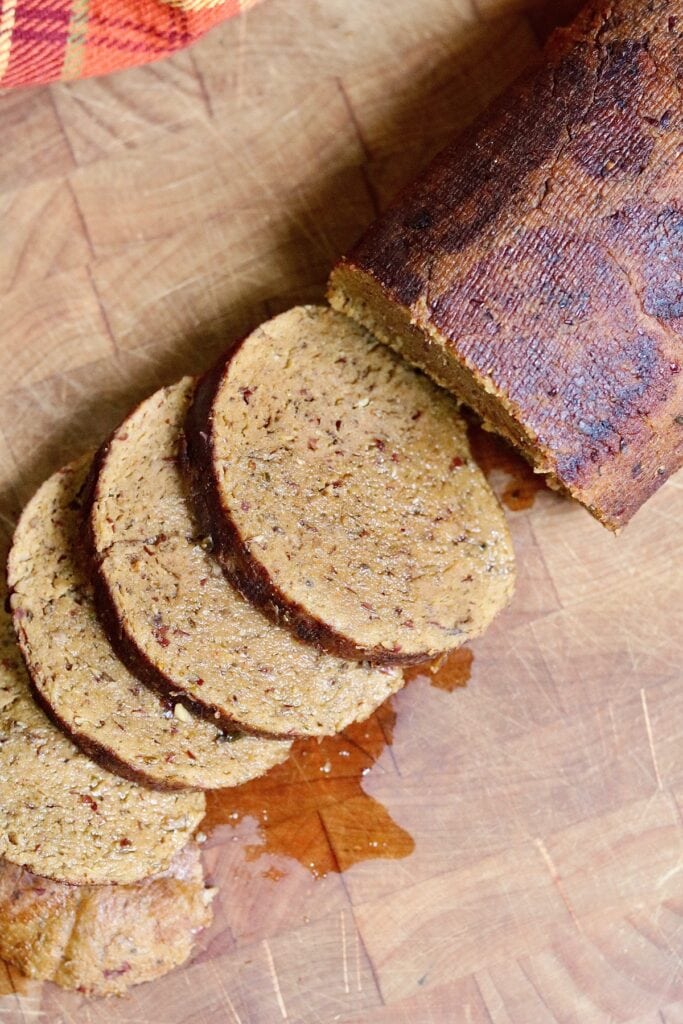 What is seitan?
Seitan is a vegan meat substitute made using vital wheat gluten. It's sometimes referred to as "wheat meat".
What is vital wheat gluten?
Vital wheat gluten is made by washing wheat flour with water until all of the starch has been removed. By adding a small amount to vegan roasts, meatballs, or veggie dogs, the dough transforms into an elastic, meaty, and fibrous mixture.
What is vegan roast made of?
Vital wheat gluten - This is what gives the seitan its meaty and tender texture.
Mushrooms - Pulsed cremini mushrooms mixed into the roast provide lots of savory flavors and moisture.
Kidney beans - Red kidney beans (or any dark colored bean you like) help tenderize the vegan roast beef and add moisture.
Broth - To help the seitan dough come together.
Seasonings and aromatics - A mix of garlic cloves, nutritional yeast, tamari (or soy sauce), tomato paste, oil, mustard, onion powder, chili powder, Italian seasoning, coriander, and dill give this recipe realistic roast beef flavors.
Simmering broth - Cooking the seitan in vegetable broth, onion, garlic, tomato paste, and other tangy sauces infuses additional flavour and makes a built in onion gravy
How to make vegan roast beef
While it may seem intimidating, making a seitan roast at home is quite simple. It's baked in the oven in a flavorful broth to infuse layers upon layers of savory, vegan meaty goodness!
Make the seitan dough: Pulse the mushrooms in a food processor until they're in tiny pieces. Transfer them to a mixing bowl, then add all of the ingredients (minus the vital wheat gluten) to the food processor. Blend until smooth. Pour the seitan dough into the bowl with the mushrooms and mix it all together.
Knead the dough: Add the vital wheat gluten to the bowl and mix it into the dough using your hands. Transfer the dough to a work surface and knead it until you can see fibrous strands forming as you pull it apart. Form it into a rectangular roast shape.
Sear the roast: Heat some oil in a skillet over medium high heat. Sear the roast on all sides to develop a crust.
Cook the roast: Whisk all of the simmering broth ingredients together in a baking dish. Place the roast in the middle of the dish, cover with foil, and bake.
Let it rest, then serve: Once it's ready, take the roast out of the oven and pan and let it rest on a cutting board tented with foil (to help retain the moisture). Let it rest for at least 30 minutes. Slice it up and serve with leftover broth or mushroom gravy and all the fixings! For full ingredients and instructions see the printable recipe card below.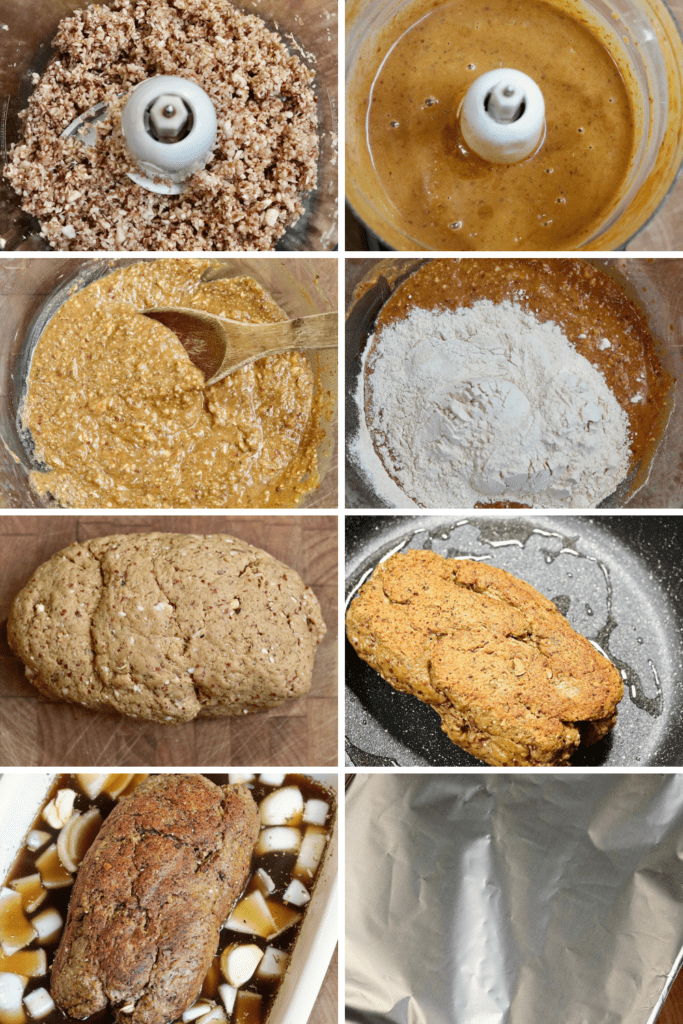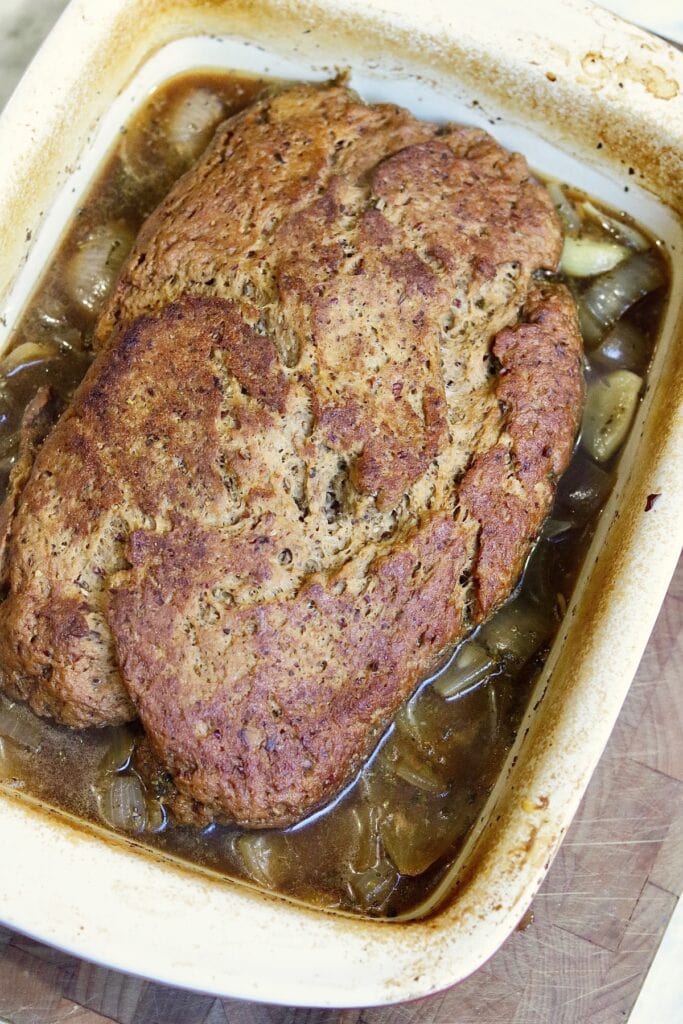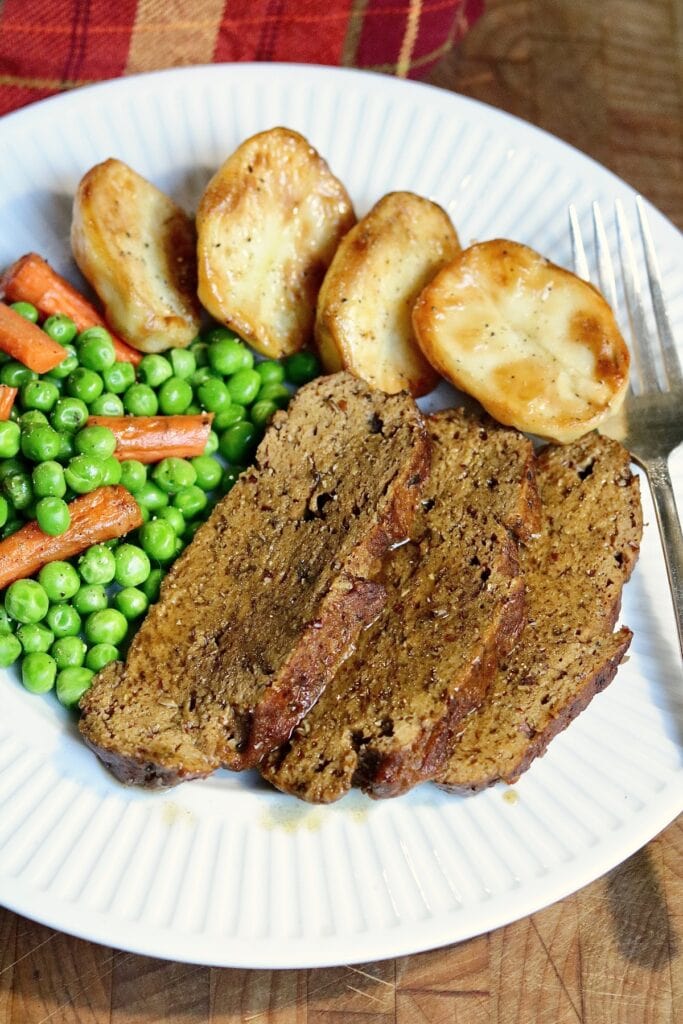 Tips for success
The longer you knead the dough, the tougher the roast will be. It only needs to be kneaded for about 2 minutes or until it looks fibrous.
Wrapping the vegetarian roast in cheesecloth is optional but it will help form a tighter, more uniform-sized roast.
For clean presentation, tie the roast with kitchen twine in 3 places before baking (with or without the cheesecloth).
Does it feel too soft? As with most seitan recipes, the roast will firm up nicely when left in the fridge overnight.
Don't skip the rest! Leaving the roast to rest for at least 30 minutes after it's done cooking will help it to firm up and retain the juices and flavour.
Frequently asked questions
Can it be made gluten free?
Vegan roast beef cannot be made gluten free because it has to be made with vital wheat gluten. Instead, make my Vegan Meatloaf for an equally as delicious and meaty gluten free main dish.
How do you serve a seitan roast?
This recipe is perfect for a traditional Sunday or holiday roast dinner with Yorkshire pudding, mashed potatoes, glazed carrots, cranberry sauce, and wild rice stuffing on the side. The leftovers are great for slicing and to pile in beef dip sandwiches, vegan Philly cheesesteaks, and stir fries. Use the vegan roast beef anywhere you would use regular deli meat!
Can you make it in the Instant Pot or on the stove?
Baking seitan roast in the oven is the best method because it seals in all of the delicious savory flavors from the simmering broth, plus you'll end up with the leftover au jus to season each slice. The results just wouldn't be the same if you were to make it in the Instant Pot or steamed on the stove
How do you store seitan roast beef?
Keep the leftover roast covered and store it in the fridge for up to 5 days.
Can you freeze it?
Yes! Wrap the seitan whole or the individual slices in plastic wrap and keep them in a sealed container before freezing
Hungry for more delicious seitan recipes?
Enjoy everyone! Happy Day! Please feel free to comment below and give this recipe a rating. Your feedback is greatly appreciated!
Follow me on PINTEREST and INSTAGRAM for more tasty Plant Based & Vegan Recipes❤️
Subscribe here for free weekly recipes delivered right to your inbox! No need to scour the internet. Your one stop shop for recipes is here😊 No spam I promise!
Print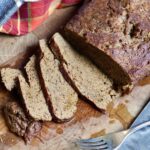 Vegan Roast Beef (Seitan)
---
Author:

Verna

Total Time:

1 hour 50 minutes

Yield:

6

-

8

servings

1

x

Diet:

Vegan
Description
This seitan-based Vegan Roast Beef is easy to make and tastes tender, savory, and delicious! Slice it up for beef dip sandwiches or serve the roast whole for the holidays.
---
For Vegan Roast:
1/2

lb (227 g) cremini mushrooms

3/4 cup dark red kidney beans, rinsed and drained well

1/2 cup water

3 cloves garlic

3 tablespoons nutritional yeast

2 tablespoons tamari

2 tablespoons tomato paste

2 tablespoons oil

2 teaspoons yellow mustard

1 and 1/2 teaspoons granulated onion (powder)

1 and 1/2 teaspoons chili powder

1 teaspoon italian seasoning

3/4 teaspoon coriander

1/2 teaspoon dried dill

1 and 3/4 cups vital wheat gluten

Cheesecloth for wrapping roast (optional)
Simmering Broth:
1/2

medium yellow onion roughly chopped

3

cloves garlic

3 cups

warm water

1 tablespoon

better than bouillon vegetarian no beef soup base

2 tablespoons

vegan worcestershire sauce

1 tablespoon

tomato paste

1 tablespoon

balsamic vinegar

1/2 teaspoon

italian seasoning
---
Instructions
Preheat the oven to 375° and set aside a 8 x 11 casserole dish with high sides.

Make the seitan dough: Add mushrooms to your food processor and pulse until tiny. They should still have texture, be moist and slightly mushy. Remove to a large glass mixing bowl.

Now add the rest of ingredients to the food processor - EXCEPT VITAL WHEAT GLUTEN- and blend until smooth. Scrap out with a spatula into the mixing bowl with the mushrooms. Mix everything together.

Add the wheat gluten and mix with your hand until it comes together. Place dough on your work surface and knead for 2 minutes. You should see strands forming in the dough when you pull it, that is the gluten being activated. It will look fibrous. Form into a roast shape. Season both sides with a little salt and pepper

Sear the roast: Heat a non-stick skillet over medium high heat with a drizzle of oil. Sear roast for a minute or two on all sides to develop a nice crust. Remove to a cutting board to rest while you make the simmering broth (at this point if you want a more uniform denser roast roll up in a layer of cheesecloth twist the ends and fold underneath)

Cook the roast: add all the broth ingredients to the casserole dish you set aside earlier and whisk together. Place the roast in the middle of the dish (with or without cheesecloth) and cover the dish tightly with tin foil or lid. Bake for 1 and 1/2 hours, gently flipping the roast half way through cooking.

Serve: Once cooked, carefully remove roast from baking dish to a cutting board and loosely tent with foil and let rest for 30 minutes. Strain and reserve cooking broth (au jus) or puree it all for onion gravy. (feel free to sear the roast again like in step 5 before serving to crisp up) Slice and serve the roast with broth or gravy and all the fixings! Enjoy!

For a firmer texture, cover and store the roast in the fridge for at least 3 hours or overnight, reheat on parchment in a covered dish for 30-40 minutes and serve. Slice the leftover roast thinly for deli meat For step by step photos, FAQ, Tips and serving suggestions see above post.
Notes
Important to use right size baking dish for this recipe

For nicer presentation you can tie the roast with kitchen twine in 3 places before baking, with or without cheesecloth

As with all seitan recipes the texture of the cooked seitan firms up quite a bit once rested in the fridge overnight.

Over kneading the seitan dough can result in tough, overly chewy and or holey seitan

To store and freeze:

it will keep covered in the fridge for up to 5 days and freezes well wrapped in plastic wrap whole or portioned and sliced, wrapped and kept in a sealed container.
Adapted from my vegan steak and burger recipe
Prep Time:

20 Minutes

Cook Time:

90 Minutes

Category:

Mains, Vegan Holiday Recipes

Method:

Oven Baked

Cuisine:

American, Canadian
Keywords: vegan roast beef, seitan roast, beef seitan, seitan beef roast, seitan recipes