This vegan coffee cake that's perfect for a cozy morning or an afternoon treat is going to quickly become a favorite on your menu. It is loaded with warm, comforting spices and natural sweetness from the apples. The apple puree gives the cake a delicate texture, while the cinnamon provides a comforting, familiar flavor. A simple, but delicious cake, this is ideal for breakfast, snack time, or dessert!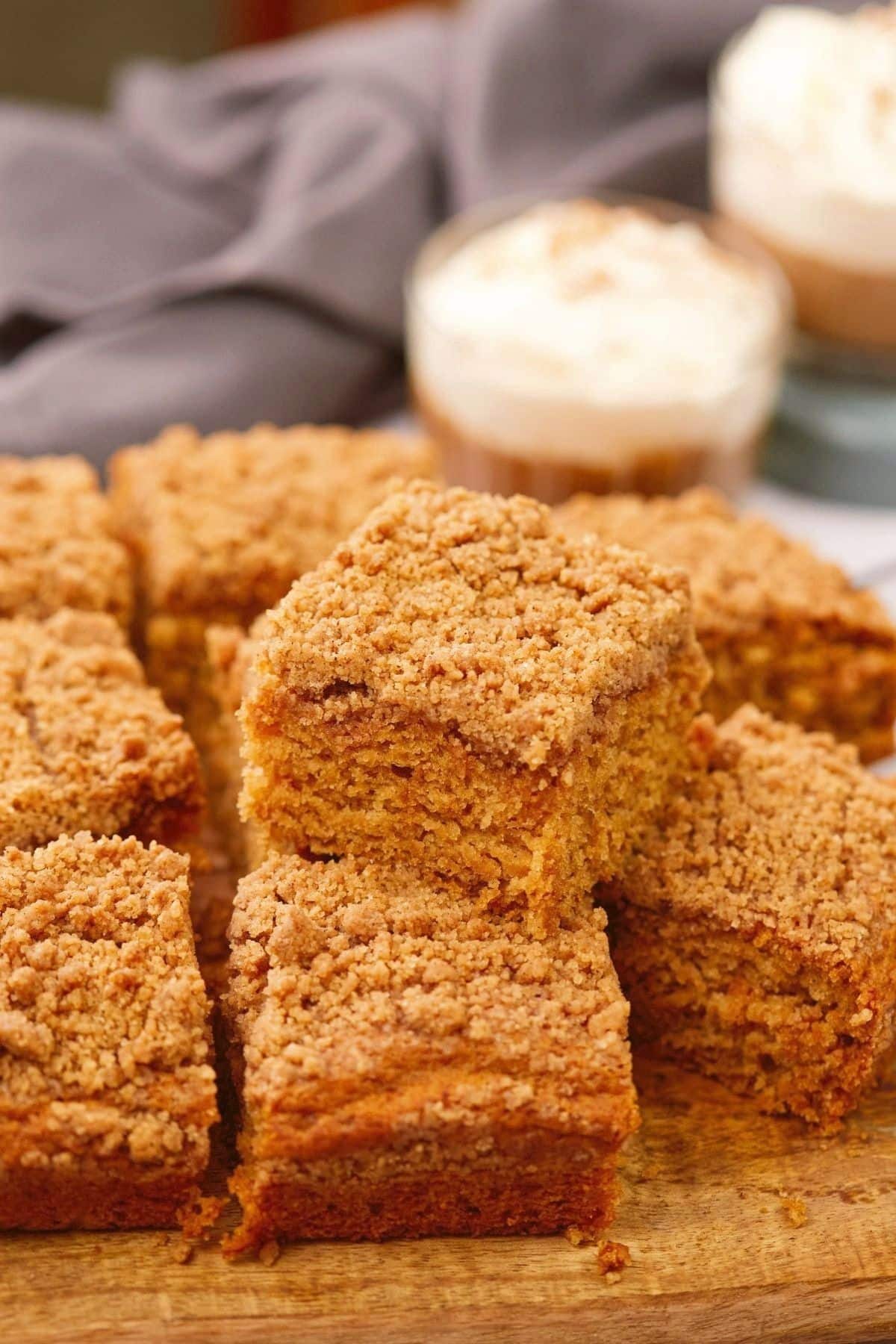 Jump to:
Coffee Cake Recipe
The beauty of this vegan coffee cake is that it's not only delicious but also easy to make. It's a one-pan recipe so cleanup is a breeze. You'll love how this coffee cake takes only a few minutes to prep and the rest is left to the oven. The result is a soft, fluffy, and fragrant cake that's perfect for any time of day. It's a great alternative to traditional coffee cakes, which often contain eggs and dairy.
This vegan coffee cake is perfect for a lazy Sunday morning, a special occasion, or a mid-day snack. It's a great option for those who follow a plant-based diet or have food allergies. It is also a great way to incorporate more fruit into your diet. I like to serve this coffee cake with a hot cup of coffee or tea, but it's also delicious on its own. You can also top it with some vegan butter or a drizzle of maple syrup for an extra touch of sweetness.
If you are looking for something that is more traditional, check out the vegan apple cake. It's a delicious recipe that is also perfect for breakfast, snacks, or desserts.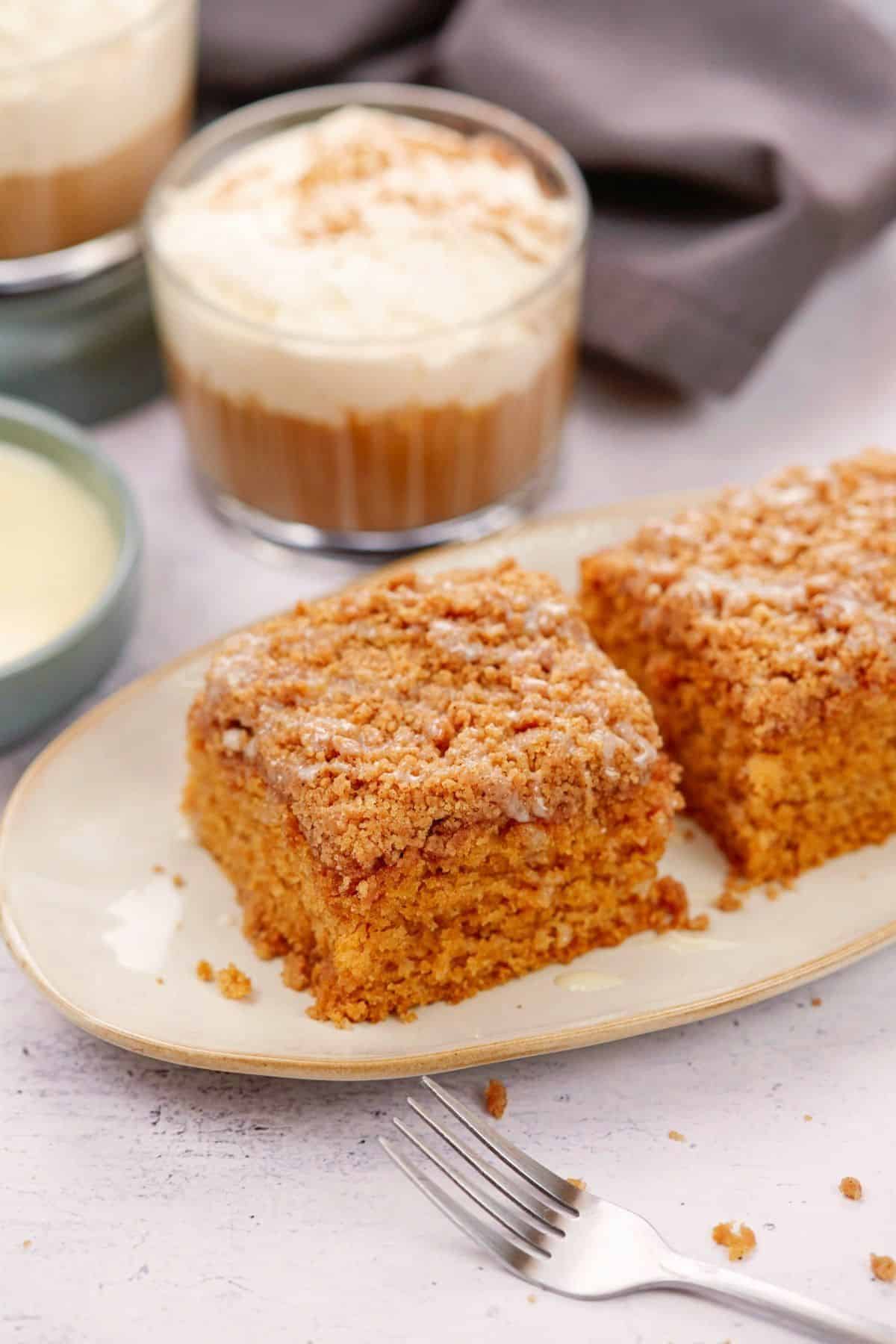 Ingredients
1 cup almond milk
1 tablespoon apple cider vinegar
2 tablespoons apple puree
⅓ cup brown sugar
¼ cup vegetable oil
1 teaspoon vanilla extract
1 ⅓ cups all-purpose flour
2 teaspoons baking powder
½ teaspoon baking soda
Pinch of salt
For crumb topping
½ cup all-purpose flour
⅓ cup brown sugar
½ teaspoon ground cinnamon
2 tablespoons vegan butter
Pinch of salt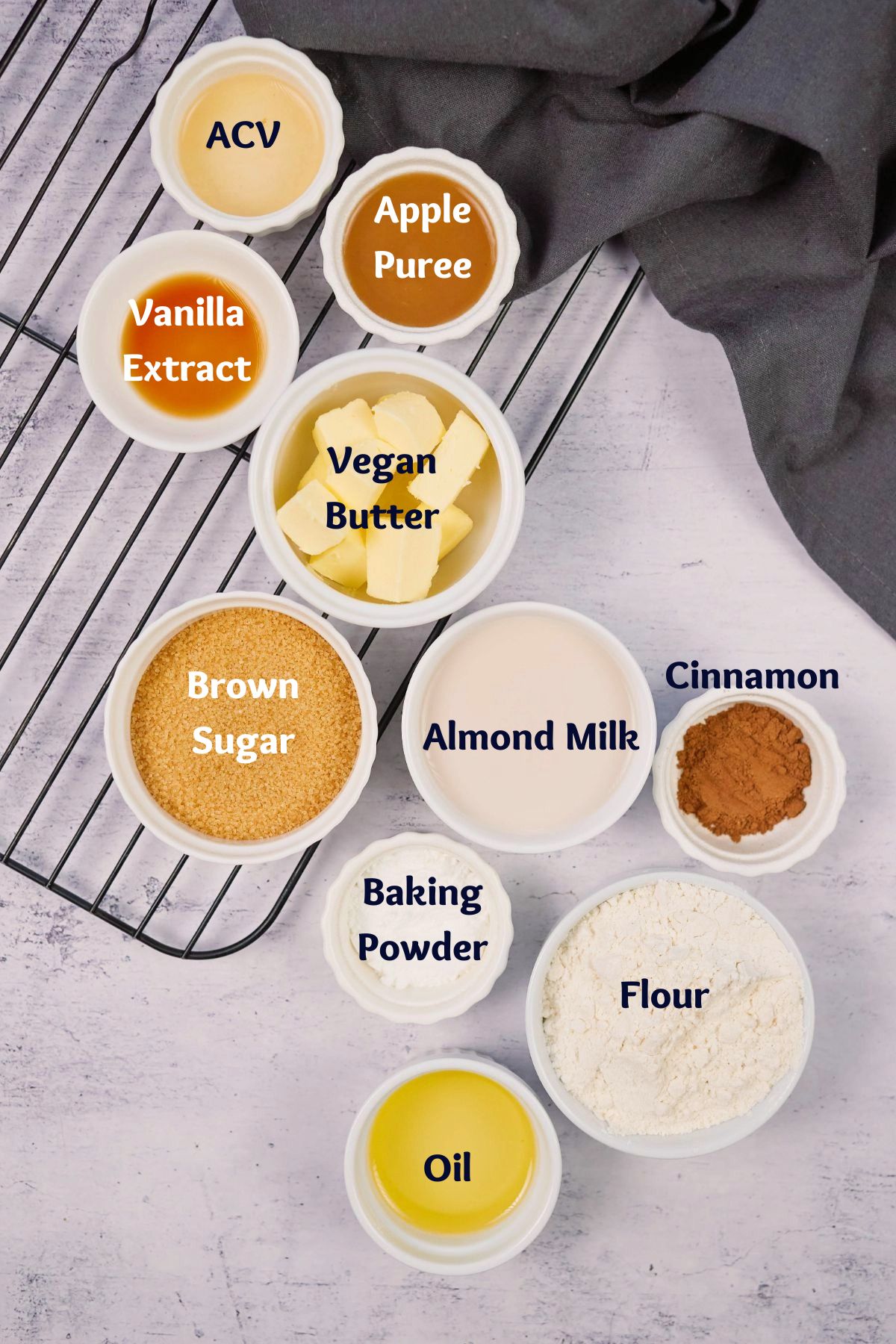 Tools You May Need
For this recipe, you will need a few basic kitchen supplies. The list below is what I used when making this coffee cake.
Mixing bowls - I like to have at least a few different sizes on hand. For this, you will need one for wet ingredients and one for dry ingredients.
Measuring cups and spoons - This set has spoons, dry measuring cups, and wet measuring cups; all of which will be used with this recipe.
Whisk - you can stir with a rubber spatula or spoon, but I like a whisk for getting rid of any lumps in the batter.
8"x8" baking dish - a classic rectangular baking dish works perfectly, but you can use 2 smaller pans or a 10" oval pan if you prefer.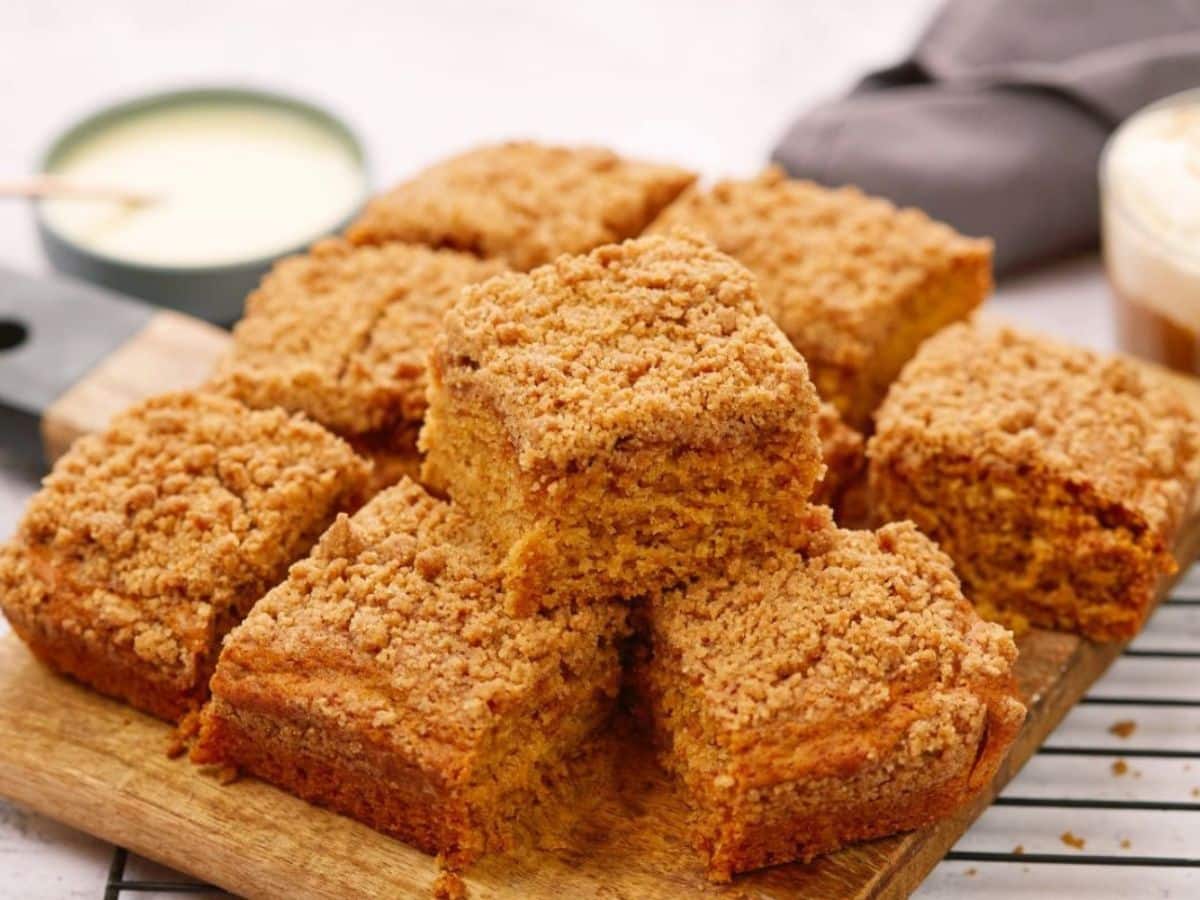 Video Recipe
How to Make a Vegan Coffee Cake
Preheat the oven to 350°F/180°C and line an 8"x8" baking dish with parchment paper.
In a medium bowl, whisk the almond milk, vinegar, brown sugar, apple puree, vanilla extract, and vegetable oil together until combined.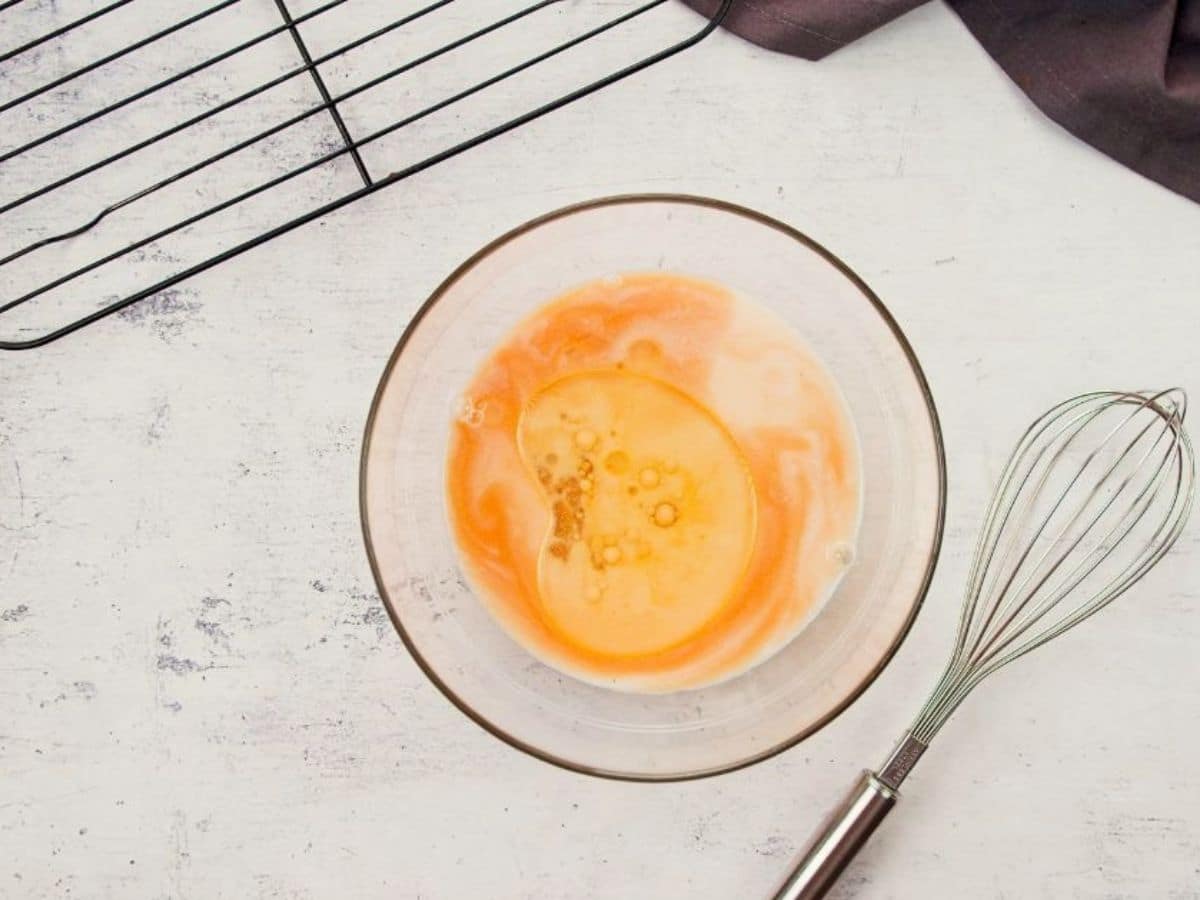 Using a separate bowl, whisk the flour, baking powder, baking soda, and salt.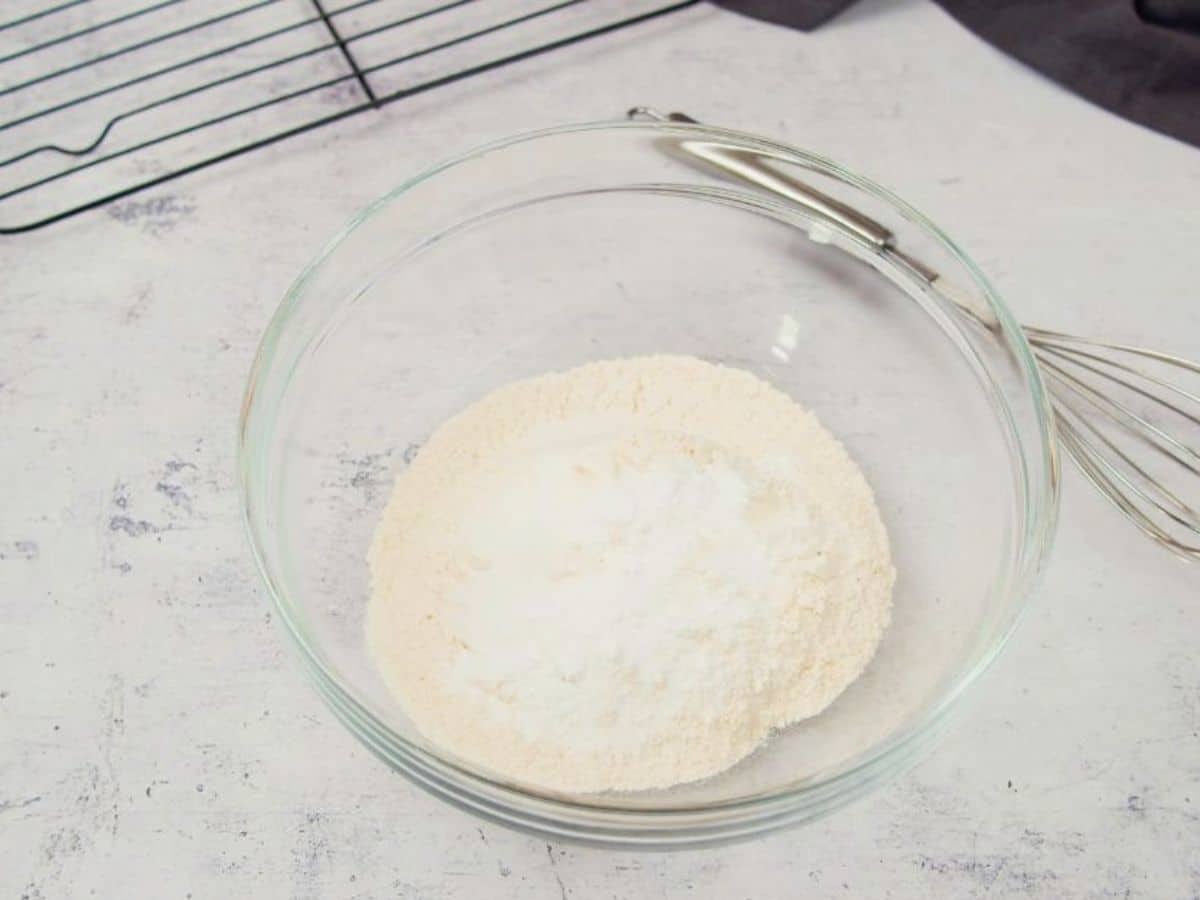 Now, you will combine the wet and dry ingredients, whisking until it is smooth and no lumps remain.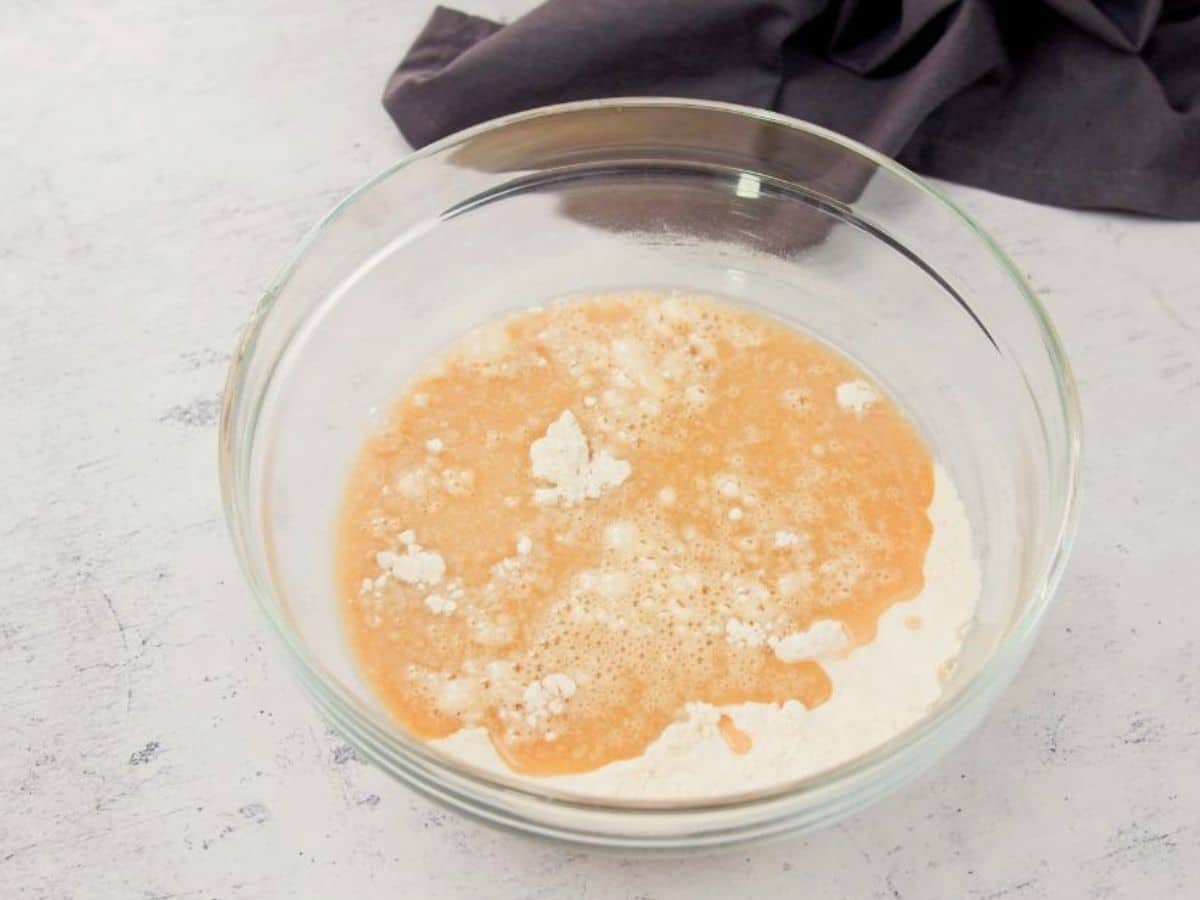 Pour this coffee cake batter into the prepared baking dish.
Now, in a small bowl, whisk together the flour, sugar, salt, and cinnamon for the crumble topping. Add in the butter and mix until crumbs form.
Sprinkle the cinnamon crumble over the batter in the baking dish.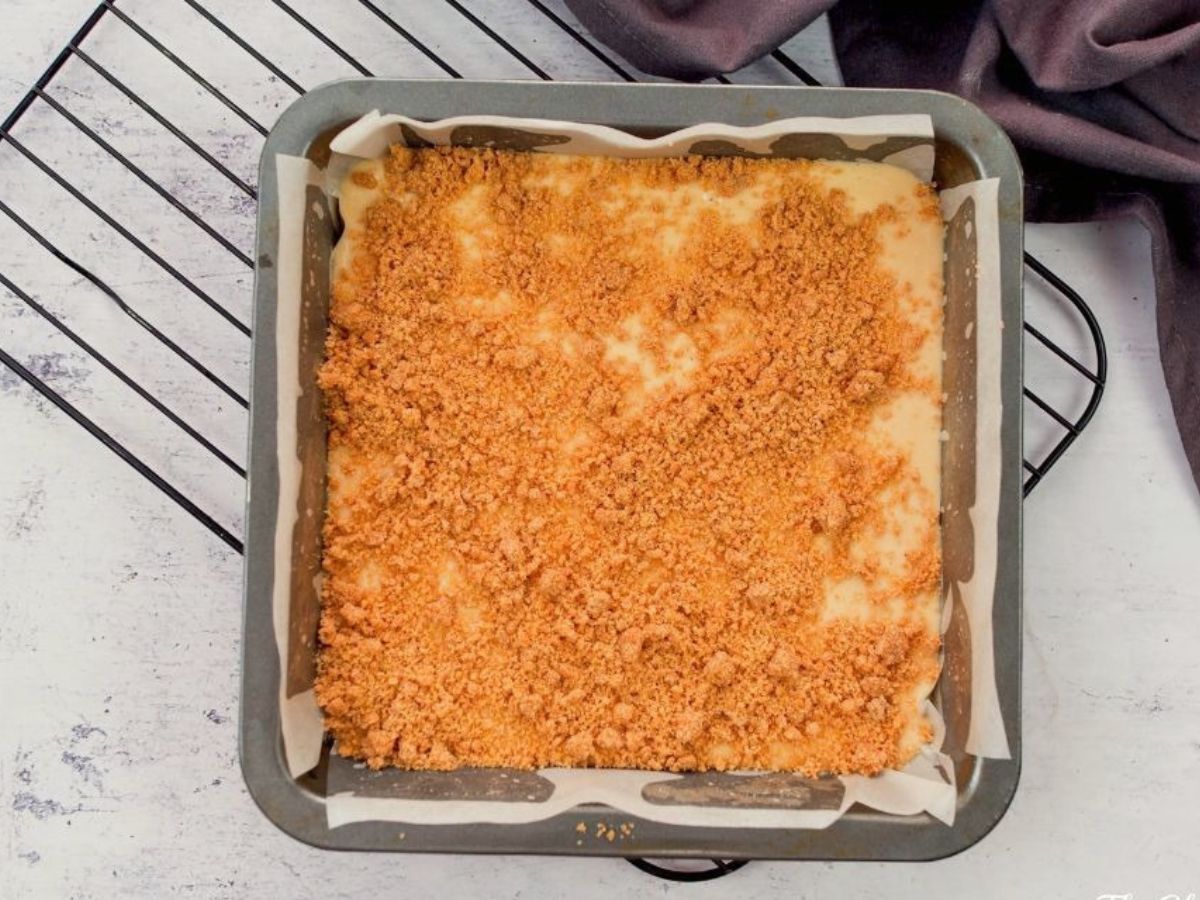 Bake this vegan coffee cake for 35 to 45 minutes, or until a toothpick inserted in the center comes out clean.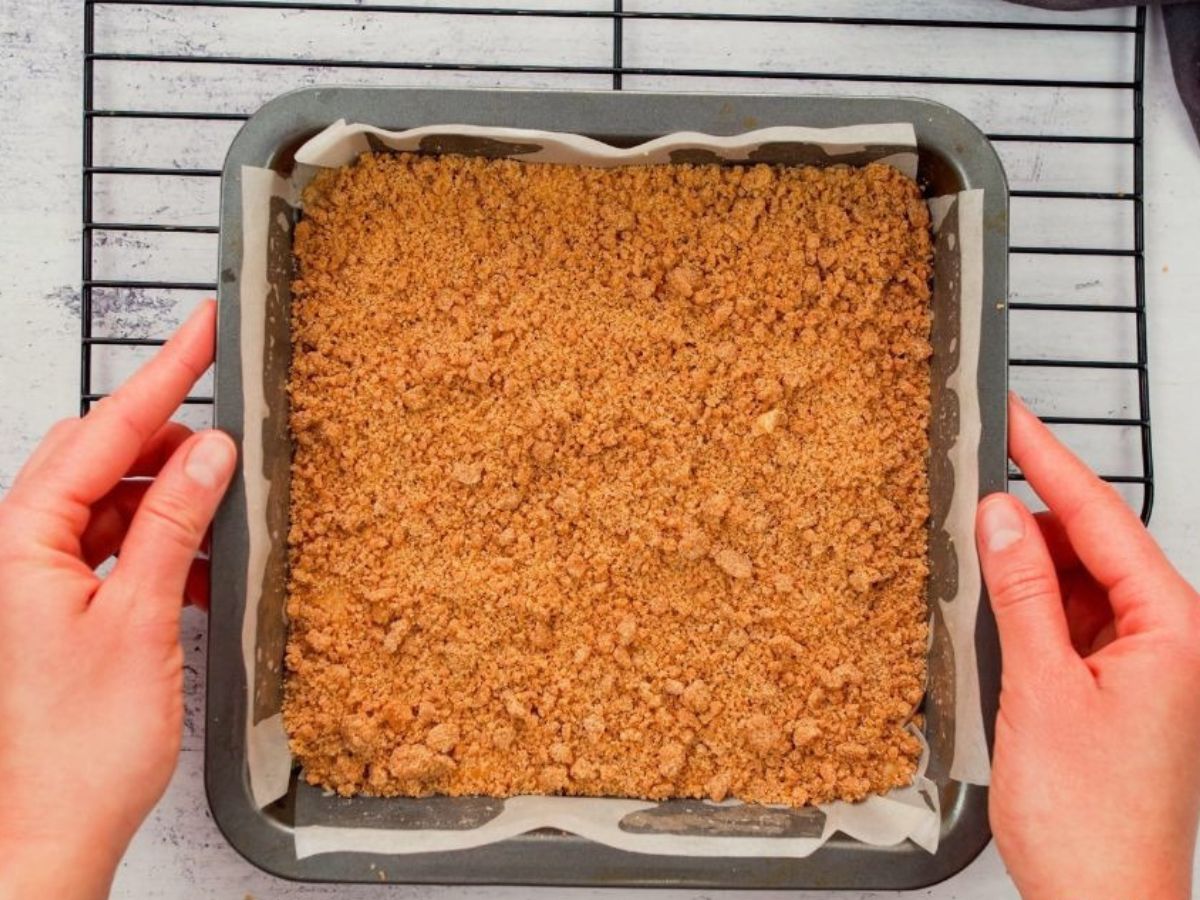 Let the cake cool in the pan for 10 minutes before lifting it out with parchment paper to slice and serve.
Frequently Asked Questions
Can I Make Coffee Cake In a Muffin Tin?
While you can definitely pour the batter into a muffin tin, you'll have a bit more work to do with sprinkling the crumble on top. Just make sure to properly grease or line the muffin tins, then divide your crumble into portions to spoon over the top before baking.
What Milk Can I Use for Vegan Baking if I Have a Nut Allergy?
The safest options for those with allergies are rice milk or hemp milk. Depending upon the severity of your allergy, you may be able to use soy milk, coconut milk, or oat milk.
Is Vegan Coffee Cake Gluten-Free?
This recipe is not gluten-free as listed. If you need to have a gluten-free alternative, use your favorite 1:1 flour substitute. I recommend the King Arthur Gluten-Free baking blend.
Tips for Storing This Recipe
If you make more vegan coffee cake than you can eat in one day, then you will need to store the leftovers. This is easy to do when you have a baking dish with a lid.
If your baking dish doesn't have a lid, then you can cut it into servings and put it into an airtight storage container, or even into a Ziploc-style bag.
This coffee cake is good for 3 to 4 days at room temperature or up to 1 week if stored in the refrigerator.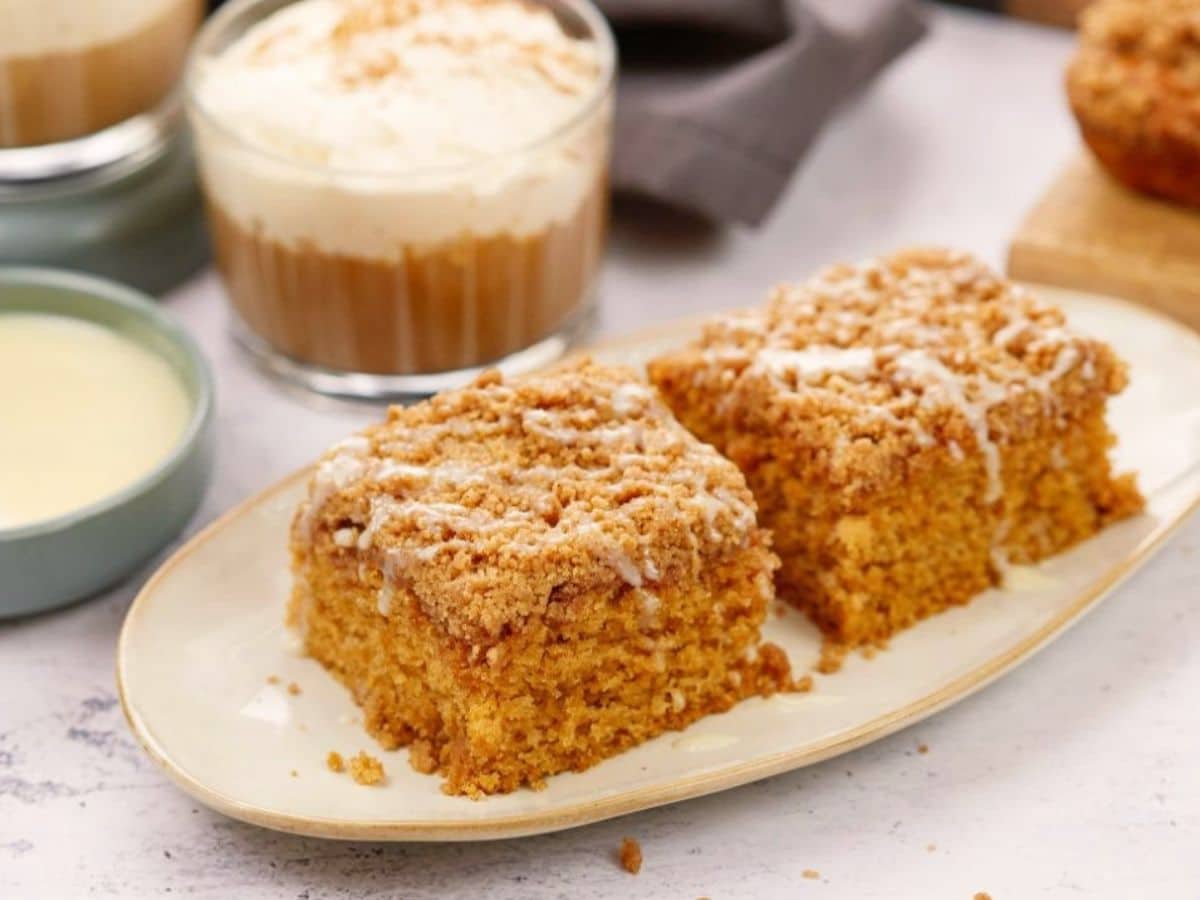 More Vegan Desserts
If you want to add more sweetened bread to your menu, we have some great ideas. Bread and muffins that are all plant-based and filled with delicious flavors! Bookmark these, print out the recipes, or add them to your Pinterest boards to make soon!
Follow me on PINTEREST and INSTAGRAM for more tasty Plant Based & Vegan Recipes❤️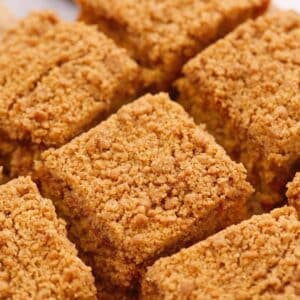 Vegan Coffee Cake Recipe
A simple vegan coffee cake recipe is easier than ever to make! 2 bowls, a whisk, and one pan are all you need to throw this together and put in the oven in minutes! Light, fluffy, and warm, it's a perfect breakfast treat that is plant-based.
Instructions
Begin by preheating your oven to 350°F/180°C. To prepare the pan, line an 8"x8" baking dish with parchment paper.

In a medium mixing bowl, combine the almond milk with vinegar, brown sugar, apple puree, vanilla extract, and vegetable oil. Whisk these ingredients until they are combined.

In another bowl, mix together the flour, baking powder, salt, and baking soda.

Pour the wet ingredients into the dry ingredients and mix until a smooth batter is formed.

Pour the batter into the lined baking pan.

For the crumbly topping, mix flour, sugar, salt, and cinnamon in a separate bowl. Using your fingers, work in butter until the mixture resembles crumbs.

Evenly sprinkle the crumbled topping over the batter in the pan, then place the dish in the oven. Bake for 35-45 minutes, or until a toothpick inserted into the center of the cake comes out clean.
Notes
The apple puree used in this recipe can be unsweetened applesauce or apple butter Use what you prefer.
For a thinner cake, use a 9"x13" baking dish and reduce the cooking time by 15 minutes.
Add additional texture by folding in ½ cup of diced apples just before baking.
Serve this alone or with fresh whipped cream, non-dairy vanilla ice cream, or a drizzle of maple syrup.
Nutrition
Serving:
1
slice
Calories:
233
kcal
Carbohydrates:
36
g
Protein:
3
g
Fat:
9
g
Saturated Fat:
1
g
Polyunsaturated Fat:
4
g
Monounsaturated Fat:
2
g
Trans Fat:
0.1
g
Sodium:
216
mg
Potassium:
52
mg
Fiber:
1
g
Sugar:
16
g
Vitamin A:
119
IU
Vitamin C:
0.004
mg
Calcium:
104
mg
Iron:
1
mg
Subscribe here for free weekly recipes delivered right to your inbox! No need to scour the internet. Your one stop shop for recipes is here😊 No spam I promise!