Are you looking for a sweet treat that satisfies your cravings while still being vegan? Look no further than these heavenly vegan chocolate chip muffins! Made with simple and wholesome ingredients, these muffins are light and fluffy and loaded with chocolate in every bite.
Chocolatey Vegan Muffins
With just one bite, you'll be hooked on the combination of the classic muffin texture with a hint of banana and plenty of chocolate. When making vegan baked goods, you may think they will be bland or have a bad texture, but this recipe will prove different.
Whether you're vegan or simply looking for a delicious dessert, these muffins are the perfect addition to any baking repertoire. So grab your mixing bowl and let's get started!
Looking for something more savory than sweet? Check out these vegan Just Egg bites. So good!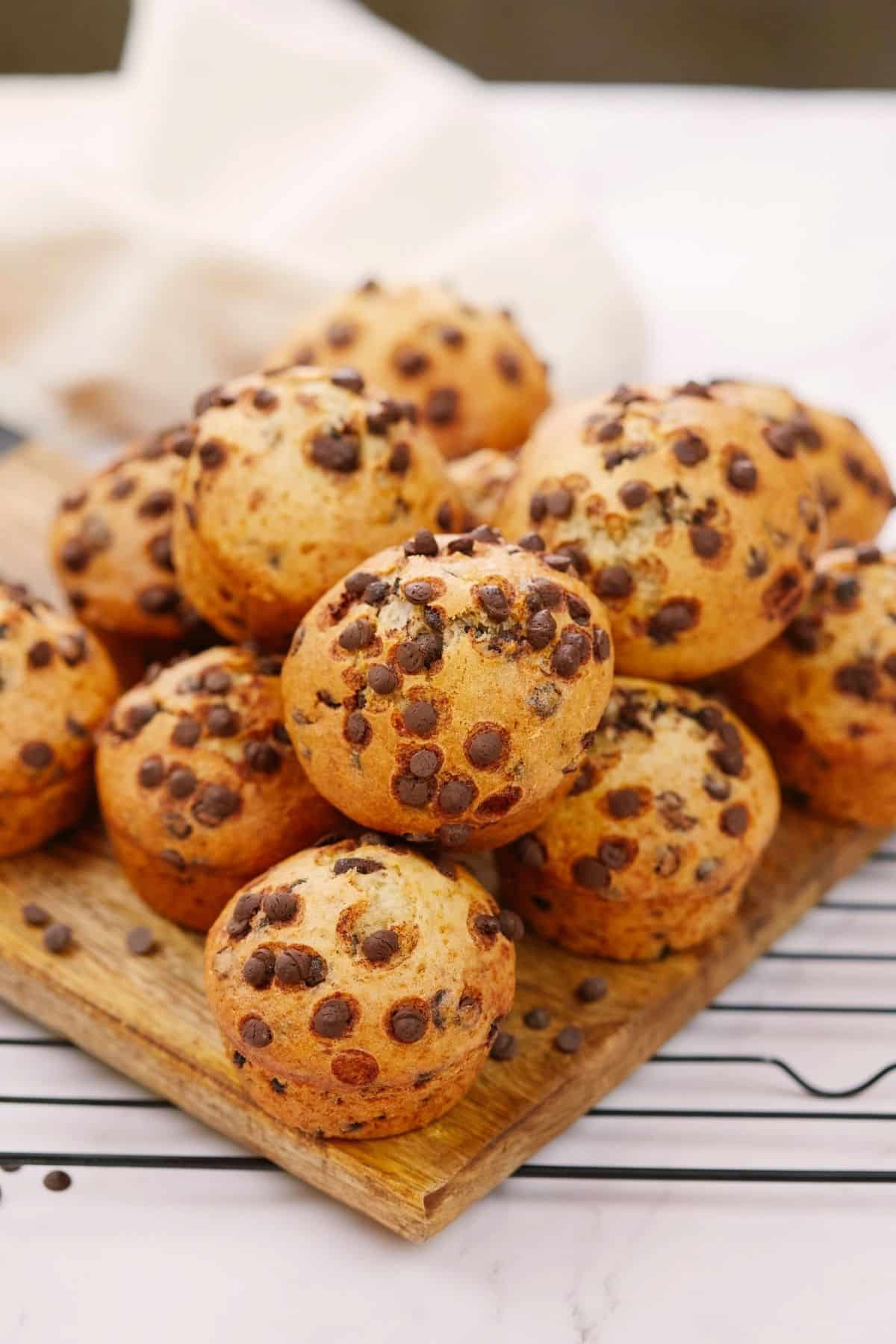 Ingredients
2 ¼ cups all-purpose flour (281g)
1 cup sugar (200g)
1 teaspoon baking soda
1 teaspoon baking powder
pinch of salt
½ cup (120ml) non-dairy milk (soy, banana, almond, coconut, etc.)
1 teaspoon apple cider vinegar
2 tablespoon applesauce
3 bananas, overripe
¼ cup vegetable oil (60ml)
1 cup vegan chocolate chips (170g)
Note: any non-dairy milk will work in this recipe. Soy, almond, coconut, hemp, rice, oat, or even cashew are all interchangeable for this muffin.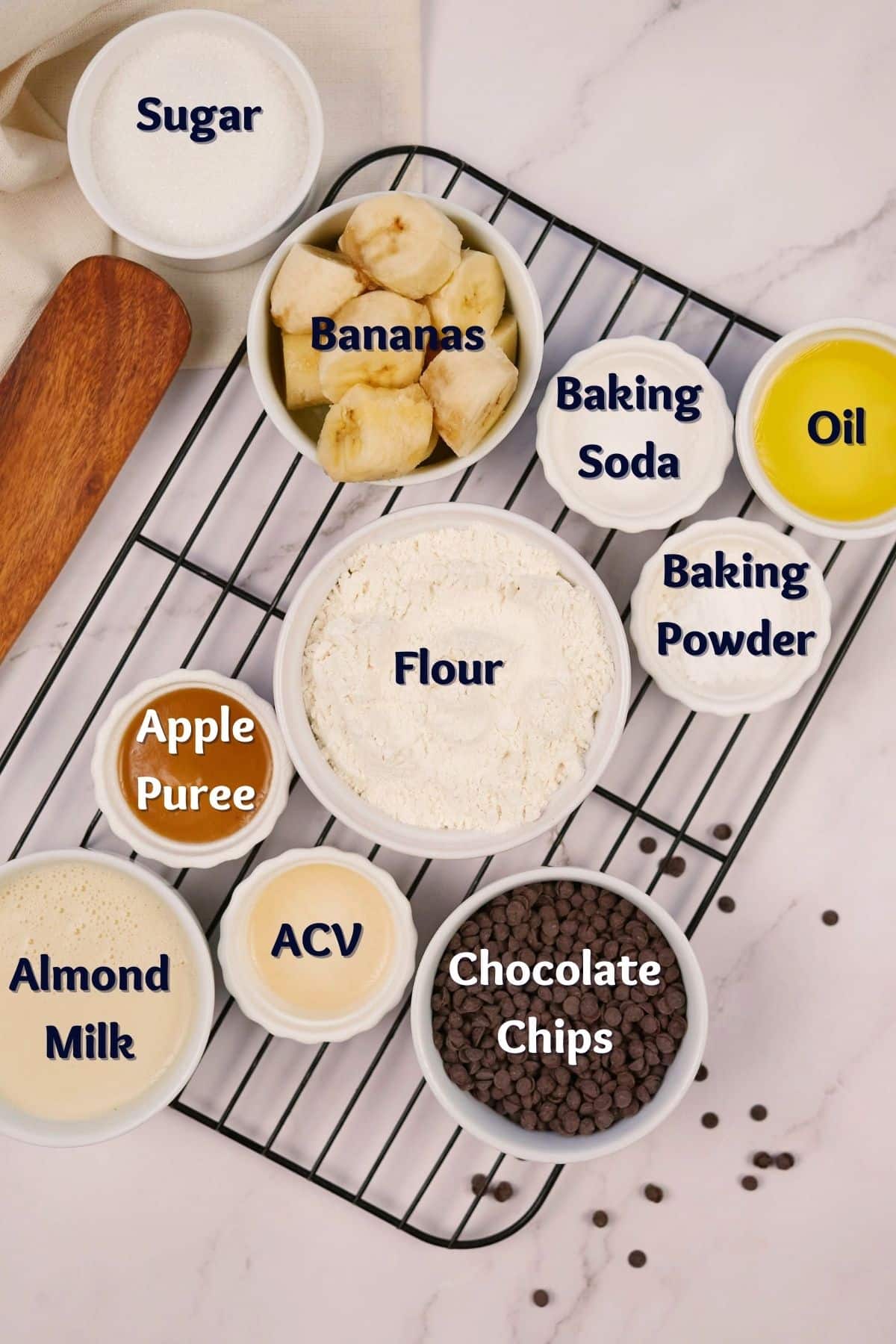 Tools Used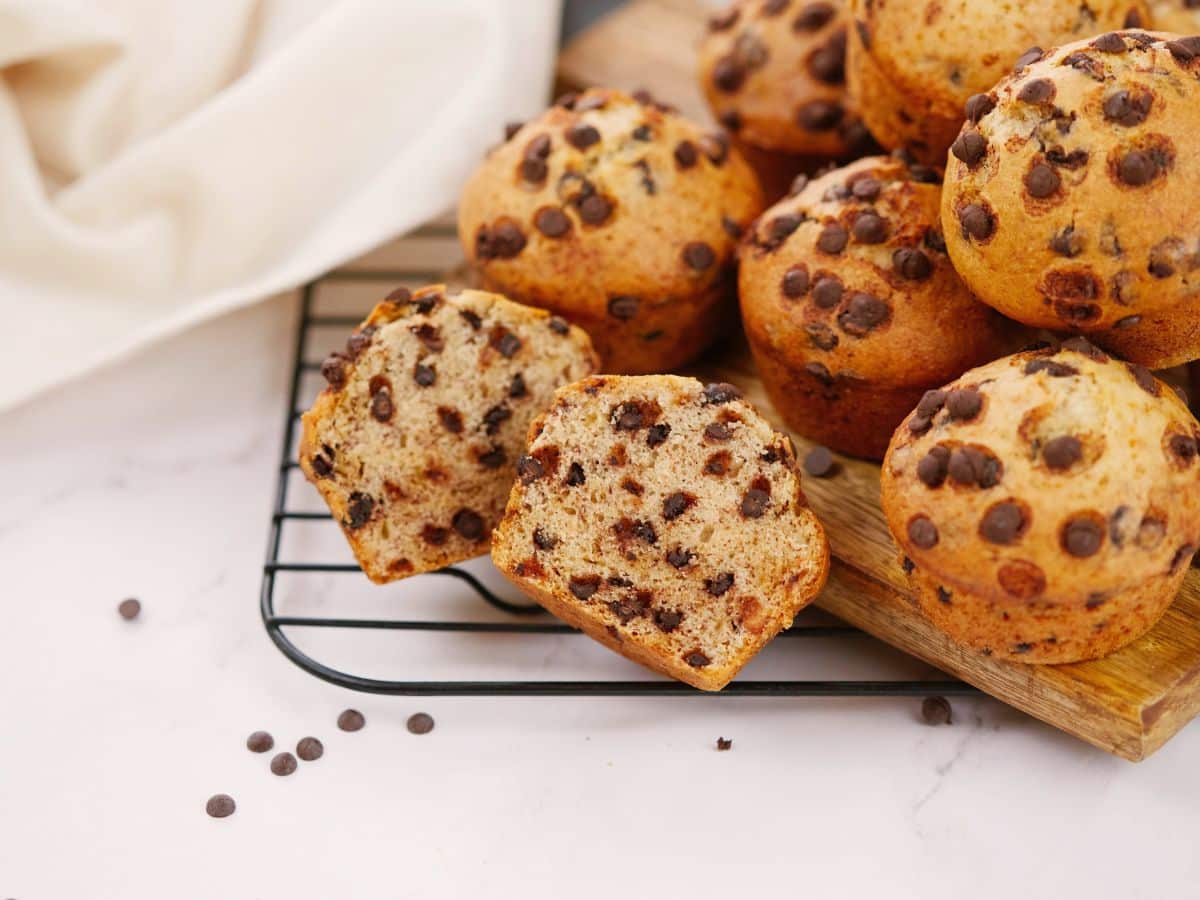 Video Recipe
How to Make Vegan Chocolate Chip Muffins
Prepare the muffin tin by spraying or brushing with oil or non-stick spray. Set these aside then preheat the oven to 350°F/180°C.
Now, in a large bowl, whisk the flour, baking powder, baking soda, and salt together. Then set it aside.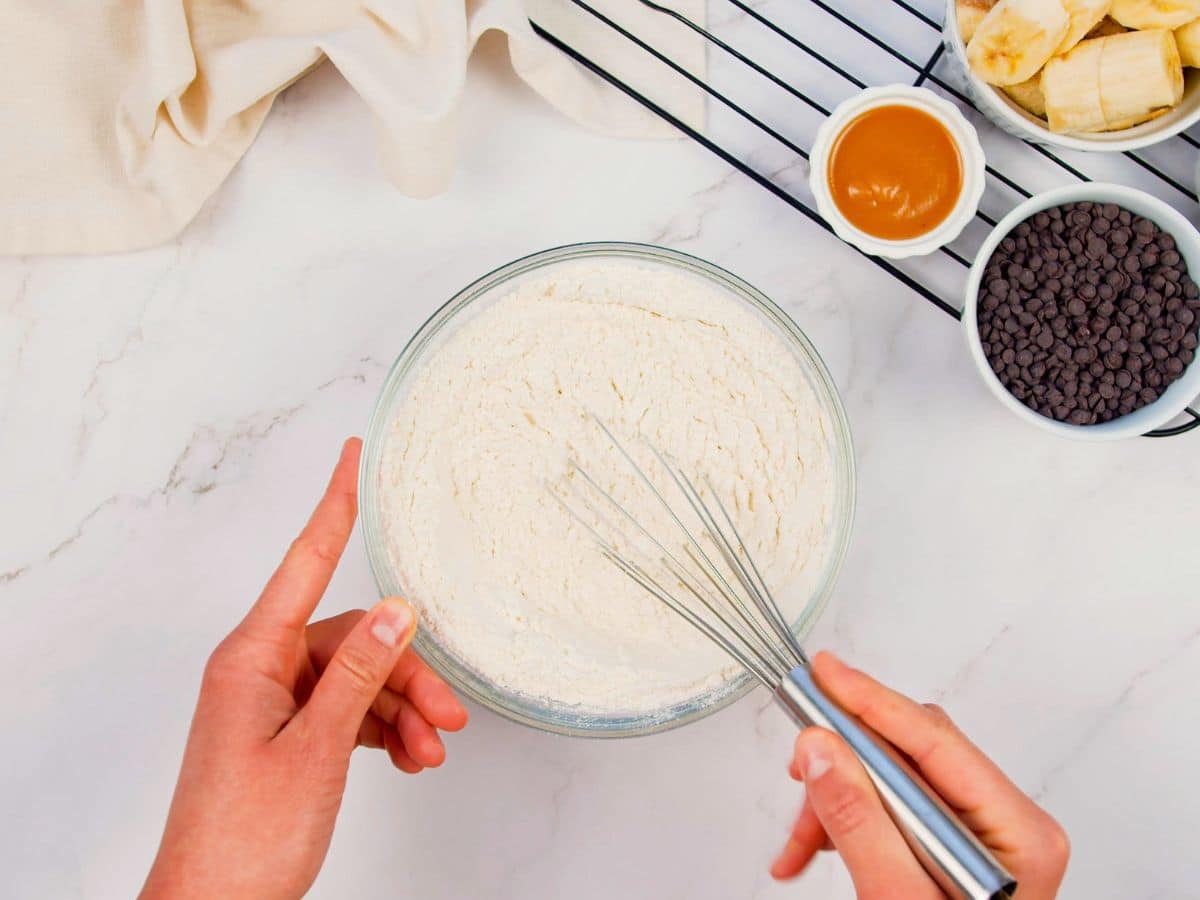 In a separate bowl or measuring cup, whisk together the milk and vinegar. Let it sit for 1 minute to curdle.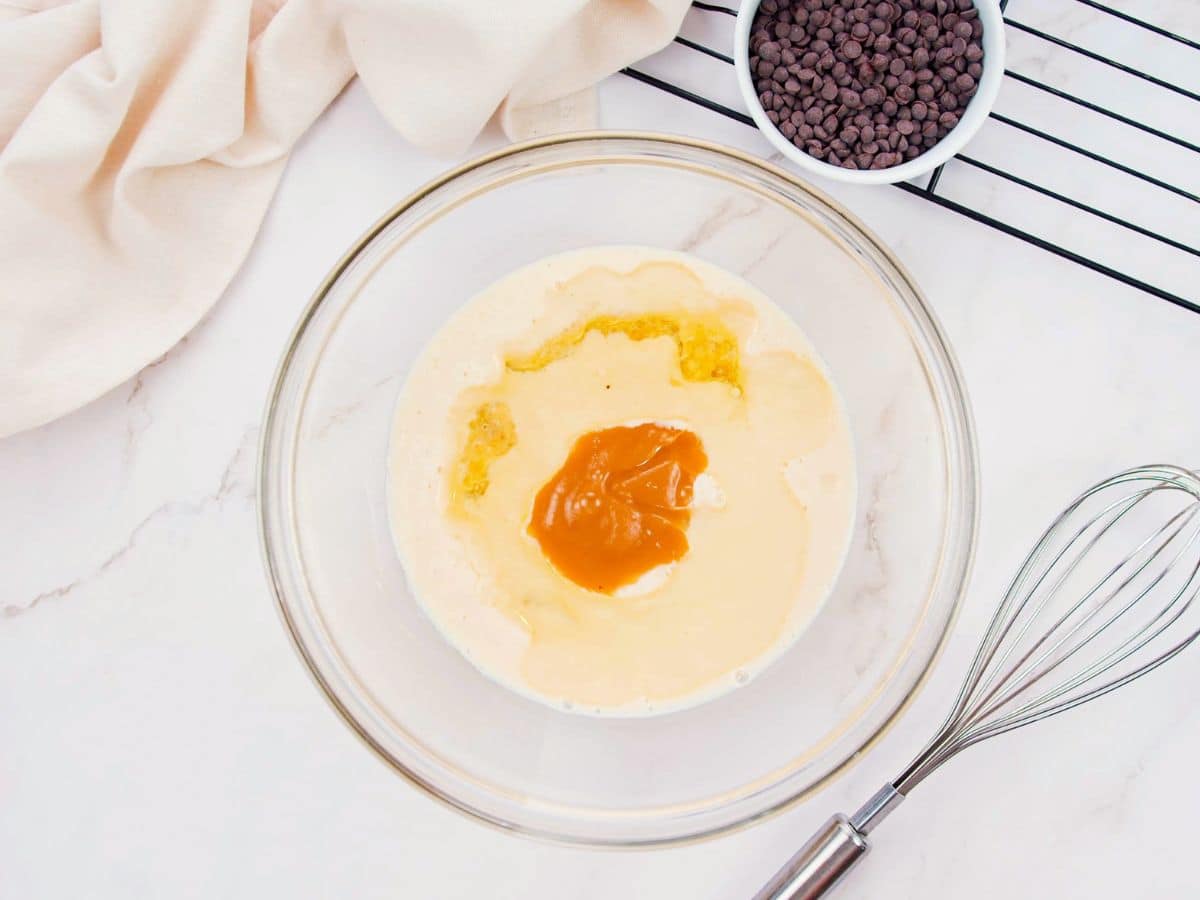 Now, in a new bowl, mash the bananas, then add in the sugar, curdled milk, applesauce, and vegetable oil. Mix this together until smooth and blended.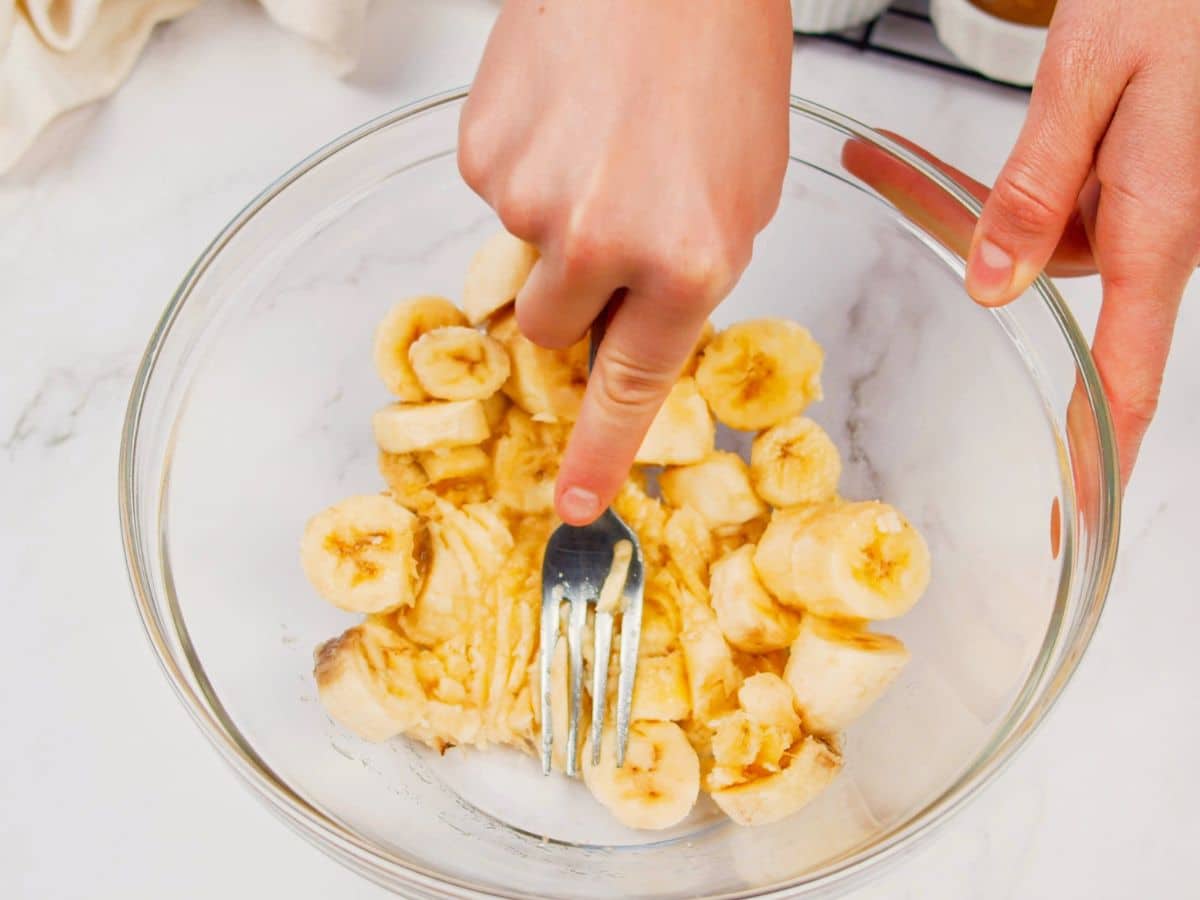 Pour the wet ingredients into the dry mixture, and stir just until combined.
Add the chocolate chips and mix to incorporate, being careful to not overwork the batter.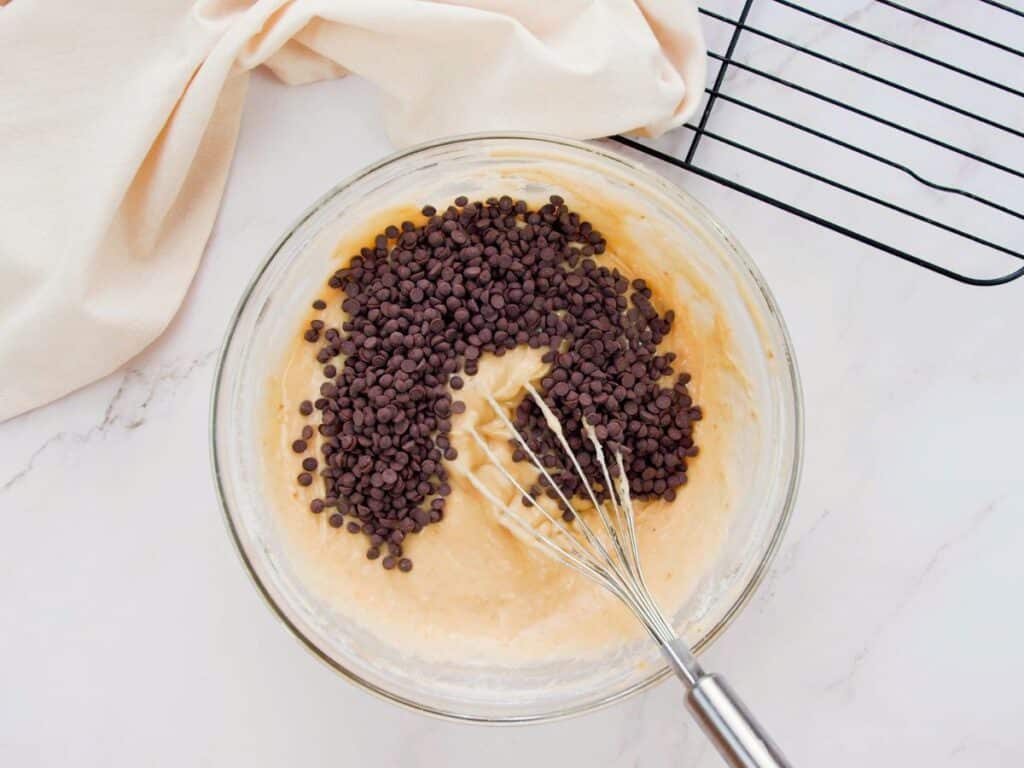 Now, scoop the batter into the muffin tins, filling them around ¾ of the way full.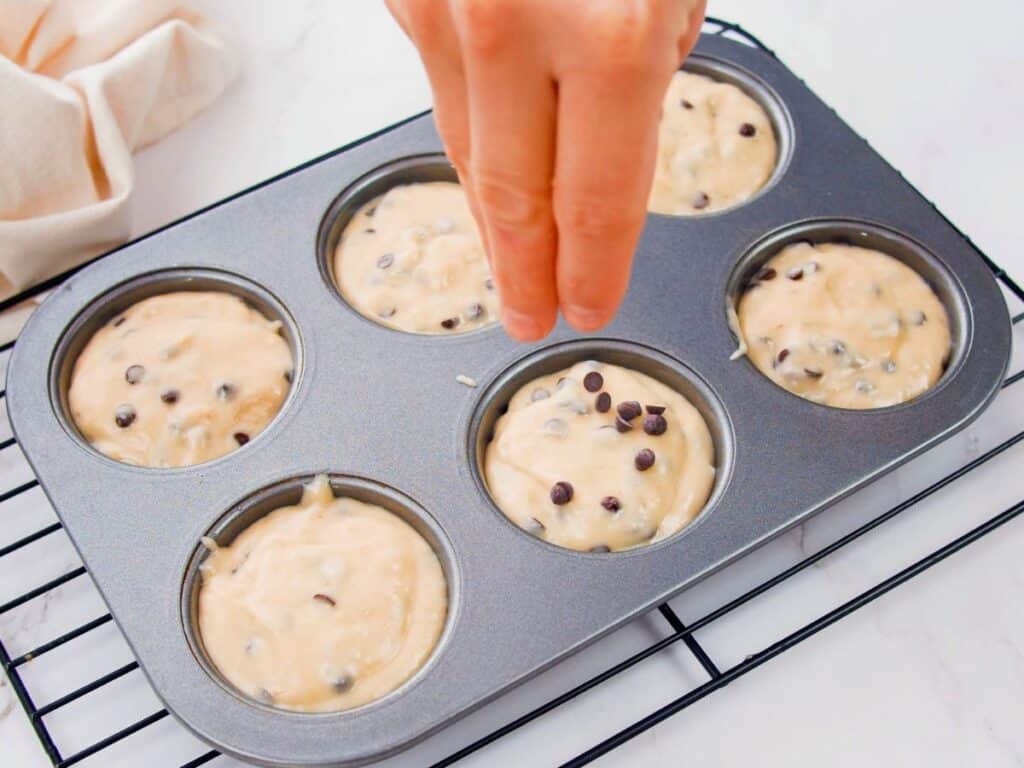 Bake for 22 to 25 minutes until they have risen, are golden brown, and a toothpick inserted in the center of a muffin comes out clean.
Let them stand in the muffin tin for 10 minutes to cool before removing them.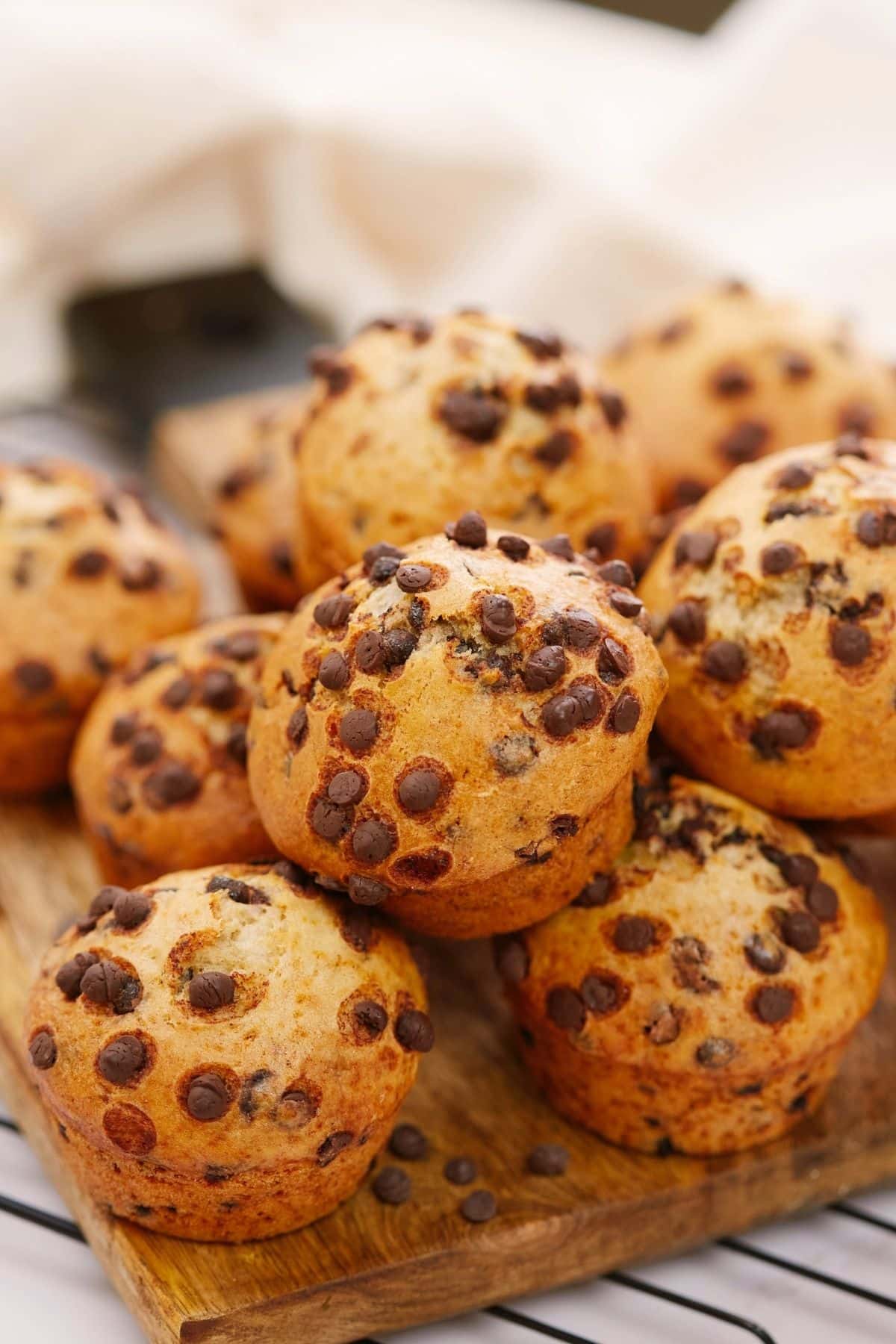 Frequently Asked Questions
Can I make vegan chocolate chip muffins gluten-free?
Absolutely! I would recommend using a certified gluten-free 1:1 flour substitute in this recipe. It will change the texture of the muffin slightly but should give the same tasty and fluffy result.
Can I use coconut sugar instead of granulated sugar in vegan muffins?
Coconut sugar is a popular option many plant-based individuals prefer over typical granulated sugar. The benefit of this is there is no adjustment in measurements. It should be used in a 1:1 ratio for this vegan chocolate chip muffin recipe.
How should I store vegan muffins?
These muffins should be stored in an airtight container at room temperature for up to 4 days. If you live in a humid climate, or in the summer months, you may prefer storing it in the refrigerator.

While muffins do not have to be stored in the refrigerator, you may wish to do so to extend their shelf-life. In the refrigerator, they will be good for up to 7 days.
What brand has vegan chocolate chips?
While there are many options on the market, the best and most popular are the Enjoy Life brand of baking chips. They have a variety of flavors often found in your local grocery store.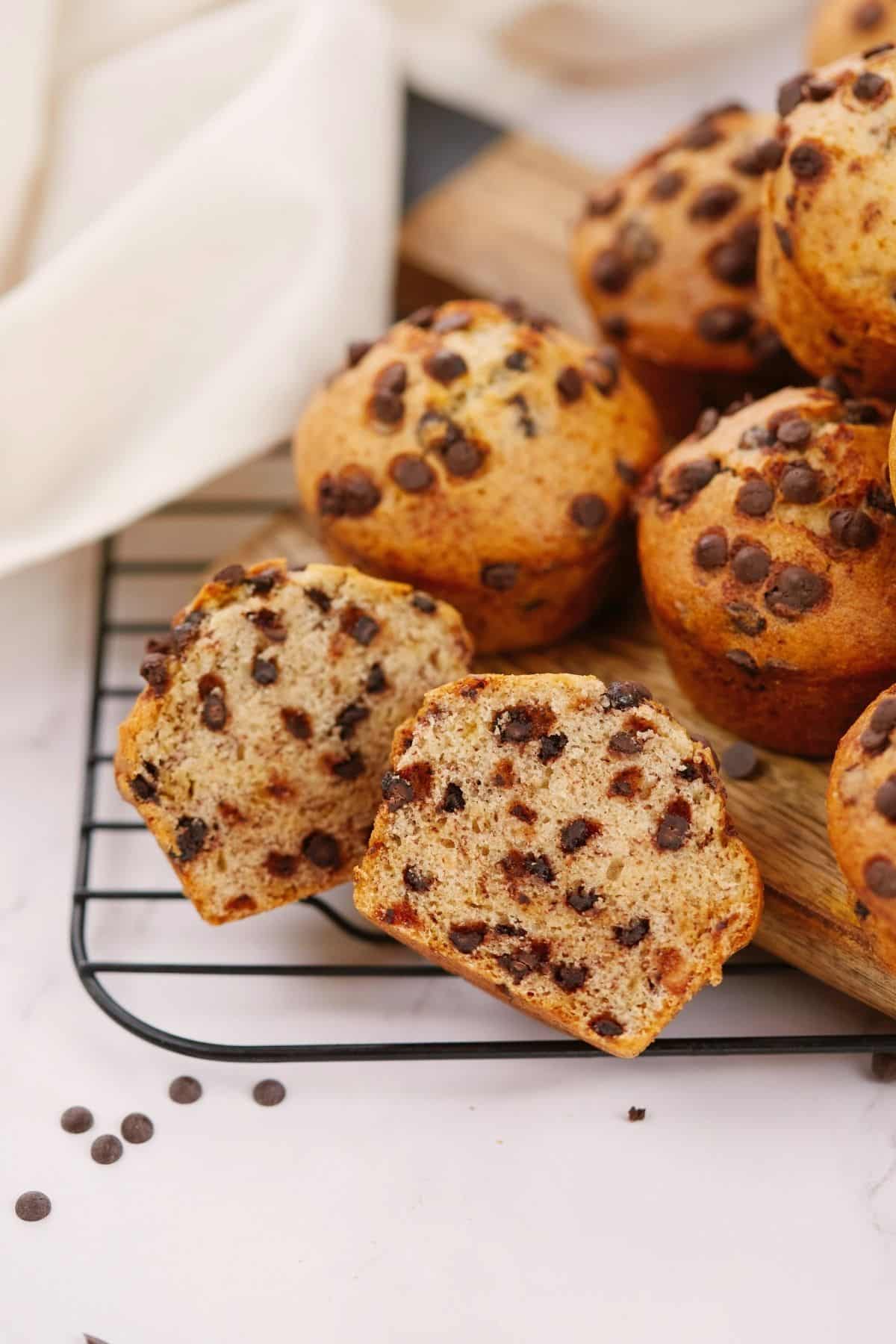 What Can I Add to My Vegan Chocolate Chip Muffins?
There are many ingredients you can add to vegan chocolate chip muffins to customize the flavor and texture. Here are a few ideas:
Nuts: Chopped nuts, such as walnuts or pecans, can add crunch and flavor to your muffins.
Fruit: Add some fresh or dried fruit to your muffins, such as blueberries, raspberries, diced apples, or sliced bananas.
Spices: Add some warm spices like cinnamon, nutmeg, or ginger for extra flavor.
Coconut: Shredded coconut can add a tropical twist to your muffins.
Peanut butter: Swirl some peanut butter into the batter before baking for a nutty and rich taste.
Espresso: Add some instant espresso powder to the batter to create a mocha-flavored muffin.
Orange zest: Add some finely grated orange zest for a fresh and bright citrus flavor.
Remember to always check the ingredients of any additional items you add to make sure they are vegan-friendly. Get creative and mix and match any of your favorite mix-in ingredients to this basic muffin recipe!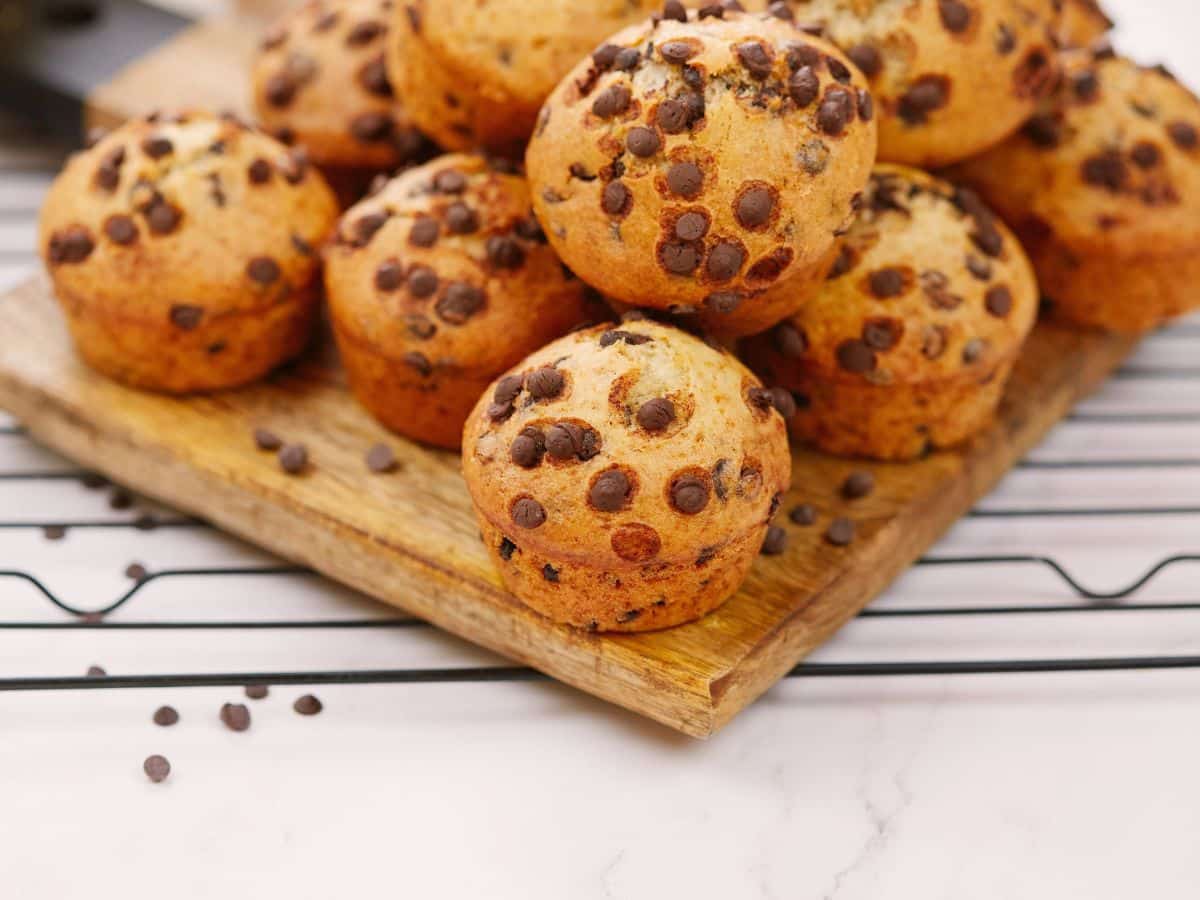 More Vegan Muffins
I love muffins because they are so easy to make and handy. A grab-and-go snack or breakfast is a must in our busy household. So, of course, I have to share more of the great muffin recipes we have here. Below are a few favorites for you to check out, bookmark, or print out to make soon!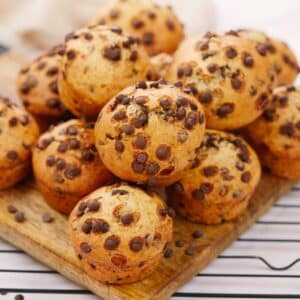 Vegan Chocolate Chip Muffins
If you are looking for a delicious plant-based treat, look no further! Mouth-watering vegan chocolate chip muffins are easy to make and sure to please!
Instructions
Preheat your oven to 180C/350F.

Brush the cups of a regular muffin tin with some vegetable or coconut oil.

In a large bowl, whisk together the flour, baking powder, baking soda, and salt.

In a separate bowl, whisk together the milk and vinegar and let it curdle.

Mash the bananas into a puree, then add the sugar, curdled milk, apple puree, and oil.

Pour the wet ingredients into the dry mixture and stir gently to combine.

Add the chocolate chips and mix until they are evenly incorporated. Be careful not to overwork the batter.

Use a scoop or spoon to fill each muffin cup almost all the way to the top with the batter.

Bake the muffins in the preheated oven for 22-25 minutes.

Remove the muffins from the oven and let them cool before serving. Enjoy!
Notes
Use ½ cup semi-sweet and ½ cup milk chocolate chips for a different combination of flavors.
Replace ½ of the chocolate chips with ½ cup of chopped pecans or walnuts.
Use a mixture of ½ cup vegan white chocolate with ½ cup chopped macadamia nuts.
Replace ¼ cup of the chocolate chips with dried cherries.
Nutrition
Calories:
297
kcal
Carbohydrates:
51
g
Protein:
4
g
Fat:
10
g
Saturated Fat:
4
g
Polyunsaturated Fat:
3
g
Monounsaturated Fat:
1
g
Trans Fat:
0.03
g
Sodium:
132
mg
Potassium:
147
mg
Fiber:
2
g
Sugar:
28
g
Vitamin A:
58
IU
Vitamin C:
3
mg
Calcium:
58
mg
Iron:
2
mg