If you're a fan of apple pie, you'll love this vegan apple pie bread recipe! It's the perfect way to indulge in the delicious flavors of apple pie, without all the effort of making a crust.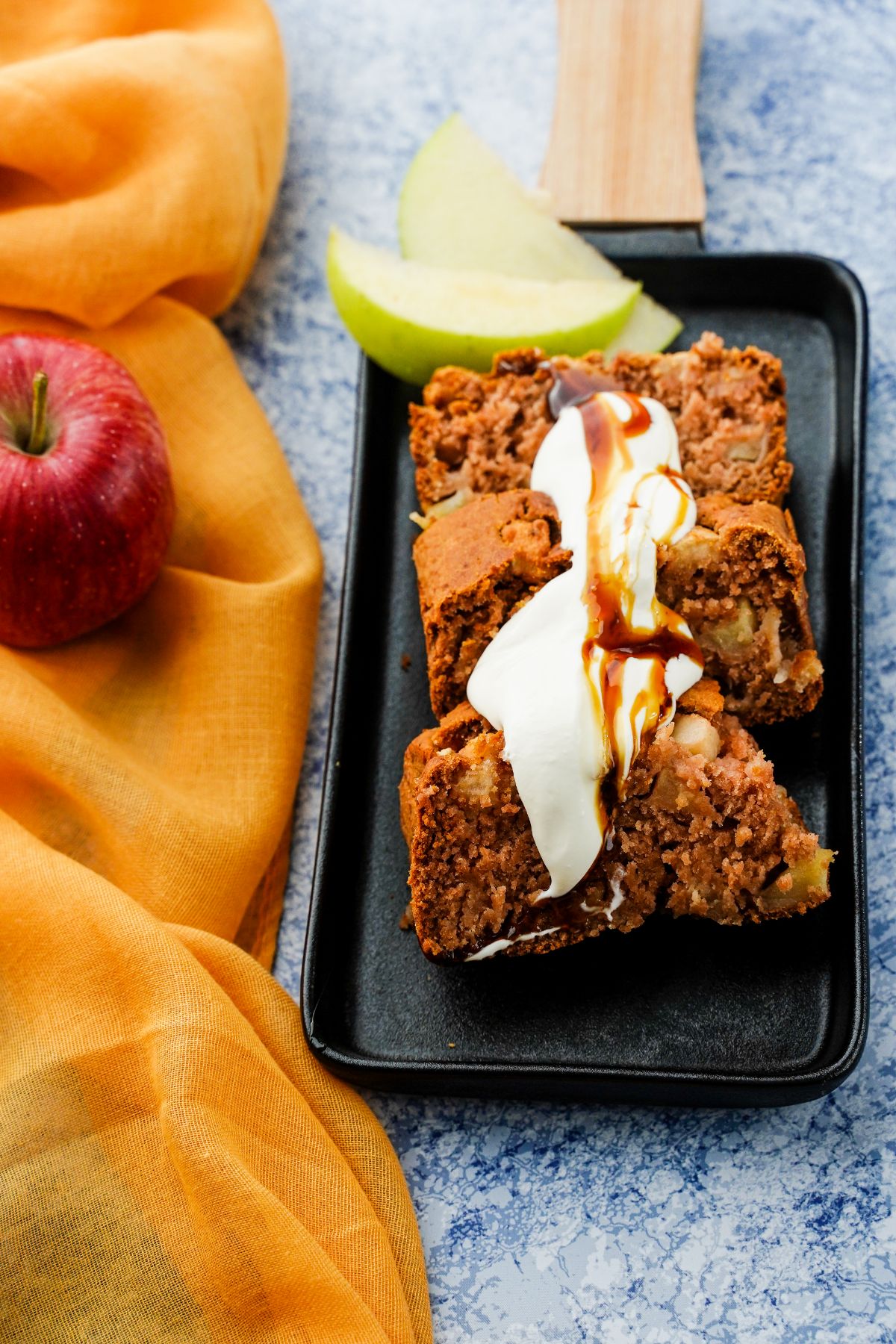 Inspired by two of my favorite things, this combination of pie and bread is the perfect warm comfort food. It just begs to be eaten with your favorite hot tea or cup of coffee.
If you like this, you'll also love our vegan apple cake recipe. It's a delicious choice for snacks or desserts.
Jump to:
Ingredients
Flour
Almond milk
Applesauce
Maple syrup
Vegan butter
Baking soda
Salt
Vanilla extract
Baking powder
Apple pie spice
Apples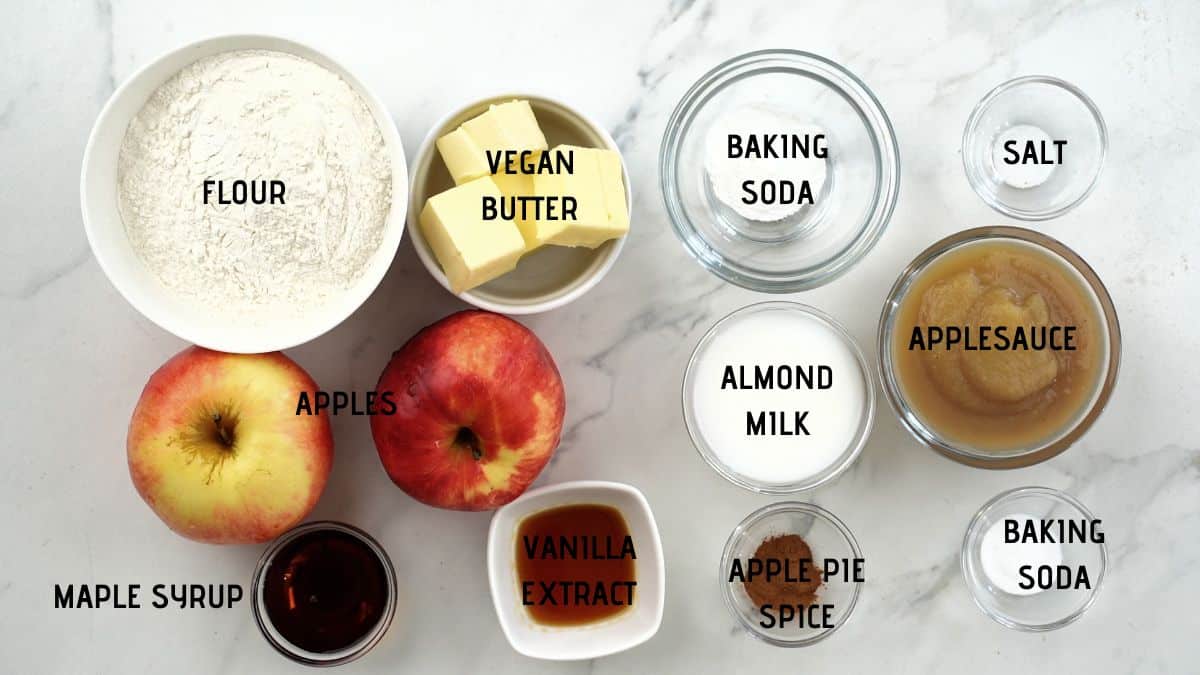 Instructions
Preheat the oven to 350°F and spray a loaf pan with non-stick spray or line it with parchment paper and then set it aside.
In a large bowl, beat the butter until it is soft. Then, add the maple syrup and continue beating until combined. Add the applesauce and vanilla extract to the butter mixture.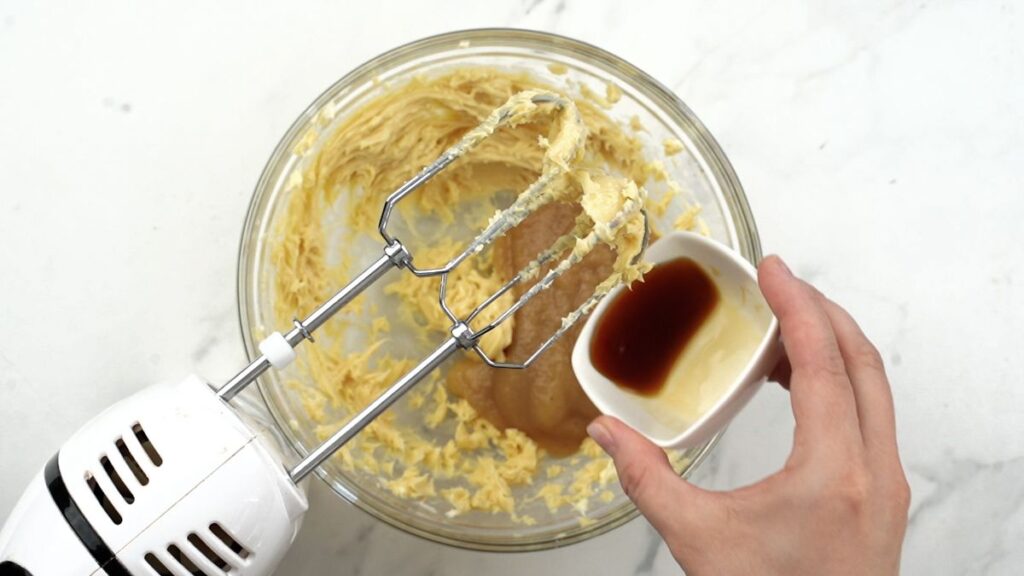 Now mix in the baking soda, salt, baking powder, and apple pie spice along with the flour, until just combined. Fold in the apples carefully.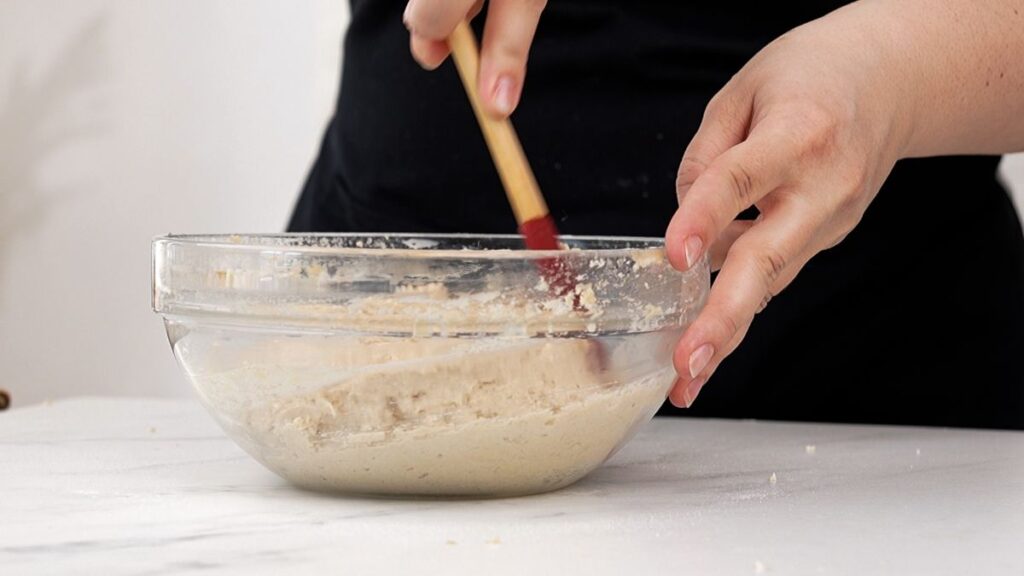 Pour the mixture into the prepared loaf pan and bake for 40 to 45 minutes, until a toothpick inserted in the center comes out clean.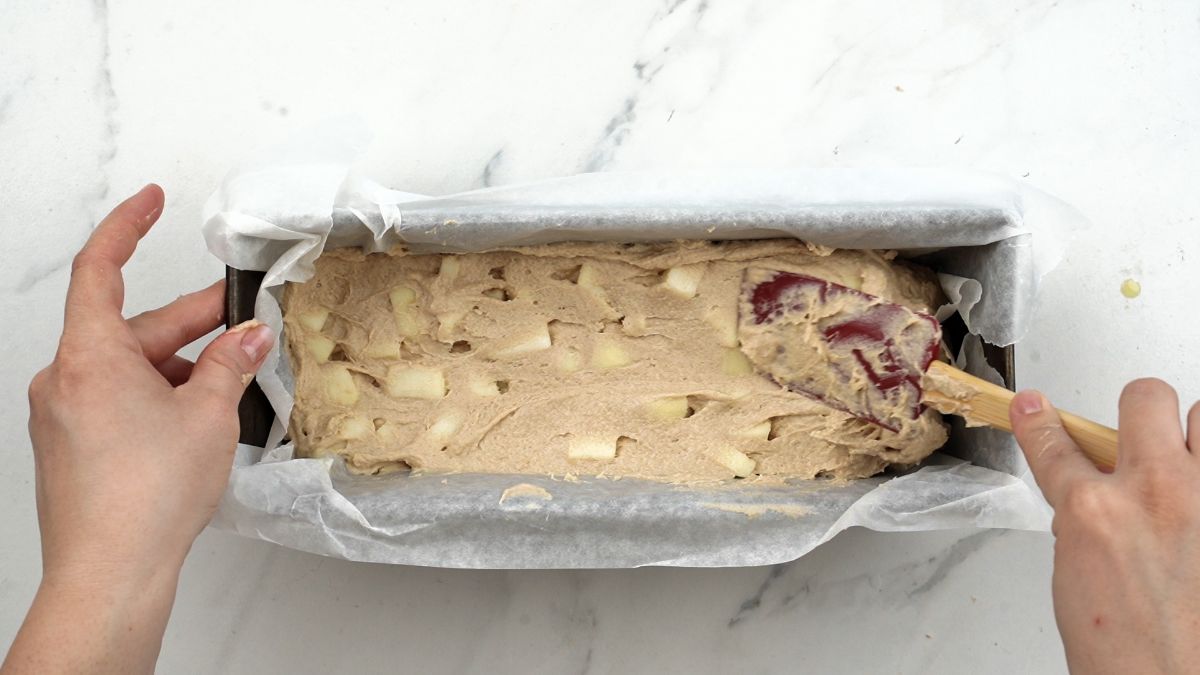 Let it stand for 30 minutes before slicing it to serve.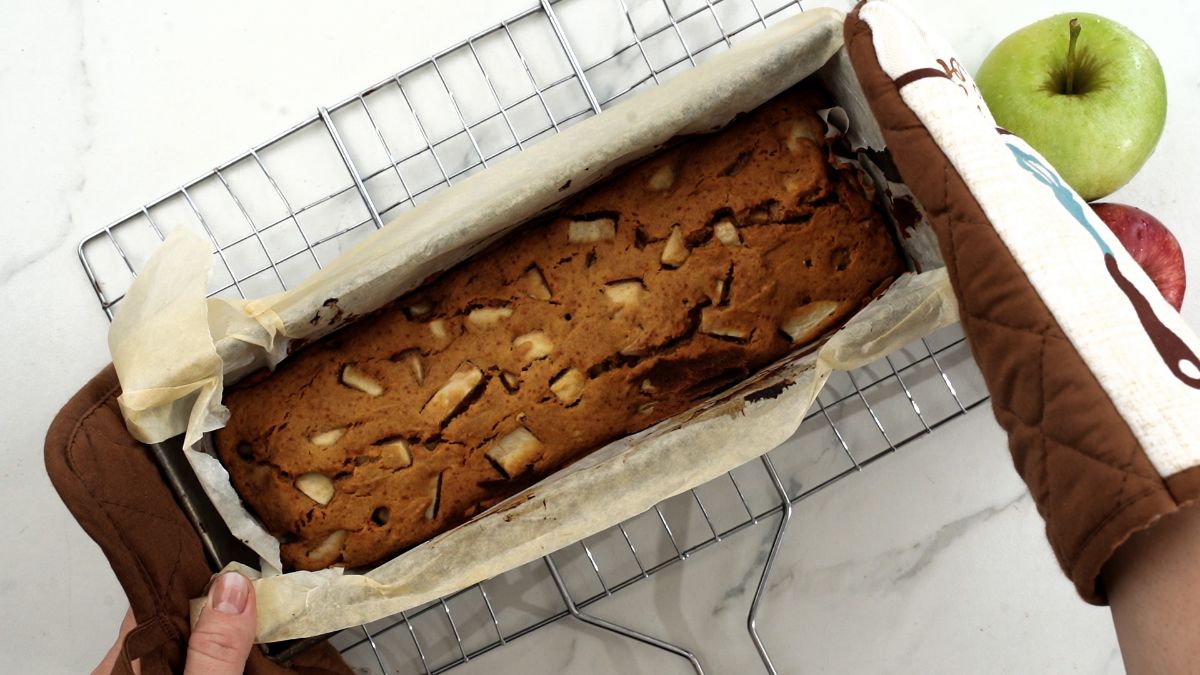 Hint: Before baking, add a simple streusel mixture over the top for added texture and flavor.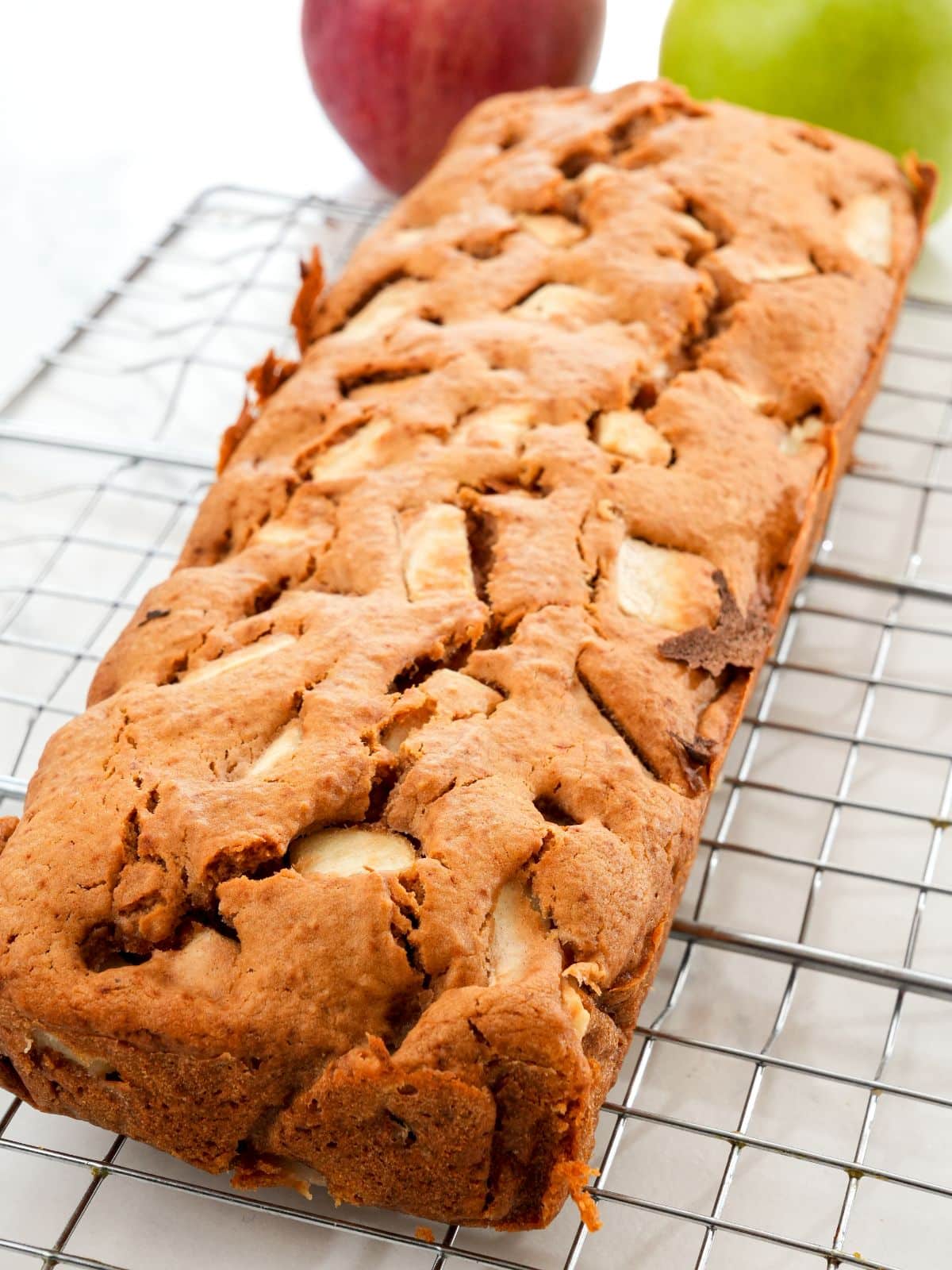 Substitutions
This is a basic recipe but does have some items you may want or need to substitute. Below are a few of my suggestions that can work if you are without what is needed or prefer something different.
Vegan butter can be replaced with coconut oil, applesauce, dairy-free yogurt, or even mashed banana.
If you prefer, use agave nectar or stevia instead of maple syrup.
For a gluten-free apple pie bread, use almond flour or your favorite gluten-free flour blend.
Use diced pears instead of apples for a sweet flavor and texture if desired.
Variations
To make this recipe even more indulgent, you may want to mix things up a bit. Below are some ideas I think would be excellent with this vegan apple bread.
Stir in ¼ to ½ cups chopped pecans, walnuts, or macadamia nuts.
Grate the apples instead of chopping them into small pieces and fold them into the mixture.
Use almond extract instead of vanilla extract for elevated flavor.
Add ½ cup white chocolate chips or peanut butter chips to the batter and the apples just before baking.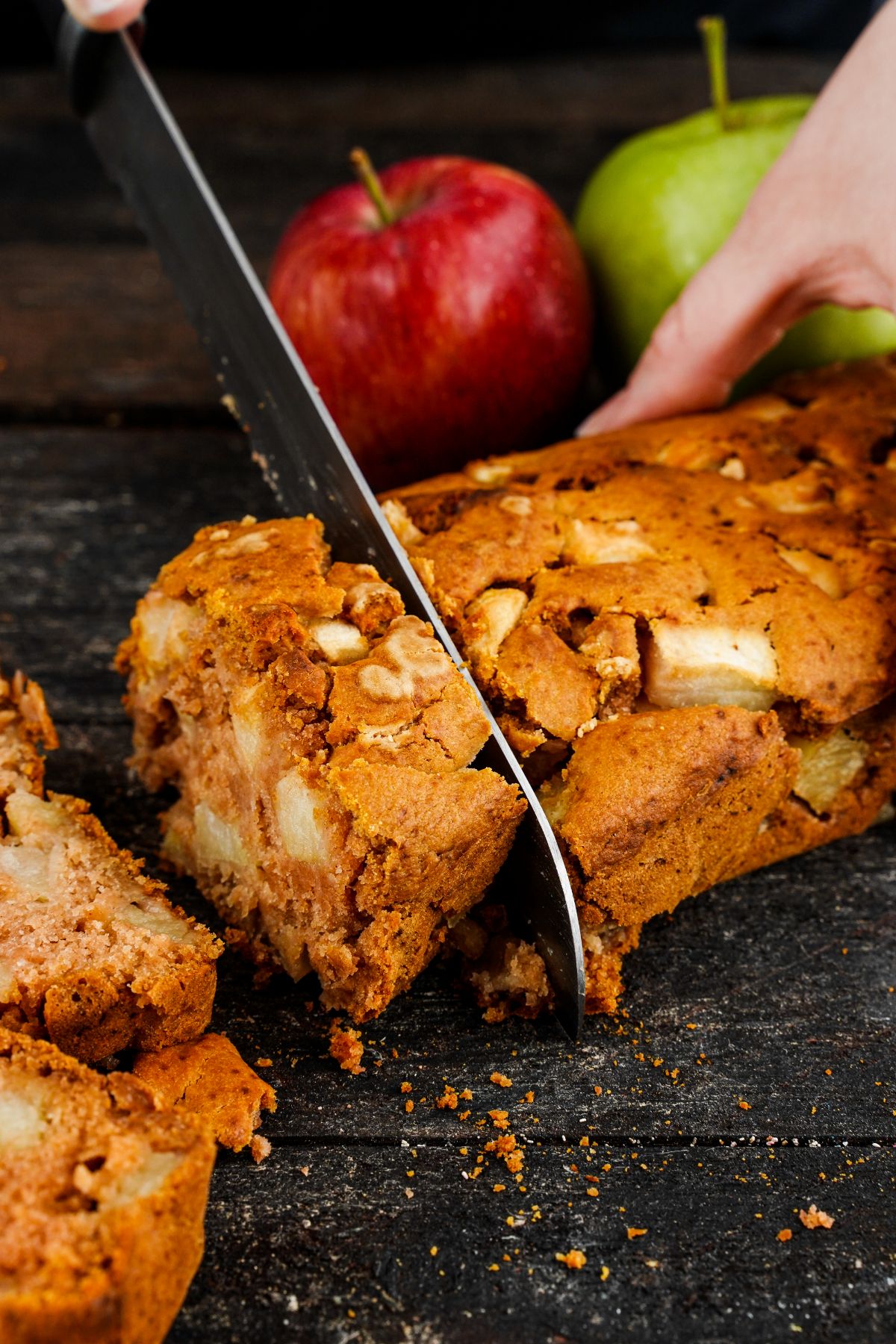 Equipment
To make this recipe, you will only need a few basic kitchen tools. A well stocked kitchen makes any recipe easier to manage. Below are my recommendations for this particular recipe.
Storage
One of the best things about making vegan apple pie bread is that it doesn't require refrigeration. You can make this on the weekend and have a slice each day of the week. It's best eaten within 4 days of making.
If you cannot finish before that time, it can be stored in the refrigerator for up to 7 days. Just make sure you let it cool completely before putting it into the refrigerator, so no extra moisture accumulates on the bread.
This bread can also be frozen for up to 3 months. When freezing, I recommend slicing and letting it cool completely then wrapping the individual slices in plastic wrap and placing them in a freezer storage bag.
Top Tip
When making this fruit bread, one of the most important things to remember is that you need to fold the apple pieces into the batter instead of beating them in. This will disperse them better and prevent them from sinking to the bottom, while also keeping the bread moist and soft.
FAQ
What kind of apples is best for vegan apple pie bread?
Any type of apple will work well in vegan apple pie bread, but some popular choices include Granny Smith, Honeycrisp, and Gala. Choose apples that are firm and crisp, with a good balance of sweetness and tartness.
How do I make vegan apple pie bread moister?
To make vegan apple pie bread moister, you can add an extra tablespoon or two of applesauce or mashed banana to the batter. You can also add a bit more flour, as this will help to absorb some of the moisture.
Related
If you like this bread, then you'll love these tasty options below. Delicious flavor from fruits and still plant-based, these make a great addition to your breakfast menu or morning coffee time.
Pairing
Serve up this bread with a tasty drink. If not with tea or coffee, use one of the recipes below to make a beverage that is sure to pair wonderfully with this vegan apple bread.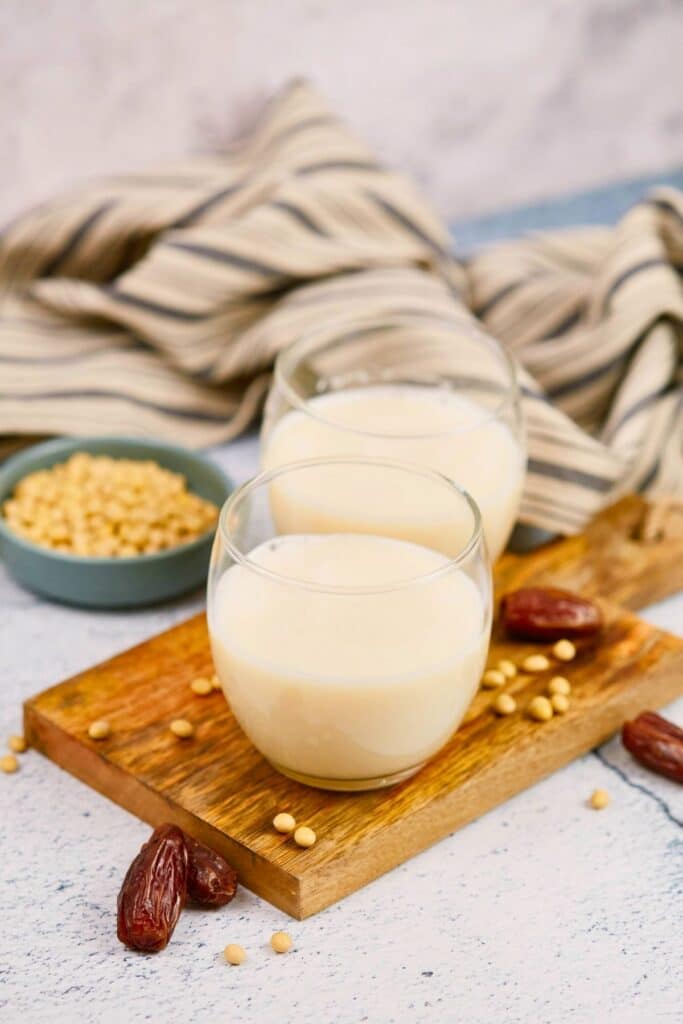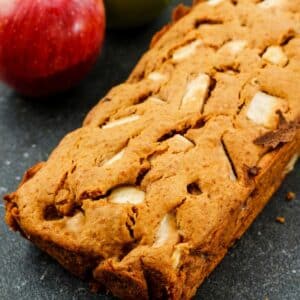 Vegan Apple Pie Bread
Experience the perfect combination of sweet and spicy flavors with this vegan apple pie bread recipe, made with fresh apples and warm spices that evoke the spirit of autumn.
Instructions
Begin by preheating the oven to 350°F and preparing a loaf pan by greasing it with non-stick spray or lining it with parchment paper. Set it aside while you prepare the batter.

In a large mixing bowl, beat the butter until it is softened. Then, slowly add in the maple syrup, continuing to beat until well combined. Add the applesauce and vanilla extract to the butter mixture and stir until evenly distributed.

In a separate bowl, whisk together the baking soda, salt, baking powder, apple pie spice, and flour. Gradually add the dry ingredients to the wet mixture, mixing until just combined. Be careful not to over mix. Carefully fold in the chopped apples.

Pour the batter into the prepared loaf pan and bake for 40 to 45 minutes, or until a toothpick inserted in the center comes out clean. Once baked, let the bread cool in the pan for at least 30 minutes before slicing and serving.
Notes
Use any favorite apple for this recipe. It should be sweet but also keep its texture well when baked.
For added texture, make a simple streusel topping and sprinkle over the top of the batter before baking.
Nutrition
Calories:
285
kcal
Carbohydrates:
46
g
Protein:
3
g
Fat:
10
g
Saturated Fat:
2
g
Polyunsaturated Fat:
3
g
Monounsaturated Fat:
4
g
Trans Fat:
0.1
g
Sodium:
348
mg
Potassium:
147
mg
Fiber:
2
g
Sugar:
18
g
Vitamin A:
570
IU
Vitamin C:
2
mg
Calcium:
102
mg
Iron:
2
mg
Food Safety
Are you being safe in the kitchen? Food safety is more than just the food itself, but is about how you handle things. Below are some tips for making sure everything is sanitary and safe no matter what you are cooking.
Always sanitize countertops, cutting boards, utensils, and cookware thoroughly between each use.
Wash your hands in warm soapy water, rubbing for at least 20 seconds before rinsing. Remember, "FROG" means friction rubs off germs.
After serving food, allow it to cool, then place it into the refrigerator or proper storage immediately. Food should be at room temperature for no more than 2 hours for safety.