The perfect way to create a delicious and nutrient-dense meal is to make this vegan rainbow salad. It's bursting with flavor and simple to prepare. A delightful lunch or an easy side to almost any meal.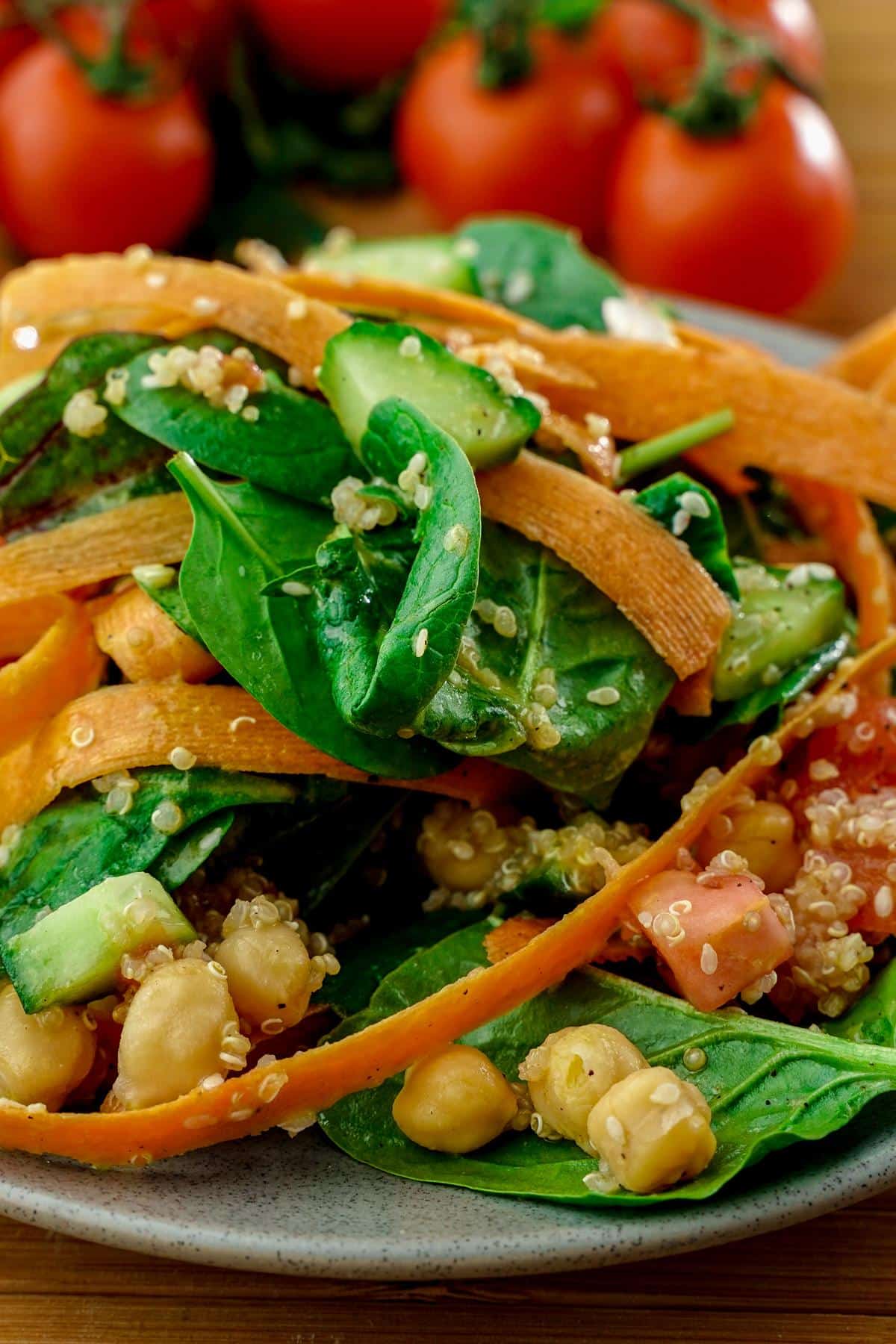 You will love how much protein is in this recipe, and of course, the nutrients from the vegetables are just another tasty reason to indulge.
This is perfect for those who want a flavorful meal that is also good for you. If you like this salad, you'll also love the Jennifer Aniston salad recipe.
Jump to:
🥘Ingredients
For this you will need the salad basics, and then the ingredients for the dressing. These have been separated below for your convenience. Exact quantities may be found in the printable recipe below.
For the salad
Cucumber
Spinach
Tomato
Quinoa
Carrots
Chickpeas
Sesame seeds
Salt
Black pepper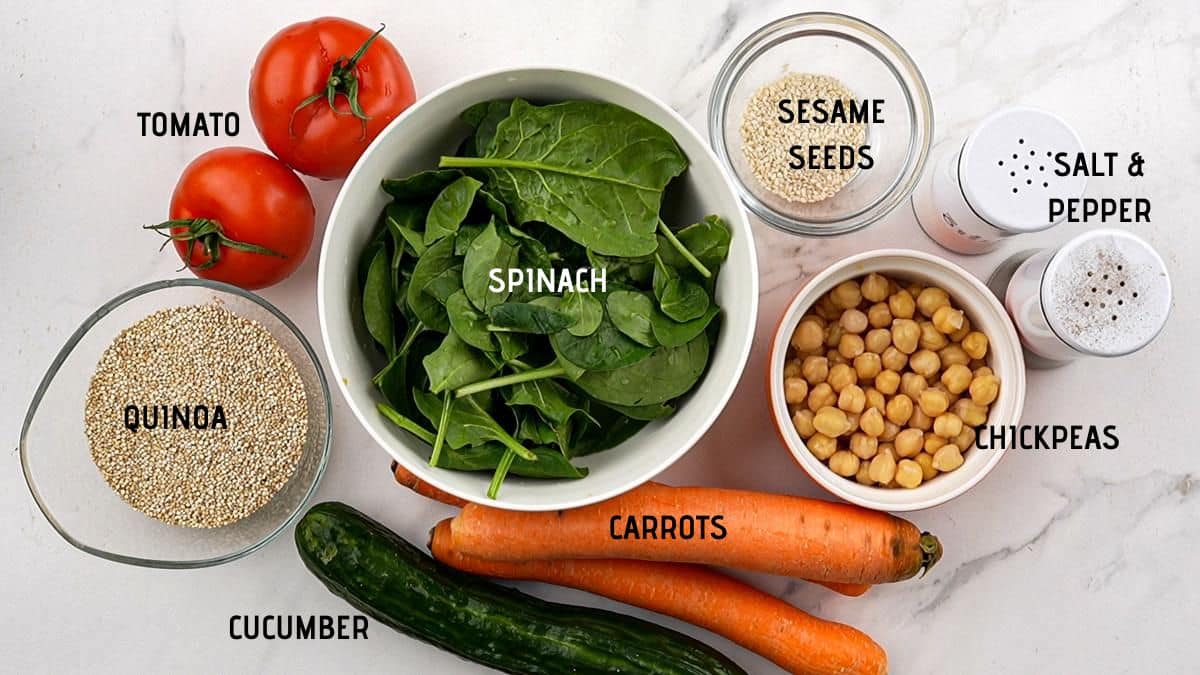 Easy balsamic dressing
Dijon mustard
Balsamic vinegar
Nutritional yeast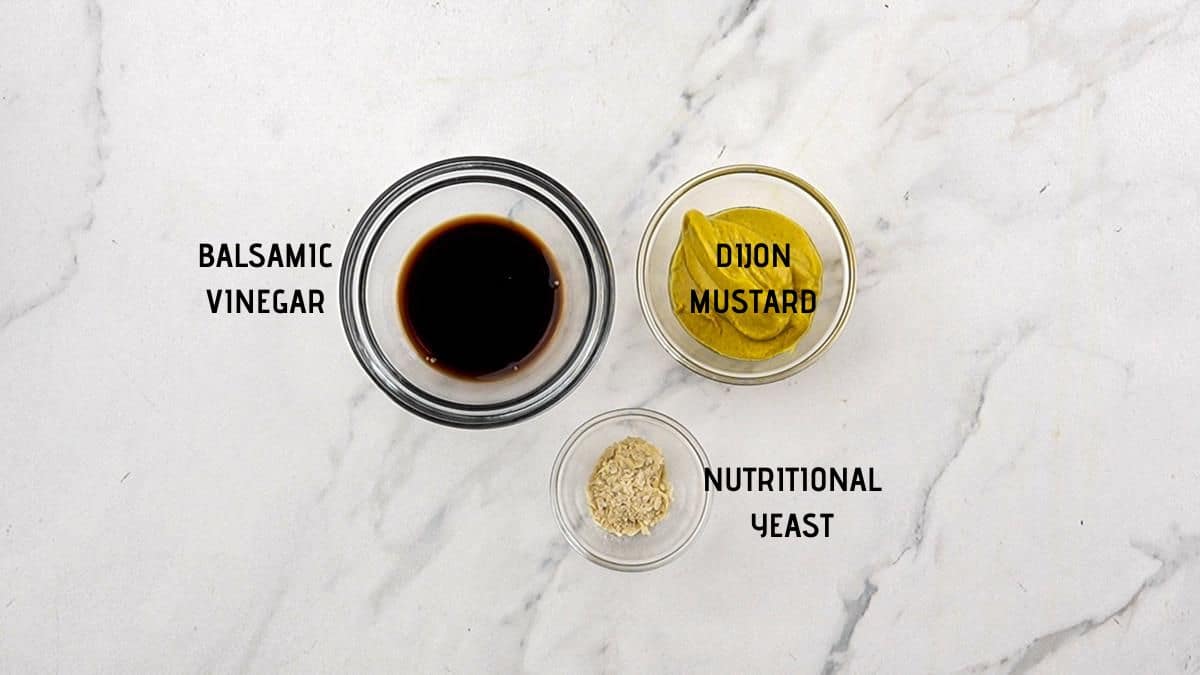 🔪 Instructions
Begin by preparing the quinoa for the salad. wash 1 cup of quinoa well, then place into a saucepan with 2 cups of water. cook over low temperature for 10 minutes, or until all water has evaporated and the quinoa is ready. Season with salt and pepper as desired and then set aside.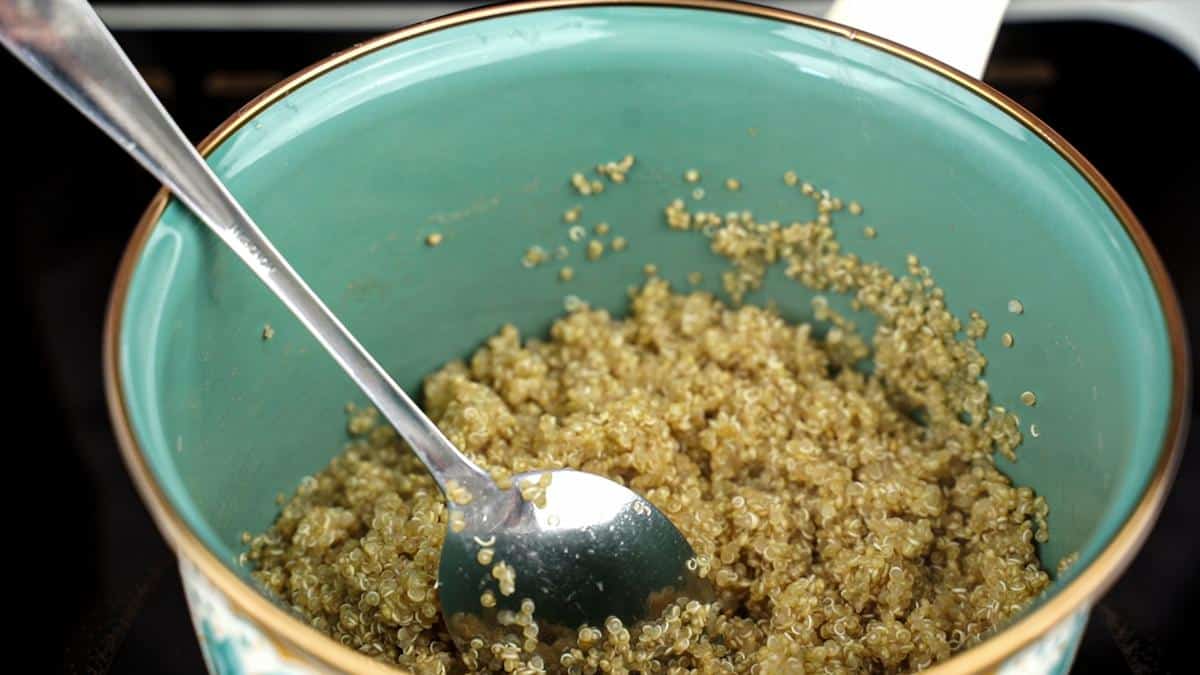 While this is cooking, you can prepare the tomatoes, cucumber, and carrots into strips or small pieces.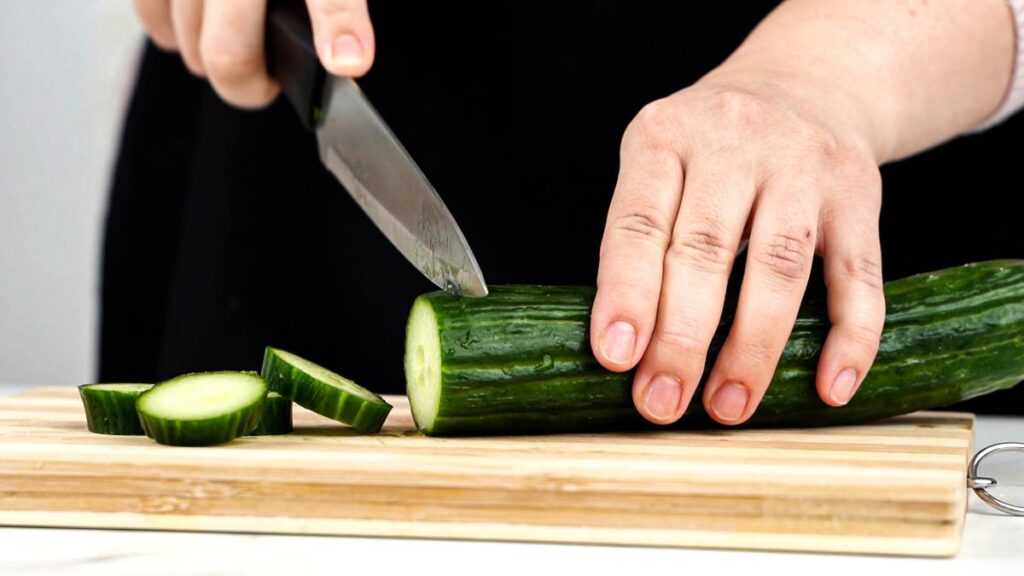 Then, in a bowl or jar, whisk together the vinegar, mustard, and nutritional yeast until combined.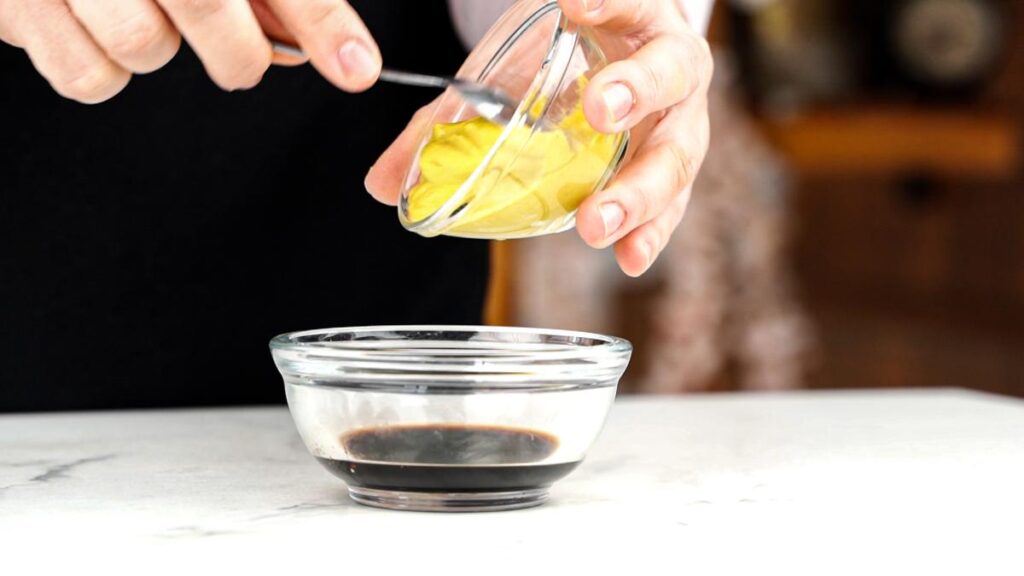 Layer the salad in a large bowl then add the dressing over the top before serving.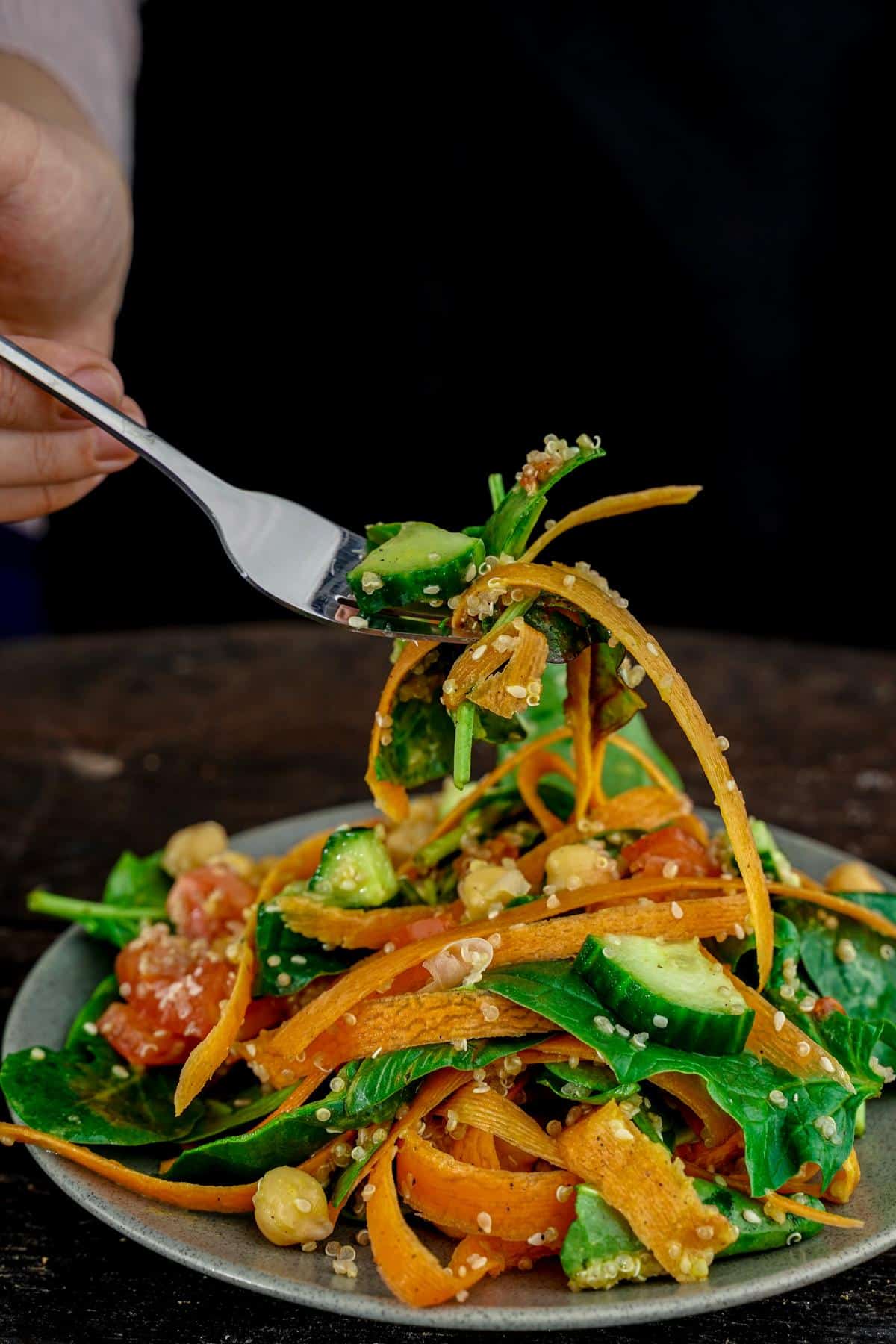 🧂 Substitutions
For those with dietary restrictions, this recipe is an excellent choice. To make this recipe even more customizable, here are some ingredient substitutions you can use:
Swap out quinoa for brown rice or couscous
Use roasted chickpeas instead of boiled
Add sliced avocado or roasted sweet potato for extra creaminess
Use sunflower seeds or chopped almonds instead of sesame seeds
📖 Variations
Sometimes you like the base of a recipe but want a little more flavor or texture. To make this recipe even more exciting, here are some variations you can try.
Add some fruit to the mix, such as sliced strawberries or mandarin oranges
Swap out the balsamic dressing for a creamy tahini dressing
Add some spice by mixing in some chopped jalapeños or a pinch of cayenne pepper in the dressing
Cook the quinoa in a vegetable broth, mushroom broth, or flavored broth with extra spices such as curry, cumin, taco seasoning, or even a basic Italian herb blend.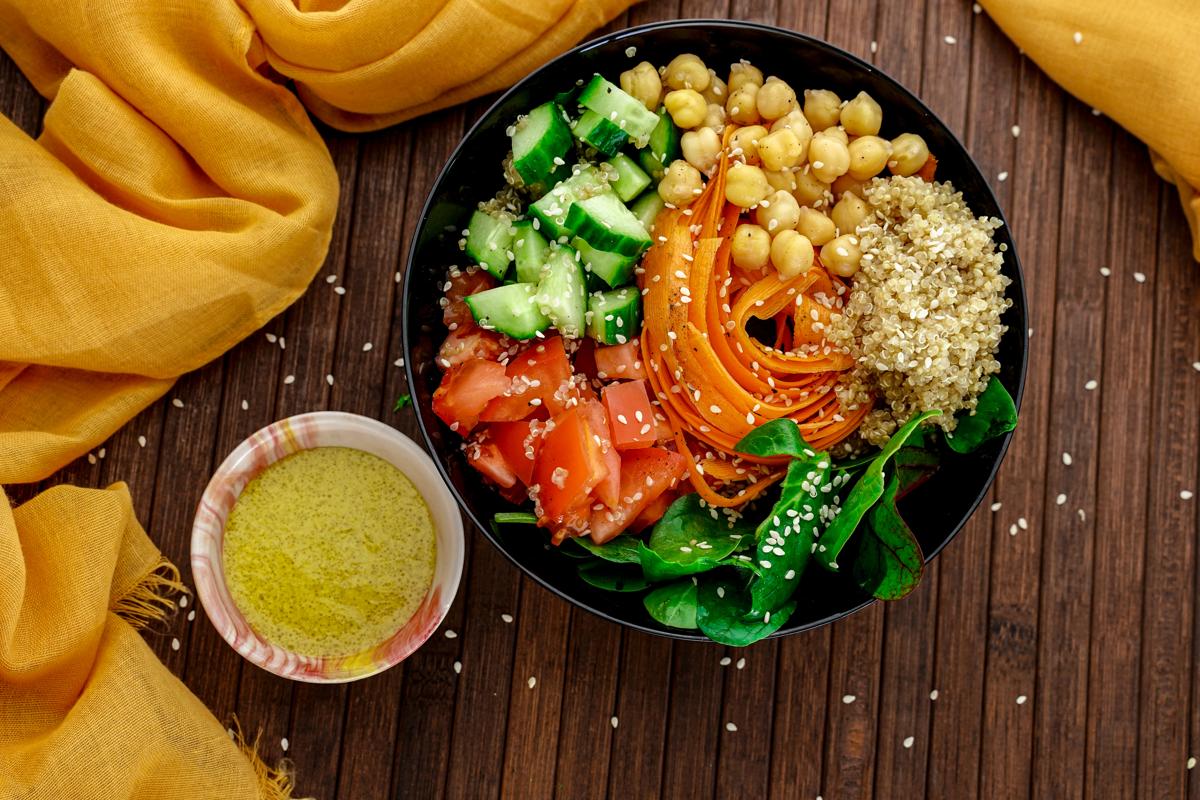 🫙Storage
When storing leftovers, make sure to keep the dressing separate from the salad to avoid it getting soggy. The salad can be stored in an airtight container in the fridge for up to 3-4 days.
I do not recommend freezing this salad. However, you can freeze the chickpeas and the quinoa by themselves, separate from the other ingredients, if desired. Both of these will last up to 4 months in the freezer.
🍽Equipment
Below are the tools we used to make this rainbow salad. Add them to your kitchenware to make future recipes easy to manage.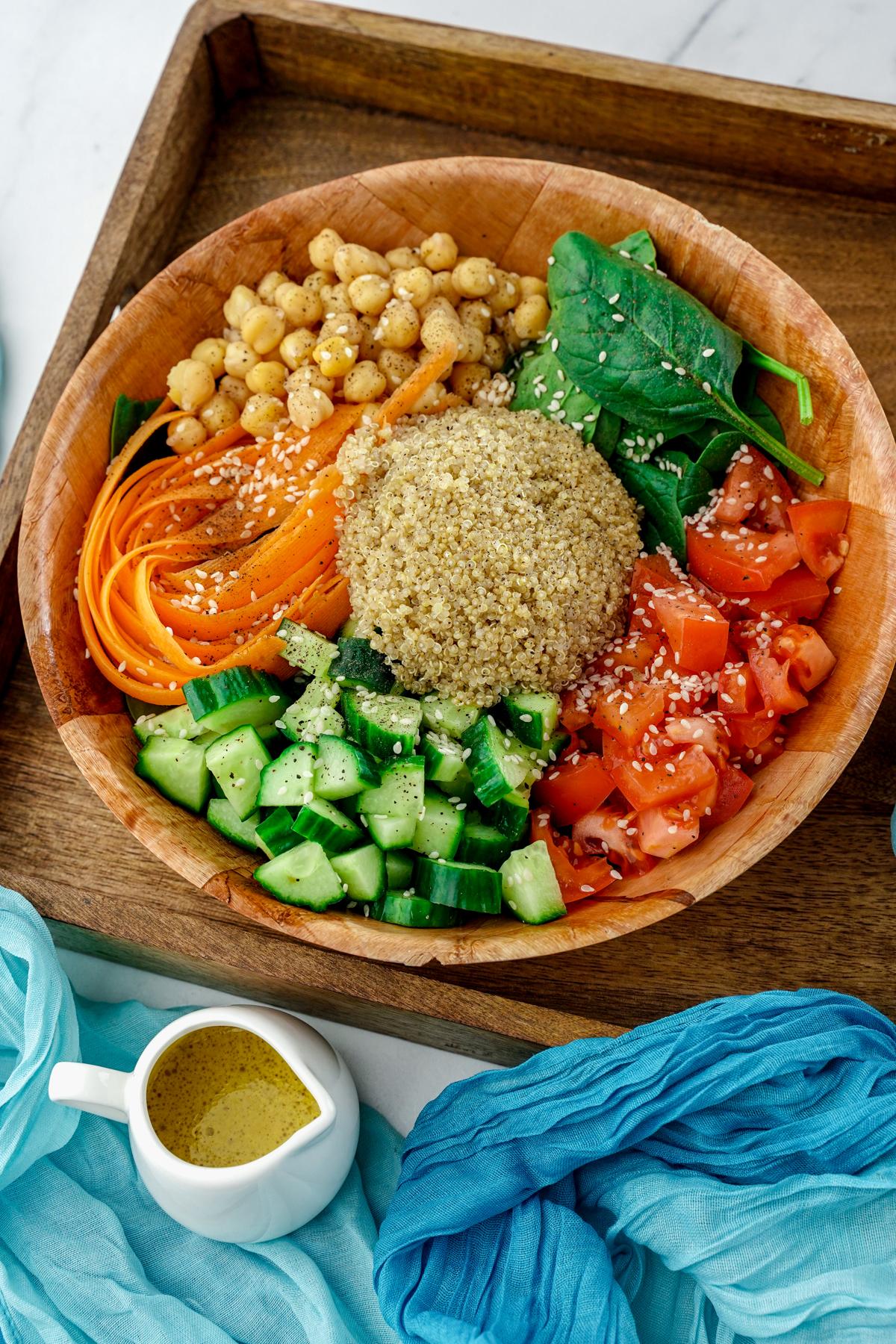 💭 Top Tip
One tip to make this recipe even better is to toast the sesame seeds before adding them to the salad. This will give them a nutty and rich flavor that complements the other ingredients perfectly. Just be careful to not overcook them and let them burn.
❓FAQ
What is the ratio of quinoa to water?
The typical ratio is 1:2. In this recipe that is 1 cup quinoa and 2 cups water or broth.
Why is my quinoa slimy?
Typically, if you have cooked qwuinoa and it ends up being slimy, it is due to an excessive amount of water. Be careful to follow the 1:2 ratio so it comes oiut fluffy and cooked, but not slimy or mushy.
Do I have to rinse the quinoa before cooking?
Absolutely! Much like you would rice, quinoa needs to be rinsed well before cooking. It removes bitterness and will result in a better flavor and fluffier result.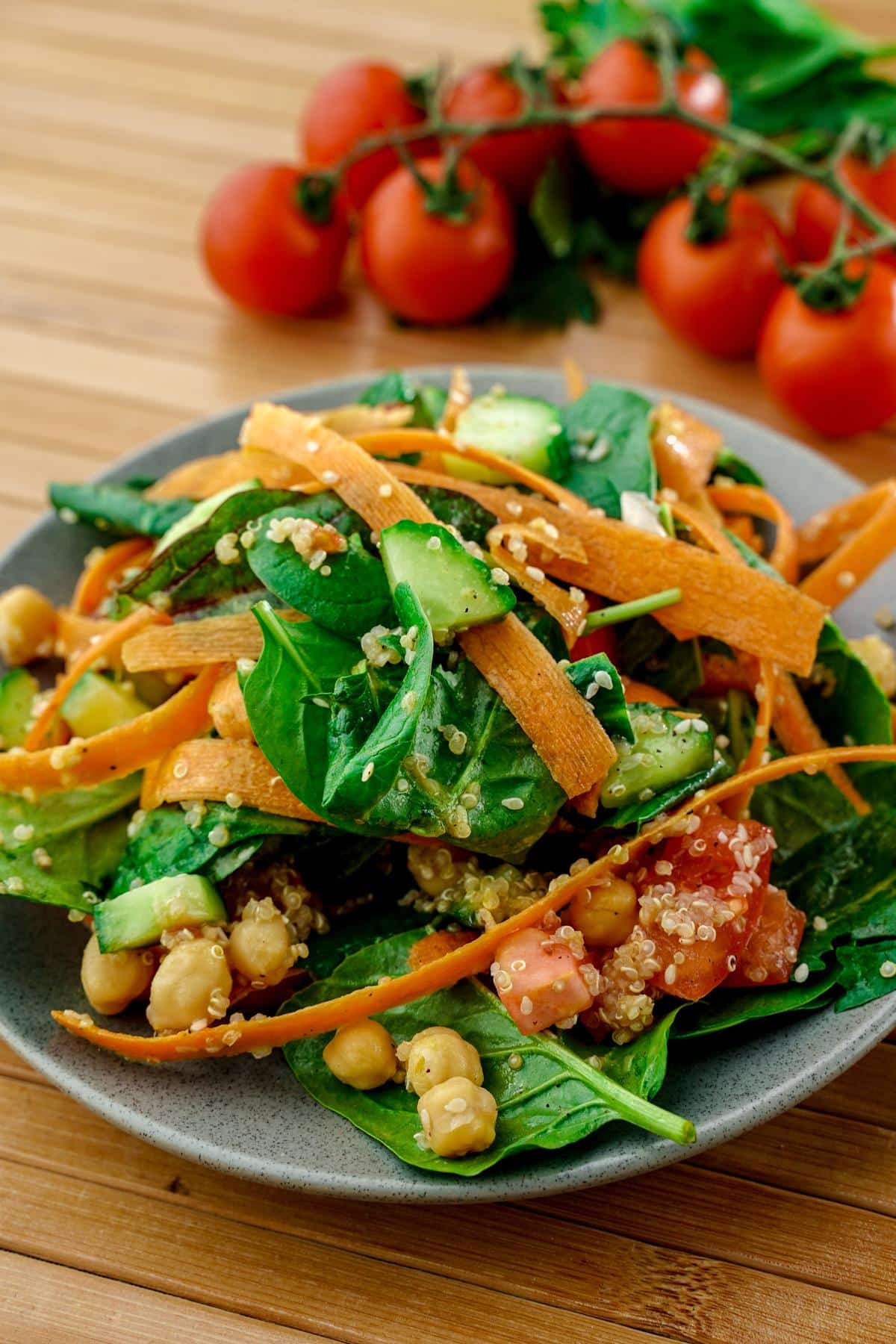 Related
Looking for similar ideas to add to your menu? Check out the recipes below and bookmark your favorites.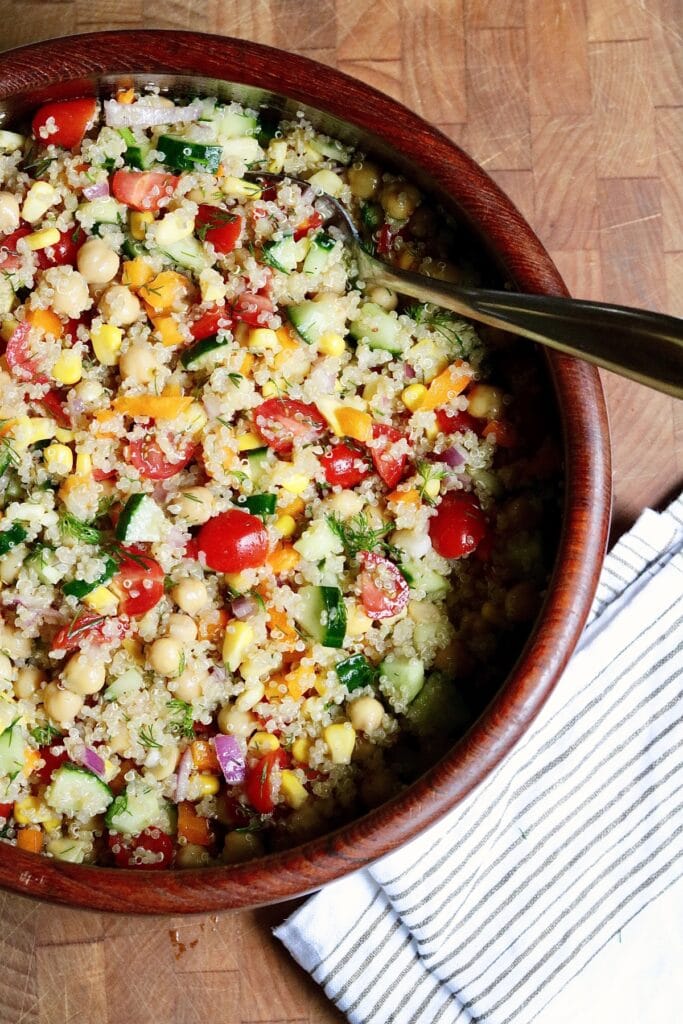 Pairing
If you want to serve this but need to add a little something more to make it filling, check out the ideas below and bookmark your favorites.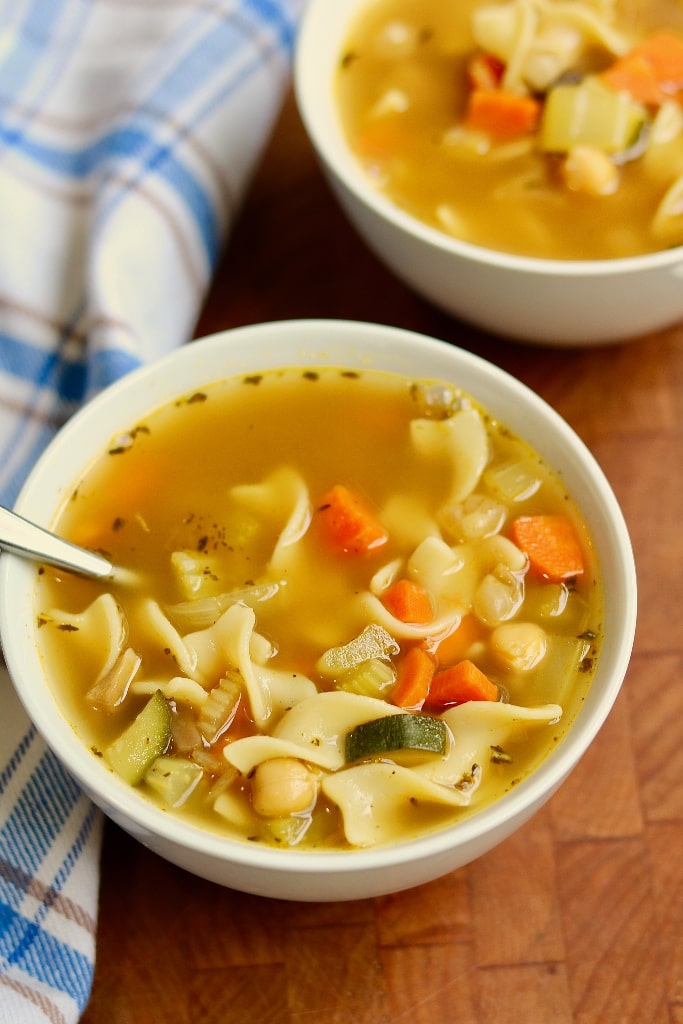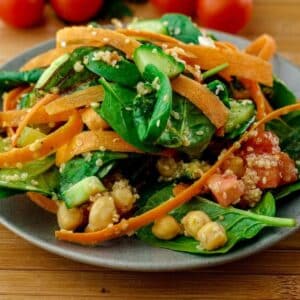 Vegan Rainbow Salad
Indulge in a burst of flavors with our vegan rainbow salad that features a colorful medley of fresh vegetables and wholesome ingredients. Savor the goodness of health in every bite today!
Instructions
To begin, let's get the quinoa ready for the salad. Start by washing 1 cup of quinoa thoroughly and then placing it in a saucepan with 2 cups of water. Cook the quinoa over low heat for around 10 minutes or until all the water has been absorbed and the quinoa is cooked to perfection. Season it with salt and pepper to your liking and then set it aside.

While the quinoa is cooking, take some time to prepare the tomatoes, cucumber, and carrots into small strips or pieces.

Next, in a separate bowl or jar, whisk together the balsamic vinegar, dijon mustard, and nutritional yeast until the dressing is well combined.

Now it's time to assemble the salad. Begin by layering the spinach, quinoa, chickpeas, and prepared vegetables in a large bowl. Then, drizzle the dressing over the top of the salad before serving.

Finally, toss the salad gently to make sure that all the ingredients are well-coated in the dressing.
Notes
Add flavor by cooking the quinoa and the chickpeas in vegetable broth or mushroom broth.
Serve over mixed greens, kale, spinach, or arugula.
Top with grilled tofu or seitan.
Nutrition
Calories:
495
kcal
Carbohydrates:
86
g
Protein:
22
g
Fat:
8
g
Saturated Fat:
1
g
Polyunsaturated Fat:
4
g
Monounsaturated Fat:
2
g
Sodium:
261
mg
Potassium:
1523
mg
Fiber:
15
g
Sugar:
13
g
Vitamin A:
15064
IU
Vitamin C:
30
mg
Calcium:
178
mg
Iron:
8
mg
Food Safety
Follow the tips below to make sure you and your family stay safe when preparing foods in your home kitchen.
Always sanitize countertops, cutting boards, utensils, and cookware thoroughly between each use.
Wash your hands in warm soapy water, rubbing for at least 20 seconds before rinsing. Remember, "FROG" means friction rubs off germs.
After serving food, allow it to cool, then place it into the refrigerator or proper storage immediately. Food should be at room temperature for no more than 2 hours for safety.