I'm excited to share with you a recipe for a delicious pesto couscous salad that's perfect for a quick and easy meal or a side dish.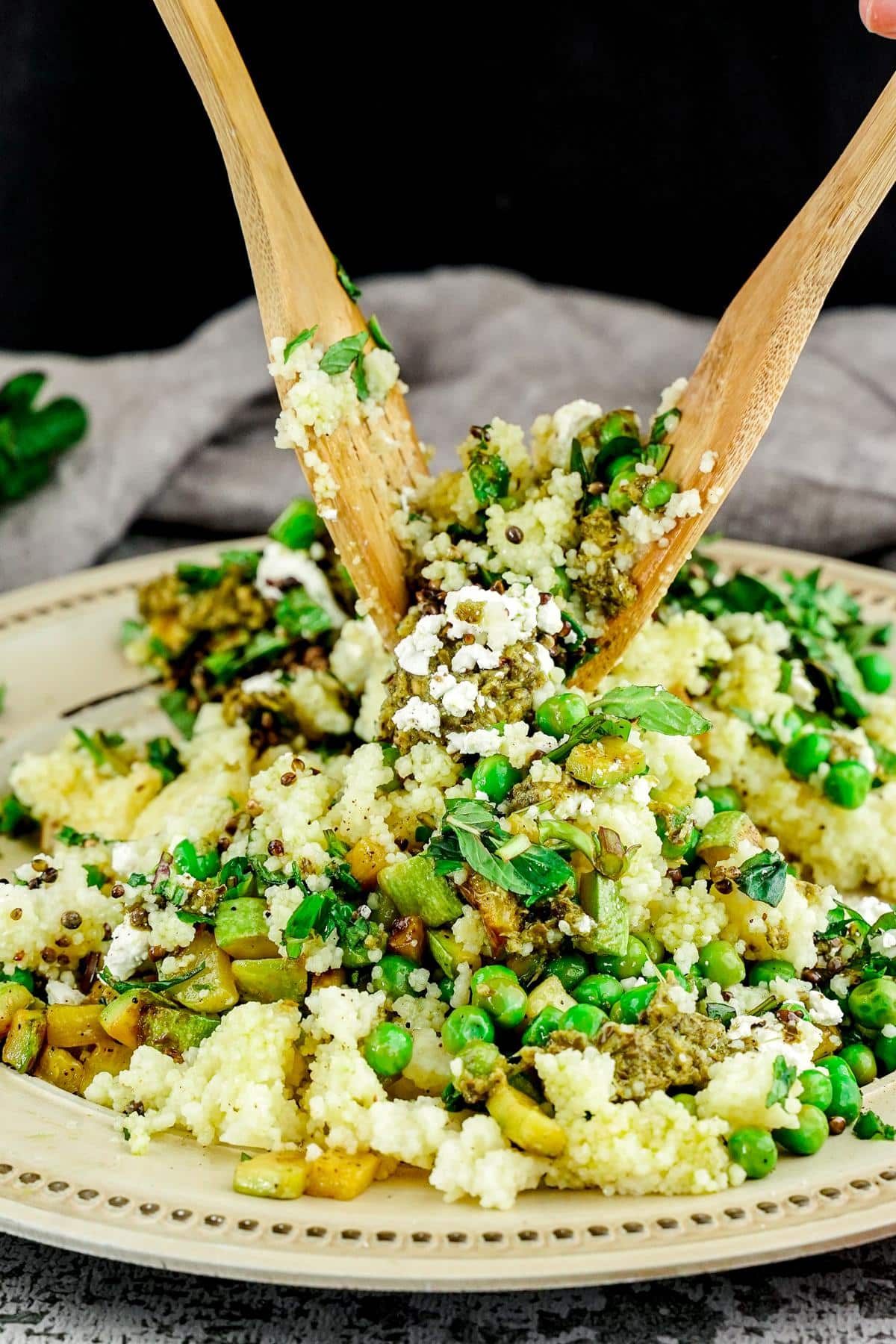 The star of this salad is the pesto. It's bright, fragrant, and bursting with flavor, and it pairs perfectly with the fluffy couscous, steamed peas, zucchini, and crumbled vegan feta.
If you like this recipe, then you will also love the classic Jennifer Aniston Salad.
🥘Ingredients
For the exact quantities of this recipe, you can find them on the printable recipe card at the bottom of the post.
Couscous
Peas
Zucchini
Vegan feta
Fresh basil
Hemp seeds
Pesto
Fresh mint
Lemon juice
Olive oil
Salt
Black pepper
Note: If your grocery doesn't have it in stock, you can make homemade vegan feta to crumble into this salad.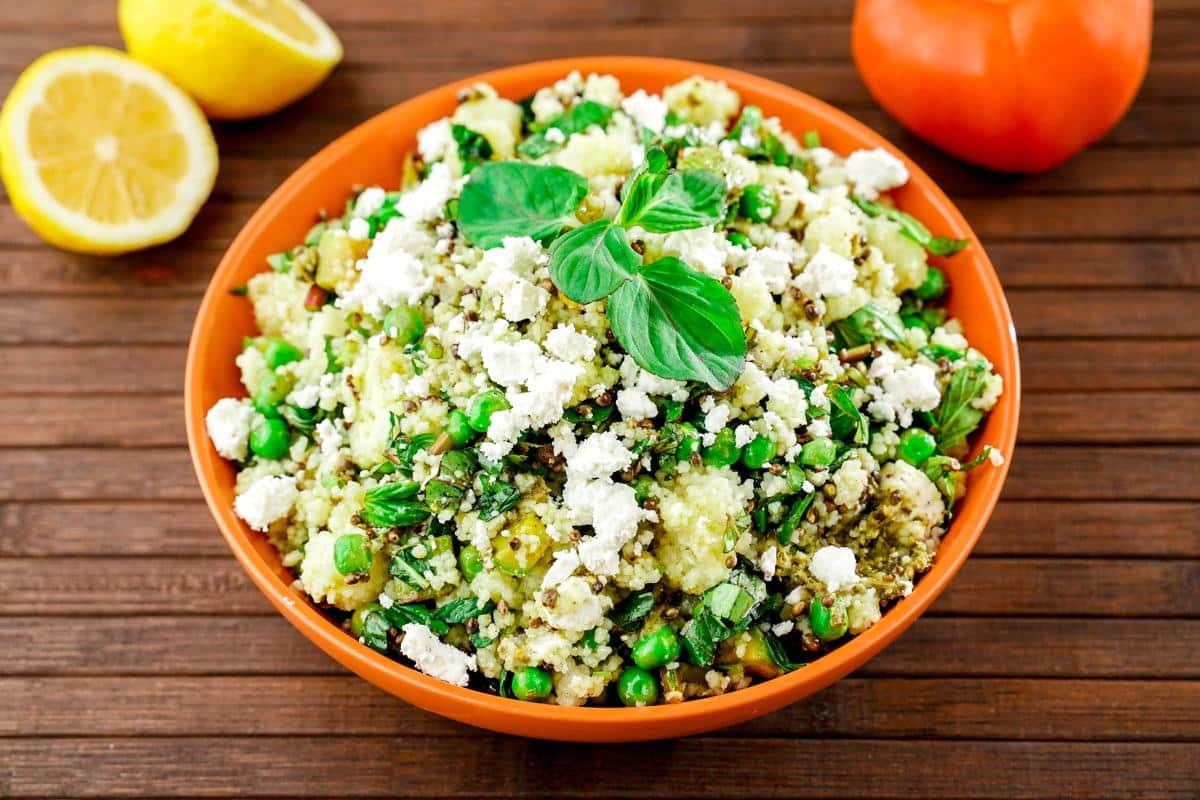 🔪Instructions
Begin by preparing the couscous. Cook according to package directions with added olive oil and salt. Once done cooking, set this aside to cool.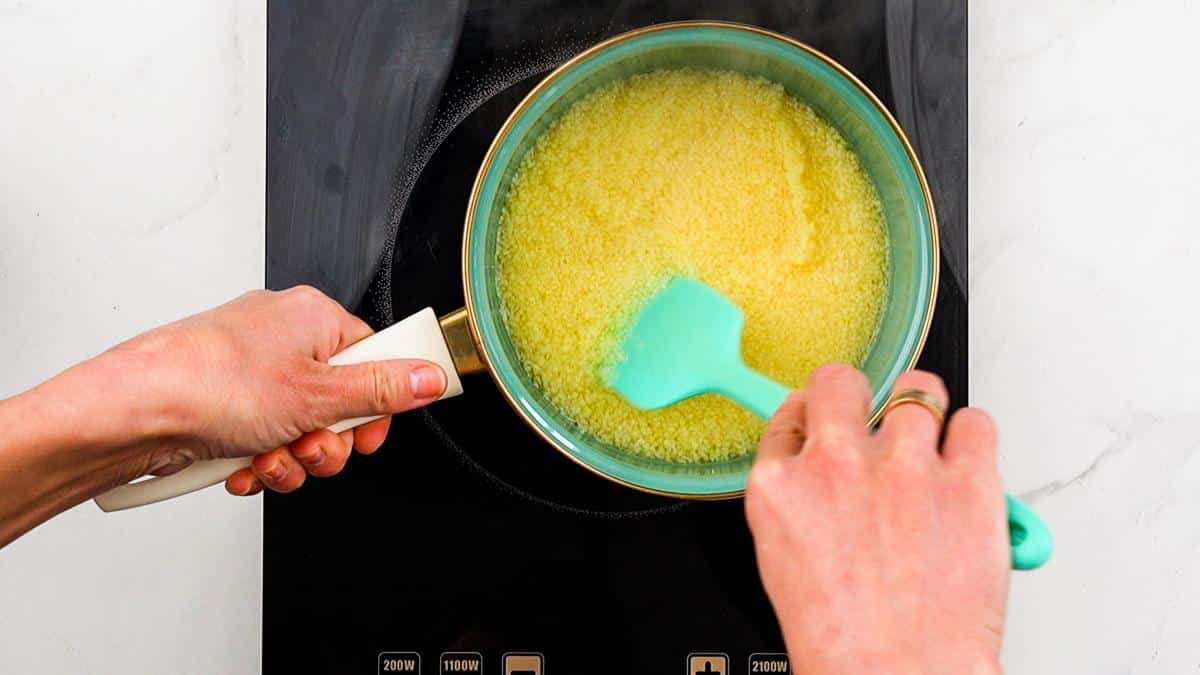 While the couscous cooks, you can cut the zucchini into small pieces. Then, you will put the olive oil into a skillet and fry the zucchini for 4 to 5 minutes until tender and browned. Season with salt and pepper then set it aside.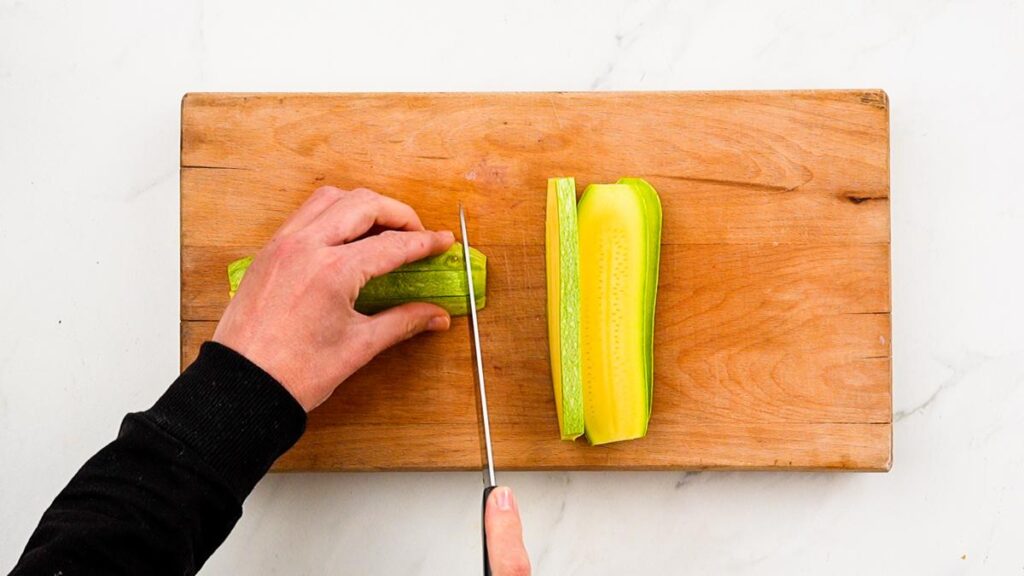 Now, in a clean dry skillet, toast the hemp seeds over low heat for 5 minutes, or until they are golden brown. Make sure to stir to prevent burning. Set them aside to cool completely.
Now, chop the fresh herbs.
To serve the salad, layer the couscous, zucchini, peas, hemp seeds, fresh herbs, feta, and pesto into a large bowl.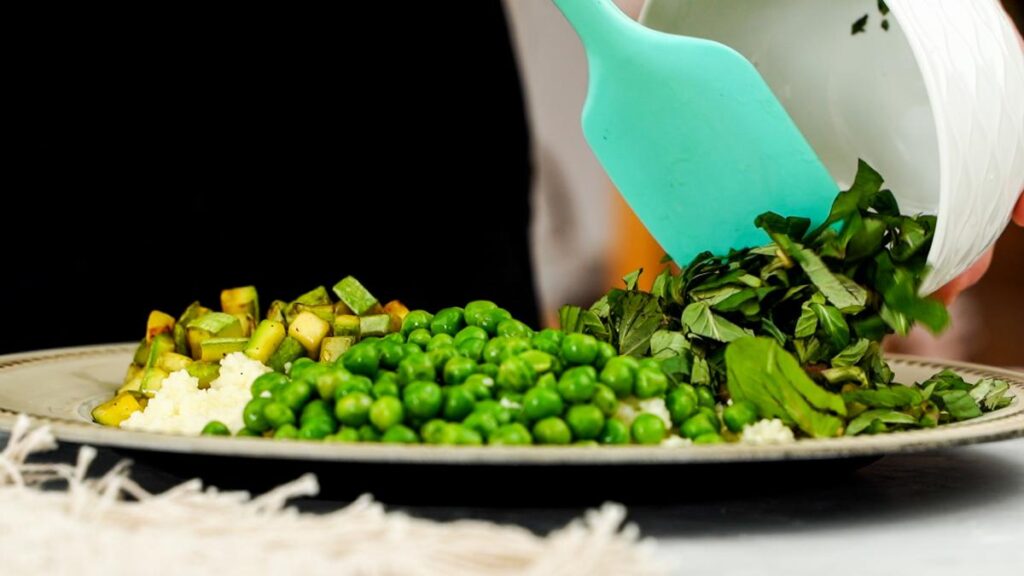 Squeeze the lemon juice over the top, and toss to combine. Taste, and add salt and pepper if needed.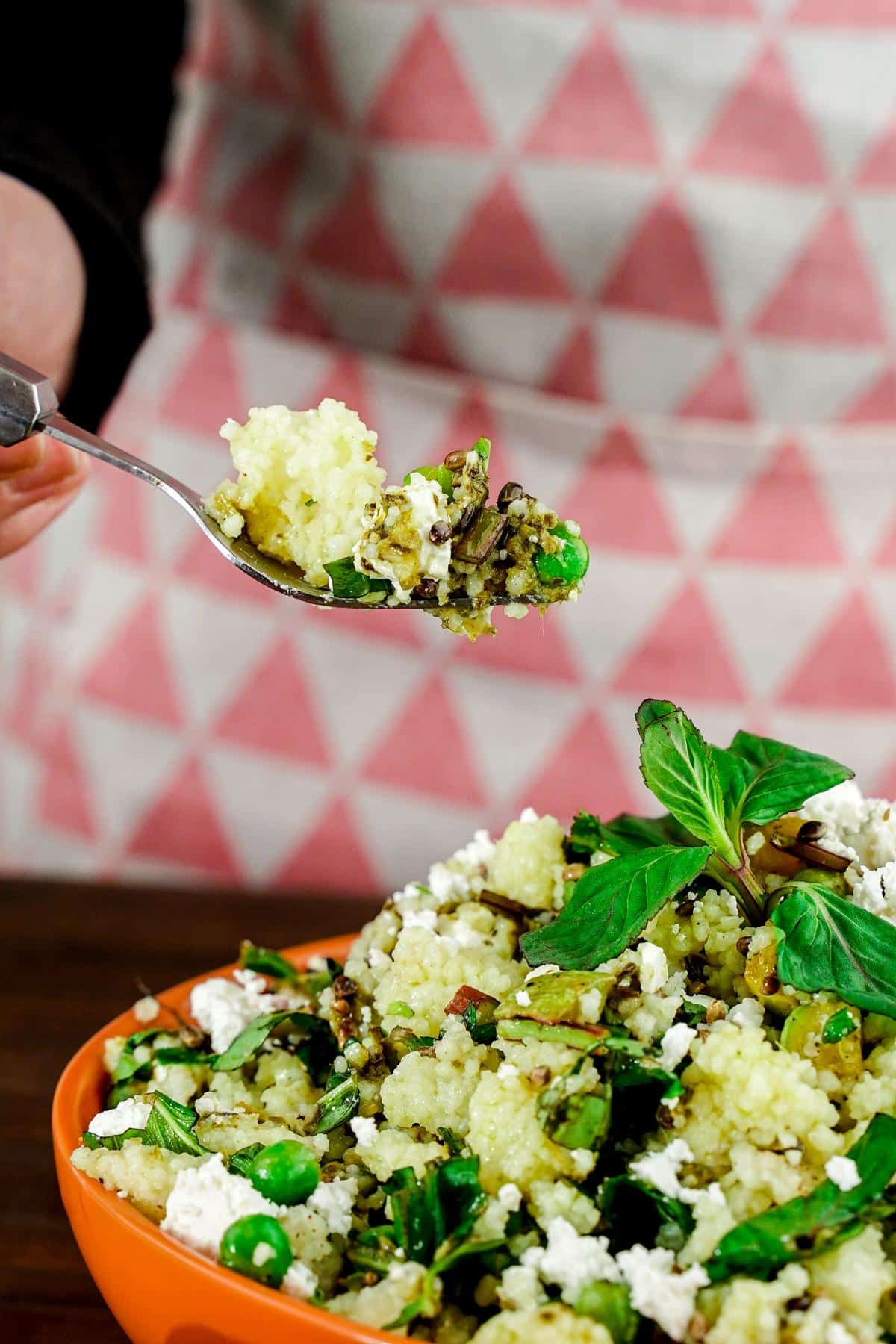 📋 Substitutions
Don't have all the ingredients? No problem! Here are some easy substitutions you can make:
Use quinoa or bulgur instead of couscous
Swap steamed peas with edamame, green beans, snap peas, or asparagus
Substitute zucchini with yellow squash or eggplant
Use vegan parmesan cheese instead of vegan feta
Swap basil with cilantro, parsley, or arugula
Use pumpkin seeds or sunflower seeds instead of hemp seeds
📖Variations
Looking to switch things up? Here are some variations to try:
Add roasted cherry tomatoes or red bell peppers for more color and flavor
Top with sliced avocado or toasted pine nuts for extra creaminess
Try adding grilled tofu or tempeh for more protein
Use a creamy pesto dressing instead of plain pesto
Skip the pesto and make a vegan ranch dressing instead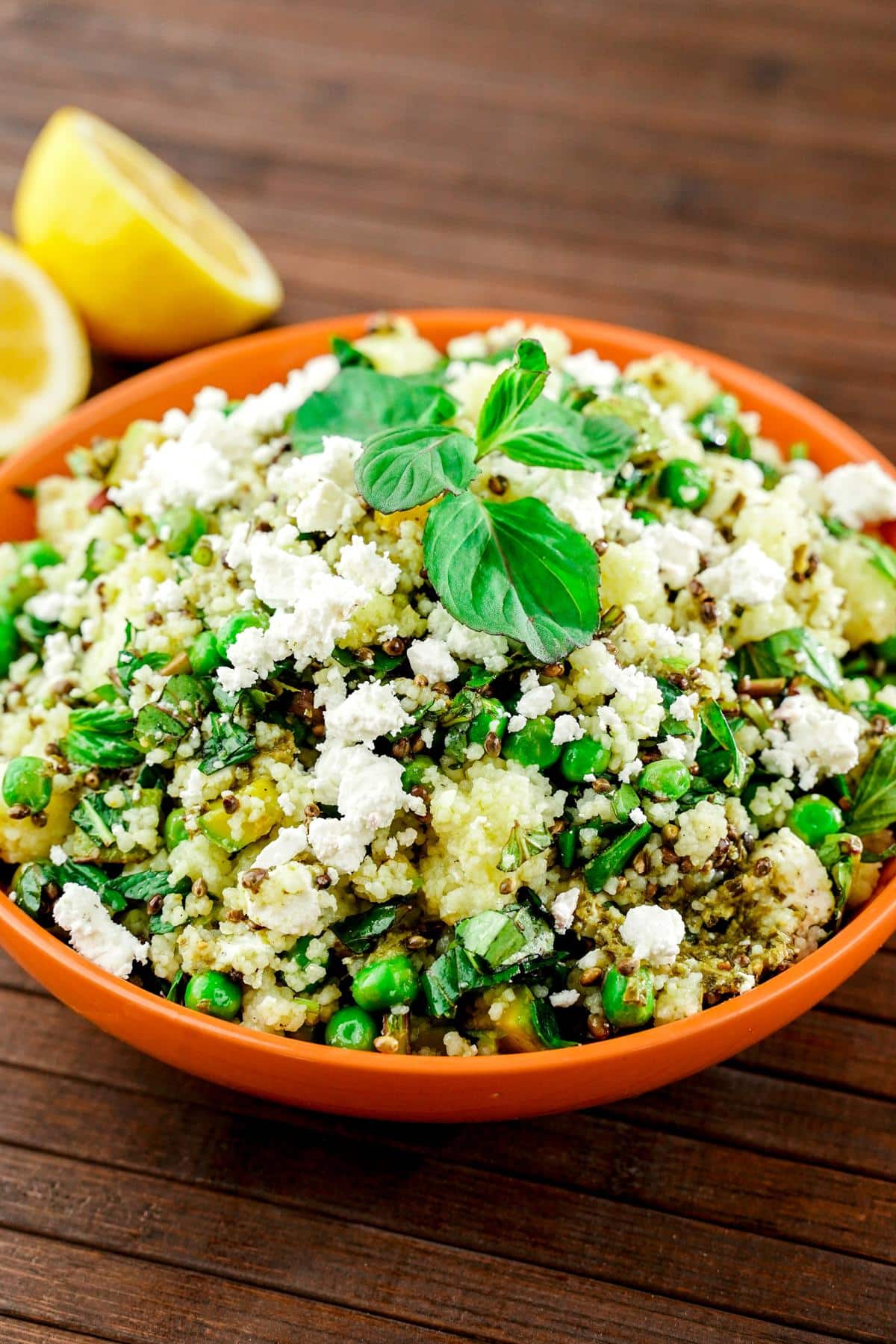 🫙Storage
To store this salad, keep it in an airtight container in the refrigerator for up to 3 days. Before serving, give it a good stir and add more pesto if needed.
This recipe is best fresh and does not freeze well. I recommend making only what you plan to consume in the course of 3 to 4 days.
🍽 Equipment
If your kitchen isn't fully stocked yet, take a look at our recommended supplies and tools below. These are what we used to prepare this couscous salad, and are handy additions to any home kitchen.
Measuring cups and spoons
Mixing bowls
Cutting board
Chef's knife
Saucepan
Skillet
Wooden spoon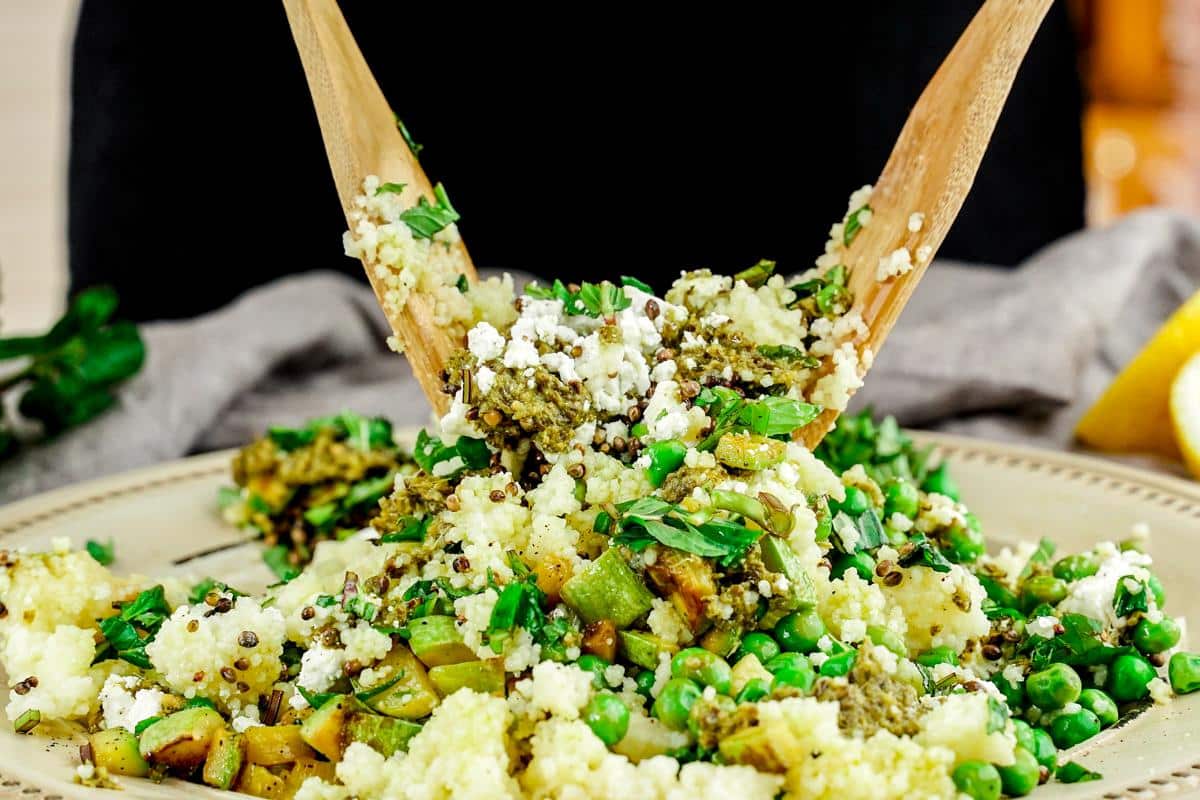 💭 Top Tip
My top tip for making this pesto couscous salad even better is to toast the couscous before cooking it. This will add a nutty flavor and enhance the texture of the salad. You can also prepare the couscous in vegetable broth or mushroom broth to increase the flavor.
❓FAQ
What can I put in couscous to make it taste better?
While the pesto in this recipe adds a ton of flavor, the couscous by itself may be a bit boring. In that instance, I recommend cooking in vegetable broth, mushroom broth, or adding your favorite vegan bouillon cube to the water when cooking.
How can I keep the couscous from drying out?
Cooking it with a bit of oil helps keep the moisture in the couscous. Be careful to not overcook and dry it out. You may also want to be careful to not put too much liquid when cooking because you don't want it to get mushy.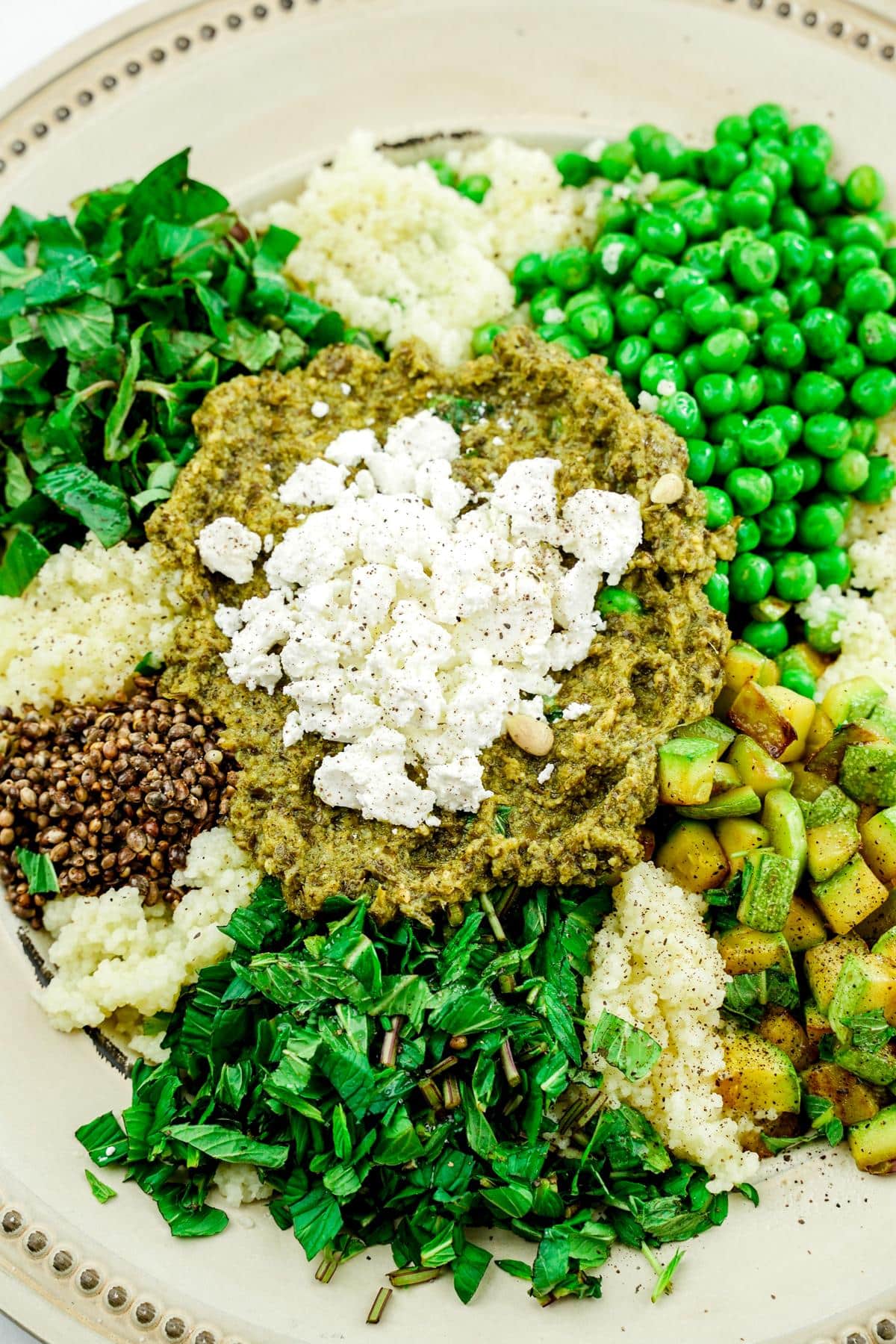 Related
Want more salad ideas for your menu? Check out some of my favorites below and add them to your meal plan soon.
Pairing
This pesto couscous salad is delicious and easy to make, but you may want to add a bit of protein to it or add something to make it more filling. Check out the recipes below.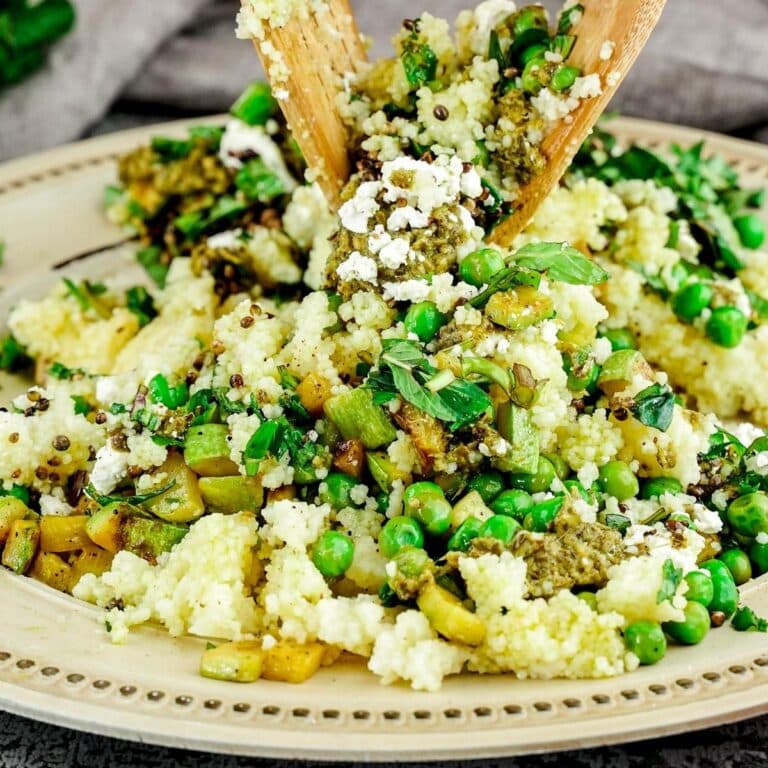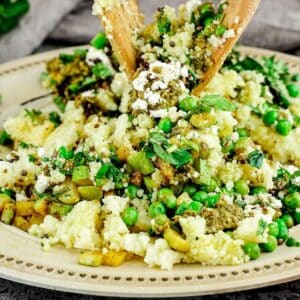 Vegan Pesto Couscous Salad
Try our delicious vegan pesto couscous salad! A healthy and tasty dish for any occasion, bursting with fresh ingredients.
Ingredients
Instructions
To start, cook the couscous according to the package instructions and add olive oil and salt. Once cooked, leave it aside to cool.

As the couscous cooks, chop the zucchini into small pieces. Heat olive oil in a skillet and fry the zucchini for 4-5 minutes until it is tender and browned. Season with salt and pepper, then set it aside.

In a clean skillet, toast the hemp seeds over low heat for approximately 5 minutes until they turn golden brown. Stir frequently to avoid burning, and set them aside to cool.

Next, chop the fresh herbs before assembling the salad.

When ready to serve the salad, layer the cooled couscous, zucchini, peas, hemp seeds, fresh herbs, feta, and pesto in a large bowl. Squeeze lemon juice over the top and toss everything together. Taste and adjust seasoning with salt and pepper if needed.
Notes
Ready-made couscous or instant couscous can be used to save time.
Brown rice, quinoa, bulgar wheat, or farro can be used in place of couscous if desired.
Nutrition
Calories:
519
kcal
Carbohydrates:
46
g
Protein:
15
g
Fat:
30
g
Saturated Fat:
4
g
Polyunsaturated Fat:
5
g
Monounsaturated Fat:
6
g
Cholesterol:
4
mg
Sodium:
447
mg
Potassium:
329
mg
Fiber:
6
g
Sugar:
5
g
Vitamin A:
1775
IU
Vitamin C:
26
mg
Calcium:
139
mg
Iron:
4
mg
Food Safety
Keep your family safe by following standard practices for kitchen sanitation. Below are some of our top tips for food safety.
Always sanitize countertops, cutting boards, utensils, and cookware thoroughly between each use.
Wash your hands in warm soapy water, rubbing for at least 20 seconds before rinsing. Remember, "FROG" means friction rubs off germs.
After serving food, allow it to cool, then place it into the refrigerator or proper storage immediately. Food should be at room temperature for no more than 2 hours for safety.