Are you looking for a flavorful and healthy vegan meal? Look no further than this delicious vegan red lentil dahl recipe! Made with hearty red lentils and a blend of fragrant spices like turmeric, coriander, and cumin, this lentil dahl is sure to satisfy your taste buds and leave you feeling satisfied.
With a subtle blend of exotic spices that adds complexity, its deep color invites your eyes and appetite.
Want to use lentils in a different way? Check out our lentil soup for a comfort food recipe everyone loves.
Jump to:
Ingredients
Below, you will find the ingredients we used to make this vegan dahl. For the full measurements and quantities, see the printable recipe card below.
Vegetable oil
White onion
Garlic
Ginger
Turmeric
Coriander
Cumin
Curry powder
Red lentils
Tomatoes
Vegetable stock
Coconut milk
Lime
Cilantro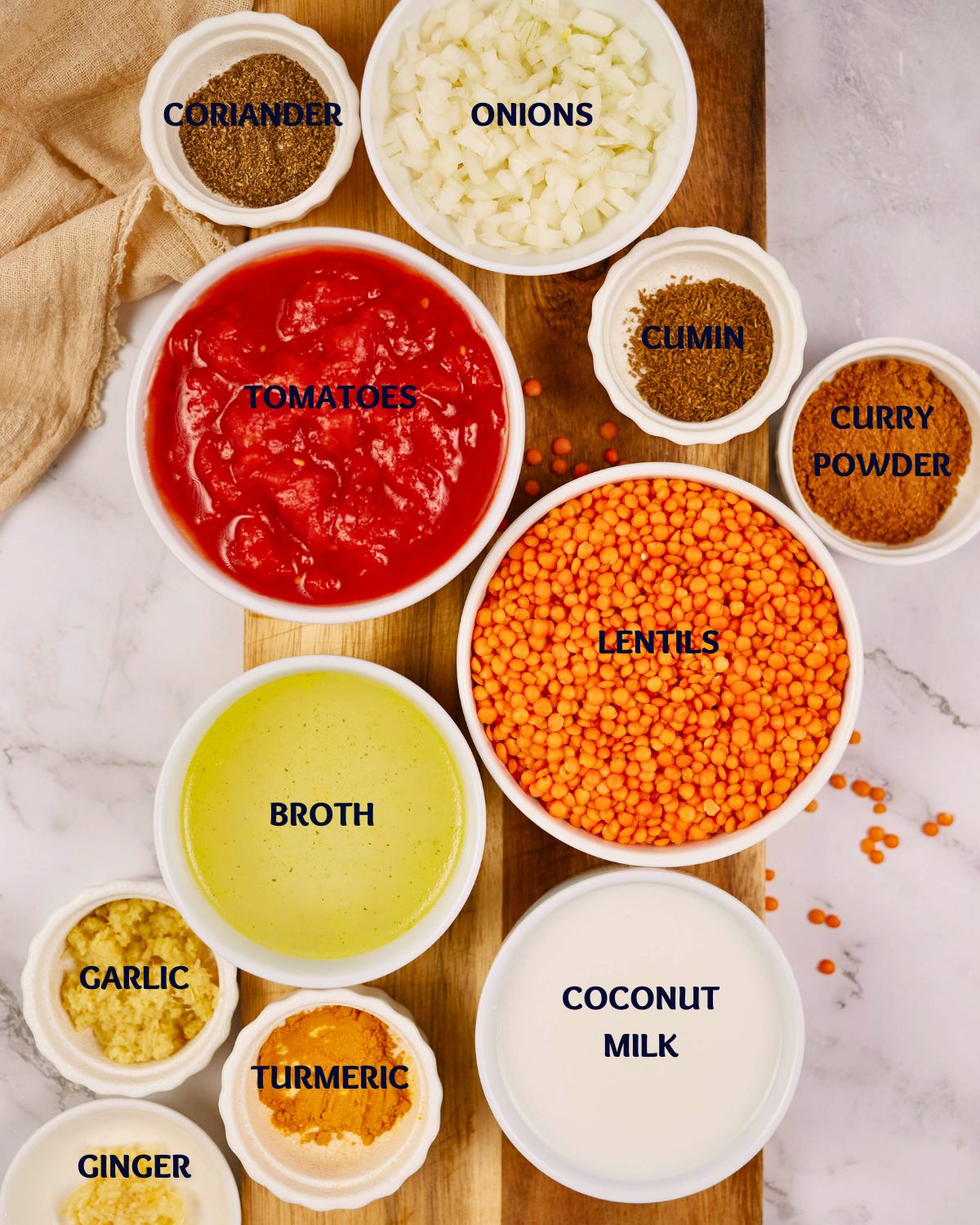 Instructions
Over medium heat, add the oil to a thick-bottomed deep skillet. Once hot, add the onion, and cook for 5 minutes, until softened.
Then add in the garlic and ginger, and cook, stirring, for 1 additional minute. Then stir in the cumin, coriander, curry, and turmeric.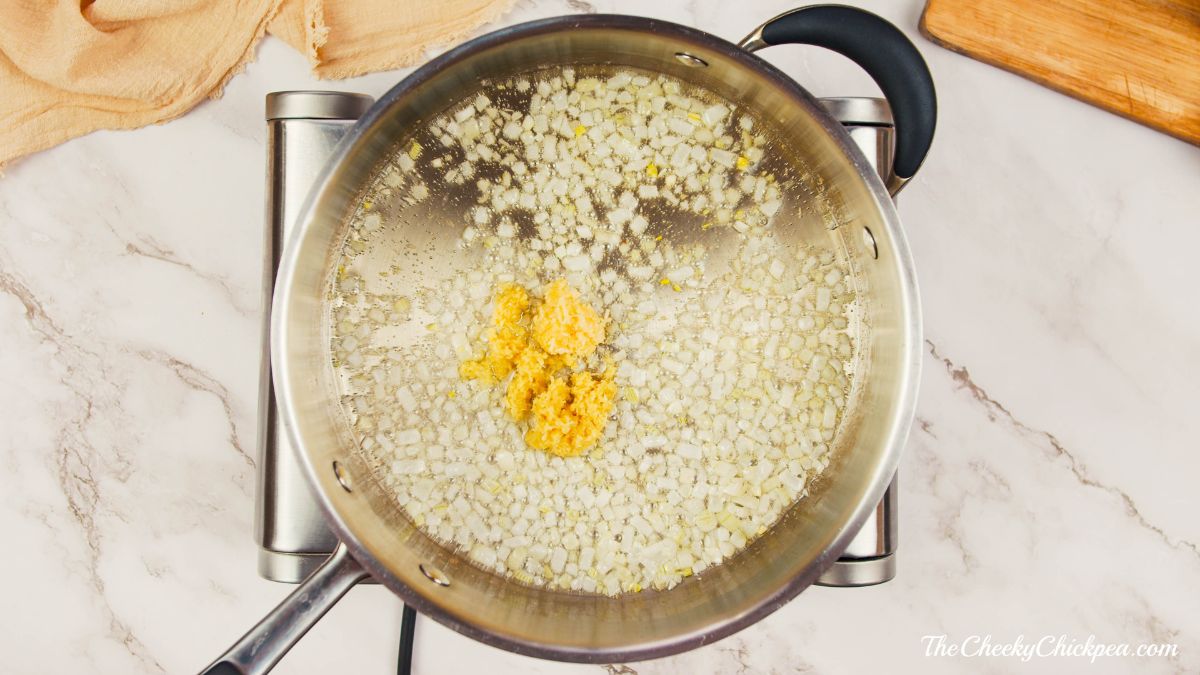 Once this is fragrant, add in the lentils, tomatoes, and the broth. Stir this well, and then continue cooking over medium heat for around 10 minutes. Stir frequently as it cooks.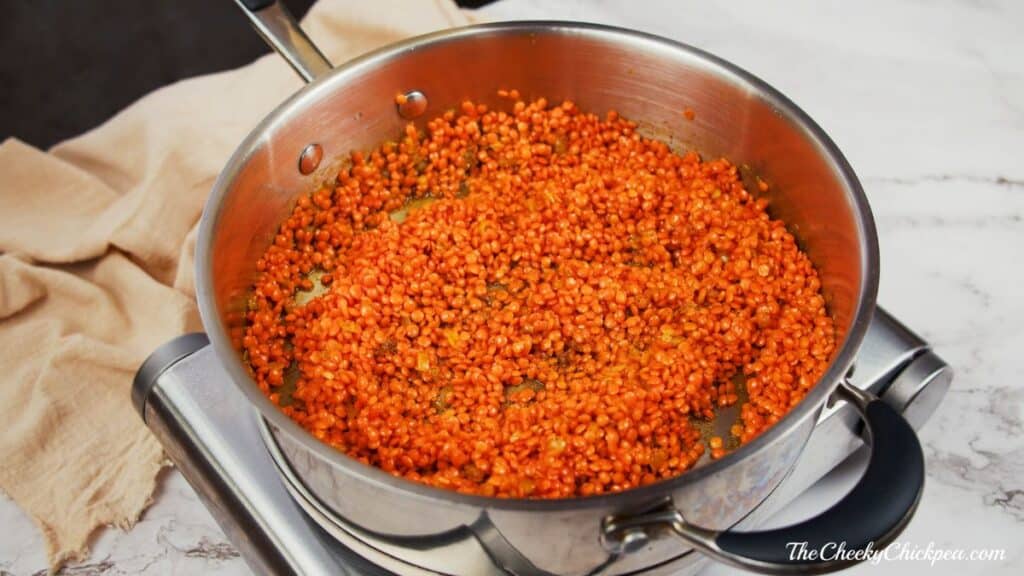 After 10 minutes, check and if the lentils have softened, stir in the coconut milk. If not soft yet, continue simmering in 2-minute increments.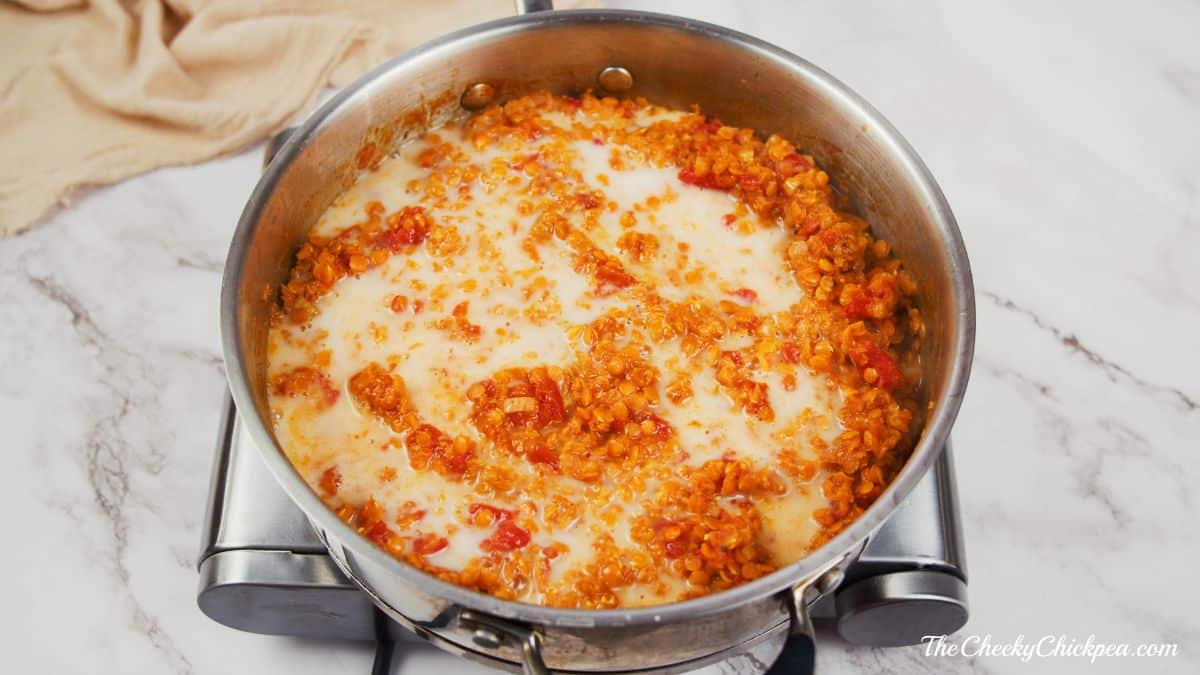 Once the milk has been added, stir well and heat through. Taste, and adjust the seasonings as needed.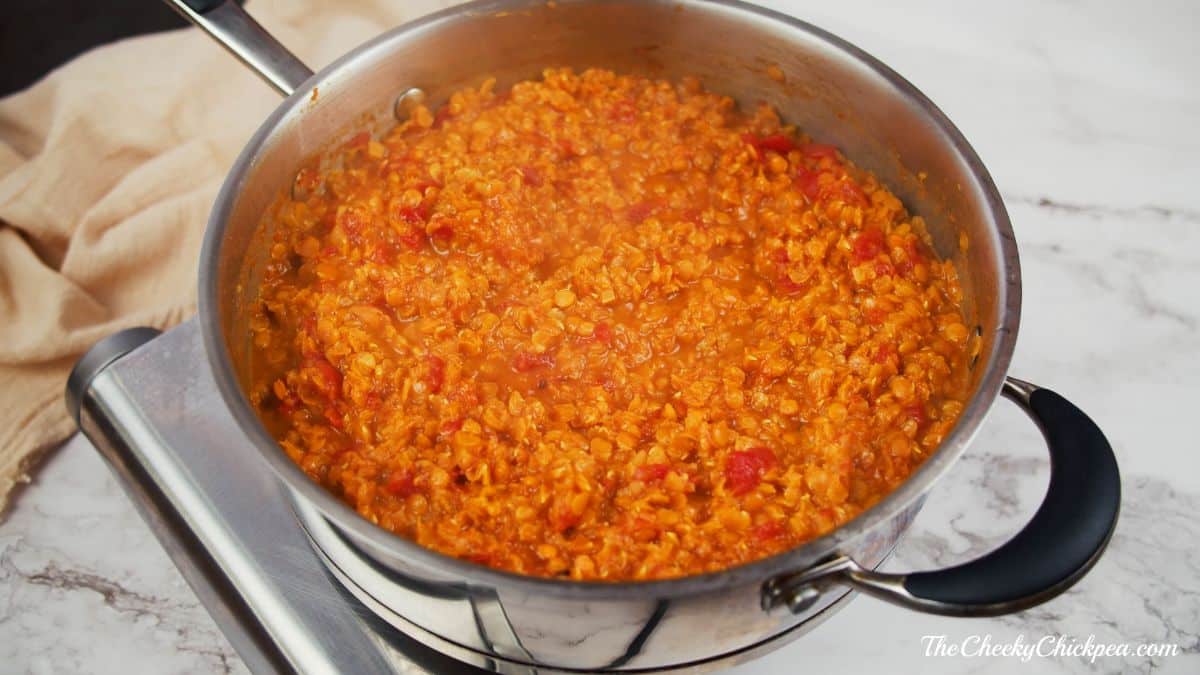 Serve with a sprinkle of cilantro and a drizzle of lime juice.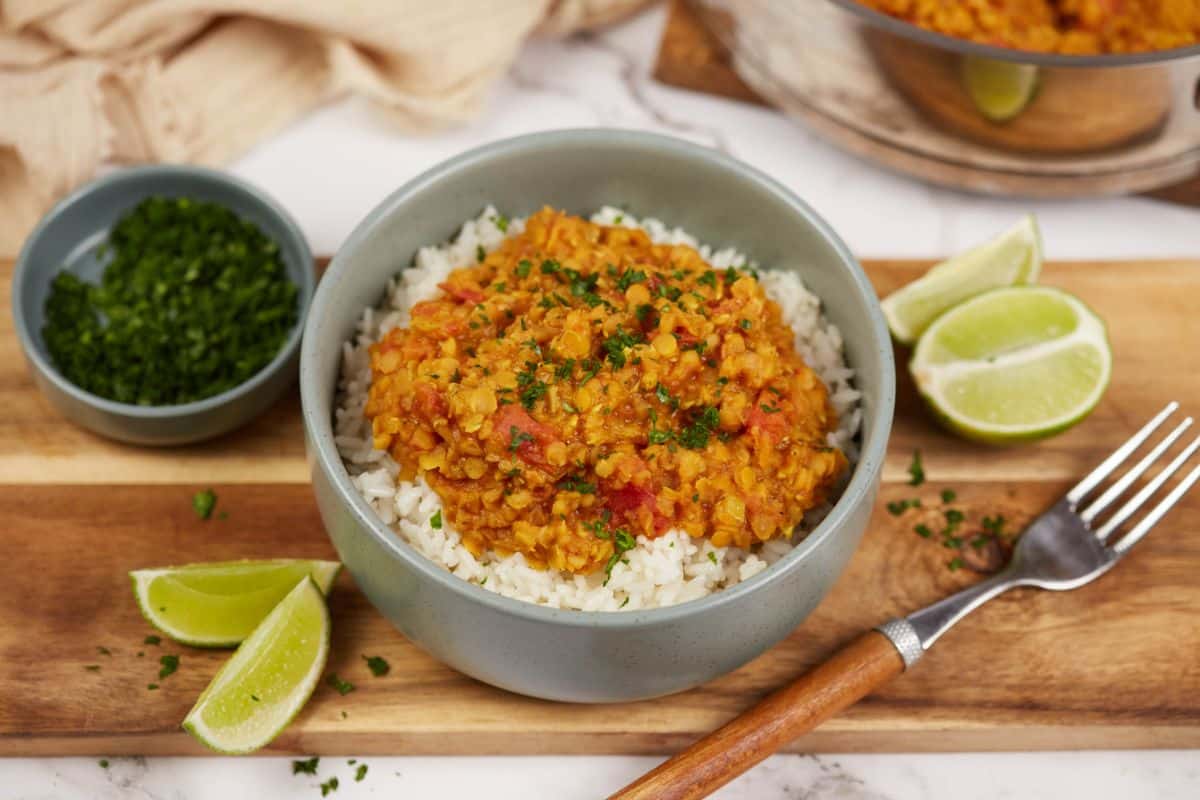 Substitutions
Sometimes you won't have everything on hand for a recipe, or have some dietary restrictions that prevent you from making as shown. Below are a few options to consider.
Replace vegetable oil with olive oil, avocado oil, grapeseed oil, or even coconut oil.
Use yellow or red onions instead of white.
Replace canned tomatoes with fresh diced tomatoes.
Use mushroom broth in place of vegetable broth for an earthier flavor.
Variations
One thing I love about this recipe is that while it is classic in flavor, it is super easy to customize with what you have on hand. Below are a few additions and variations that are sure to make your tastebuds sing.
Add more vegetables such as spinach, kale, swiss chard, celery, or mushrooms
Include additional herbs and spices such as fresh cilantro, extra garlic, fresh ginger, or other fresh herbs.
Use any lentils you have on hand - green, red, brown, or black
Make this a bit sweeter by adding cinnamon or cardamom
For a higher spice level, add cayenne pepper, red chili flakes, or even fresh chopped chiles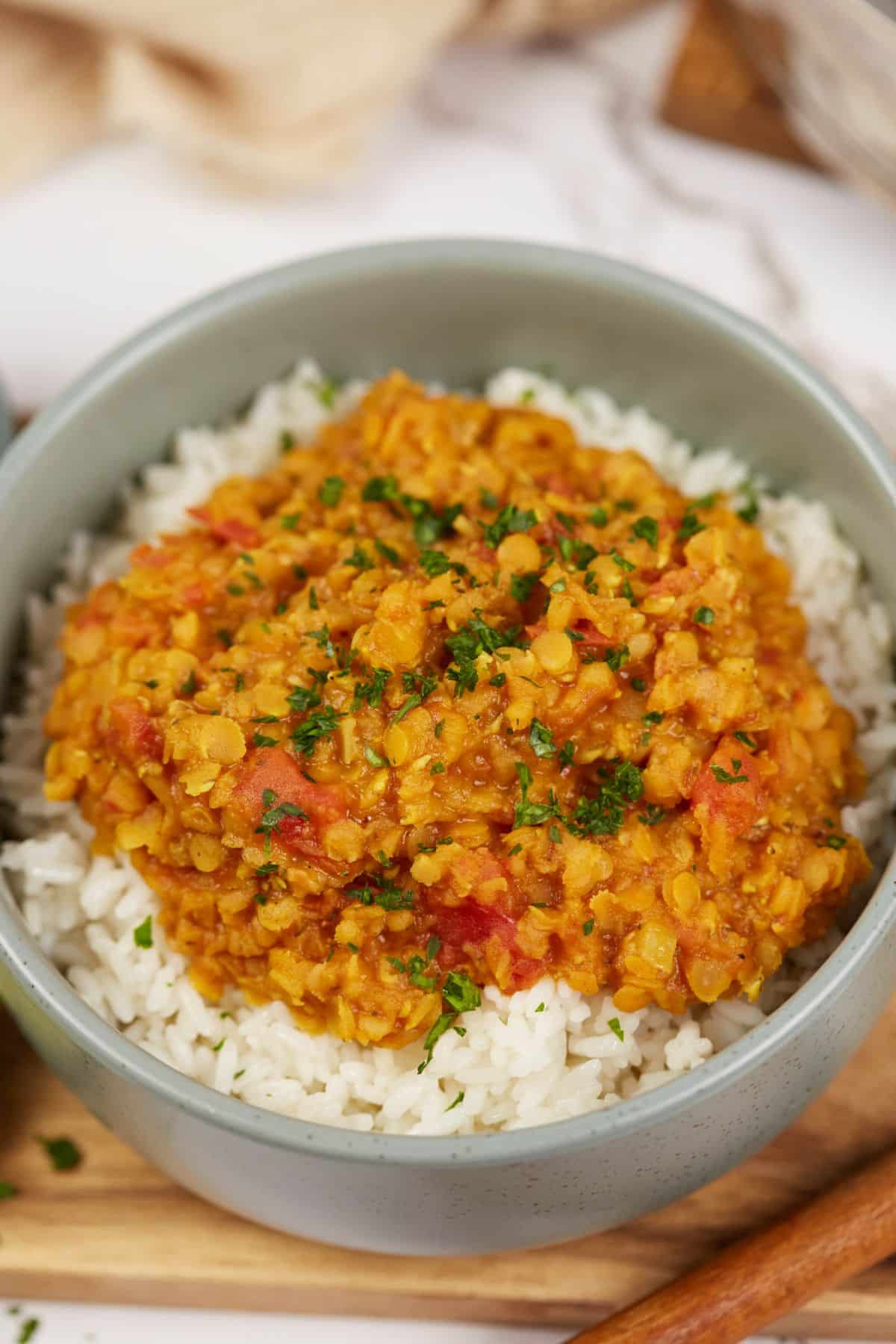 Storage Tips
This vegan red lentil dahl tastes even better the next day! To store, let it cool completely before transferring it to an airtight container. Store the dahl in the refrigerator for up to 4 days. That makes this a great make-ahead meal to enjoy over a few days.
It can also be stored in the freezer. Place it in an airtight container or freezer bag and freeze for up to 3 months. I like freezing in 1-cup portions to make it easier and faster to thaw.
To reheat the leftovers, simply thaw them overnight in the refrigerator, then heat them up on the stovetop or microwave.
Equipment
New to cooking? Consider adding the kitchenware tools below to your shopping cart. A well-stocked kitchen makes cooking much easier to manage.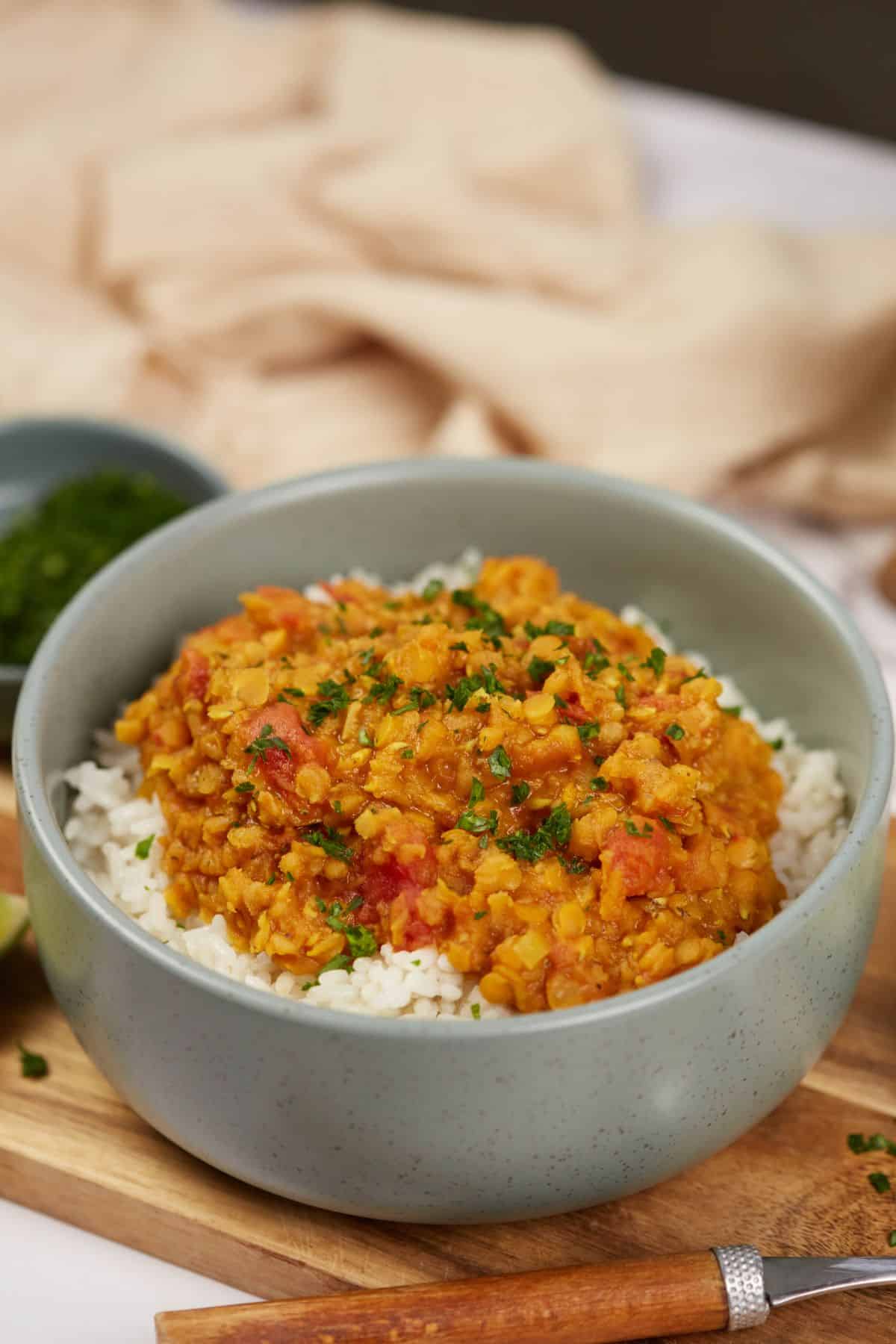 Top Tip
The best tip for success when making this recipe is to take your time and allow the lentils to simmer for at least 20 minutes to ensure they are fully cooked and tender. You can also use pre-cooked canned lentils that have been rinsed and drained.
FAQ
What is Dahl?
Dahl is a thick lentil soup or stew that is popular in India and other parts of Asia. It is typically made with lentils, spices, and vegetables. Dahl can be served as a main course or a side dish.
What is the nutritional value of vegan red lentil dahl?
Vegan red lentil dahl is a good protein, fiber, and iron source. It is also low in fat and calories.
Is Dahl always made with lentils?
While it is most commonly made with lentils, it can be made with any split legume. That includes beans, lentils, peas, and other seeds or small legumes.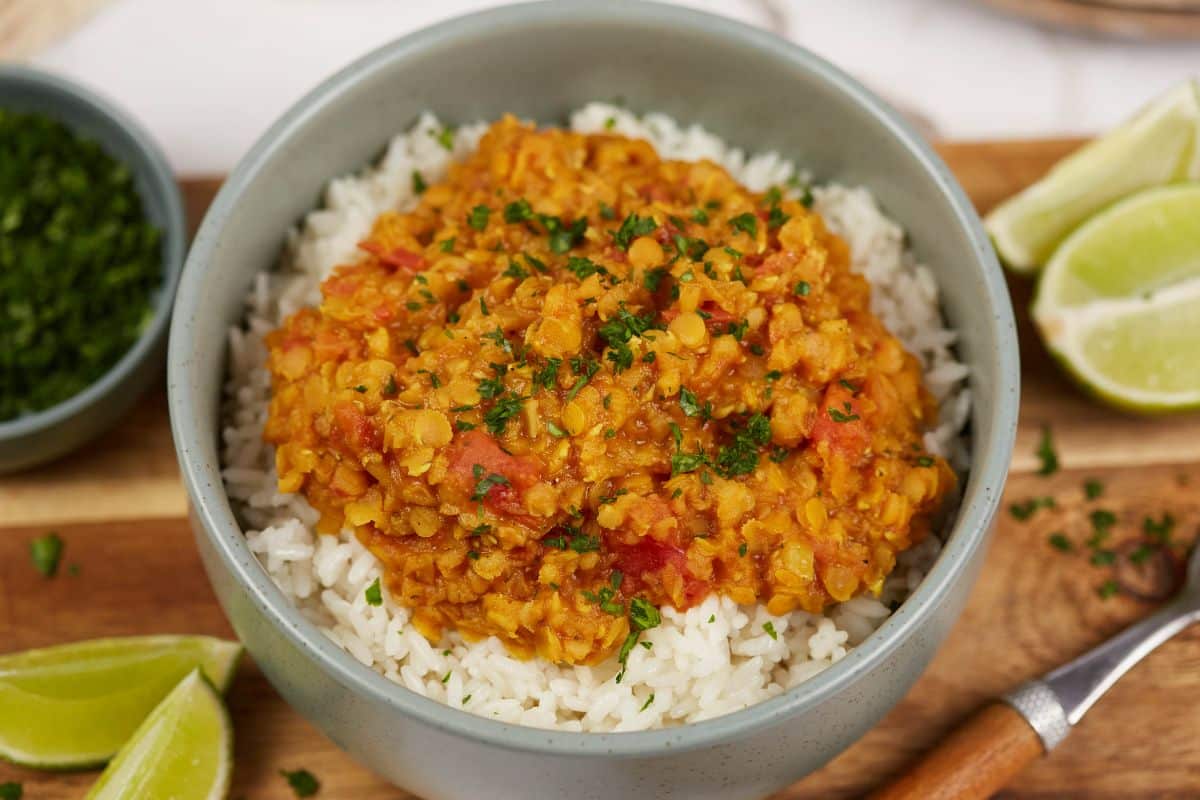 Related
If you enjoy this recipe, then make sure you check out some of our other choices below. These recipes are some family favorites that are sure to be a hit at your dinner table.
Pairing
Dahl is a delicious meal on its own, but you might also want to serve it with a few sides or more protein. Check out the ideas below and bookmark them to make soon.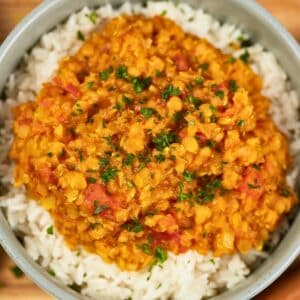 Vegan Red Lentil Dahl Recipe
Discover the flavorful delight of vegan red lentil dahl - a healthy and nourishing dish bursting with aromatic spices.
Instructions
Over medium heat, add vegetable oil to a deep skillet or Dutch oven.

2 tablespoon vegetable oil

Once the oil is hot, add the onions and saute for 5 minutes, stirring regularly.

To this, add the minced garlic and grated ginger and cook for 1 more minute. Then add the turmeric, cumin, coriander, and curry powder. Stir to combine.

2 garlic cloves,

2 teaspoon fresh ginger,

1 teaspoon turmeric,

1 teaspoon ground coriander,

1 teaspoon ground cumin,

1 ½ teaspoon curry powder

Now, add in the soaked but rinsed and drained lentils. Then the tomatoes and vegetable stock. Stir together, then simmer over medium heat for 10 minutes, stirring regularly.

10 oz red lentils,

14 oz tomatoes,

2 cups vegetable stock

Once the lentils have softened. Add the coconut milk and bring to temperature. Taste and add seasoning if needed.

Serve over rice with a squeeze of lime and fresh chopped cilantro on top.

¼ cup Fresh cilantro,

2 limes
Notes
Use green, brown, or red lentils depending on your preferences.
Serve over rice for a more satisfying meal, alongside vegan naan.
Nutrition
Calories:
318
kcal
Carbohydrates:
38
g
Protein:
14
g
Fat:
14
g
Saturated Fat:
8
g
Polyunsaturated Fat:
3
g
Monounsaturated Fat:
2
g
Trans Fat:
0.03
g
Sodium:
327
mg
Potassium:
777
mg
Fiber:
17
g
Sugar:
5
g
Vitamin A:
802
IU
Vitamin C:
20
mg
Calcium:
62
mg
Iron:
6
mg
Food Safety
You may think that just because you aren't dealing with raw meat in your kitchen, you won't need to worry about food safety, but that isn't the case. Make sure you are following basic food safety and check out our tips below.
Always sanitize countertops, cutting boards, utensils, and cookware thoroughly between each use.
Wash your hands in warm soapy water, rubbing for at least 20 seconds before rinsing. Remember, "FROG" means friction rubs off germs.
After serving food, allow it to cool, then place it into the refrigerator or proper storage immediately. Food should be at room temperature for no more than 2 hours for safety.