Vegan 'Chicken'! My vegetarian based meatless alternative to real chicken, juicy, meaty, chewy full flavoured seitan, it's super easy to make! Perfect for frying, grilling or to replace chicken in any dish! Nut free.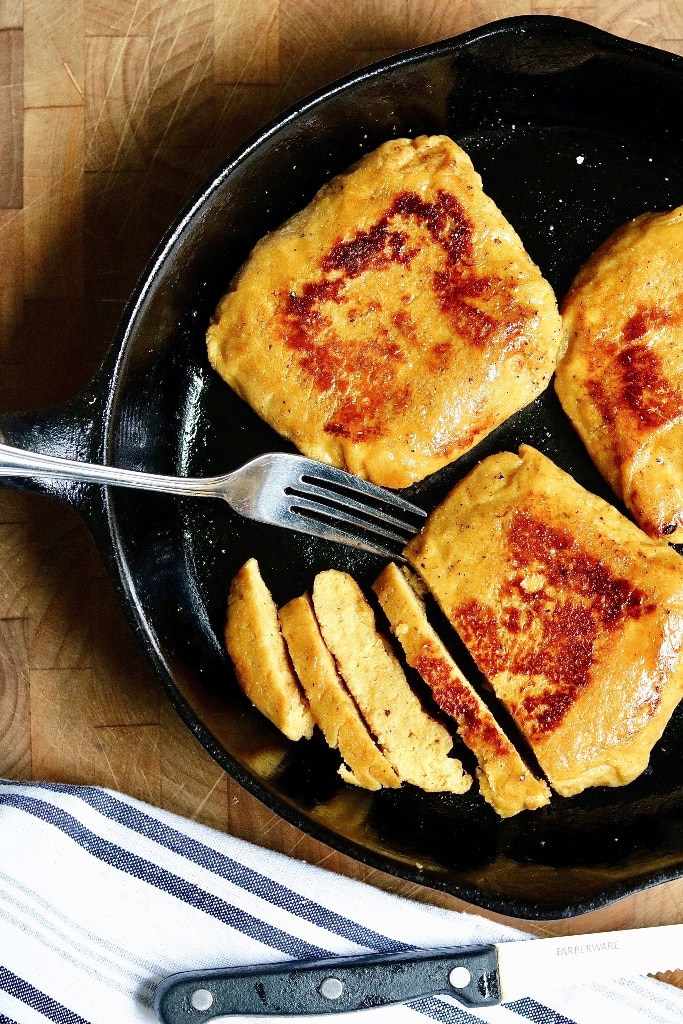 This seitan chicken will make you say "wow that taste remarkably like chicken" You'll love it. It's chewy meaty, super versatile, high in protein and the texture and flavour is top notch!
Jump to:
What is vegan chicken made of?
This vegan chicken recipe is adapted from my vegan turkey, the patties are made of vital wheat gluten flour and tofu instead of chickpeas. and trust me any one can make this! even if you're a beginner vegan, it's so simple and delicious! For more information on wheat gluten and seitan see FAQ section below
You can usually find seitan at the grocery store. I like plant based lightly seasoned Tofurky Chick'n which is the brand I sometimes buy in a pinch, but I prefer my home-made seitan recipe it's so much better and budget friendly too.
Once this mock meat is marinated you can treat it like vegan chicken fillets, grill it, sauté with garlic butter, lemon and herbs, fry it or add to stir fries, wraps, sandwiches, the list is endless!
Ingredients needed:
Vital wheat gluten four
Extra firm tofu
Vegan chicken stock: I use better than Bouillon no chicken soup base
toasted sesame oil: could sub olive oil or grapeseed etc, but I recommend recipe as written
Yellow mustard
Nutritional yeast
Spices: garlic and onion powder, paprika, lemon pepper, coriander, salt, believe it or not no poultry seasoning needed!
Marinade: Simple marinade meant to enhance the 'chicken' flavour made with oil, sugar, vinegar, lemon juice, bouillon, Worcestershire sauce
How to make vegan chicken:
For seitan dough: Drain tofu wrap in a few layers of paper bowl squeeze out extra moisture with your hands. Break into chunks and add to food processor with rest of ingredients EXCEPT GLUTEN and process until smooth like a puree, scraping down sides with spatula a few times if needed.
Pour the puree into a large mixing bowl, scraping out as much as possible with a spatula. Add in the vital wheat gluten. Mix by hand until just combined (it won't stick to your hands) don't over mix
Turn the seitan dough onto the counter. Do not kneed the dough! Press into a disc approximately 8-9 inches in diameter and about ½ inch thick. Portion the chicken like you would a pie, into 6 pieces. With fingers shape into chicken breast shapes if you like. Wrap pieces individually in aluminum foil, leave a little room for expansion during steaming.
To cook the raw seitan: Place in your steamer basket (pot) with lid and steam for 30 minutes over medium heat, flipping them halfway through.
While the chicken is steaming make the marinade (optional): Add all the ingredients to a medium bowl and whisk together until sugar is dissolved. Set aside
When chicken pieces are done, remove from tin foil packets and place in a shallow dish like a glass pie plate or a large freezer bag. Pour the marinade evenly over the chicken. Cool to room temperature. Marinade in fridge for a minimum of one hour or longer. I usually leave mine for 3-6 hours for better flavour and texture or overnight if I have time. (Whether in marinade or not they need to firm up in fridge for best texture)
The marinade is optional, as soon as they are steamed they are 'cooked' and you can treat them like raw or cooked chicken in any dish except they only need a few minutes of frying/grilling on both sides to essentially add more flavour and heat through. Whether you use this marinade or make your own I recommend basting the chicken with the marinade while cooking, adds juiciness.
Enjoy in place of chicken in any dish! For full ingredients and instructions see recipe card below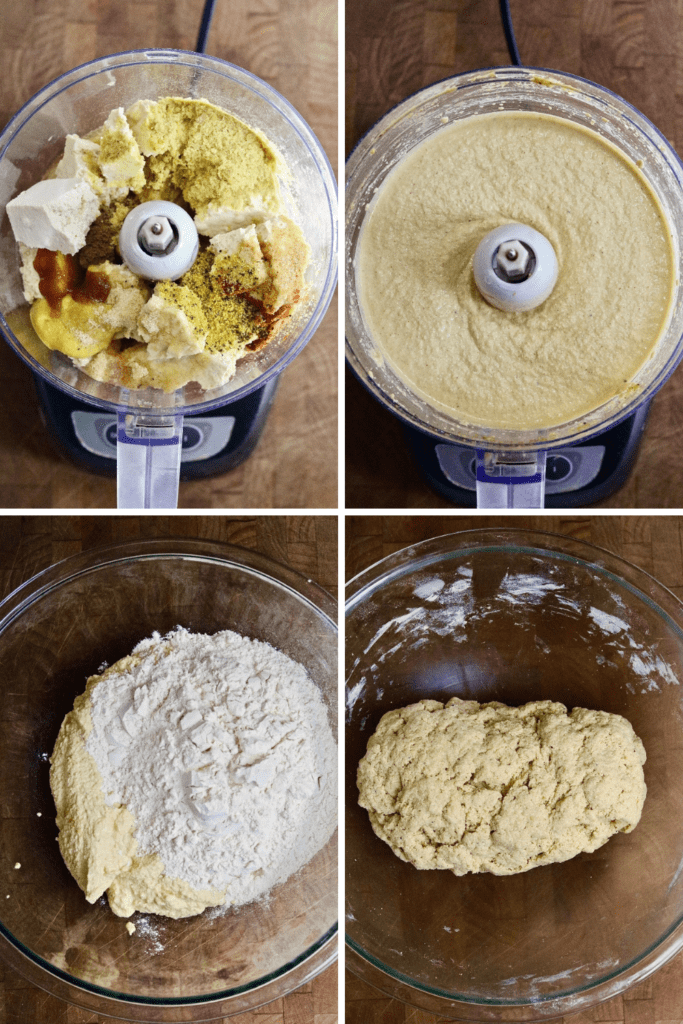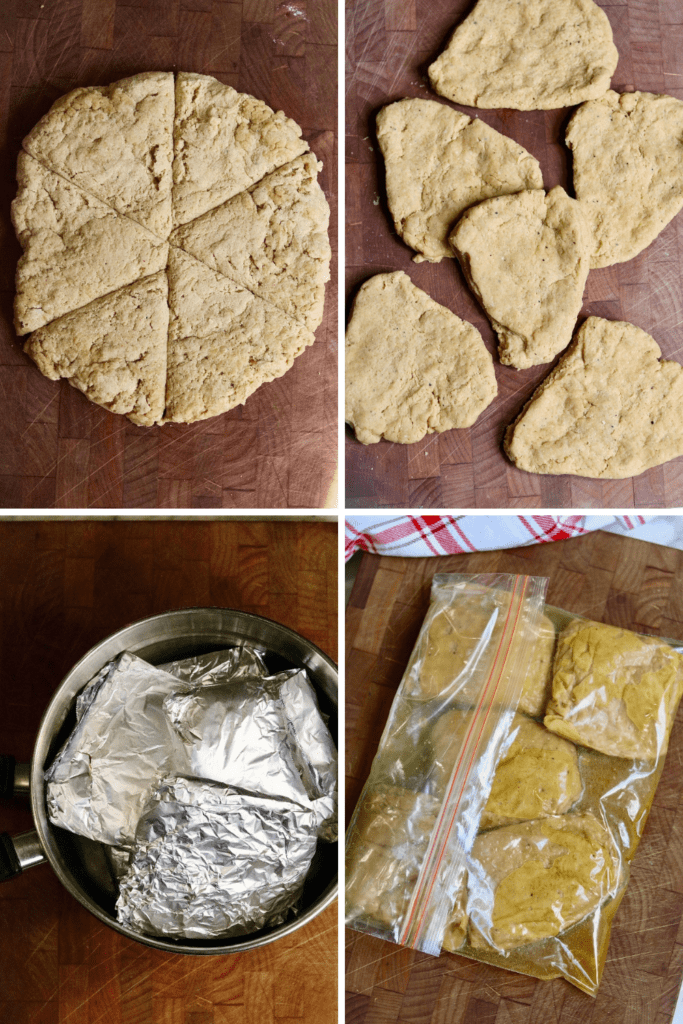 To store and freeze:
Vegan chicken will keep in the fridge for 4-5 days and freezes well with or without the marinade (steamed first)
Frequently asked questions:
What is seitan?
Seitan is a vegan meat substitute made using vital wheat gluten. It is sometimes referred to as "wheat meat"
What is vital wheat gluten?
Vital Wheat Gluten is made from wheat. It is made by washing the wheat flour with water until all the starch has been removed. And you are then left with the gluten which must be cooked before eaten.
Can it be made gluten free?
No unfortunately not, wheat gluten is what gives this 'chicken' its meat texture and holds it together. For gluten free vegan meat options check out vegan meatballs or meatloaf recipe
Recipes you can add this 'chicken' to:
Once the 'chicken' is cooked use it in any one of these dishes. Just swap out the tofu or store bought seitan or add to them!
Pro tips:
do not knead the dough or your mock chicken meat could turn out a little tough
let the steamed/cooked seitan rest in the fridge for at least an hour preferably over night. It becomes firmer and the texture will improve
the marinade is not necessary in this recipe but recommended, adds juiciness and more flavour! Feel free to use your favourite marinade instead!
This scratch made vegan chicken is:
meaty
juicy
chewy
high in protein
really simple to make
versatile
wonderful meat replacer!
delicious
kid friendly
More vegan meat recipes:
Enjoy everyone! Happy Day! Please feel free to comment below and give this recipe a rating. Your feedback is greatly appreciated!
Follow me on PINTEREST and INSTAGRAM for more tasty Plant Based & Vegan Recipes❤️
Subscribe here for free weekly recipes delivered right to your inbox! No need to scour the internet. Your one stop shop for recipes is here😊 No spam I promise!
Print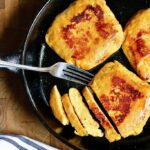 Vegan Chicken (Seitan)
---
Author:

Verna

Total Time:

45 minutes

Yield:

6

-

8

Servings

1

x

Diet:

Vegan
Description
Vegan 'Chicken'! My vegetarian meatless alternative to real chicken, juicy, meaty, chewy full flavoured seitan, it's super easy to make! Perfect for frying, grilling or to replace chicken in any dish! Nut free.
---
For chicken seitan:
For marinade (optional):
2 tablespoons

oil, I use grapeseed oil

1 tablespoon

white wine vinegar

2 tablespoons

brown sugar, lightly packed

1 tablespoon

better than bouillon vegetarian no chicken soup base

1 tablespoon

fresh lemon juice

½ tablespoon

vegan Worcestershire sauce

⅓ cup

water

½ teaspoon

garlic powder
---
Instructions
Drain tofu and wrap in a few layers of paper bowl squeeze out extra moisture with your hands. Break into chunks and add to food processor with rest of ingredients EXCEPT GLUTEN and process until smooth like a puree, scraping down sides with spatula a few times if needed.
Pour the puree into a large mixing bowl, scraping out as much as possible with a spatula. Add in the vital wheat gluten. Mix by hand until just combined (it won't stick to your hands) don't over mix
Turn the seitan dough onto the counter. Do not kneed the dough! Press into a disc approximately 8-9 inches in diameter and about ½ inch thick. Portion the chicken like you would a pie, into 6 pieces. With fingers shape into chicken breast shapes if you like. Wrap pieces individually in aluminum foil, leave a little room for expansion during steaming.
To cook the raw seitan: Place in steamer basket (pot) with lid and steam for 30 minutes over medium heat (water should be boiling), flipping them halfway through.
While the chicken is steaming make the marinade (optional): Add all the ingredients to a medium bowl and whisk together until sugar is dissolved. Set aside
When chicken pieces are done, remove from tin foil packets and place in a shallow dish like a glass pie plate or a large freezer bag. Pour the marinade evenly over the chicken. Cool to room temperature. Cover and marinade in fridge for a minimum of one hour or longer. I usually leave mine for 3-6 hours for better flavour and texture or overnight if I have time. (Whether in marinade or not they need to firm up in fridge for best texture)
Marinade: The marinade is optional, as soon as they are steamed they are 'cooked' and you can treat them like raw or cooked chicken in any dish except they only need a few minutes of frying/grilling on both sides to essentially add more flavour and heat through. Whether you use this marinade or make your own I recommend basting the chicken with the marinade while cooking, adds juiciness.
Enjoy in place of chicken in any dish!

For step by step photos, Tips, FAQ see above post
Notes
To store and freeze: will keep in the fridge for 4-5 days and freezes well with or without the marinade (steamed first)
the nutritional chart does not include marinade ingredients
I have not tested this recipe in the instant pot
Prep Time:

15 Minutes

Cook Time:

30 Minutes

Category:

Mains

Method:

food processor, steamer

Cuisine:

American, Canadian
Keywords: vegan chicken, seitan,