If you're a fan of spicy Thai peanut flavors, you're going to love this recipe for Vegan Thai Peanut Ramen. It's the perfect blend of the creamy, spicy, and savory all-in-one dish.
Inspired by all of the best ramen dishes from my travels, this may not be a completely authentic dish, but it is very close. I love the added curry paste and you will too!
If you like this dish, then you will love these vegan teriyaki noodles too! A perfect way to add tons of flavor to your plant-based diet.
Ingredients
Ramen noodles
Vegetable broth
Coconut milk
Olive oil
Garlic
Fresh ginger
Green curry paste
Peanut butter
Agave syrup
Soy sauce
Lime juice
Optional Toppings :
Mushrooms
Black sesame
Thai chili peppers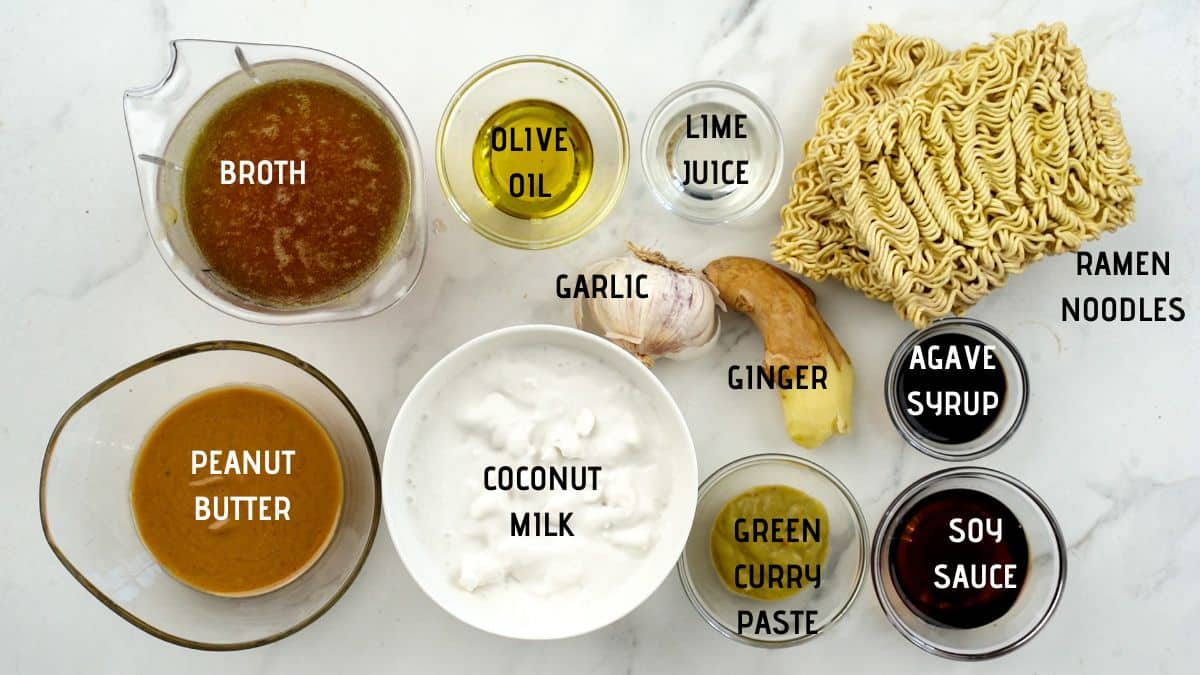 Instructions
In a saucepan, heat the olive oil over medium heat. Add in the garlic and fresh ginger, and cook for just 1 or 2 minutes, until aromatic. Stir regularly being careful to not let it burn. Then, add in the curry paste and stir, cooking for an additional 1 minute or until aromatic.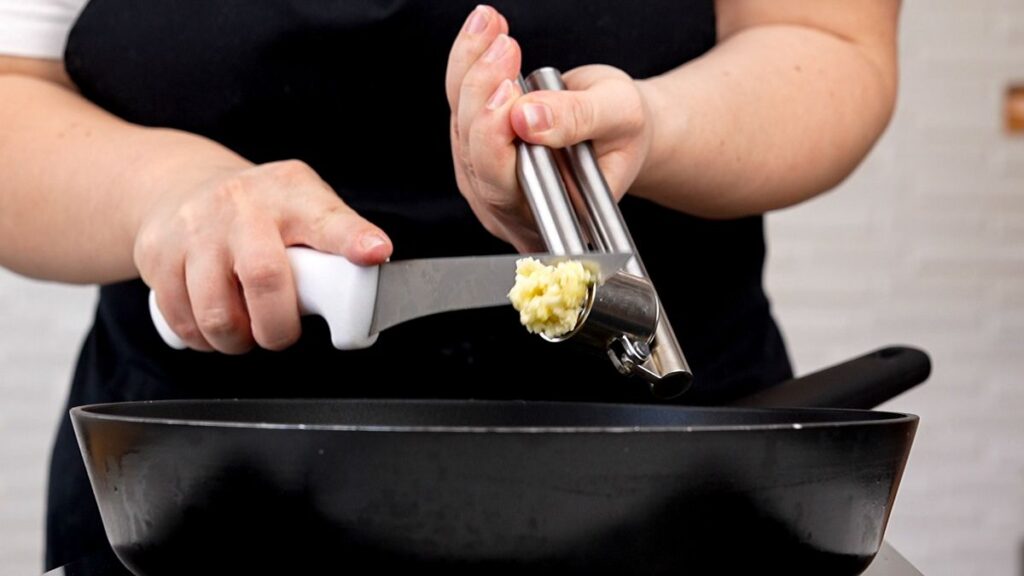 Whisk in ½ of the vegetable broth and all of the coconut milk, stirring regularly. Let the mixture simmer for 3 to 4 minutes.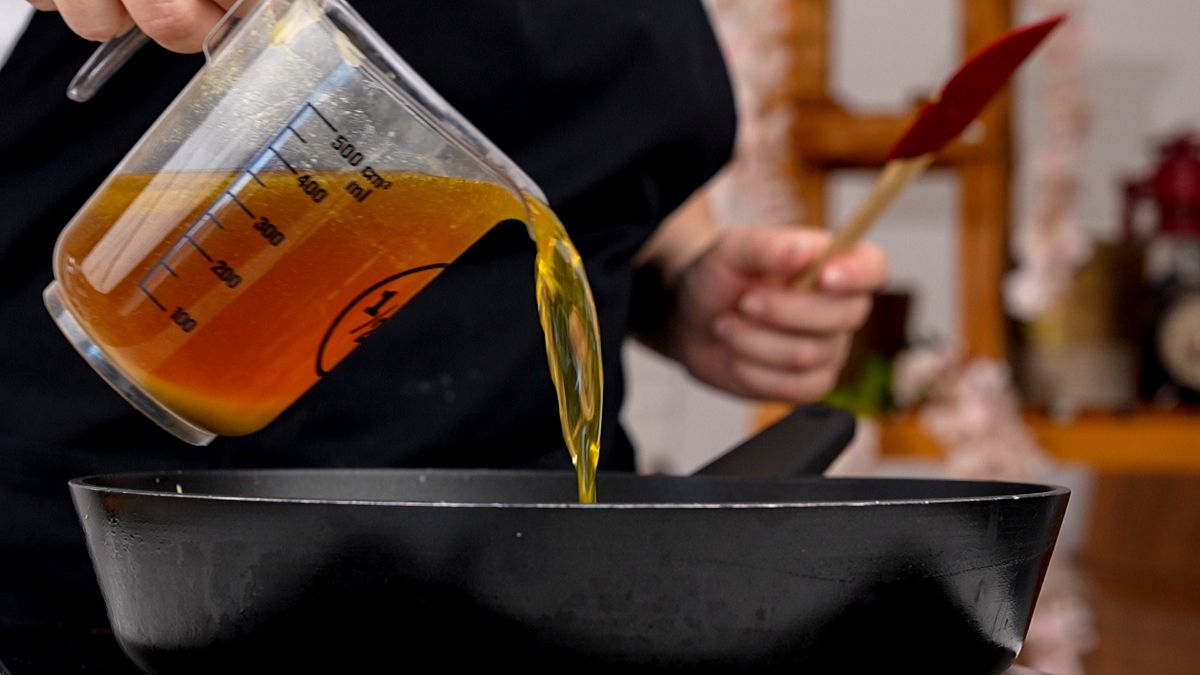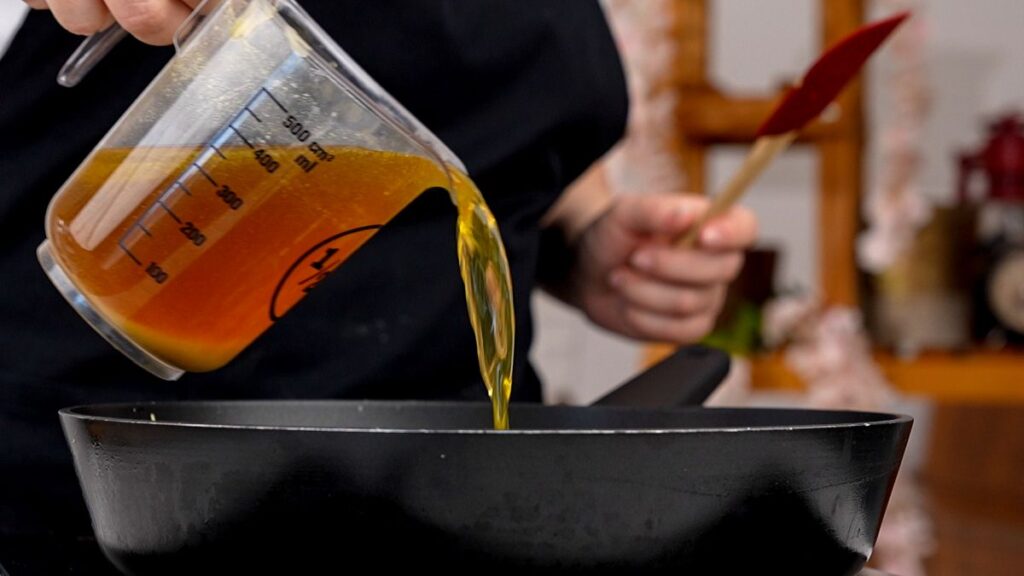 In a medium bowl, whisk the remaining vegetable broth and peanut butter together. Then add it to the pan with the rest of the seasoned broth.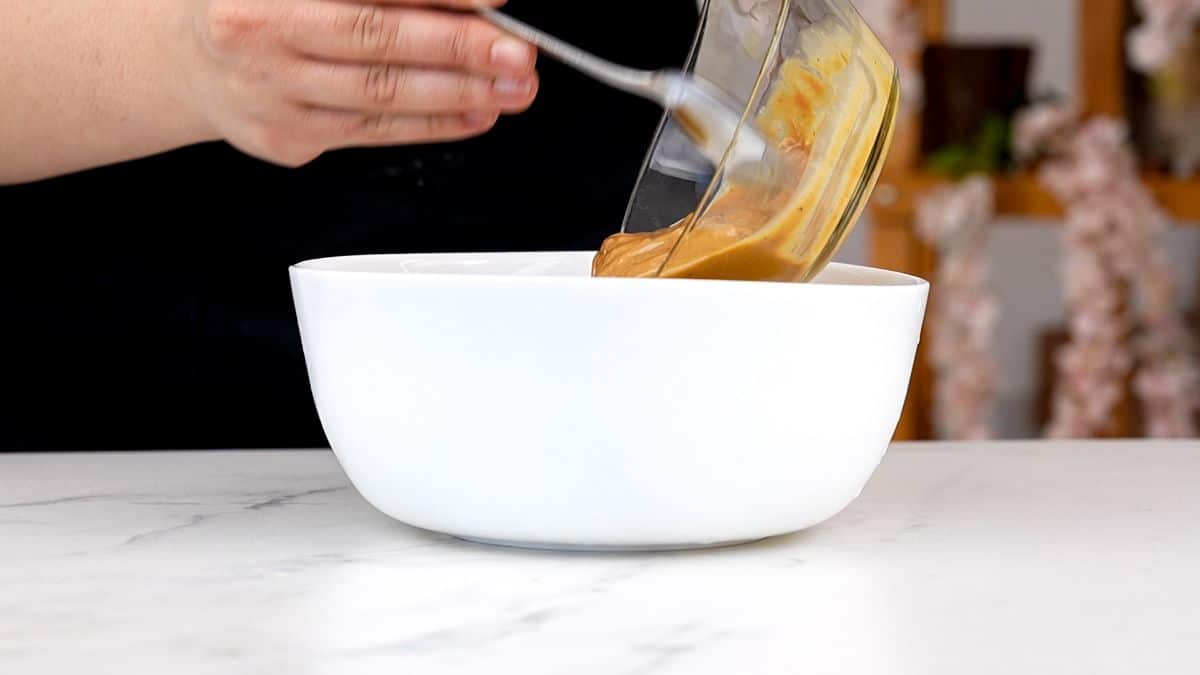 Add the agave syrup, soy sauce, and lime juice. Stir then taste and add salt and black pepper to taste. Let this simmer for another 3 to 4 minutes, then add noodles.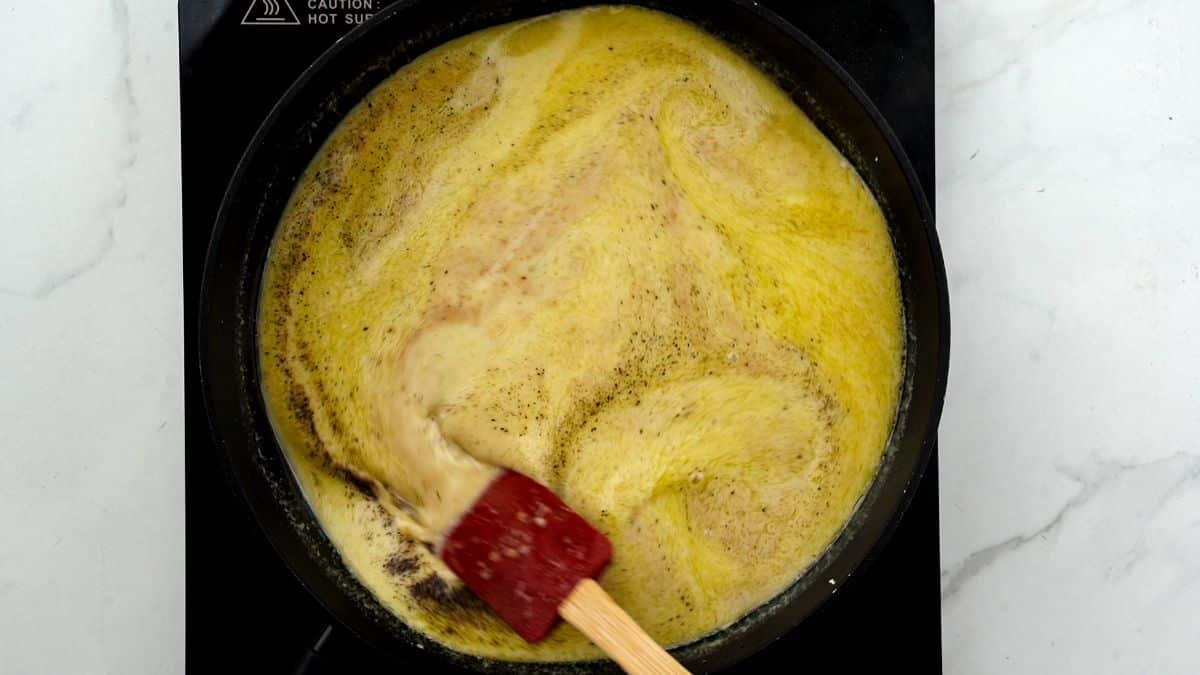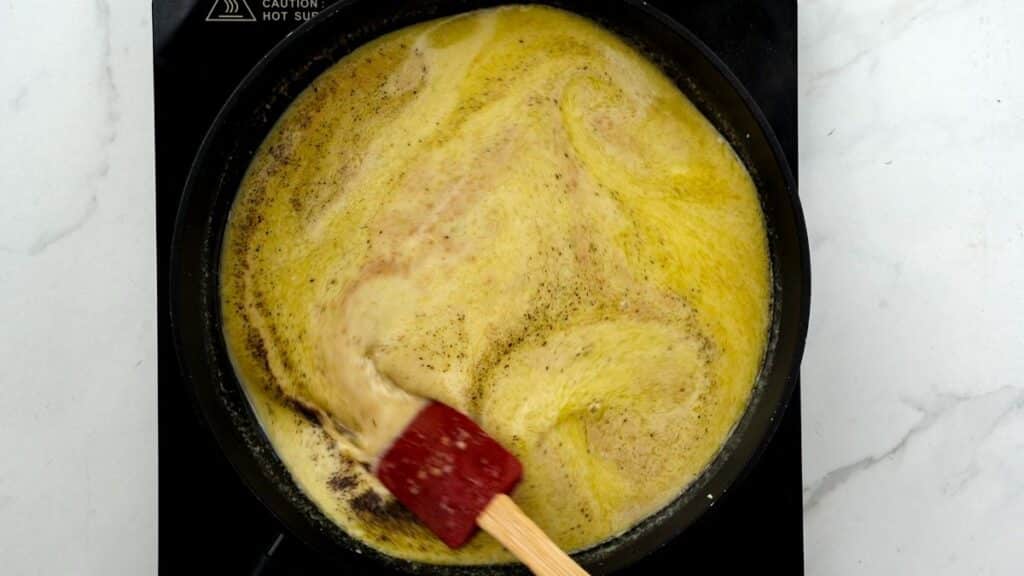 Cook until tender and serve as desired.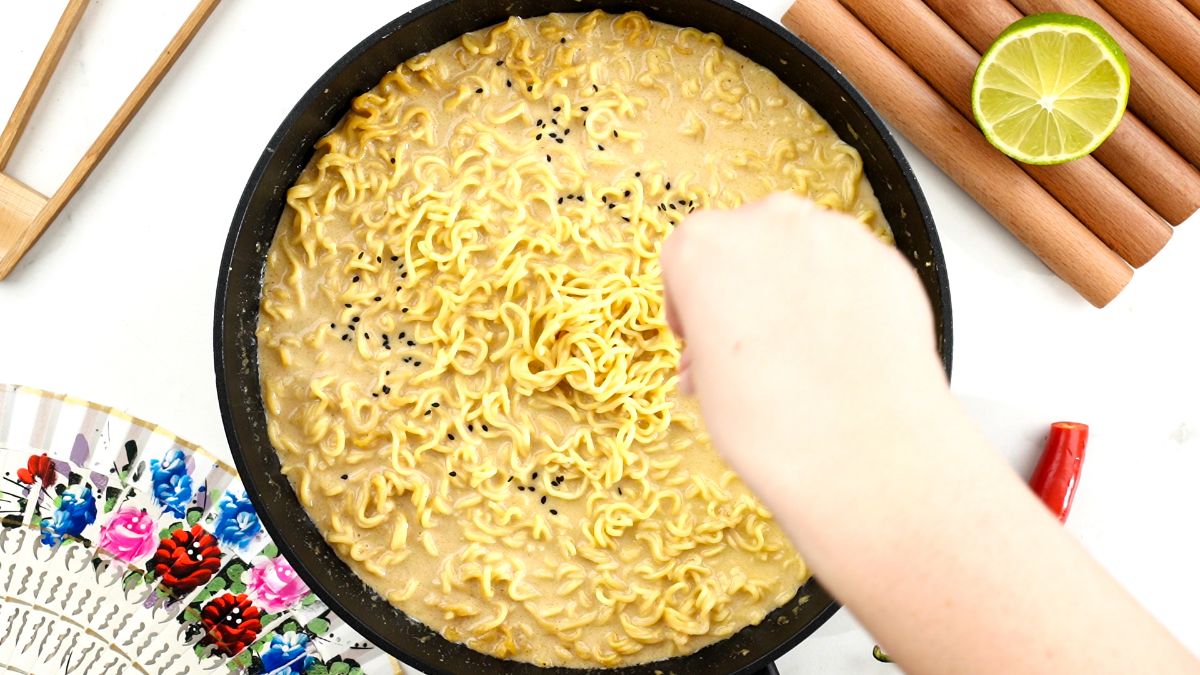 Hint: Use rice noodles in place of ramen noodles for a faster cook time.
Substitutions
Substitutions are easy with this recipe because it really is a simple flavored broth with noodles. Below are some great substitutions to consider.
Replace the vegetable broth with mushroom broth for a richer earthy flavor.
Use less curry paste or omit it if too spicy.
Add rice noodles instead of traditional ramen noodles for a different texture and faster cooking time.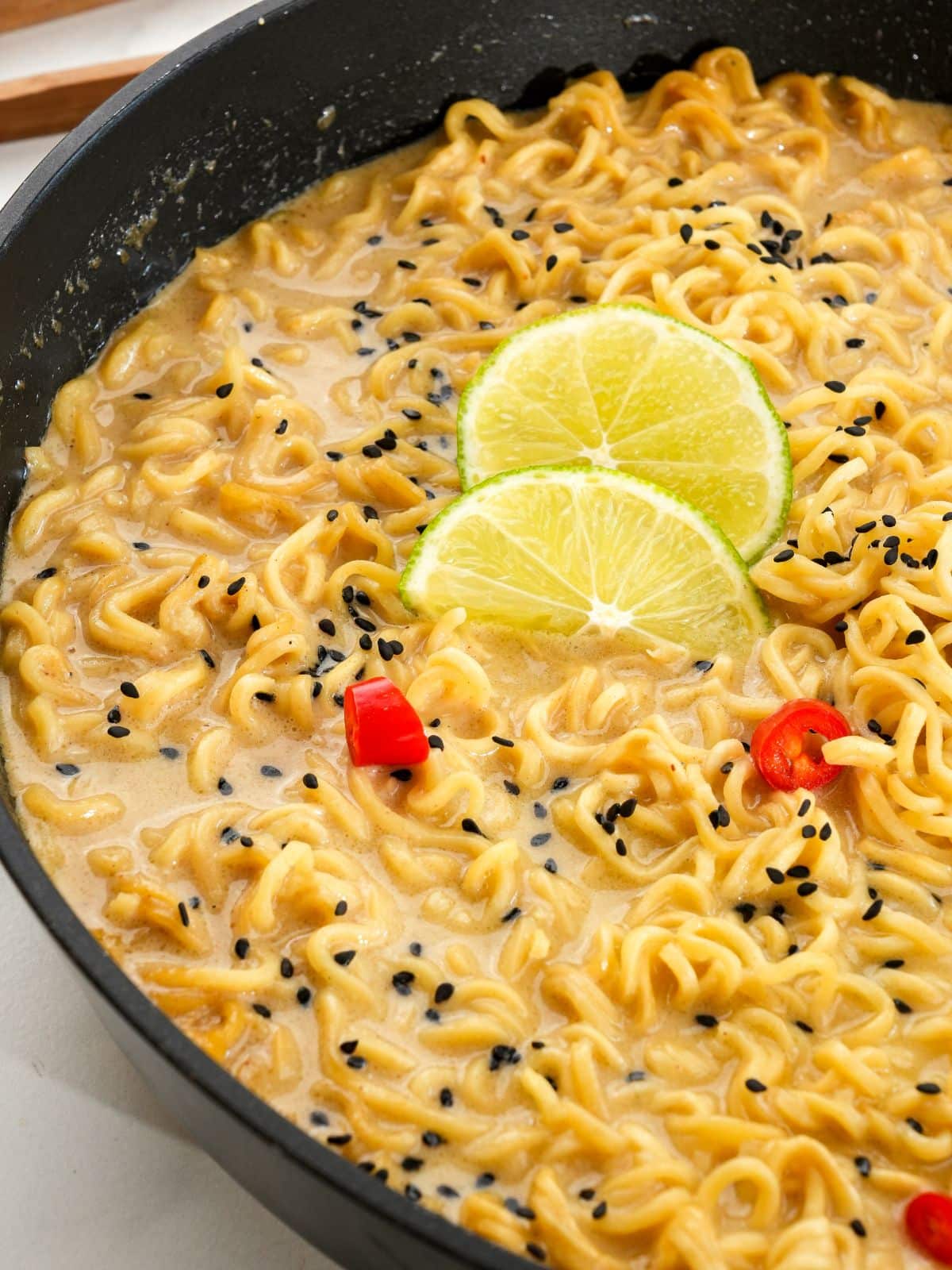 Variations
One of the best things about this is how easy it is to customize. You have two main elements: a flavorful broth and noodles. Below are a few other things to add to the Thai peanut ramen that will elevate this meal even more.
Add vegetables to the soup such as broccoli, carrots, zucchini, or mushrooms.
Amp up the protein with tofu, tempeh, or seiten.
Top with fresh cilantro, diced green onions, sliced jalapenos, or fresh bean sprouts.
Drizzle the top with sesame oil before serving.
Use a different nut butter such as almond butter, cashew butter, or macadamia nut butter.
Get creative and make this ramen your own. You can even make a large batch of broth and then customize it for different meals throughout the week.
Equipment
To make homemade ramen, you only need a few supplies you probably already have on hand in your kitchen. Below are my recommendations for you to consider when making this dish.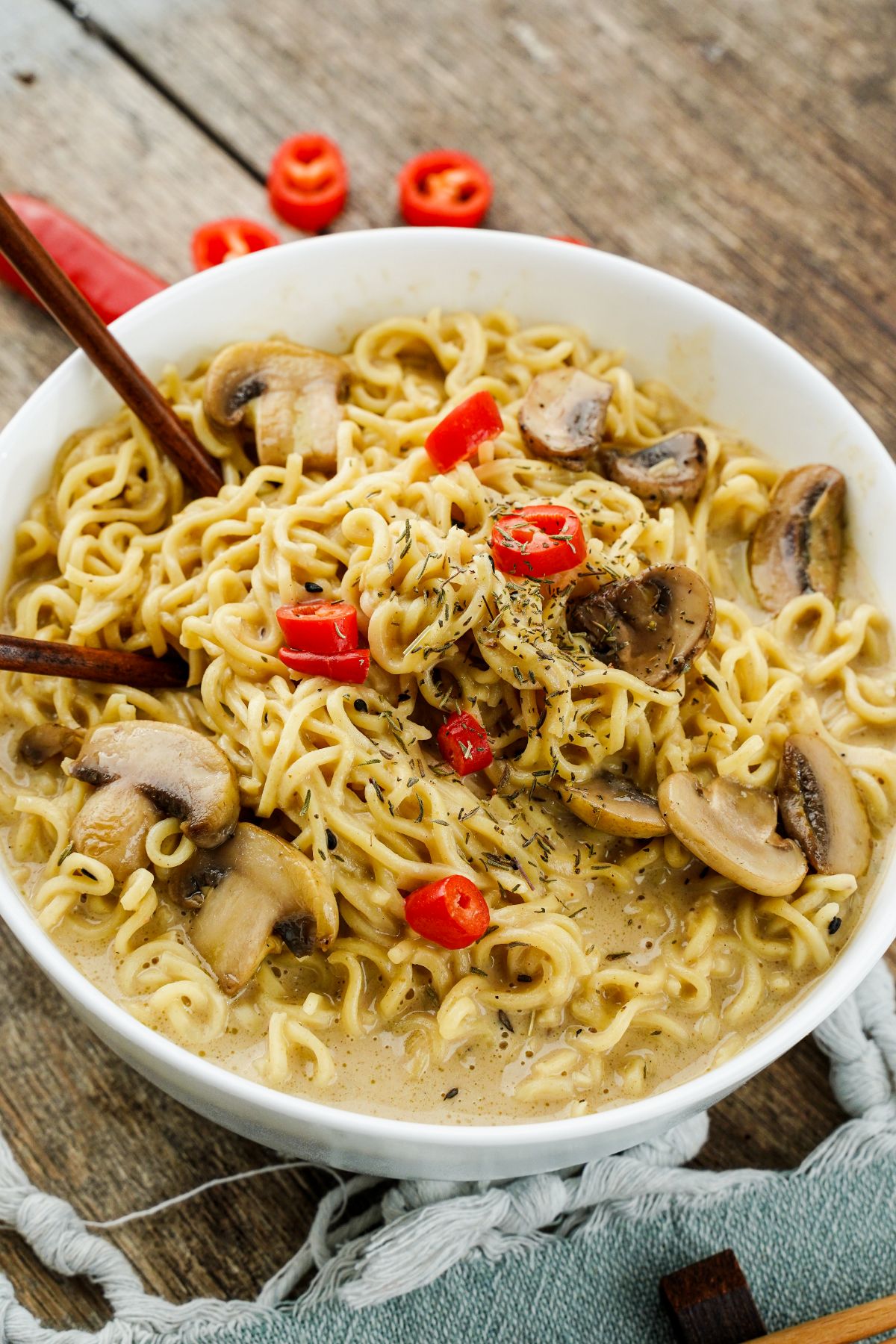 Storage
To store leftovers, let the ramen cool and then transfer it to an airtight container in the refrigerator. It will last for up to three days.
When you're ready to reheat, add a splash of broth or water to help loosen up the noodles and warm up the broth.
The broth can also be frozen for up to 3 months. I do not recommend adding noodles to the broth until just before serving. So, freeze just the broth, and thaw in the refrigerator overnight before heating on the stovetop and adding noodles for a few minutes to cook through.
Top Tip
To make this the best vegan Thai peanut ramen you've ever had, don't overcook the noodles. Follow the instructions on the package and cook them until they are just tender. Overcooking will lead to mushy noodles, and nobody wants that. And don't forget the toppings! Fresh herbs, chopped peanuts, and a squeeze of lime juice will take this dish to the next level.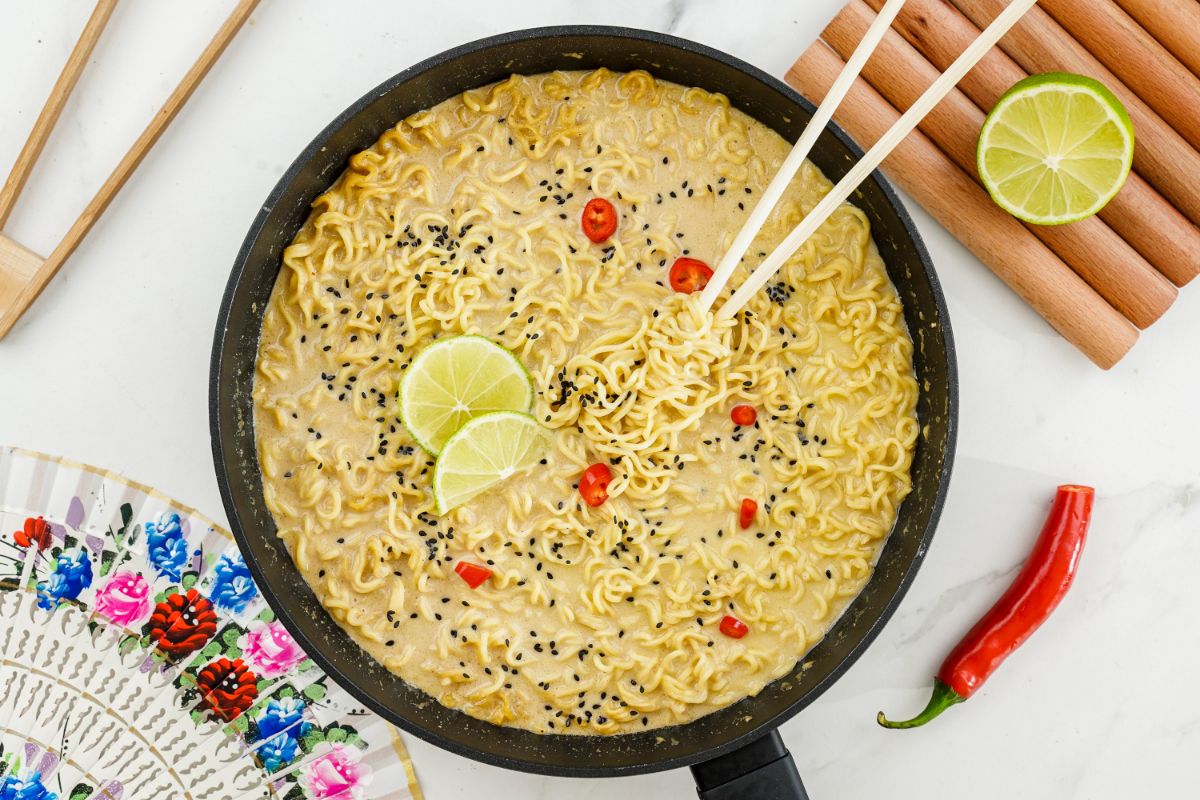 FAQ
Can I use any type of ramen noodles?
Yes, you can use any type of ramen noodles for this recipe. However, I recommend using whole wheat ramen noodles, as they are higher in fiber and nutrients.
Can I use any type of peanut butter?
Yes, you can use any type of peanut butter for this recipe. However, I recommend using smooth peanut butter, as it will create a smoother sauce.
Related
If you like the flavors of Thai cuisine, then I know you will love the dishes below. Curry and spice are a perfect way to add something unique to your plant-based menu.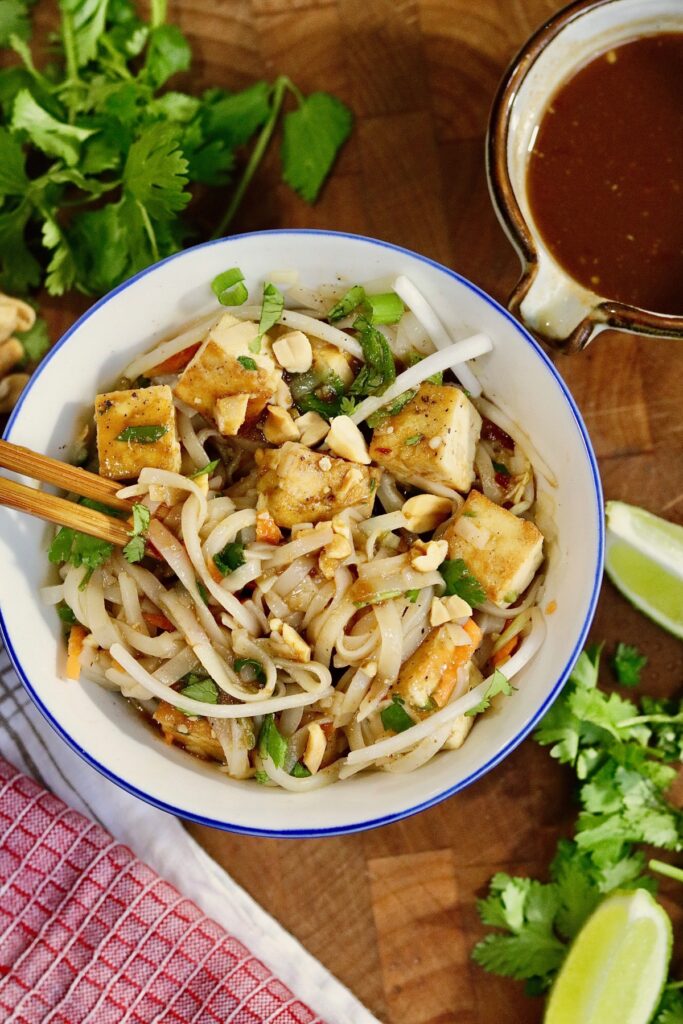 Pairing
While this bowl of ramen is a full meal by itself, you may want to stretch it further and pair it with one of the recipes below. So much flavor and variety! Vegan never means boring.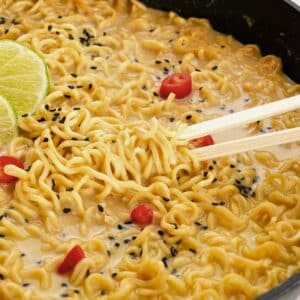 Spicy Thai Peanut Ramen
Craving a delicious and filling vegan dish? Look no further than this spicy Thai peanut ramen recipe, boasting a rich broth made from peanut and other flavorful ingredients.
Instructions
Begin by heating up some olive oil in a saucepan on medium heat. Once heated, add in the fresh ginger and garlic and cook for a couple of minutes until they release their aromas, stirring occasionally to prevent burning.

After that, add the curry paste to the mixture and cook for another minute until it too becomes fragrant.

Next, whisk in half of the vegetable broth along with all of the coconut milk while stirring regularly. Allow the mixture to simmer for approximately 3 to 4 minutes.

In a separate medium-sized bowl, whisk together the remaining vegetable broth and peanut butter until well combined. Pour this mixture into the saucepan with the seasoned broth.

Add agave syrup, soy sauce, and lime juice into the pan, then stir everything together. Taste the mixture and add salt and black pepper to your liking. Let it simmer for another 3 to 4 minutes before finally adding noodles. Cook until the noodles are tender, and serve the dish as desired.
Notes
Serve topped with your favorite pho or ramen toppings. Ideas below.

Crushed peanuts
Fresh cilantro
Sprouts
Shaved carrots, zucchini, or cabbage
Sesame oil
Nutrition
Calories:
672
kcal
Carbohydrates:
50
g
Protein:
15
g
Fat:
49
g
Saturated Fat:
28
g
Polyunsaturated Fat:
5
g
Monounsaturated Fat:
13
g
Sodium:
2462
mg
Potassium:
534
mg
Fiber:
3
g
Sugar:
13
g
Vitamin A:
703
IU
Vitamin C:
4
mg
Calcium:
55
mg
Iron:
6
mg
Food Safety
Are you preparing your meals in a safe manner? Below are a few must-do things that will help keep you and your family healthy. A sanitary kitchen is a safe kitchen. Keep these in mind next time you begin to prepare a meal.
Always sanitize countertops, cutting boards, utensils, and cookware thoroughly between each use.
Wash your hands in warm soapy water, rubbing for at least 20 seconds before rinsing. Remember, "FROG" means friction rubs off germs.
After serving food, allow it to cool, then place it into the refrigerator or proper storage immediately. Food should be at room temperature for no more than 2 hours for safety.