This oat smoothie with peanut butter is the perfect vegan breakfast to refresh and nourish your body. Loaded with fiber, protein, and your favorite peanut butter flavor, it's ready in minutes and ideal for on-the-go breakfasts.
Peanut Butter Smoothie
This oat smoothie is another version of a favorite peanut butter smoothie. Rather than using a bunch of dairy or fruits like many smoothies, this recipe focuses on oats and peanut butter.
Oats are a staple ingredient in many plant-based diets because they are rich in fiber, protein, and essential vitamins and minerals. They are also known to help regulate blood sugar levels and reduce cholesterol.
Almond milk is a popular alternative to dairy milk among vegans, as it is lactose-free, low in calories, and high in vitamins and minerals. Additionally, it provides a creamy texture to the smoothie, making it even more enjoyable to drink.
Peanut butter is a popular choice for everyone, and as long as you don't have nut allergies, this is going to be a perfect boost of protein to your smoothie.
And if you prefer the classic fruit flavors, check out our blueberry banana smoothie or this tasty mango smoothie recipe. Both are just as delicious and nutritious!
Ingredients
1 cup almond milk
½ cup rolled oats
⅔ cup water
2 tablespoons agave syrup
½ teaspoon vanilla extract
1 ½ tablespoons peanut butter
Tools Used
Blender: this is a must, and I recommend investing in a quality high-speed blender if you plan to make smoothies on a regular basis. It helps give you a consistent smooth texture.
Measuring cups and spoons: you can make a smoothie without measuring ingredients, but this recipe is practically perfect, so I recommend reaching for the measuring cups first.
Video Recipe
How to Make an Oat Smoothie with Peanut Butter
This recipe is so simple you just need to throw everything into the blender and pulse on high for 30 seconds, or until smooth.
In a pinch, it can be made in a food processor but is easiest and best when made in a blender.
Frequently Asked Questions
What type of oats is best in a smoothie?
For this recipe, I have used rolled oats. You can use quick oats interchangeably with rolled oats. However, I find the extra texture thickens this nicely. I suggest trying it both ways and finding which you prefer once incorporated.
Is it okay to put raw oats in a smoothie?
Absolutely! They are versatile ingredients that can be cooked into a creamy porridge or added to many recipes for texture and fiber. In this case, the rolled oast is pulsed along with other ingredients and is used for added fiber and a thickening agent.
Should I soak oats before putting them into a smoothie?
While it is not necessary, it is an option that will soften the oats and make them a bit easier to blend so they are smooth. I would recommend soaking for no more than 5 minutes.

If soaking, add them to the water in the ingredients list. Do not add extra liquid.
Can you make smoothies ahead of time?
Yes. Smoothies are a perfect option for making ahead of time. Since this oat smoothie with peanut butter doesn't use ice or a frozen ingredient, it is simple to prepare in advance and store in your refrigerator for later.

I do not recommend making these more than 2 days before use as the textures and flavor will change a bit the longer they are stored. This smoothie does not freeze well.
What else can I add to a smoothie to boost the protein?
This oat smoothie with peanut butter already has nearly 13g of protein. If you have a higher macro to meet each day, it is a simple recipe to increase protein. Below are a few great ideas that can be added to this drink to bring in more protein.
Vegan protein powder - vanilla, chocolate, or peanut butter flavor would fit perfectly.
Additional peanut butter - or replace with cashew butter, almond butter, or sunflower butter
Seeds - popular additions that have lots of protein are flax seeds, chia seeds, hemp seeds, and pumpkin seeds.
Dairy-free yogurt - there are several types of almond yogurt, coconut yogurt, and soy yogurt on the market to use in recipes like this.
Tofu - soft tofu is ideal for adding to a smoothie as it blends perfectly and takes on the flavor of the smoothie.
Peanuts - sprinkled on top or stirred in after blending, crushed peanuts add protein and texture.
Avocado - creamy and easy to blend, it is filled with healthy fats and a bit of extra protein.
Cacao nibs - you will find 2 grams of protein in every 2 tablespoons of cacao nibs. A great excuse to add them.
Spirulina - adding 1 tablespoon of spirulina powder adds an extra 4 grams of protein to your smoothie.
Some of these options can add upwards of 20 grams of protein to a single smoothie. Mix and match or even try different nut butter for a unique flavor that also adds protein to the meal.
More Recipes Using Oats
Oats are a wonderful addition to any menu, but especially to a plant-based diet. They are loaded with good carbohydrates and fiber and are affordable. If you have oats on hand and want more variety than just the smoothie, check out our ideas below. You'll love how you can mix them into so many things! Bookmark your favorite recipes, print them out, or even pin them to Pinterest to make soon!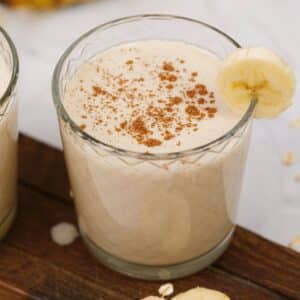 Vegan Oat Smoothie with Peanut Butter
A tasty oat smoothie with peanut butter is a perfect vegan treat that is ready in just 2 to 3 minutes. Loaded with flavor from almond milk, peanut butter, and a hint of vanilla, this is sure to be a family favorite breakfast.
Instructions
Add all ingredients to a blender and pulse until smooth.

Taste and add additional peanut butter or almond milk to thicken or thin if needed.
Notes
Add chia seeds or ground flak to thicken and increase protein if desired.
Use any dairy-free milk option including coconut milk, hemp milk, rice milk, and soy milk to replace dairy milk.
If allergic, you can substitute peanut butter with any nut butter or sunflower seed butter.
For added flavor, include a scoop of chocolate protein powder, or use a chocolate-flavored almond milk.
Nutrition
Calories:
234
kcal
Carbohydrates:
33
g
Protein:
6
g
Fat:
9
g
Saturated Fat:
1
g
Polyunsaturated Fat:
3
g
Monounsaturated Fat:
4
g
Sodium:
220
mg
Potassium:
143
mg
Fiber:
3
g
Sugar:
16
g
Vitamin C:
4
mg
Calcium:
169
mg
Iron:
1
mg