Indulge in the rich and creamy goodness of vegan chocolate pudding. Made with ripe avocados, dark cocoa powder, and a touch of sweetness, this plant-based dessert is a delightful treat for chocolate lovers.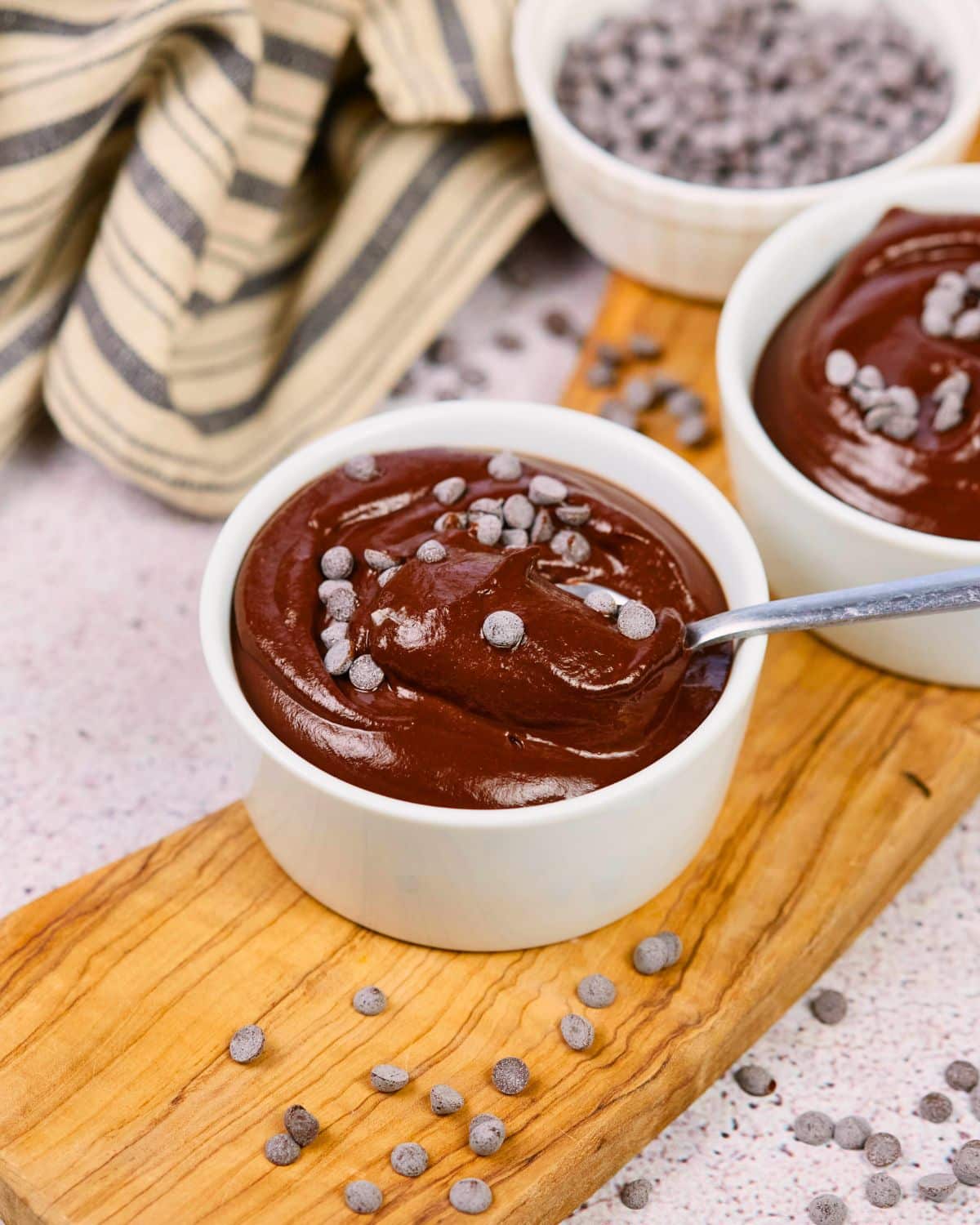 Discover our easy-to-follow recipe and variations, perfect for those seeking a dairy-free and egg-free alternative. Enjoy the velvety texture and decadent flavor of this vegan delight.
If you want another chocolate treat, make sure you check out our no-churn vegan chocolate ice cream.
Jump to:
🥘Ingredients
The exact measurements can be found in the printable recipe card below.
Coconut milk
Agave syrup
Brown sugar
Avocado
Dark cocoa powder
Salt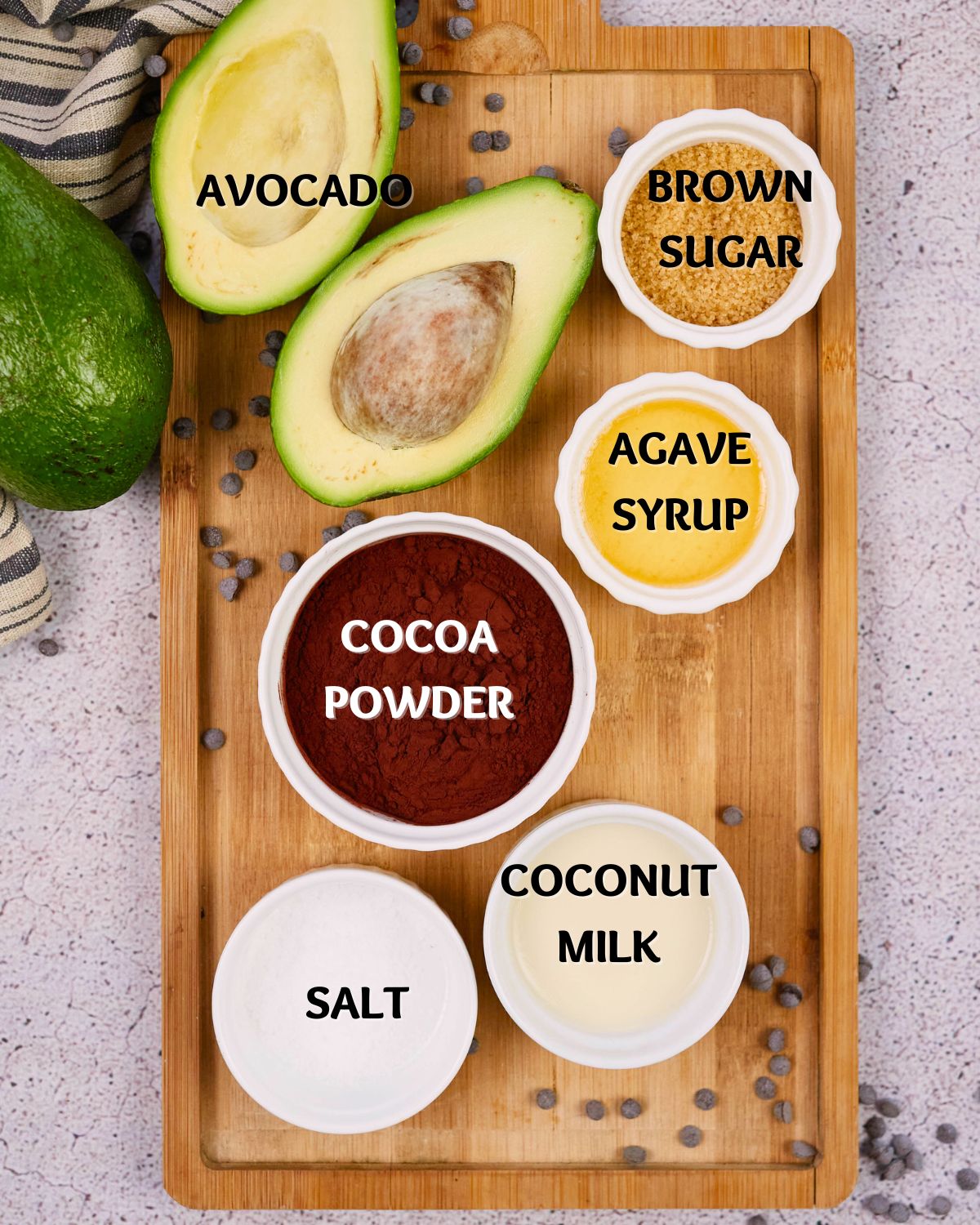 🔪Instructions
Peel and remove the seed from the avocado, then cut it into a few large chunks. Add this to the blender.
Then, add all of the other ingredients and pulse on high for 1 to 2 minutes, until it is smooth and creamy.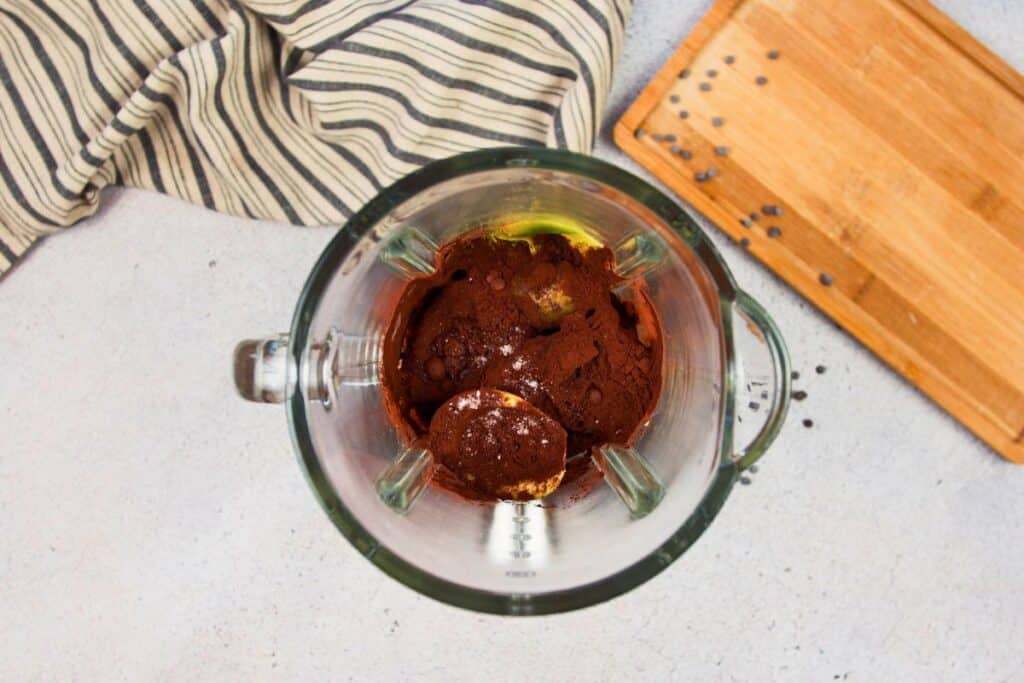 Taste and add additional sweetener if needed, then serve.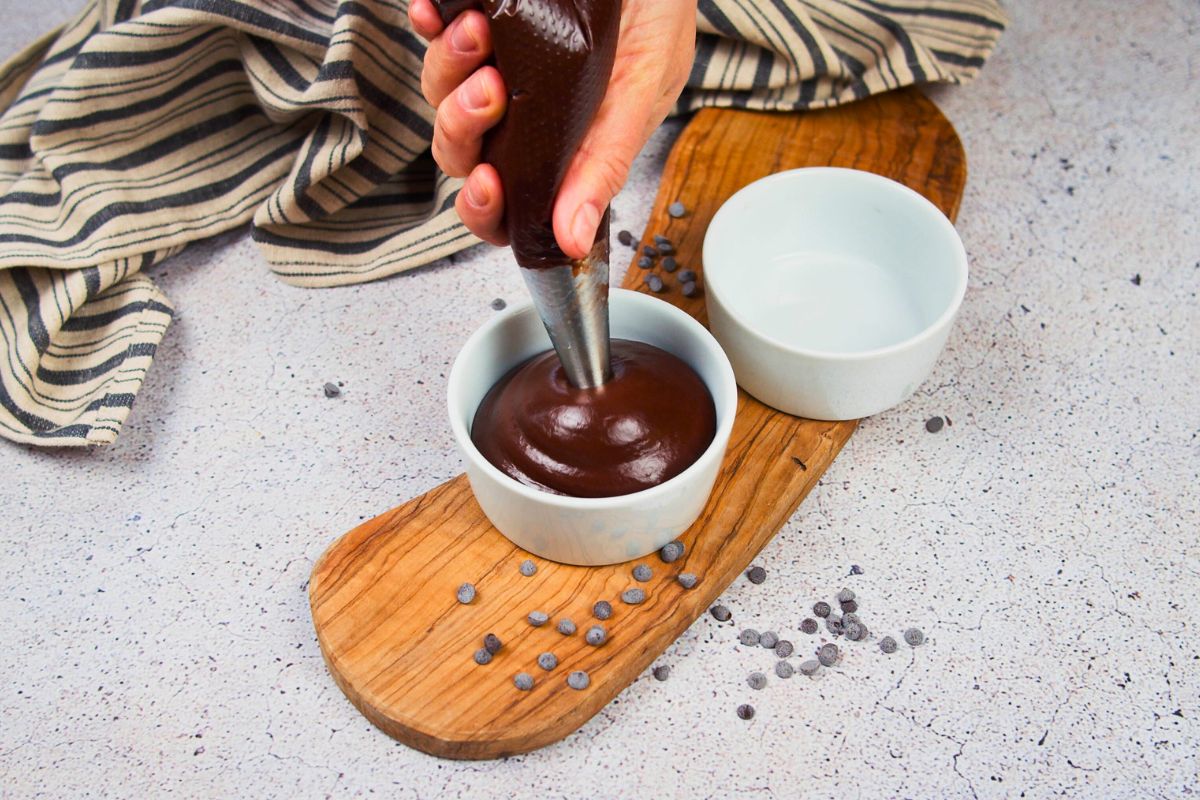 📋 Substitutions
Don't have everything on hand to make this recipe? Check out some of our suggestions below for substitutions.
Avocado: If you don't have ripe avocados or prefer not to use them, you can substitute them with 1 cup of mashed banana or ¾ cup of silken tofu.
Agave syrup: Agave syrup is a common sweetener used in vegan recipes, but you can replace it with other liquid sweeteners like maple syrup, coconut nectar, or date syrup. Adjust the amount according to your taste preferences.
Brown sugar: If you prefer not to use brown sugar, you can substitute it with coconut sugar, maple sugar, or another type of granulated sugar. Keep in mind that the flavor and sweetness levels may vary slightly.
Full-fat coconut milk: Coconut milk adds richness to the pudding, but you can substitute it with other non-dairy milk alternatives like almond milk, soy milk, or oat milk. Choose a full-fat variety or add a tablespoon of coconut cream to achieve a creamier consistency.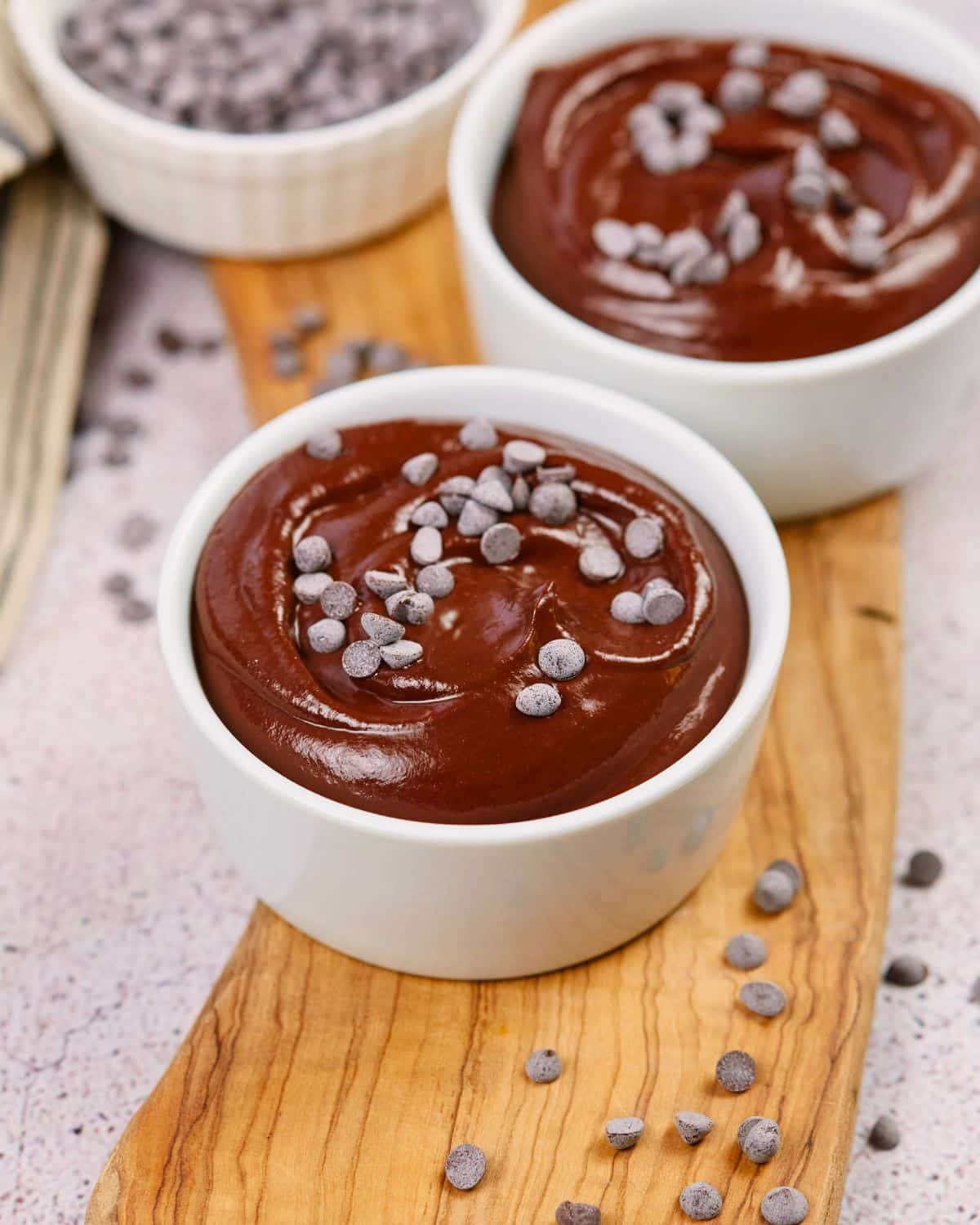 📖 Variations
I love chocolate, but sometimes it needs a bit of something extra to make the flavor pop! Below are some fun variations that will make this pop.
Add ½ teaspoon of peppermint extract to the pudding mixture and garnish with vegan chocolate chips or crushed peppermint candies.
Mix in 2 tablespoons of natural peanut butter to the pudding and swirl it gently to create a marbled effect.
Add 1 teaspoon of orange zest to the pudding and garnish with grated dark chocolate and a sprinkle of orange zest.
Serve the pudding with a handful of fresh raspberries or swirl in some raspberry puree for a fruity twist.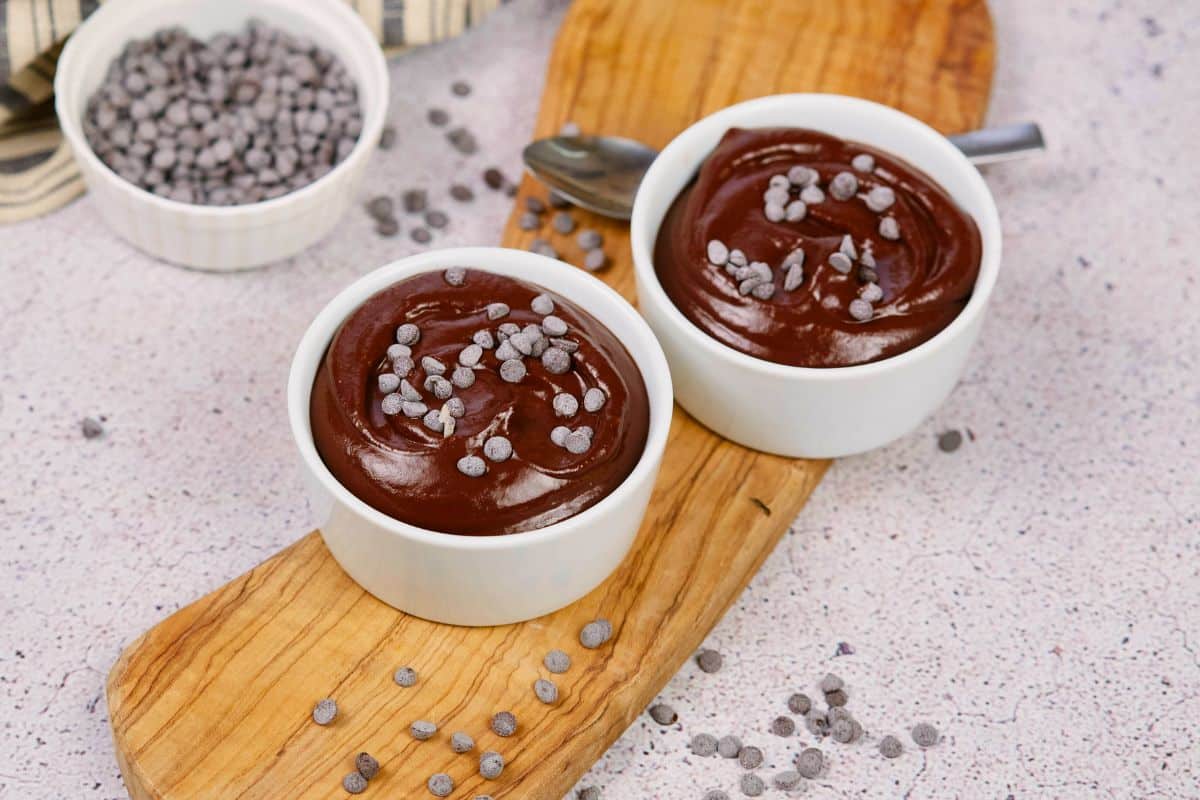 🥘 Storage Tips
Store the vegan chocolate pudding in an airtight container or individual serving bowls covered with plastic wrap. It should be kept refrigerated and consumed within 2-3 days for the best taste and texture. Before serving, give it a stir to ensure the pudding is well combined.
🍽 Equipment
Is your kitchen filled with all the tools you need? Check out our list below for some favorite tools to keep on hand.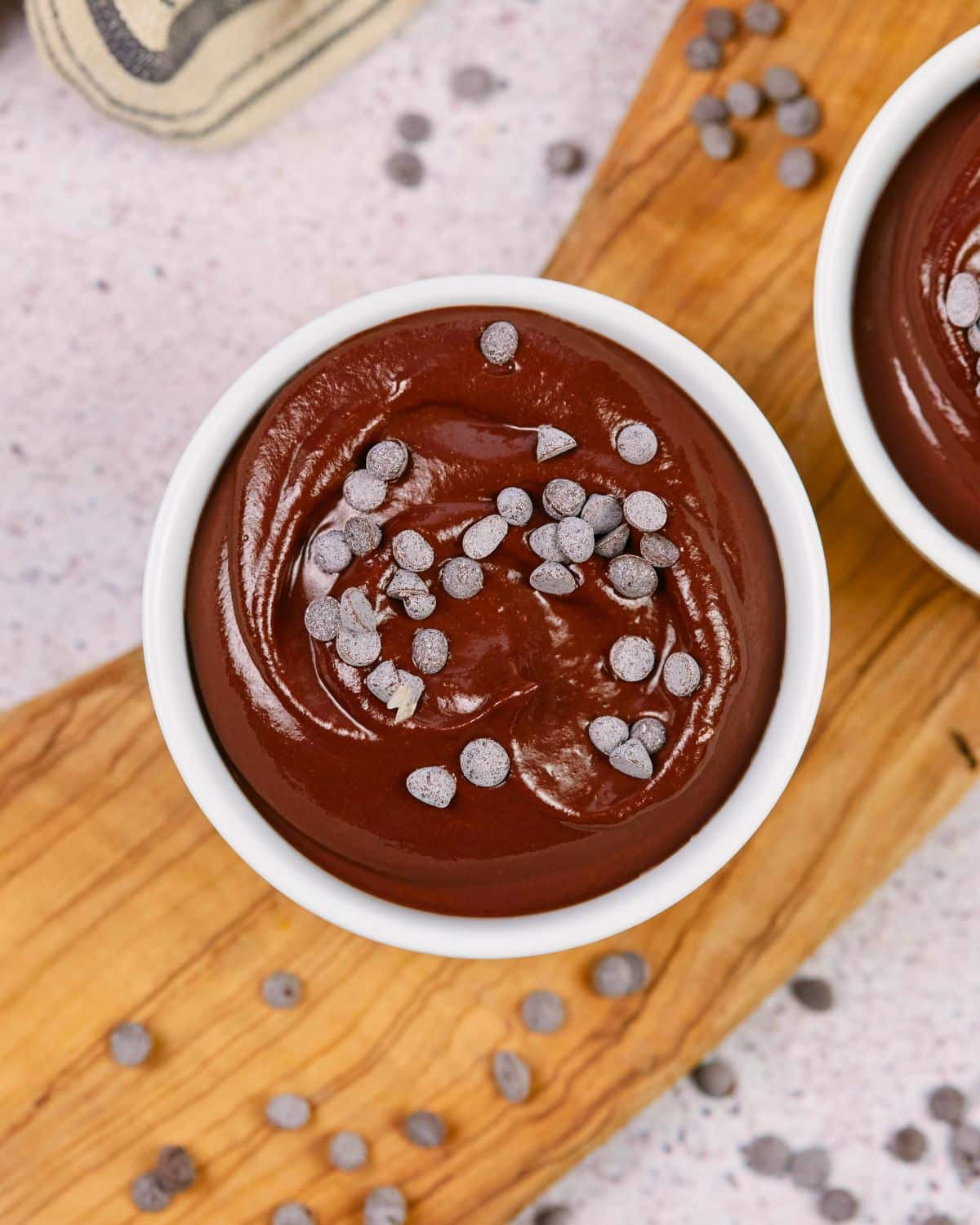 👩🏽‍🍳Top Tip
When making this pudding, the most important thing to consider is making sure your avocados are fully ripe so they blend into the creamy texture you expect. They should be firm but have some give, and the avocado should usually be a dark green on the outside.
💭 FAQs
How can I make sure the pudding isn't grainy?
This is one issue that is easy to fix with 2 things. First is making sure that you are using a ripe avocado as mentioned above. The second is to sift your cocoa powder before adding to the pudding.
Can avocado pudding be frozen?
Yes! While it may need to be stirred well before serving, it can be frozen and thawed overnight. You could even eat it frozen similar to an ice cream.
Related
If you like this and want more chocolate in your menu, check out some of our favorite recipes below.
Pairing
While this is perfect by itself, you may want to serve it with a tasty drink or alongside another dessert. Below are some favorites to consider.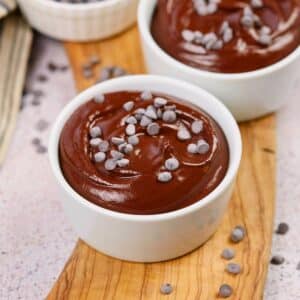 Vegan Chocolate Pudding
Creamy vegan chocolate pudding with a nutritious twist - made from avocados, perfect for a guilt-free treat
Ingredients
1/

cup

full-fat coconut milk

2

tablespoon

agave syrup

1

tablespoon

brown sugar

1

avocado

ripe

⅓

cup

dark cocoa powder

⅛

teaspoon

salt
Instructions
Combine all ingredients in a blender and pulse for 2 minutes, until smooth and creamy.

1/ cup full-fat coconut milk,

2 tablespoon agave syrup,

1 tablespoon brown sugar,

1 avocado,

⅓ cup dark cocoa powder,

⅛ teaspoon salt

Taste and add additional cocoa powder or sweetener if needed. Refrigerate until time to serve.
Notes
Dark cocoa powder adds a better and richer flavor. If not available, you can use traditional unsweetened cocoa powder, but may find you need additional sweetener or more chocolate for flavor.
Nutrition
Calories:
281
kcal
Carbohydrates:
39
g
Protein:
5
g
Fat:
17
g
Saturated Fat:
3
g
Polyunsaturated Fat:
2
g
Monounsaturated Fat:
11
g
Sodium:
158
mg
Potassium:
714
mg
Fiber:
12
g
Sugar:
21
g
Vitamin A:
147
IU
Vitamin C:
14
mg
Calcium:
36
mg
Iron:
3
mg
Food Safety
Are you following the top food safety tips in your kitchen? Check out the top ways we recommend you stay safe and sanitize as you cook at home.
Always sanitize countertops, cutting boards, utensils, and cookware thoroughly between each use.
Wash your hands in warm soapy water, rubbing for at least 20 seconds before rinsing. Remember, "FROG" means friction rubs off germs.
After serving food, allow it to cool, then place it into the refrigerator or proper storage immediately. Food should be at room temperature for no more than 2 hours for safety.