Are you ready for a new cozy and warming fall drink? Look no further than our vegan apple crisp macchiato recipe! It's the perfect comforting drink that combines two of your favorite drinks - espresso and apple cider - and creates a delicious mug of warm comfort.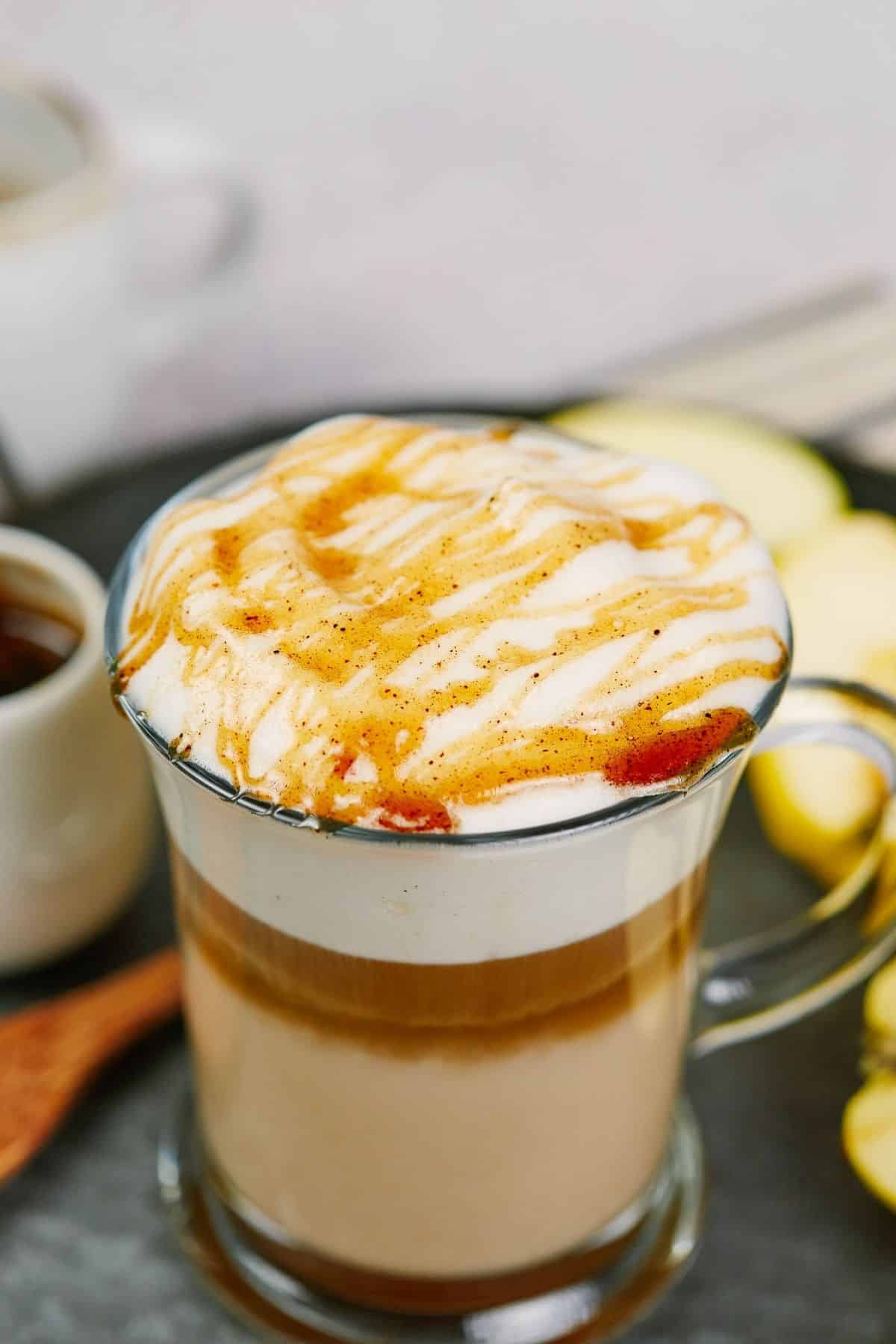 Jump to:
Apple Crisp Macchiato
A vegan apple crisp macchiato is a perfect fun new drink to make that easily fits a plant-based lifestyle. This is perfect for snuggling up on the couch with a good book or sharing with friends on a crisp evening. And the best part? It's 100% vegan-friendly!
Our recipe features a perfect blend of warm apple juice, cinnamon, and espresso that will be the perfect warming beverage for a chilly morning. It's ideal for serving alongside this delicious vegan coffee cake as a mid-morning snack!
If you are looking for a way to make this unique, you can definitely swap out the type of non-dairy milk you use. I prefer almond milk, but you could also use coconut milk, soy milk, cashew milk, hemp milk, oat milk, or even rice milk. Each unique milk adds its own texture and flavor while fitting your own specific dietary needs.
You could even make a simple oat crumble to go on top for texture if you want! I have even seen them served with a freeze-dried apple tucked on the rim of the mug!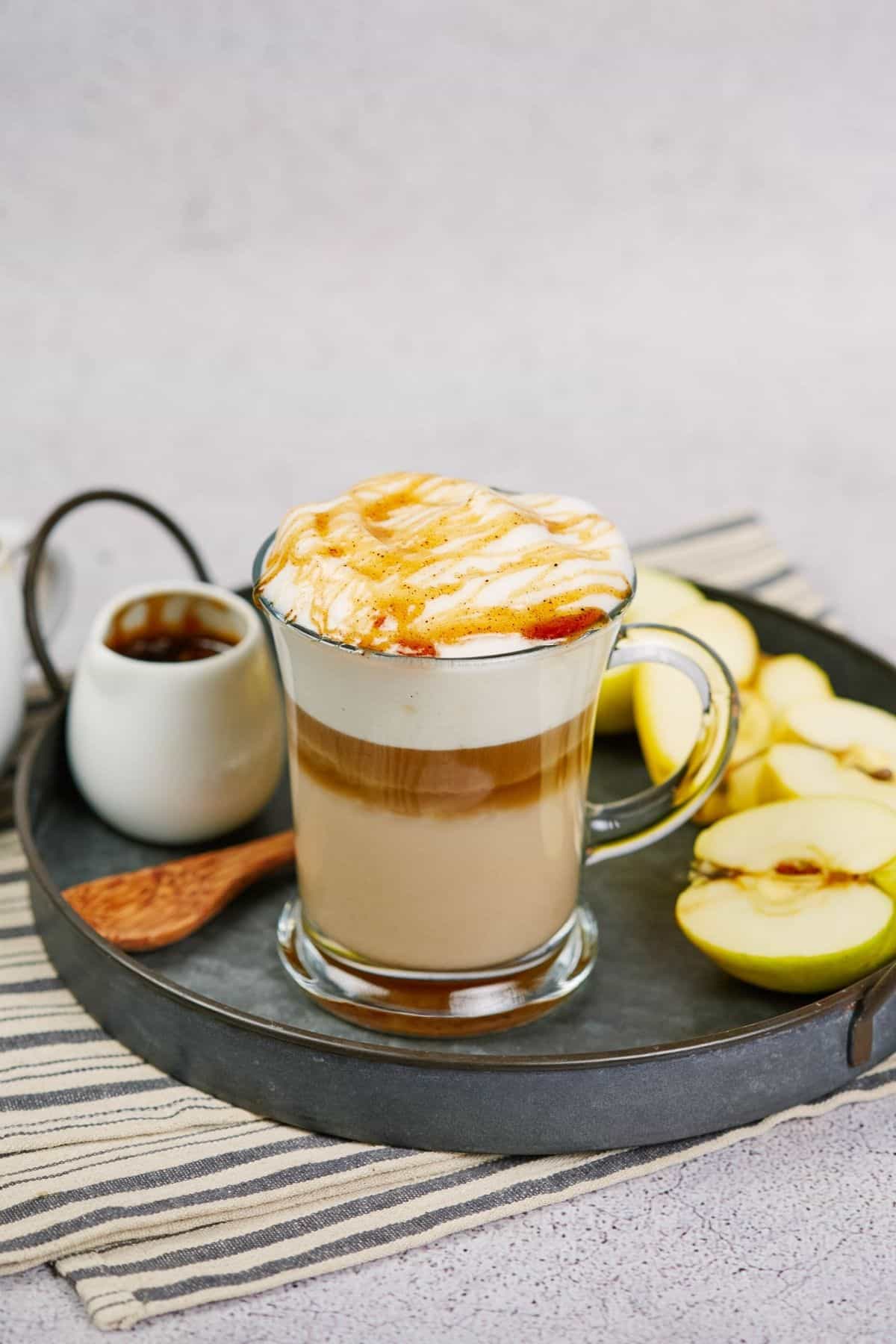 Ingredients
Serves: 2 to 4
1 cup brown sugar
1 cup apple juice
1 teaspoon cinnamon
a pinch of salt
⅔ cup almond milk
¼ cup espresso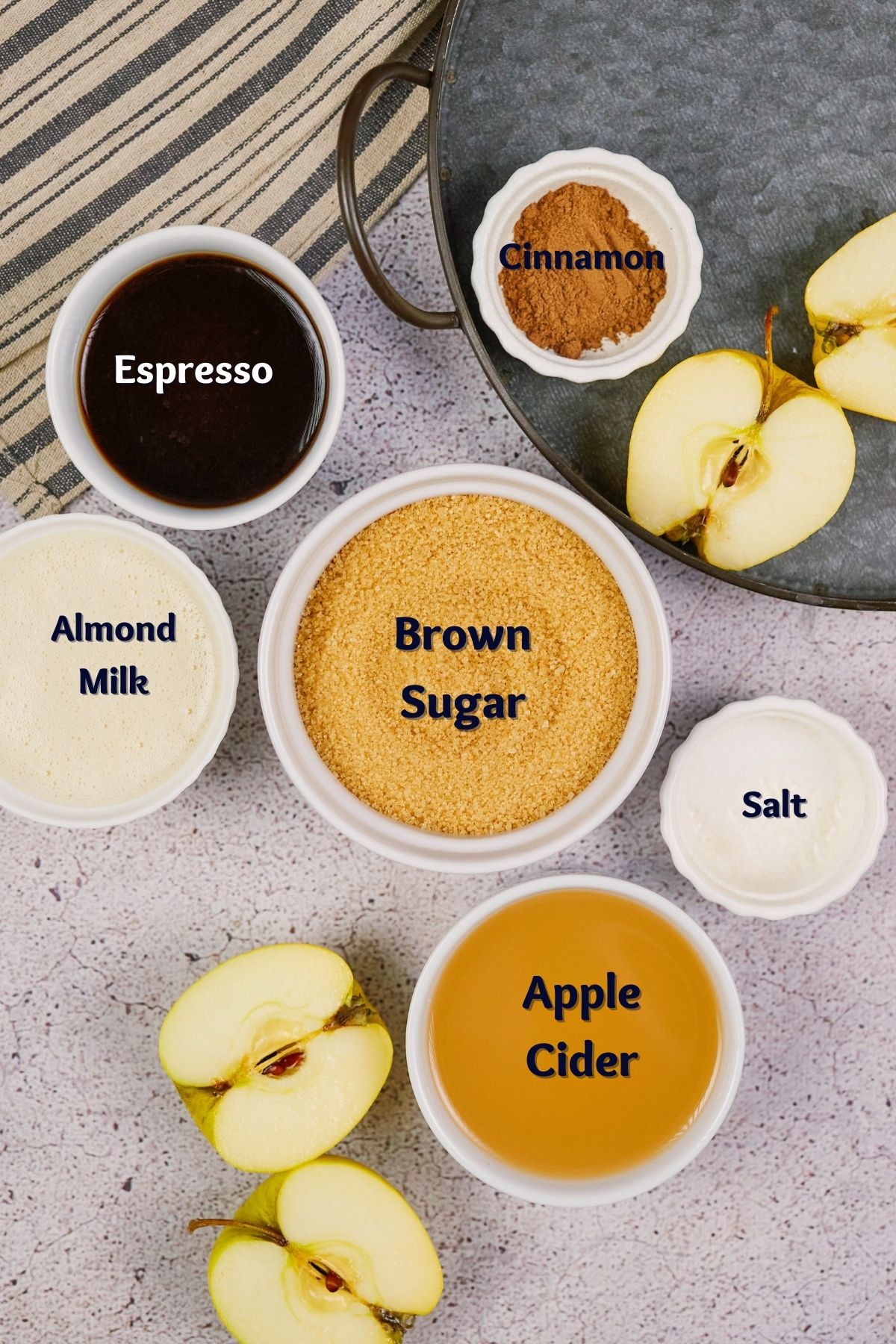 Kitchen Tools Used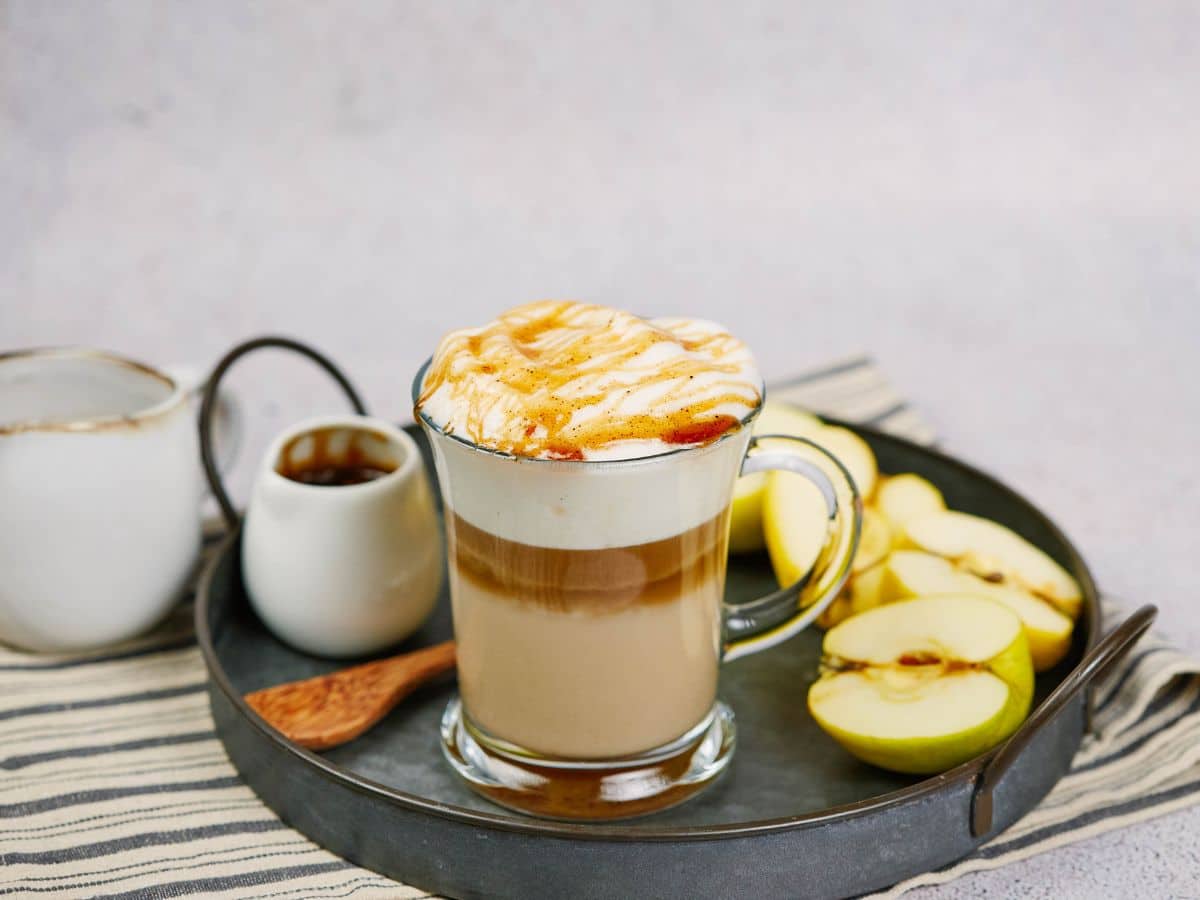 How Do I Make a Vegan Apple Crisp Macchiato?
In a small saucepan, over the lowest heat setting, add the apple juice, brown sugar, salt, and cinnamon. Whisk this together, then bring it to a boil. Boil for 10 minutes, stirring occasionally. If not sure about how much salt to add, start with ⅛ teaspoon and taste. Add more if needed.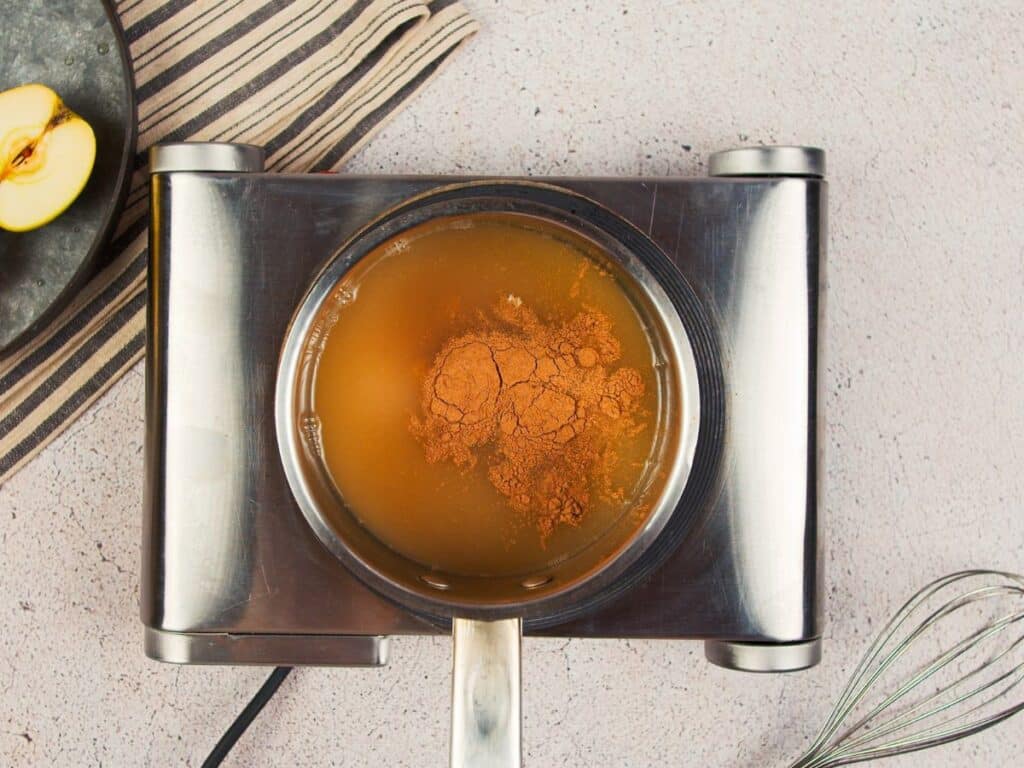 Now, pour half of this apple mixture into the mug or jar to let it cool.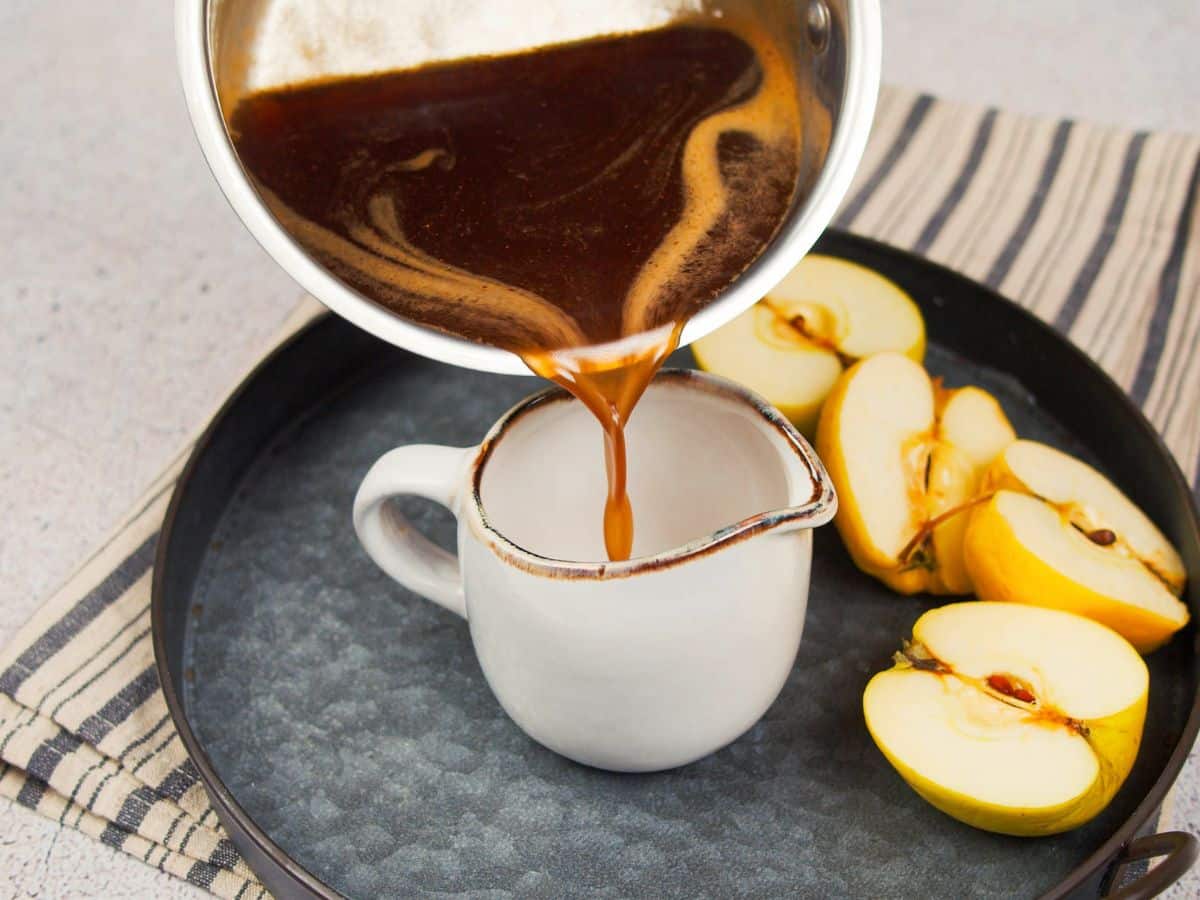 Then, continue cooking the remaining mixture for another 5 to 7 minutes, to thicken. It should be able to coat the back of a spoon. Pour this into a saucer or set it aside for topping your drink later.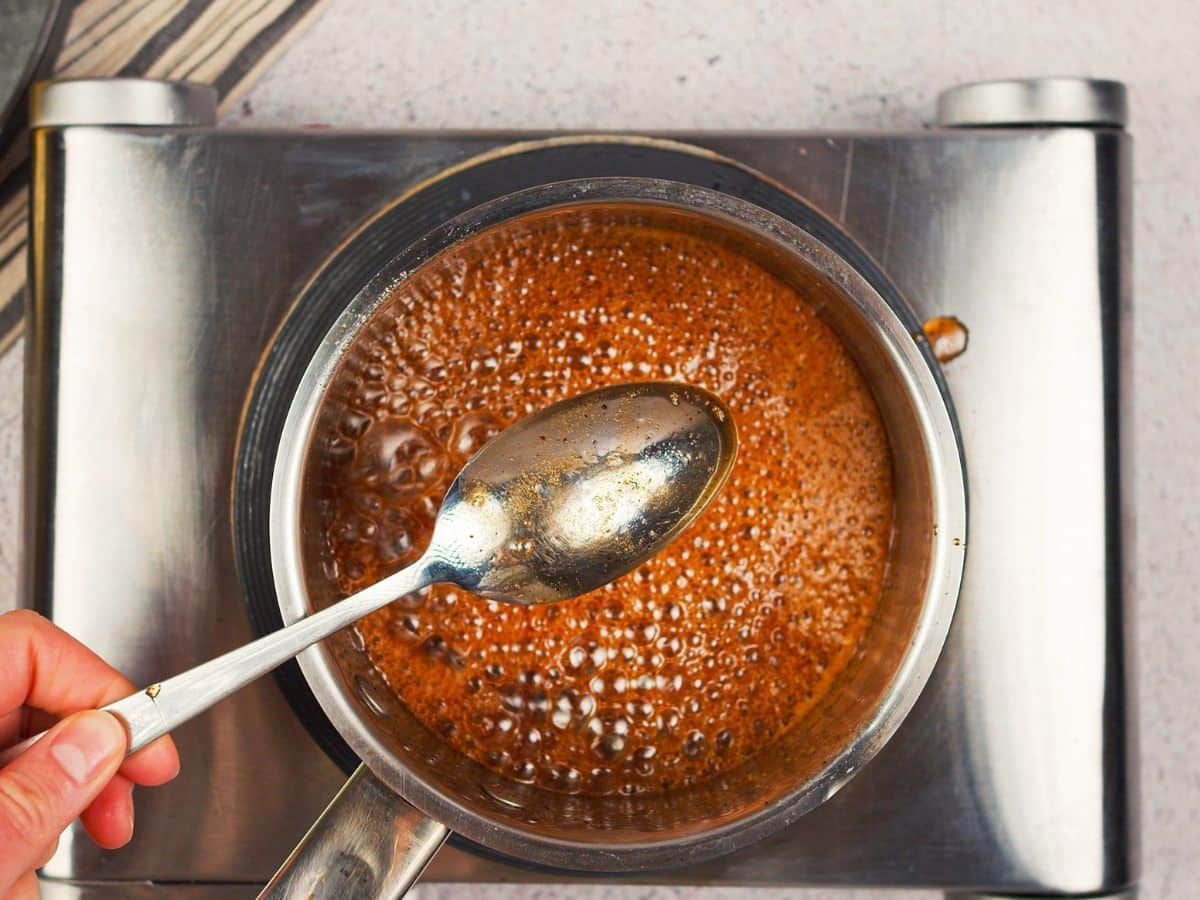 Now, heat the non-dairy milk you chose until it is hot, but not boiling. Then use a frother to whip it until it is foamy.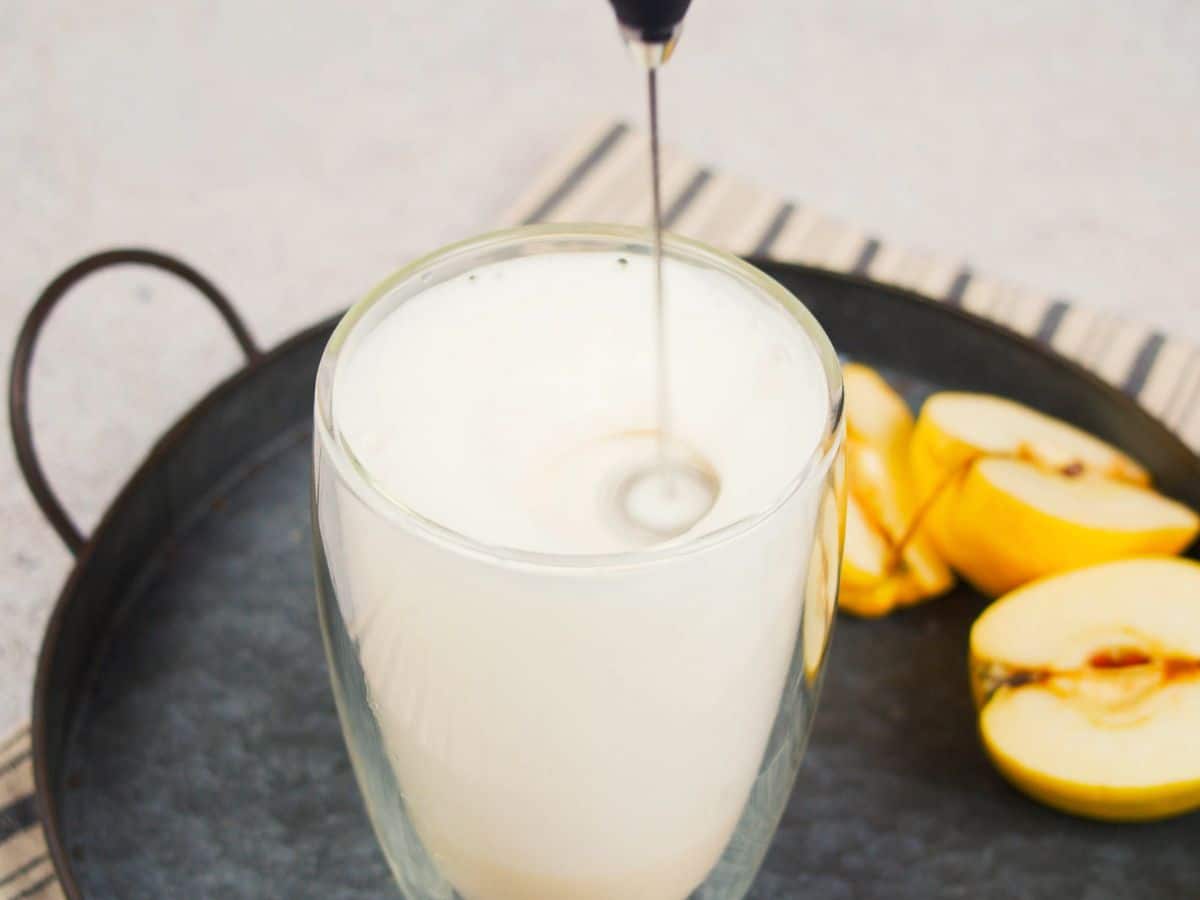 Make the espresso.
Now, pour the thinner apple mixture into the mug you will be using. Then, top it with the warmed milk.
Next, pour the espresso into the center of the mug, and drizzle the top with the remaining thickened apple caramel sauce.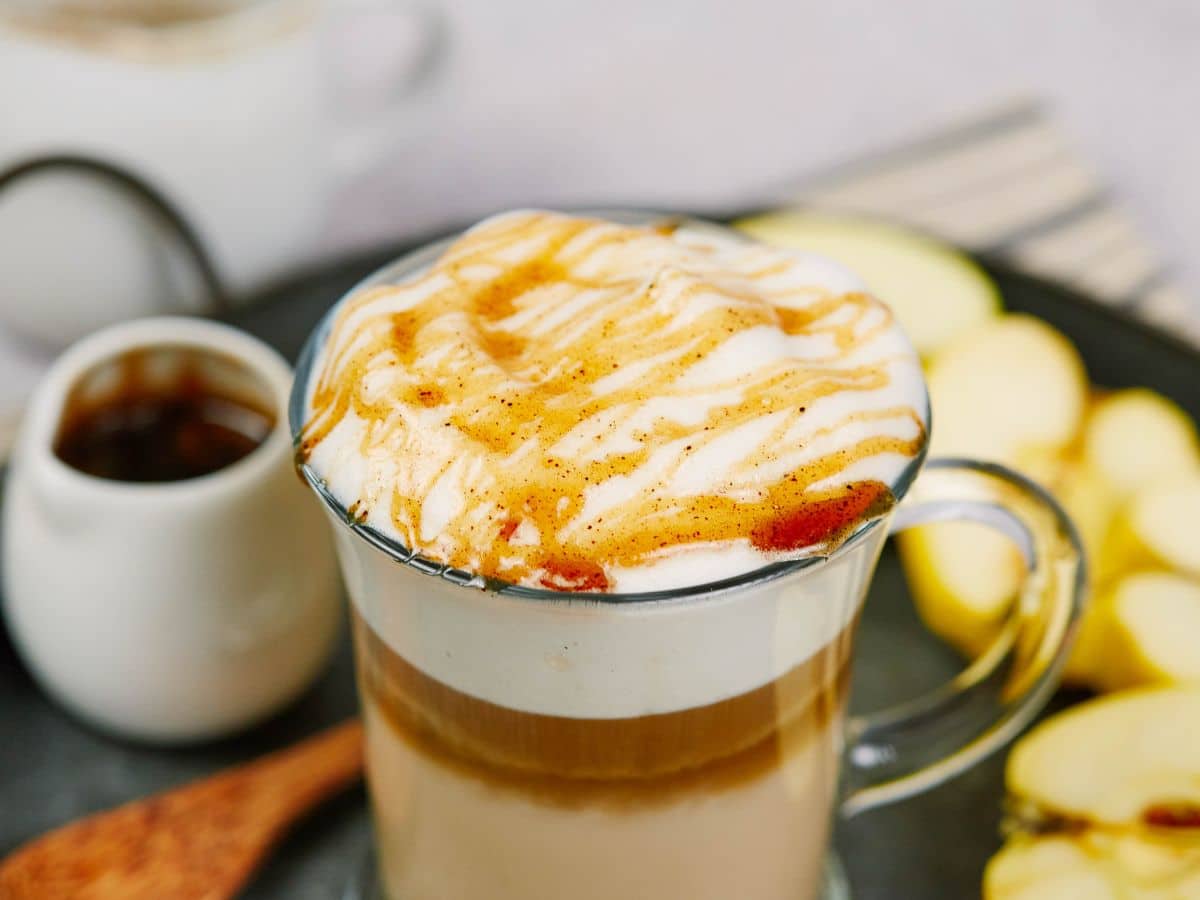 Frequently Asked Questions
What is a Macchiato?
A macchiato is traditionally a hot beverage with warm and frothy milk topped with espresso. This can include various syrups and base flavors for added flavor. Unlike some drinks, this is served without stirring the mixture together.
Can I use apple cider in the apple crisp macchiato instead?
Absolutely! Just replace the apple juice, sugar, salt, and cinnamon with a cup of apple cider in this recipe. You can also adjust the spices with nutmeg, cloves, or additional cinnamon if you desire.
Can you make a vegan macchiato ahead of time?
While you can prepare parts of this ahead of time, I do not recommend making large batches assembled before you are ready to serve them. The syrup can be cooked down ahead of time and then reheated, as well as the espresso. The milk is best heated and frothed just before serving.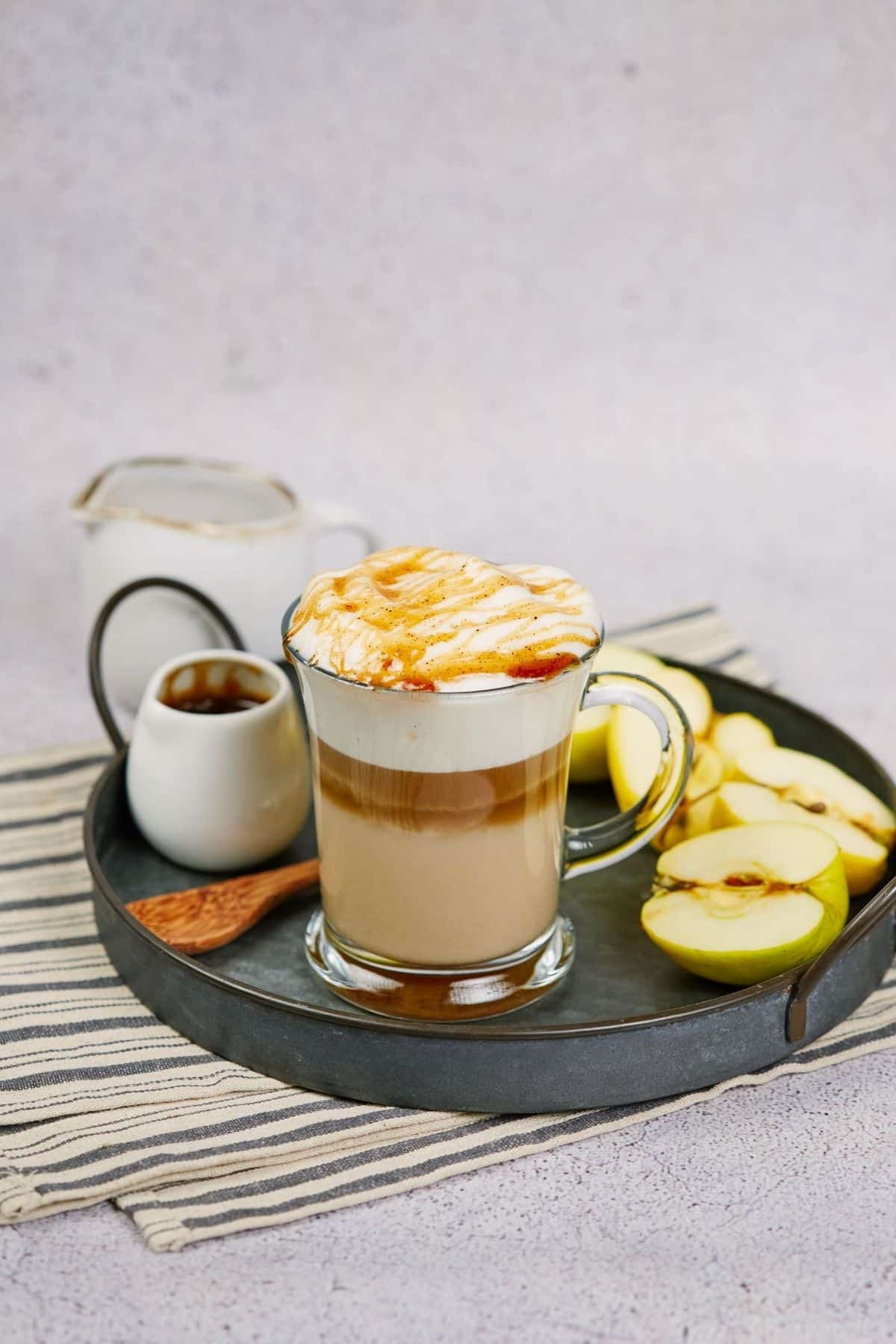 Variations of a Vegan Macchiato
The basics of a macchiato are the espresso and frothy warm milk. How you create a unique flavor from there is all about the syrups you include. Below are some popular flavors for adding to a macchiato.
Vanilla, chocolate, hazelnut, caramel, mocha, white chocolate, mint, or butterscotch.
For this recipe, we made our own homemade apple cider syrup, but you can use any already prepared syrup or sauce you prefer. Just verify it is plant-based to suit your personal dietary needs.
More Easy Drink Recipes
While you can roll down the road to your favorite coffee shop, sometimes it is just easier to make your own drink at home. This includes saving money for many. Below you will find a few more fun drink recipes that are perfect for making and adding to your menu. Take a look at your favorites, bookmark them, print out the recipes, or even pin them to Pinterest to keep them handy.
Follow me on PINTEREST and INSTAGRAM for more tasty Plant Based & Vegan Recipes❤️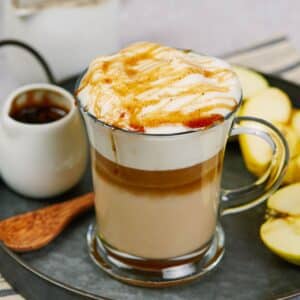 Vegan Apple Crisp Macchiato
Enjoy a cozy fall beverage with our vegan apple crisp macchiato recipe. Made with natural ingredients for a guilt-free treat. Try it today!
Instructions
Combine apple juice, brown sugar, salt, and cinnamon in a small saucepan. Whisk together and heat over low until well blended. Let the mixture boil for 10 minutes.

Pour half of the mixture into a jar and let it cool, this will be your sweetener.

Boil down the remaining mixture for 5-7 minutes until it coats the spoon evenly. Pour into a saucer and set aside, this will be your topping.

Heat up your favorite plant-based milk and whip it until it's foamy.

Pour the sweetener into the bottom of your mug, followed by the whipped milk. Slowly pour the espresso into the center of the mug. Drizzle the topping over the foam and serve immediately.
Notes
You can use any preferred non-dairy milk for this recipe.
Top with an oat crumble for added texture.
You also use apple cider instead of apple juice and spices.
Nutrition
Calories:
492
kcal
Carbohydrates:
124
g
Protein:
1
g
Fat:
1
g
Saturated Fat:
0.1
g
Polyunsaturated Fat:
1
g
Monounsaturated Fat:
1
g
Sodium:
148
mg
Potassium:
310
mg
Fiber:
1
g
Sugar:
119
g
Vitamin A:
4
IU
Vitamin C:
1
mg
Calcium:
212
mg
Iron:
1
mg