Nothing screams summertime for me more than this fresh summer fruit salad recipe. It's bright, refreshing, and easy to prepare.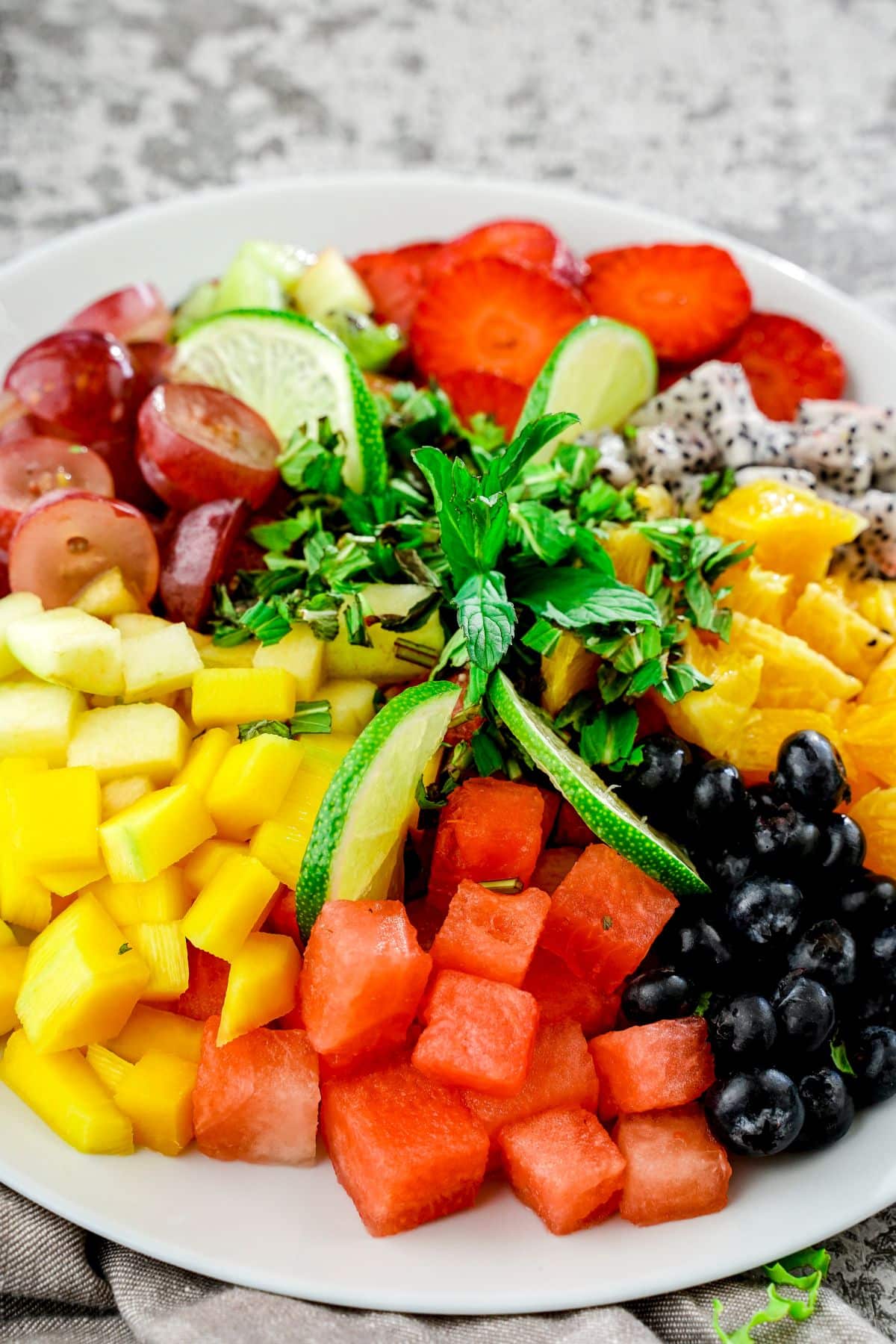 For your next weekend barbecue with friends, whip up this simple salad as a treat that everyone will devour. A healthier choice that is sweet and delicious.
If you like this recipe and want another fruit dessert for summer, check out our creamsicle popsicle recipe!
Jump to:
🥘 Ingredients
This recipe has exact measurements for ingredients in the printable recipe card at the bottom of the post. However, this is just a basic idea and you can update it with your own preferred fruits if desired.
Melon (we used watermelon but you could add cantaloupe, honeydew, or any ripe melon)
Mango
Dragon fruit
Oranges
Strawberries
Blueberries
Grapes (this is great with cotton candy grapes)
Kiwi
Apples (sweet apples are best but you can do a mix for a bit of tartness)
Fresh mint
Lime juice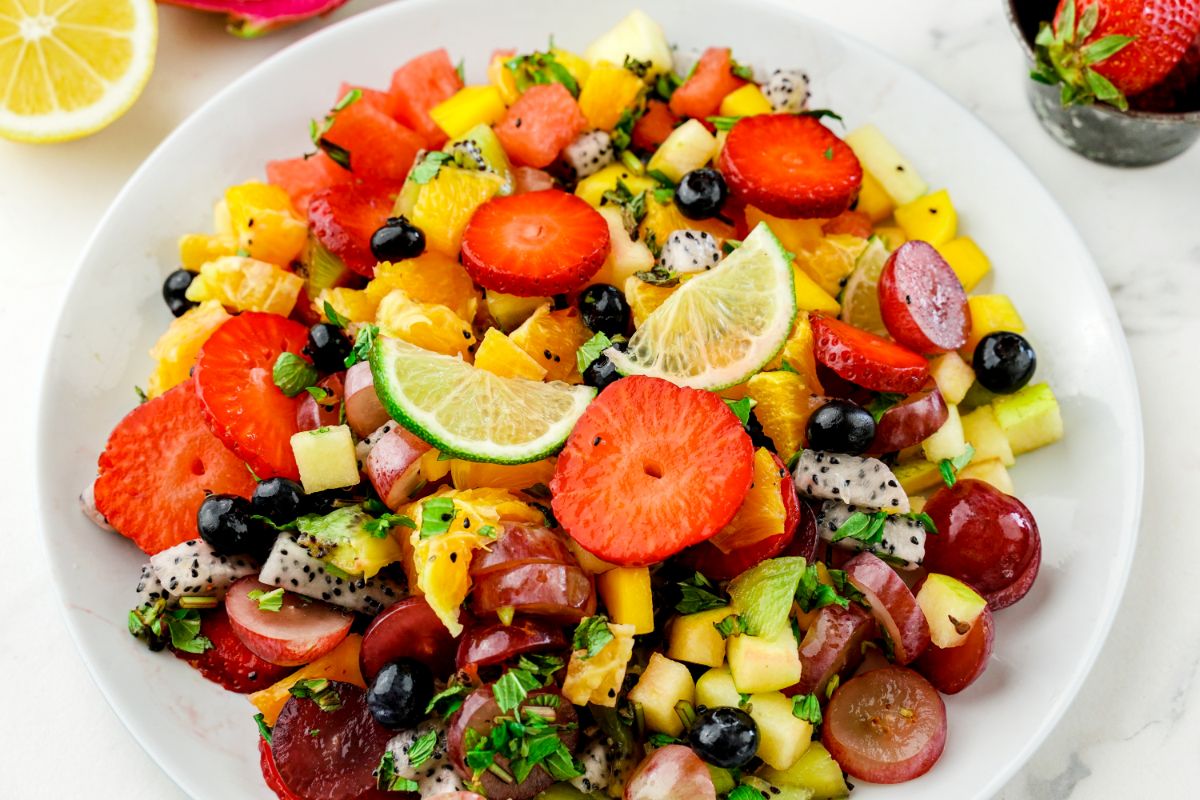 📋Instructions
This recipe is all about preparing the fruit. You can do this ahead of time, up to 2 days before serving. All of the fruits should be bite-sized. Mango can be cut off the seed in the middle, peeled, and cut into cubes.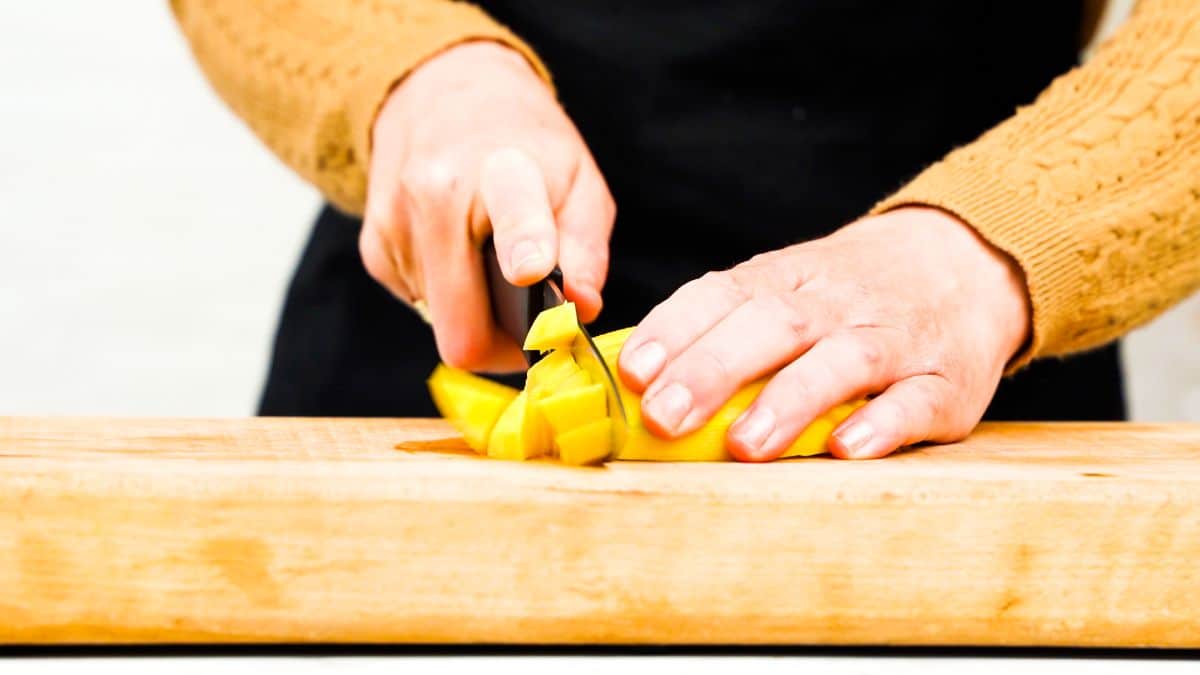 Oranges are best peeled and then cut into small chunks. Kiwis can be peeled and cut into pieces.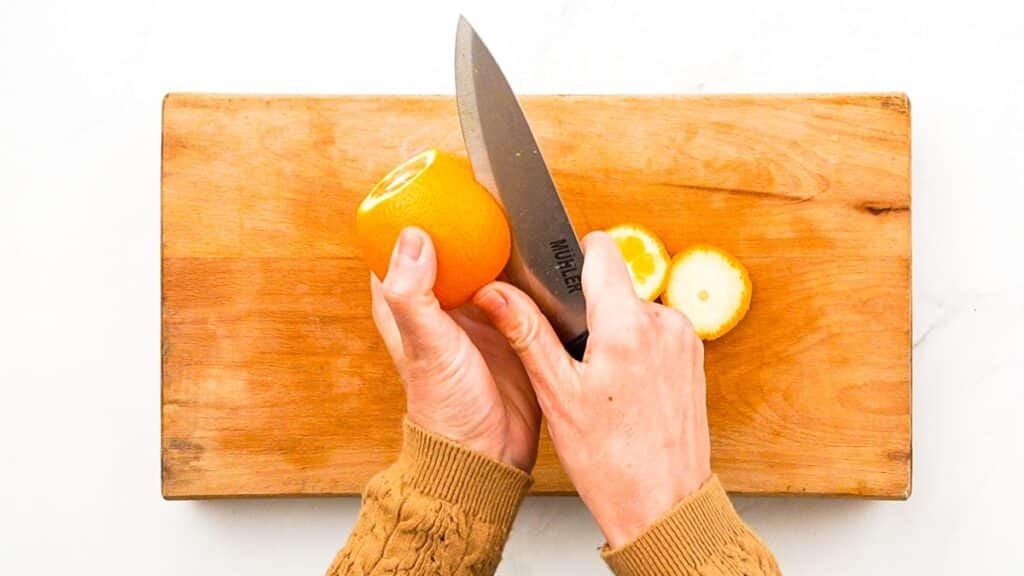 The apples can be cut into chunks with or without the peel. Then cut the strawberries and grapes into pieces. I cut the grapes in half usually, and strawberries can be halved or quartered.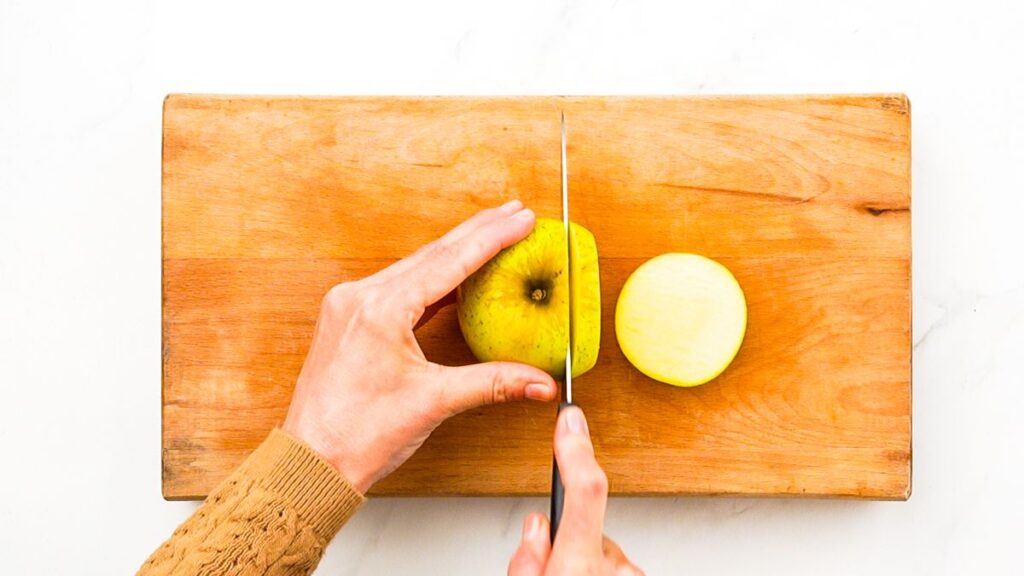 The watermelon is the hardest to prepare, but really just needs to be scooped out or peeled and cut into cubes. There are some knives that are handy for making this easier, or you can use a melon baller to scoop out the melon easier.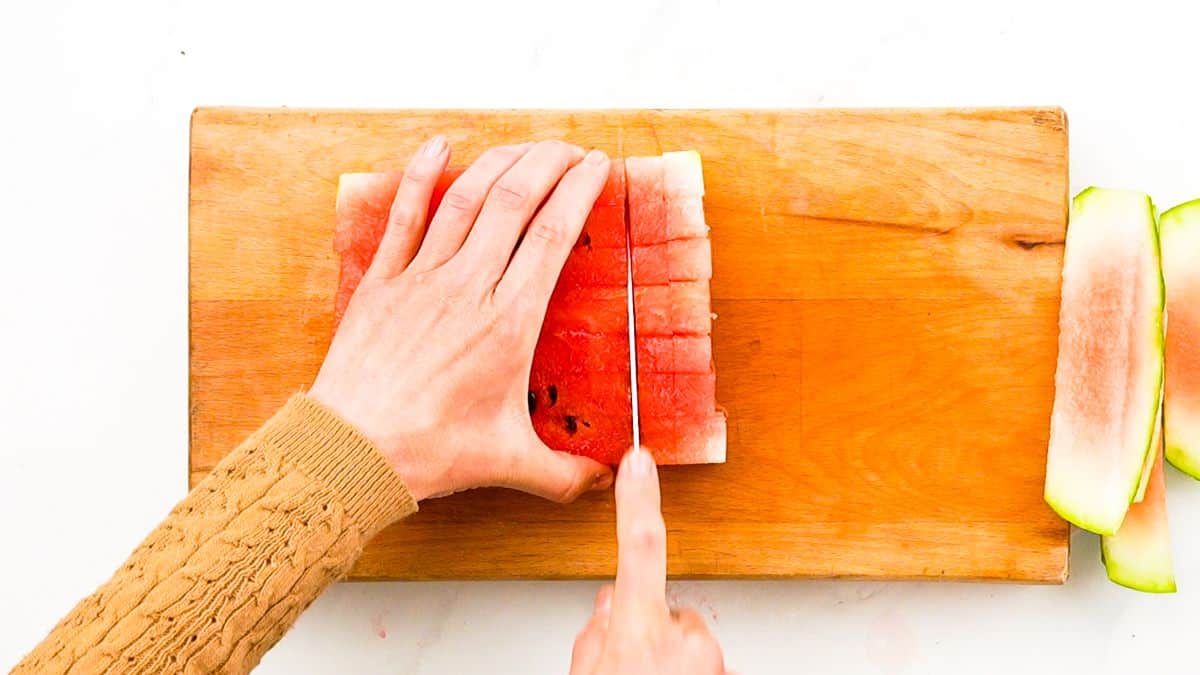 The last fruit I prepare is the dragon fruit. Just cut it in half and then use a spoon to scoop out the insides. Cut into cubes and add to the bowl with the rest of the fruits.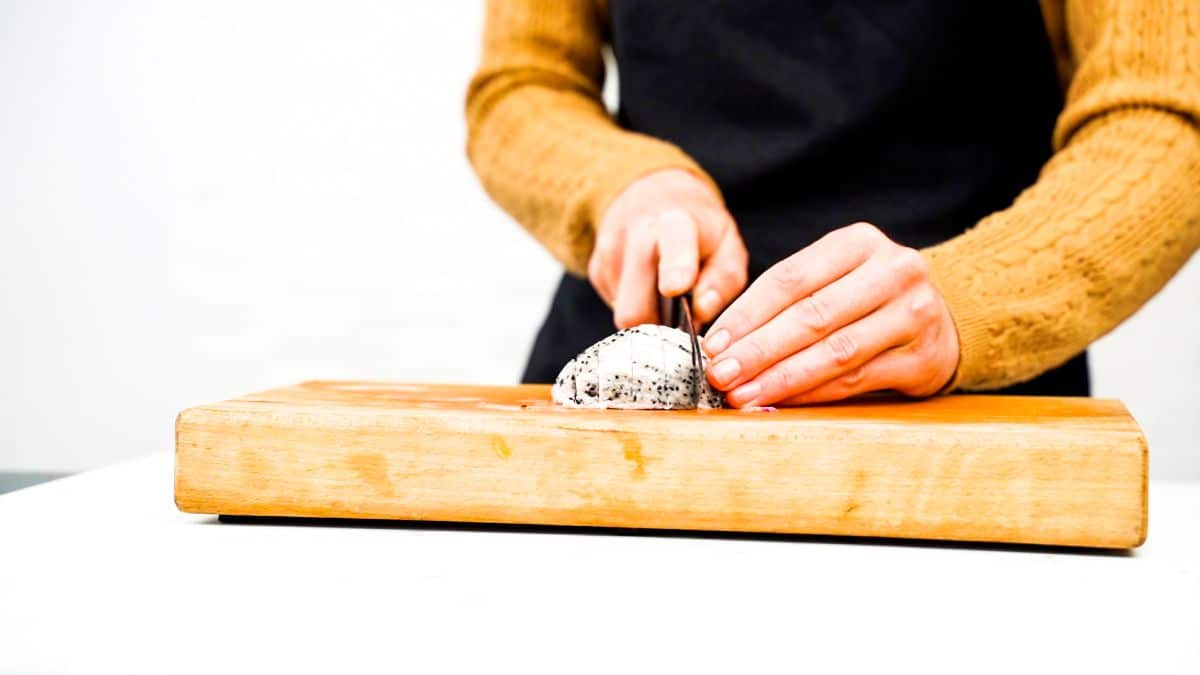 Then, chop the fresh mint into small pieces and add to the bowl with the fruit and the lime juice.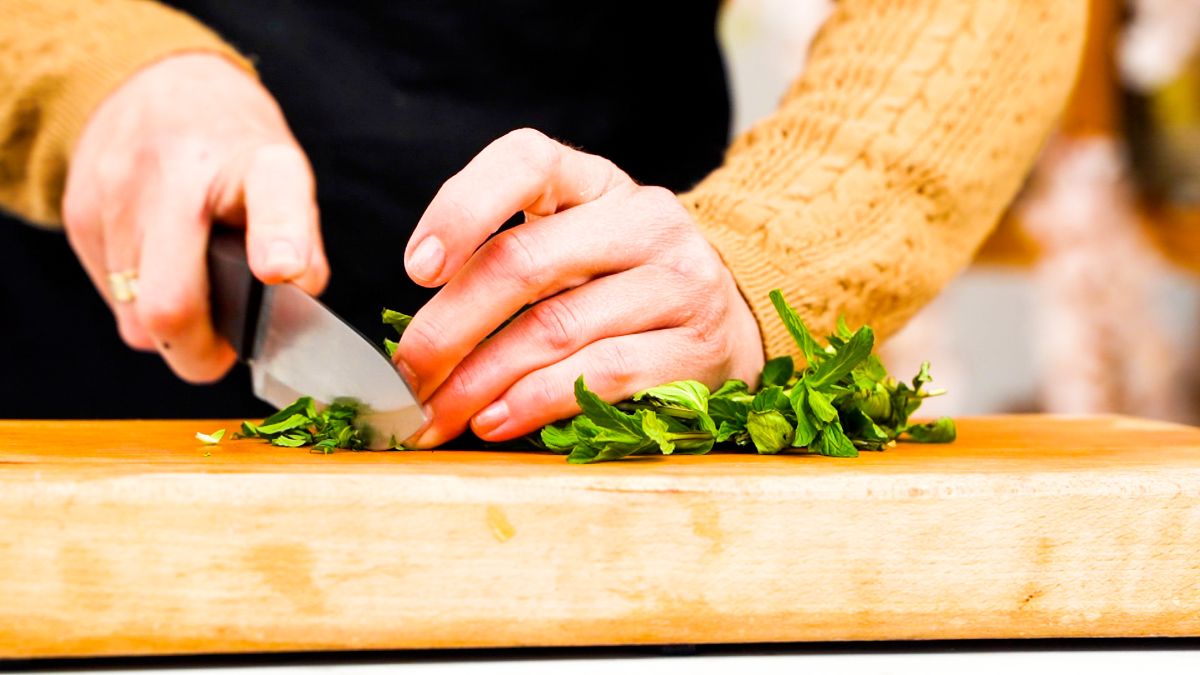 Stir to coat and mix everything well before serving.
🔪Substitutions
The best part about this recipe is its versatility - you can easily switch out ingredients for your favorites, or simply use whatever is in season.
While the fruits can be swapped out easily, you may also want to change the "dressing" on the salad. This only has mint and lime juice. Below are some ideas to make it a bit unique. Just make sure you add an acid to the mix to help cut the sweetness and preserve the apples.
Lemon juice, honey, and mint
Maple syrup, apple cider vinegar, and poppy seeds
Grapefruit juice and agave syrup
As long as you keep the ratios of sweet and sour elements balanced, then feel free to experiment and make substitutions to suit your taste.
📖 Variations
The biggest variation with this recipe is going to be in what fruits you use. But, you may also want to mix things up a bit with some texture. Below are some ideas that add flavor and texture to the mixture.
Chopped walnuts, pecans, almonds, macadamia nuts, or peanuts
Shredded coconut, hemp seeds, or chia seeds
Marshmallows
Some other fruits that mix well in this salad recipe are below.
Grapefruit, tangerines, or kumquats
Plums, peaches, or pears
Pineapple, guava, or papaya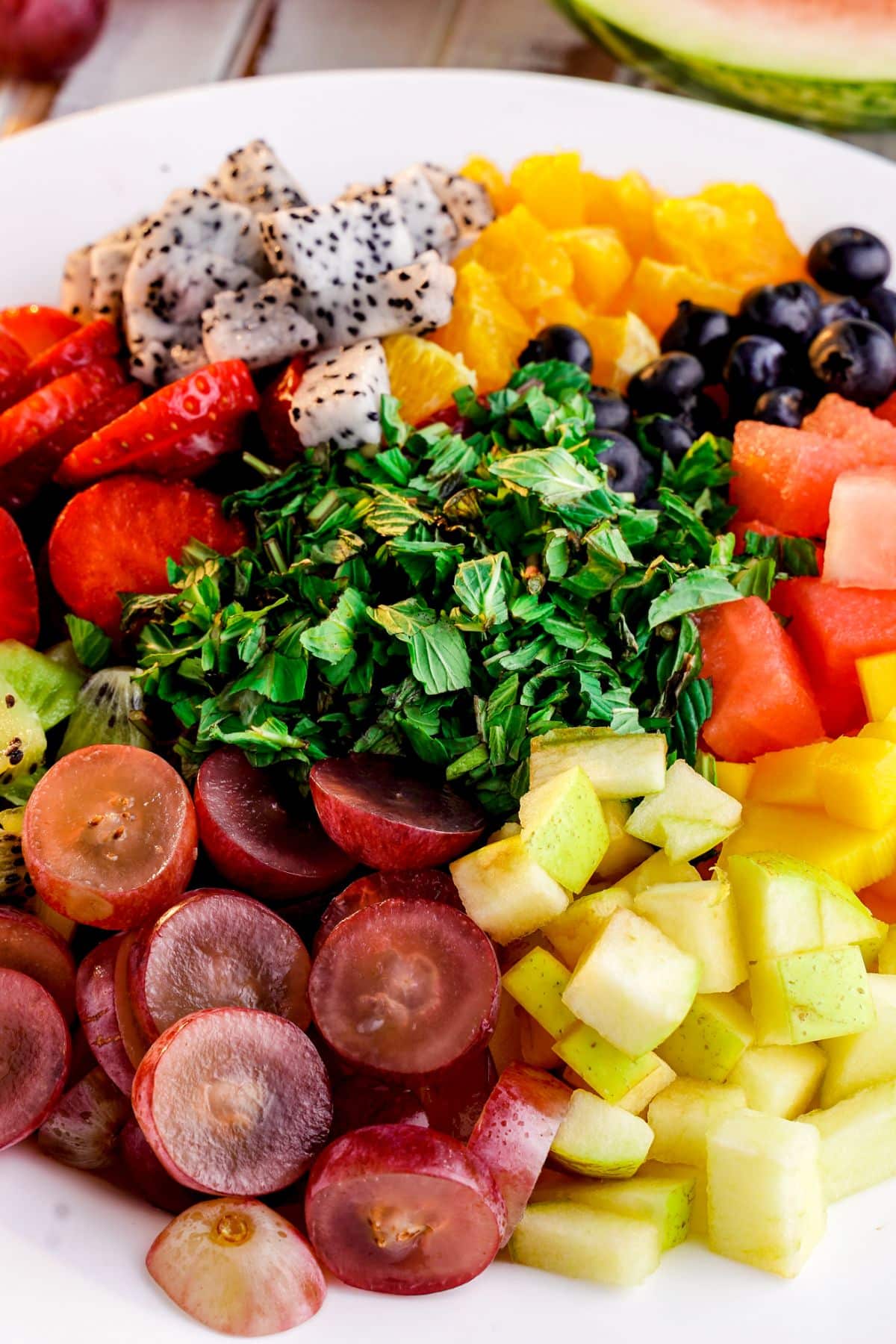 🫙Storage Tips
If you've got leftovers, store them in an airtight container and keep them in the refrigerator for up to 4 days. This salad usually tastes best when served chilled, so make sure to give it some time to cool before eating.
You will want to eat this salad within a few days of making it, as the fruit will start to break down and release liquid over time. It is best in texture and flavor when eaten within the first few days of preparing it.
🍽 Equipment
Make sure your kitchen is stocked with all of the tools you need. Below are a few items I recommend having on hand.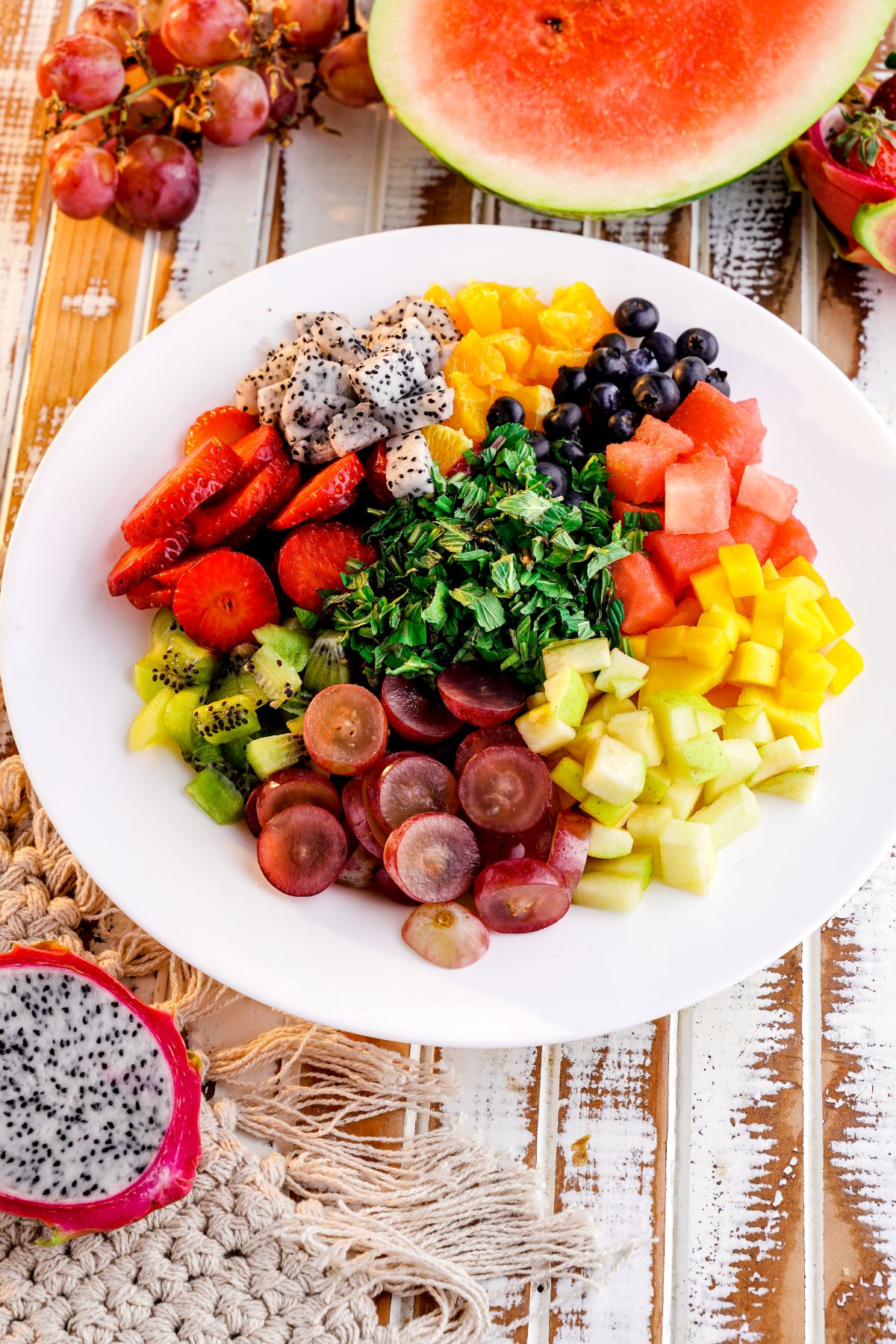 💭 Top Tip
The key to making this fruit salad amazing is to use the freshest ingredients possible. Use ripe, juicy fruits and herbs for maximum flavor. This is ideal for summertime when most fruits are in season. If you want to make it during another season, make sure you pick the best fruits that are ripe and sweet.
❓FAQs
What is the best way to peel a kiwi?
A great trick for getting the kiwi out of the peel is to cut a slice off the top and then use a spoon to scoop the fruit out of the peel.
How do you keep apples from turning brown after peeling?
The most common method of keeping apples from turning brown is to add acid to the mixture. Since this has lemon juice as an addition to the fruit, it will usually prevent the apples from changing colors. If they do happen to turn brown, they are still safe to eat within 2 to 4 days of preparing.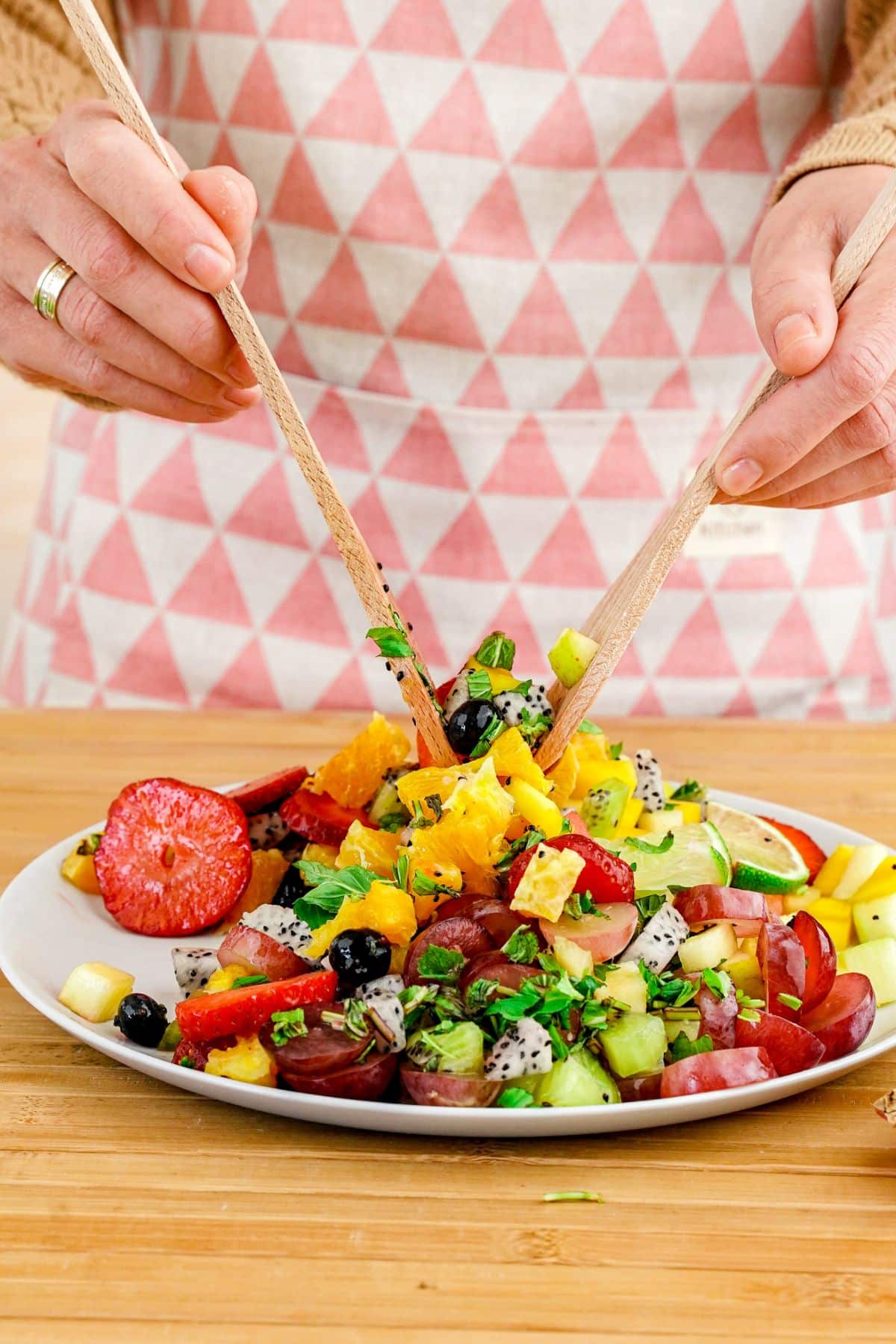 Related
If you enjoy adding fresh fruit to your menu, there are tons of great ideas below to make. Bookmark your favorites and make them soon!
Pairing
Fruit salad is great when served alongside your favorite weekend barbecue items. Below are a few ideas that would pair well with this.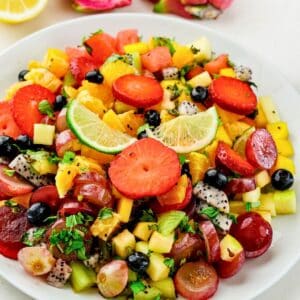 Fresh Summer Fruit Salad
Embrace the flavors of summer with our vegan-friendly recipe for a fresh fruit salad. Enjoy a medley of juicy seasonal fruits in this light and revitalizing dish that's sure to brighten up your day.
Ingredients
¼

watermelon

1

cup

strawberries

½

mango

2

oranges

2

kiwi

2

apples

1

cup

blueberries

1

dragon fruit

1

cup

grape

½

cup

fresh mint

Juice from ½ lime
Instructions
Place the mango on the cutting board and cut it in half. Peel one half and cut it into cubes.

Peel the oranges and kiwis, then slice them into cubes. Cut the apples into cube-shaped pieces.

2 oranges,

2 kiwi,

2 apples

Slice the grapes into circles and the strawberries into thin segments.

1 cup grape,

1 cup strawberries

Peel the watermelon and cut it into bite-sized pieces.

Cut the dragon fruit in half, scoop out the middle with a spoon, and cut it into cubes.

Finely chop the fresh mint.

In a large bowl, assemble the fruit salad by combining the watermelon, mango, kiwi, strawberries, apples, oranges, blueberries, grapes, dragon fruit, and fresh mint. Squeeze the juice from half a lime over the salad to enhance the flavors. Gently stir the salad to mix all the ingredients together.

1 cup blueberries,

Juice from ½ lime
Notes
Mix and match any fruits you prefer to make this salad.
Keep fresh in an airtight container in the refrigerator for up to 4 days.
Nutrition
Calories:
282
kcal
Carbohydrates:
70
g
Protein:
4
g
Fat:
2
g
Saturated Fat:
0.2
g
Polyunsaturated Fat:
1
g
Monounsaturated Fat:
0.2
g
Sodium:
24
mg
Potassium:
852
mg
Fiber:
9
g
Sugar:
54
g
Vitamin A:
2405
IU
Vitamin C:
133
mg
Calcium:
96
mg
Iron:
2
mg
Food Safety
When working with fresh fruit, it's easy to have cross-contamination happen. While the fruit itself is clean, the peel or rind could have bacteria. Below are our top tips for making sure you keep everything safe in your kitchen.
Always sanitize countertops, cutting boards, utensils, and cookware thoroughly between each use.
Wash your hands in warm soapy water, rubbing for at least 20 seconds before rinsing. Remember, "FROG" means friction rubs off germs.
After serving food, allow it to cool, then place it into the refrigerator or proper storage immediately. Food should be at room temperature for no more than 2 hours for safety.