One of the items you will always find in our refrigerator is almond milk. Whether it is plain, vanilla, or chocolate, it's a go-to non-dairy milk substitute we love. While there are many wonderful brands on the market, making this homemade almond milk recipe is a simple option that gives you a delicious beverage you will know all of the ingredients for. If you are plant-based, vegan, or lactose intolerant, this is a perfect non-dairy option.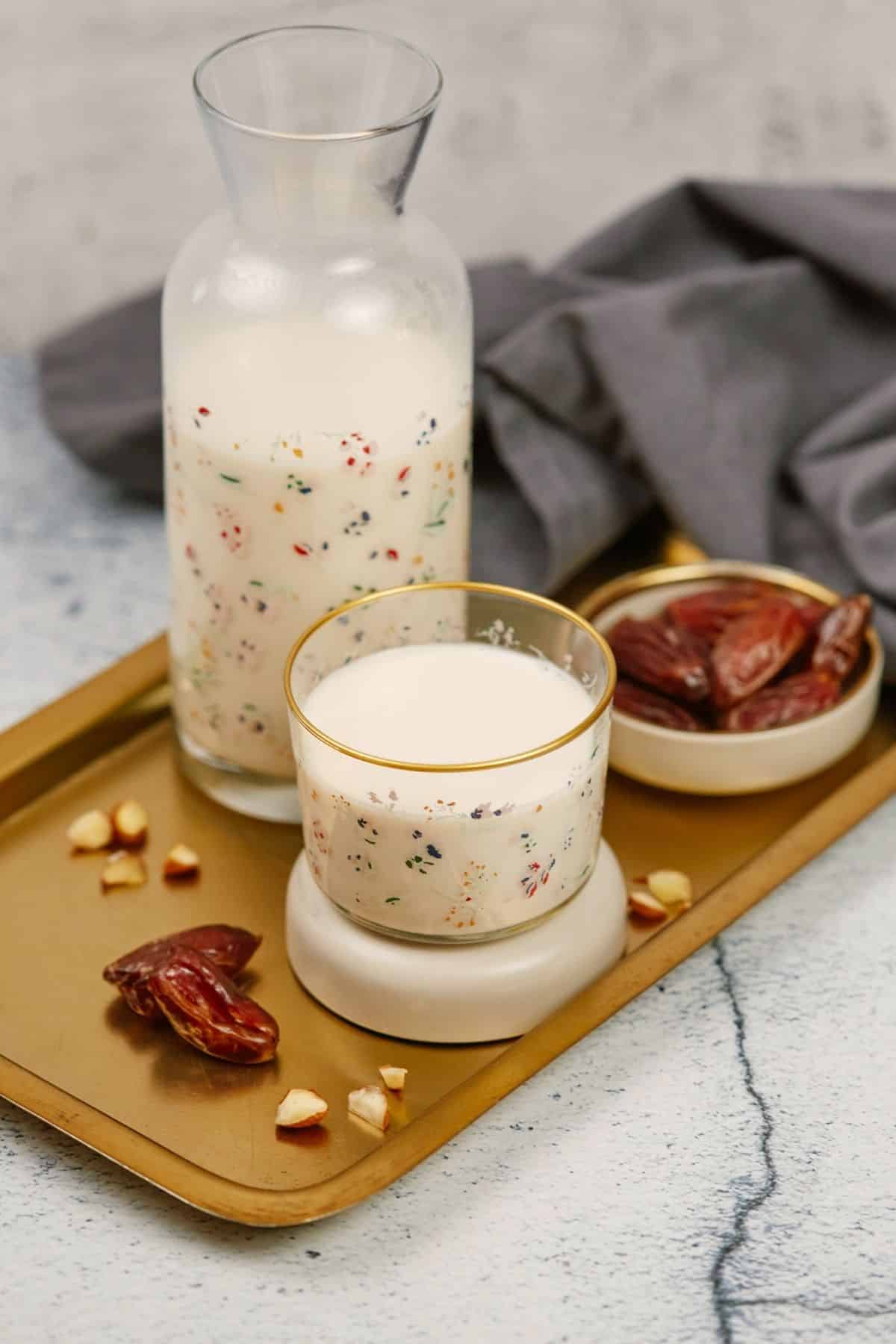 Jump to:
Almond Milk Recipe
One of the things I love most about making this homemade almond milk recipe is how versatile it is. You can use it as a base for smoothies, add it to your coffee or tea, or even use it in recipes that call for milk. Plus, it's free of preservatives, additives, and sweeteners, so you can feel good about what you're putting into your body.
Another benefit of making your own almond milk is that it's much more cost-effective than buying it at the store. All you need are a few simple ingredients, a blender, and a little bit of time. Plus, you can customize it to your liking by adding sweeteners like dates or honey, or flavors like vanilla or cinnamon.
One thing to keep in mind when making almond milk is that it does require a bit of planning ahead. You'll need to soak your almonds for at least 6 hours, or overnight, to soften them up and make them easier to blend. But trust me, it's worth the wait!
Not sure how to use this in your menu? It's the perfect base for this vegan oat smoothie with peanut butter. Delicious and packed with fiber and protein!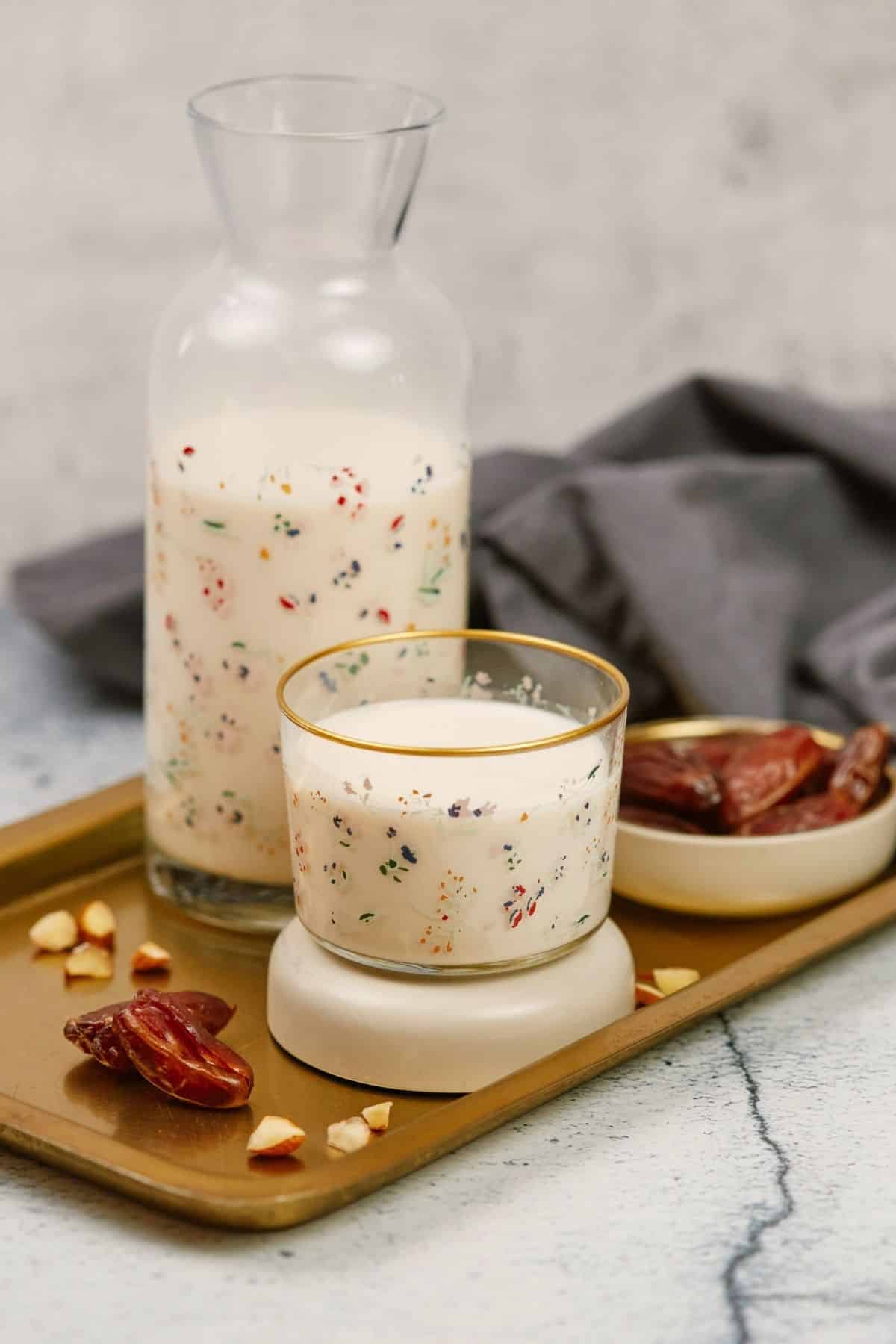 Ingredients
Makes: 3 cups
1 cup raw unpeeled almonds
3 cups water
2-3 pitted dates
½ teaspoon vanilla extract
¼ teaspoon salt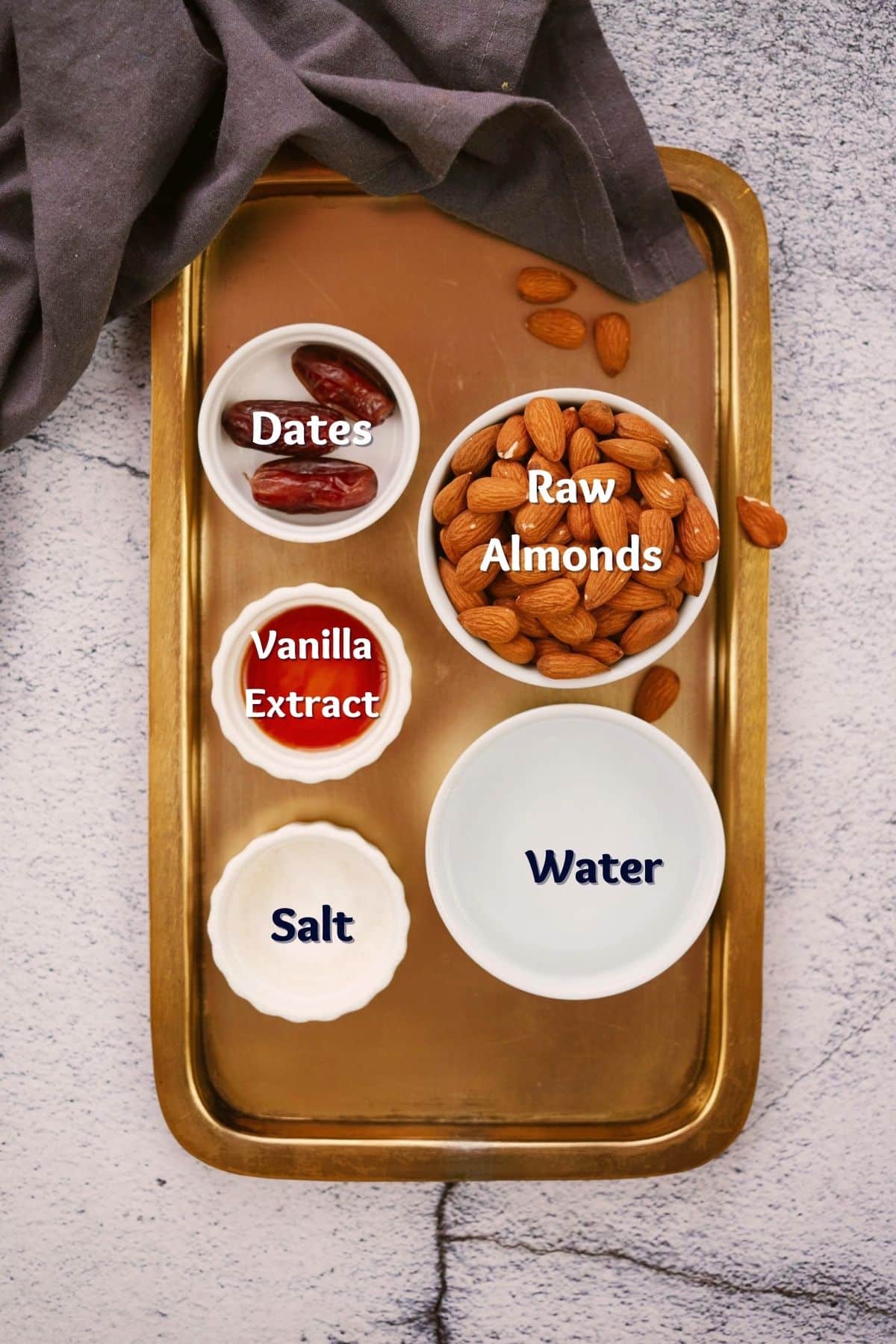 Kitchen Tools Used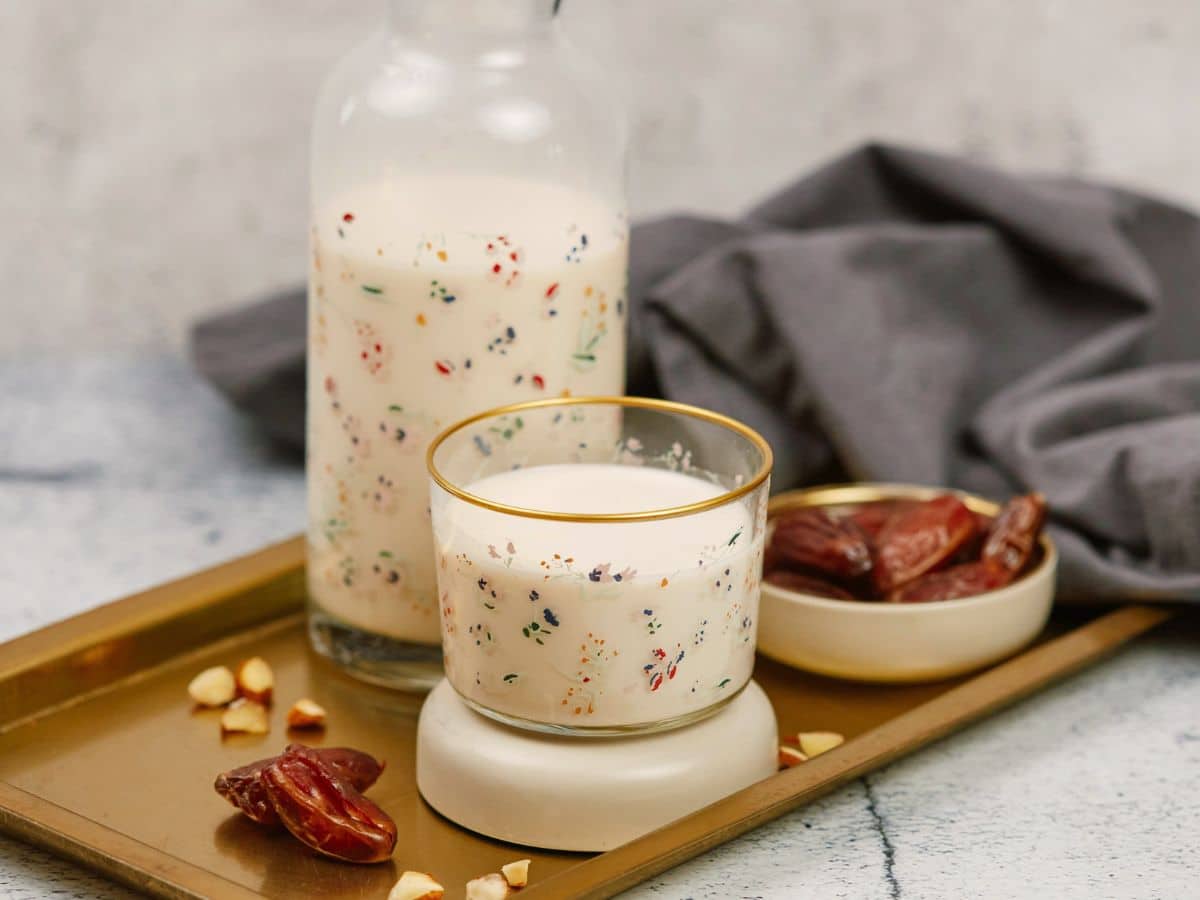 How do I Make Almond Milk at Home?
This process requires you to have at least 6 hours of time to process. While the steps are simple, you do need to soak the almonds. So, plan ahead.
In a large bowl, cover the almonds with cold water and then set them aside, loosely covered, for at least 6 hours, up to overnight.
After they have soaked, you will then drain them, and place the almonds into the blender alongside the salt, dates, vanilla extract, and 3 cups of water. Blend for around 1 minute, or until the almonds and dates are now fine or smooth. It will be a thicker liquid.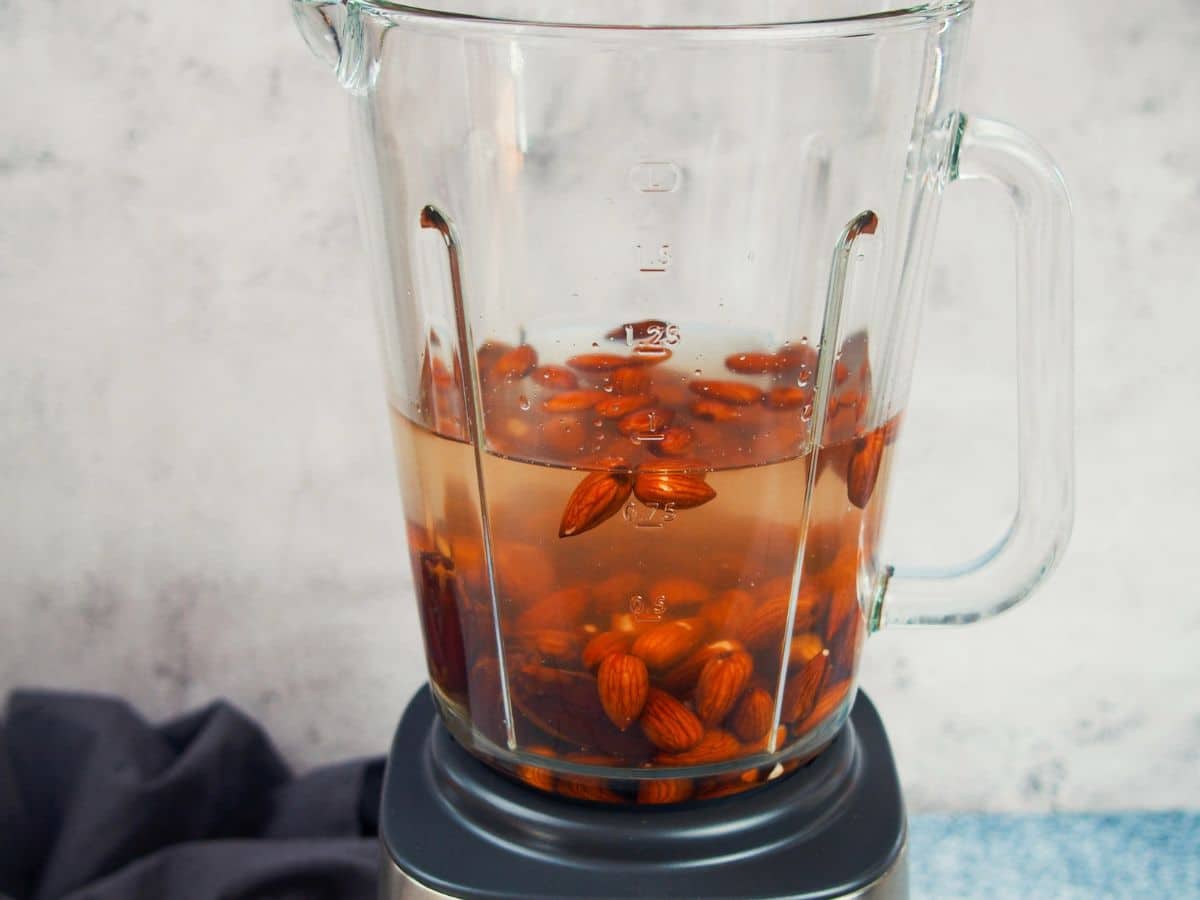 Now, set up a piece of cheesecloth or a fine sieve over a bowl. Pour the blended liquid over the cheesecloth and squeeze as much liquid out of the mixture as possible.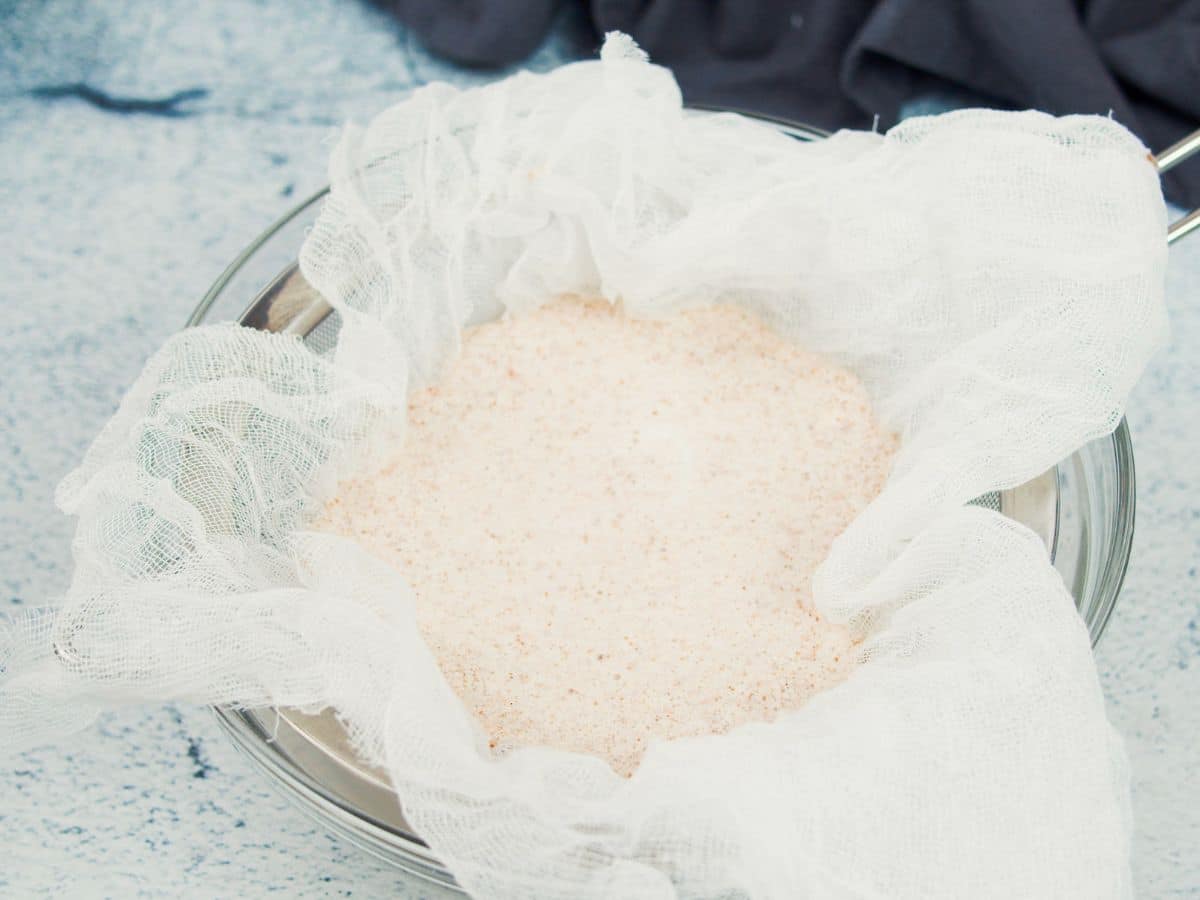 Once strained, pour the almond milk into your bottle with a lid, and refrigerate until time to use.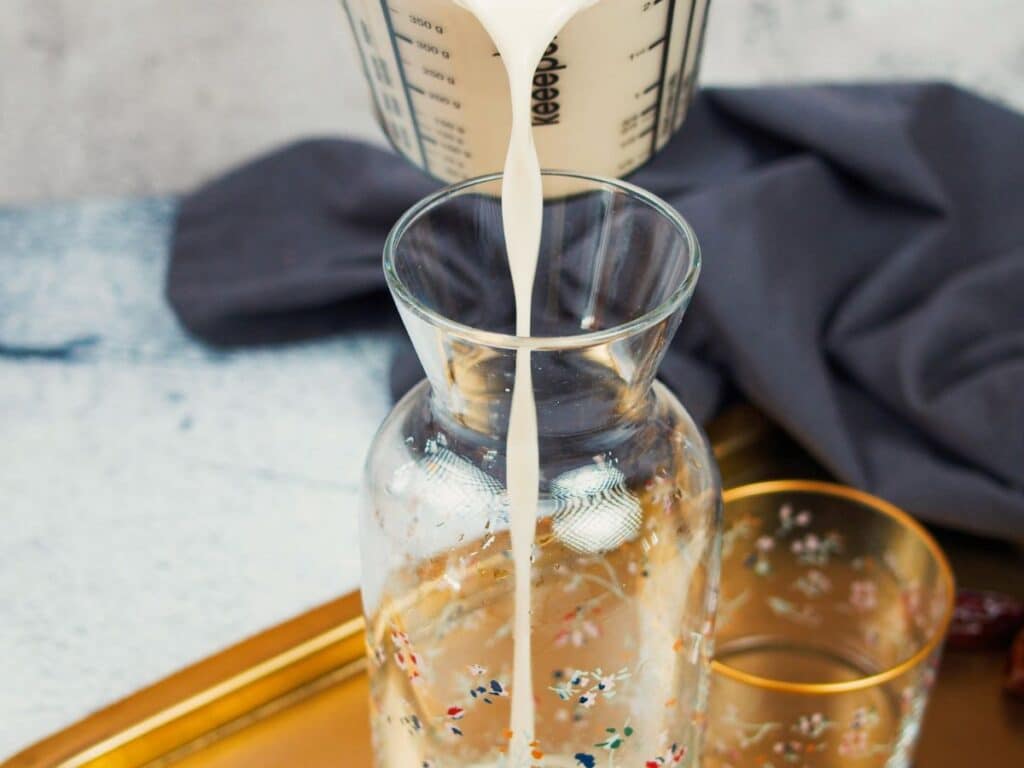 Frequently Asked Questions
Do I need to soak almonds before making almond milk?
Absolutely. It's necessary to soak the almonds for at least 6 hours but no longer than overnight. This allows you to soften the almonds but not let them sit so long that they create bacteria or mold.
How long can I store homemade almond milk?
Homemade almond milk is good for up to 6 days when refrigerated in an airtight container. While you can store it in a pitcher, this will take on flavors in the refrigerator, so I recommend pouring it into a jar with a lid.
Can I add sweeteners or flavors to almond milk?
Definitely! For this recipe, I used dates as a natural sweetener. You can use any favorite sweetener to taste. I recommend starting with a small amount, tasting, and adding until you find the flavor you prefer.
Is homemade almond milk healthier than store-bought almond milk?
This really depends upon the brand of almond milk you purchase, and what you consider healthy. Making your own is nice to save money if you are able to purchase the almonds at a good price in bulk. Otherwise, the benefits are limited amounts of preservatives, if any, which are in general thought to be much healthier.
How much almond milk does one cup of almonds yield?
This depends upon your preferred richness, thickness, and flavor. Using 1 cup of almonds would be reasonable for making 3 cups of almond milk, but depending upon your preferences, it could be up to 4 cups of milk.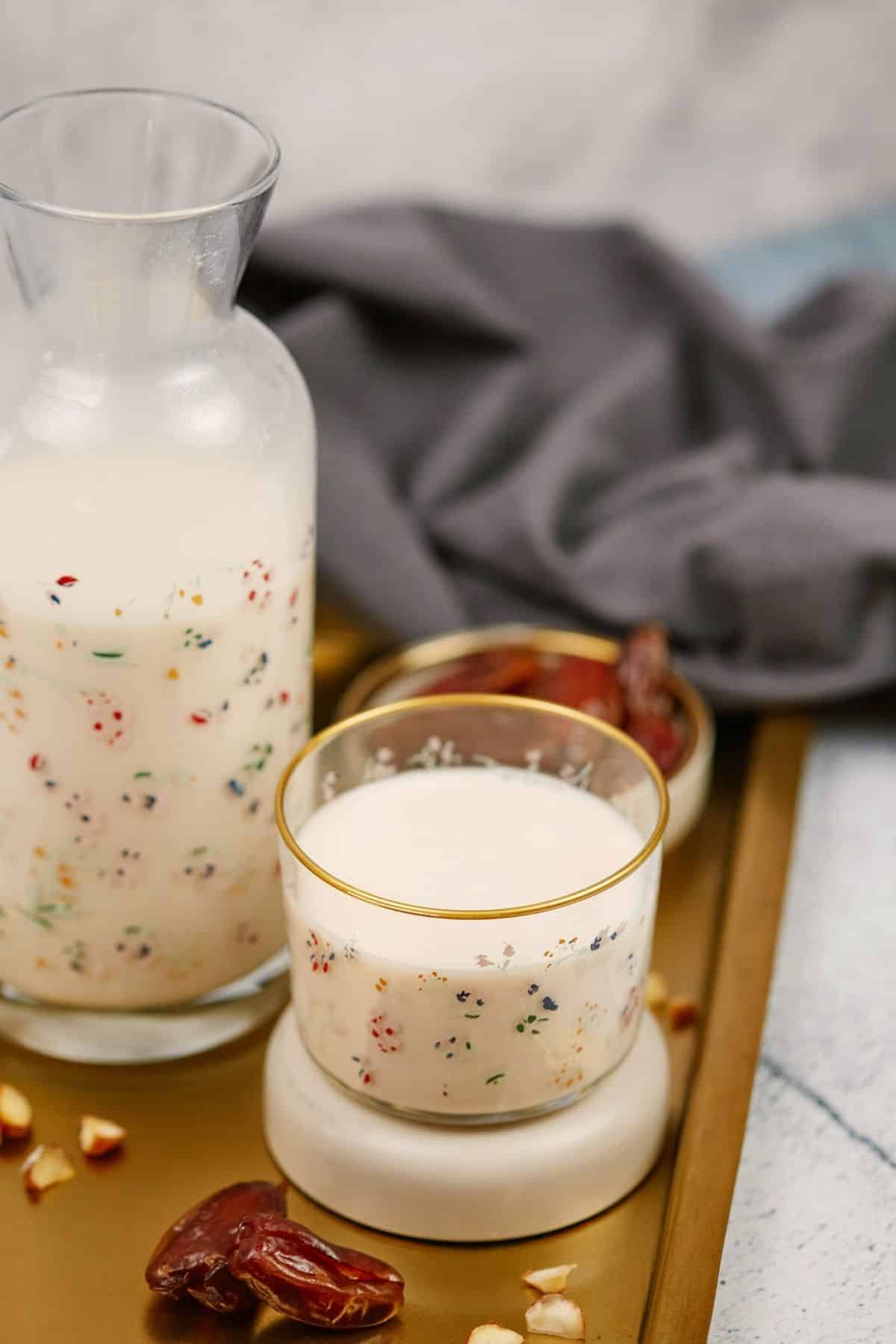 More Vegan Basics Recipes
When you first begin a non-dairy, plant-based, or vegan lifestyle, you'll find yourself missing some basic foods. Replacements are easy to find in the market, but making homemade options is sure to be a better choice with better flavors. Below are some more of those classic items you can make to replace what you used to buy in the market. Bookmark, print, or pin your favorites from this list!
Follow me on PINTEREST and INSTAGRAM for more tasty Plant Based & Vegan Recipes❤️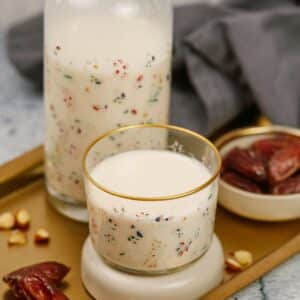 Homemade Almond Milk Recipe
Learn how to make delicious almond milk at home with this easy recipe. A vegan, dairy-free, and healthy addition to your menu!
Ingredients
1

cup

raw unpeeled almonds

3

cups

water

2-3

pcs

dates

pitted

½

teaspoon

vanilla extract

¼

teaspoon

salt
Instructions
Begin by soaking your almonds in cold water for at least 6 hours or overnight, allowing them to soften and prepare for blending.

Once soaked, drain the water and transfer the almonds to the cup of a high-speed blender. Add salt, vanilla, dates, and water, and blend the ingredients together for roughly 1 minute until smooth liquid forms.

Next, prepare a colander lined with 2-3 layers of cheesecloth or a milk bag, and pour the blended almond mixture over the top. Using your hands, gently squeeze the cheesecloth or milk bag to extract as much liquid as possible from the almonds.

Once the liquid has been strained, transfer it to a bottle or jar and store it in the refrigerator.
Notes
Store for up to 6 days in the refrigerator.
Add your preferred sweetener to the milk. Options include sugar, maple syrup, agave, stevia, or flavored syrups.
Add 3 tablespoons chocolate syrup to the 3 cups of almond milk to create a chocolate version if desired.
Nutrition
Calories:
280
kcal
Carbohydrates:
11
g
Protein:
10
g
Fat:
24
g
Saturated Fat:
2
g
Polyunsaturated Fat:
6
g
Monounsaturated Fat:
15
g
Trans Fat:
0.01
g
Sodium:
206
mg
Potassium:
355
mg
Fiber:
6
g
Sugar:
3
g
Vitamin A:
1
IU
Vitamin C:
0.003
mg
Calcium:
136
mg
Iron:
2
mg