If you're looking for a delicious vegan dessert that will impress everyone at the dinner table, then look no further than this baklava cake! This cake combines the classic flavors of baklava with a moist and tender cake that's sure to leave your taste buds dancing.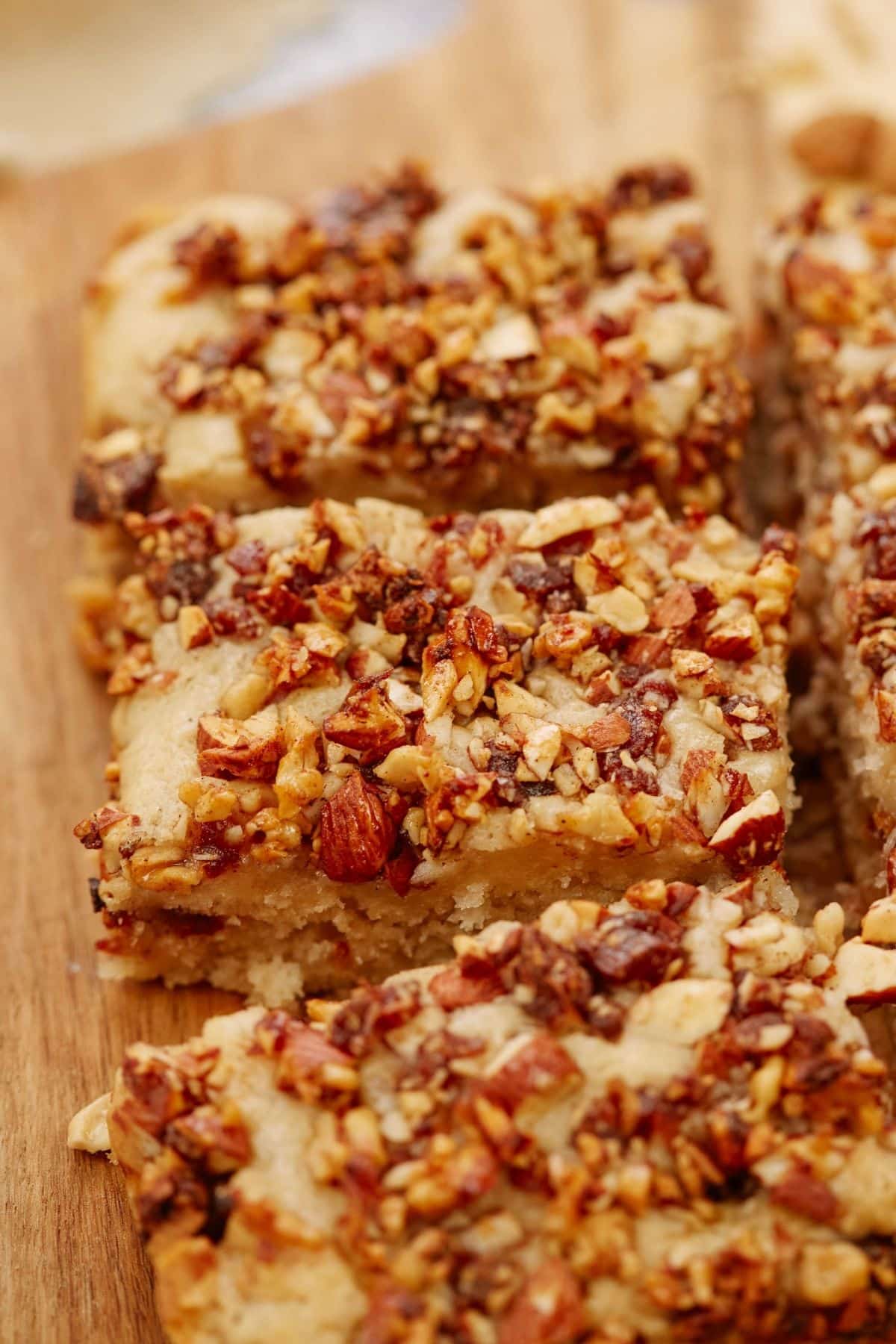 Jump to:
Baklava Cake
The origins of baklava cake can be traced back to the Ottoman Empire, where it was a popular dessert made with layers of phyllo dough, nuts, and syrup. Over time, this dessert has evolved to include different variations, including this vegan version made with a tender cake base.
One of the most important things to keep in mind when making this baklava cake is to make sure it stays moist. This can be achieved by keeping the right mixture of wet to dry ingredients, but especially the right amount of fats. Two key ingredients in this recipe include coconut oil and applesauce. If you're worried about your cake being too dry, you can always add a little simple syrup on top to keep it nice and moist.
Overall, this vegan baklava cake is the perfect dessert for anyone looking to indulge in something sweet and delicious. With its moist texture and classic baklava flavors, it's sure to be a hit at your next dinner party or family gathering. It is the perfect easy-to-make dessert to pair with vegan gyros with grilled tofu.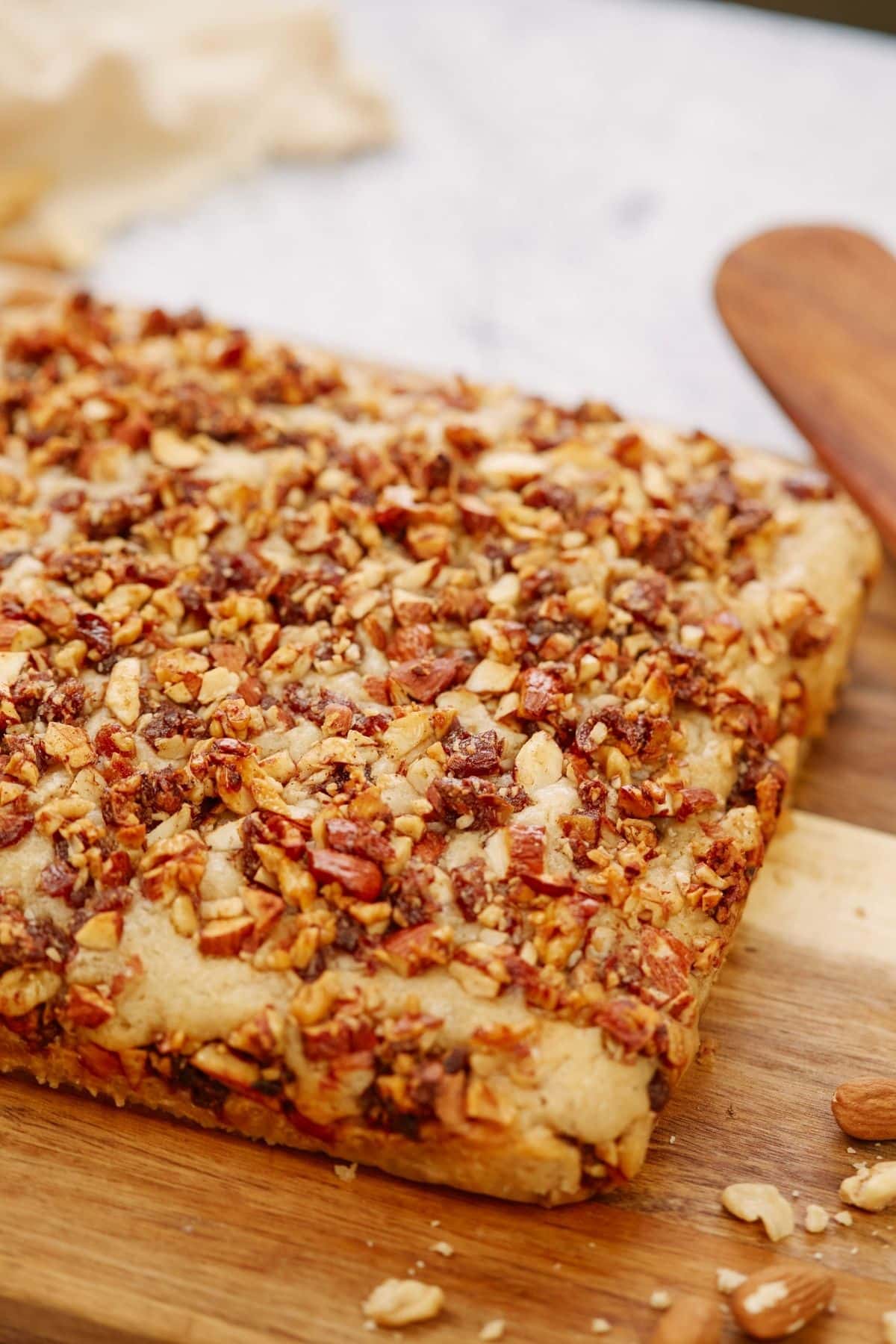 Ingredients
Serves: 8
For the cake batter:
1 cup unsweetened almond milk
1 teaspoon white vinegar
2 tablespoon applesauce
⅓ cup brown sugar
¼ cup coconut oil, melted
1 teaspoon vanilla extract
1 ½ cups all-purpose flour
2 teaspoon baking powder
½ teaspoon salt
For the cake toppings:
½ cup chopped almonds
½ cup chopped walnuts
1 cup dates, pitted and chopped
½ teaspoon ground cinnamon
2 tablespoon agave syrup
For the syrup:
2 tablespoon agave syrup
2 teaspoon lemon juice
2 tablespoon water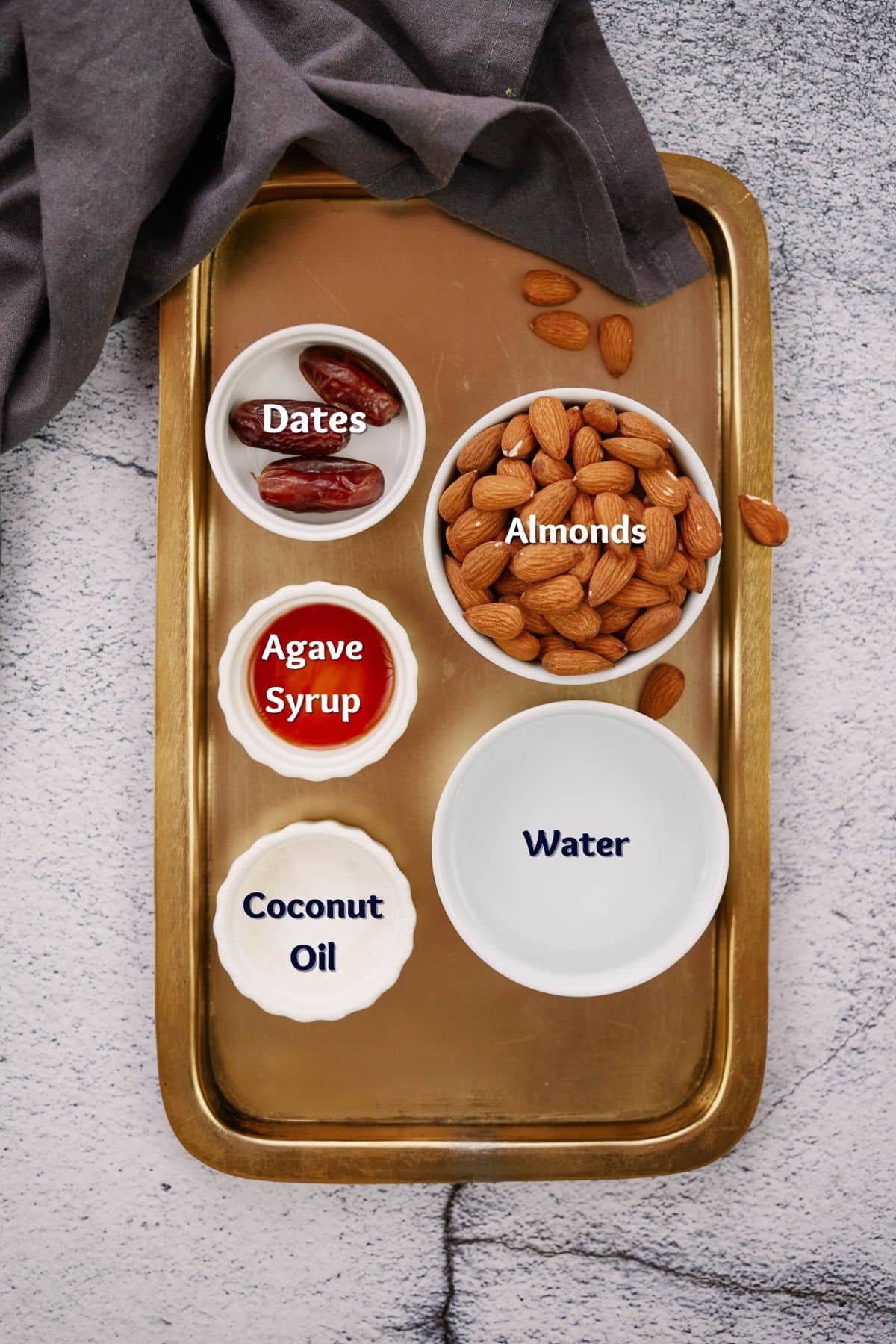 Kitchen Tools Used:
Mixing bowls: Every kitchen needs bowls for mixing. I highly recommend a set of nesting bowls that offer you a variety of sizes and still keep the storage space needed to a minimum.
Measuring cups and spoons: I highly recommend investing in stainless steel measuring spoons, dry measuring cups, and a set of wet measuring cups.
8"x8" baking pan: This can be made in any smaller baking pan, but I prefer this even size for easy portions once cooked.
How to Make a Vegan Baklava Cake
Preheat the oven to 350°F/180°C. Then, line an 8"x8" baking pan with parchment paper. Keep the paper a bit larger than needed to make lifting out of the pan easier to manage.
In a large bowl, whisk the almond milk and vinegar together, then set it aside for 10 minutes to curdle. Once the milk has been curdled, whisk in the brown sugar, oil, applesauce, and vanilla extract. Set this aside.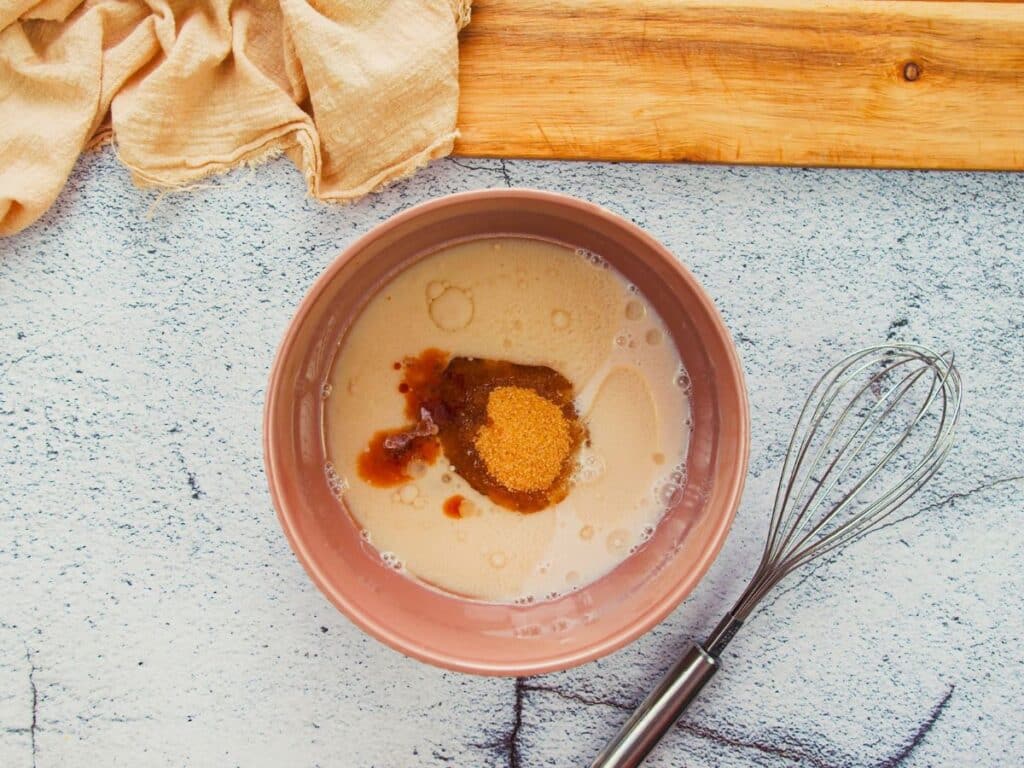 Now, in a separate bowl, whisk the flour, salt, and baking powder.
Then, mix the dry and wet ingredients together to form the batter. Pour half of the batter into the baking pan. Set the rest aside.
Now, mix together the almonds, walnuts, dates, cinnamon, and agave syrup together and pour ½ of the mixture over the batter.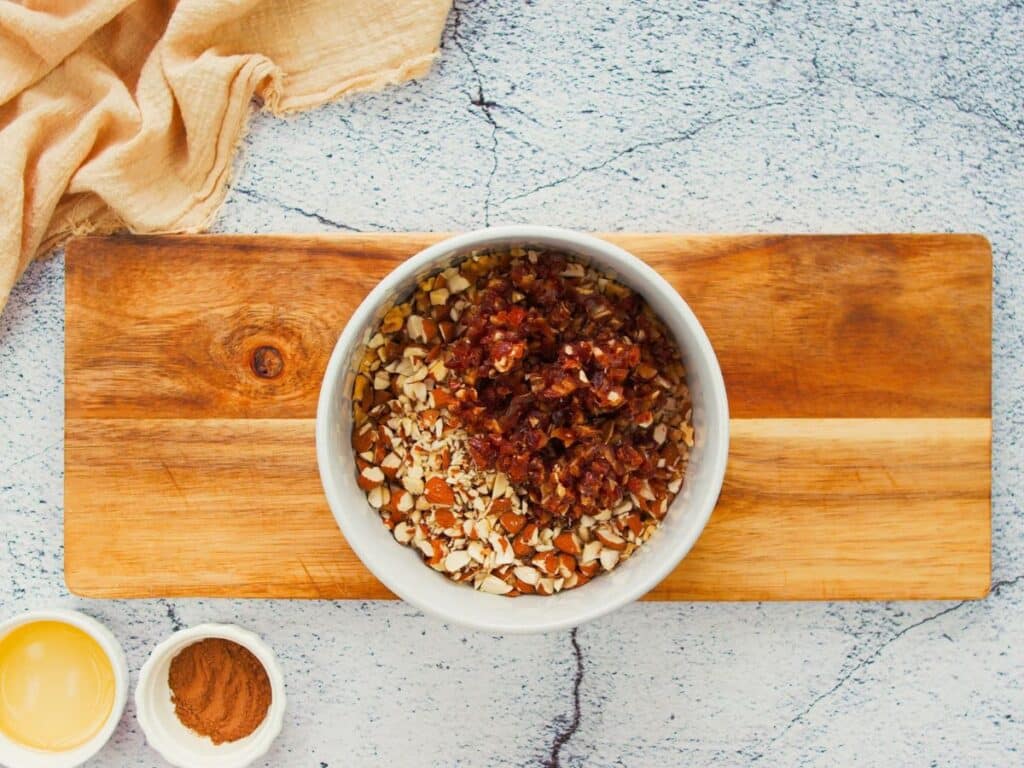 Then, spread the remaining batter over the top of the mixture, and finish with the remaining nut mixture. Cover the pan with aluminum foil and bake for 20 minutes.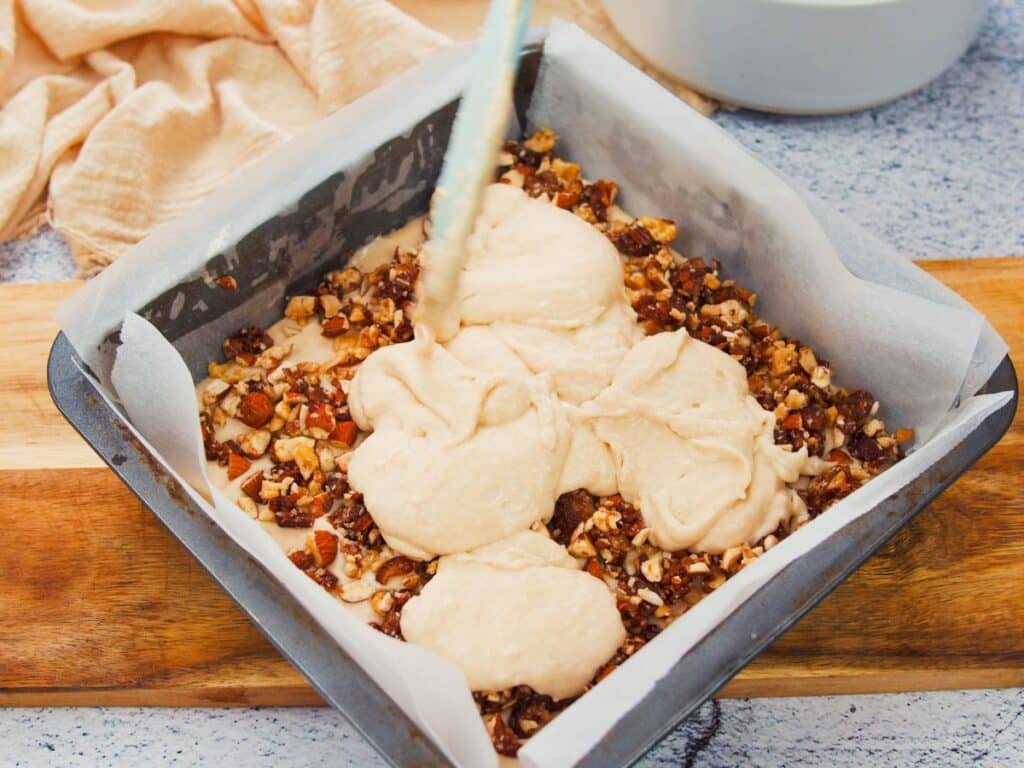 Remove the aluminum foil, and bake for another 25 minutes. Then, let the cake cool for 10-15 minutes once out of the oven.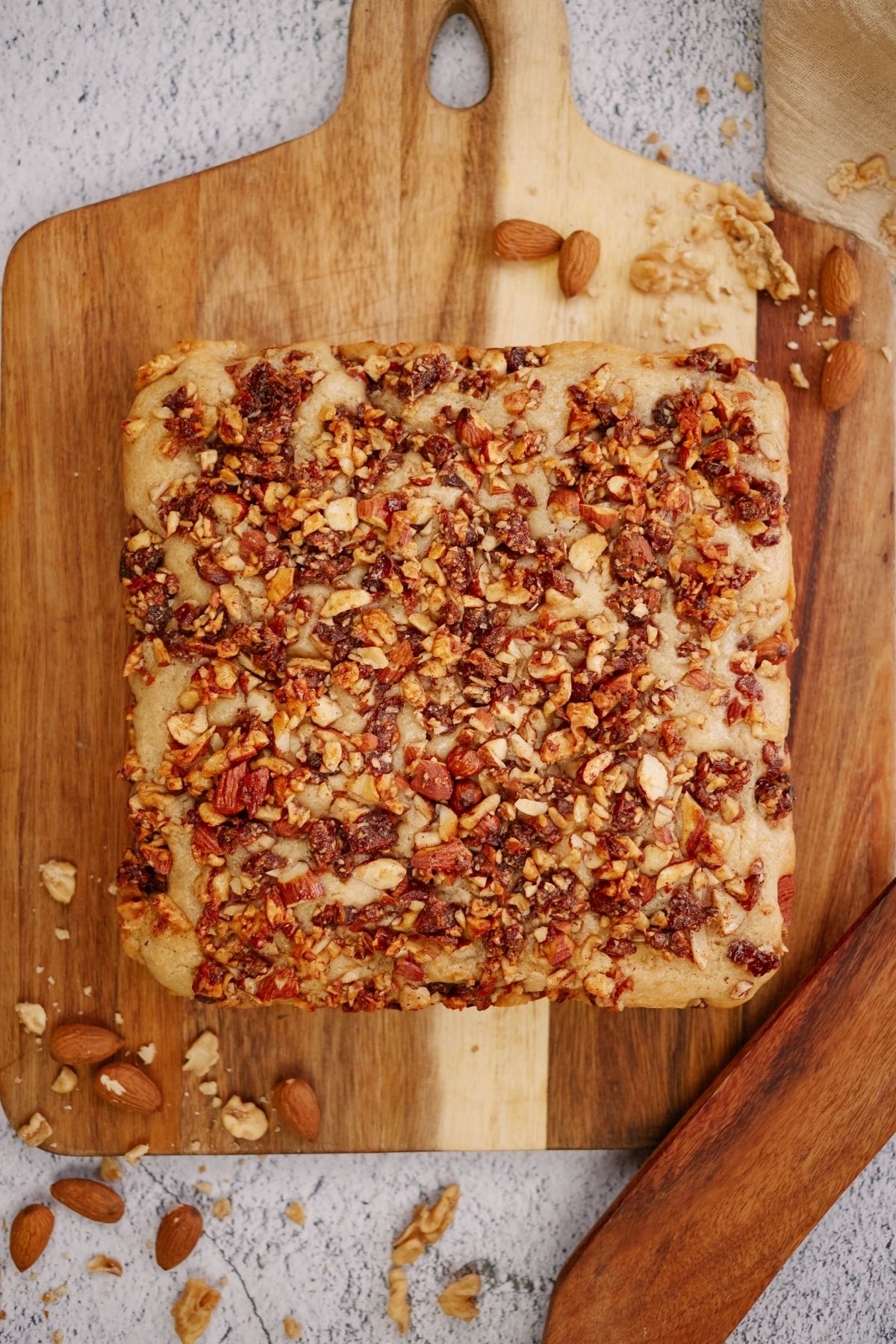 In a bowl, whisk together the agave syrup, lemon juice, and water together. Drizzle or brush this syrup over the top of the cake.
Let it cool down completely before slicing to serve.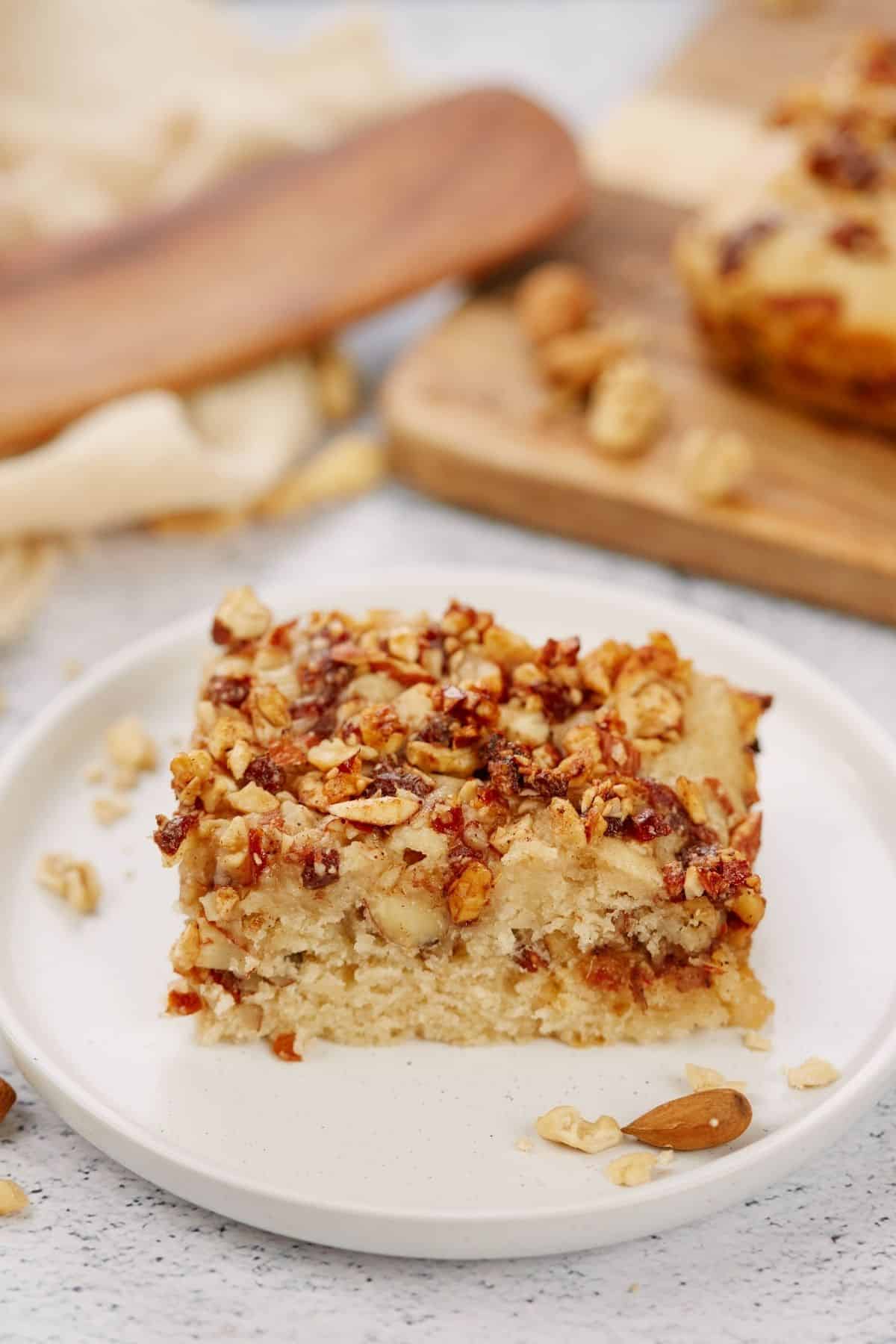 Frequently Asked Questions
Can I substitute other non-dairy milk in a vegan baklava cake recipe?
Absolutely. While unsweetened almond milk is great in this recipe, you can use any other non-dairy option you prefer. Coconut milk, oat milk, soy milk, rice milk, or hemp milk are great alternatives.
Is it possible to make a gluten-free vegan baklava cake?
Sure! Just use your own preferred 1:1 flour substitute. I like the King Arthur products that provide a simple substitute you don't have to make any special measurements.
Can I freeze a vegan baklava cake?
This can easily be frozen for up to 4 months. Simply cut into portions, wrap each portion individually, and place in an airtight container or freezer bag.
Is a vegan baklava cake still sweet like traditional baklava?
Yes. The combination of applesauce, agave syrup, and brown sugar keeps it sweet while being easy to make.
Tips for Storing Cake
After you make your baklava cake, you'll want to make sure it stays fresh. The best way to do that is to store it in an airtight container. If you have a cake carrier, that is perfect, but you can also cut it into slices and stack them into a different lidded container.
This can be kept at room temperature for up to 4 days. If you do not finish within that time, you can also refrigerate it for up to 7 days. However, it is best served at room temperature.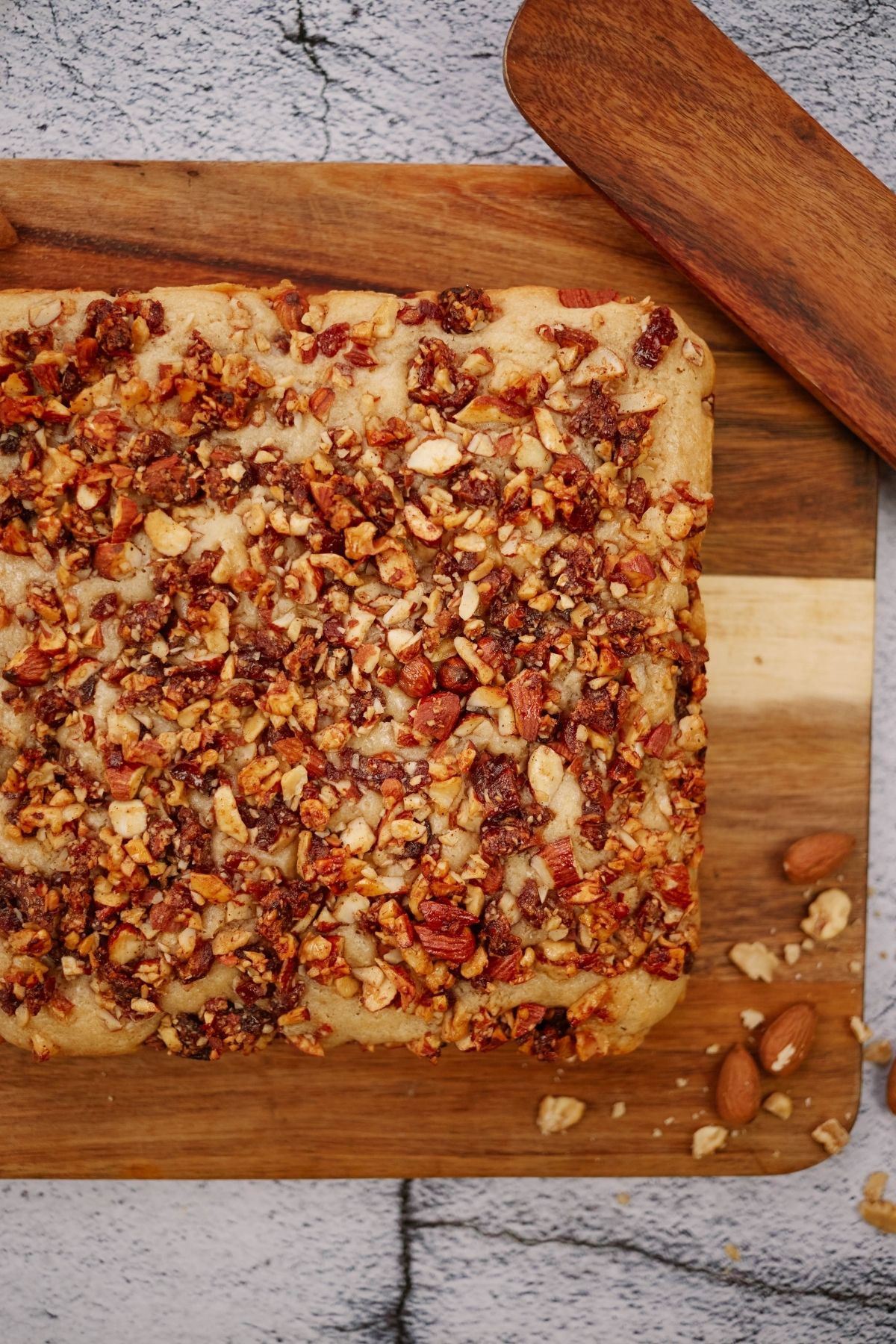 More Vegan Cake Recipes
If you think you can't have delicious dessert when you are following a plant-based diet, then you are wrong! There are tons of great cake recipes below that you are going to absolutely love. Take a moment to check them out, bookmark your favorites, print them out, or pin them to Pinterest to make soon!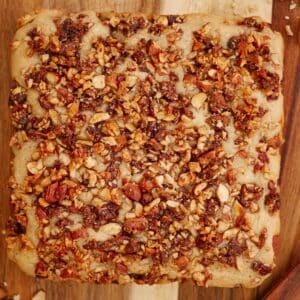 Vegan Baklava Cake Recipe
Experience the delicious taste of dairy-free baklava cake! This vegan recipe is a must-try for all dessert enthusiasts.
Ingredients
For the syrup:
2

tablespoon

agave syrup

2

teaspoon

lemon juice

2

tablespoon

water
Instructions
Preheat the oven to 350°F and line an 8"x8" baking dish with parchment paper then set it aside.

In a large bowl, whisk together the milk and vinegar, allowing it to curdle for 5-10 minutes. Next, add the brown sugar, oil, applesauce, and vanilla to the curdled milk mixture and whisk well.

In a separate bowl, whisk together the flour, salt, and baking powder. Then, combine the dry and wet ingredients, mixing to form a smooth batter.

Pour half of the batter into the prepared baking pan.

In another bowl, mix together all of the ingredients for the toppings. Then, spread half of the nut mixture on top of the batter in the pan.

Add the remaining batter on top of the nut mixture, smoothing it out evenly. Sprinkle the remaining nut mixture on top of the batter.

Cover the pan with foil and bake for 20 minutes. Remove the foil and bake for an additional 25 minutes.

When the cake is done baking, let it cool down for 10-15 minutes. Then, whisk together the ingredients for the syrup. Drizzle or brush the syrup on top of the cake and let it cool down completely before serving.
Notes
Use a combination of almonds and pistachios for a more traditional baklava flavor.
Vegan honey or maple syrup can be used to replace the agave if desired.
Replace the coconut oil in the cake with shortening or vegan butter if desired.
Nutrition
Calories:
369
kcal
Carbohydrates:
53
g
Protein:
6
g
Fat:
17
g
Saturated Fat:
6
g
Polyunsaturated Fat:
5
g
Monounsaturated Fat:
4
g
Trans Fat:
0.001
g
Sodium:
296
mg
Potassium:
262
mg
Fiber:
4
g
Sugar:
29
g
Vitamin A:
5
IU
Vitamin C:
2
mg
Calcium:
148
mg
Iron:
2
mg