There's nothing quite like a refreshing and healthy salad to brighten up your day, and this vegan Mediterranean couscous salad is the perfect dish to do just that! Bursting with flavor and packed with wholesome ingredients, it's sure to be a hit with everyone.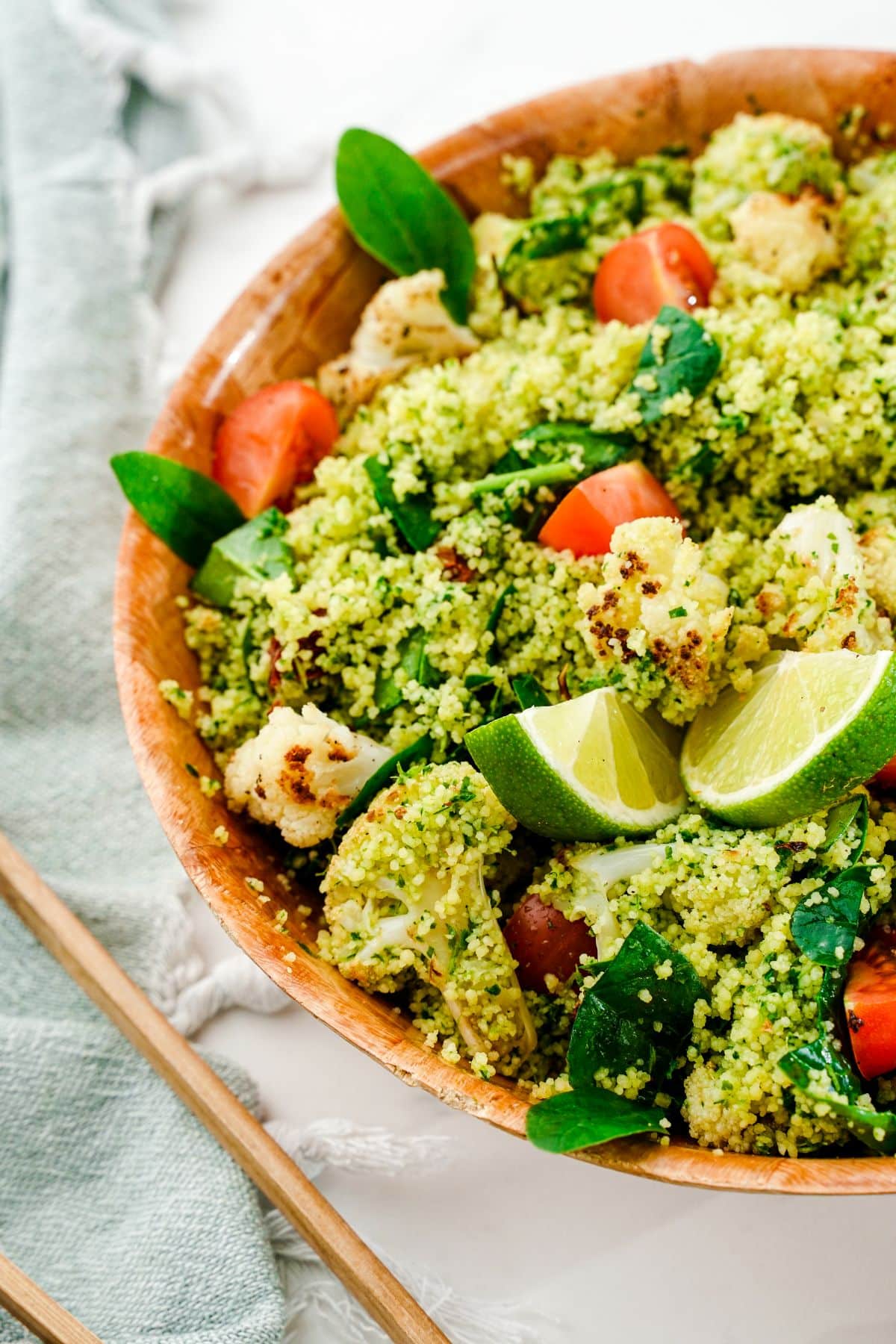 Couscous is a great pasta to add to your menu and has a wonderful texture to pair with fresh vegetables in this dish.
If you like this salad, you may also appreciate the delicious Jennifer Aniston Salad. This is another loaded salad filled with veggies.
Jump to:
Ingredients
This recipe has two ingredient groupings. The first will be for the salad itself, while the second list is for the pesto dressing. These are separated below for your convenience. You can print the recipe card below for exact ingredient quantities.
Spinach
Couscous
Cauliflower
Sun-dried tomatoes
Cherry tomatoes
Garlic
Ground cumin
Salt
Black pepper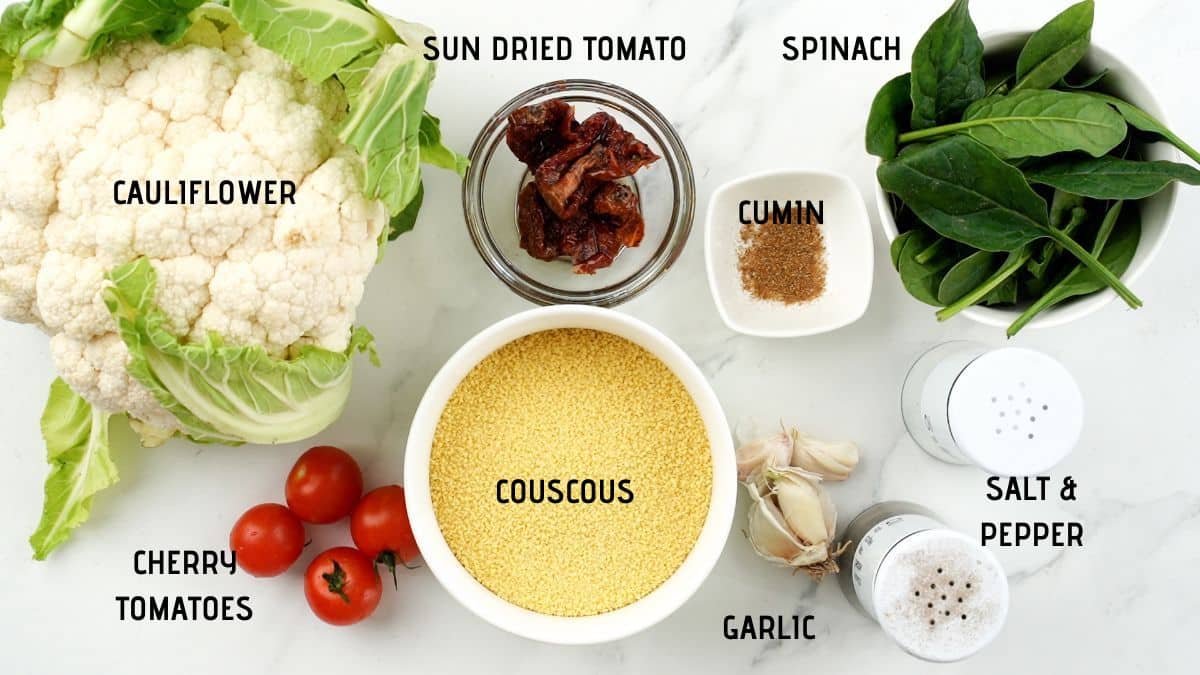 For the parsley pesto dressing:
Fresh parsley
Olive oil
Lemon juice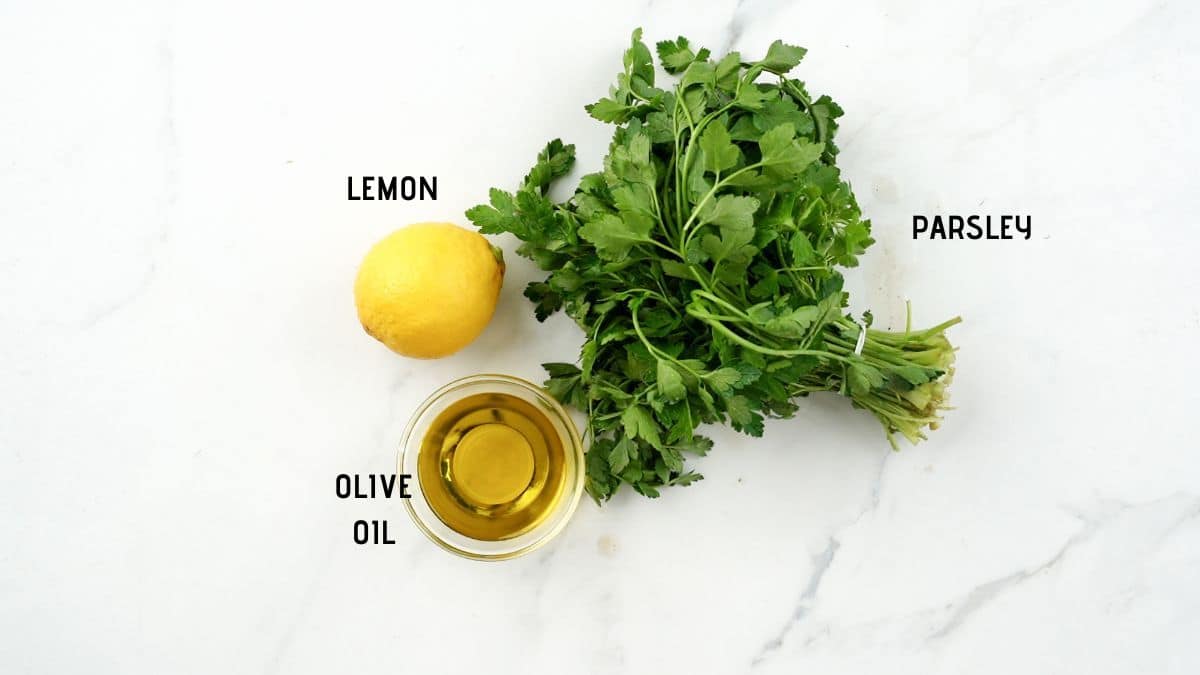 Instructions
Preheat the oven to 450°F/230°C and line a baking sheet with parchment paper, or spray well with non-stick spray. Then, wash and cut the cauliflower into small pieces.
Spread the cauliflower evenly on the prepared baking sheet then drizzle with olive oil and season with salt and black pepper. Bake for 20 to 25 minutes, until it is fork tender and golden.
In a medium saucepan, prepare the couscous according to the package instructions. I recommend adding a teaspoon of olive oil while cooking, and you may add vegan butter after it is cooked through.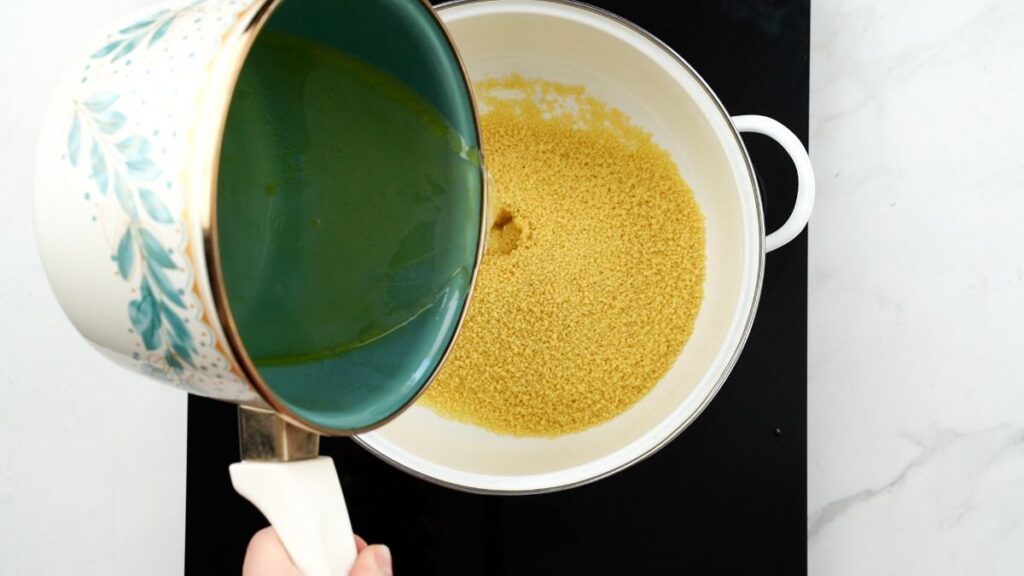 While the couscous is cooking, prepare your tomatoes and spinach by washing and chopping them into bite-sized pieces.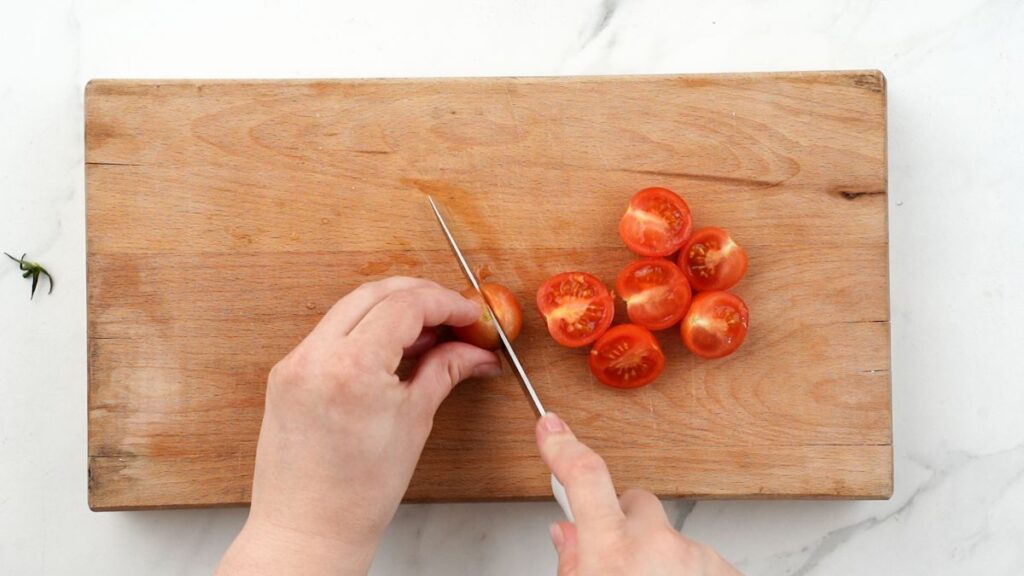 Then, in a food processor or blender, add the olive oil, parsley, and lemon juice and pulse until the herbs are blended together and it is a thick dressing. Taste and add seasoning if desired.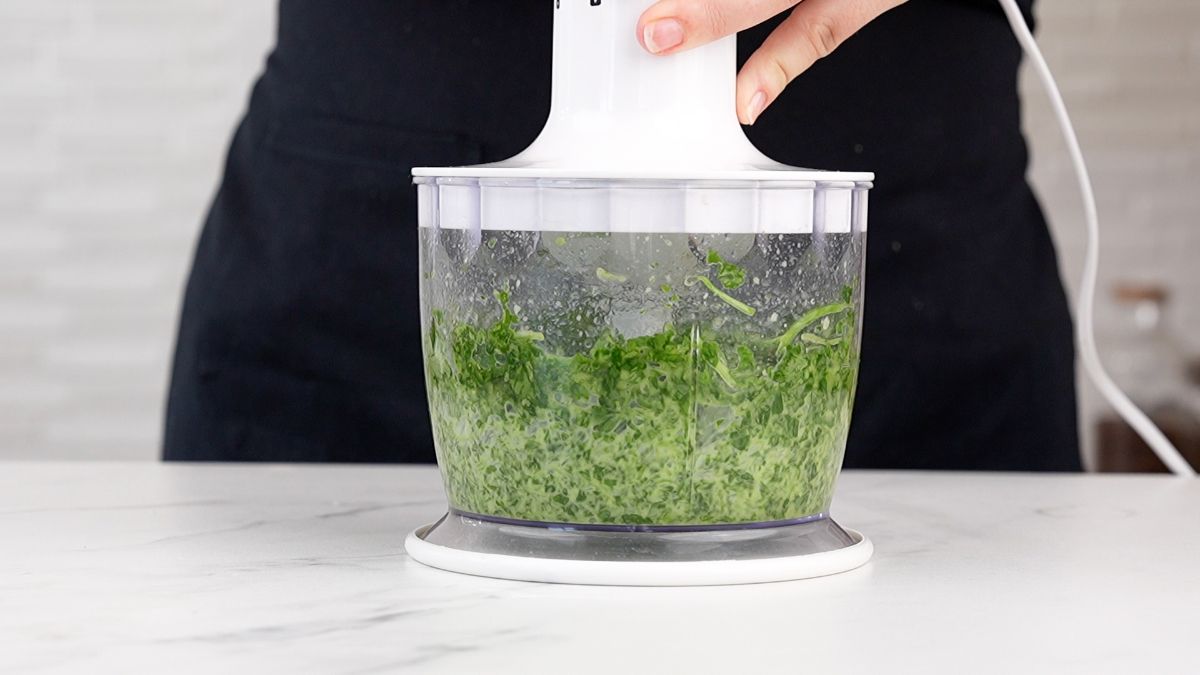 Instructions for serving salad
Add the couscous to a large bowl, then top with the cauliflower, sun-dried tomatoes, chopped cherry tomatoes, and spinach. Top with the chopped garlic and cumin, then drizzle with the dressing and toss together to coat everything.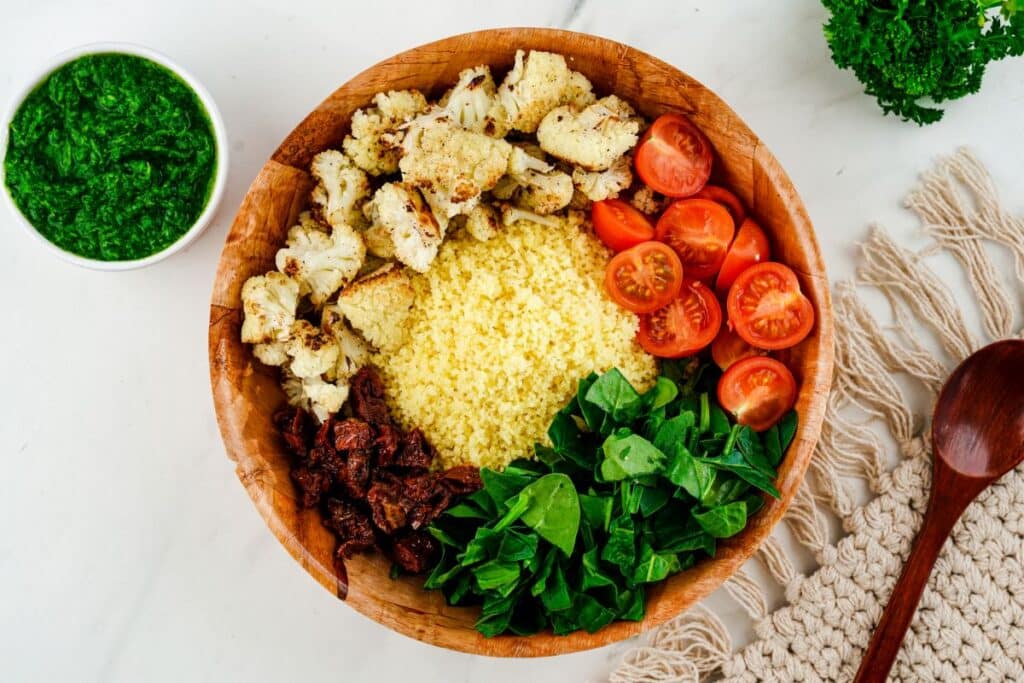 Substitutions
The best part about this recipe is that it's incredibly versatile, so you can easily swap out certain ingredients to suit your preferences or dietary needs. Some examples are below.
Substitute the couscous for quinoa or brown rice if you prefer.
Use broccoli, carrots, zucchini, or squash instead of cauliflower.
Replace the spinach with kale or Swiss chard.
Use a ready-made vegan dressing instead of the homemade pesto-style dressing.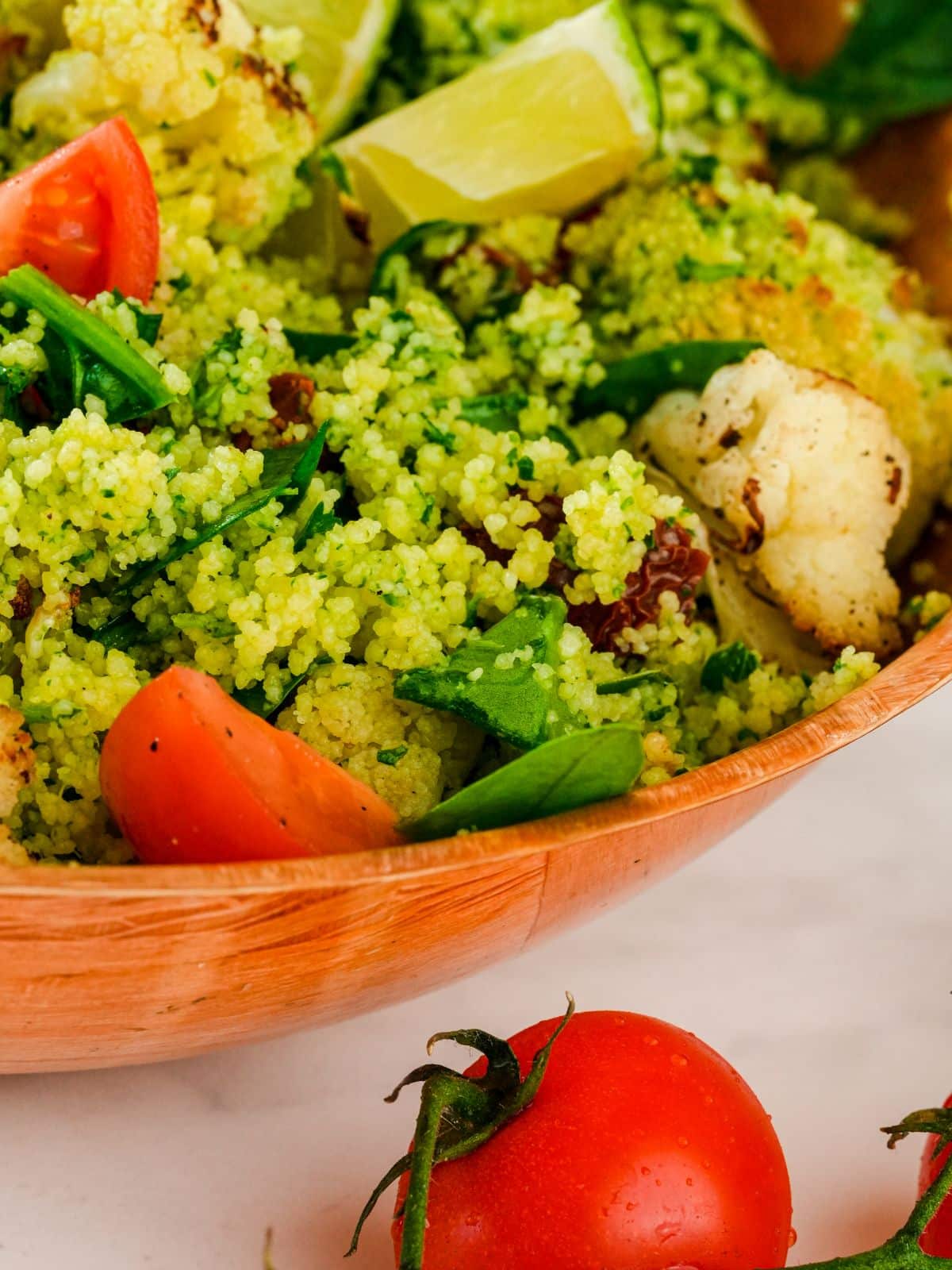 Variations
If you're looking to switch things up a bit, there are plenty of variations you can try with this recipe. It's super easy to add a unique flavor while keeping the basics the same. Below are some ideas.
Add additional protein such as air fryer tofu, tempeh, or a vegan sausage to the mixture.
Roast bell peppers and onions to mix into the salad.
Dice artichoke hearts and add them to the mixture.
Top with fresh mint for extra freshness.
Cook the couscous in a flavored broth for more richness.
Add 1 cup of cooked chickpeas or another legume for more texture and protein.
Equipment
If your kitchen isn't stocked with equipment yet, consider the items below as additions you will use not just for this recipe, but for many others in the future.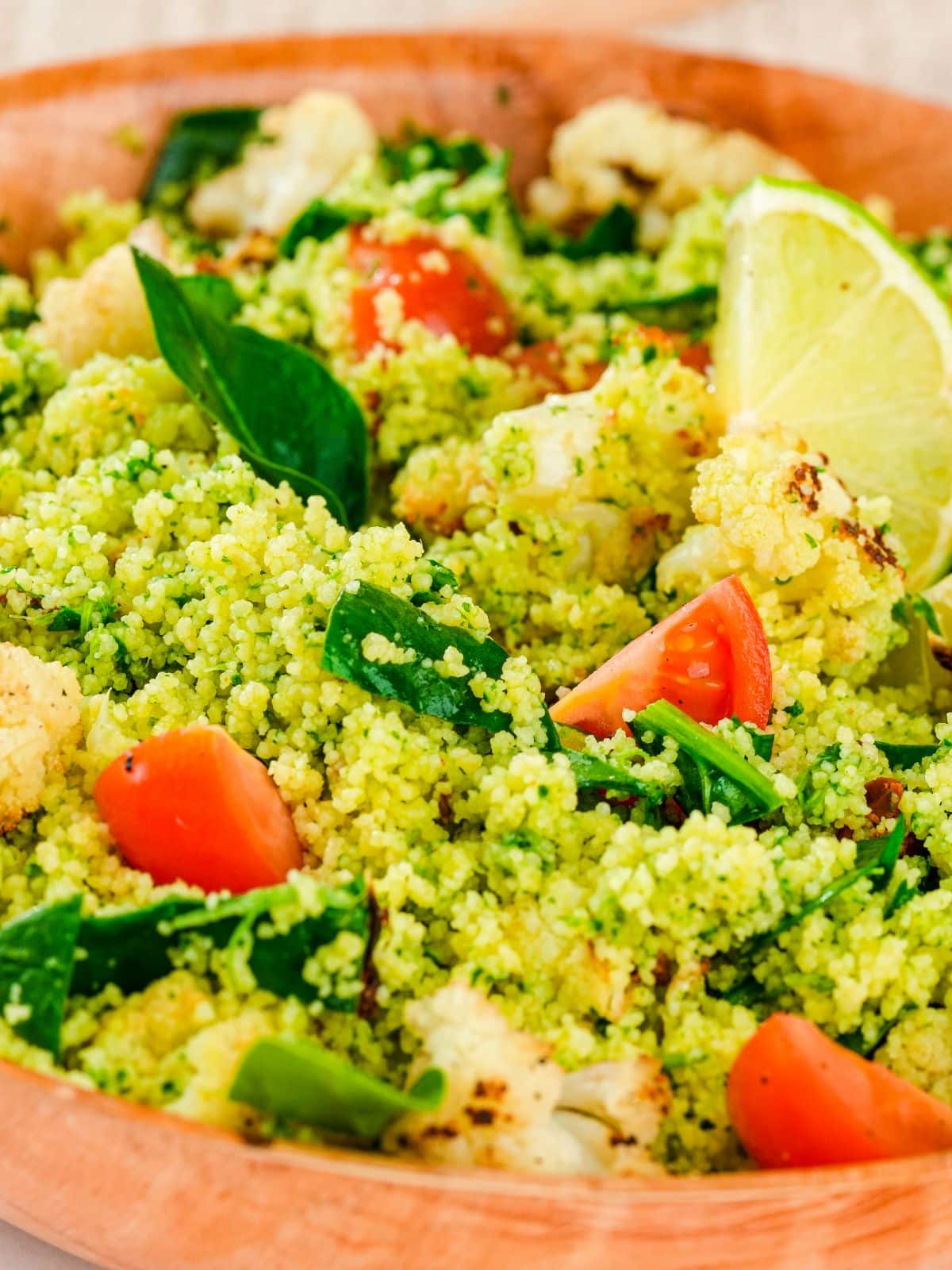 Storage
When it comes to storage, this salad will keep well in the refrigerator for up to 3-4 days, making it a great option for meal prep or leftovers. However, it's not recommended to freeze it, as the texture of the couscous may become a bit mushy upon thawing.
Top tip
One tip for making this the best couscous salad possible is to make sure that you cook the couscous properly. It's important to fluff it with a fork after it's cooked, as this will help to prevent clumps and ensure that it's light and fluffy.
FAQ
What is the best type of couscous to use for a vegan Mediterranean couscous salad?
There are many different types of couscous available, but the best type to use for a vegan Mediterranean couscous salad is whole-wheat couscous. Whole-wheat couscous is higher in fiber and nutrients than white couscous, and it will give your salad a more hearty texture.
Is couscous salad served hot or cold?
The beauty of this salad is that it is great as soon as it is made and after being refrigerated. I find it is best chilled, so if possible, prepare the couscous an hour or more before assembling.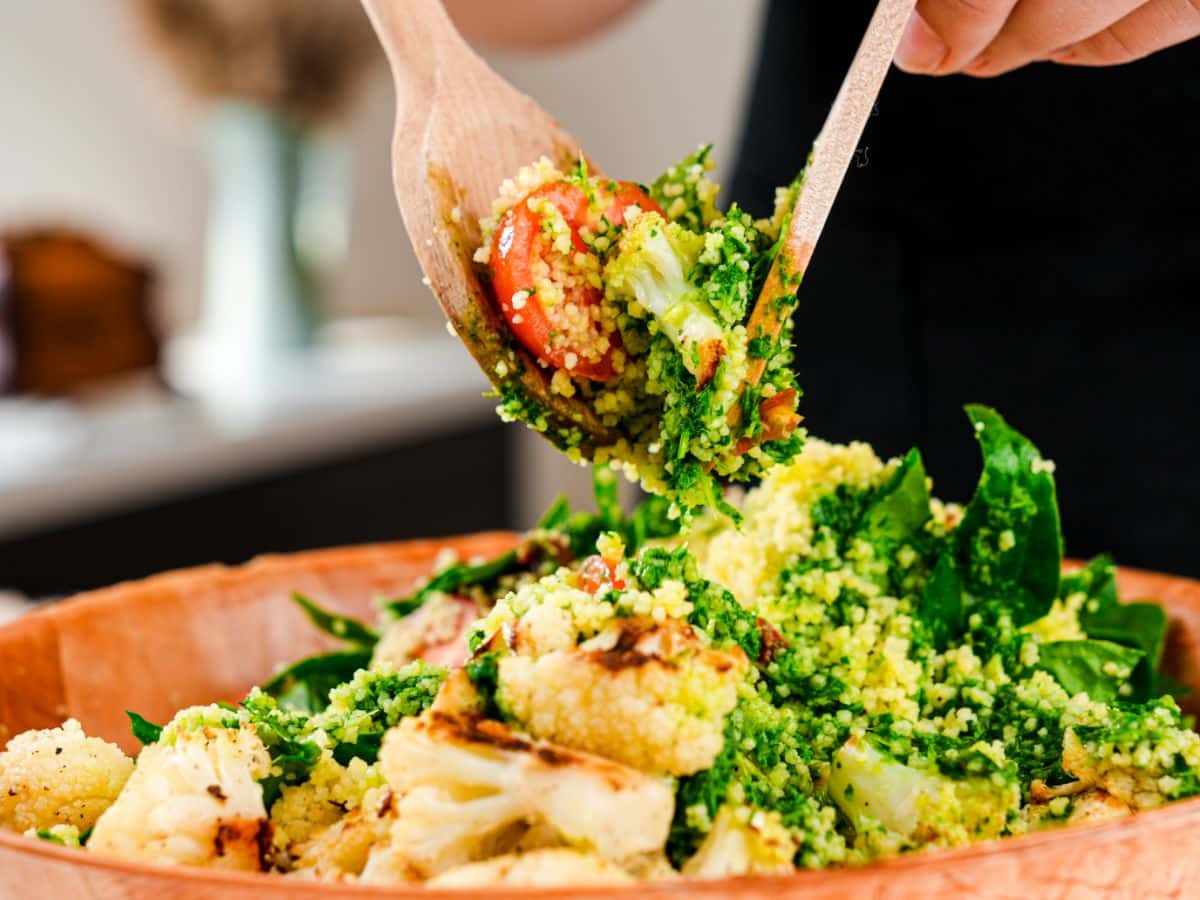 Related
If you are looking for more vegan salads to add to your menu, this couscous salad isn't the only one. Below you'll find a few of our favorites! Check them out!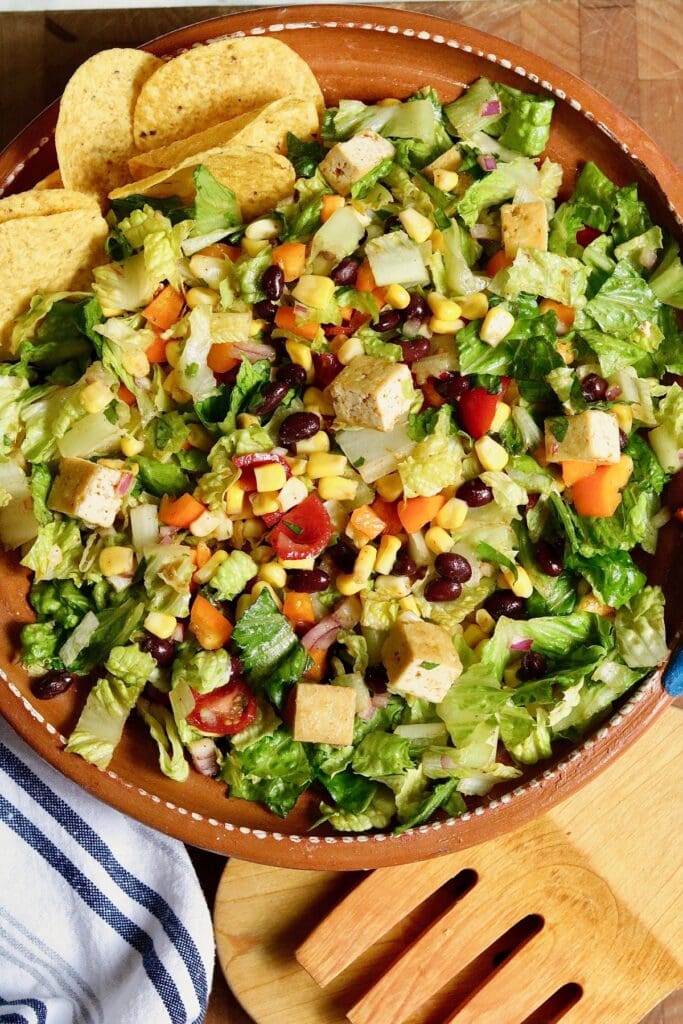 Pairing
Want to add more to a meal with this salad? Check out some of our favorite flavor-packed meat substitutes!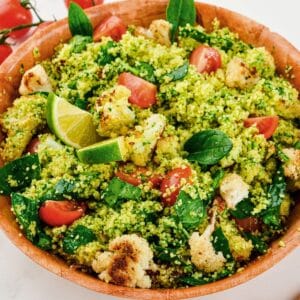 Vegan Mediterranean Couscous Salad
Savor the taste of the Mediterranean with this vegan couscous salad recipe that's packed with flavor and wholesome ingredients like juicy tomatoes and crispy cauliflower.
Ingredients
For the parsley pesto dressing:
Instructions
Begin by washing the cauliflower and cutting it into small pieces. Place the pieces onto a baking sheet lined with parchment paper and season with olive oil, salt, and pepper. Bake in a preheated oven at 450°F (230°C) for 20-25 minutes or until golden and tender.

Cook the couscous according to the package instructions, using boiled water with olive oil. Once cooked, add 2 tablespoons of butter and mix well.

While the couscous is cooking, chop the cherry tomatoes, spinach, and sun-dried tomatoes into small pieces.

To make the parsley pesto dressing, combine all the ingredients in a food processor or blender and process until a thick, green mixture is formed.

To serve the salad, start by placing the cooked couscous in a large bowl. Layer the chopped vegetables on top, then sprinkle with cumin and chopped garlic. Drizzle the parsley pesto dressing on top and mix well to combine.
Notes
Use a flavored couscous or cook with a rich broth to add depth of flavor.
Sautee mushrooms or tofu and add just before serving for added protein.
Make sure to fluff the couscous before serving.
Nutrition
Calories:
614
kcal
Carbohydrates:
102
g
Protein:
19
g
Fat:
15
g
Saturated Fat:
2
g
Polyunsaturated Fat:
2
g
Monounsaturated Fat:
10
g
Sodium:
645
mg
Potassium:
1039
mg
Fiber:
10
g
Sugar:
8
g
Vitamin A:
1641
IU
Vitamin C:
55
mg
Calcium:
85
mg
Iron:
4
mg
Food Safety
Are you being safe when handling food and preparing meals? Food safety is always important and that includes plant-based foods. For this recipe, making sure your vegetables are properly washed before mixing them into the salad is a must. Below are a few more ideas to keep in mind.
Always sanitize countertops, cutting boards, utensils, and cookware thoroughly between each use.
Wash your hands in warm soapy water, rubbing for at least 20 seconds before rinsing. Remember, "FROG" means friction rubs off germs.
After serving food, allow it to cool, then place it into the refrigerator or proper storage immediately. Food should be at room temperature for no more than 2 hours for safety.