Looking for a delicious and healthy way to enjoy tofu? Look no further than this recipe for Crispy Panko Breaded Tofu. With a golden, crunchy exterior and a tender, flavorful interior, this dish is a perfect addition to any meal.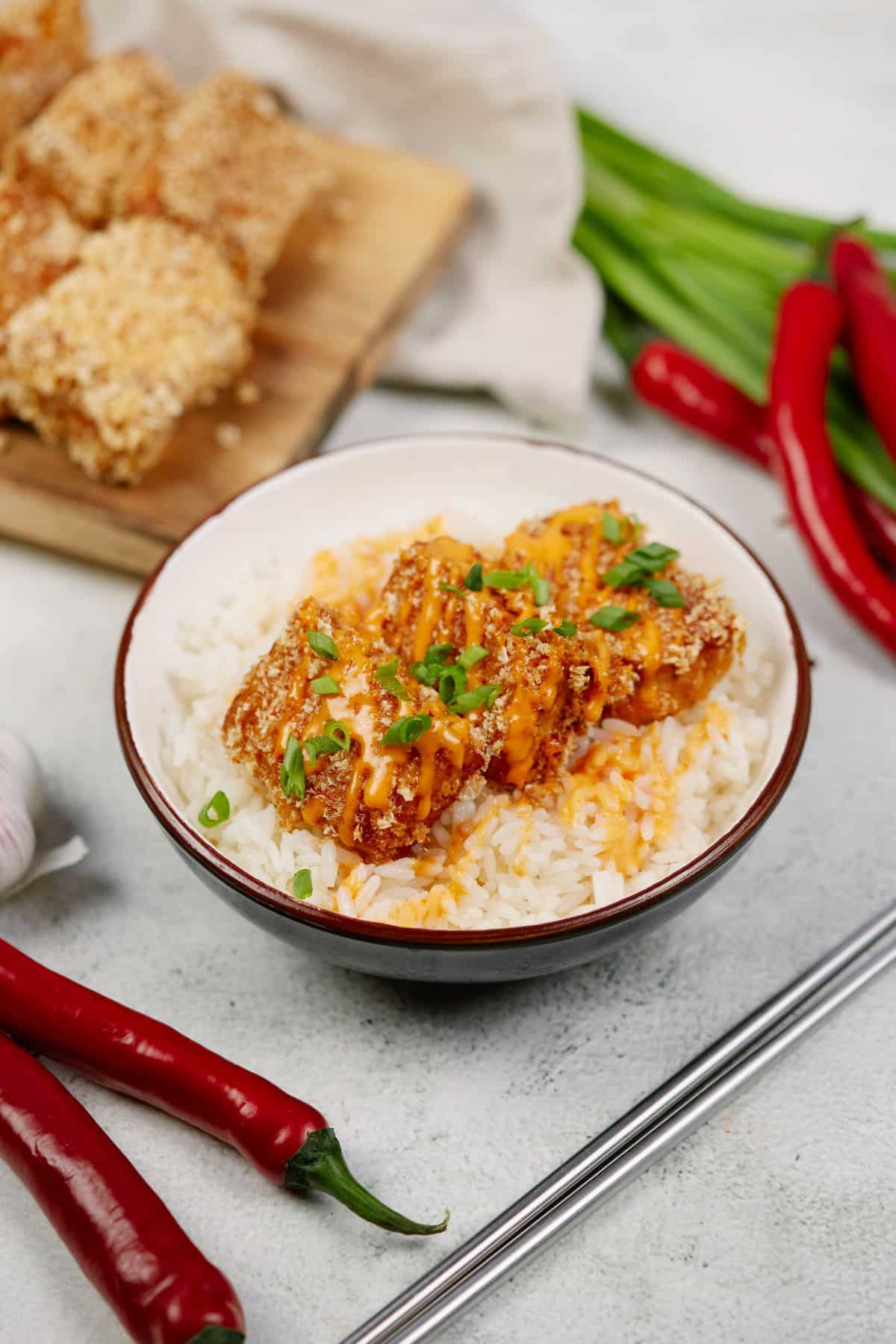 Not only is it delicious, but it's also incredibly easy to make. With just a few simple ingredients and a little bit of time in the oven, you can have a delicious and healthy meal on the table in no time.
If you like this recipe, then you should try our crispy buffalo cauliflower wings. So easy to make and tasty.
Jump to:
🥘Ingredients
For exact measurements of the ingredients below, check the printable recipe card below.
Firm tofu
Dark soy sauce
Tomato paste
Garlic cloves
Rice vinegar
Brown sugar
Paprika
Water
Panko breadcrumbs
Vegetable oil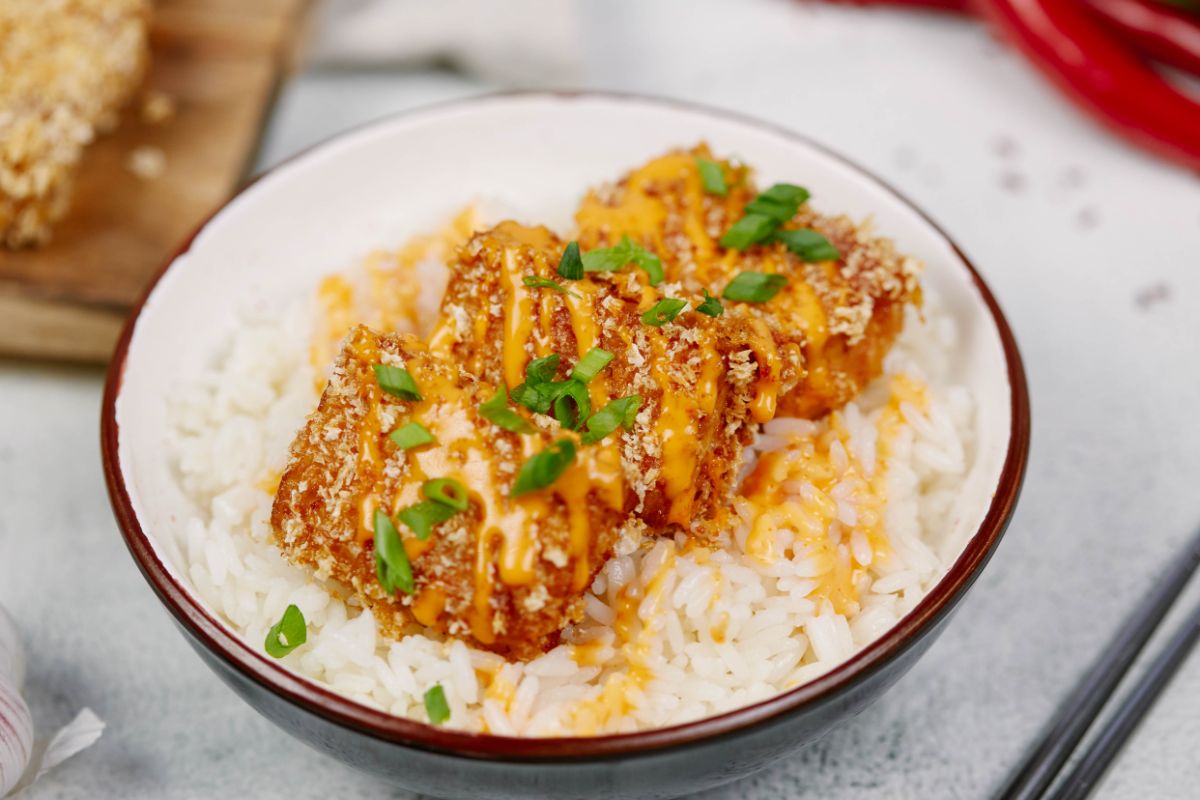 📋Instructions
Begin by cutting the tofu into small pieces. Place them onto paper towels and press out as much moisture as possible.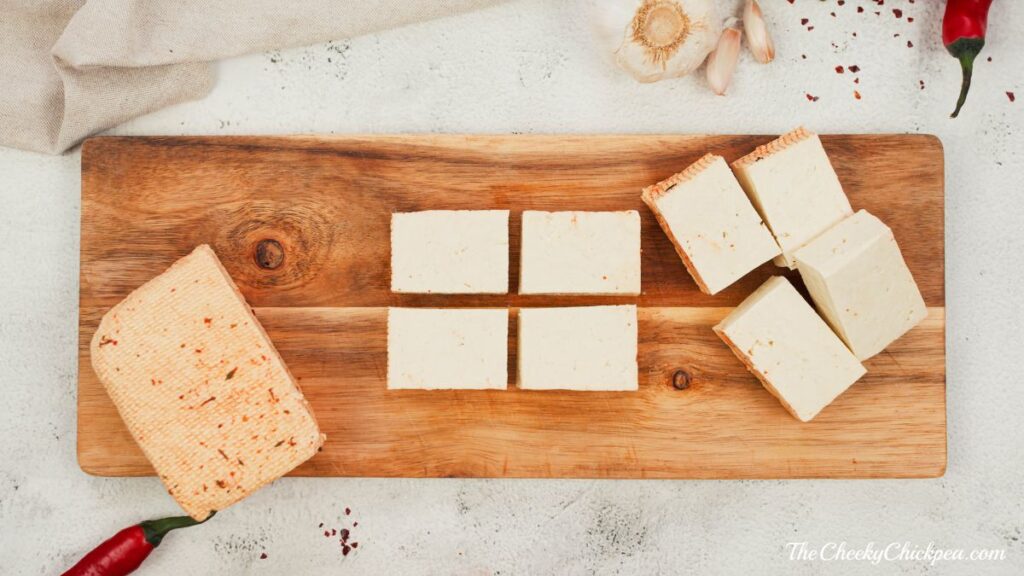 In a small bowl, whisk together the soy sauce, tomato paste, brown sugar, water, rice vinegar, garlic, and paprika. Whisk until the sugar is dissolved.
Pour this marinade into a bowl, and then add the tofu pieces. Make sure all are coated, then cover and refrigerate at least 30 minutes, up to overnight.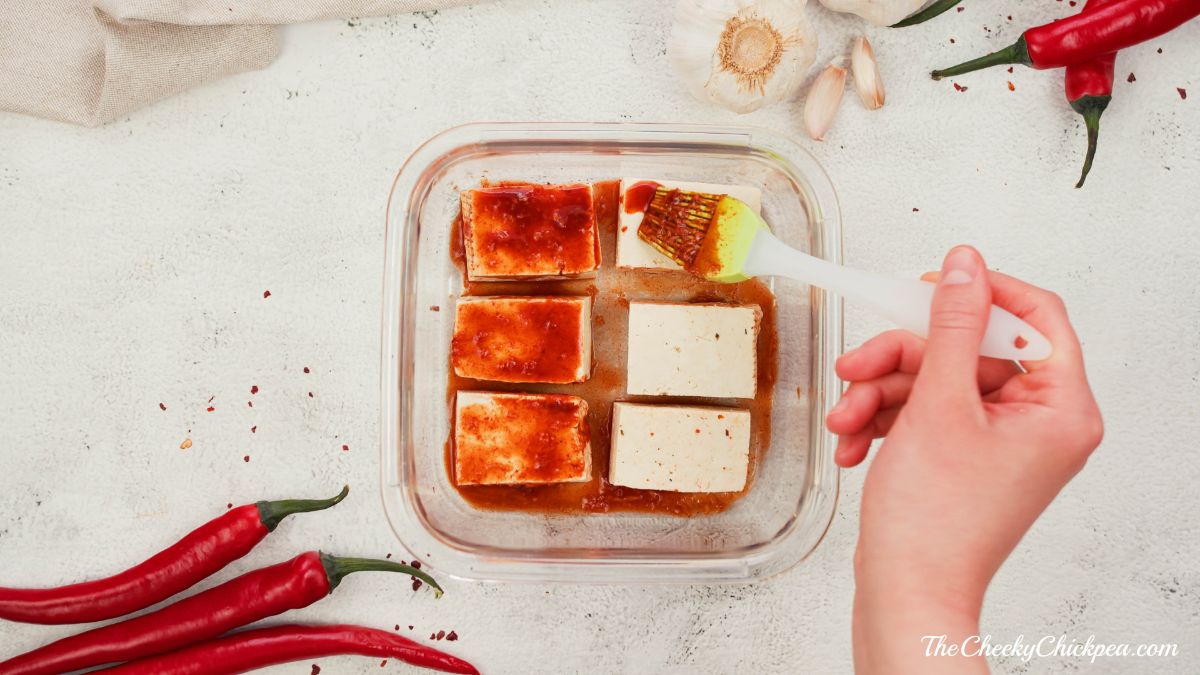 When ready to cook, heat vegetable oil in a deep skillet. Dredge the tofu cubes into the panko breadcrumbs.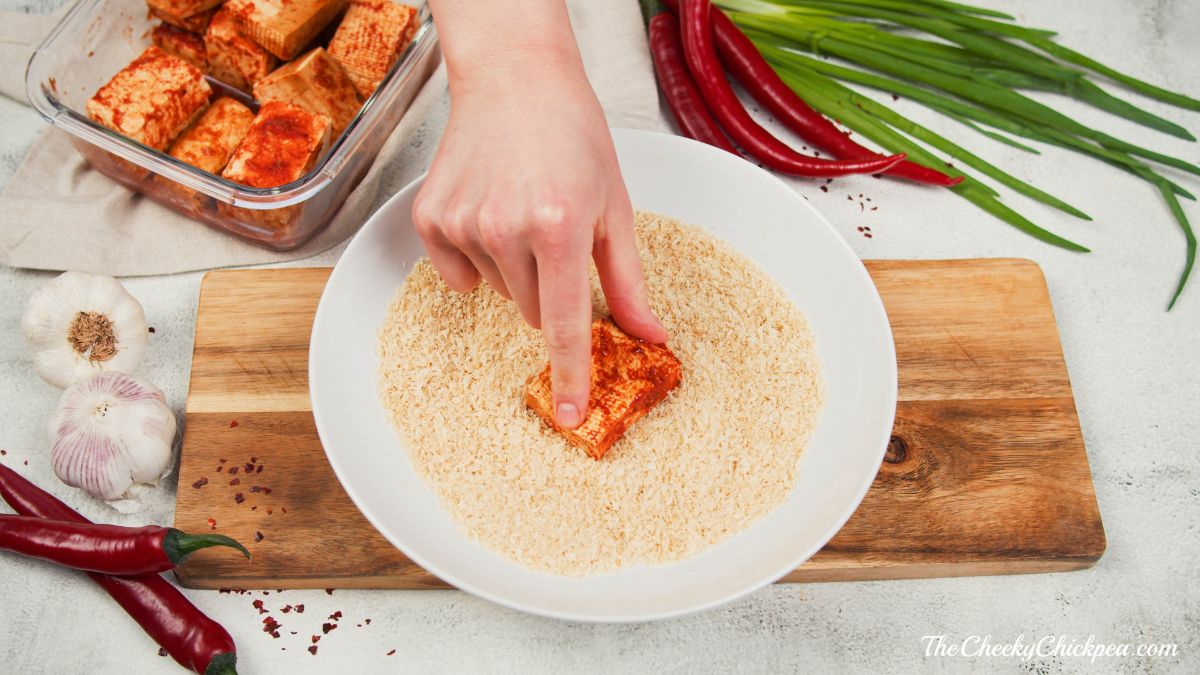 Cook for 2 to 3 minutes on all sides until golden brown and crispy.
Drain on paper towels until ready to serve.
📖Substitutions
Don't have everything on hand? No worries! Below you will find a few easy substitutions to make this recipe happen even if you don't have everything on hand.
Replace the soy sauce with tamari or coconut aminos
To make this gluten-free, substitute traditional panko for gluten-free panko crumbs
Use almond meal instead of breadcrumbs if you prefer
Replace the tomato paste with sun-dried tomatoes, roasted red peppers, or tomato sauce
Use garlic powder instead of garlic cloves
Replace the rice vinegar with apple cider vinegar or white wine vinegar
Use maple syrup instead of brown sugar
If you don't have paprika, you can use chili powder or another mild spice instead
Replace the water with vegetable broth for added flavor
🔪 Variations
Like this but want something just a bit unique? Check out the variations below.
For a spicy version, add red pepper flakes or hot sauce to the breading mixture.
You can also add cooked vegan bacon bits for an extra savory and smoky flavor.
Top the finished dish with chopped parsley, grated Parmesan cheese, or a sprinkle of sesame seeds for added flavor and texture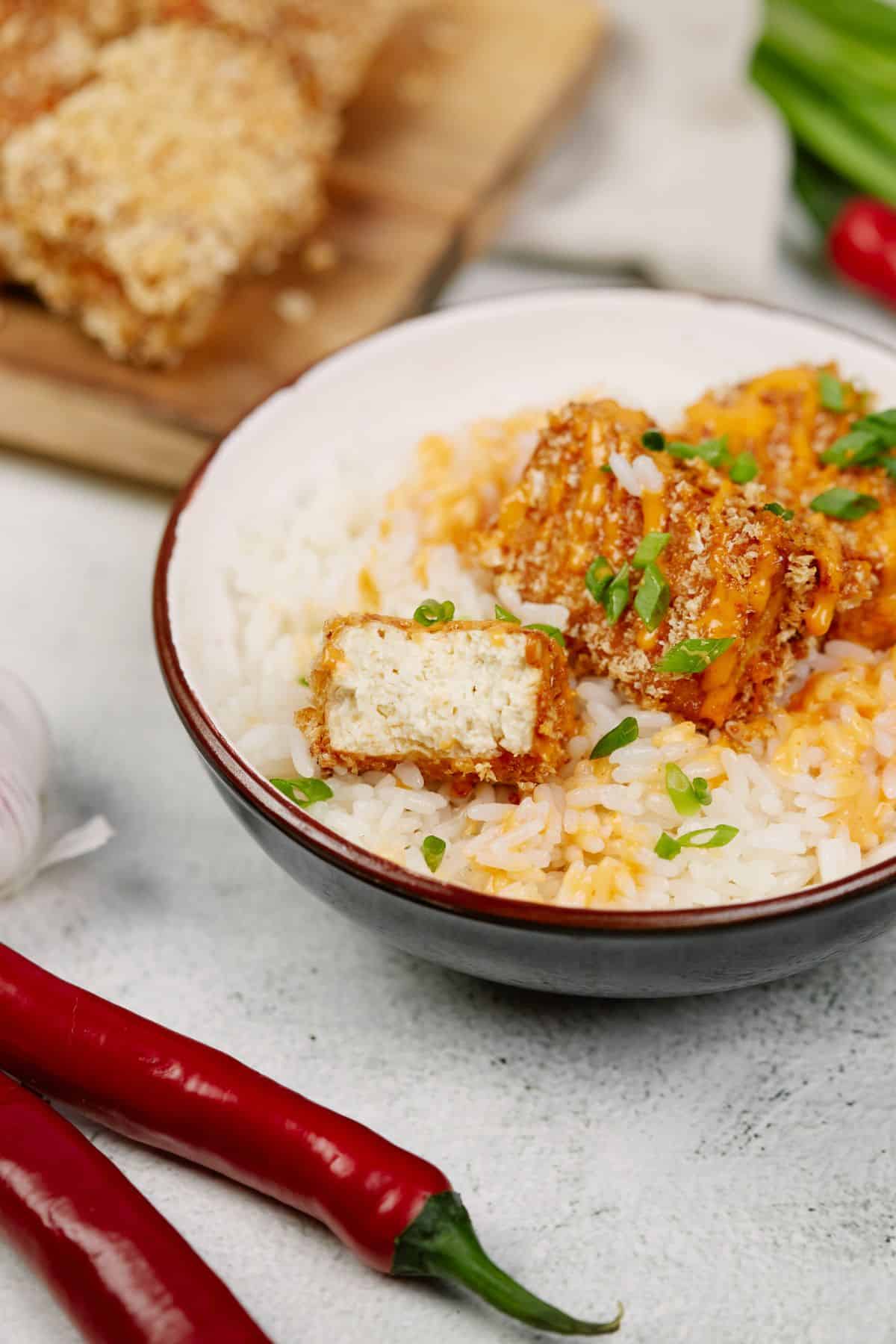 🫙Storage Tips
Store any leftovers in the refrigerator for up to 3 days. The tofu can be reheated in a skillet or oven, but it won't stay quite as crispy as when first made. Also, do not reheat it in the microwave or it will not have its crunchy texture.
You can also freeze the breaded tofu for up to two months; just thaw and cook according to the instructions before serving.
🍽 Equipment
💭 Top Tip
The key to making this is to make sure your tofu is pressed well before you marinate it. Additionally, it is helpful to make sure the oil is at least 350 degrees before you use it for frying. Do not overcrowd the pan to make sure it gets crispy instead of soggy.
❓FAQ
What is the best way to get tofu crispy?
Make sure that you are cooking it in hot oil and that you don't overcrowd the pan.
Should I coat my tofu in cornstarch before frying?
In many recipes, this would be the way to go. Since this tofu is breaded in panko breadcrumbs, the cornstarch is not necessary. You can dredge it in cornstarch, then back in the marinade, then the breadcrumbs if you want extra crispness.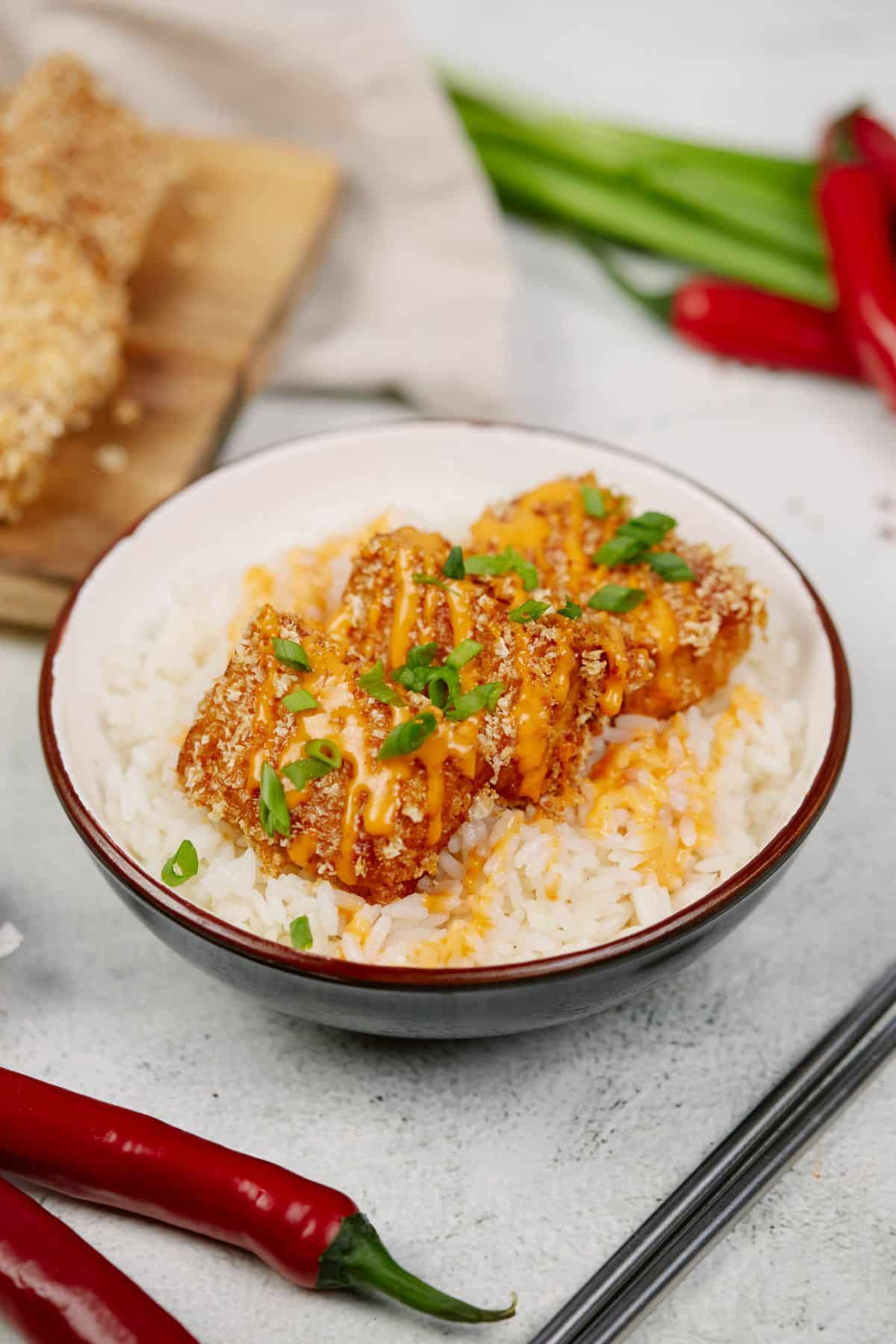 Related
Need new ways to make tofu? Check out the recipes below and bookmark them o make soon!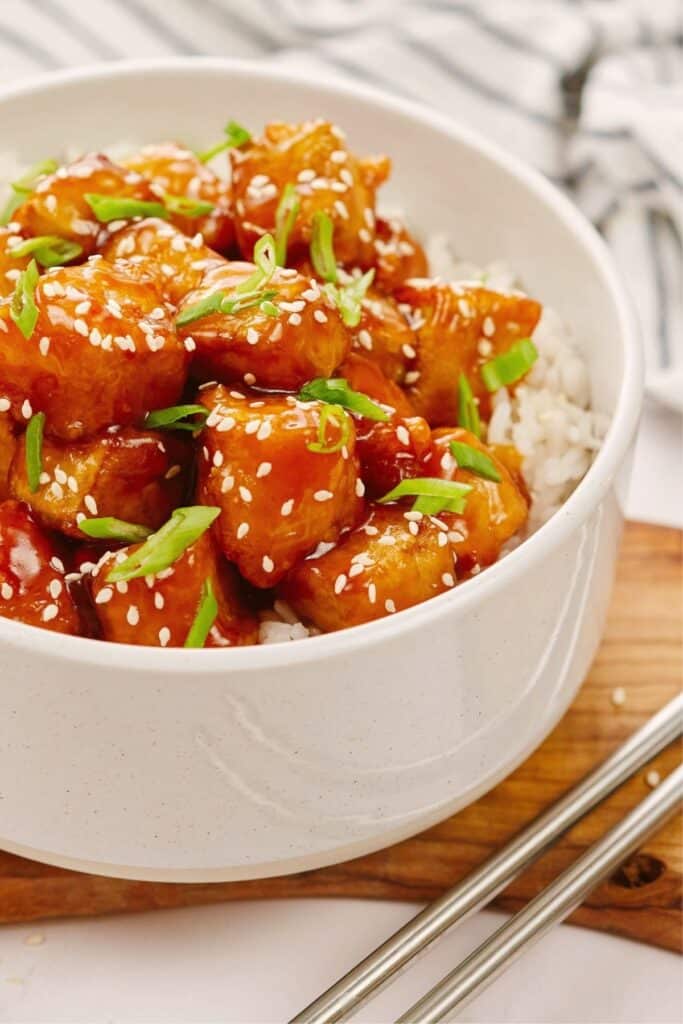 Pairing
This is the perfect protein to serve with one of these tasty salads. Bookmark your favorite to add to your menu!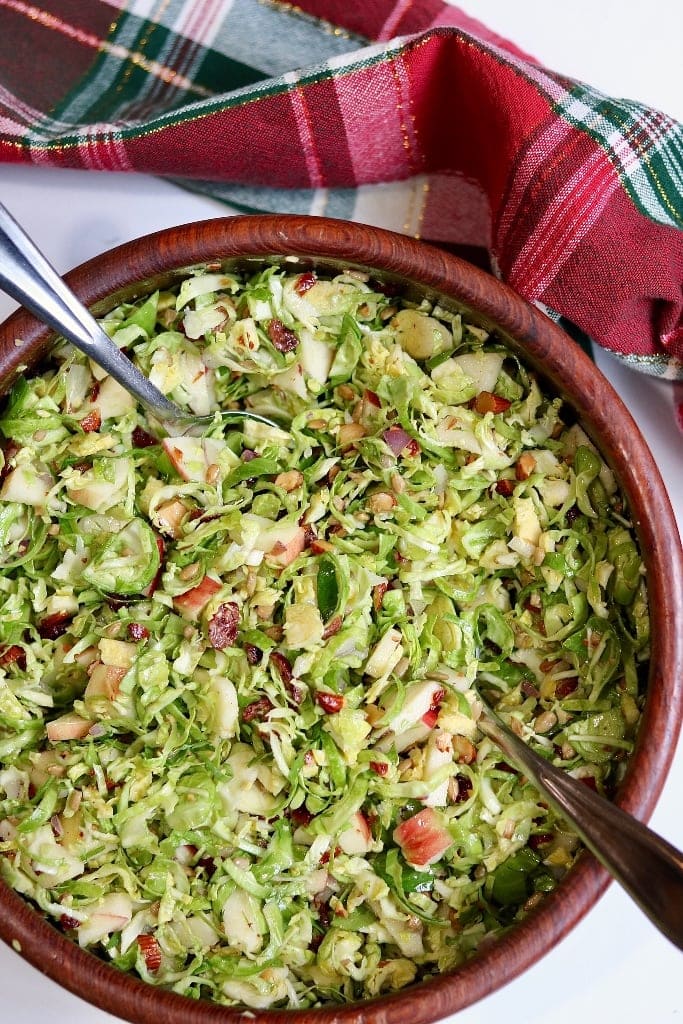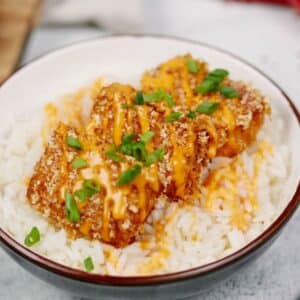 Crispy Panko Breaded Tofu
Experience the irresistible crispy texture of Panko breaded tofu, a delectable plant-based choice that adds a delightful crunch to your meal. A must-try for vegans and tofu enthusiasts!
Instructions
Begin by cutting the tofu blocks into smaller pieces and placing them on absorbent paper towels. Apply pressure to extract excess moisture effectively.

In a small bowl, combine warm water, dark soy sauce, tomato paste, rice vinegar, garlic, and paprika. Ensure thorough dissolution of all sugar content while whisking.

Start assembling the marination process by pouring a portion of the marinade into a glass container. Arrange the first layer of tofu pieces, brush them with marinade, and add another layer of tofu on top. Ensure each piece is adequately coated with the marinade. Cover the container and refrigerate, allowing the tofu to marinate for at least 30 minutes or overnight.

Coat each tofu piece with Panko breadcrumbs, utilizing any remaining marinade to facilitate adherence.

Heat vegetable oil in a pan over medium heat. Cook the tofu pieces until they achieve a crispy texture on both sides.
Notes
Consider using pre-marinated tofu to save time. You can often find marinated or even spicy tofu in Asian stores.
Any seasoned breadcrumb can be used if Panko is not on hand. Panko just adds extra crispiness.
Nutrition
Calories:
202
kcal
Carbohydrates:
28
g
Protein:
14
g
Fat:
4
g
Saturated Fat:
1
g
Polyunsaturated Fat:
2
g
Monounsaturated Fat:
1
g
Sodium:
1064
mg
Potassium:
305
mg
Fiber:
2
g
Sugar:
5
g
Vitamin A:
281
IU
Vitamin C:
1
mg
Calcium:
99
mg
Iron:
3
mg
Food Safety
Make sure you check our tips for food safety. It's a must to make sure you keep everything clean and follow FDA protocols.
Always sanitize countertops, cutting boards, utensils, and cookware thoroughly between each use.
Wash your hands in warm soapy water, rubbing for at least 20 seconds before rinsing. Remember, "FROG" means friction rubs off germs.
After serving food, allow it to cool, then place it into the refrigerator or proper storage immediately. Food should be at room temperature for no more than 2 hours for safety.