Calling all vegan foodies! Are you on the hunt for a plant-based recipe that's creamy, tangy, and versatile? Then, you have to try this vegan cottage cheese recipe! Trust me, it's the perfect dairy-free substitute that's easy to make and will blow your taste buds away!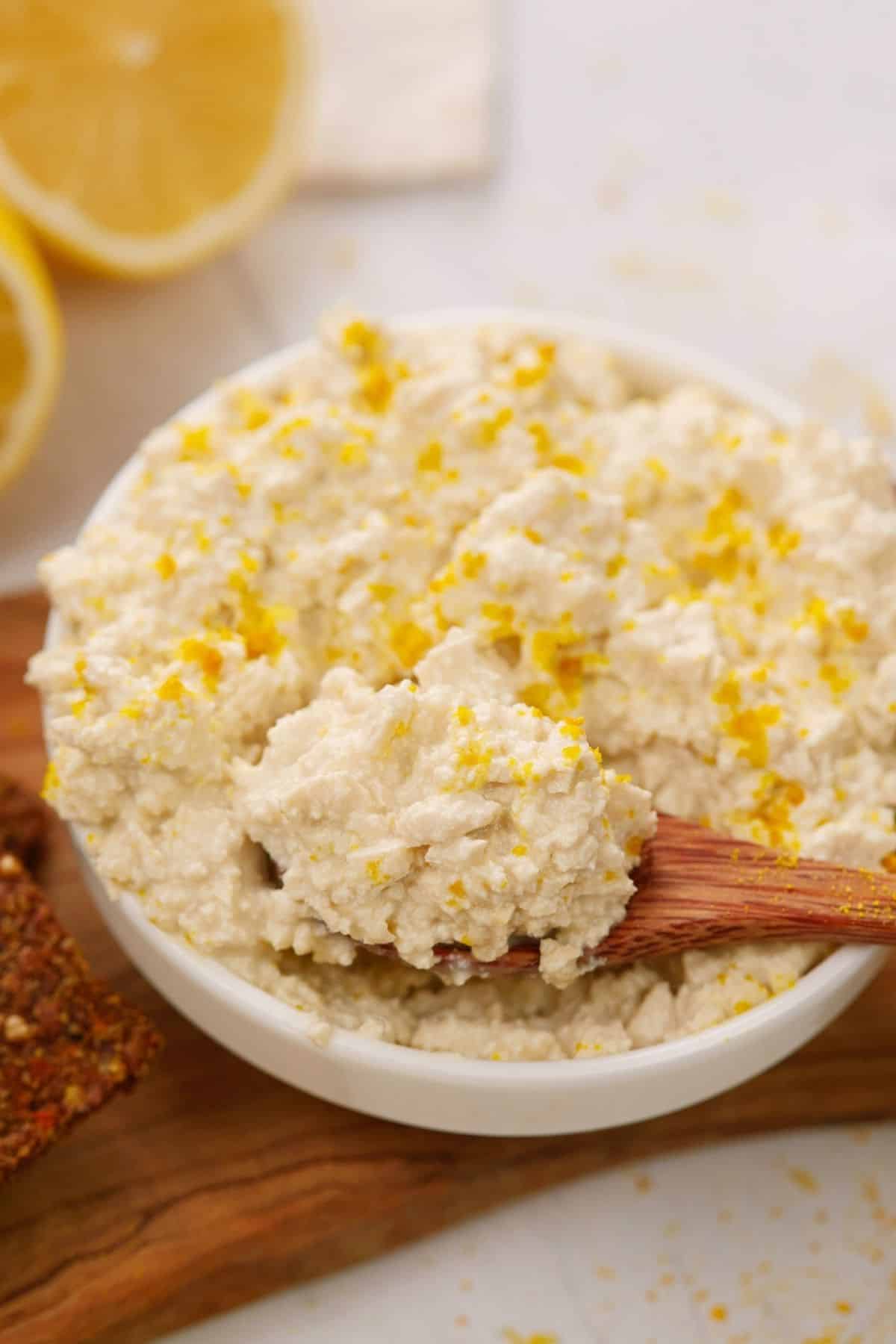 Vegan Cottage Cheese
Now, I know what you're thinking… tofu as cheese?! But, hear me out. This vegan cottage cheese recipe uses tofu, non-dairy yogurt, lemon juice, and lemon zest to create a flavorful and creamy base that's perfect for any meal of the day.
One of the best parts about this recipe is how versatile it is. You can create your own sweet or savory version by adding some agave or salt, dried herbs, and garlic powder. It's perfect for spreading on toasted artisan bread, mixing in with your favorite pasta, or even as a dip for veggies!
Give this vegan cottage cheese recipe a try and let me know what you think! Trust me, it's a game-changer in the world of plant-based cooking.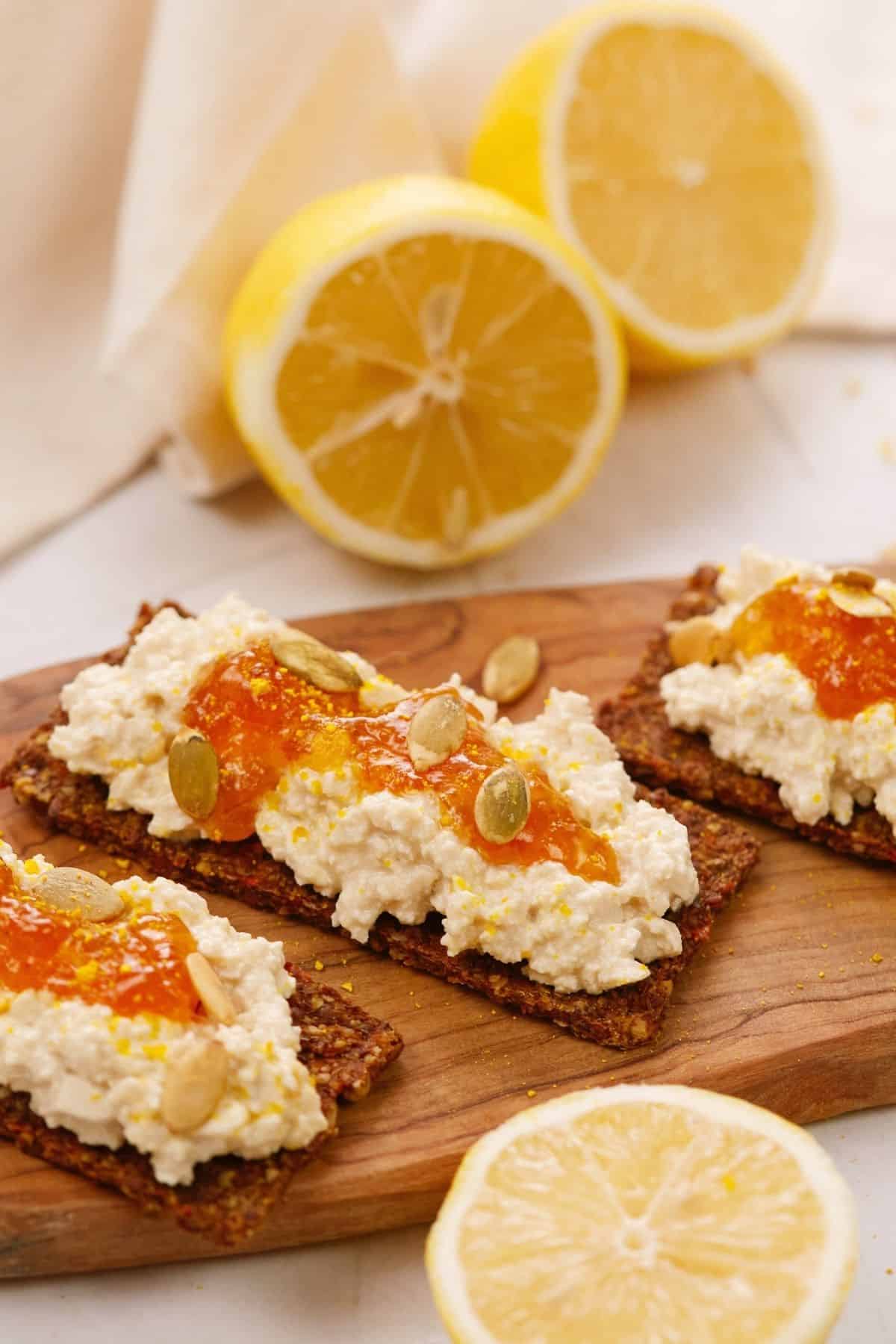 What is Vegan Cottage Cheese Made Of?
10oz firm tofu (300g)
⅔ cup plant-based yogurt
1 tablespoon lemon juice
½ teaspoon lemon zest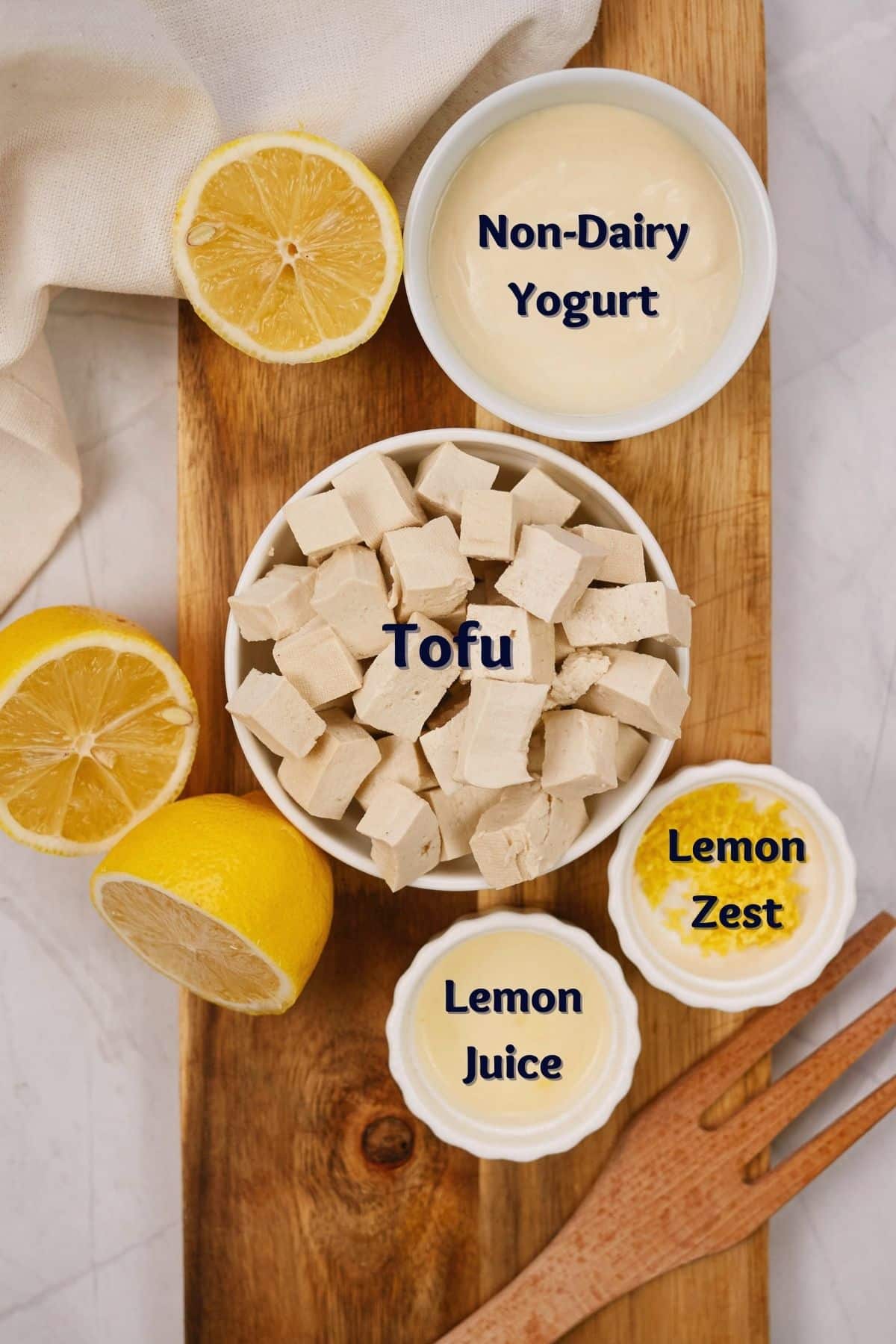 Tools Needed
Tofu press: if you plan to use tofu often in your meal planning, this is a great investment for your kitchen.
Measuring cups and spoons: while it doesn't have to be exact, I like to measure everything the first time I make a new recipe.
Mixing bowl: if possible, grab a bowl with a lid so you don't have to dirty an additional item in the kitchen, but this is ideal for mashing the tofu and combining everything together.
Video Recipe
How to Make Vegan Cottage Cheese
To begin, you'll want to press the tofu to remove as much mositure as possible. You can use a tea towel and a skillet or heavy object if you do not alreayd have a tofu press. I allow for 30 minutes to 1 hour for getting the bulk of the moisture out.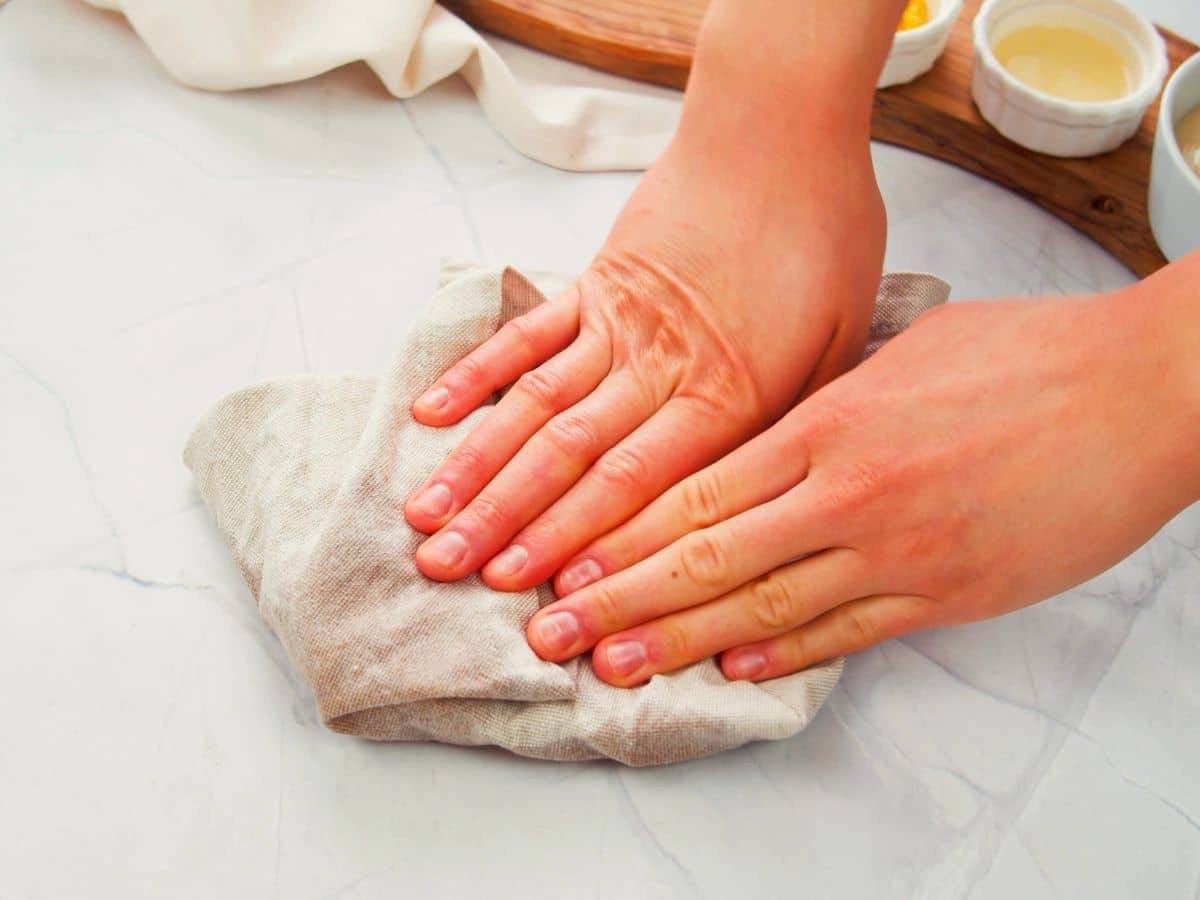 Then, in a large bowl, crumble the tofu into pea-sized pieces. Do this by hand, with a fork, or with a pastry blender.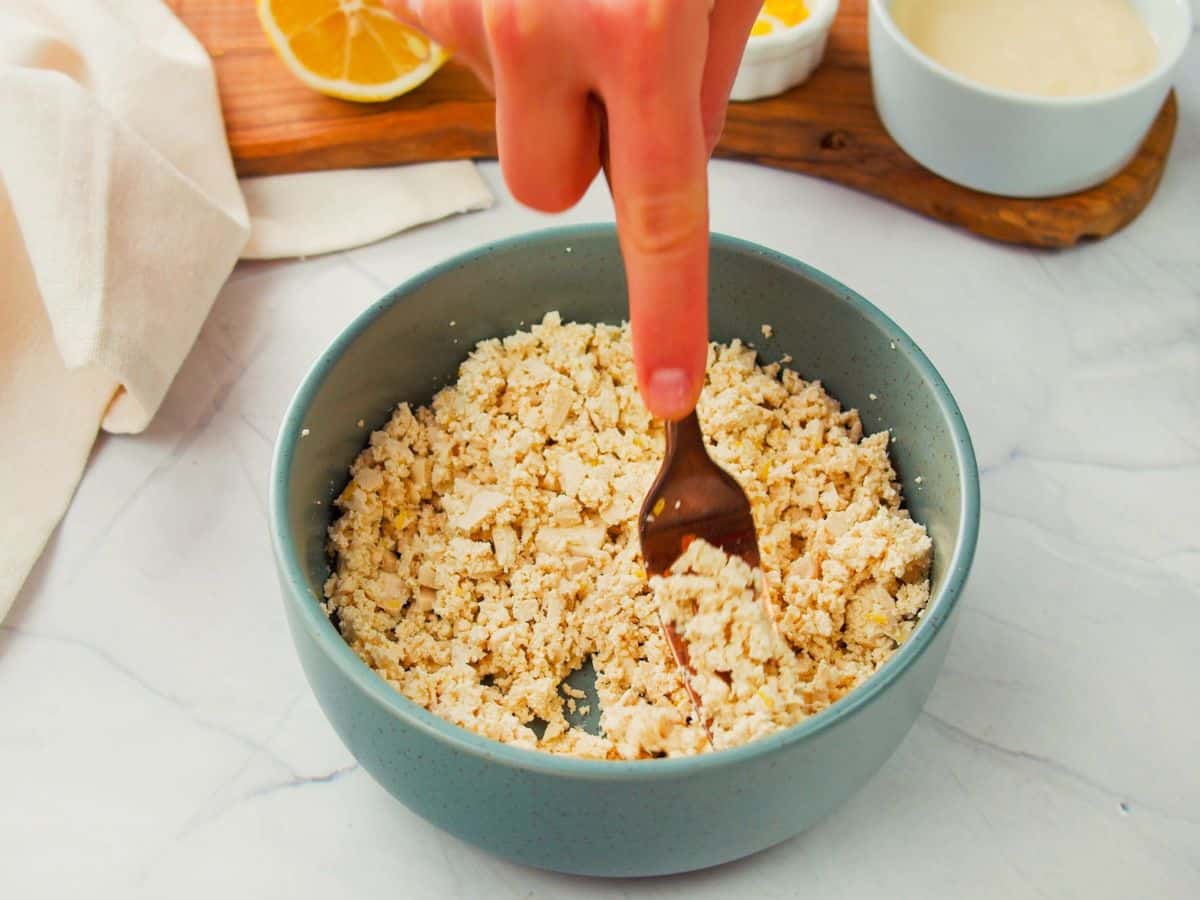 Add in the yogurt, lemon juice, and lemon zest. Stir this together to combine.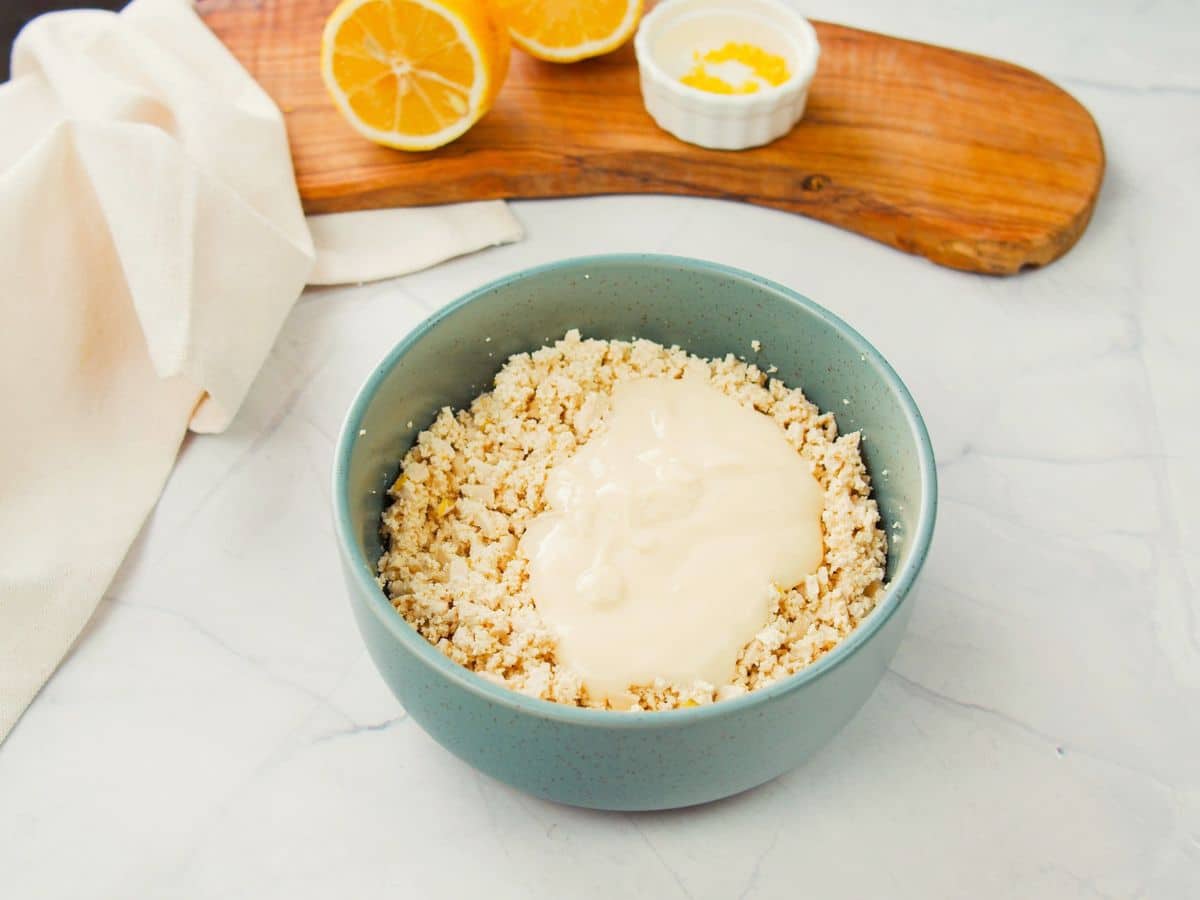 Taste and add salt, herbs, or additional zest if needed for flavor. You can even add a bit of maple syrup or cinnamon to give it a sweet rather than savory profile.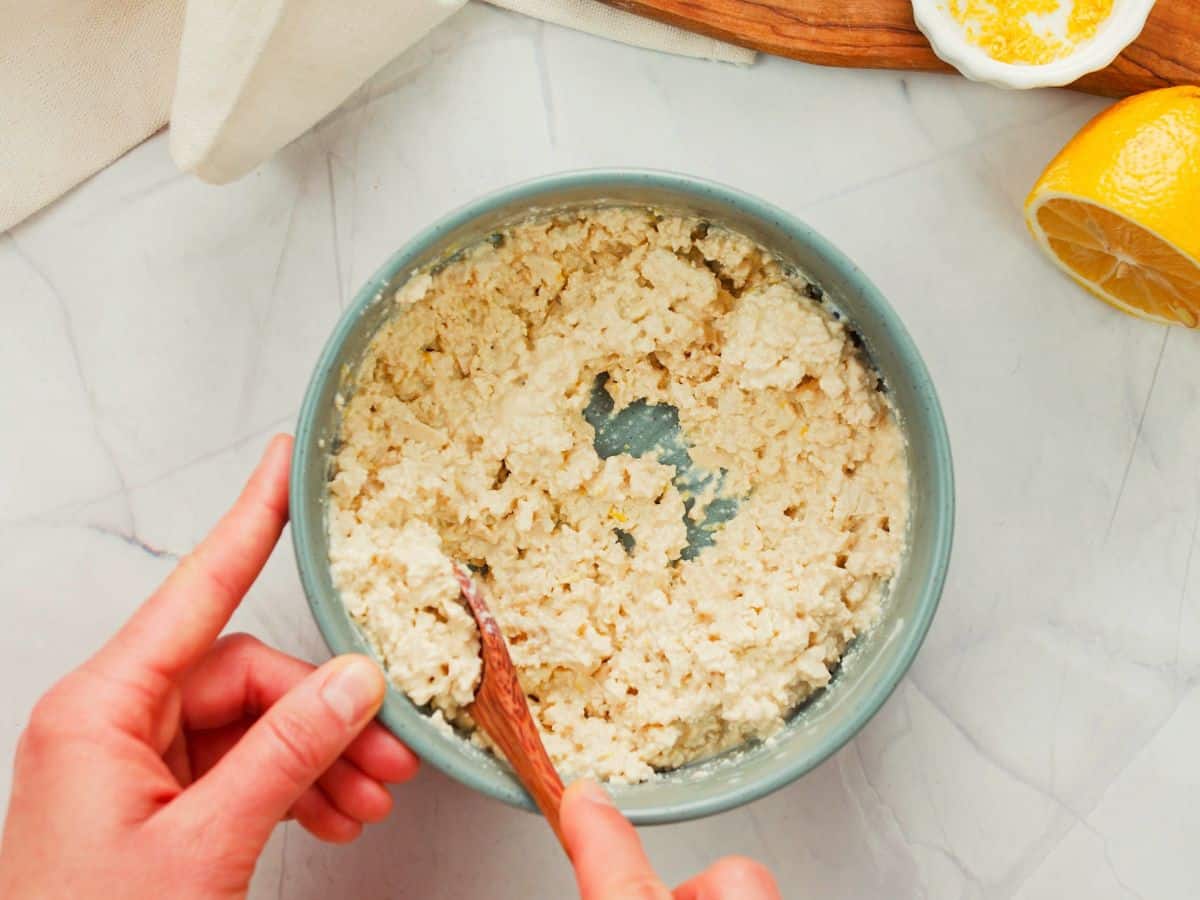 Store in an airtight container in the refrigerator until ready to use.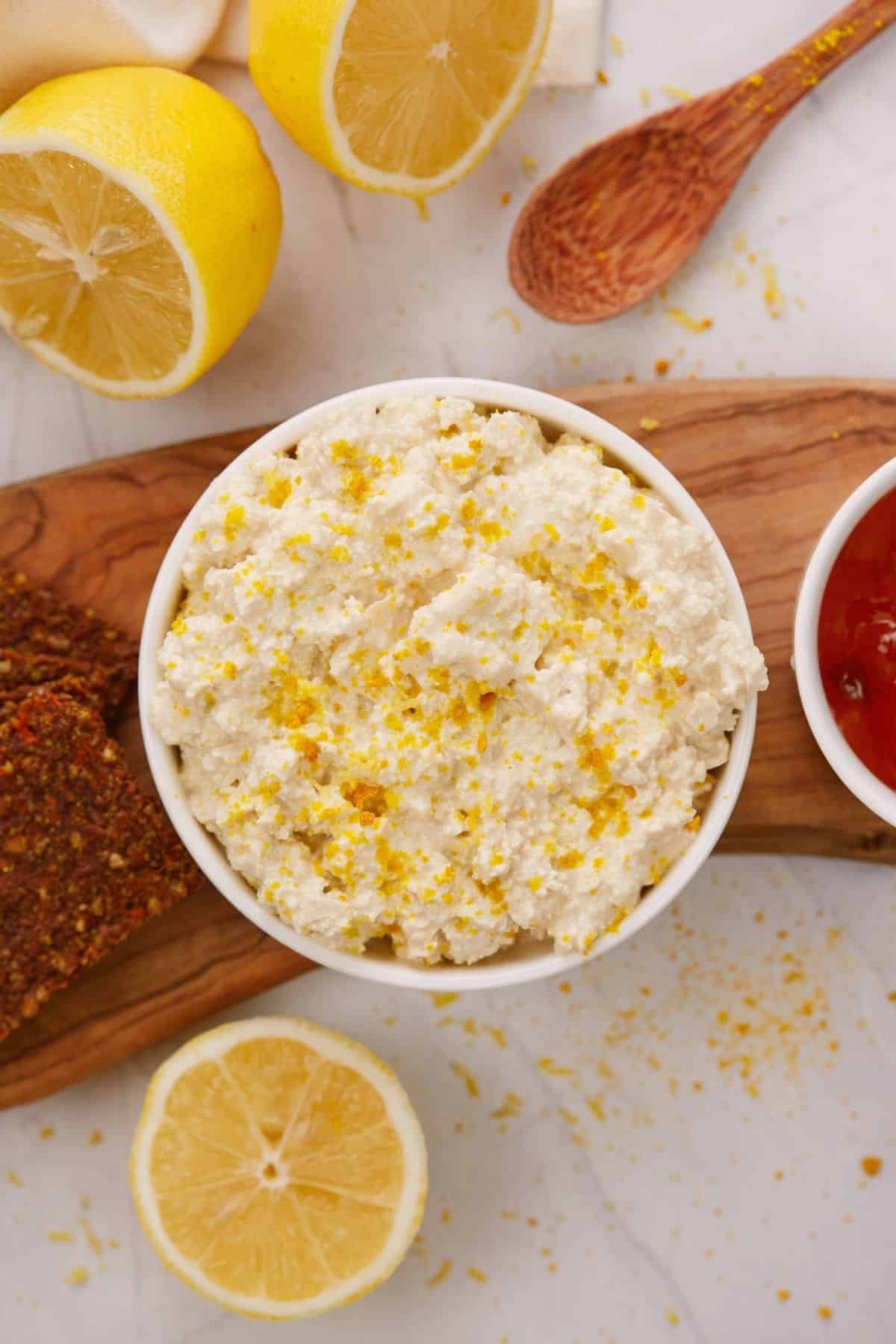 Frequently Asked Questions
How long is vegan cottage cheese good for?
Tofu is the base of this recipe so the recipe would be good for 3 to 5 days in the refrigerator. Keep in an airtight containers so it does not take on any odors in the refrigerator.
Can I freeze vegan cottage cheese?
Absolutely! This recipe uses tofu and non-dairy yogurt as a base and both freeze wonderfully. I recommend freezing in ¼ cup measurements so it's easy to thaw out just a bit at a time when needed.

Thaw overnight in the refrigerator before using.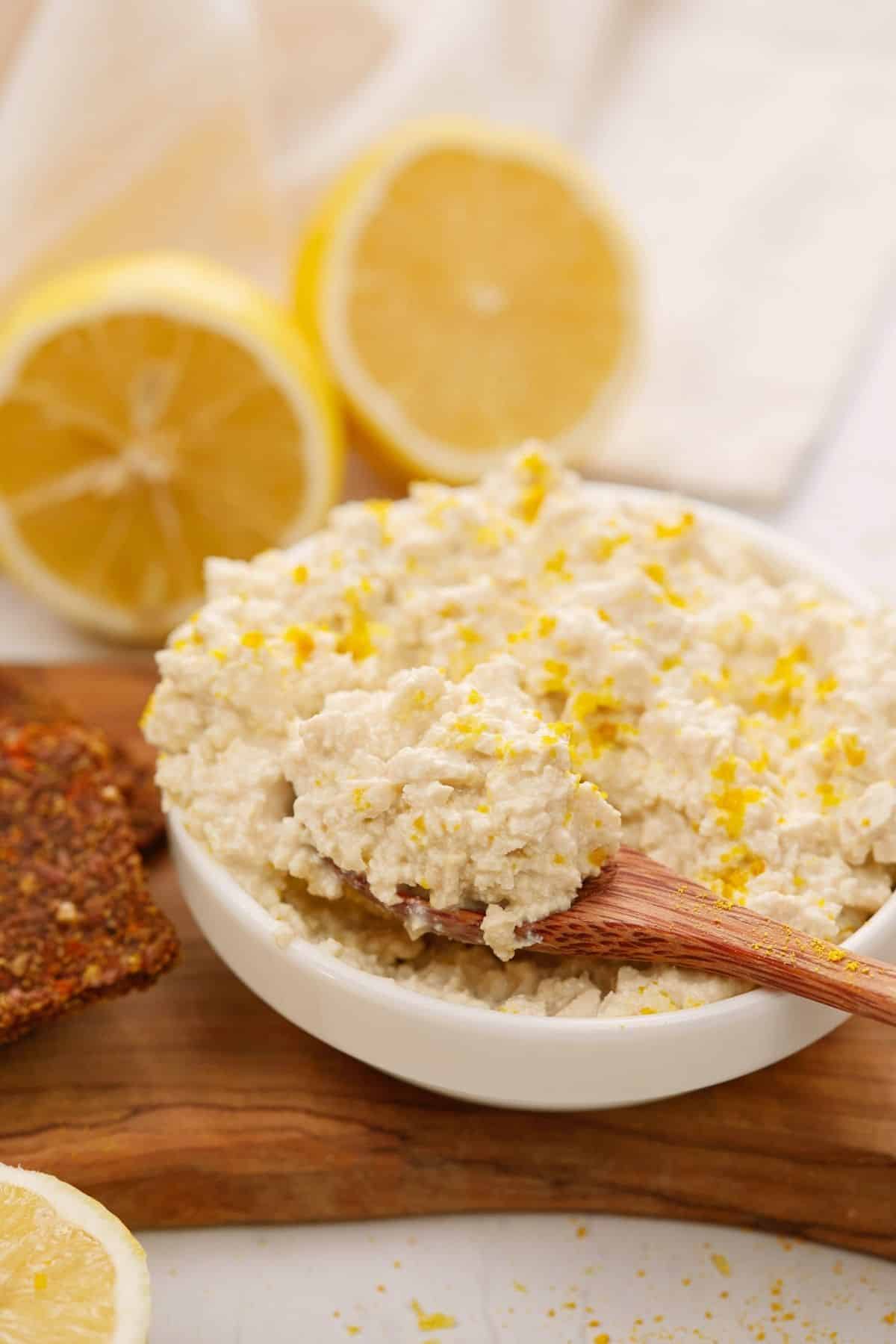 How Can I Use Vegan Cottage Cheese?
Vegan cottage cheese made from tofu is an incredibly versatile ingredient that you can use in a variety of different ways. Here are just a few ideas:
Spread it on toast: This is a great alternative to traditional dairy-based cottage cheese. Spread it on a piece of toast with some fresh avocado or tomato for a delicious and healthy breakfast.
Use it in lasagna: Swap out ricotta cheese for vegan cottage cheese in your next lasagna. You'll get all the creamy texture and flavor without the dairy.
Make a dip: Combine vegan cottage cheese with your favorite herbs and spices to create a tasty dip for veggies, crackers, or pita chips.
Mix it into pasta: This is a great addition to pasta dishes. Add it to your favorite pasta dish, along with some fresh veggies and herbs, for a nutritious and flavorful meal.
Top your salad: Use it as a creamy, tangy salad dressing. Simply mix it with some olive oil and vinegar, or lemon juice, and drizzle it over your favorite salad.
There are endless ways to use vegan cottage cheese made from tofu. So, get creative and enjoy all the amazing possibilities it has to offer and add it to yoru menu on a regular basis!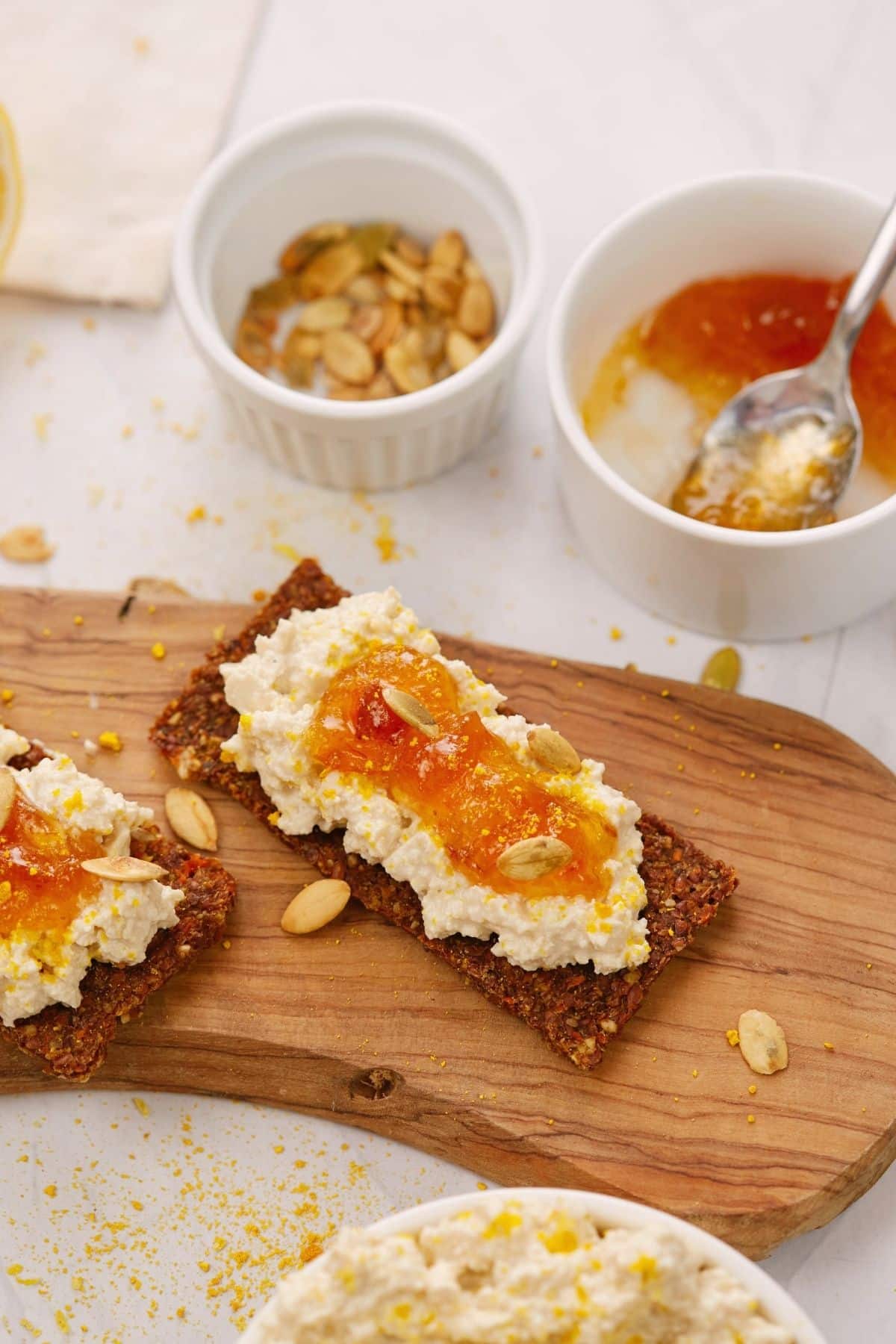 More Homemade Vegan Basics
If you are new to a plant-based diet, you may be missing some of your favorite dairy items or "traditional" foods. Below are some perfect options to substitute. While none of these are exactly like a regular dairy option, they are delicioously flavored and match the texture you expect. Take a moment to bookmark your favorite recipes on the list. You can also print them out or pin them to Pinterest to keep handy!
Easy Vegan Cottage Cheese Recipe
This simple homemade vegan cottage cheese recipe uses ingredients you already have on hand! Make it simple or add herbs for more flavor!
Ingredients
10

ounces

firm tofu

pressed to remove moisture (300g)

⅔

cup

plant-based yogurt

187g

1

tablespoon

lemon juice

½

teaspoon

lemon zest
Instructions
Begin by pressing the tofu to remove some of the excess moisture.

Crumble the tofu with either your fingers or a fork.

In a mixing bowl, combine the crumbled tofu with yogurt, lemon juice, and lemon zest.

To customize the vegan cottage cheese base, add agave or salt, dried herbs, and garlic powder to create your desired sweet or savory flavor.
Notes
For additional flavor, marinate the tofu before pressing. This will allow the extra flavor to develop.
Stir in 1 or 2 teaspoons of an herb blend alongside ¼ to ½ teaspoon salt for more "pep".
This does not melt like a traditional dairy cheese would.
Set aside at least 1 hour to allow the tofu to press properly and remove moisture.
Nutrition
Calories:
85
kcal
Carbohydrates:
6
g
Protein:
7
g
Fat:
4
g
Saturated Fat:
0.4
g
Polyunsaturated Fat:
2
g
Monounsaturated Fat:
1
g
Sodium:
8
mg
Potassium:
4
mg
Fiber:
1
g
Sugar:
2
g
Vitamin A:
0.3
IU
Vitamin C:
7
mg
Calcium:
139
mg
Iron:
1
mg