This mouthwatering lentil chickpea salad is a nutritious and tasty vegan dish. With incredible ingredients, it will leave you feeling satisfied without any guilt. Enjoy this crunchy yet flavorful salad as either a light lunch or dinner option.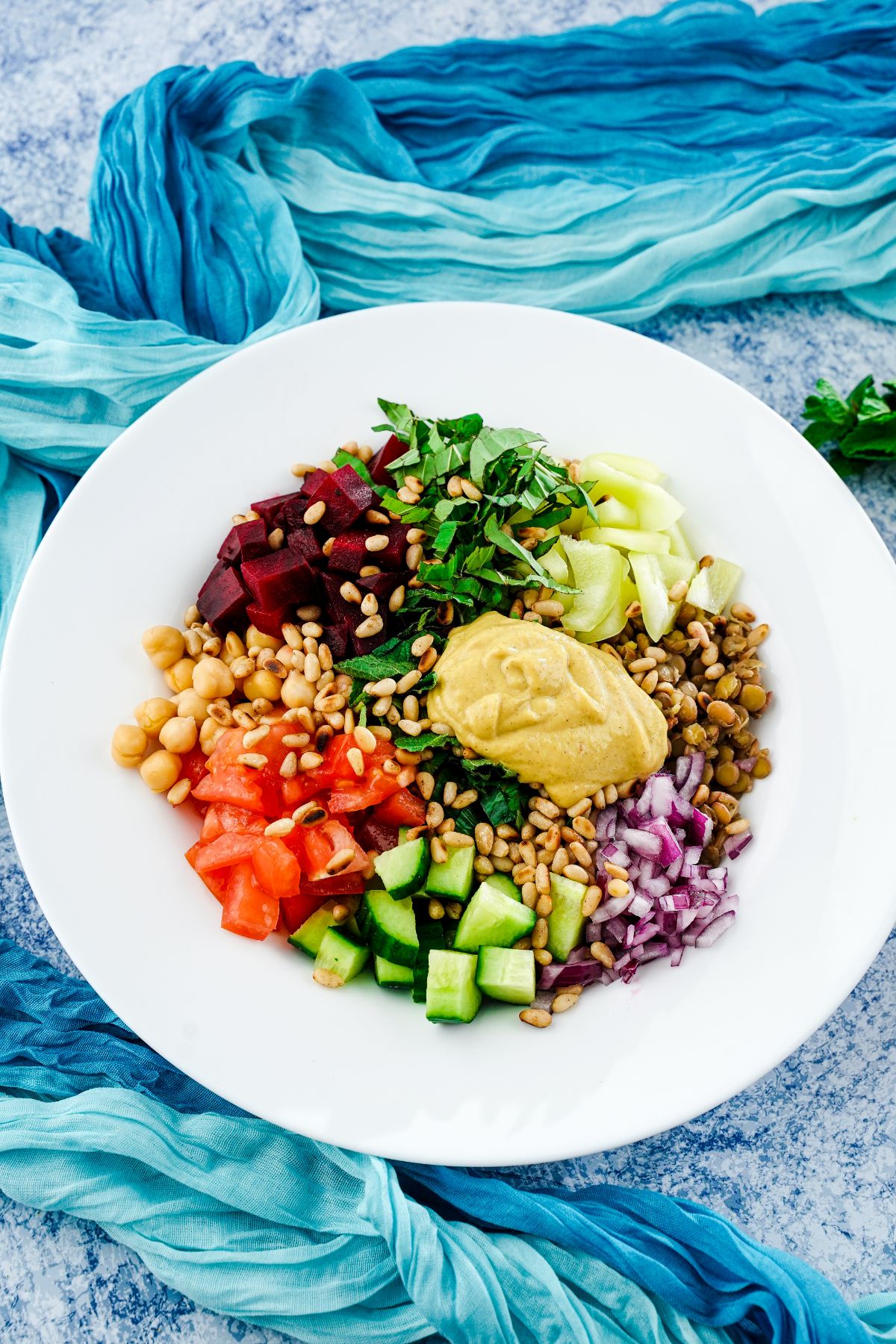 A simple protein-packed meal that is both light and refreshing, you will love the earthiness of the pickled beets.
If you like this recipe, then make sure you also check out our vegan Buddha bowl for another protein-packed meal option.
Jump to:
🥘 Ingredients
Below are two separate lists for your recipe. The first includes the basic lentil chickpea salad ingredients and the second is for the refreshing dressing. For exact measurements, see the printable recipe card at the bottom of this post.
For the salad:
Chickpeas
Lentils (brown or green)
Pine nuts
Red onion
Bell pepper
Cucumber
Tomato
Pickled beets
Basil
Mint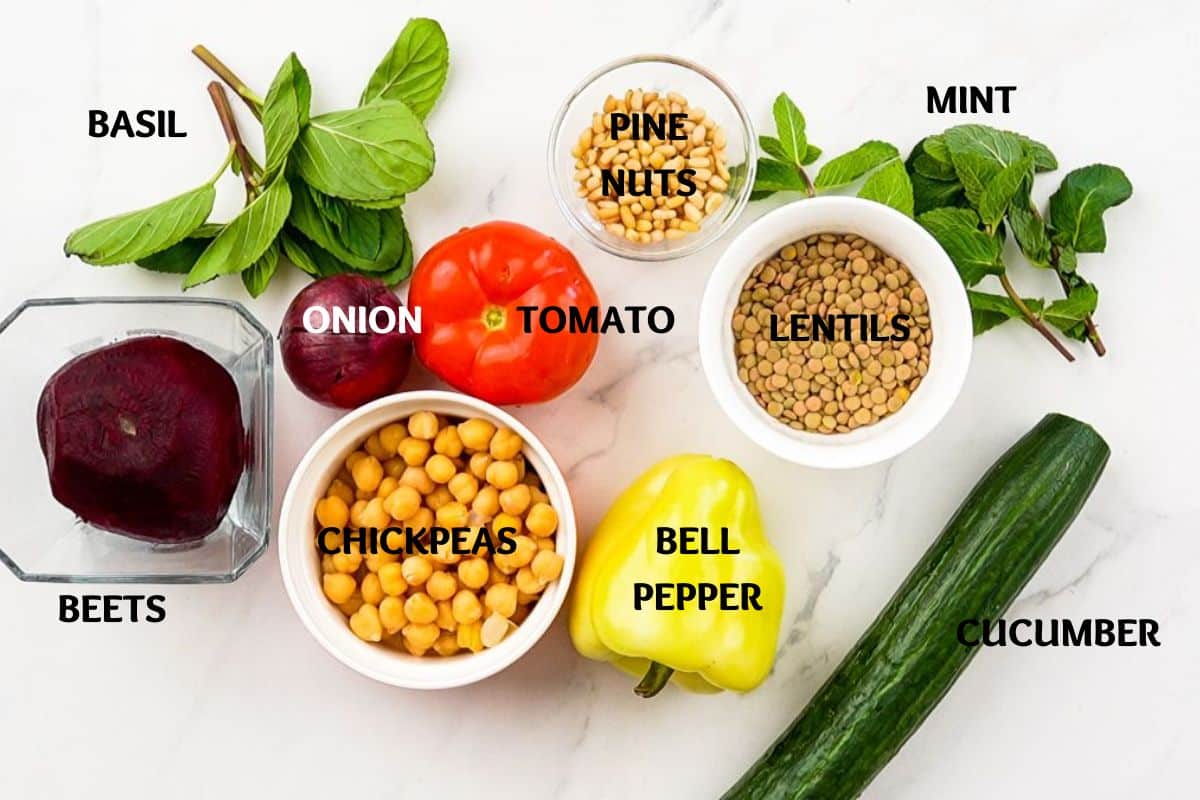 For the dressing:
Olive oil
Maple syrup
Lemon juice
Dijon mustard
Tahini
Salt
Black pepper
Garlic powder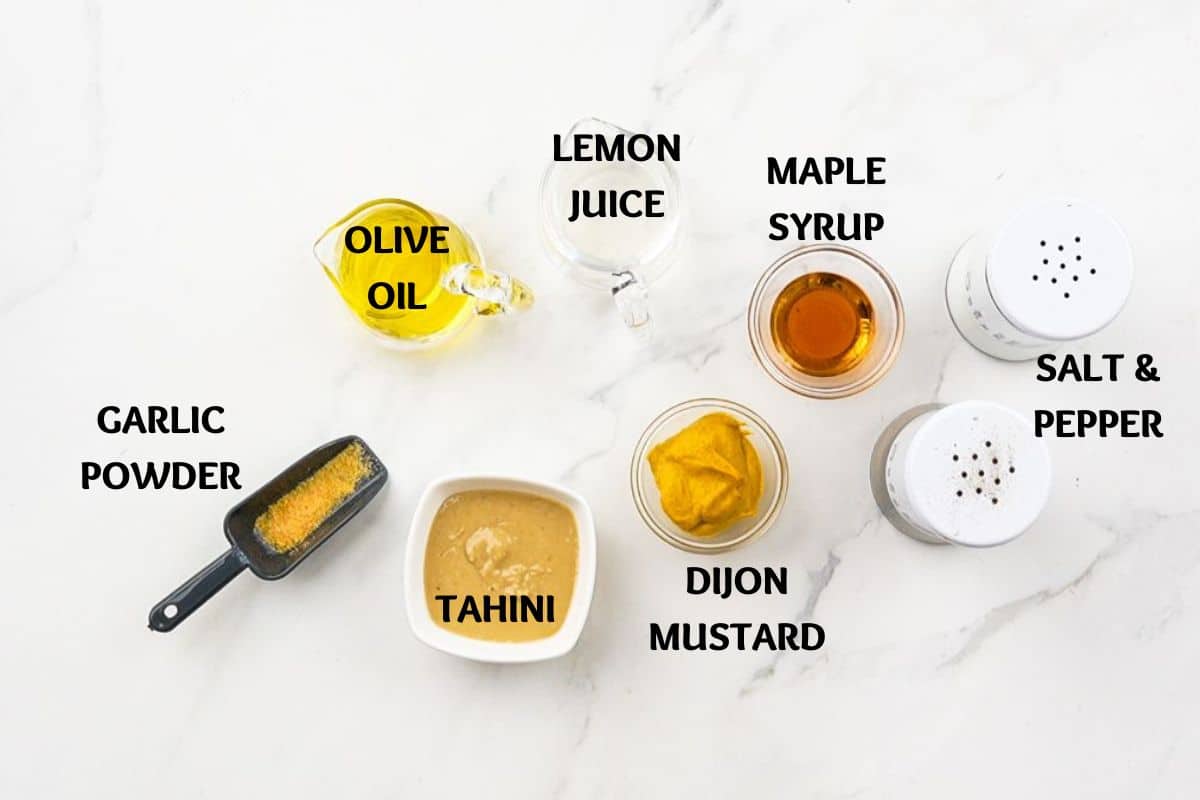 📋Instructions
Start by cooking your lentils. Place them in a medium saucepan with 6 cups of water. Bring to a boil, then let them cook for 20 minutes, stirring on occasion. Once soft, drain off any remaining liquid. Set these aside.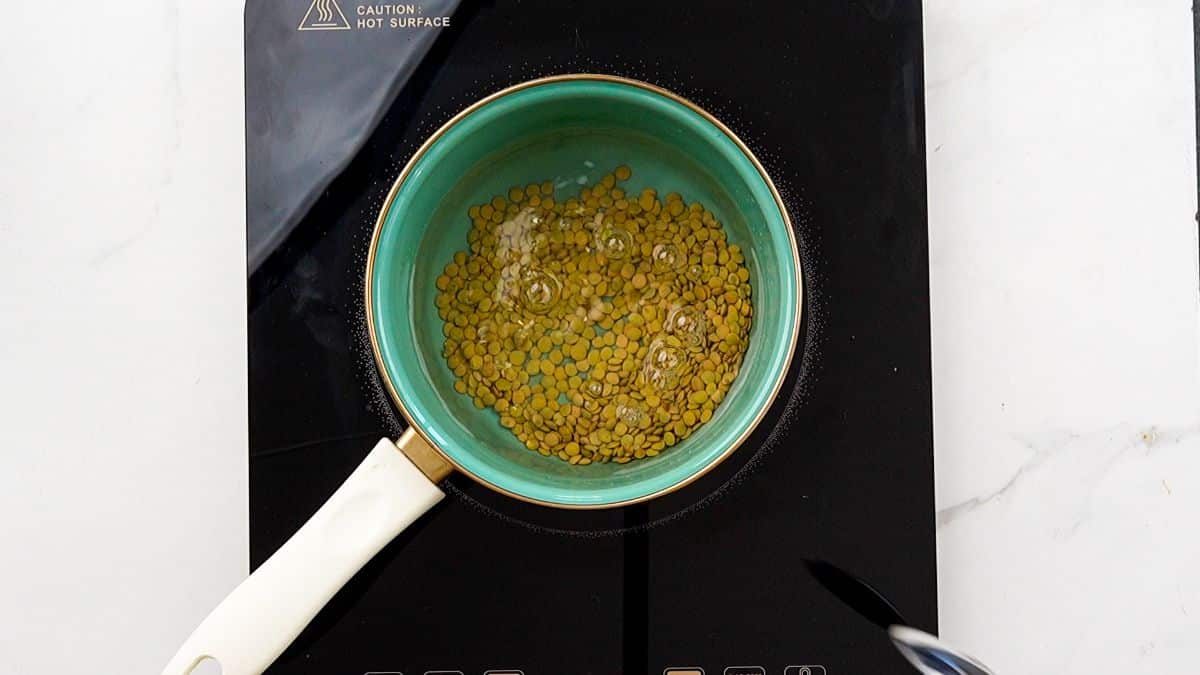 While the lentils cook, place the pine nuts in a small skillet over medium heat. Cook them, stirring constantly, until just golden. Remove from the pan and set aside.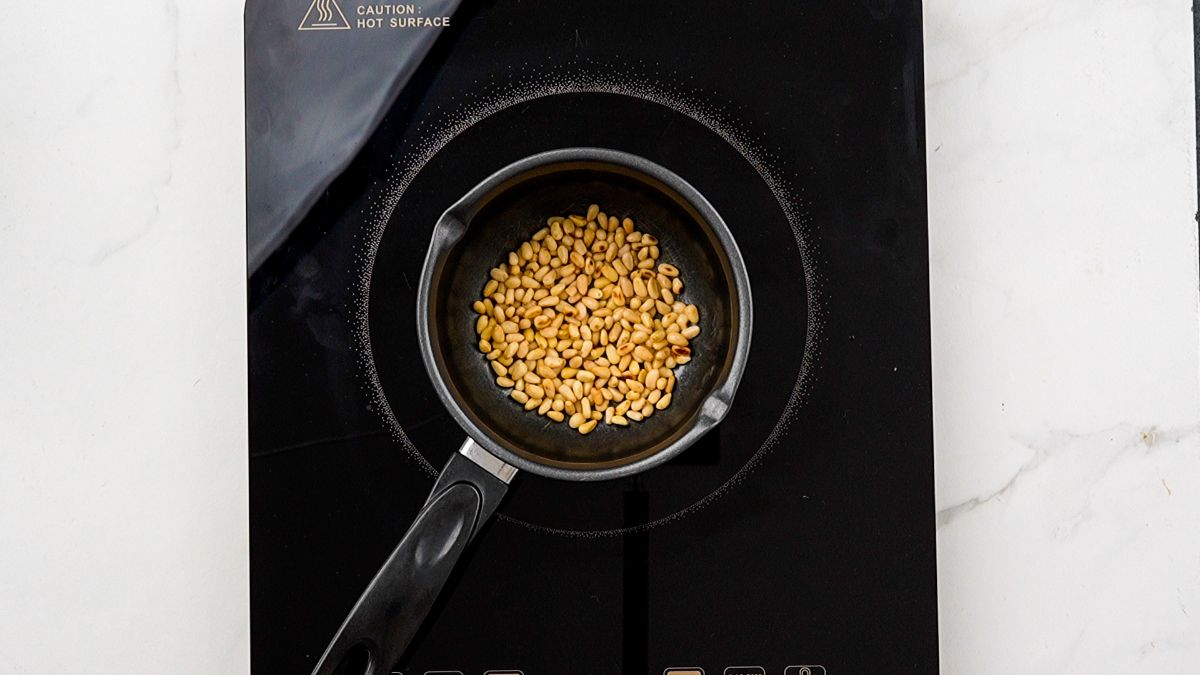 Now, you will prepare the vegetables. Peel and chop the cucumber into small pieces. Then, dice the bell pepper, red onion, and tomato into small pieces.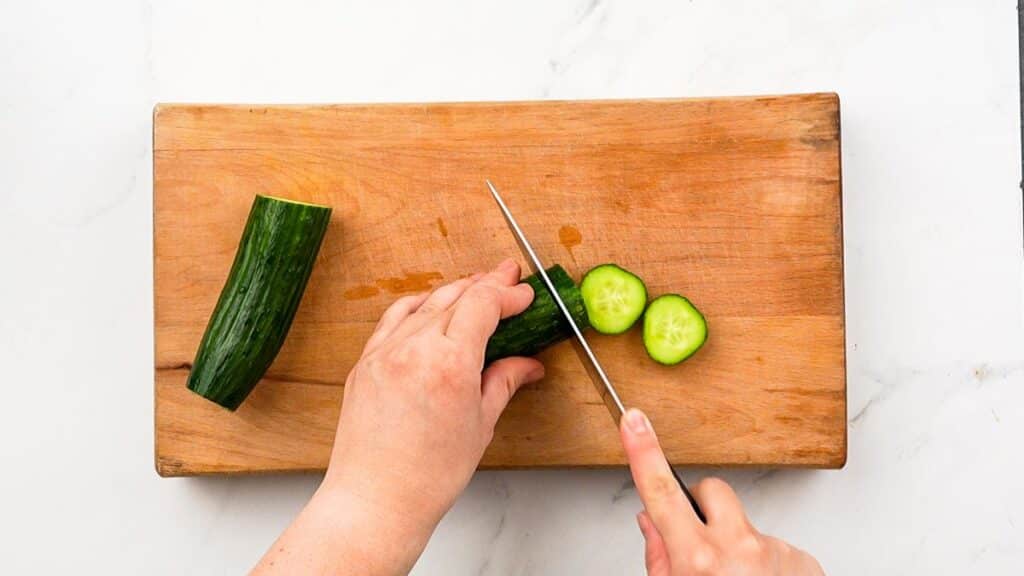 You will also want to chop the fresh herbs or cut them into small pieces with kitchen shears.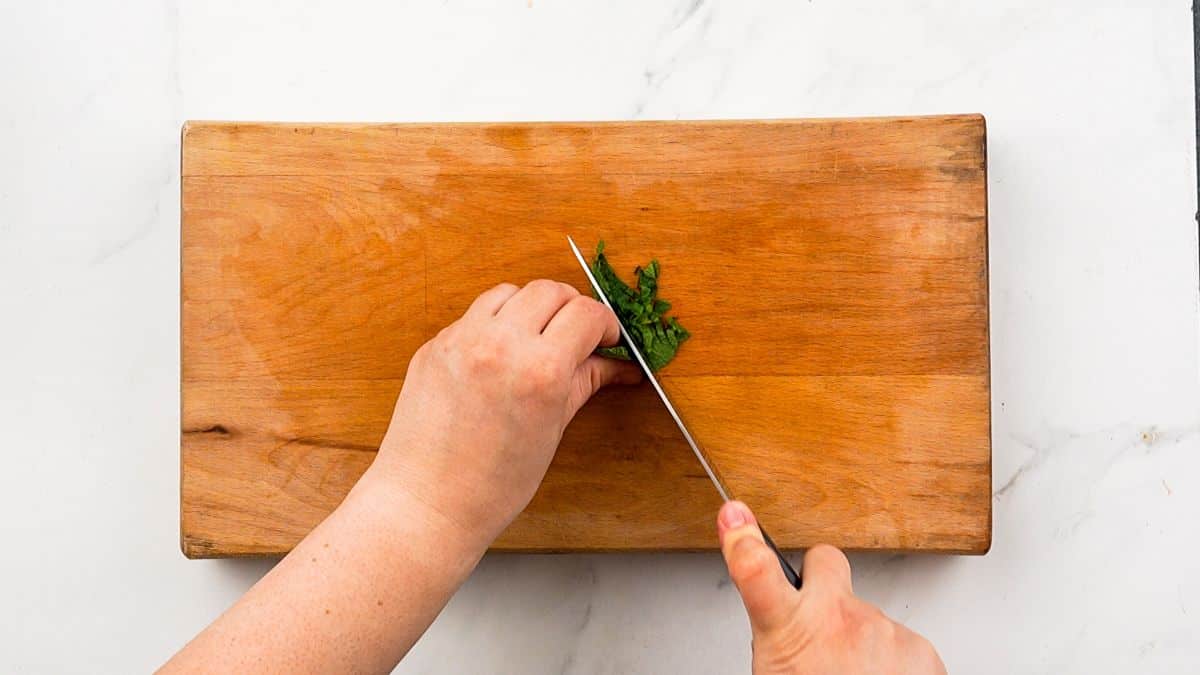 If your pickled beets are whole, cut them into small pieces.
Now, whisk together the olive oil, maple syrup, lemon juice, mustard, tahini, salt, pepper, and garlic powder until it is combined well.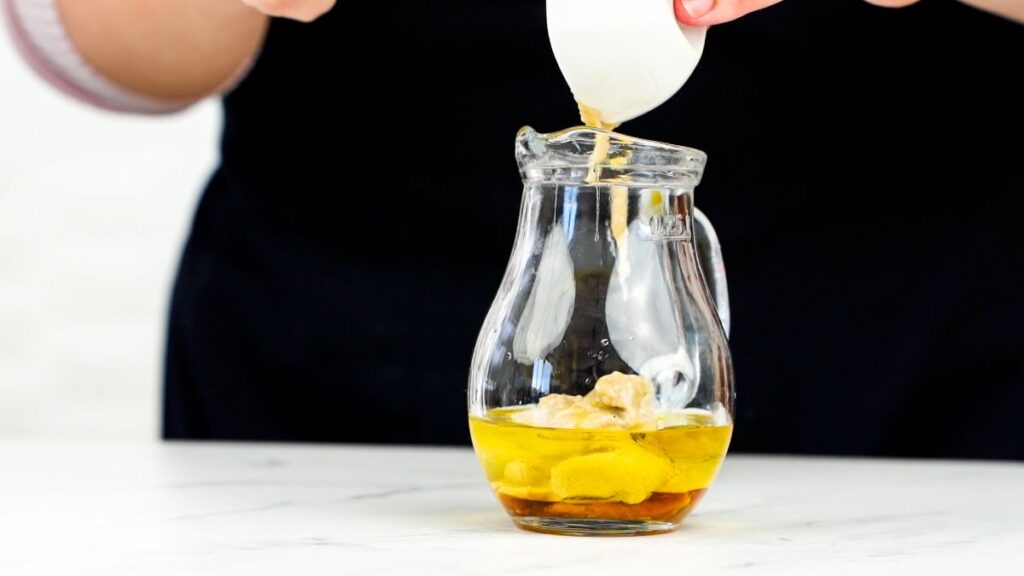 Layer the lentils and chickpeas in a large bowl, then top with the chopped vegetables and herbs.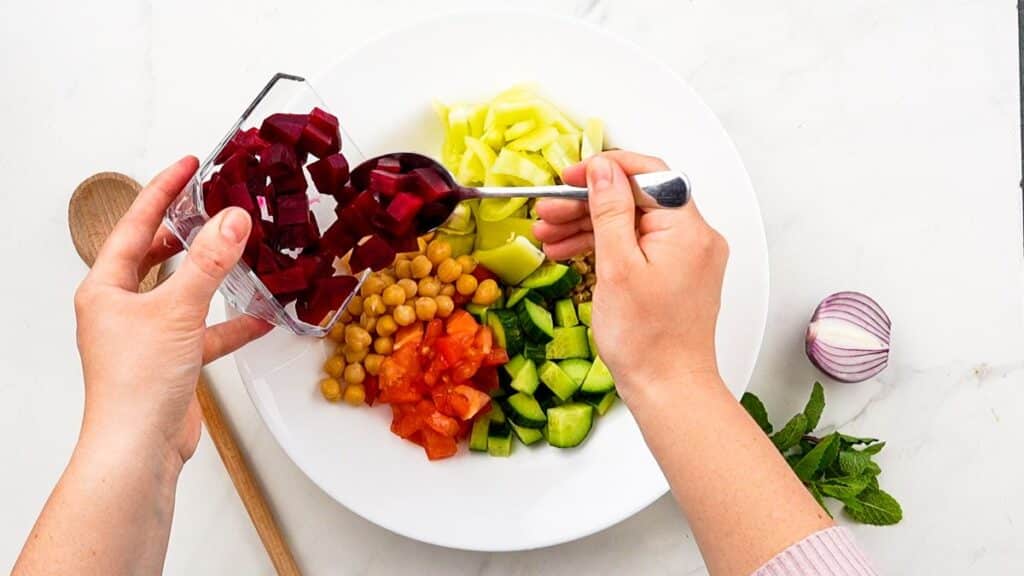 Lastly, drizzle the top with the dressing. Toss it all together before serving.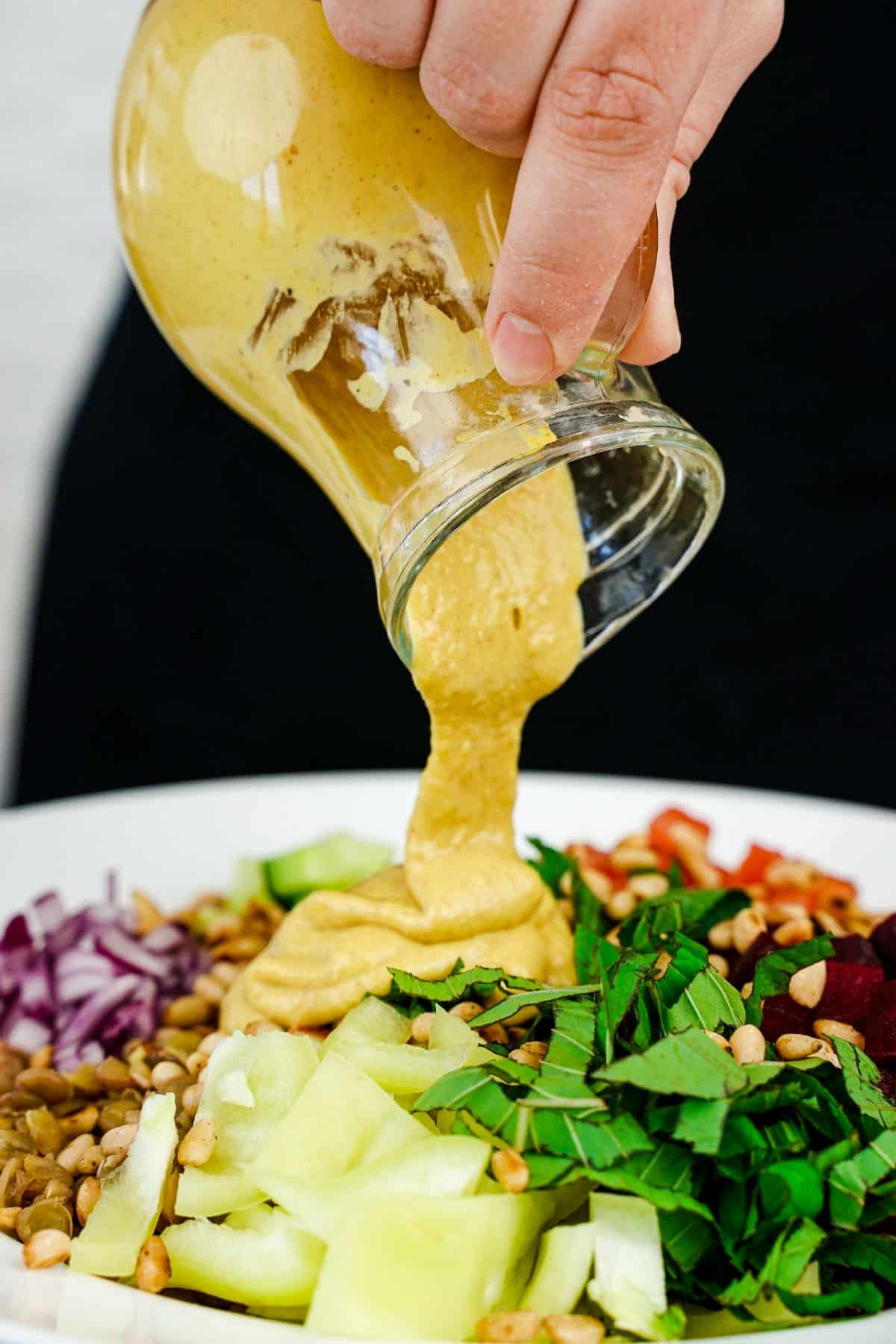 🔪Substitutions
Don't have everything you need on hand? Don't worry - we have you covered with some great substitutions listed below that can be used when making this lentil chickpea salad.
Brown lentils: You can substitute with green lentils or French lentils.
Pine nuts: Swap with slivered almonds, chopped walnuts, or sunflower seeds for a different nutty flavor.
Cucumber: If you don't have cucumber, you can use zucchini or celery for a similar crisp texture.
Yellow bell pepper: Substitute with red bell pepper, orange bell pepper, or roasted red pepper for a vibrant alternative.
Tomato: Cherry tomatoes or grape tomatoes can be used instead of regular tomatoes.
Red onion: Use green onion or spring onion instead.
Pickled beets: If you don't have pickled beets, you can use roasted beets or steamed beets for natural sweetness.
Chickpeas: Any other canned or cooked beans like black beans, kidney beans, or cannellini beans can be used instead.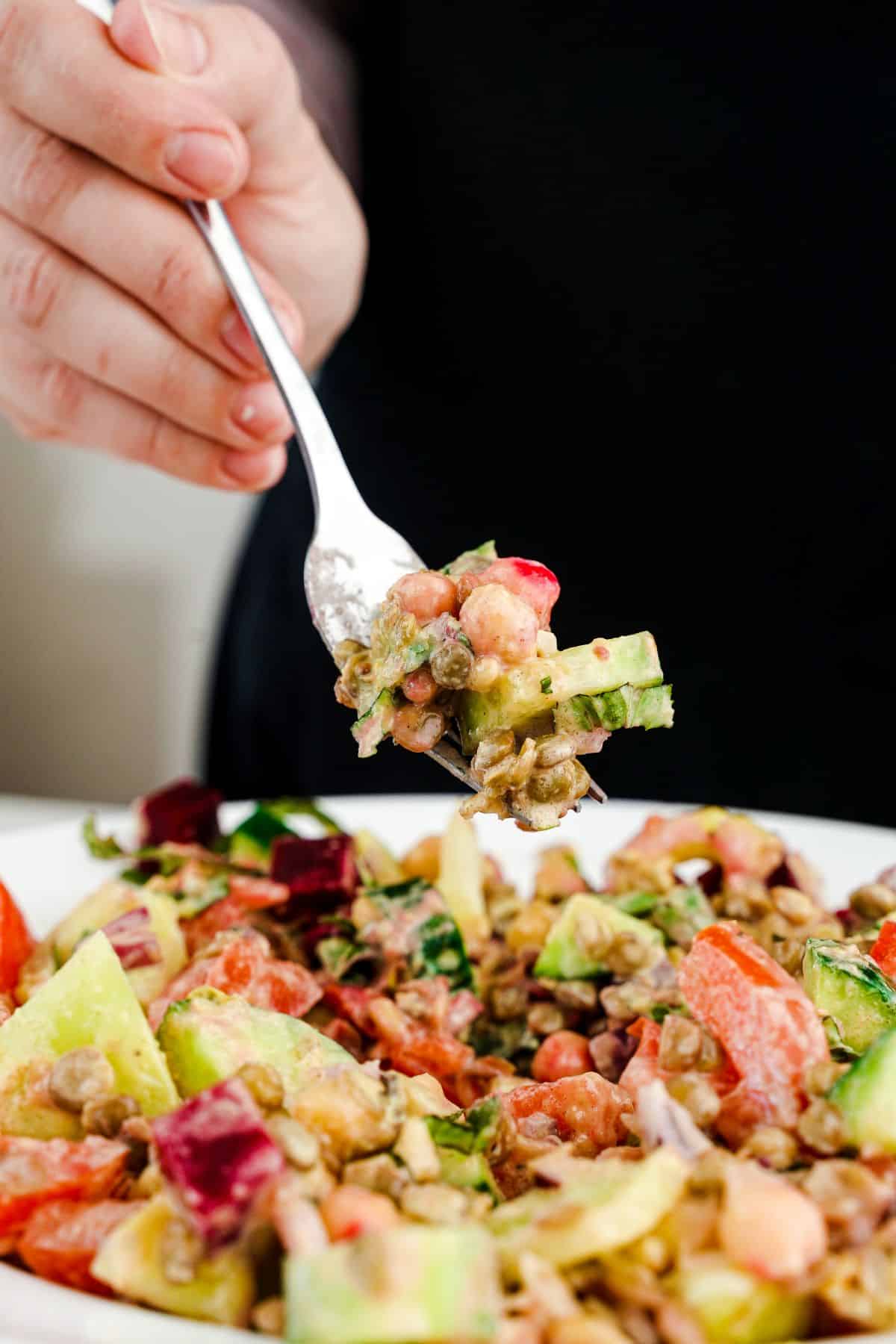 📖Variations
If you want to update this salad and make it a bit more unique, check out a few variations below.
Season the lentils as they cook with taco seasoning, Greek seasoning, Italian seasoning, or curry powder.
Mix in a handful of baby spinach or arugula for added freshness.
Toss in roasted butternut squash, sweet potatoes, or roasted Brussels sprouts for a warm and hearty salad.
Add segments of orange or grapefruit to give a citrusy burst of flavor.
Sprinkle some cumin, paprika, or chili powder onto the pine nuts as they toast for a spicy kick.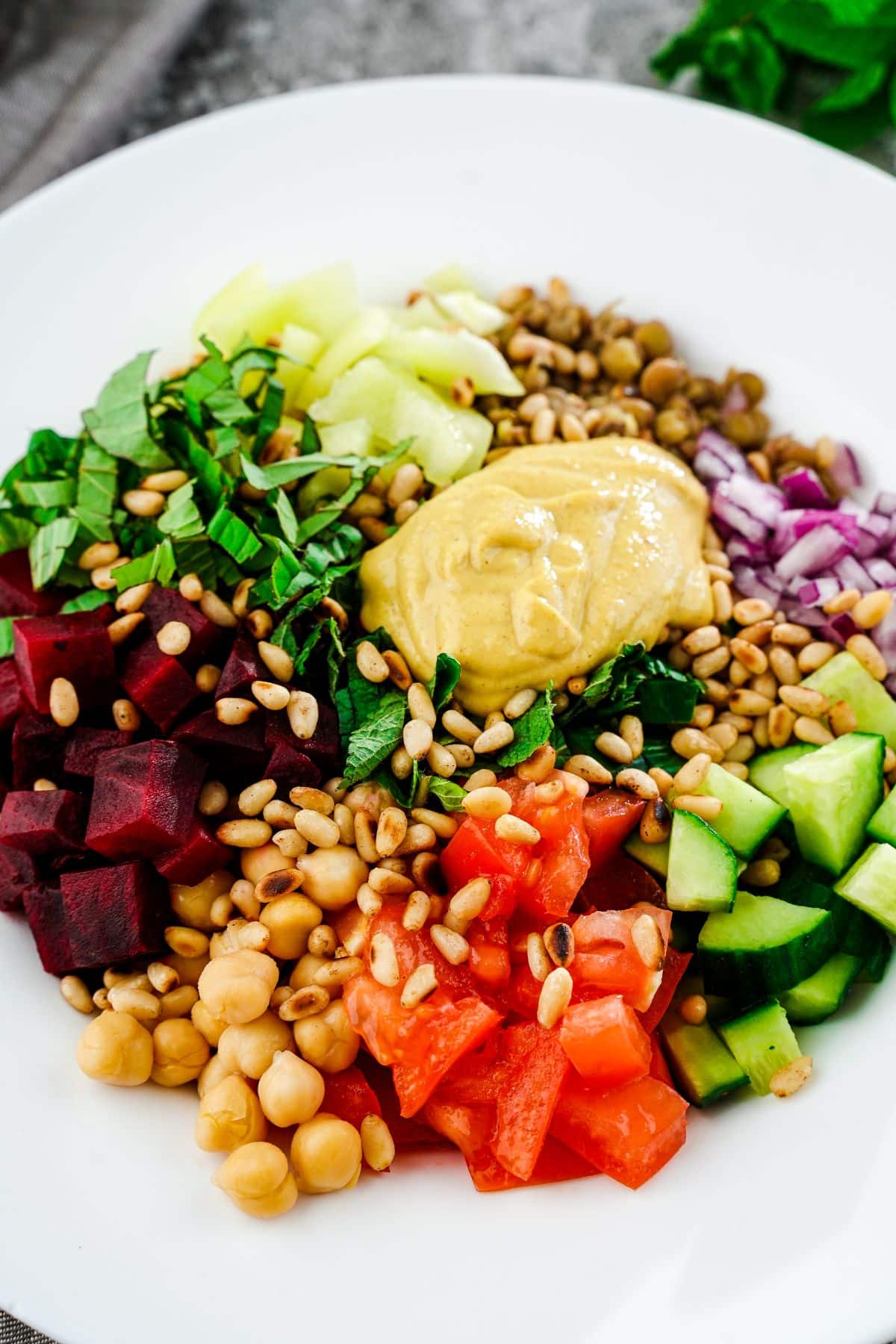 🫙Storage Tips
The individual ingredients are good in airtight containers in the refrigerator for up to 4 days. If you have leftovers after it has been assembled, just make sure to toss them well before serving. It will keep for 2 to 3 days assembled in the refrigerator.
🍽Equipment
Is your kitchen stocked for any recipes? Make sure you have everything on hand that you need by checking out my favorites below.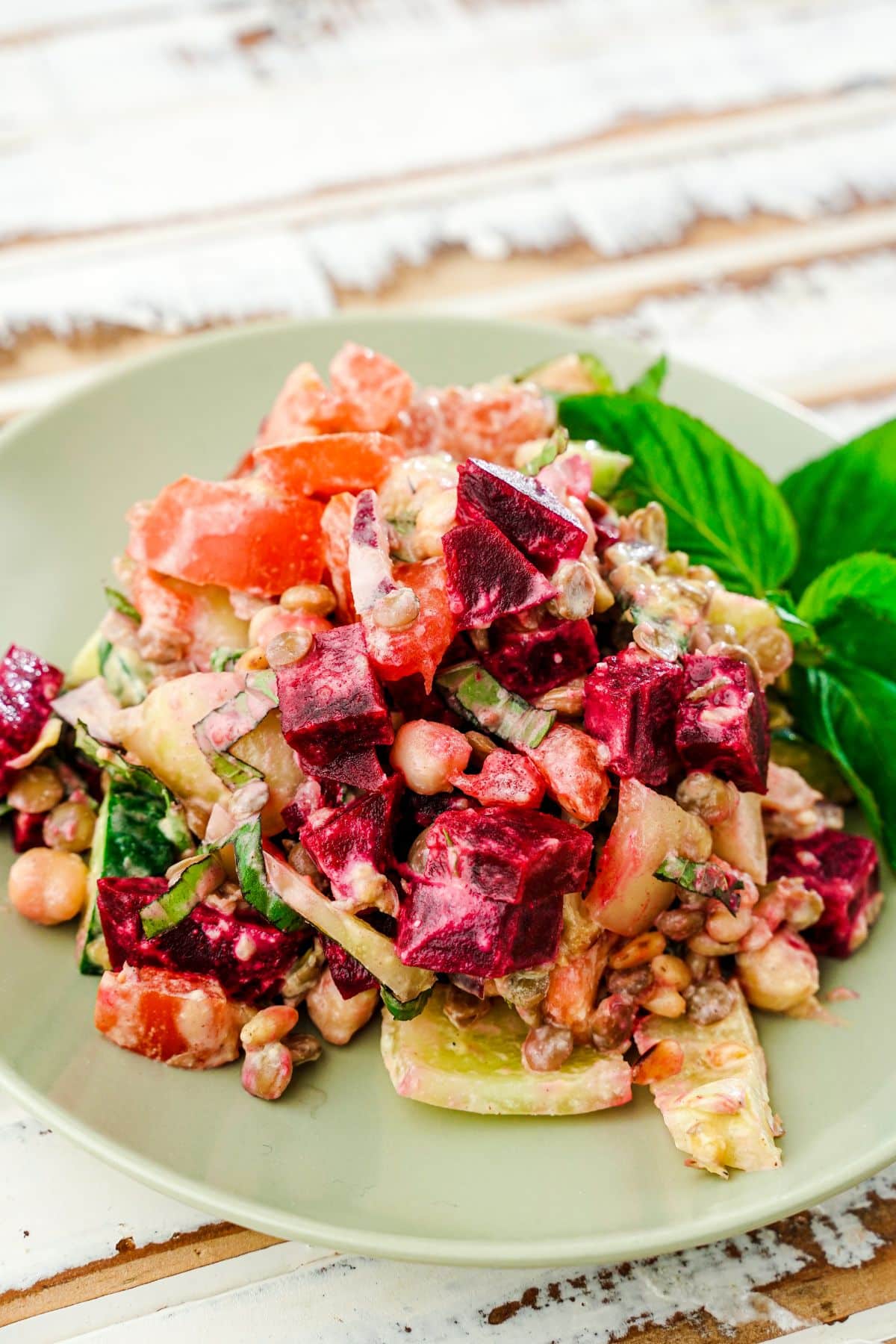 💭Top Tip
Save time by using canned lentils that have been rinsed and drained. Alternatively, you can make lentils in large batches, then portion in 1 cup portions and freeze for up to 4 months. Then you can just pull out a bag and thaw it to add to your salad.
❓FAQs
Which has more protein chickpeas or lentils?
Lentils have the highest amount of protein at 18g protein in 1 cup cooked. Chickpeas have only 14g of protein in 1 cup cooked. Both are excellent choices for added protein.
Which color lentil is healthiest?
Black lentils are said to be the most nutrient-dense option with higher protein and calcium. However, they have a flavor that is different than green lentils, brown lentils, or even red lentils and so not as popular in salads such as this one.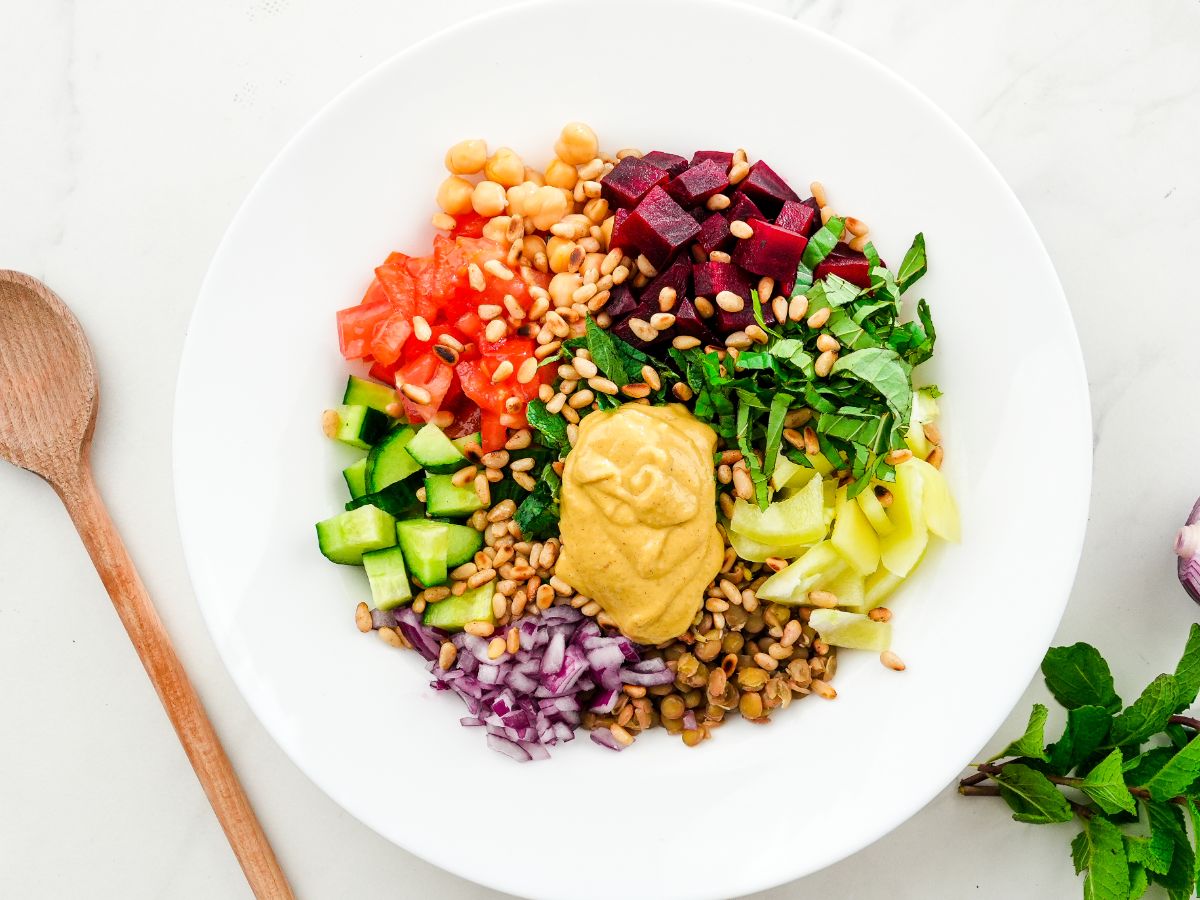 Related
Need more variety in your meal plan? Check out these tasty salad ideas below.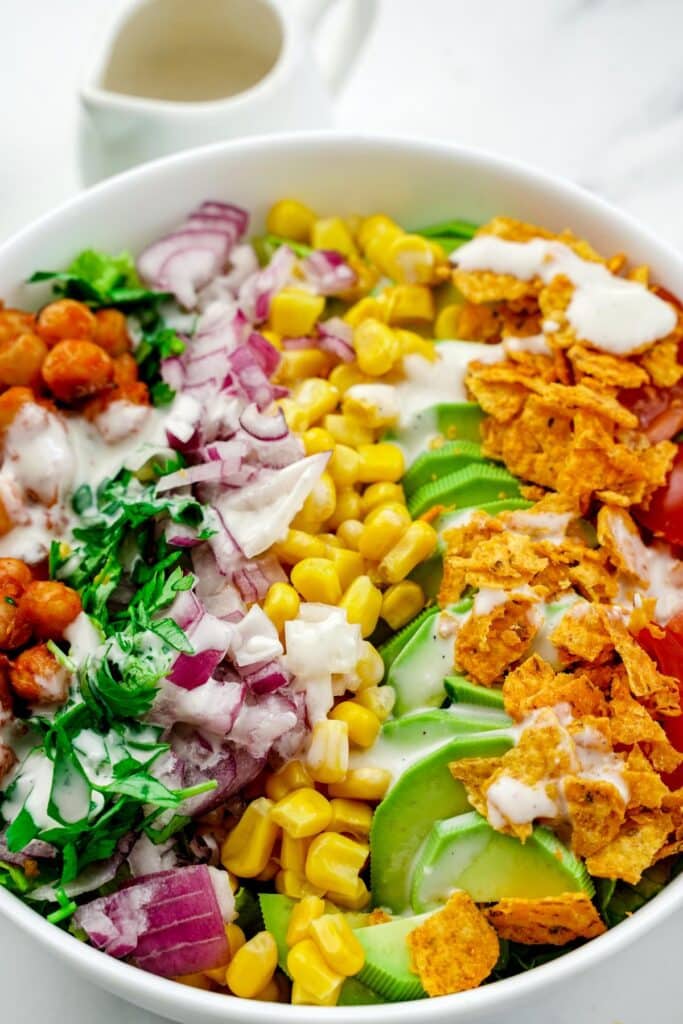 Pairing
This is the perfect meal, but maybe you want something yummy for dessert. Check out the refreshing options below!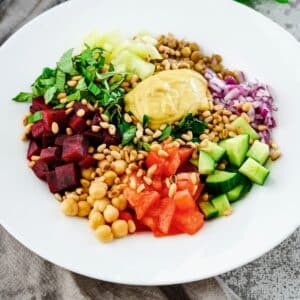 Lentil Chickpea Salad with Beets
Discover the flavors of our vegan lentil chickpea salad with beets, a nutrient-packed dish for a wholesome meal.
Instructions
In a medium saucepan, cook lentils with 6 cups of water. Bring to a boil and cook for 20 minutes, stirring occasionally. Drain and set aside.

In a small skillet over medium heat, cook pine nuts until golden. Remove from the pan and set aside.

Peel and chop the cucumber into small pieces. Dice the bell pepper, red onion, and tomato into small pieces.

½ red onion,

1 bell pepper,

1 cucumber,

1 tomato

Chop fresh herbs or use kitchen shears to cut them into small pieces. If needed, cut whole pickled beets into small pieces.

2 tablespoon fresh basil,

3 tablespoon fresh mint,

1 cup pickled beets

Whisk together olive oil, maple syrup, lemon juice, mustard, tahini, salt, pepper, and garlic powder until well combined.

1 tablespoon olive oil,

2 teaspoon maple syrup,

2 teaspoon Dijon mustard,

¼ cup lemon juice,

¼ cup tahini,

¼ teaspoon salt,

¼ teaspoon black pepper,

⅛ teaspoon garlic powder

In a large bowl, layer lentils, chickpeas, chopped vegetables, and herbs. Drizzle the dressing over the top and toss everything together before serving.
Notes
Save time by using canned lentils as well as canned chickpeas.
If you are not a fan of beets, you can add any other fermented or pickled vegetable for texture and flavor.
Nutrition
Calories:
748
kcal
Carbohydrates:
104
g
Protein:
40
g
Fat:
22
g
Saturated Fat:
3
g
Polyunsaturated Fat:
9
g
Monounsaturated Fat:
8
g
Sodium:
274
mg
Potassium:
1716
mg
Fiber:
41
g
Sugar:
16
g
Vitamin A:
1545
IU
Vitamin C:
61
mg
Calcium:
171
mg
Iron:
13
mg
Food Safety
Are you following proper safety protocols in your kitchen? Check out our top tips below and remember them for your next recipe.
Always sanitize countertops, cutting boards, utensils, and cookware thoroughly between each use.
Wash your hands in warm soapy water, rubbing for at least 20 seconds before rinsing. Remember, "FROG" means friction rubs off germs.
After serving food, allow it to cool, then place it into the refrigerator or proper storage immediately. Food should be at room temperature for no more than 2 hours for safety.