I'm excited to share a delicious and healthy recipe for a vegan tofu quinoa salad with beet hummus. This colorful salad is packed with protein and veggies, making it a nutritious and satisfying meal.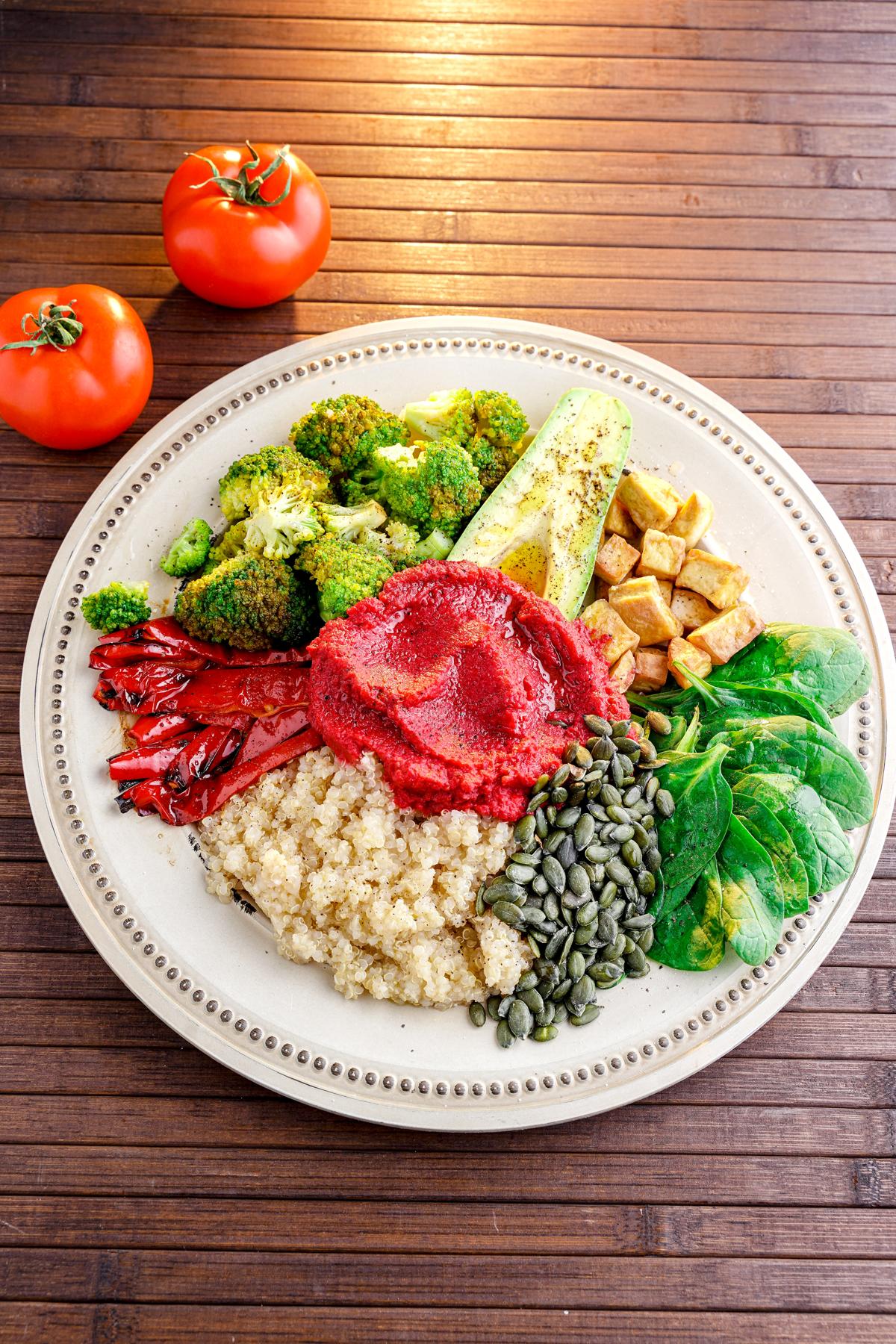 The star of this salad is the roasted beets, which add a sweet and earthy flavor that pairs perfectly with the quinoa and veggies. The beet hummus dressing is also a unique and flavorful addition that you won't want to miss.
If you like beets, then you might also like this vegan Buddha bowl.
Ingredients
You'll find exact measurements for these ingredients below in the printable recipe card.
Tofu
Red pepper
Quinoa
Broccoli
Spinach
Pumpkin seeds
Avocado
Beet hummus
Olive oil
Lemon juice
Salt and black pepper
Instructions
Begin by preparing two baking sheets with parchment paper and then preheat the oven to 400°F/200°C. Cut the tofu into bite-sized cubes, then place in an even layer on one of the baking sheets and cook for 15 minutes, or until they are golden brown around the edges. Remove from the oven and let them cool.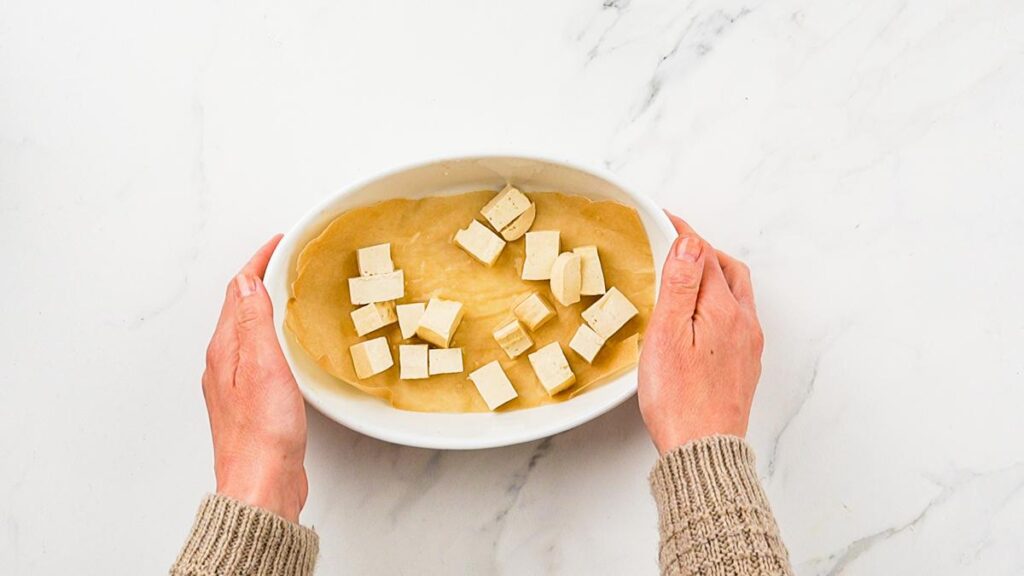 While these are cooking, prepare the red pepper by cutting it into strips. Place onto its own baking sheet, then bake for 10 to 15 minutes, just until tender and starting to brown.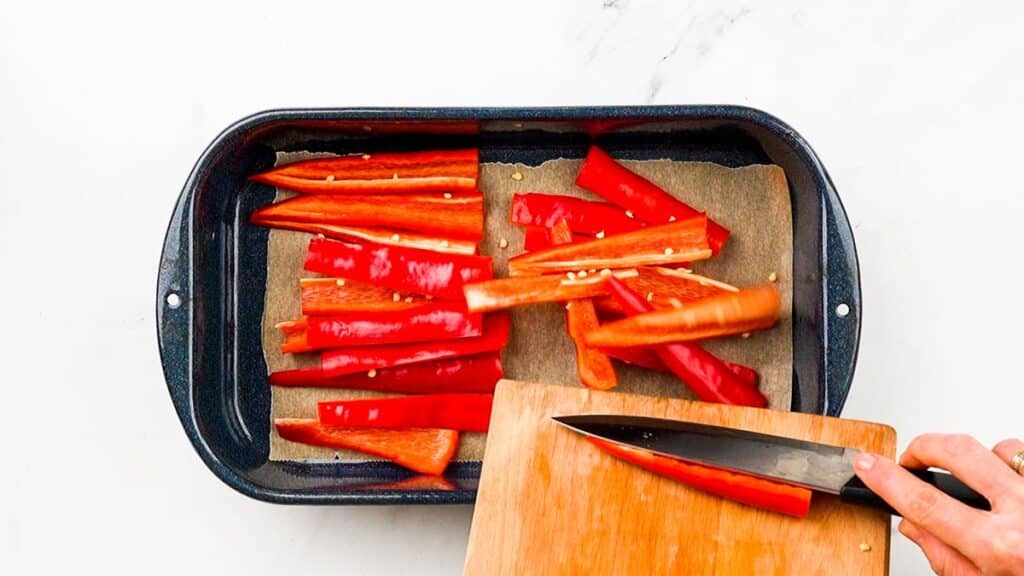 While these roast, you will prepare the quinoa. Add it to a medium saucepan with water, and simmer over medium heat for 15 minutes. Remove it from the heat source and cover then let it sit for 10 minutes. Stir or fluff with a fork and season to taste.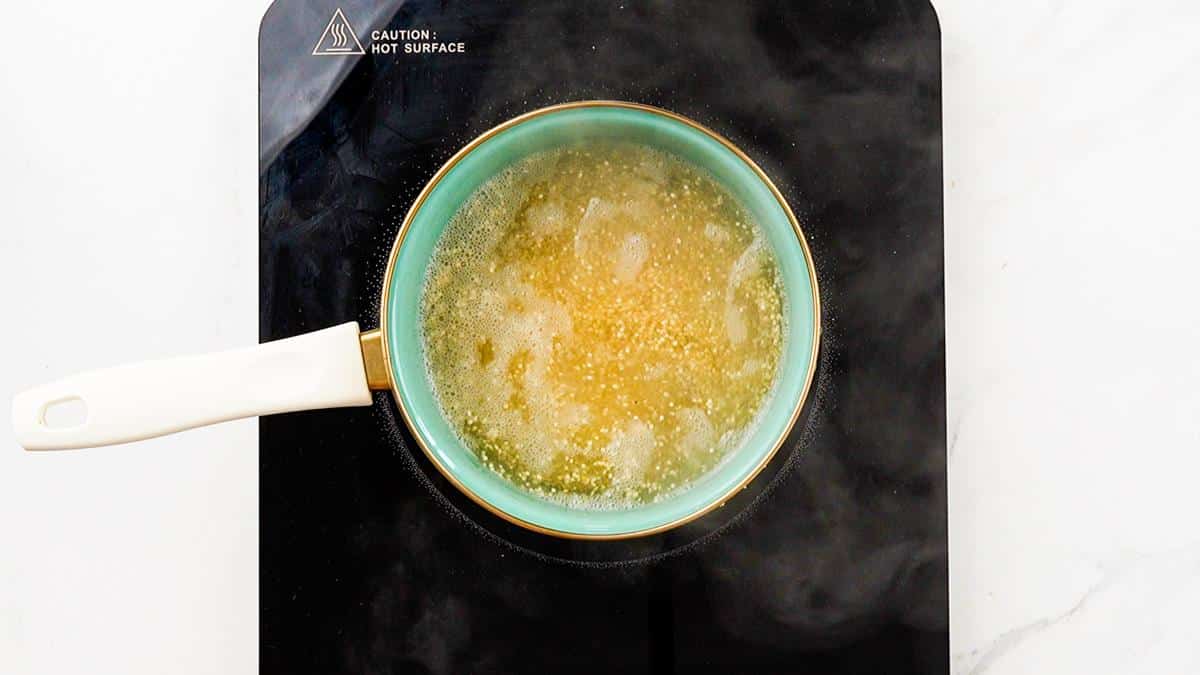 Cut the broccoli into florets then put into a saucepan with a small amount of water. Bring the liquid to a boil and cook for about 5 minutes, just until it is tender, but not overcooked.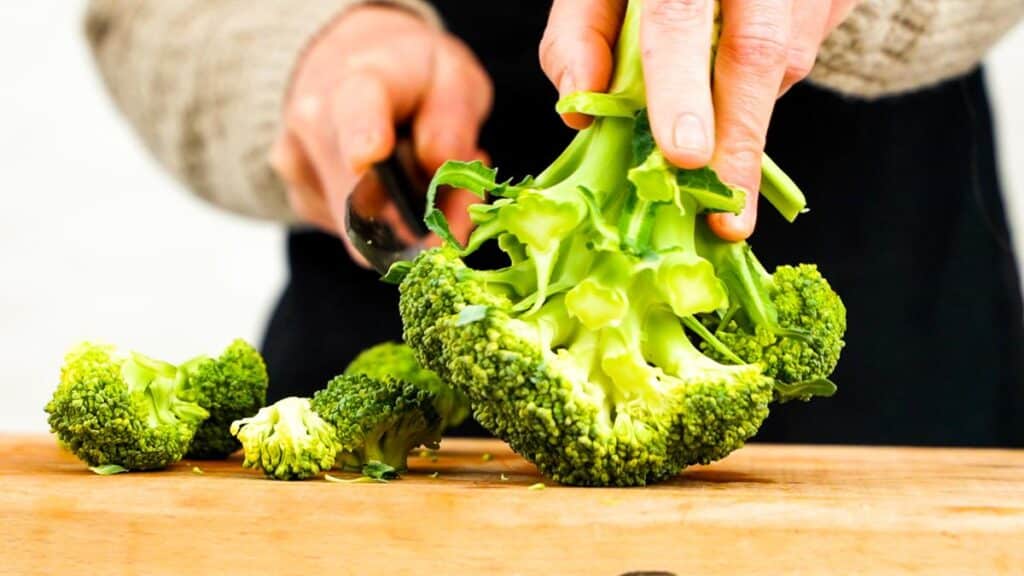 While that cooks, prepare your spinach and avocado. Dice the avocado and wash the spinach as needed.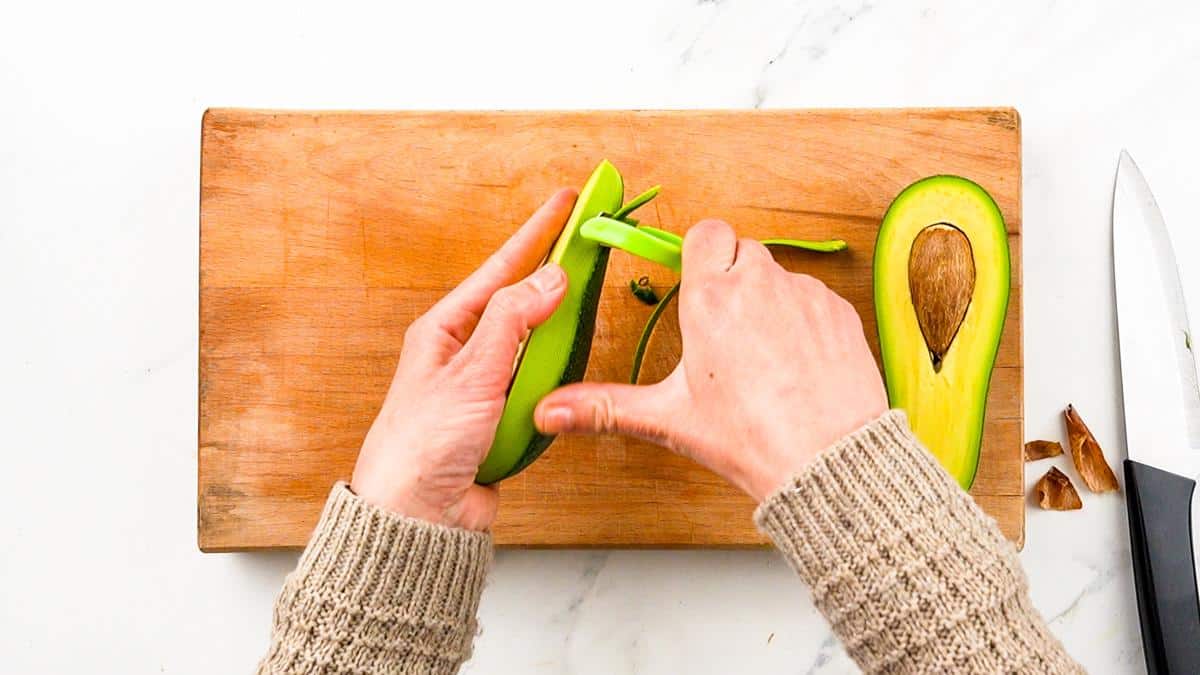 Once everything is done cooking, layer in a large bowl and then top with the beet hummus.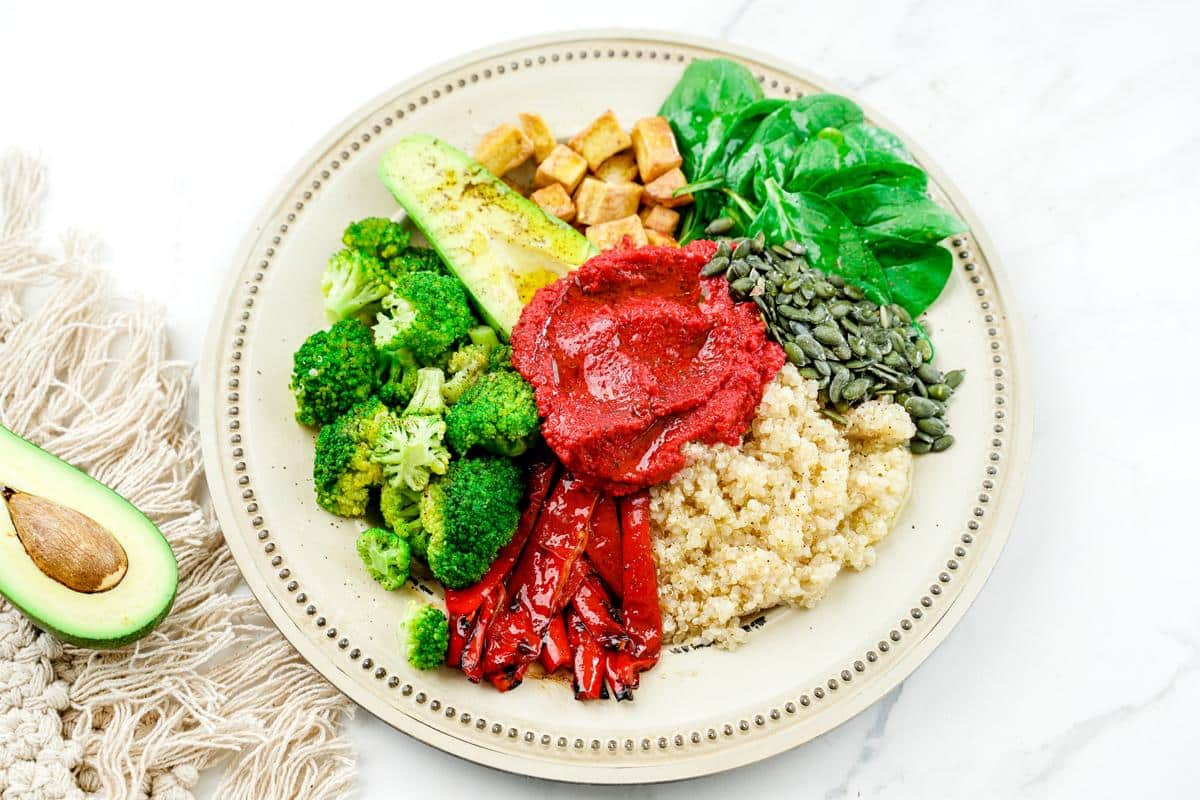 Sprinkle with additional salt and pepper, drizzle with olive oil, and squeeze lemon juice over the top.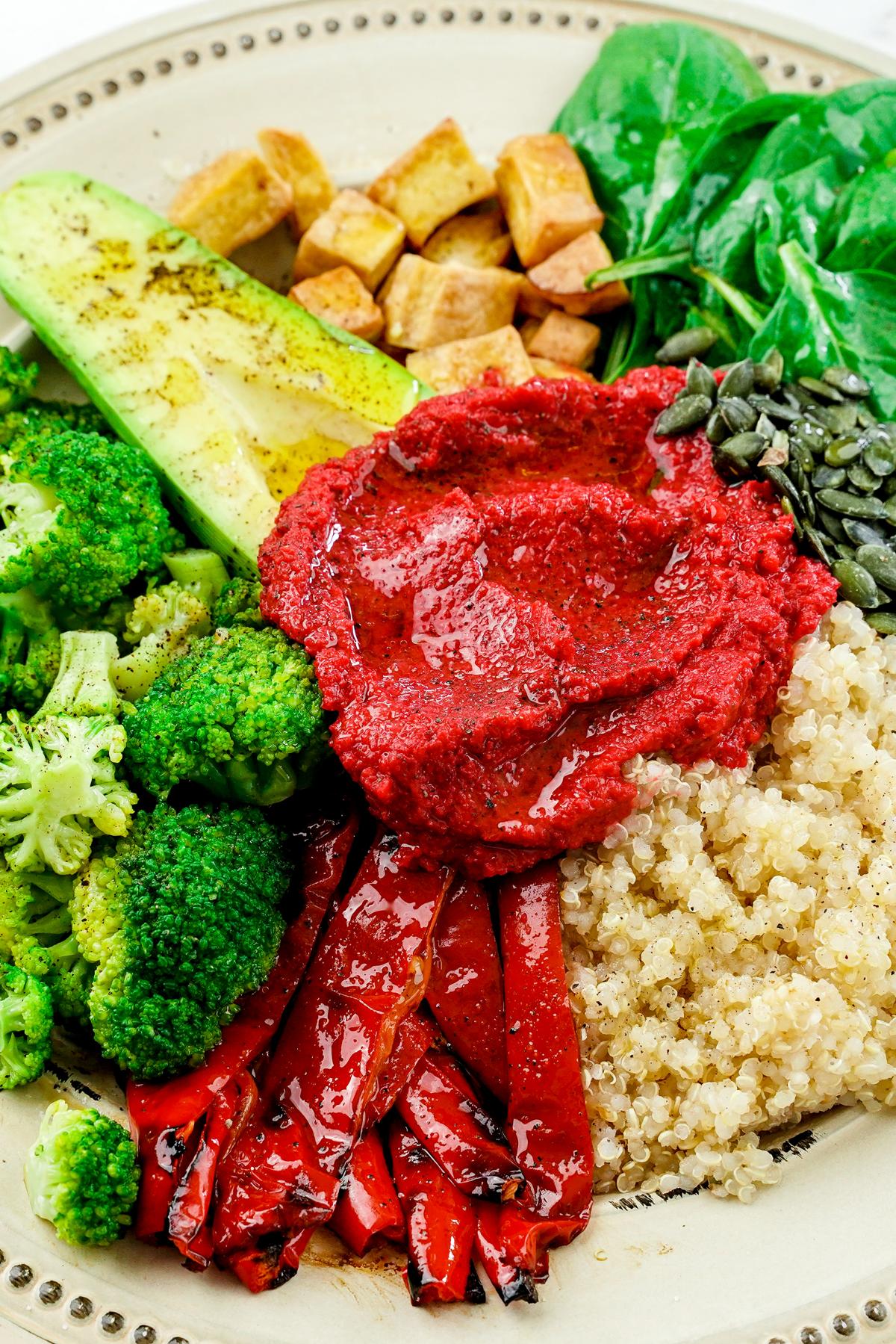 Substitutions
Sometimes you have a dietary restriction, or perhaps you are out of some of the ingredients. Below are some substitutions that make this salad delicious no matter what you have on hand.
Use tempeh, chickpeas, vegan chicken nuggets, or any preferred protein in place of tofu
Replace the spinach with kale, arugula, swiss chard, or mixed greens
Use sunflower seeds, almonds, walnuts, or pecans instead of pumpkin seeds
Variations
Sometimes you want the base of a salad but still want something a bit different. While the substitutions above are excellent, below are a few more variations that you are sure to enjoy.
Add roasted sweet potato or butternut squash for extra sweetness and creaminess
Use cauliflower instead of broccoli for a different texture
Top the salad with sliced avocado or roasted chickpeas for added protein and healthy fats
Season the quinoa with curry powder, taco seasoning, or Greek herbs for a different flavor profile
Use regular hummus, garlic hummus, red pepper hummus, or jalapeno hummus instead of beet hummus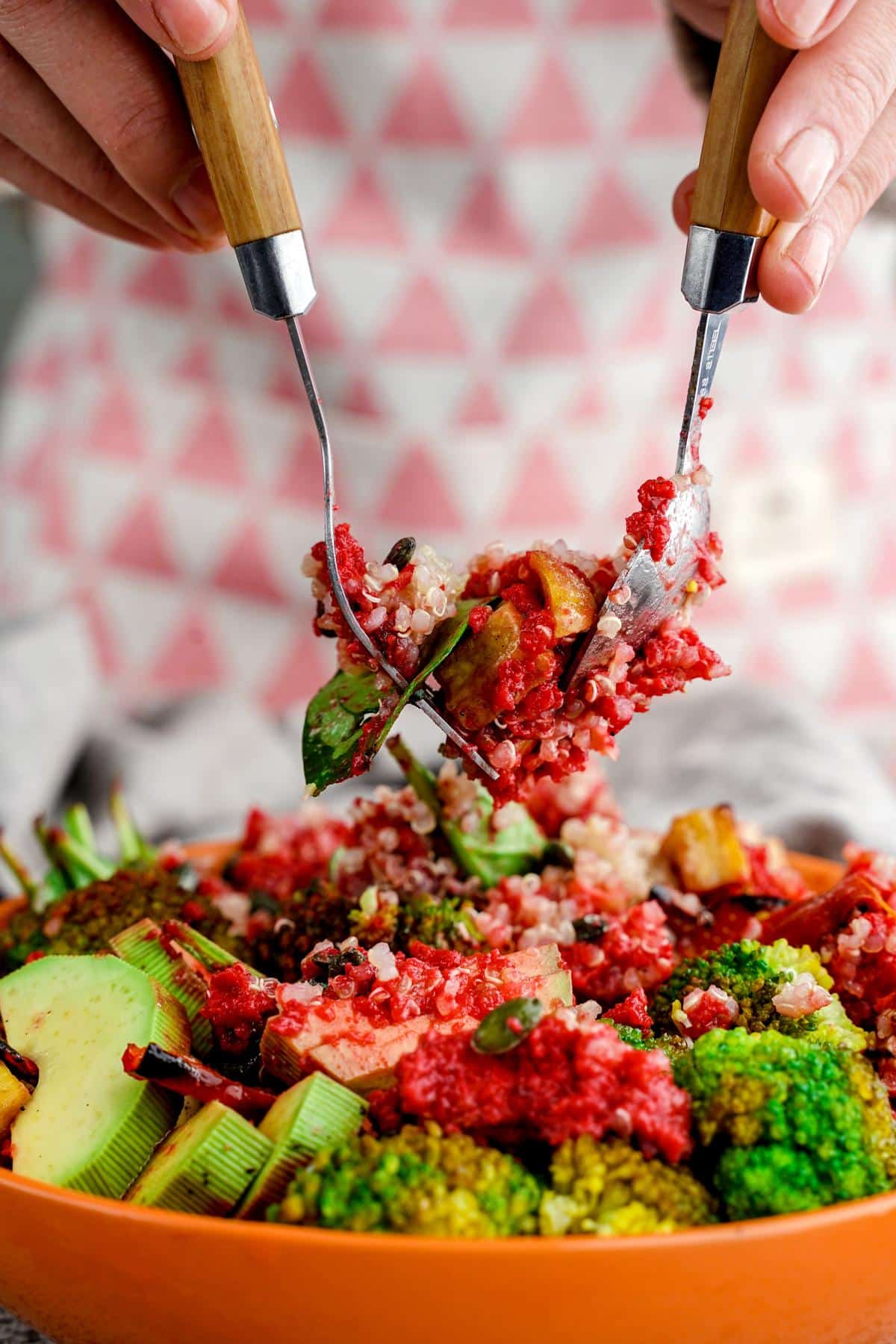 Storage
To store this salad, keep the dressing and salad separate in airtight containers in the refrigerator for up to three days. When you're ready to eat, simply toss the salad with the dressing and enjoy!
This recipe does not thaw and reheat well. I do not recommend making this free for later. Individual ingredients such as the hummus, quinoa, and tofu, may freeze well and then reheat to combine with the vegetables.
Equipment
Is your kitchen fully stocked? If not, take a look at my recommended tools and supplies. Keep these on hand in your kitchen to make mealtime easy to manage.
Baking sheets
Parchment paper
Cutting board
Chef's knife
Medium saucepan
Wooden spoon
Measuring cups and spoons
Top Tip
My top tip for making this salad even better is to toast the pumpkin seeds before adding them to the salad. This will bring out their nutty flavor and add a crunchy texture that contrasts well with the soft quinoa and veggies.
FAQ
What are the benefits of beets?
Beets are a good source of vitamins and minerals. They have a good amount of vitamins A, C, and Ka, as well as folate, manganese, copper, and potassium.
Beets are a good source of antioxidants such as betalains, which can help protect your cells from damage. They also contain nitrates, which can help improve blood flow and lower blood pressure.
How can I make quinoa perfect every time?
One of the most important things to consider when making quinoa is to rinse it thoroughly before cooking. This will make sure that it isn't bitter.
What are the benefits of pumpkin seeds?
Pumpkin seeds are a great source of nutrients, including protein, fiber, magnesium, zinc, iron, and phosphorus. They are also a good source of vitamins K, E, and C.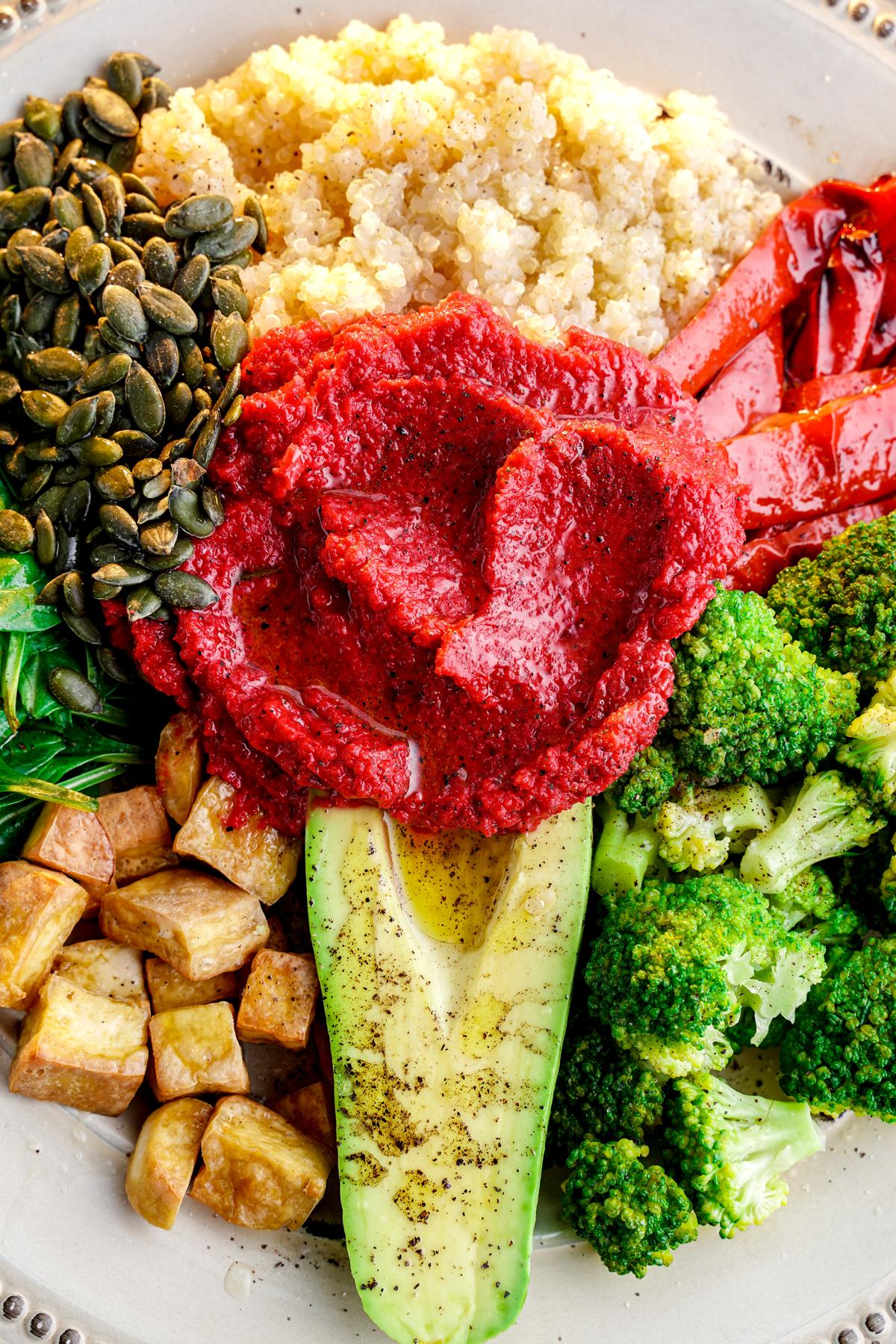 Relevant
Want more tasty salads in your meal plan? Check out the recipes below and add them to your menu soon. Bookmark them to make it easy to find when you are ready to cook.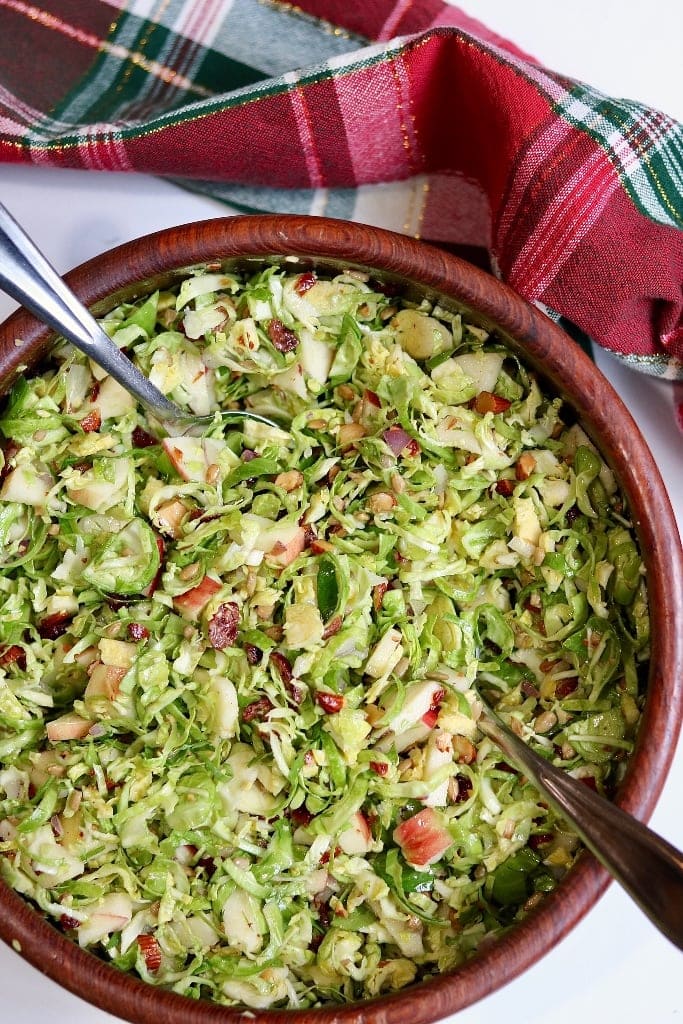 Pairing
Not sure how to make this a full meal? Check out a few protein options below that add tons of flavor and protein to your meal plan.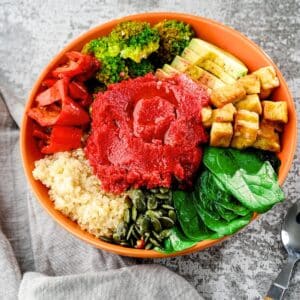 Tofu Quinoa Salad with Beet Hummus
Nurture your well-being with our hormone-balancing foods bowl. This vegan delight is loaded with nourishing ingredients to support hormonal balance.
Ingredients
4

oz

tofu

2

red peppers

1

cup

quinoa

2

cups

water

1

cup

broccoli

1

cup

baby spinach

½

cup

pumpkin seeds

1/2

avocado

1

cup

beet hummus

2

tbsp

olive oil

½

lemon

Juice

Pinch

of salt and pepper
Instructions
To begin, line two baking sheets with parchment paper and preheat the oven to 400°F/200°C. Slice the tofu into bite-sized cubes and arrange them in a single layer on one of the baking sheets. Roast them for approximately 15 minutes or until they turn golden brown on the edges. After removing the tofu from the oven, let it cool down.

While the tofu is cooking, prepare the red pepper by slicing it into thin strips. Place the pepper on the second baking sheet and roast it for 10-15 minutes until it becomes tender and slightly browned.

While waiting for the red pepper to roast, cook the quinoa in a medium-sized saucepan with water. Bring it to a simmer over medium heat for around 15 minutes. After that, remove the saucepan from the heat source and let it sit for 10 minutes. Fluff the quinoa with a fork and season to your liking.

In another saucepan, boil water, and cook the broccoli florets for around 5 minutes until they are tender yet still firm. While the broccoli cooks, prepare the spinach and avocado. Rinse the spinach and dice the avocado.

When everything is ready, combine everything in a large mixing bowl and top it off with a layer of beet hummus. Sprinkle some salt and pepper on top, drizzle it with olive oil, and squeeze lemon juice over the salad before serving.
Notes
Make sure you season the quinoa well when cooking and fluff it with a fork before combining it with the rest of the salad ingredients.
This salad can be served with warm quinoa, tofu, and peppers, or all ingredients may be chilled to serve cold.
Nutrition
Calories:
352
kcal
Carbohydrates:
36
g
Protein:
13
g
Fat:
19
g
Saturated Fat:
3
g
Polyunsaturated Fat:
5
g
Monounsaturated Fat:
10
g
Trans Fat:
0.01
g
Sodium:
27
mg
Potassium:
665
mg
Fiber:
7
g
Sugar:
3
g
Vitamin A:
2752
IU
Vitamin C:
101
mg
Calcium:
88
mg
Iron:
4
mg
Food Safety
Enjoying tasty food includes being careful when working in the kitchen. Take a moment to review the common food safety recommendations below to make sure you are always safe in the kitchen.
Always sanitize countertops, cutting boards, utensils, and cookware thoroughly between each use.
Wash your hands in warm soapy water, rubbing for at least 20 seconds before rinsing. Remember, "FROG" means friction rubs off germs.
After serving food, allow it to cool, then place it into the refrigerator or proper storage immediately. Food should be at room temperature for no more than 2 hours for safety.