Try this delicious and refreshing vegan summer farro salad recipe with berries, full of fiber and nutrients that your family will love. It is a perfect way to enjoy the flavors of the season.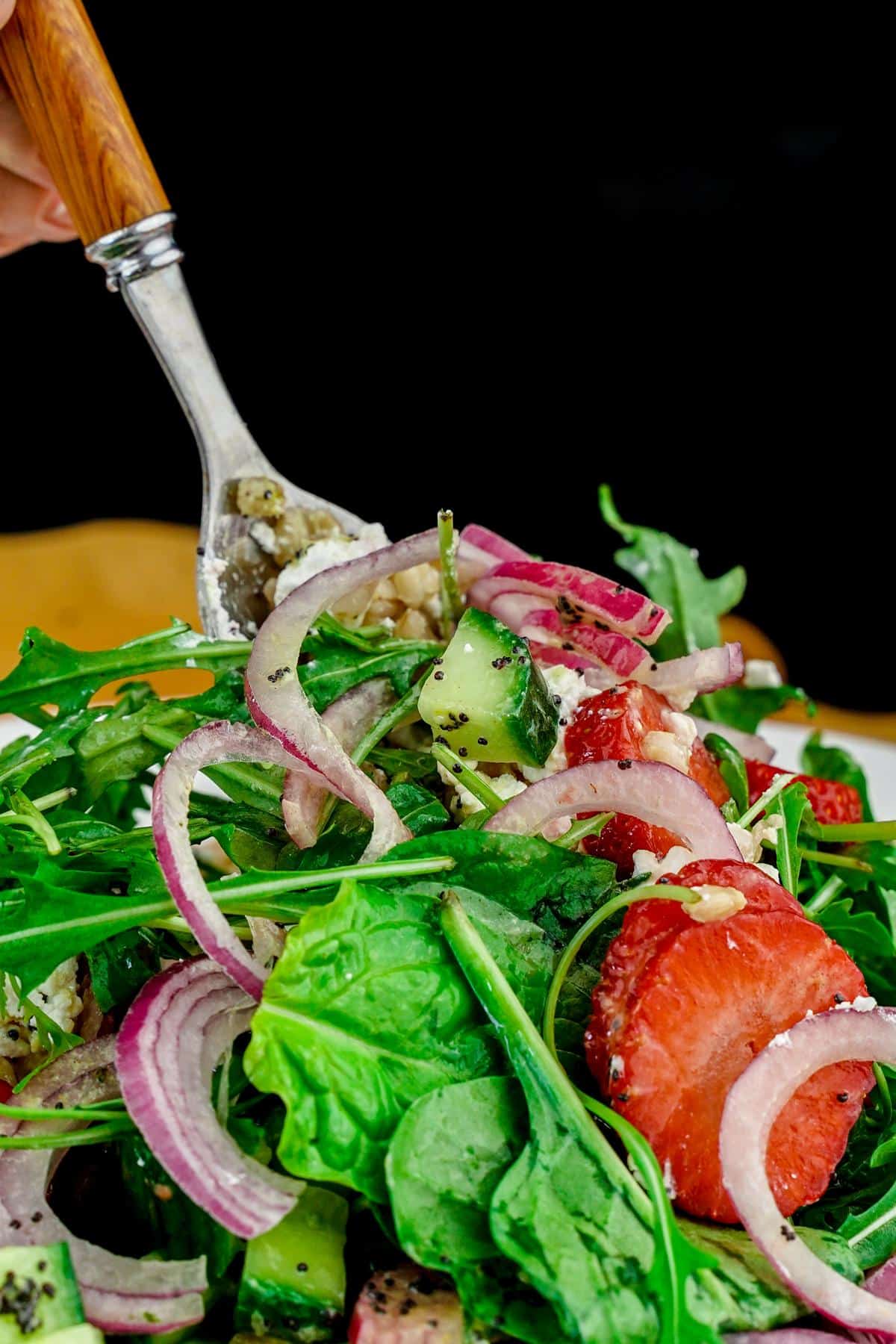 This tasty salad is light, healthy, and full of flavor. Enjoy it as an entrée or as a side dish for your next meal. Not only does it give you a better opportunity to break away from heavier comfort foods but it also allows you to get creative with healthier dishes.
If you want a bit heartier salad, you might prefer our cold soba noodle salad instead.
🥘 Ingredients
Below you will find two sets of ingredients. The first is for the salad, and the second is for the simple poppy seed dressing. Exact quantities for these ingredients can be found in the printable recipe card below.
For the salad
Spinach
Farro
Arugula
Strawberries
Red onion
Cucumber
Avocado
Vegan feta
For the dressing
Olive oil
White wine vinegar
Maple syrup
Vegan yogurt
Shallot
Poppy seeds
Dijon mustard
Salt
Note: If your market doesn't carry it, you can make your own homemade vegan feta instead.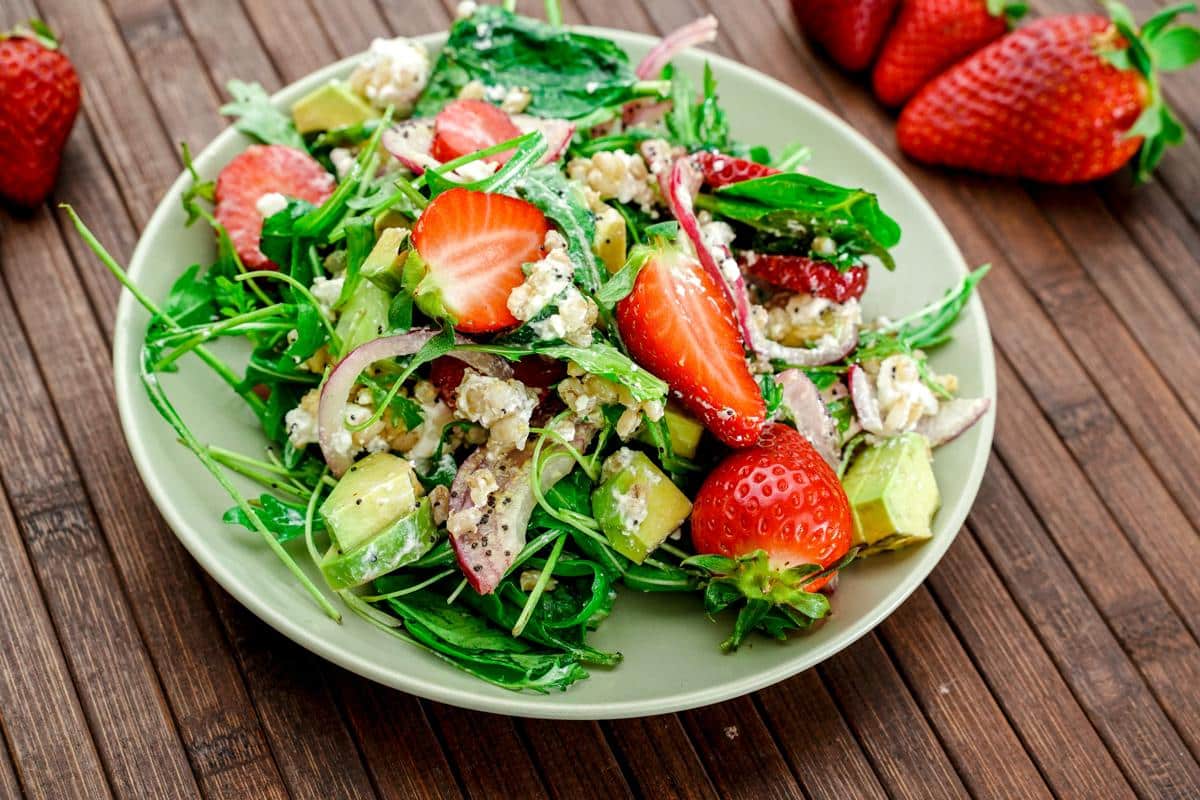 🔪Instructions
Begin by cooking the farro. In a medium saucepan or stockpot, add 4 ½ cups of water, the farro, and a bit of salt. Over low temperatures, let this cook for 20 to 30 minutes until the farro is soft and the water is absorbed. Stir this occasionally to prevent burning.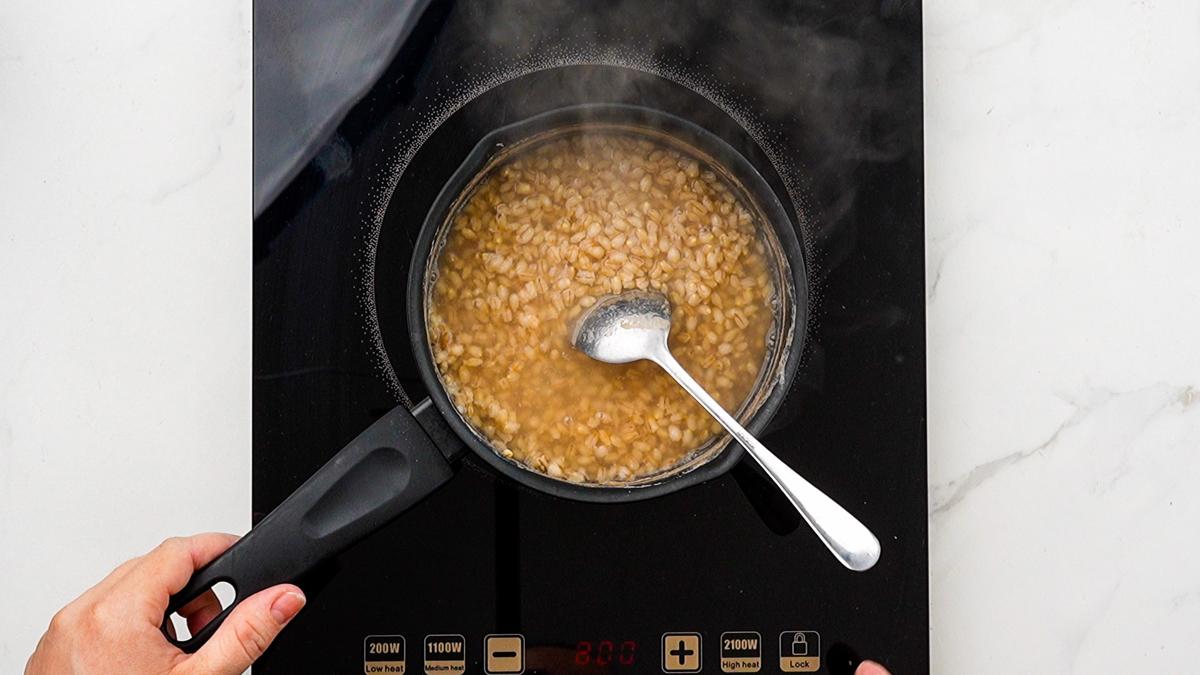 While the farro cooks, you will prepare the vegetables and fruits for the salad by cutting everything into bite-sized pieces. Set these aside.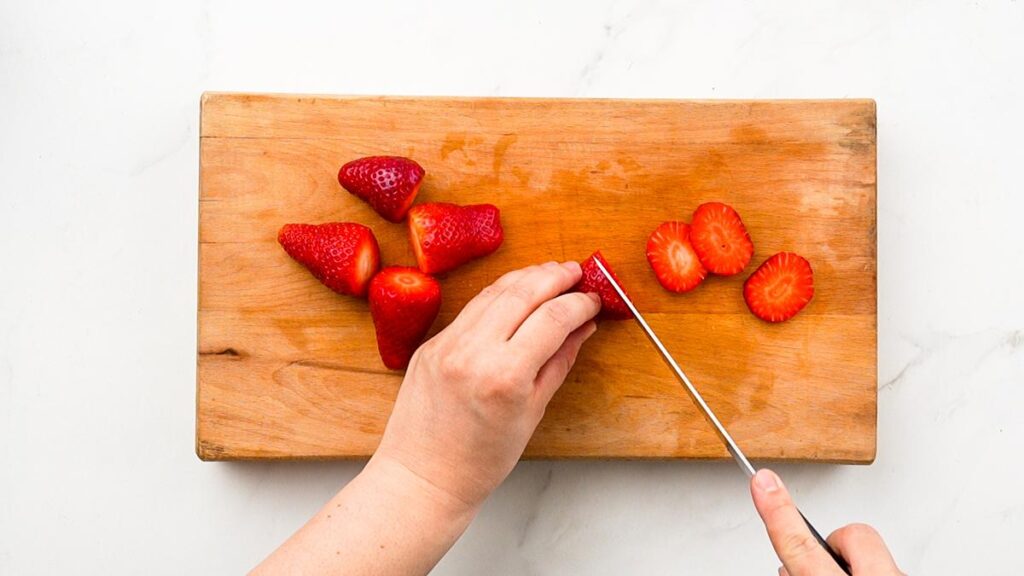 Then, in a large bowl, whisk together the olive oil, white wine vinegar, maple syrup, vegan yogurt, chopped shallot, poppy seeds, Dijon mustard, and salt for the dressing. Taste and add additional salt or pepper if desired.
To serve, layer the salad ingredients and drizzle with dressing. Toss to coat everything before serving.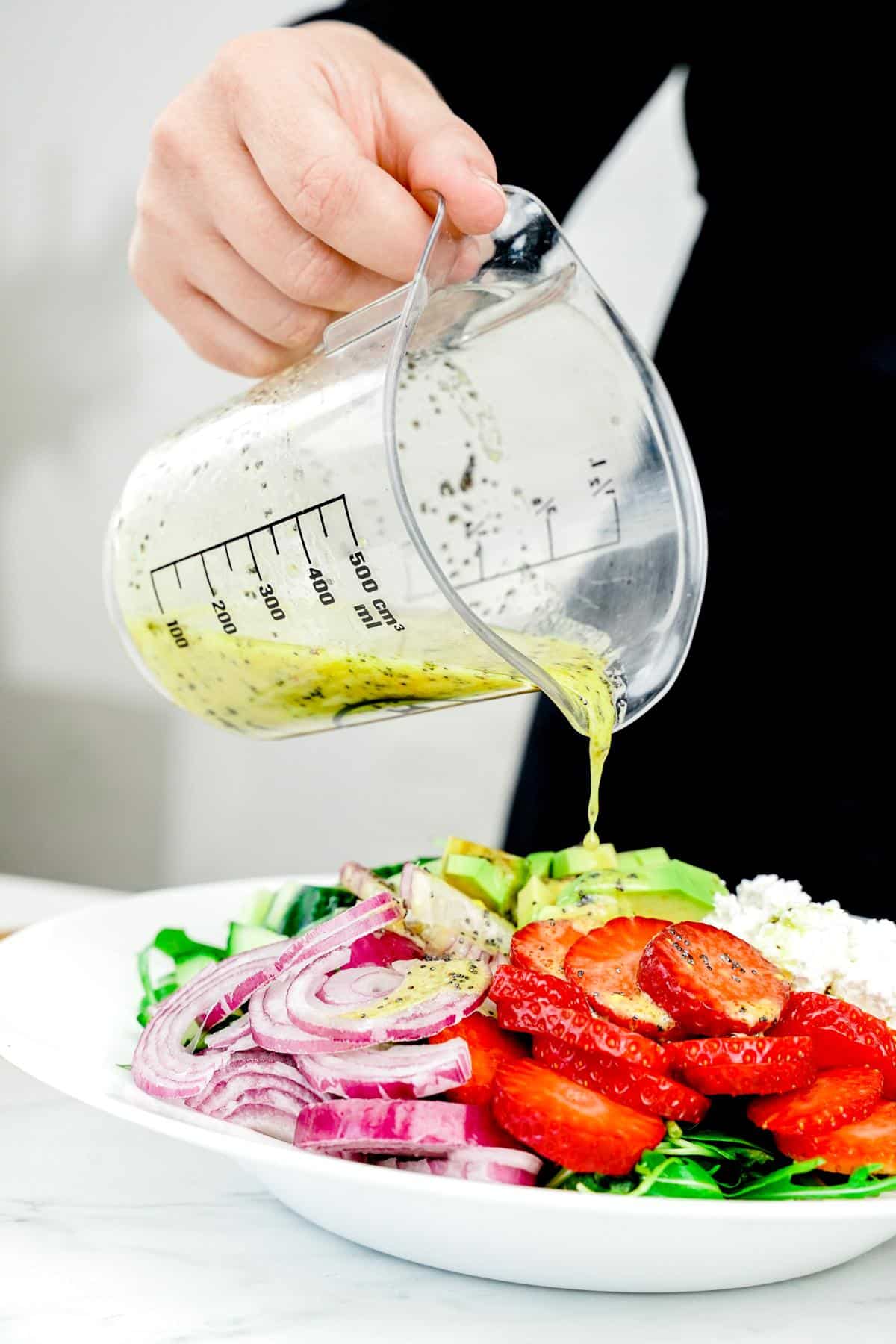 📋 Substitutions
This is a simple and delicious salad that is very easy to change when needed. For substitutions we have tried, see the list below.
Swap farro for couscous, quinoa, bulgar wheat, or brown rice.
Use any seasonal berries such as blueberries, blackberries, or raspberries if strawberries are unavailable.
Add additional lemon juice if no vinegar is available.
Apple cider vinegar adds a punch of extra flavor.
As always, you can substitute any ingredient that doesn't fit your personal dietary needs. This summer farro salad is super versatile.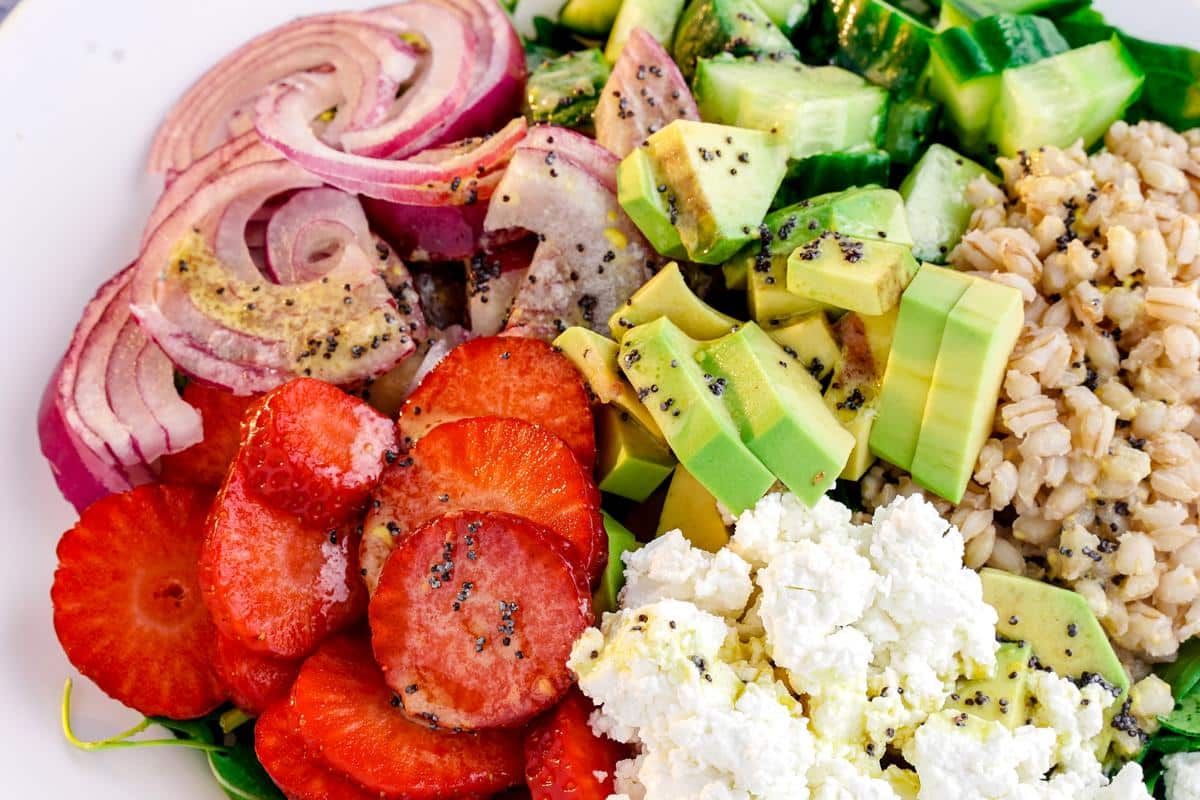 📖 Variations
Sometimes I want to add a bit more to this salad. Especially if this is being served as an entree rather than a side dish. Below are some additions that add flavor, texture, and protein.
Add other nuts and seeds such as almonds, walnuts, pecans, sunflower seeds, or pumpkin seeds.
Use different types of lettuce such as romaine, spinach, or arugula. Kale could also be used if you prefer a heartier green.
Use other veggies in the salad like bell peppers, cucumbers, or corn.
Add croutons or tortilla strips for added crunch.
Brighten the flavor with fresh basil, mint, or dill.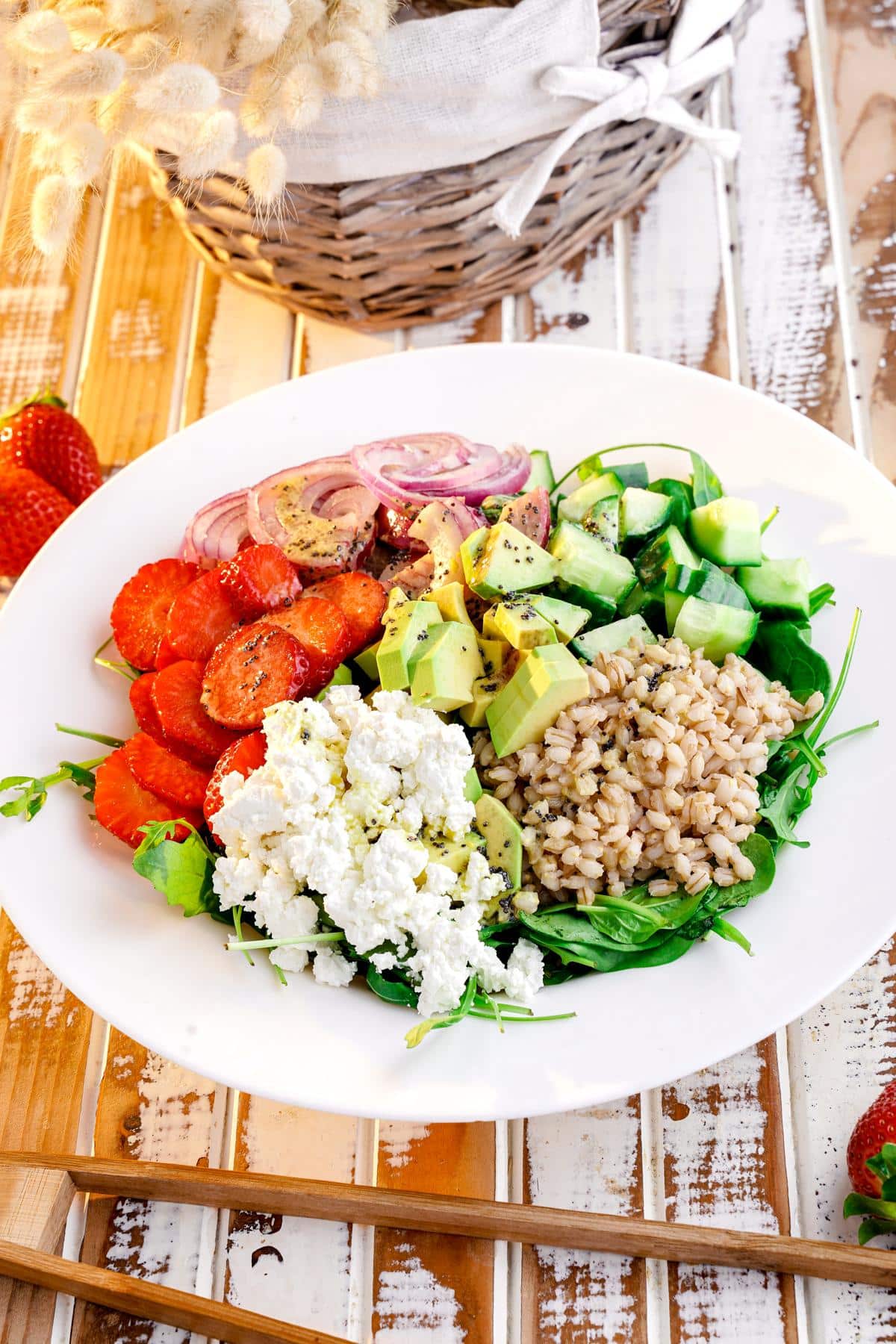 🫙Storage
Summer salad is best when it is freshly made. This prevents it from getting soggy. If you have a dressed salad that you have as leftovers, you can store it in the refrigerator overnight.
If you want to make this ahead of time, I recommend making the farro and letting it cool completely. Then, make the dressing and store it in an airtight container. The veggies can be chopped ahead of time and stored for up to 3 days or chopped when it is time to assemble the salad.
When you are ready to serve, combine the salad ingredients and then dress the salad.
The homemade salad dressing can be stored in the refrigerator for up to a week. It's best to store it in an airtight container or jar. Shake or mix the dressing well before using to prevent separation and bring all of the flavors together again before using.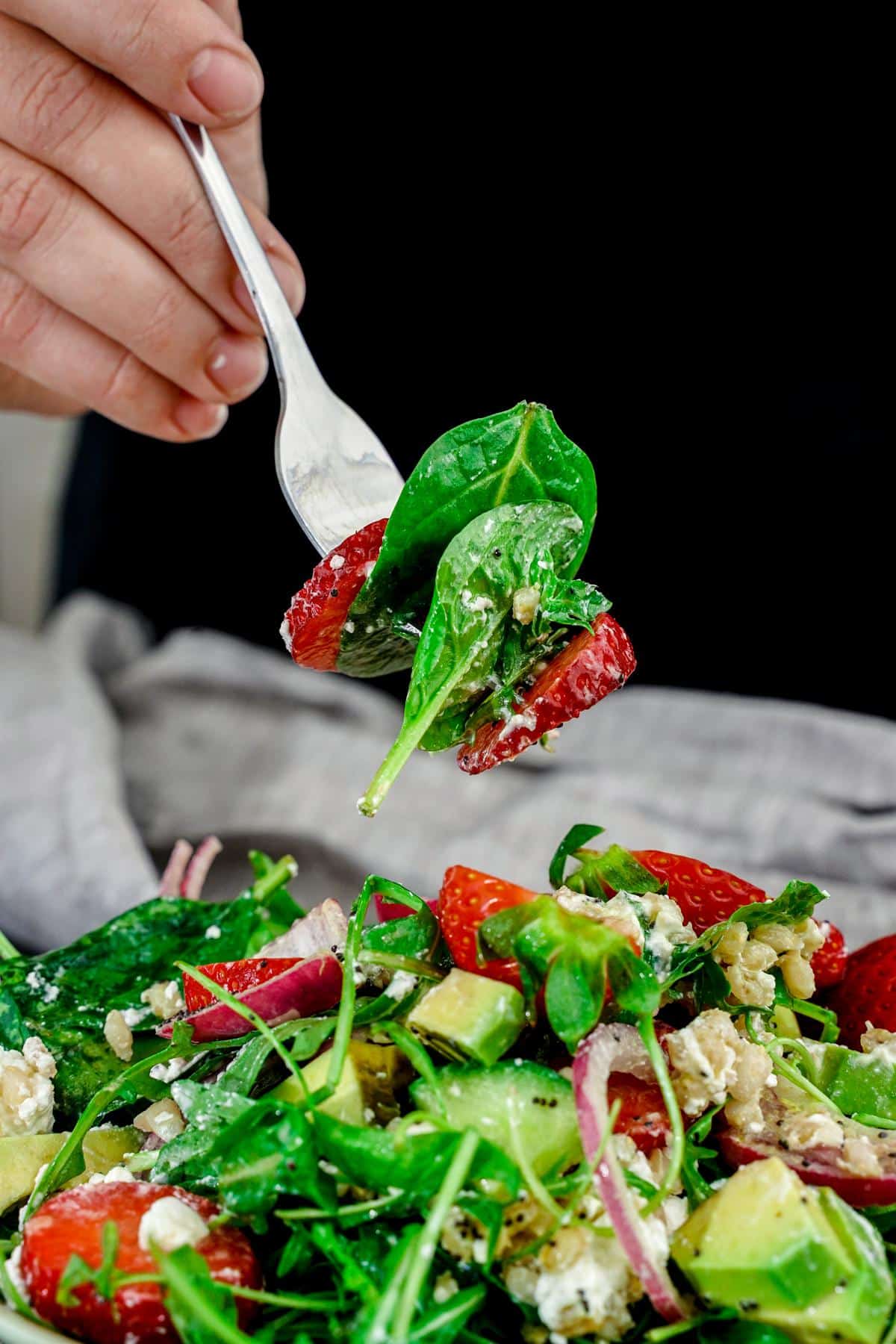 🍽 Equipment
Is your kitchen stocked with supplies? If you don't have a full set of kitchenware yet, below are some suggestions that everyone should have in their kitchen.
💭 Top Tip
When making this salad, make sure to use fresh ingredients and ripe, juicy berries. This will ensure that you get the most flavor out of each bite. If using frozen berries, make sure they have thawed and been patted dry.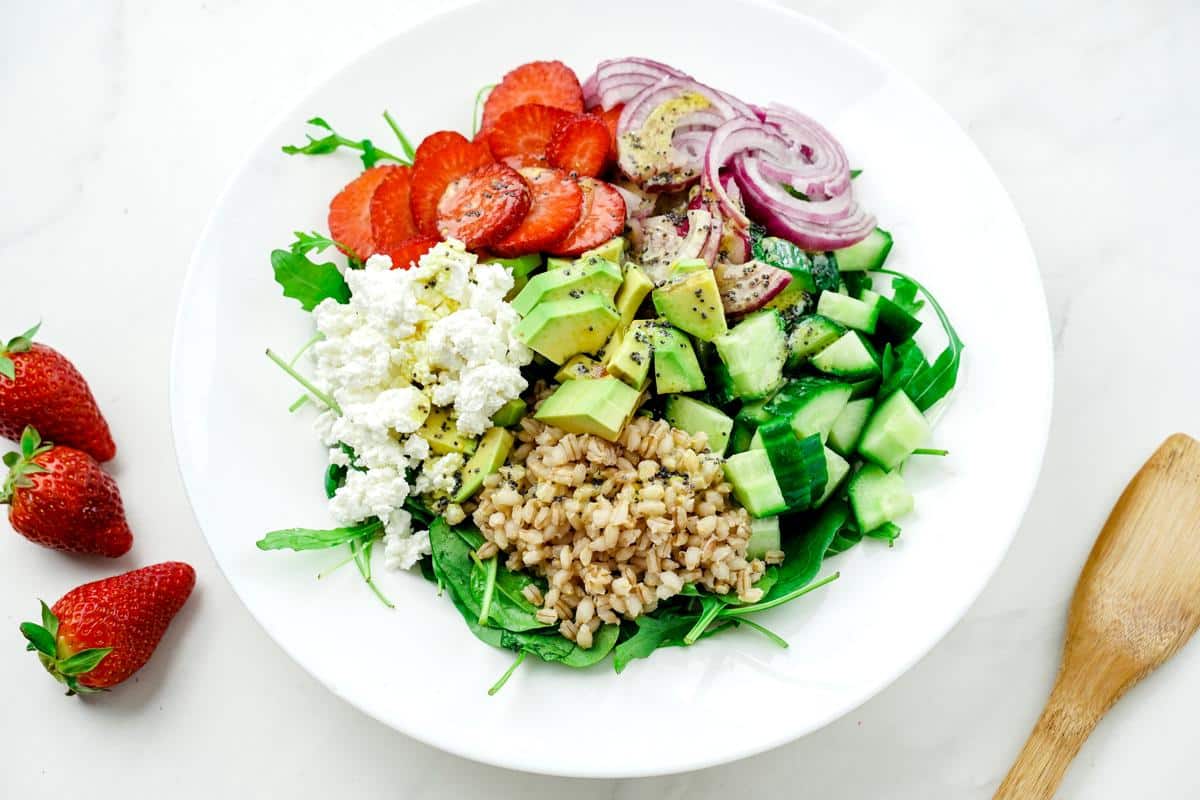 ❓FAQ
How can I add more flavor to the farro?
Farro will absorb the flavors it is cooked in or dressed with. For this recipe, using mushroom broth, vegetable broth, or adding a bouillon cube to the water are excellent ways to add flavor. You could also add a teaspoon of turmeric, curry powder, or cumin to boost flavor.
Do I need to soak farro before cooking?
Typically, you will be using pearled or semi-pearled farro, and will not need to soak. Should you use the whole farro, you will want to soak it in water for 8 to 12 hours before cooking.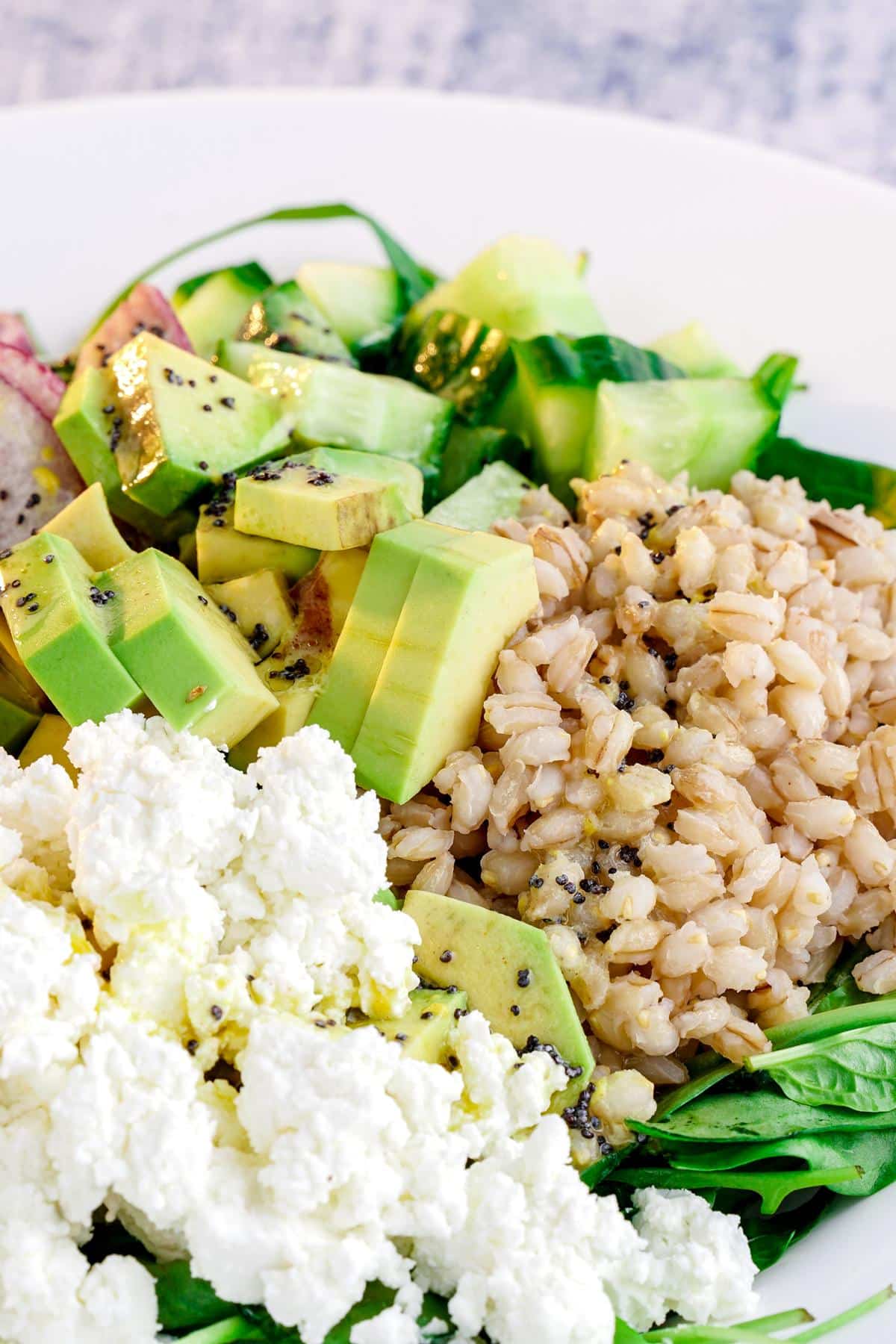 Related
Want another bright and tasty salad for your menu? Check out the ones below that we love.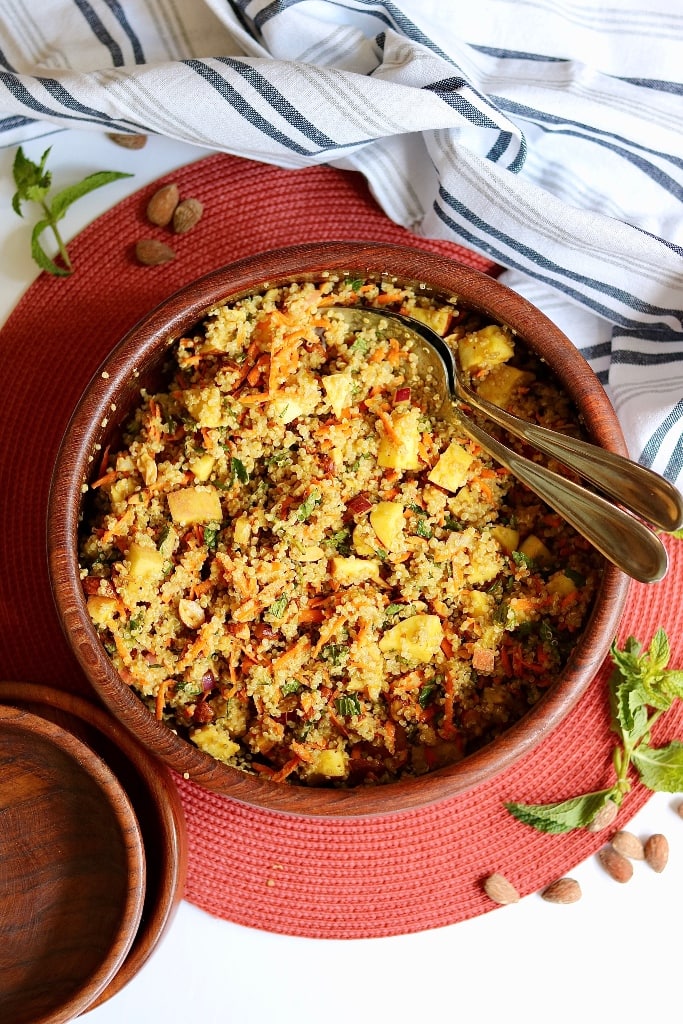 Pairing
Add more protein and flavor to this by serving it alongside one of the fun options below.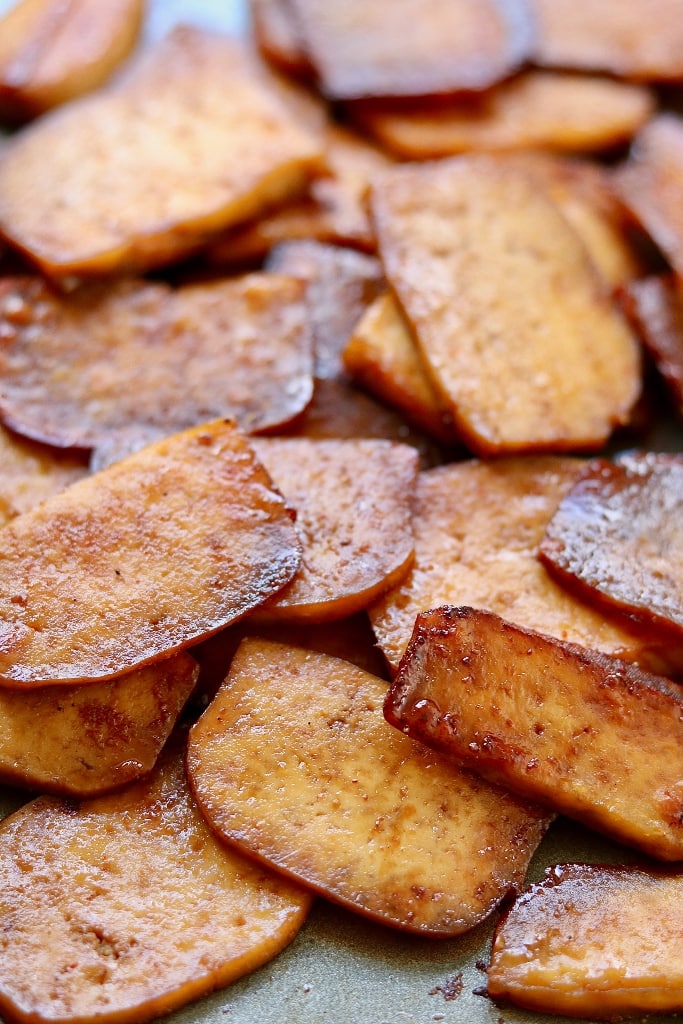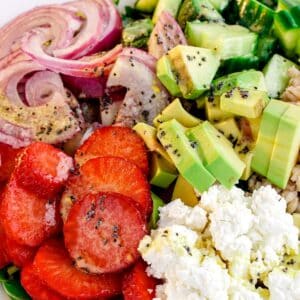 The Best Vegan Farro Summer Salad
Get ready for summer with our vegan farro summer salad recipe. Packed with healthy ingredients and bursting with flavor, it's the perfect meal for a hot day.
Instructions
To start, cook the farro. Combine the farro, 4 ½ cups of water, and a pinch of salt in a medium saucepan or stockpot. Cook over low heat for 20 to 30 minutes, stirring occasionally to prevent sticking and burning, until the water is absorbed and the farro is soft.

While the farro cooks, cut the fruits and vegetables into bite-sized pieces for the salad. Set them aside.

In a large bowl, whisk together the olive oil, white wine vinegar, maple syrup, vegan yogurt, chopped shallot, poppy seeds, Dijon mustard, and salt to make the dressing. Taste the dressing and adjust the seasoning with additional salt or pepper, if needed.

To serve, layer the salad ingredients and drizzle the dressing over the top. Toss everything together to coat the salad evenly before serving.
Notes
Replace the farro with couscous, brown rice, or quinoa if desired.
It is best to keep the salad greens separate from the dressing until you are ready to serve.
Nutrition
Calories:
681
kcal
Carbohydrates:
81
g
Protein:
11
g
Fat:
37
g
Saturated Fat:
5
g
Polyunsaturated Fat:
5
g
Monounsaturated Fat:
25
g
Sodium:
59
mg
Potassium:
885
mg
Fiber:
19
g
Sugar:
13
g
Vitamin A:
1798
IU
Vitamin C:
58
mg
Calcium:
157
mg
Iron:
4
mg
Food Safety
No matter what you are preparing, food safety is a must. Below are our top tips for keeping you, your family, and your guests safe when preparing food in your home kitchen.
Always sanitize countertops, cutting boards, utensils, and cookware thoroughly between each use.
Wash your hands in warm soapy water, rubbing for at least 20 seconds before rinsing. Remember, "FROG" means friction rubs off germs.
After serving food, allow it to cool, then place it into the refrigerator or proper storage immediately. Food should be at room temperature for no more than 2 hours for safety.