Introducing a unique twist on BBQ salad. Enjoy the sweet and smoky flavors of BBQ without sacrificing your vegan lifestyle with this delicious and healthy vegan BBQ chickpea salad.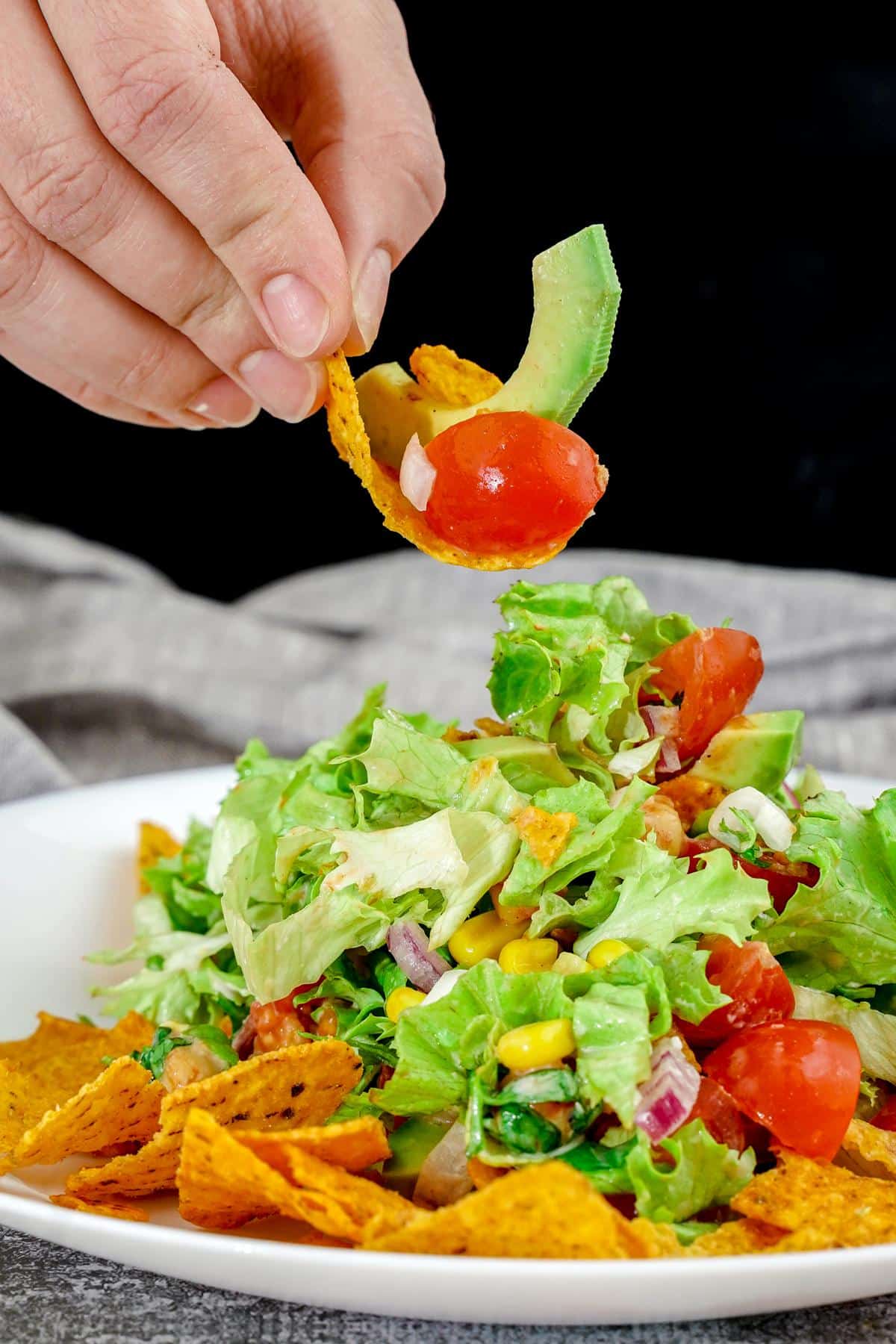 A simple bed of mixed greens is topped with fresh vegetables, flavorful chickpeas, and the crunch of corn chips before being drizzled with your favorite vegan ranch dressing.
If you like this recipe, then check out our vegan Caesar salad recipe for another tasty plant-based spin on a classic.
🥘 Ingredients
Avocado
Tomatoes
Fresh parsley
Lettuce or mixed greens
Whole kernel corn
Chickpeas
BBQ sauce
Corn chips
Red onion
Vegan ranch
Note: You can use any prepared vegan salad dressing, or make your own homemade vegan ranch.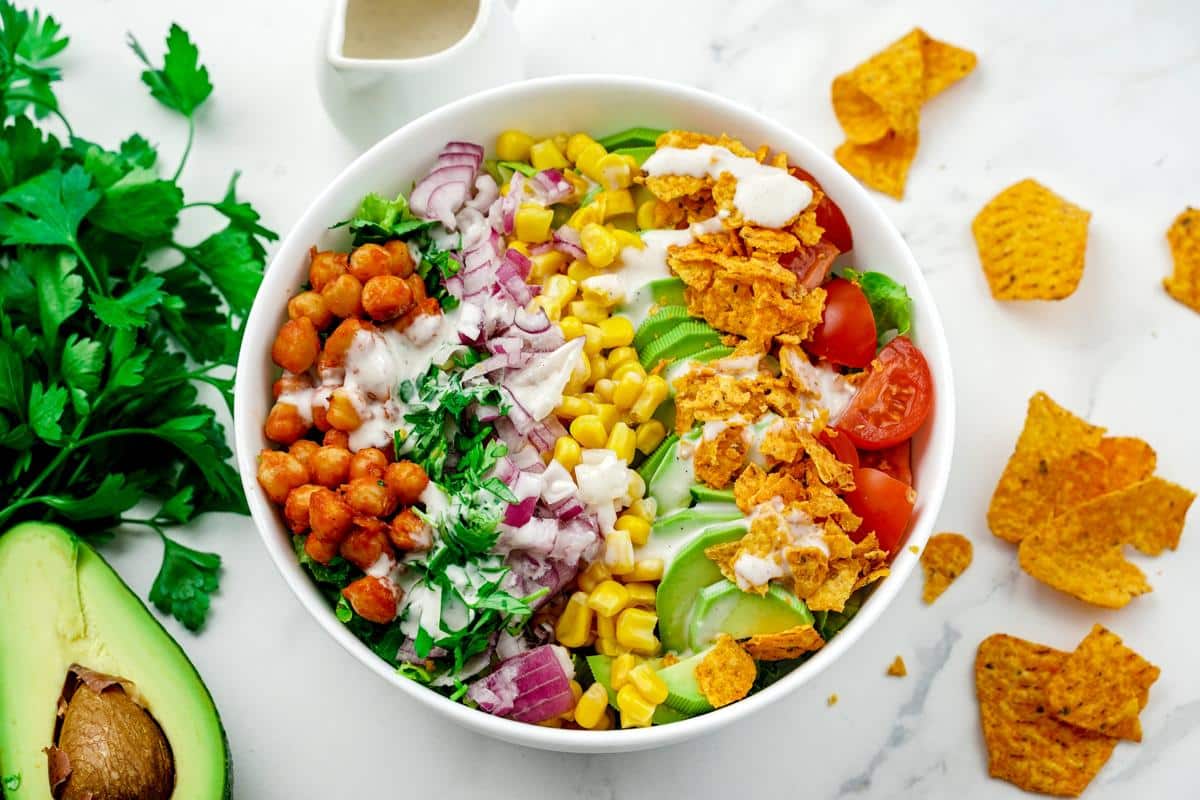 🔪Instructions
This recipe is very simple to make. Begin by rinsing and draining the chickpeas, then pouring them into a small skillet with the barbecue sauce. Sautee for 3 to 5 minutes, stirring regularly, until they are heated through and coated in sauce. Set this aside.
Now, prepare the salad by washing and patting dry the lettuce, tomatoes, and parsley. Chop them, along with the onion and avocado into bite-sized pieces. Then, drain the corn and heat it if desired.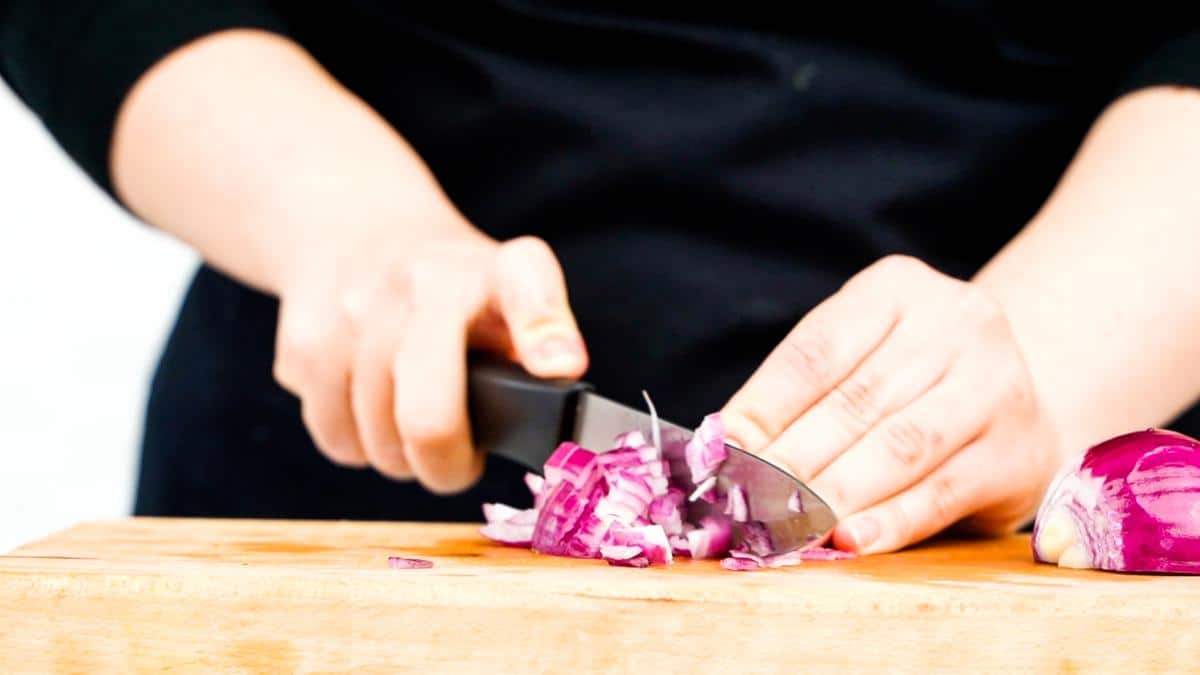 Now, assemble the salad by adding the lettuce as the base. Then put the tomatoes, avocado, corn, red onion, fresh parsley, corn chips, and lastly chickpeas.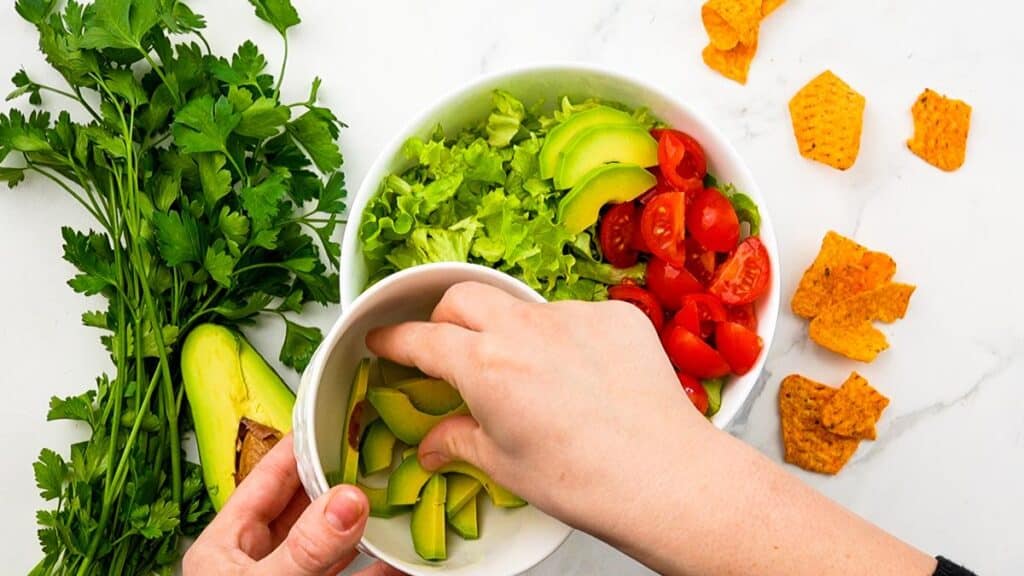 Drizzle the top with ranch and then toss before serving.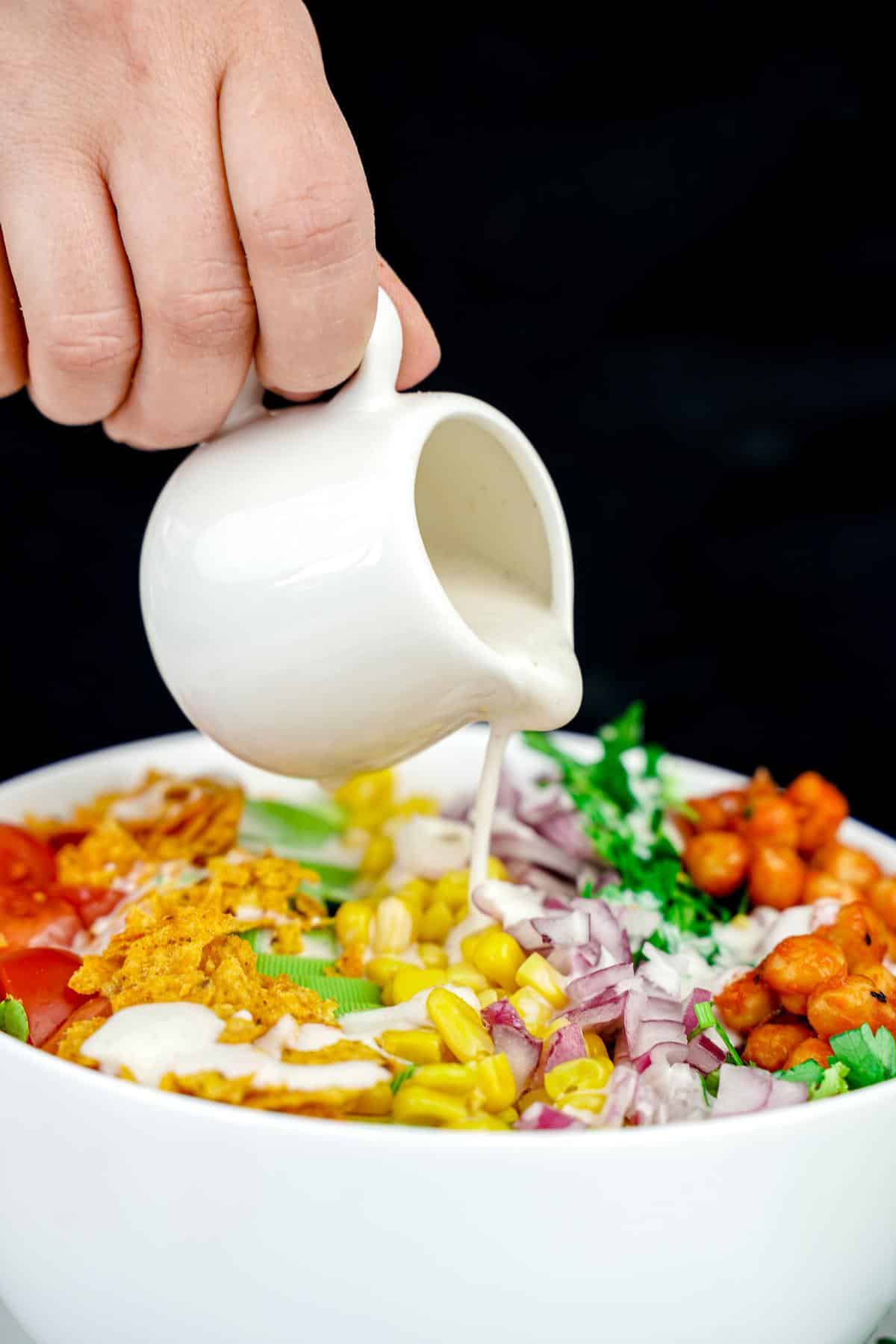 📋Substitutions
Since this is a simple salad to make, that means, it is also a simple salad to change to fit your preferences.
If you are not a fan of avocado, you can skip it and add in more vegan ranch dressing for creaminess.
Swap the cherry tomatoes for other types of tomatoes like grape or heirloom tomatoes.
Use your favorite types of lettuce like romaine, spinach, kale, arugula, or a mix of baby greens.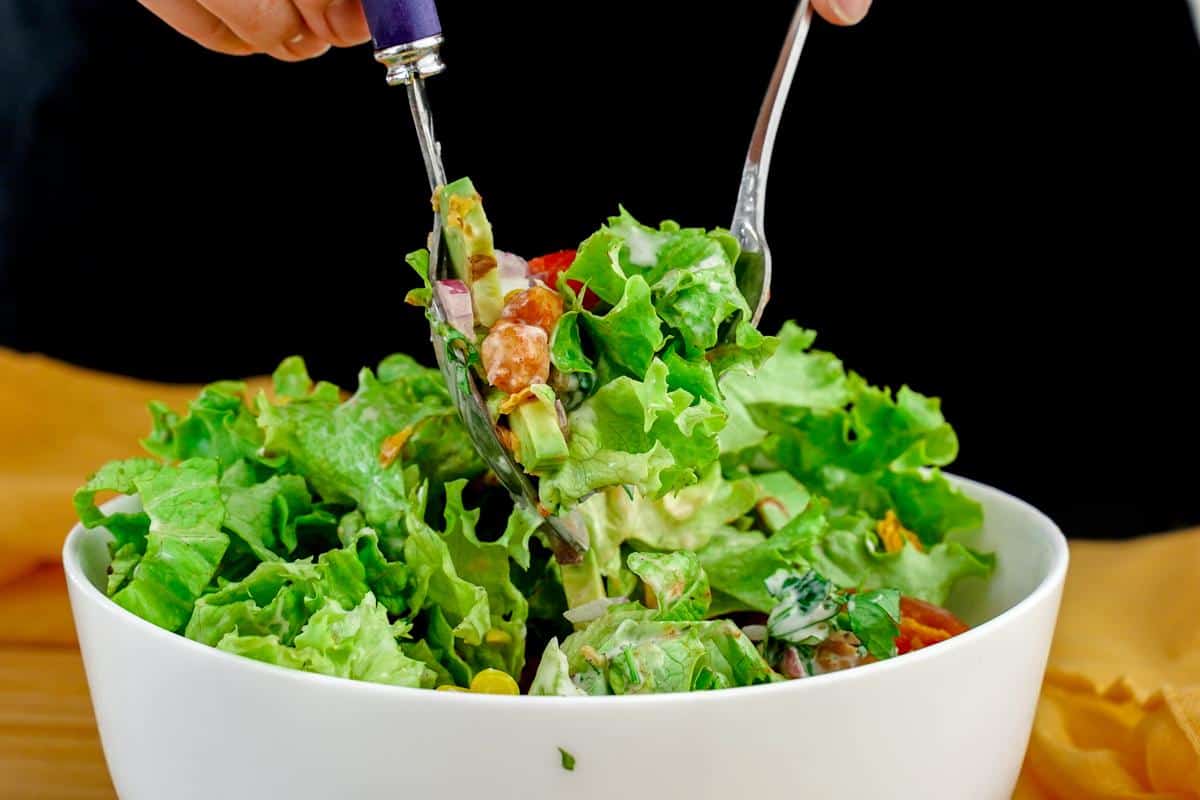 📖 Variations
While the substitutions above are excellent, you might want to add even more of a difference to this recipe. Below are some variations sure to please.
To make this vegan BBQ Chickpea Salad even more nutrient-dense, try adding some cooked grains such as quinoa, bulgur wheat, or wild rice to the mix.
For extra protein and texture, you can also add nuts and seeds like sunflower seeds, pumpkin seeds, or walnuts.
For a delicious twist on classic flavors, you can also add other seasonings such as smoked paprika, cumin, oregano, garlic powder, and more.
Additional heat can be added with salsa or even sliced jalapenos.
Switch up the flavors by trying different types of vegan BBQ sauce or making your own homemade.
Add in black beans and salsa for a "Southwest" flavor profile.
For a heartier meal, top the salad with some vegan chicken strips or tofu bacon.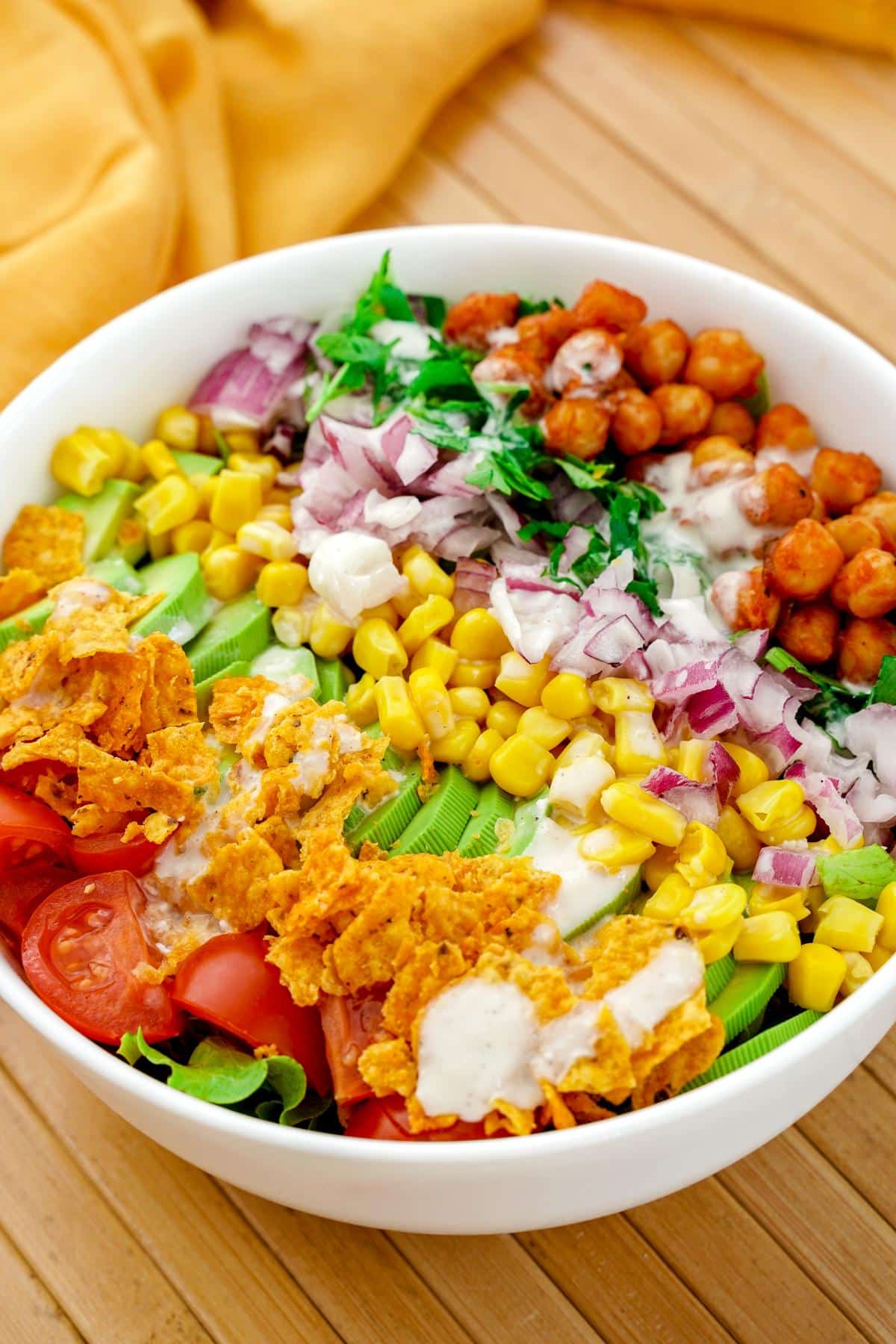 🫙Storage
I prefer this salad freshly made, but if you do have leftovers, you can store them in the refrigerator for up to 2 days. If you need to store the leftovers, be sure to keep the BBQ Chickpea salad in an airtight container.
If you want an easy way to make this recipe ahead, you can sautee the chickpeas and BBQ sauce together and then set it aside to cool. Precut all of the vegetables except the avocado. Then store everything separately to assemble just before eating.
While I do not recommend freezing this salad once prepared, many elements can be frozen. Make the BBQ chickpeas in advance and freeze them into ½ cup portions to freeze for up to 4 months. You can also slice avocado to freeze it for up to 3 months.
🍽Equipment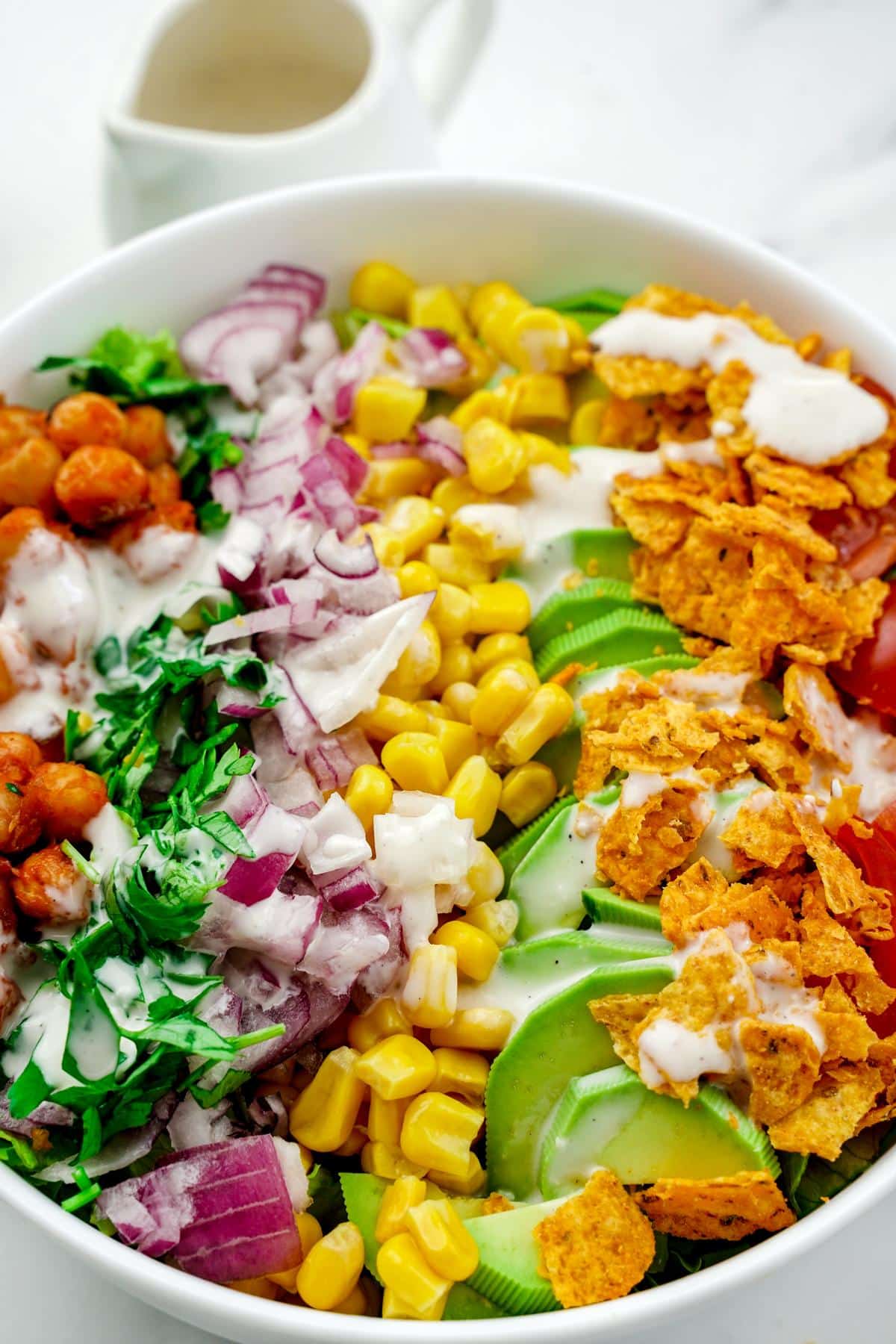 💭Top Tip
The best tip for success with this vegan BBQ Chickpea Salad is to add as many vegetables and flavorings as you can. The more veggies, the better. That makes this very filling while adding even more flavor goodness.
Feel free to experiment with different types of vegetables, dressings, nuts, seeds, grains, and seasonings to create a delicious and original salad that will be enjoyed by everyone.
❓FAQ
Should I rinse the chickpeas before cooking?
Yes. While the aquafaba liquid they are canned in can be saved and used later, it is recommended that you rinse them well before cooking them with barbecue sauce.
Are chickpeas carbs or protein?
The simple answer is that they are both. Around 67% of the nutrition in chickpeas is a carbohydrate, with the rest being a mixture of fat and protein. They are an excellent source of healthy protein and healthy carbohydrates.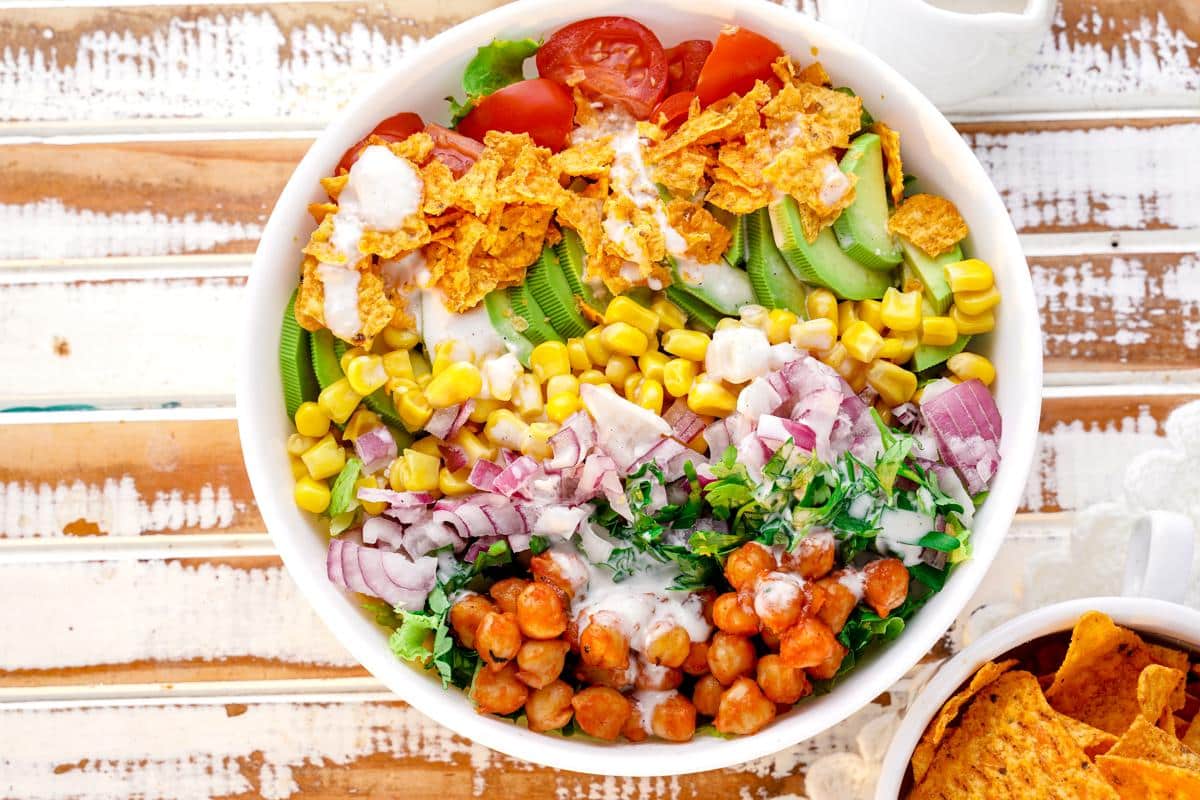 Relevant
This is a simple salad that is sure to be a favorite at your dinner table. If you love salads that are filled with flavor, then check out some of our favorites below and bookmark them to make soon.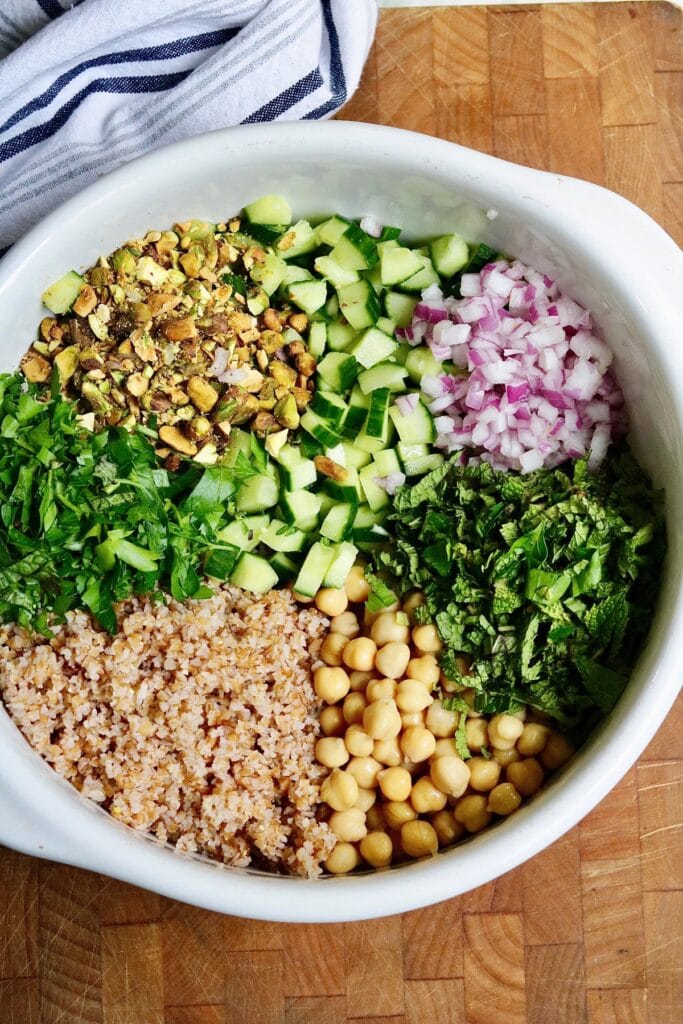 Pairing
Want to bulk up this salad into a larger meal? Try pairing it with a sandwich or burger from the list below!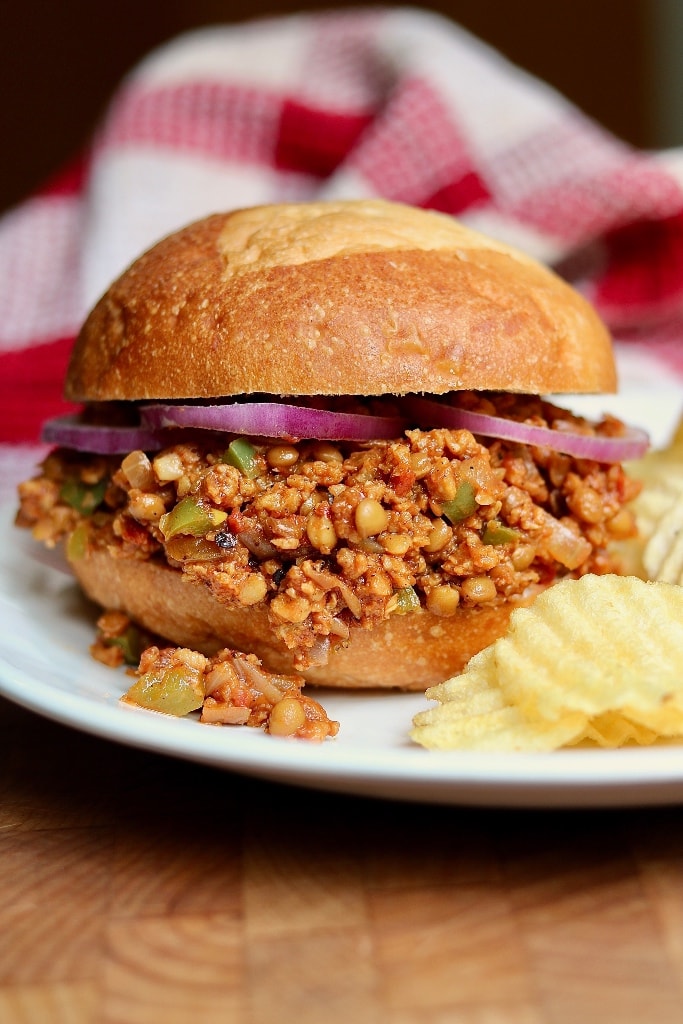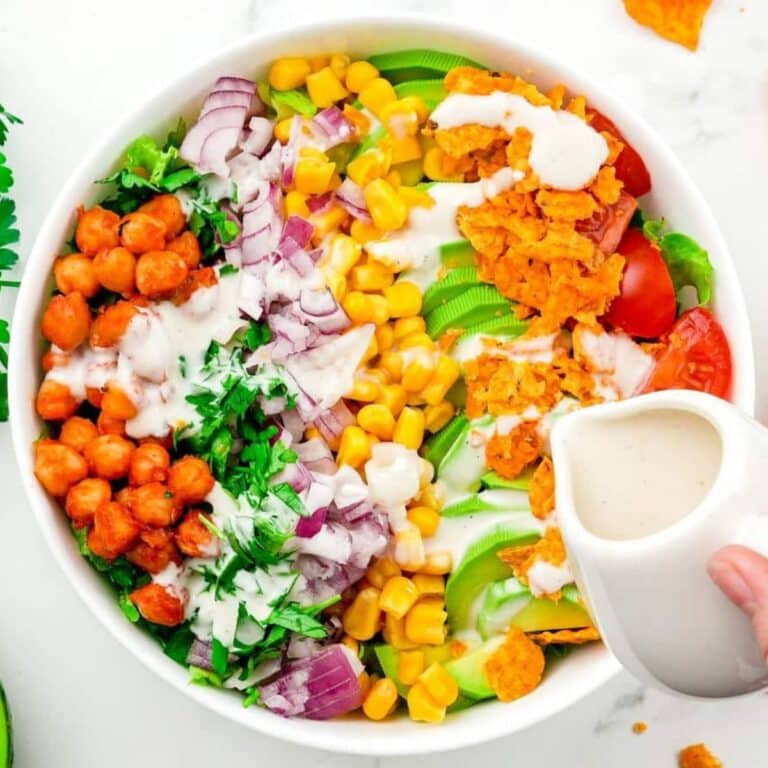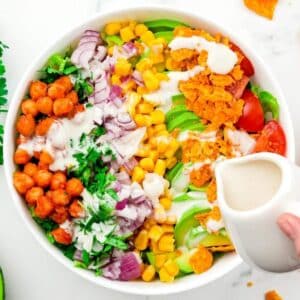 Vegan BBQ Chickpea Chopped Salad
Try this delicious vegan BBQ chickpea chopped salad recipe. Packed with protein and bursting with flavor, it's the perfect healthy meal for summer.
Ingredients
½

avocado

diced

5-8

cherry tomatoes

1

bunch of fresh parsley

4

cups

lettuce

1

cup

corn

whole kernel

1

can

chickpeas

15 oz, 400 g

¼

cup

vegan bbq sauce

½

cup

corn chips

crushed

¼

cup

vegan ranch
Instructions
First, rinse and drain chickpeas and add them to a small skillet with BBQ sauce. Saute for 3-5 mins, stirring regularly until coated and heated through. Set aside.

Next, wash and pat dry lettuce, tomatoes, and parsley. Chop into bite-sized pieces with onion and avocado. Drain and heat corn.

To assemble, start with lettuce, then add tomatoes, avocado, corn, red onion, fresh parsley, corn chips, and chickpeas. Finally, drizzle with ranch, toss, and serve.
Notes
Use any preferred barbecue sauce to give this flavor. Sweet, spicy, hickory smoked, or even a mustard or vinegar version can all work.
Add any vegetables you wish such as cucumber, broccoli, cauliflower, zucchini, squash, or mushrooms.
Nutrition
Calories:
104
kcal
Carbohydrates:
14
g
Protein:
2
g
Fat:
5
g
Saturated Fat:
1
g
Polyunsaturated Fat:
2
g
Monounsaturated Fat:
2
g
Trans Fat:
0.05
g
Sodium:
46
mg
Potassium:
260
mg
Fiber:
3
g
Sugar:
3
g
Vitamin A:
402
IU
Vitamin C:
8
mg
Calcium:
25
mg
Iron:
1
mg
Food Safety
Follow the basic kitchen safety protocol below for sanitizing your space when cooking.
Always sanitize countertops, cutting boards, utensils, and cookware thoroughly between each use.
Wash your hands in warm soapy water, rubbing for at least 20 seconds before rinsing. Remember, "FROG" means friction rubs off germs.
After serving food, allow it to cool, then place it into the refrigerator or proper storage immediately. Food should be at room temperature for no more than 2 hours for safety.