The Best Vegan Caesar Salad Recipe! Made with crispy romaine, crunchy croutons, and an incredible creamy, garlicky 5 minute Caesar Dressing. Nut free and easily gluten free.
I am a caesar salad addict and so is my husband!! So when I want a Caesar salad it has to be good - really good!!
So this Vegan Caesar Salad was one of the first recipes I veganized when I first started eating a more plant based diet (no meat, no eggs, no dairy)
I thought I would have my work cut out for me making my beloved Caesar dressing vegan. I didn't think the flavour would be up to snuff without the parmesan and anchovy paste.
--Well was I wrong! Swapping out the parmesan for nutritional yeast and miso, and anchovies for capers worked like a charm and with a few other tweaks, you can Say hello to the Best Vegan Caesar Salad Dressing ever!! And I don't say that lightly! It really is top notch.
No need to run to Whole Foods for store bought dressing! This is homemade and 100% better!? There is no tofu or cashews, it is made with vegan mayonnaise (I use vegenaise brand).
A Classic Caesar salad is a must for everyone, and vegans shouldn't have to miss out!!
This salad is delicious served with garlic bread and pasta, like Vegan Bolognese or Lasagna. It's also the perfect accompaniment to a serve along side a Hearty Chili or Vegan Burger at a potluck or Bbq.
Or add protein right to the salad and make it a meal in itself. Add in chickpeas, crispy tofu or your favourite seitan chicken strips! Yum!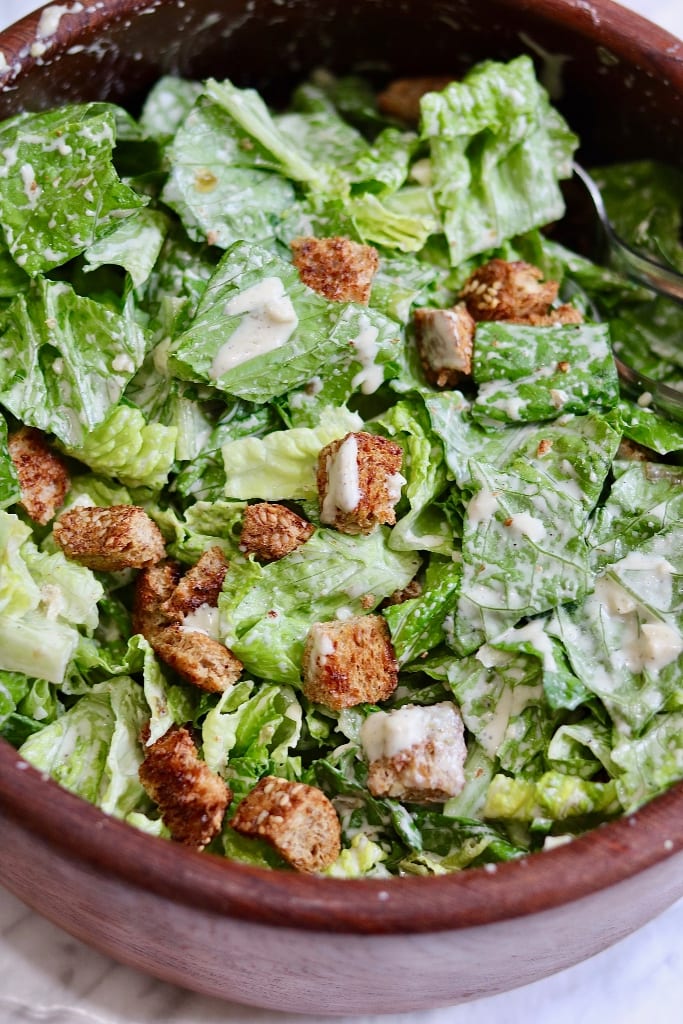 How to make a Vegan Caesar Salad:
For the croutons: Preheat oven to 350°, lightly butter two pieces of bread on both sides. Sprinkle one side of each piece of bread with a little salt, pepper and granulated garlic. Cut the bread into slices then into 3/4-1 inch cubes. Spread onto a parchment lined baking sheet and bake for 12-14 minutes, stirring halfway. Remove from oven and cool completely on baking sheet.
For the dressing: Finely chop the garlic. Finely chop and or smash the capers with a fork. Add both to a small bowl with the rest of dressing ingredients. Whisk to combine and set aside in the fridge until needed.
For the Romaine lettuce: chop into bite size pieces, add to a bowl of cold water to rinse. Drain and dry the lettuce in a salad spinner, and add to a large salad bowl and refrigerate until needed.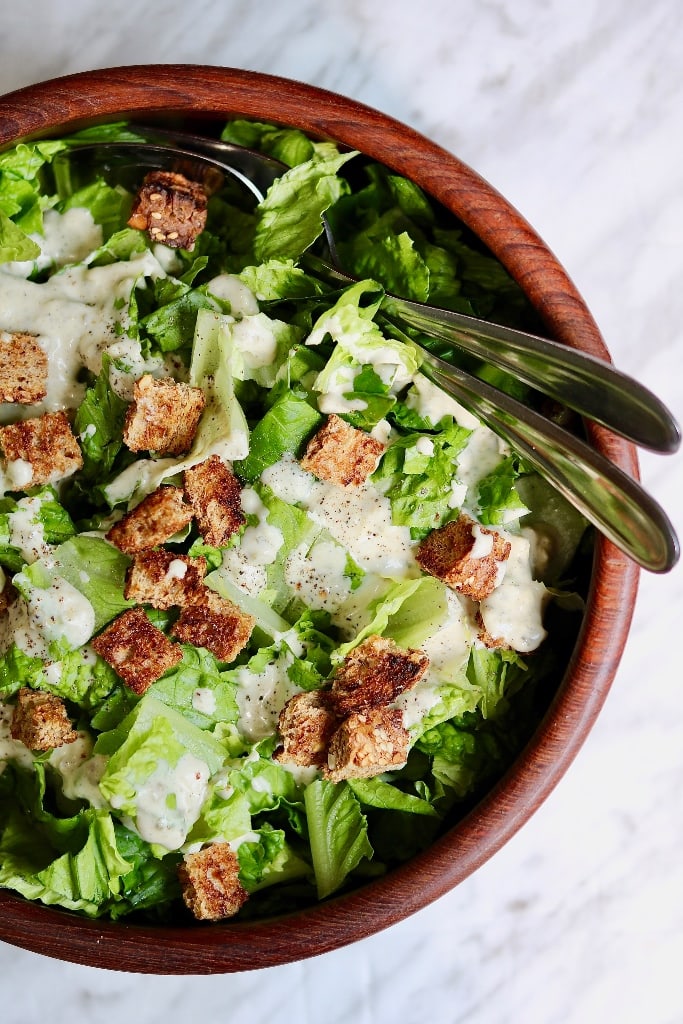 To assemble the Caesar salad: Pour the dressing evenly over the romaine. Add the croutons and toss the salad with tongs. Garnish with some fresh cracked pepper (optional). Serve immediately! Enjoy
For full recipe ingredients and instructions see recipe card below.
Tips for a perfect Caesar salad:
Don't over dress your salad!
Make sure the romaine is cold, crispy and dry
Must have crunchy croutons!
Fresh garlic in your dressing
Dress the salad just before serving ( nobody wants a soggy salad)
Season the salad with Freshly cracked pepper before serving
Ok let's make a Vegan Caesar Salad, it's:
super satisfying
the perfect side salad
crispy and crunchy
delicious as a meal with added protein!
creamy and garlicky
addicting!
easy to make
easily gluten free
kid friendly
Enjoy guys! Happy day to you? feel free to leave a comment and a rating below. I would love to hear from you.
Follow me on PINTEREST and INSTAGRAM for more tasty Plant Based Vegan Recipes❤️
Want more tasty Vegan Side Salads and Dressings? Check these out:
Print
Vegan Caesar Salad (Best Caesar Dressing)
---
Author:

Verna

Total Time:

30 minutes

Yield:

4

-

6

Servings

1

x
Description
The Best Vegan Caesar Salad Recipe! Made with crispy romaine, crunchy croutons, and an incredible creamy, garlicky 5 minute Caesar Dressing. Nut free and easily gluten free.
---
1

large head of romaine lettuce
For Croutons:
2

slices of bread, regular or gluten free
vegan butter for spreading
pinch of salt and pepper
pinch of granulated garlic
For Dressing:
1 tablespoon

garlic, slightly heaped and finely chopped (approximately

2

-

3

cloves of garlic)

1 tablespoon

capers, drained and finely chopped and or smashed with a fork

1/2 cup

of vegan mayonnaise (I use Veganaise)

1 tablespoon

white miso (I use Shiro Miso)

2 tablespoons

fresh lemon juice

1 teaspoon

vegan Worcestershire sauce or

1 teaspoon

brine from jar of capers

2 teaspoons

nutritional yeast

1/4 teaspoon

granulated onion

1/4 teaspoon

granulated garlic

1/4 teaspoon

pepper
---
Instructions
To make Caesar Salad: (step by step photos above if needed)
For the croutons: Preheat oven to 350°, lightly butter two pieces of bread on both sides. Sprinkle one side of each piece of bread with a little salt, pepper and granulated garlic. Cut the bread into slices then into 3/4-1 inch cubes. Spread onto a parchment lined baking sheetand bake for 12-14 minutes, stirring halfway. Remove from oven and cool completely on baking sheet.
For the vegan caesar dressing: Finely chop the garlic. Finely chop and or smash the capers with a fork. Add both to a small bowl with the rest of dressing ingredients. Whisk to combine and set aside in the fridge until needed (dressing is even better the next day!).
For the Romaine lettuce: chop into bite size pieces, add to a bowl of cold water to rinse. Drain and dry the lettuce in a salad spinner, and add to a large salad bowl, refrigerate until needed.
To assemble the Caesar salad: Pour the dressing evenly over the lettuce. Add the croutons and toss the salad with tongs. Garnish with some fresh cracked pepper (optional).
Serve immediately! Enjoy
Notes
Watch croutons carefully towards the end of cooking time so they don't burn. You want them crunchy not chewy. Oven times may vary depending on how thick your bread i
dressing will keep in fridge for 7 days
Tips for a perfect Caesar salad:
Don't over dress your salad!
Make sure the romaine is cold, crispy and dry
Must have crunchy croutons!
Fresh garlic in your dressing
Dress the salad just before serving ( nobody wants a soggy salad)
Season the salad with Freshly cracked pepper before serving
Prep Time:

15 Minutes

Cook Time:

15 Minutes

Category:

Salads, Gluten free, Sauces & Dressings,

Method:

mixing bowl/oven

Cuisine:

American
Keywords: vegan caesar salad, vegan caesar salad dressing, caesar dressing, vegan, caesar salad,