If you want something tasty and refreshing, but still satisfying, then this avocado quinoa salad is going to become a favorite new vegan lunch or side dish.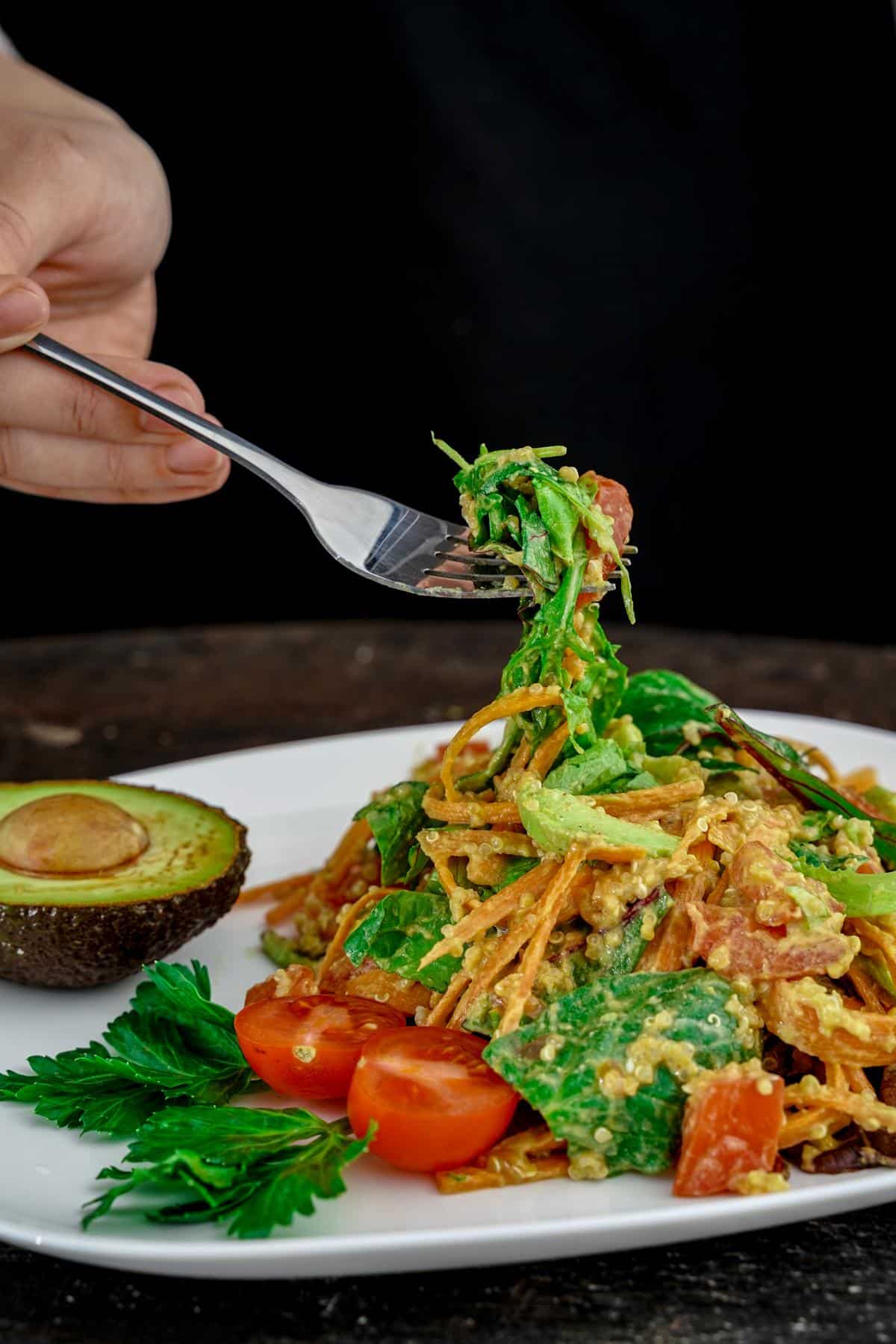 This salad is packed with protein, fiber, and healthy fats, making it a great option for vegans, vegetarians, and anyone looking for a tasty and nourishing meal.
If you like this, then make sure you check out some of our other tasty salad recipes such as the Jennifer Aniston salad or this Mexican corn salad.
Jump to:
🥘 Ingredients
You have two sets of ingredients below. The first is for the salad itself, and the second is for the dressing. The exact quantities can be found in the printable recipe card below.
For the salad:
Quinoa
Tomato
Carrot
Mixed greens
Avocado
Hummus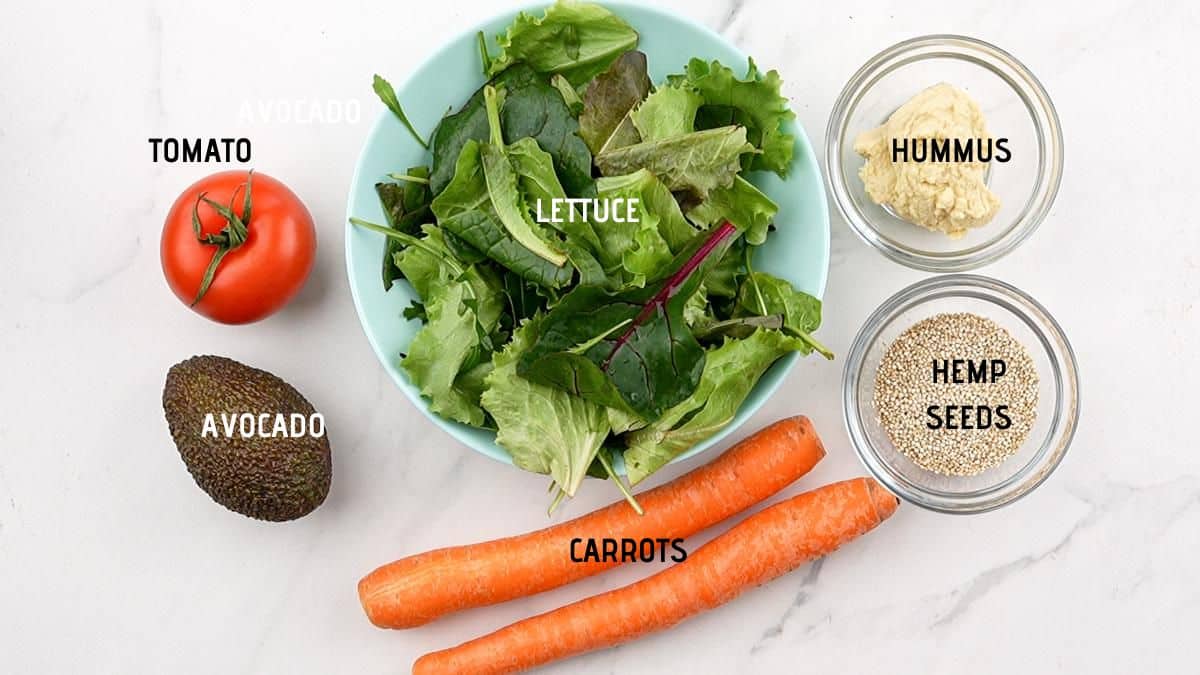 For the dressing:
Olive oil
Dijon mustard
Vinegar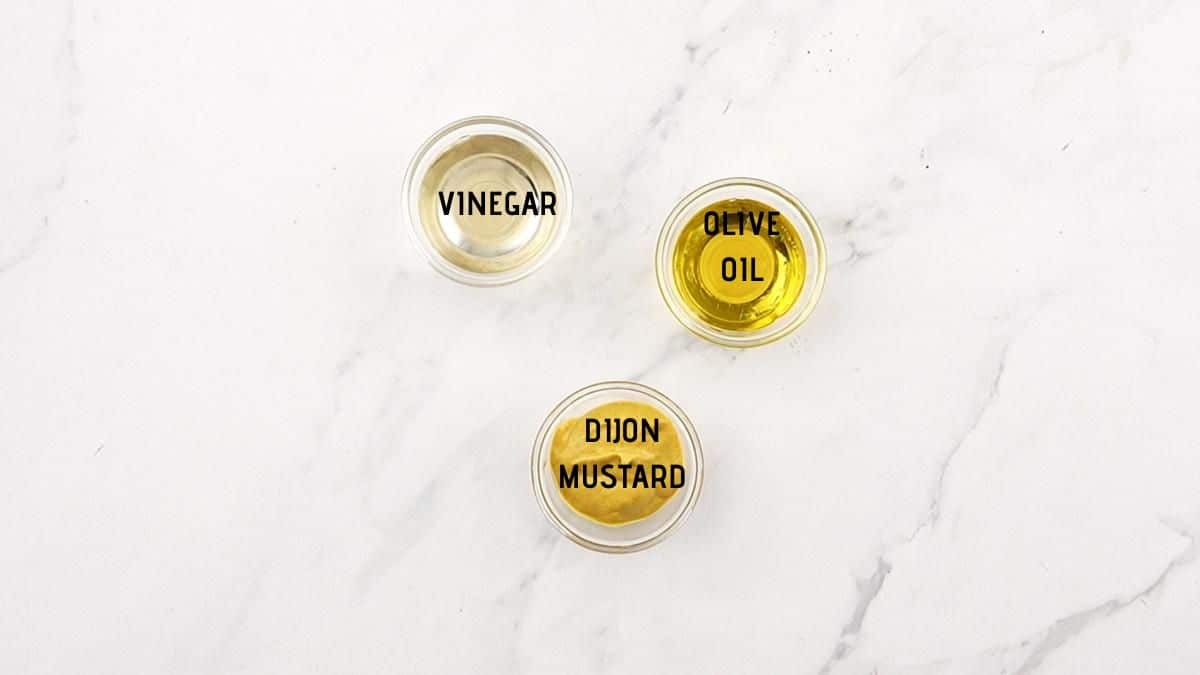 🔪Instructions
Begin by preparing the quinoa. Rinse it well, then add to a saucepan with 2 cups of water. Cook for 10 minutes at a low temperature or until the quinoa has absorbed the water. Season with salt as desired. Set this aside.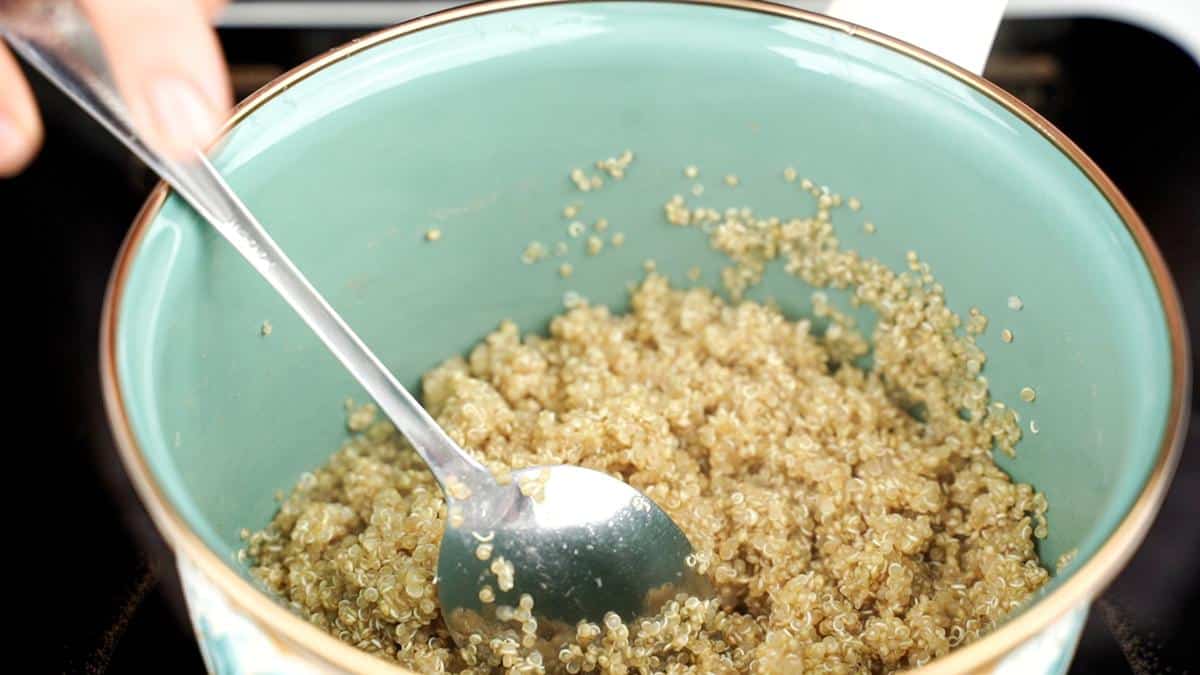 While the quinoa is cooking, chop the tomato and slice the avocado. You can then dice or slice the carrot into thin pieces.
Next, in a small bowl, whisk together the olive oil, Dijon mustard, and vinegar. Taste and season if desired.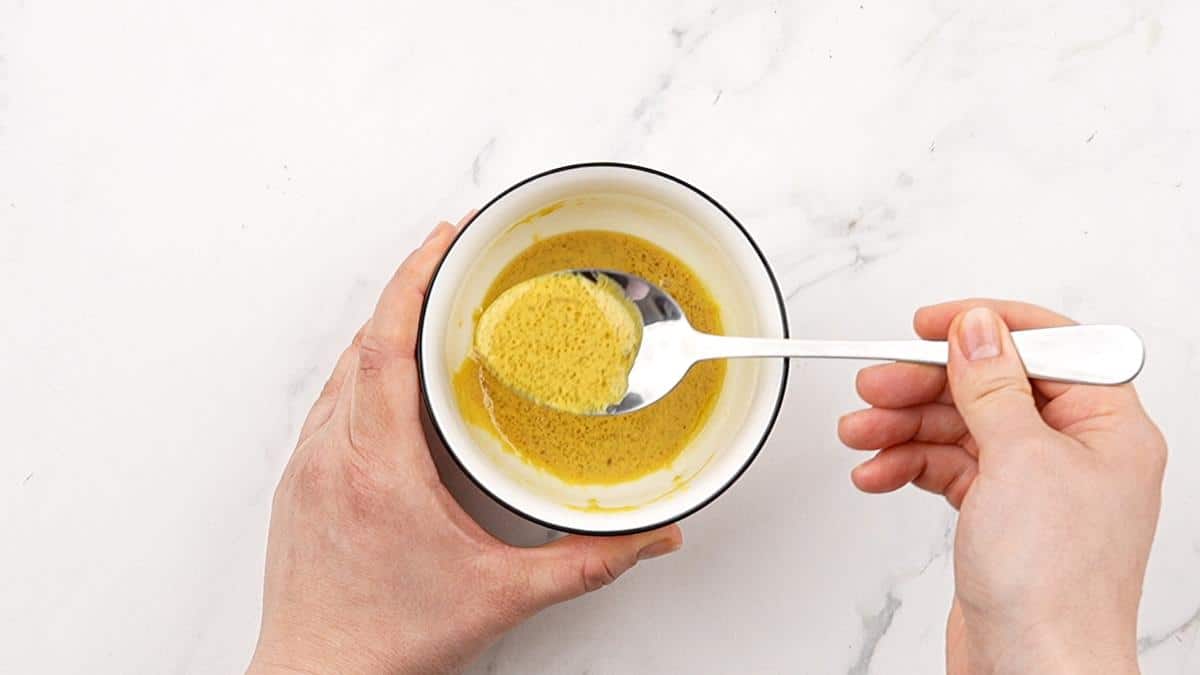 To serve, layer the lettuce, quinoa, tomatoes, carrots, and avocado in a large bowl then drizzle with dressing.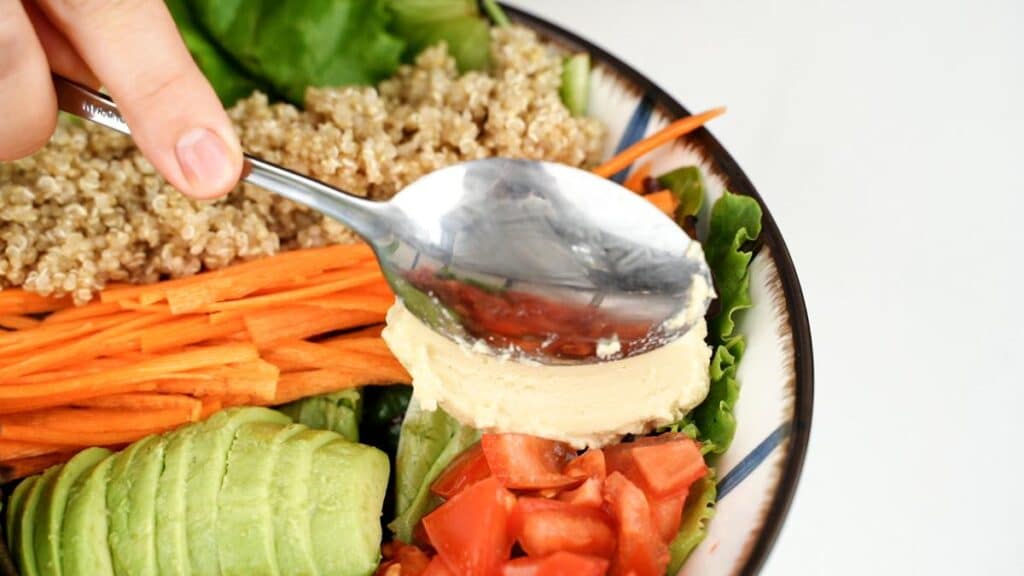 Toss to combine and enjoy.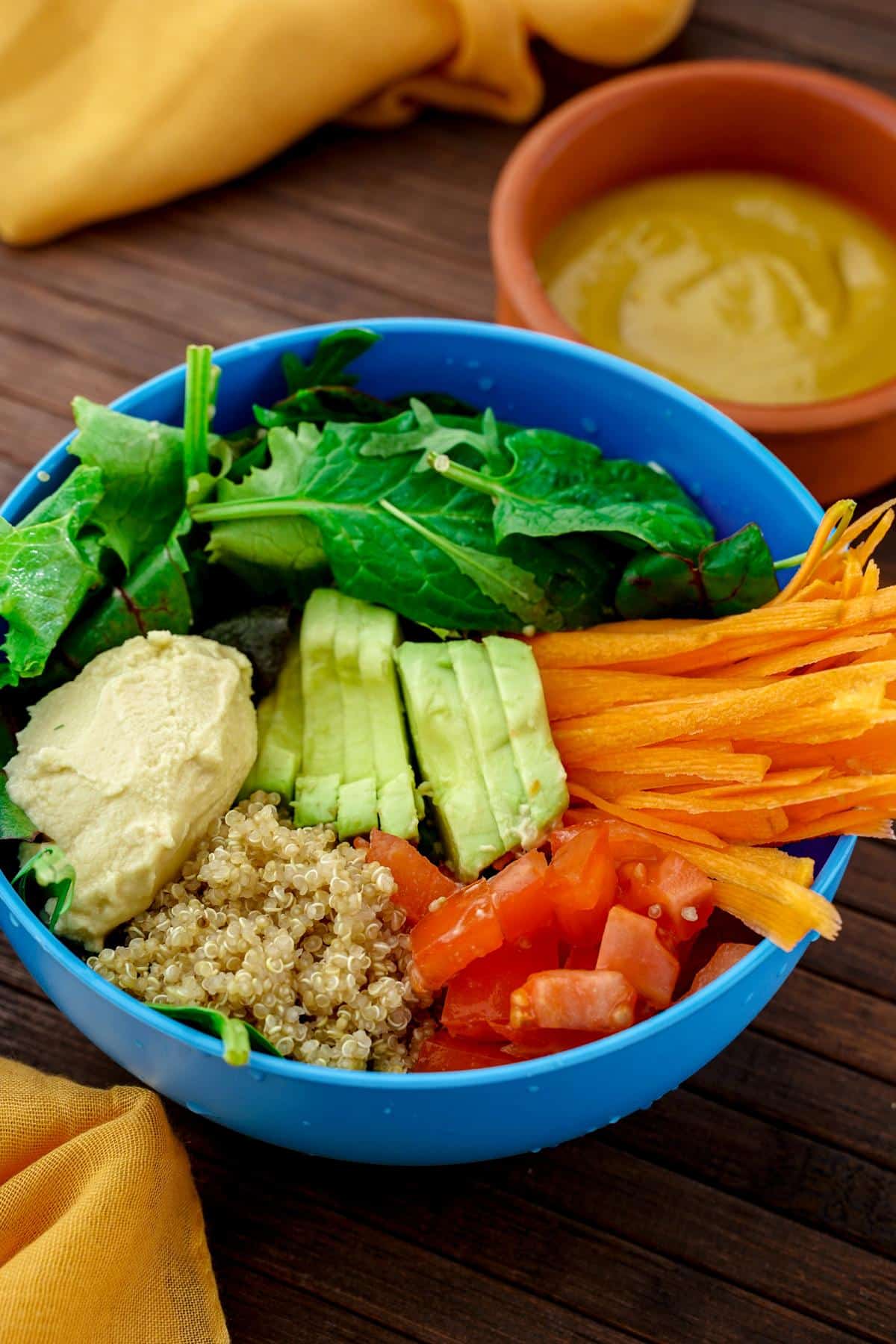 📋 Substitutions
This recipe is pretty simple, so you likely won't need to make many, if any, substitutions. You can, however, swap a few things out if desired.
Swap the quinoa for brown rice, couscous, or orzo.
Use any mixture of lettuce or leafy greens, such as spinach, kale, or arugula.
Use a ready-made vinegarette.
This is a simple base salad that you can easily update to suit your own preferences.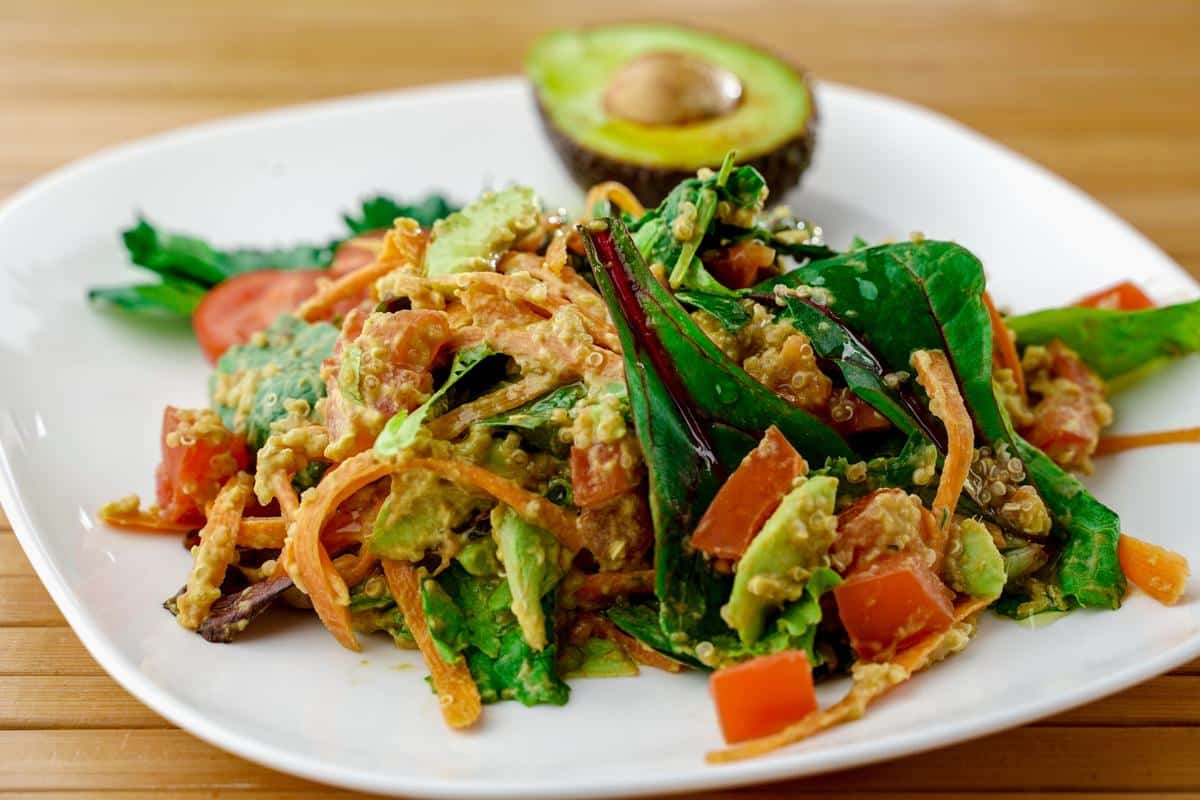 📖 Variations
Since this is a pretty basic recipe, it's super easy to make it differently. As mentioned above, there are a few substitutions that work, but below are even more ideas that can add flavor to this dish.
Add a serving of roasted chickpeas, black beans, or marinated tofu for more protein and flavor.
Mix some red pepper flakes into the vinegarette for a kick of flavor.
Swap out the carrot and tomato or add to it with other vegetables like cucumber, bell pepper, red onion, or celery.
Season the quinoa while it cooks with a flavored broth, fresh chopped chile, or jalapenos.
Add crumbled vegan feta cheese over the top.
Use your imagination and combine flavors to give this the perfect update.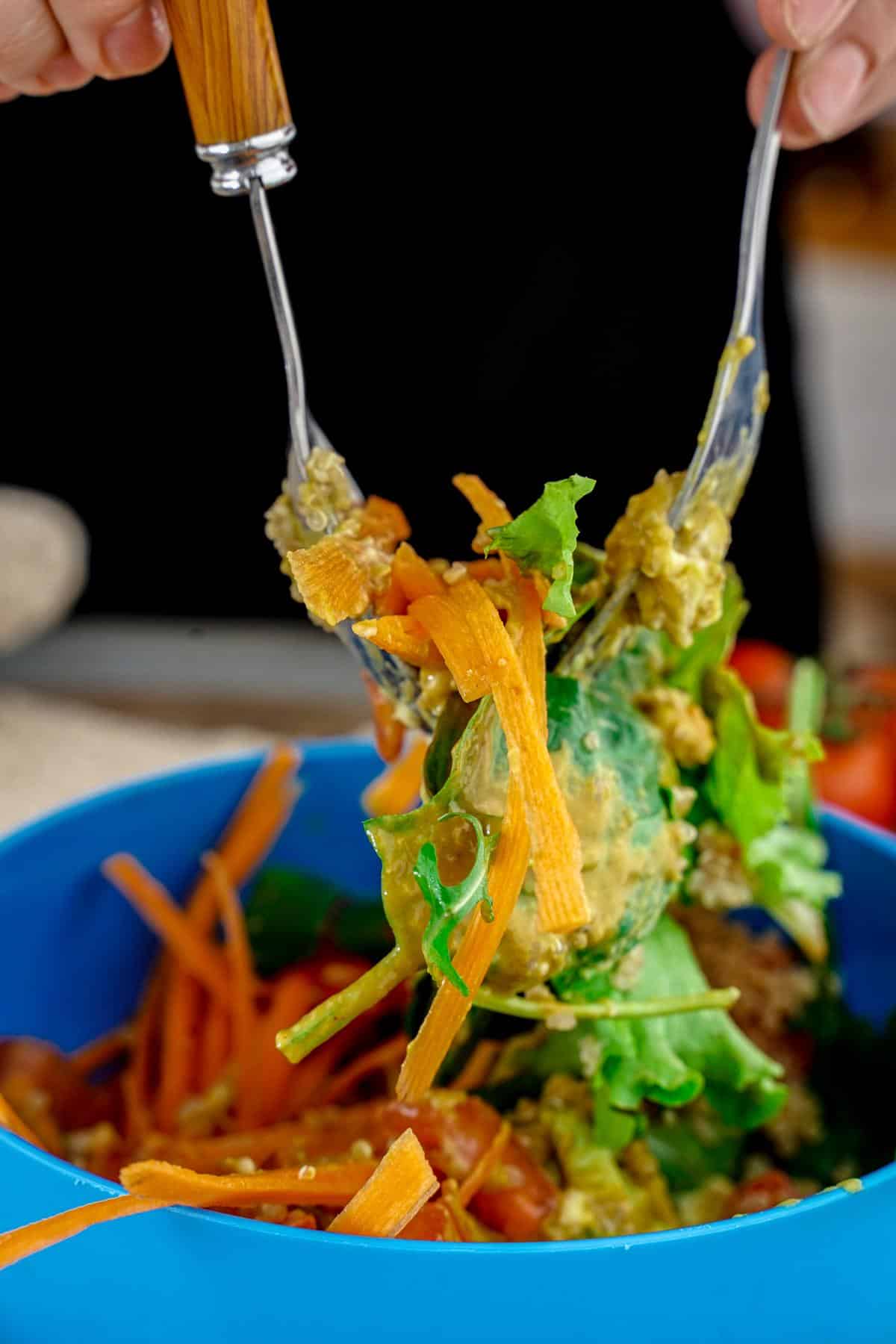 🫙Storage
If you are preparing this in advance, I recommend keeping each element stored separately. The quinoa and dressing are good for up to 5 days in the refrigerator. The vegetables are good for 3 to 4 days in the refrigerator.
If storing leftovers, I recommend keeping them separate if possible to prevent the lettuce from wilting.
This recipe is not good when frozen. It is best made fresh as needed.
🍽Equipment
If your kitchen isn't already fully stocked, now is the time to start adding to your kitchenware. Below are a few great tools to consider that I highly recommend.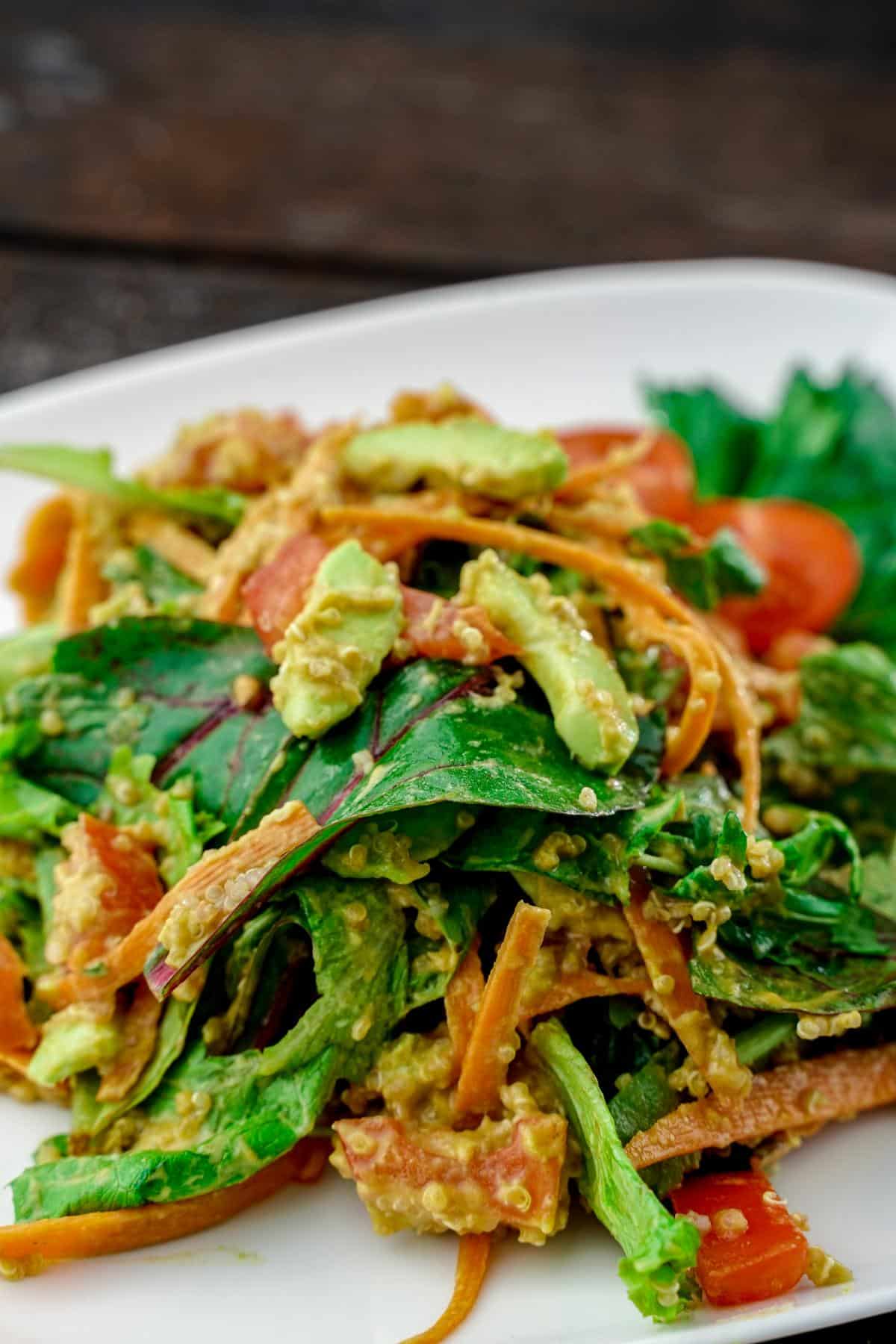 💭 Top Tip
One tip to make this recipe even better is to toast the quinoa before cooking it. This will give it a nuttier flavor and a slightly crunchy texture, making it even more delicious.
You can also add seasoned vegetables or mushroom broth instead of water to the quinoa for a richer flavor. This can really elevate the flavor and experience of the salad from basic to extraordinary.
❓FAQ
How healthy is quinoa salad?
While many find quinoa to be a wonderful addition to a salad with tons of protein and fiber, it really depends upon your preferences.
What are the benefits of adding avocado to salad?
Avocado is a wonderful addition with tons of healthy fats, folate, fiber, and potassium. It adds a filling element as well as nutrition.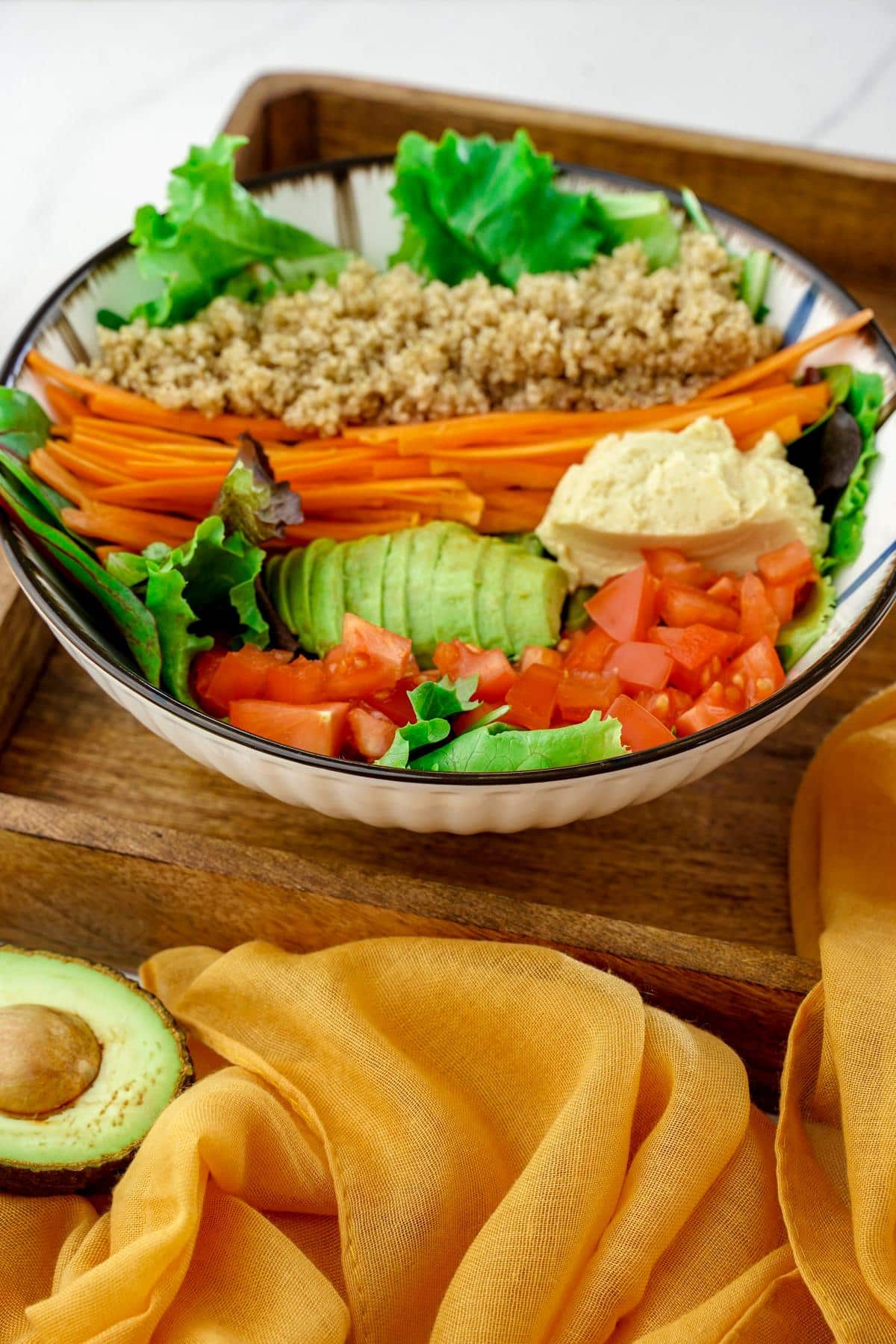 Related
If you enjoy this recipe, then the ones below are sure to be a hit on your menu. Packed with flavor, plant-based, and ideal for sharing! Bookmark these today.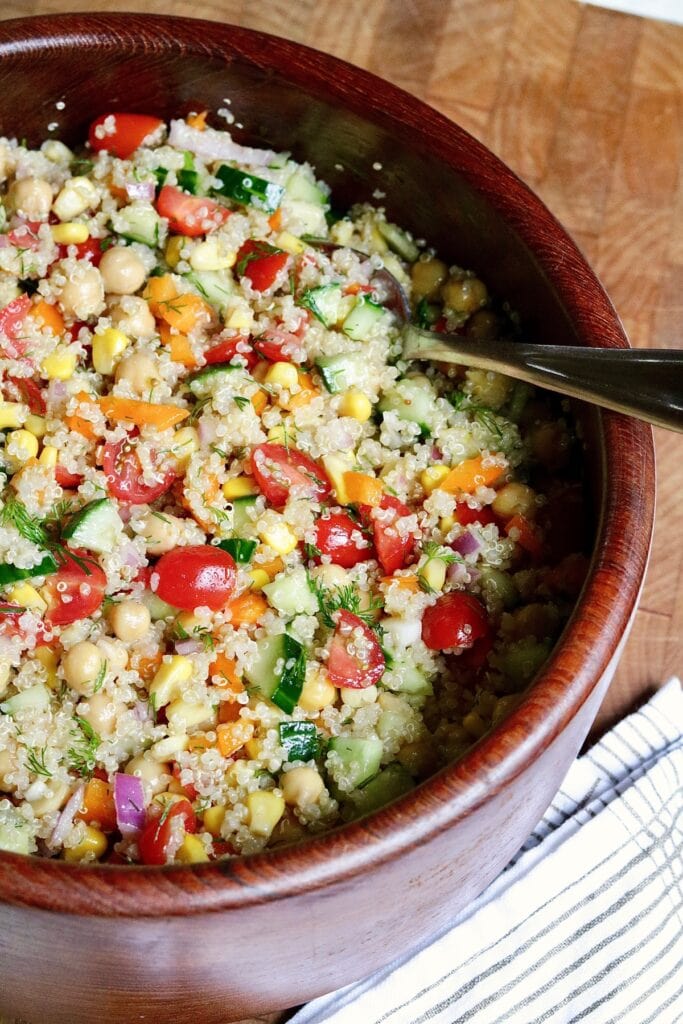 Pairing
This salad is filling, but you may find you want a little something more. It pairs wonderfully with the recipes below and is a great addition to many menus whether for lunch or dinner.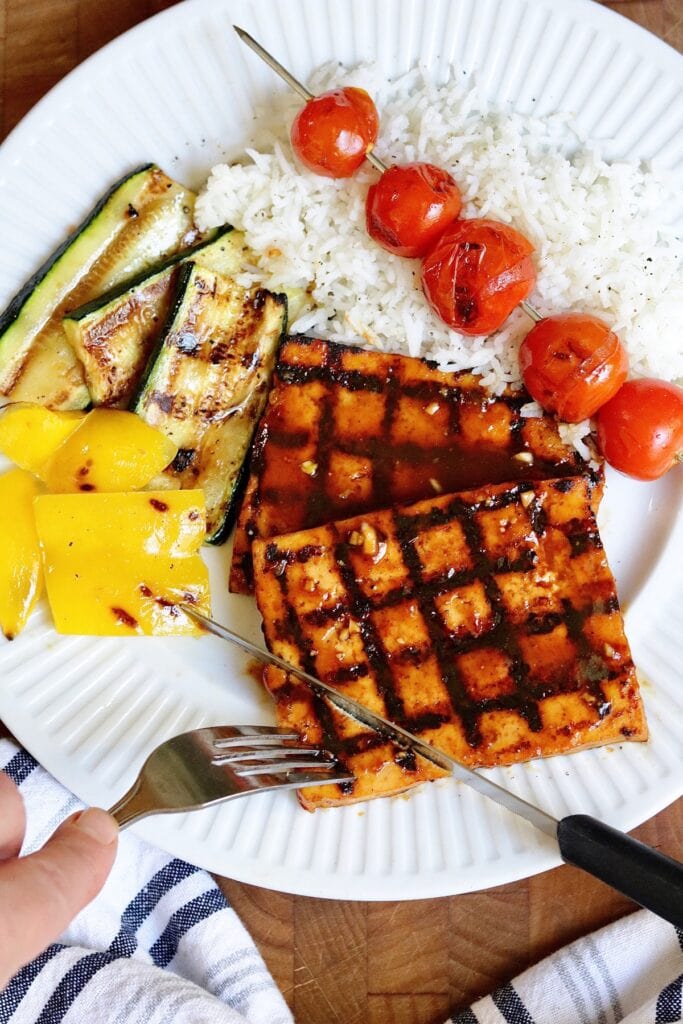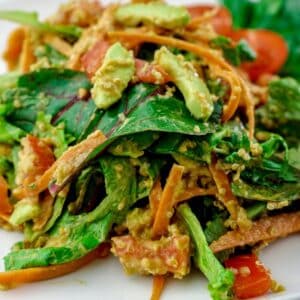 Vegan Avocado Quinoa Salad Recipe
Our vegan avocado quinoa salad recipe is packed with fresh ingredients and flavor! Try this healthy and delicious salad today.
Ingredients
For the salad:
Instructions
Let's get started on this scrumptious dish by first preparing the quinoa. Give it a good rinse and place it in a saucepan with 2 cups of water. Cook over low heat for about 10 minutes until the water is fully absorbed. Add salt to taste and set it aside.

While the quinoa is cooking, chop up the tomato and slice the avocado. Cut the carrot into thin slices or dice as desired.

Now, let's make the dressing. Grab a small bowl and whisk together the olive oil, Dijon mustard, and vinegar. Give it a taste and season it further if needed.

To serve, grab a large bowl and layer it with the lettuce, quinoa, tomatoes, carrots, and avocado. Drizzle the dressing on top and give it a good toss to combine all the ingredients.
Notes
Use vegetable broth or mushroom broth when cooking the quinoa for added flavor.
Squeeze lime juice over the avocado to help it stay fresh for longer.
Feel free to add more vegetables if desired.
Nutrition
Calories:
516
kcal
Carbohydrates:
68
g
Protein:
16
g
Fat:
21
g
Saturated Fat:
3
g
Polyunsaturated Fat:
5
g
Monounsaturated Fat:
12
g
Sodium:
120
mg
Potassium:
1103
mg
Fiber:
13
g
Sugar:
5
g
Vitamin A:
6060
IU
Vitamin C:
17
mg
Calcium:
83
mg
Iron:
5
mg
Food Safety
Are you following food safety standards in your kitchen? Make sure to check the tips below to keep your kitchen clean and safe.
Always sanitize countertops, cutting boards, utensils, and cookware thoroughly between each use.
Wash your hands in warm soapy water, rubbing for at least 20 seconds before rinsing. Remember, "FROG" means friction rubs off germs.
After serving food, allow it to cool, then place it into the refrigerator or proper storage immediately. Food should be at room temperature for no more than 2 hours for safety.