As a vegan, finding the perfect savory and crispy snack can be a challenge. But look no further! Vegan bang bang broccoli is the ultimate dish to satisfy all your cravings.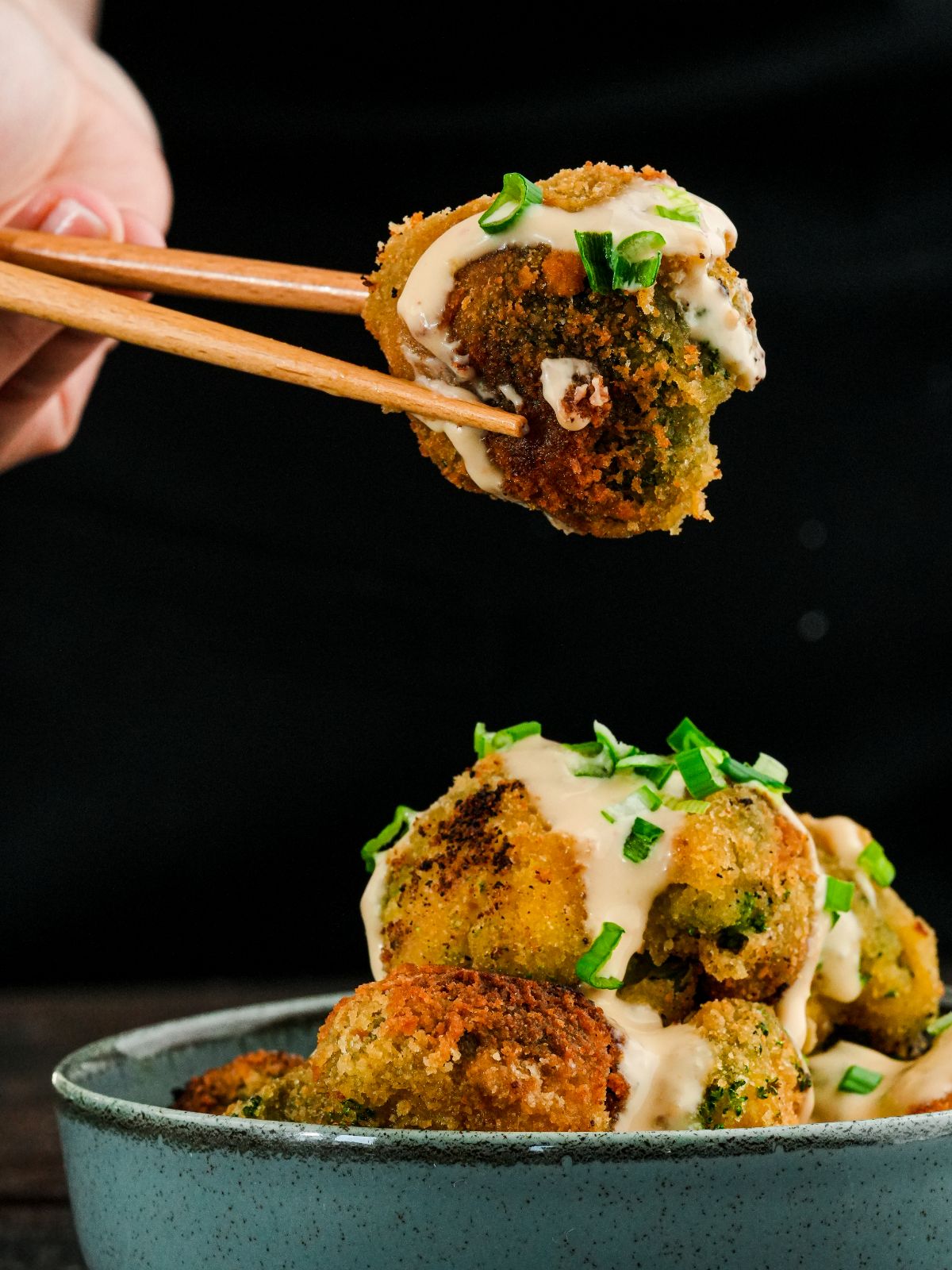 This tasty appetizer is a wonderful meat-free choice for those who loved having bang bang sauce at their local Thai restaurant. It's easy to make, delicious and will impress even your non-vegan friends.
If you want something a bit less spicy, check out our roasted vegetable medley instead!
Jump to:
Ingredients
For this recipe, you will need ingredients for the bang bang sauce, the batter, and of course the broccoli and seasonings. These are broken into three sections below for your convenience. The quantities are found in the recipe card below.
Bang Bang Sauce
Chili paste
Vegan mayonnaise
Agave nectar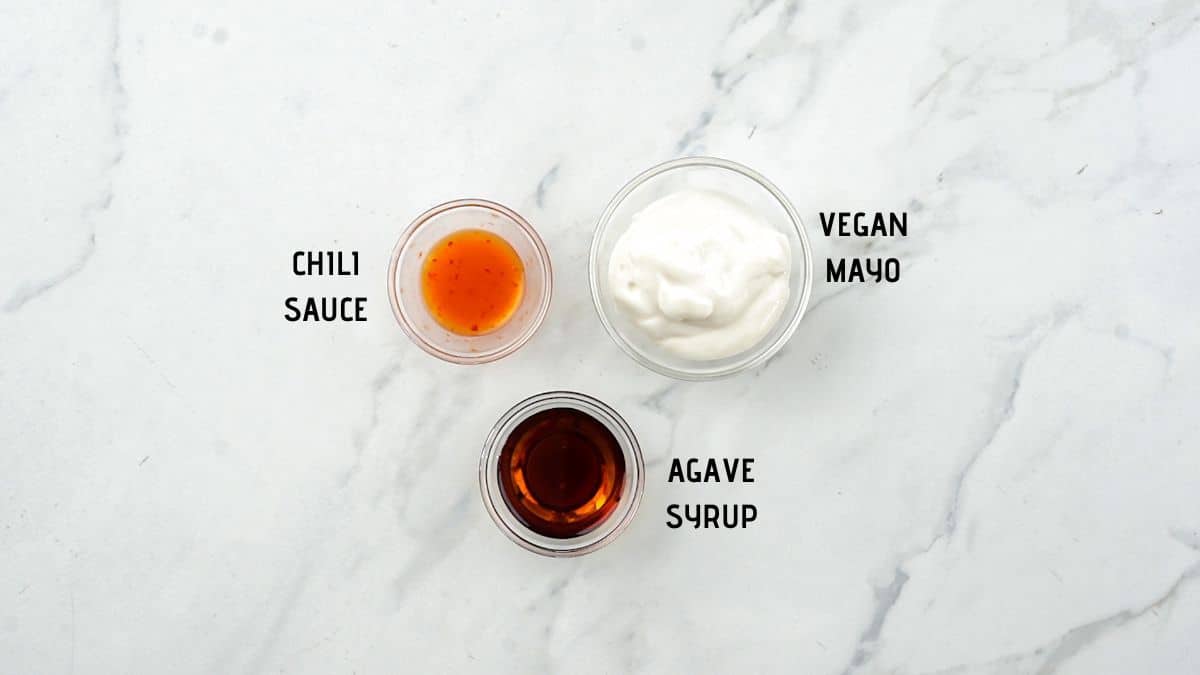 Batter
Apple cider vinegar
Almond milk
Cornstarch
All-purpose flour
Hot Sauce
Salt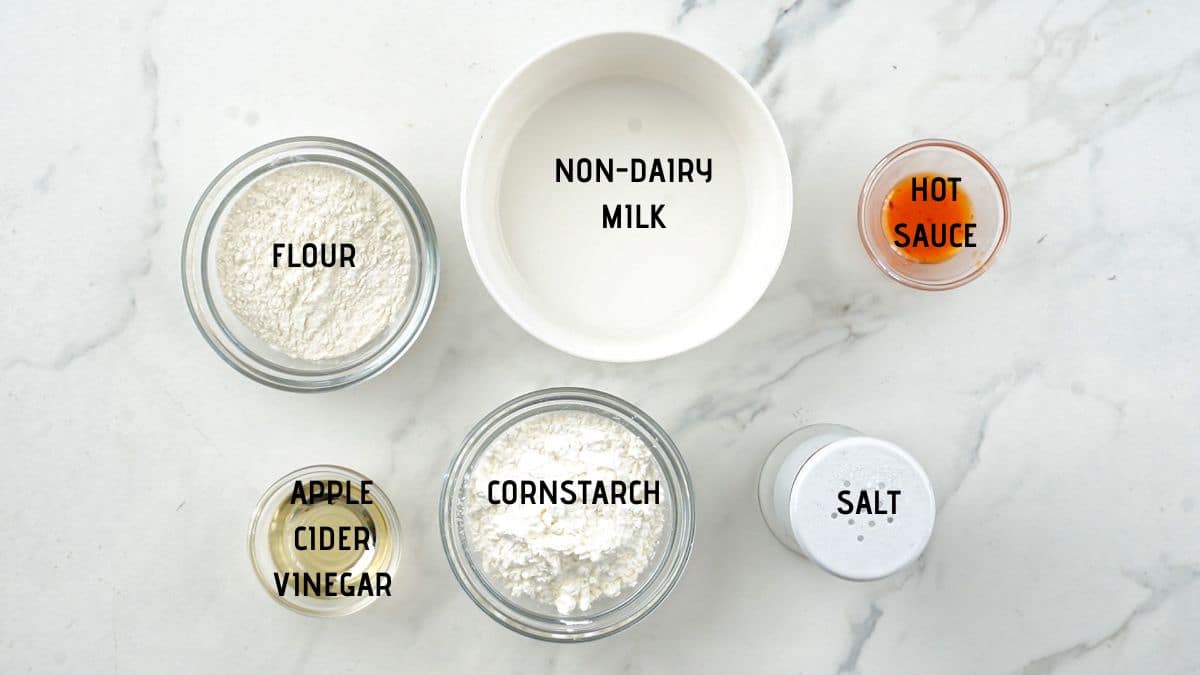 To fry
Broccoli
Breadcrumbs
Oil for frying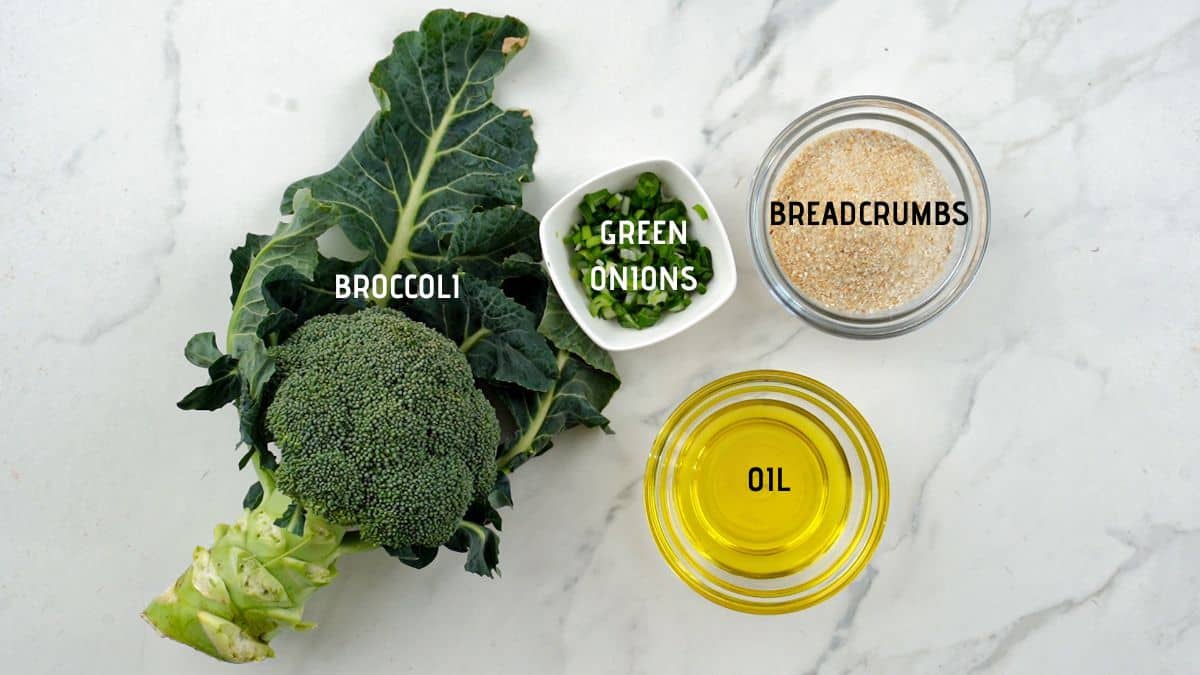 Instructions
Start this recipe by mixing together the mayonnaise, chili paste, and agave nectar to create the bang bang sauce. Set this aside, or cover and refrigerate until ready to use.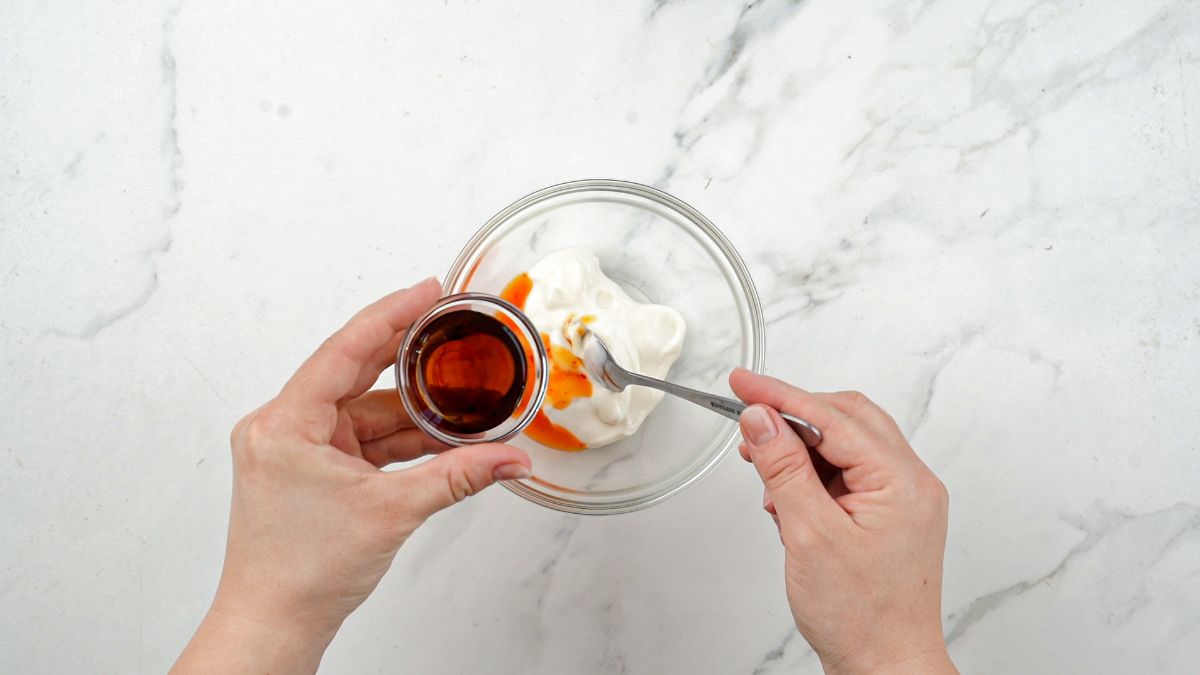 Now, you will whisk the batter. In a large bowl, add the flour, cornstarch, and salt. Whisk to combine, then mix in the hot sauce. Set this aside.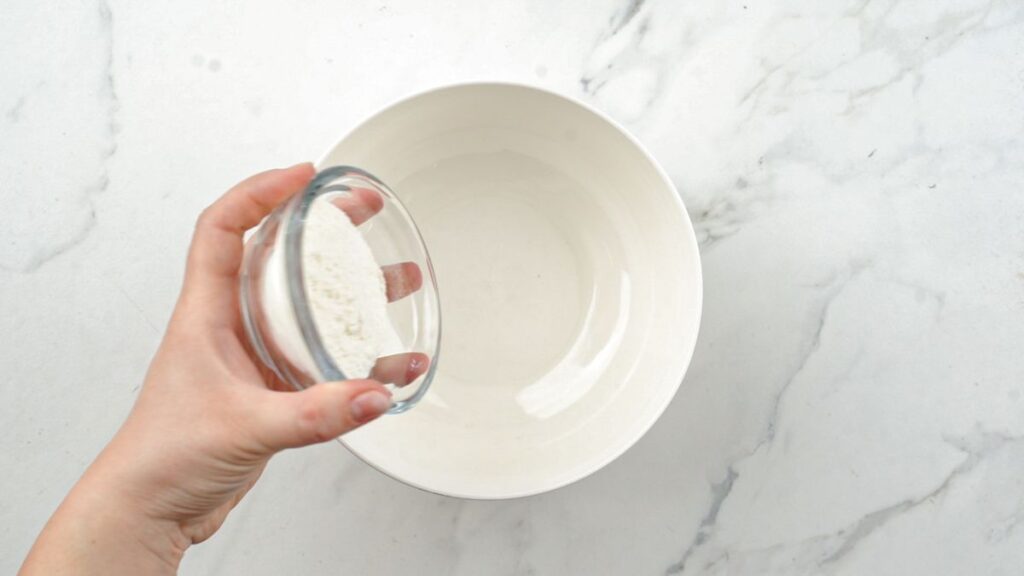 In a separate bowl, whisk together the almond milk and apple cider vinegar. Then slowly pour it into the flour mixture until a batter forms.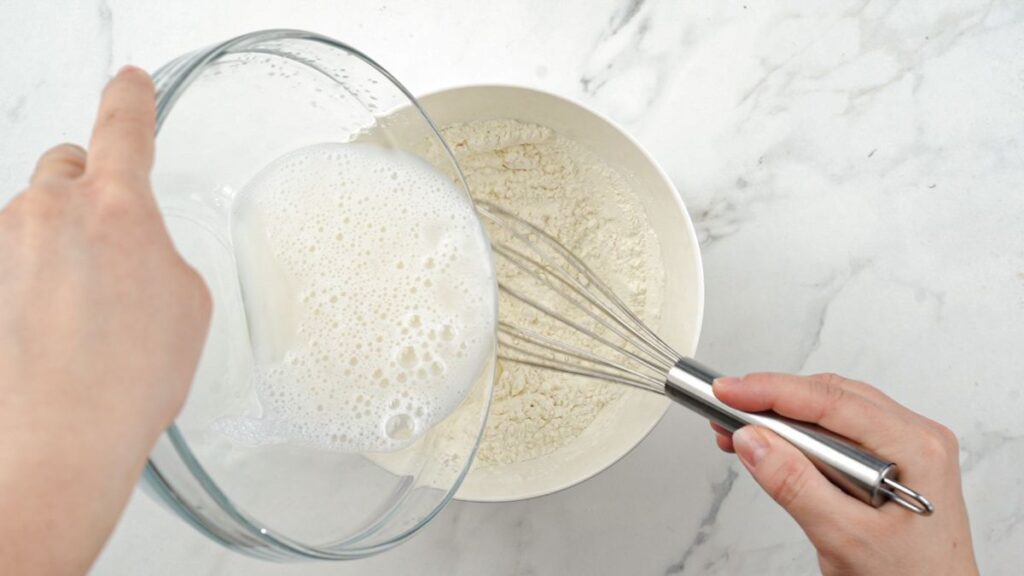 When ready to prepare the bang bang broccoli, you will chop the broccoli into bite-sized florets. Pat it dry, then set it aside. In a deep skillet, heat the oil for frying. Once hot, you will create a dipping station. The broccoli, the batter, and then a bowl of breadcrumbs.
Dip the broccoli into the batter, then into the breadcrumbs, then into the hot oil.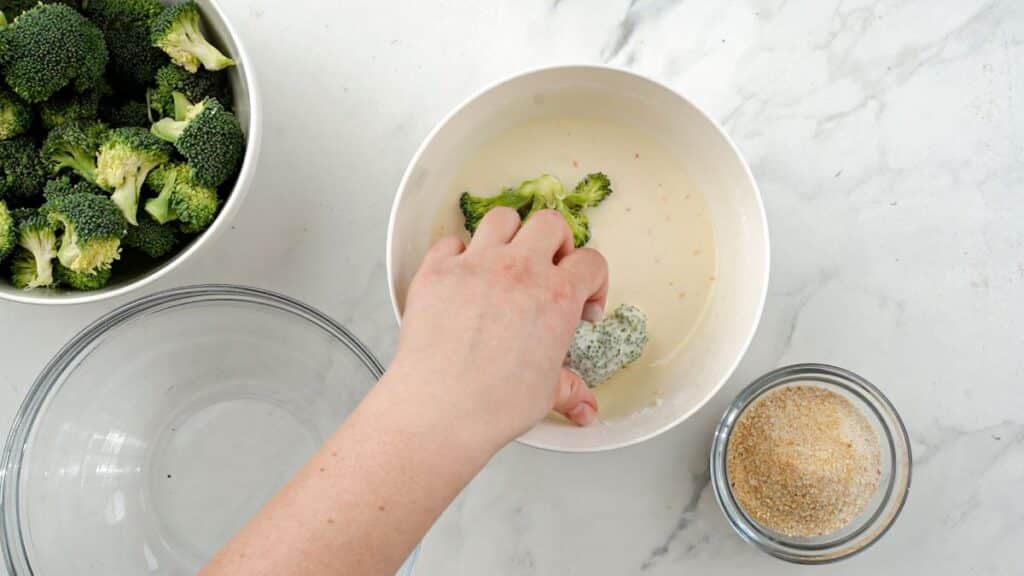 Be careful to not overcrowd the pan. Fry for 2 to 3 minutes per side until it is golden and crispy.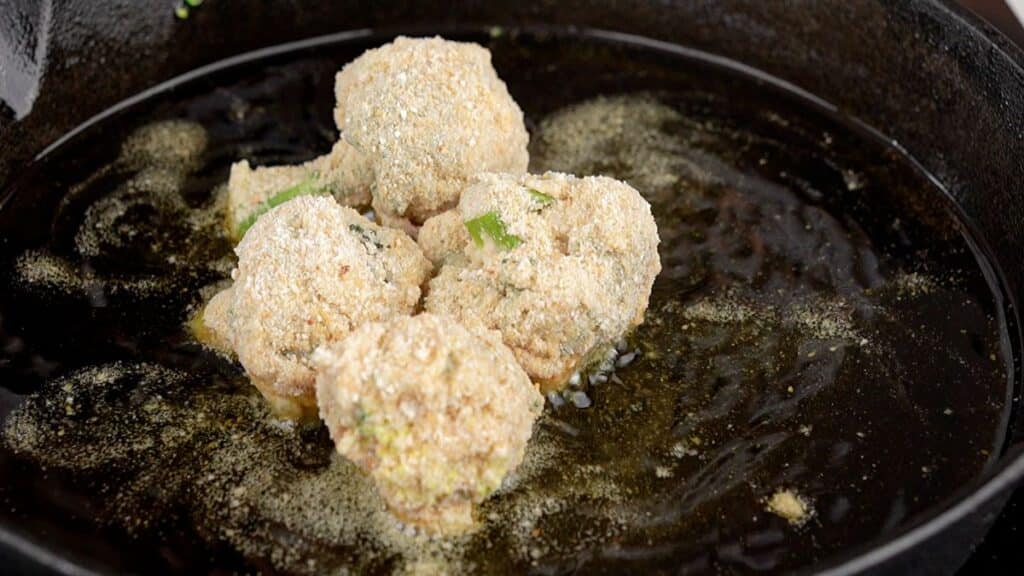 Remove and drain on paper towels before serving with bang bang sauce for dipping and garnish with chopped chives.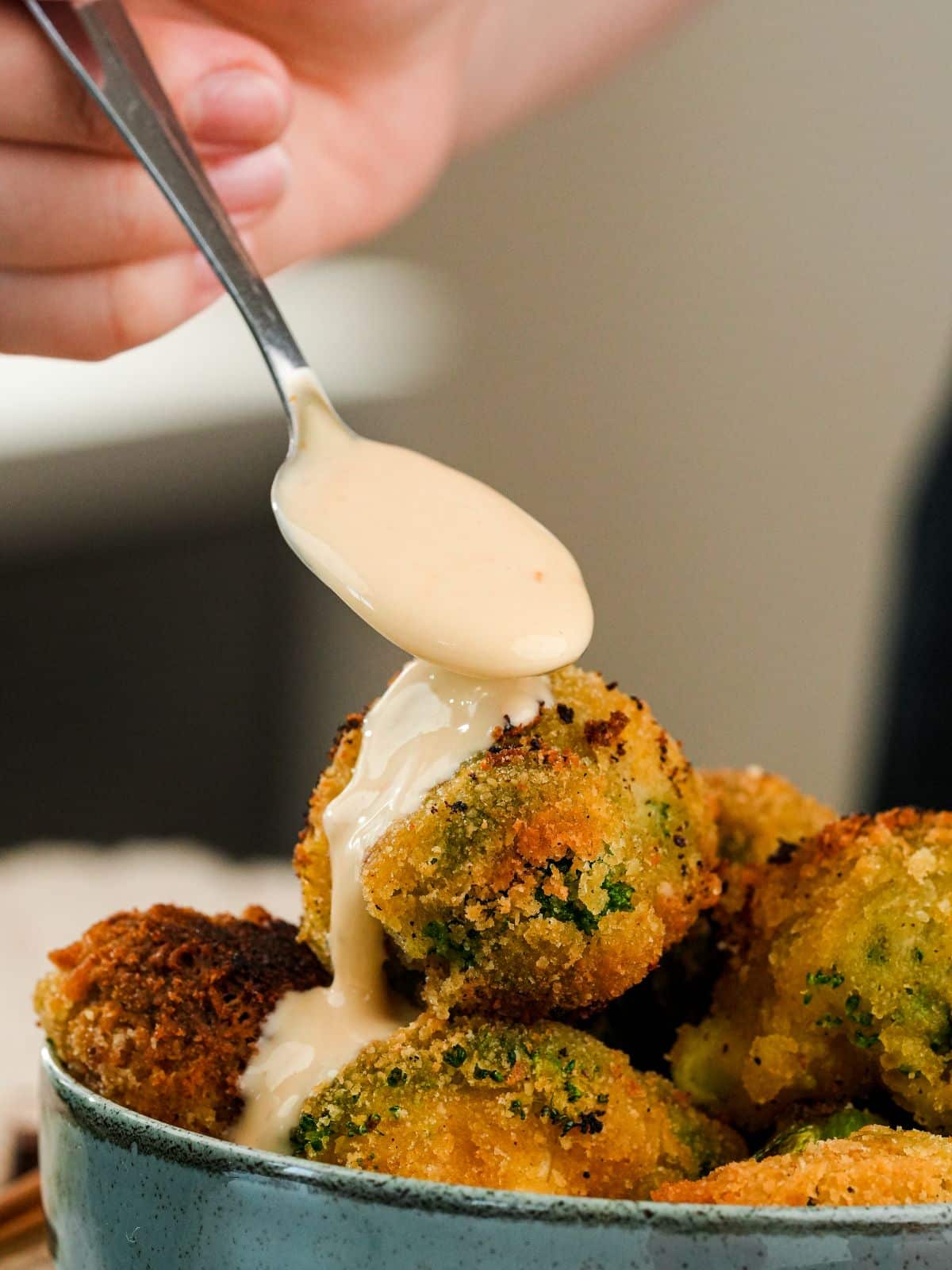 Substitutions
This recipe is pretty basic, but there are a few to consider. Below are a few things that may be useful should you need to make changes to this recipe.
For those who want a gluten-free version, simply substitute it with your favorite gluten-free flour and breadcrumbs.
Use cauliflower instead of broccoli.
If allergic to nuts, use soy milk or oat milk instead of almond milk.
Variations
Want to switch up the recipe? You can definitely make this a bit more unique with some easy changes. Below are a few ways to make it even more unique.
Use this batter with cauliflower, zucchini, squash, or mushrooms for a different flavor.
Skip the bang bang sauce and serve with ranch dressing instead.
Season the breadcrumbs and flour with your favorite herbs and spices before whisking into the batter and dredging the broccoli.
Add more heat by mincing a red chili and stirring it into the batter.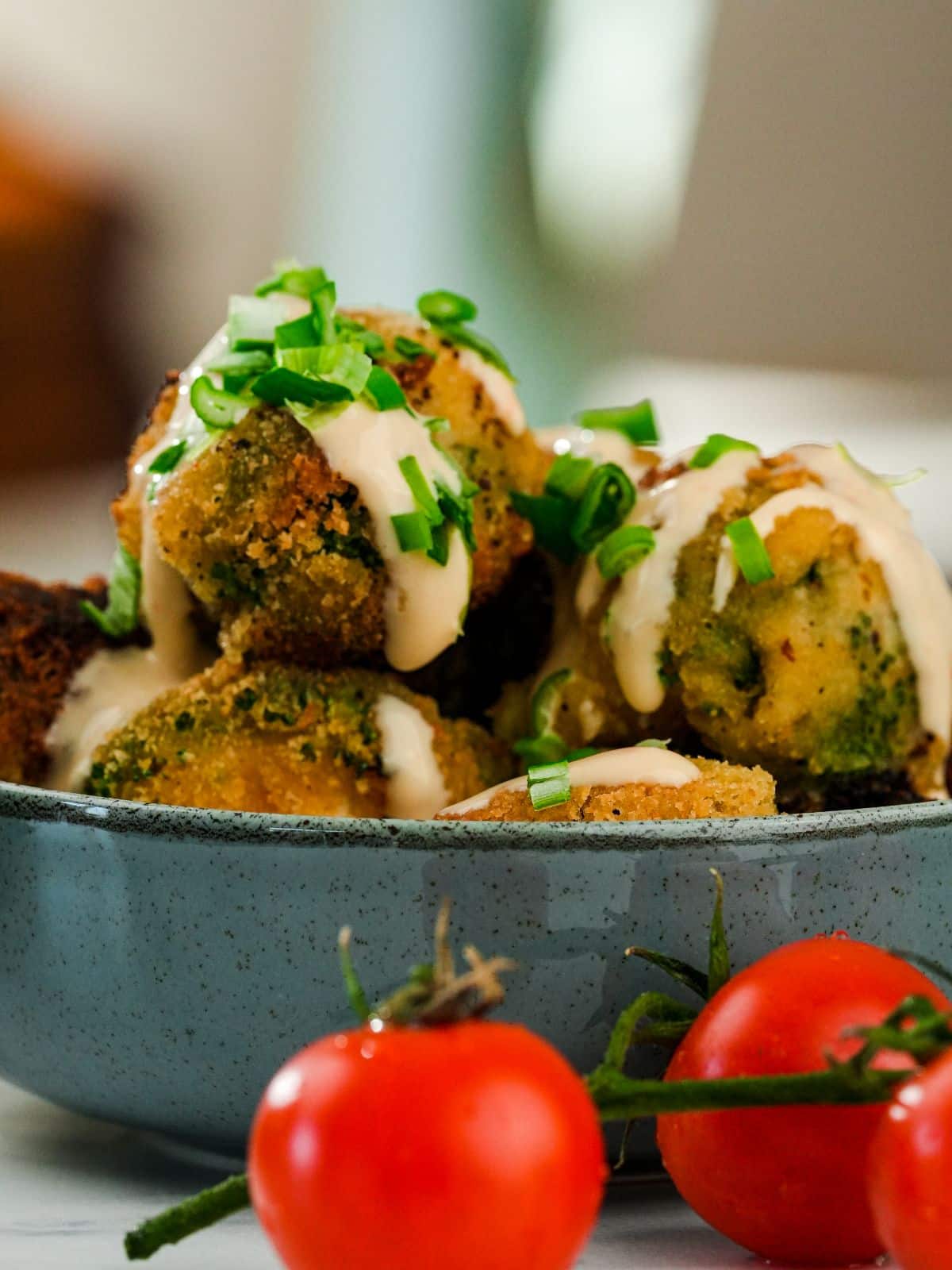 Equipment
Below are the supplies used to prepare this recipe. If you are new to cooking, take a look at the suggested items and add them to your kitchen tools.
Storage
To store leftover bang bang broccoli, make sure it is completely cooled down before transferring it to an airtight container. It can be stored in the refrigerator for up to 3 days. Reheat it in the oven or an air fryer for the best results.
This can be frozen for up to 4 months. After cooking, let cool completely before putting it into a dated and labeled freezer storage bag. When ready to serve, pop into the oven, a deep fryer, or the air fryer to crisp and heat through.
Top Tip
For the best results when making bang bang broccoli, make sure that you dry the broccoli before coating it in the batter. This helps the batter stick better and will give you a crispier texture.
If using frozen broccoli, let it thaw completely then pat dry before battering and frying. Do not cook the broccoli before frying.
FAQ
Can I make vegan bang bang broccoli ahead of time?
Yes, you can make vegan bang-bang broccoli ahead of time. Simply prepare the broccoli mixture and then store it in an airtight container in the refrigerator for up to 2 days. When you're ready to serve, simply bake the broccoli according to the instructions above.
Can I make this in the air fryer?
Absolutely! When cooking battered food in the air fryer, the main consideration is to coat the outside with flour or breadcrumbs. For this recipe, it is dipped and then dredged in breadcrumbs. This helps the batter stick to the broccoli and not run out into the air fryer basket.

This recipe would be beast cooked at 380°F for 4 minutes, then turn the broccoli, and continue cooking for another 3 minutes. To make sure it is browned nicely, spritz it with olive oil before cooking.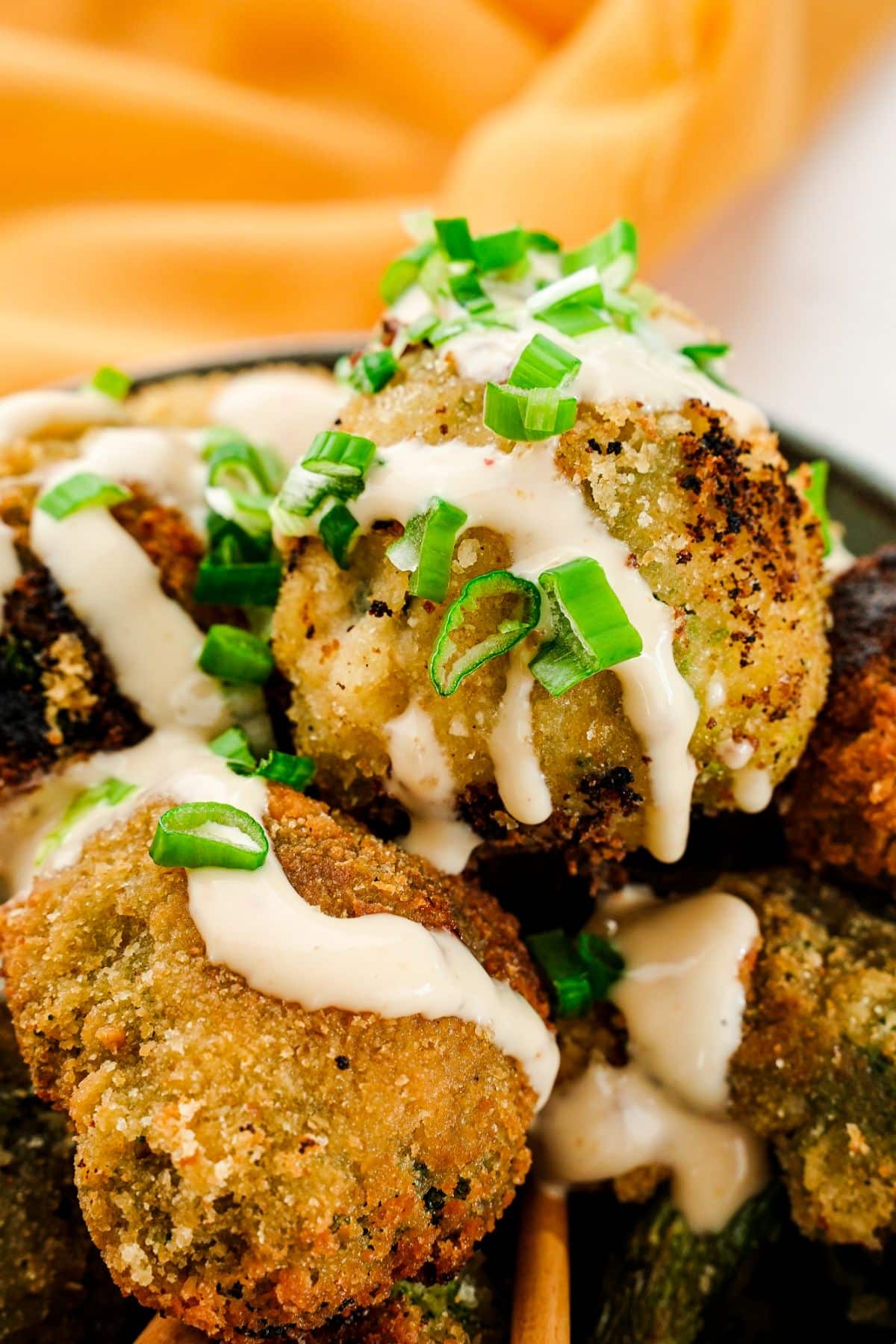 Related
If you like this recipe, then you'll love these other appetizer and snack ideas. Load your plate with tasty vegetables for a healthy diet!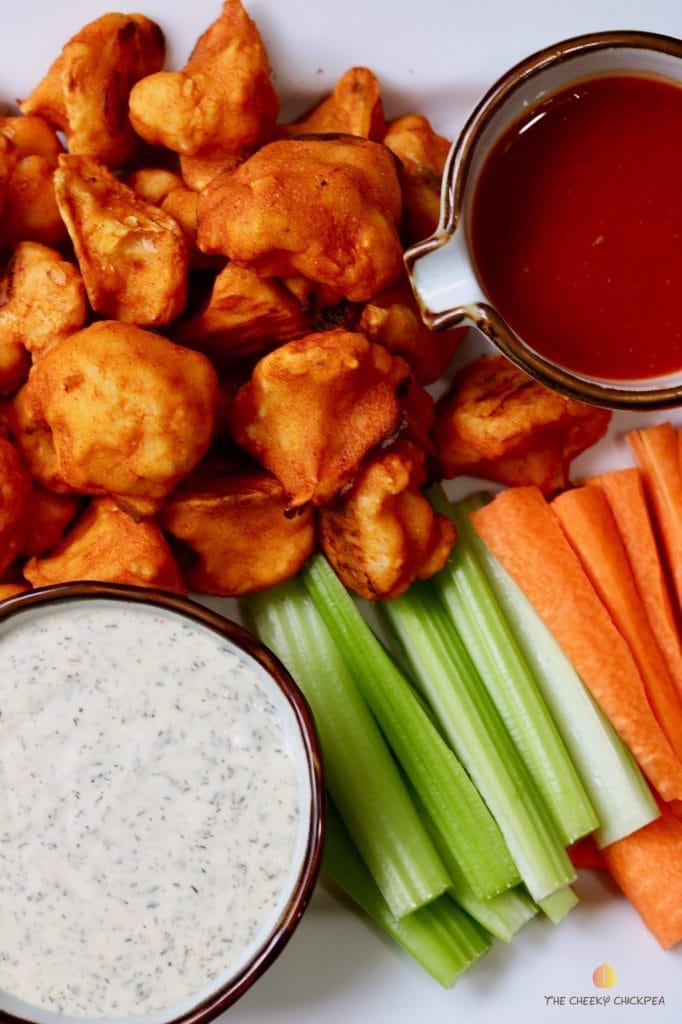 Pairing
Not sure what to serve this with? Check out these sauces for dipping if you prefer something not so spicy.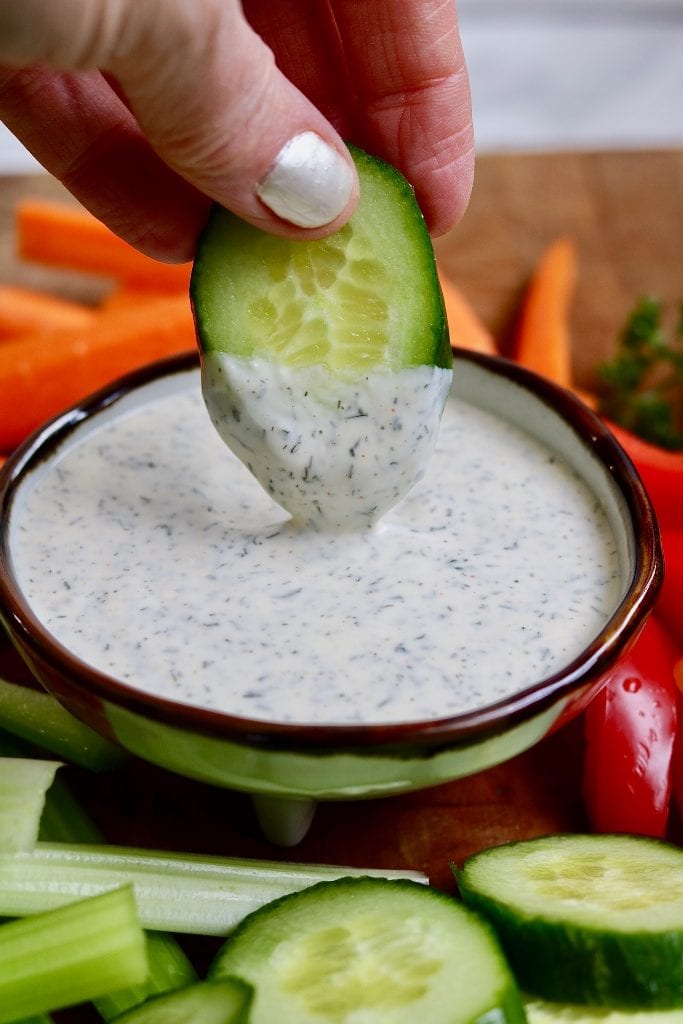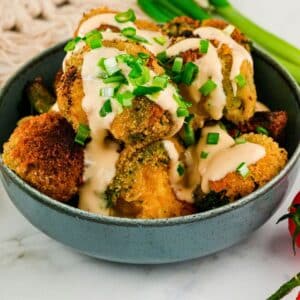 Vegan Bang Bang Broccoli
Treat yourself to a tasty and nourishing dish with this vegan bang bang broccoli recipe, crafted with fresh ingredients that are sure to tantalize your taste buds.
Ingredients
Bang Bang Sauce
2

tablespoon

chili paste

¼

cup

vegan mayo

1

tablespoon

agave nectar
Instructions
To start this recipe, make the bang bang sauce by combining mayonnaise, chili paste, and agave nectar. Set it aside or store it in the refrigerator until later use.

Next, prepare the batter by whisking together flour, cornstarch, and salt in a large bowl. Mix in hot sauce and set it aside.

In another bowl, combine almond milk and apple cider vinegar, and gradually pour it into the flour mixture until it forms a batter.

To prepare the bang bang broccoli, chop it into bite-sized florets, pat it dry, and keep it aside.

Heat the oil in a deep skillet and create a dipping station with the broccoli, batter, and breadcrumbs.

Dip the broccoli into the batter, coat it with breadcrumbs, and fry it in hot oil. Make sure not to overcrowd the pan and fry each side for 2 to 3 minutes until it turns crispy and golden.

Once done, remove the fried broccoli and drain it on paper towels. Serve it with bang bang sauce and chopped chives for garnish.
Notes
When dredging the broccoli, keep a wet hand and dry hand to help prevent mess. Alternatively, you can pour the batter into a bag, toss all broccoli in, and shake it around until coated then pull one piece out a time to dredge in the breadcrumbs before frying.
Add salt, garlic powder, black pepper, and paprika to the breadcrumbs for additional flavor.
Nutrition
Calories:
535
kcal
Carbohydrates:
89
g
Protein:
14
g
Fat:
13
g
Saturated Fat:
2
g
Polyunsaturated Fat:
2
g
Monounsaturated Fat:
1
g
Sodium:
663
mg
Potassium:
645
mg
Fiber:
7
g
Sugar:
10
g
Vitamin A:
966
IU
Vitamin C:
139
mg
Calcium:
251
mg
Iron:
5
mg
Food Safety
No matter what you are preparing, practicing food safety is a must. Below are some of our top suggestions regarding cooking and working within your kitchen. Keep these in mind as you prepare this tasty meal.
Always sanitize countertops, cutting boards, utensils, and cookware thoroughly between each use.
Wash your hands in warm soapy water, rubbing for at least 20 seconds before rinsing. Remember, "FROG" means friction rubs off germs.
After serving food, allow it to cool, then place it into the refrigerator or proper storage immediately. Food should be at room temperature for no more than 2 hours for safety.