These sweet and tangy Vegan Grape Jelly Cocktail Meatballs always fit in at parties! The homemade vegan Beyond Meat meatballs are coated in a grape jelly sauce before they're finished in the oven or slow cooker.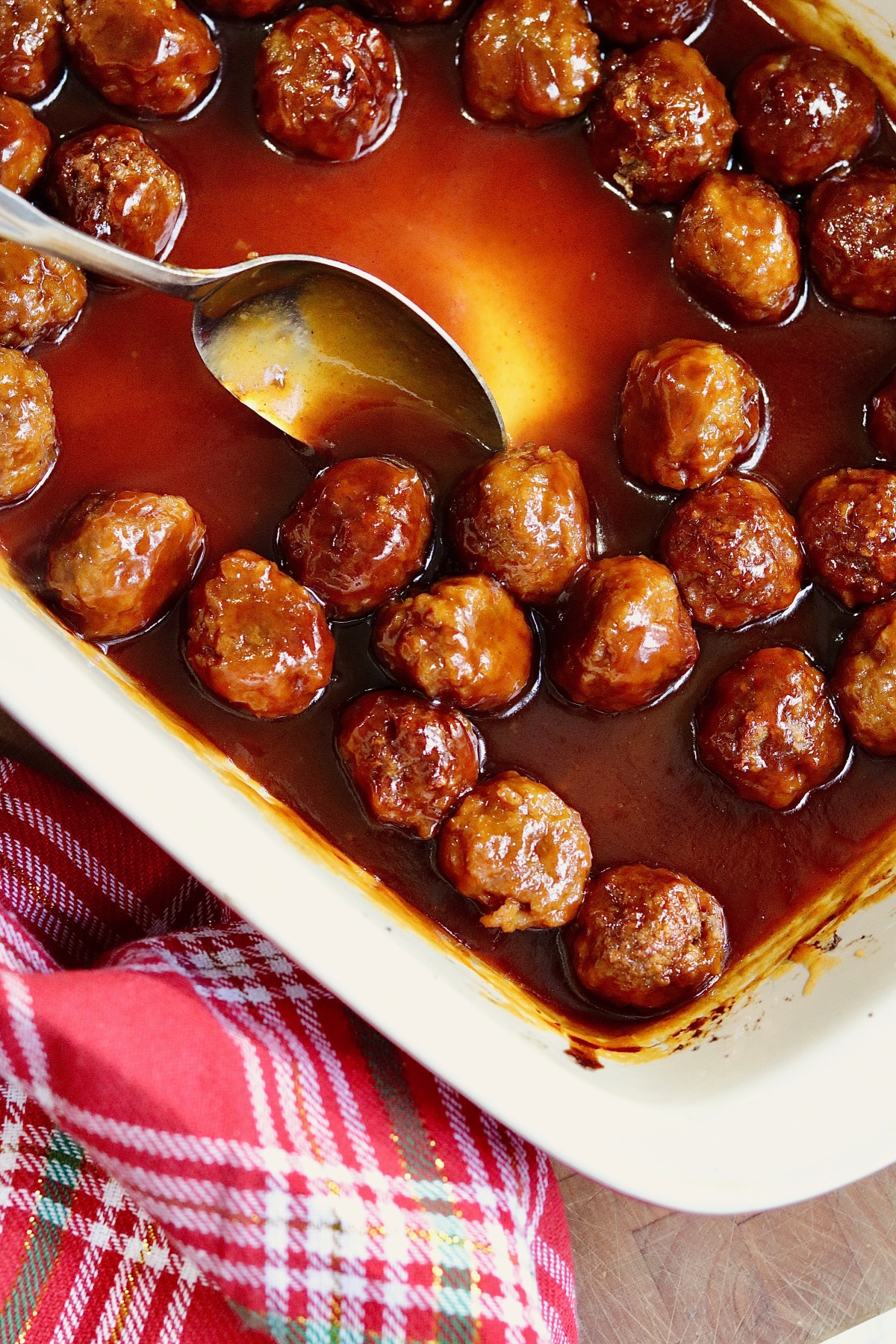 Jump to:
Easy vegan grape jelly meatballs for parties
These bite-sized Vegan Grape Jelly Cocktail Meatballs come together in no time and are perfect for holidays, cocktail parties, and all kinds of celebrations. This classic party snack is savory, tangy, and sweet. A real crowd-pleaser!
Making vegan cocktail meatballs with Beyond Meat or Impossible Meat keeps the process easy. This store-bought vegan ground beef is already flavorful, which means you don't need a ton of herbs and spices to season the meatball mixture. It's what I use to make my Best Vegan Meatballs, which are known for their juicy and tender texture.
Once rolled into balls, the meatballs are quickly baked before being doused in homemade grape jelly sauce, then baked again. The finished appetizer glistens and has irresistible flavors and aromas that all of your party guests are sure to be drawn to.
Ingredients and substitutions
Vegan ground beef - I use Impossible or Beyond Meat, but any kind of vegan ground beef will work well.
Panko breadcrumbs - To help bind the meatballs together. I don't recommend using regular breadcrumbs because they don't hold the meatball mixture together as well.
Dairy free milk - Any kind of vegan milk will work, or use water instead.
Worcestershire sauce - Make sure to check the label first, as classic Worcestershire sauce is made with fish sauce. HP sauce, soy sauce or tamari can be used as a substitute.
Onion powder
Garlic powder
Salt and pepper
Grape jelly - I used Welch's grape jelly (yes it's vegan)
Barbecue sauce - My favorite is Bulls Eye BBQ Sauce Bold Original. It's smoky and tangy, helping it pair well with the sweet jelly.
Pickling brine - I used the brine from a jar of hot and spicy pickled banana peppers. Pickled jalapeno brine is another great option! It adds a tangy heat to every bite.
Cornstarch - To thicken the grape jelly sauce.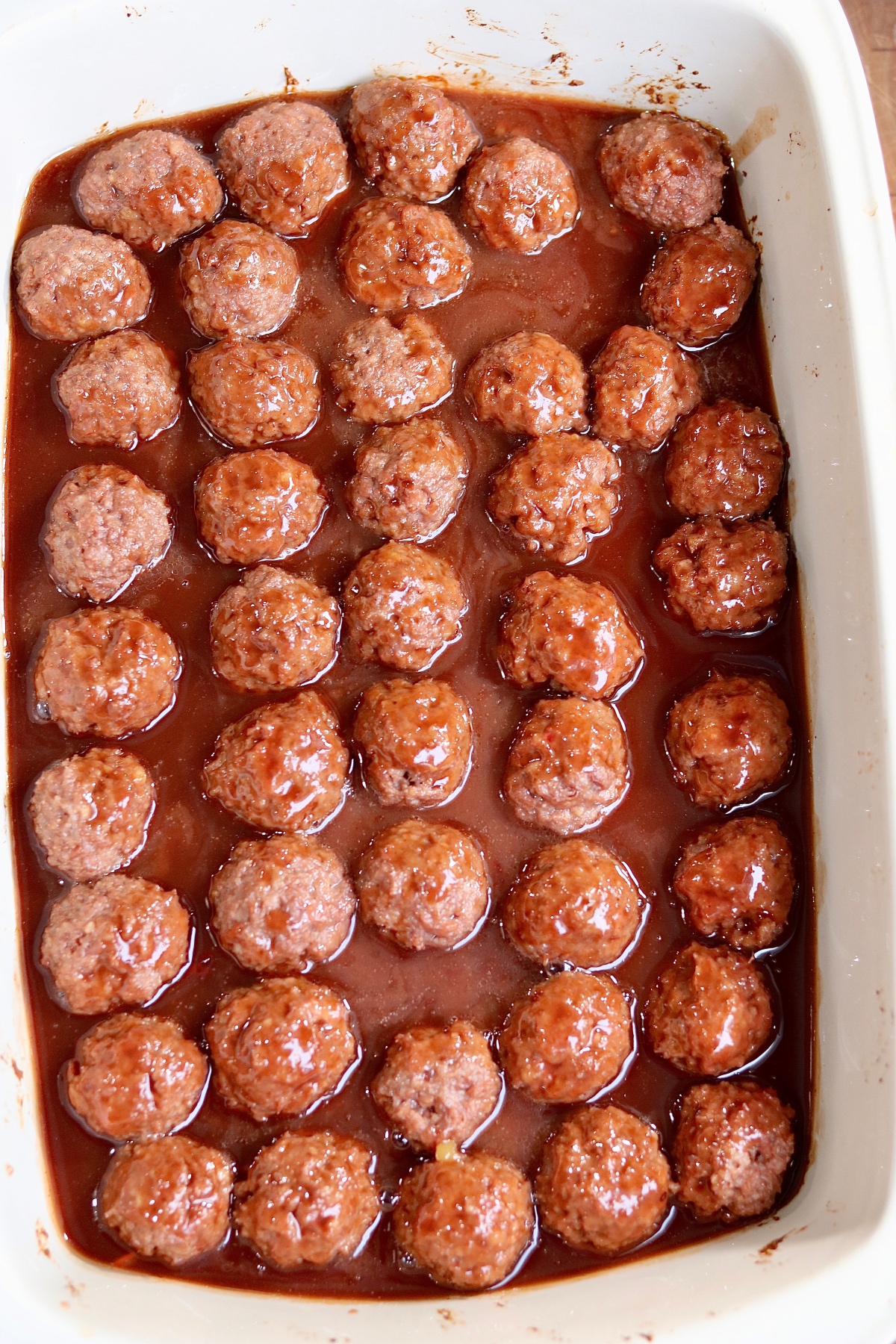 How to make vegan grape jelly meatballs
First, mix the breadcrumbs and milk together in a small bowl. Set it aside until the breadcrumbs absorb most of the liquid.
Add the meatball ingredients and panko/milk mixture to a mixing bowl. Stir well to combine (use a wooden spoon or clean hands).
Form small scoops of the mixture into 1-inch round meatballs and place them in a casserole dish. It's ok if they're touching each other in the dish! You should end up with about 40 meatballs.
Place them in the oven and bake for 15 minutes.
While you wait, whisk the grape jelly sauce ingredients together in a bowl. Pour it over the baked meatballs, then place the dish back in the oven to finish baking.
Serve the cocktail meatballs right away with toothpicks for easy grabbing or make them a part of dinner. Enjoy! For full ingredients and instructions see printable recipe card below.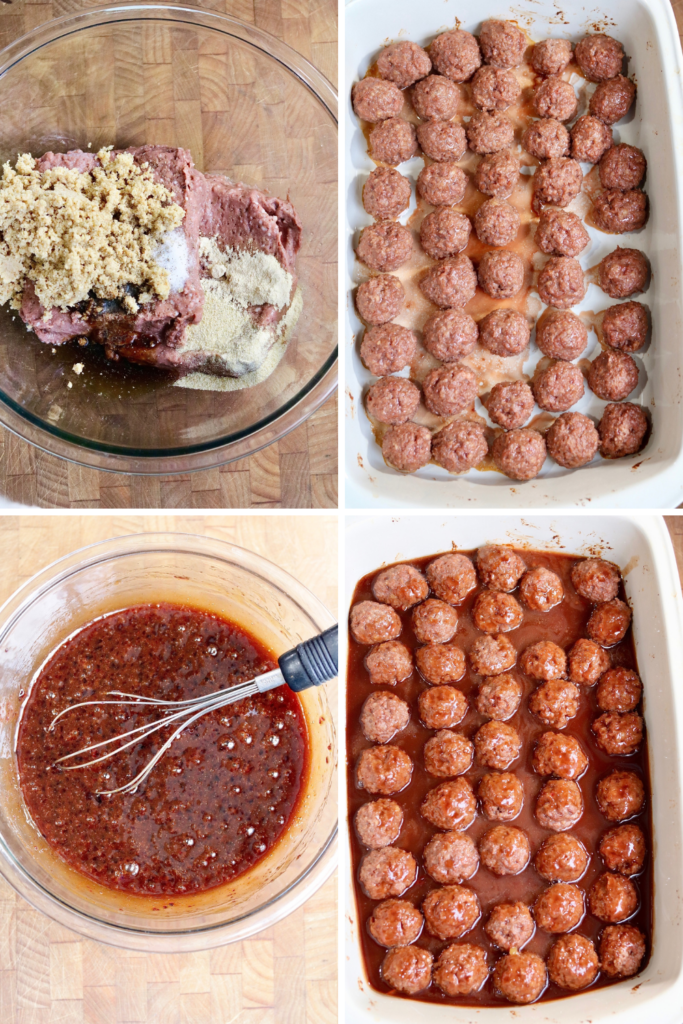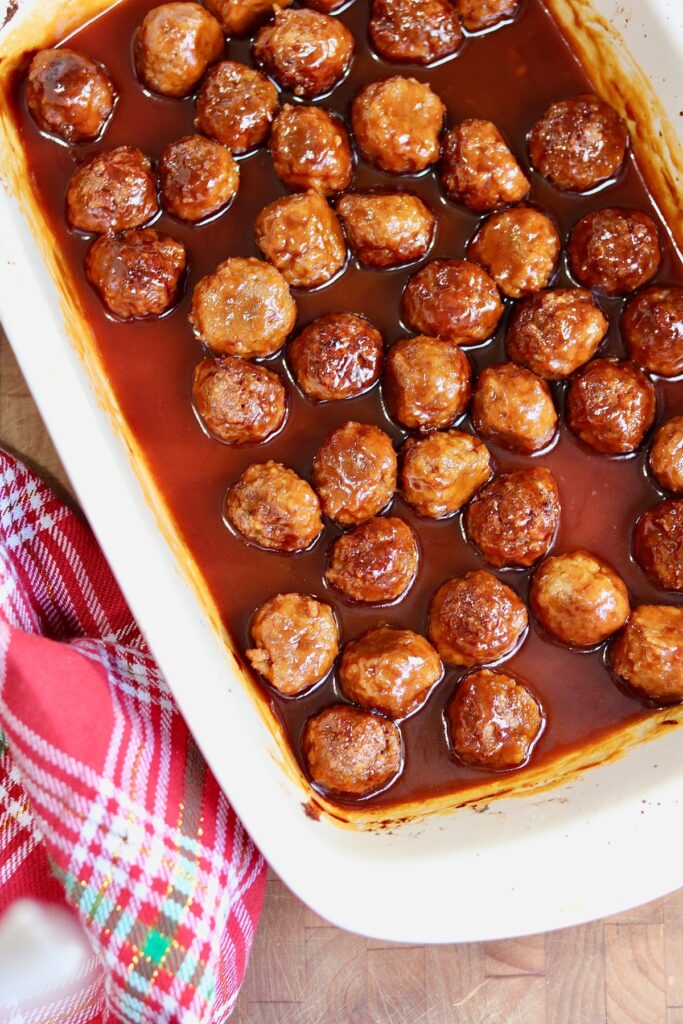 Crockpot grape jelly meatballs
Bake the cocktail meatballs for 15 minutes, then add them and the grape jelly sauce to a slow cooker. Cook on High for 1 to 2 hours or on Low for 3 to 4 hours.
If you're serving these as a party appetizer, you can transfer the fully cooked meatballs and sauce to a crockpot and keep it on Warm throughout the evening. Keep a few toothpicks, plates, and napkins on the side so your guests can serve themselves.
Tips for success
Not all grape jelly is vegan because the sugar in it may have been refined with bone char. For a fail-safe option, use organic grape jelly.
For spicier cocktail meatballs, add up to 1 teaspoon of your favorite hot sauce to the grape jelly sauce.
Not a fan of grape jelly? Use cranberry sauce, plum jam, raspberry jam, apricot preserves, or apple jelly instead.
The sauce has a mild heat because of the pickled pepper brine. Feel free to omit it if you're sensitive to spice or use mild or another type of brine, like olive or caper brine.
Serving suggestions
Meatballs with grape jelly are a fantastic snack to pass around at Christmas parties and special events. Pierce each one with a toothpick and let your guests dig in! To make them even more appealing, sprinkle chopped green onions on top after plating.
Want to make them a meal instead? Add a scoop of meatballs and sauce over a bed of mashed potatoes, rice, or noodles. Serve with roasted vegetables on the side and enjoy.
Can you use frozen vegan meatballs instead?
If you don't want to make homemade vegan meatballs, use frozen ones instead. Cook them according to the package instructions before coating them in sauce and finishing them in the oven or crockpot.
Want more vegan party appetizers?
Enjoy everyone! Happy Day! Please feel free to comment below and give this recipe a rating. Your feedback is greatly appreciated!
Follow me on PINTEREST and INSTAGRAM for more tasty Plant Based & Vegan Recipes❤️
Subscribe here for free weekly recipes delivered right to your inbox! No need to scour the internet. Your one stop shop for recipes is here😊 No spam I promise!
Print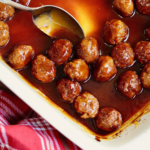 Vegan Grape Jelly Cocktail Meatballs
---
Author:

Verna Rindler

Total Time:

55 minutes

Yield:

35-40 Meatballs

Diet:

Vegan
Description
These sweet and tangy Vegan Grape Jelly Cocktail Meatballs always fit in at parties! The homemade vegan Beyond Meat meatballs are coated in a grape jelly sauce before they're finished in the oven or slow cooker.
---
For meatballs:
2 - 12 oz packages vegan ground beef, I use either impossible or beyond meat

⅓ cup panko bread crumbs*

3 tablespoons unsweetened plant milk or water

1 tablespoon vegan worcestershire sauce

1 and ½ teaspoons onion powder

½ teaspoon granulated garlic (powder)

½ teaspoon salt

Pinch of black pepper
Sauce:
1 cup bbq sauce*

1 cup grape jelly (I use Welch's)

⅓ cup brine from a jar of hot & spicy pickled banana peppers (or mild)

2 teaspoons cornstarch*
For serving (optional)
Sliced green onions

Rice, potatoes or noodles

veggies
---
Instructions
Preheat the oven to 425° and set aside a 9x13 casserole dish.

Mix the breadcrumbs and milk or water in a small bowl and set aside.

Add the rest of the meatball ingredients to a large mixing bowl, add in the panko mixture and mix everything together until well combined.

Form into meatballs 1 inch or so (1 to 1 and ½ tablespoons). I use a small cookie scoop to measure. Should get around 35-40 meatballs. Place them in an even layer in the casserole dish, they will be a little squished, that's ok! Bake for 15 minutes.

Remove from the oven whisk the sauce ingredients together in a bowl, pour over the meatballs, return to the 425° oven and bake for 25 minutes.

Serve as cocktail meatballs with toothpicks or as an entree topped with green onions and served with veggies and rice, potatoes or noodles! If wanting the crockpot version or using frozen meatballs see the notes section.
Notes
For crockpot grape jelly meatballs: place the fully cooked vegan meatballs in your slow cooker with sauce and cook for 1-2 hours on high or 3-4 hours on low (until the sauce is hot and bubbling a little)
To use frozen vegan meatballs: cook meatballs according to package instructions and follow from step 5 or use crockpot directions.
Bbq sauce: I quite often use Bulls Eye Bbq Sauce - Bold original. I love it!
Cornstarch: For a thinner sauce (serving as an entree) omit the cornstarch
Panko: Only use regular or gluten free panko breadcrumbs not regular breadcrumbs as meatballs will be too soft and bready.
Prep Time:

15 Minutes

Cook Time:

40 Minutes

Category:

Snacks & Sides

Method:

Oven

Cuisine:

American, Canadian
Keywords: vegan grape jelly meatballs, vegan cocktail meatballs, vegan grape jelly bbq meatballs