This ultra-fresh Vegan Ceviche features steamed cauliflower and fresh vegetables dressed in an umami-forward dressing. It's cooling, easy to make, and the most refreshing addition to tacos, lettuce cups, and more.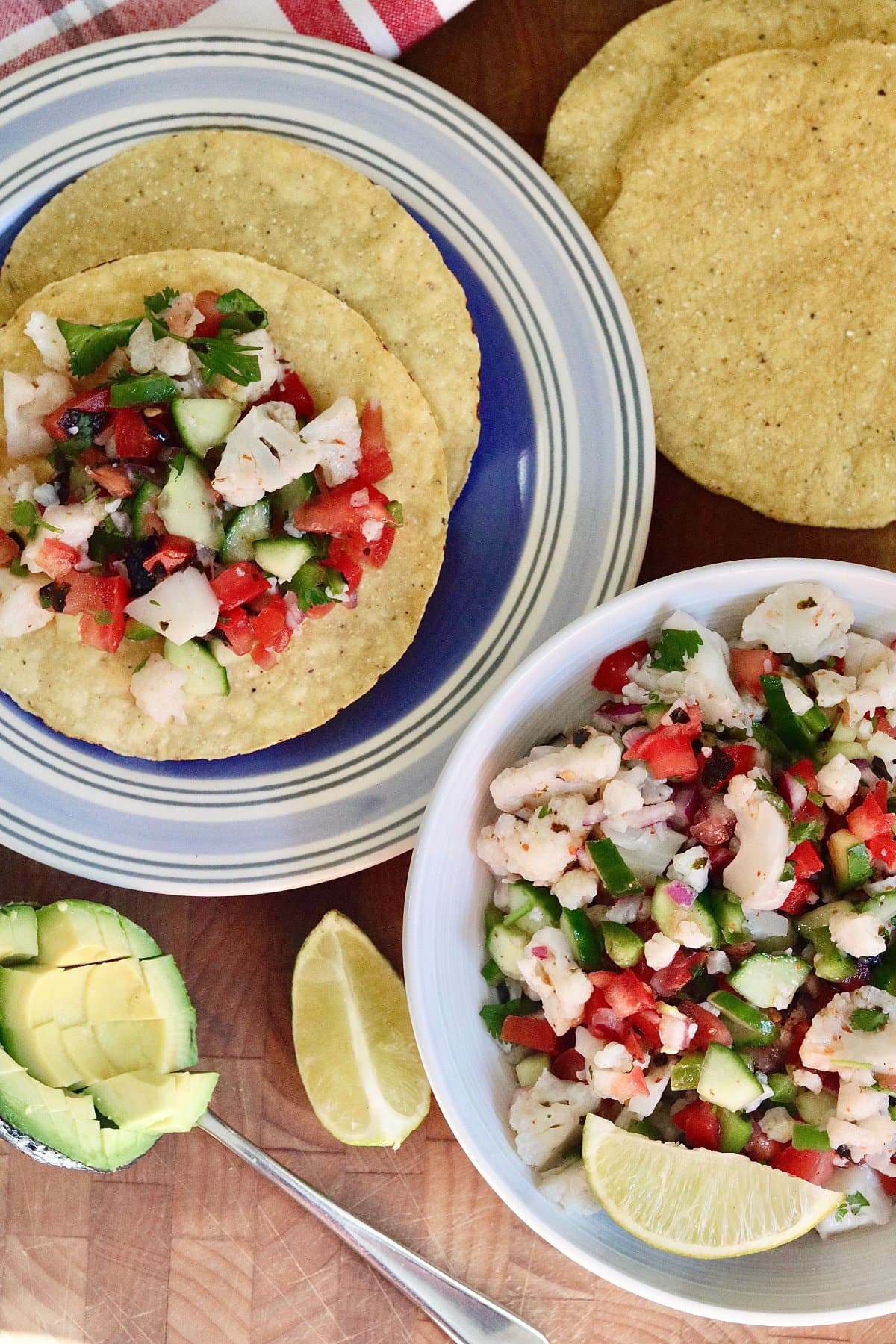 If there's one dish that vegans should stay far away from, it's traditional ceviche. Raw fish? No thanks!
Instead, snack on this refreshing Vegan Ceviche! It features tender steamed cauliflower that's dressed in an umami-forward lime, seaweed, and Worcestershire dressing. Mix it together with a handful of fresh vegetables and you have a fresh appetizer, salad, or topping.
When ceviche is made with cauliflower instead of fish, the vegan-friendly ways to use it are endless. Use it as a topping on vegan tacos, lettuce wraps, Mexican chopped salads, and grain bowls, or enjoy it as a dip with tortilla chips. Let your imagination run wild - there are plenty of ways to use cauliflower ceviche!
Jump to:
What is ceviche?
Ceviche is a Latin American dish traditionally made with raw seafood that's been cured with citrus juice. Fresh vegetables, like cucumber or red onion, and chili seasonings can be added for extra pops of flavor.
Unlike the traditional version, this vegan ceviche is made with blanched cauliflower to replace the fish while the seaweed, cilantro, and savory seasonings mimic the fishy, umami flavor.
Ingredients and substitutions
You won't find any ingredients that are too out of the ordinary here. There are a handful that are necessary to achieve the layer of umami (such as seaweed snacks and vegan Worcestershire sauce), so be careful not to skip too many in this list.
Here's what you need:
Cauliflower - The cauliflower is meant to replace the raw fish in this recipe. It's either steamed or blanched to tenderize and soften the texture. Plus, once it's cooked, the florets soak in the amazing flavors from the lime juice and marinade. If you don't want to use cauliflower, feel free to replace it with sliced avocado or hearts of palm.
Lime juice - Every ceviche recipe must have citrus juice. Lime juice just happens to be my favorite, but feel free to change it up and use lemon, orange, or grapefruit juice instead.
Ceviche marinade - Crumbled seaweed snacks, vegan Worcestershire sauce, garlic salt, chili powder, salt, and pepper act as a marinade/sauce to help give the ceviche that signature "fresh from the sea" flavor.
Fresh vegetables - Tomatoes, cucumber, red onion, jalapeno, and cilantro make this vegan appetizer ultra refreshing.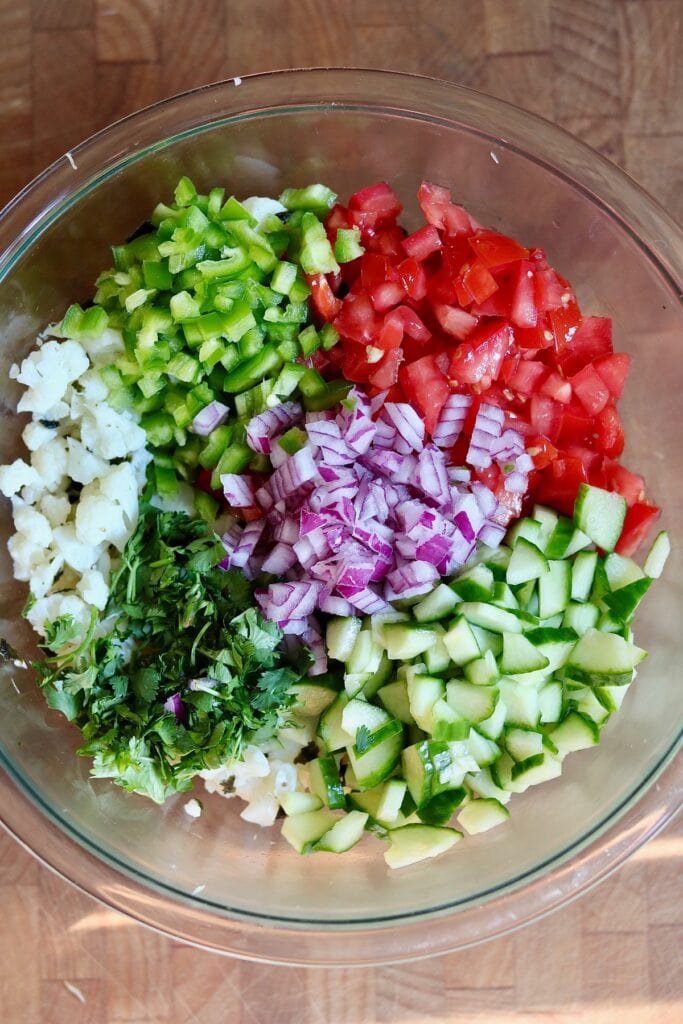 How to make vegan ceviche
It's so easy! Here's what you need to do:
Cook the cauliflower: Add the cauliflower florets to a pot of boiling salted water until they're just fork tender. You could also steam the florets to save some time. Immediately transfer the cooked cauliflower to a bowl of ice water. Drain and transfer it to a bowl.
Toss in the marinade: Add the lime juice, vegan Worcestershire, salt, garlic salt, chili powder, pepper, and crumbled seaweed snacks over top of the cauliflower in the bowl. Stir to combine.
Add the rest, then marinate: Stir the tomatoes, cucumber, red onion, jalapeno, and cilantro into the bowl. Place the bowl in the fridge so the flavors can all meld together.
Serve and enjoy: Afterward, serve the ceviche with tacos, lettuce cups, tortilla chips, or any other way you like! For full ingredients and instructions see printable recipe card below.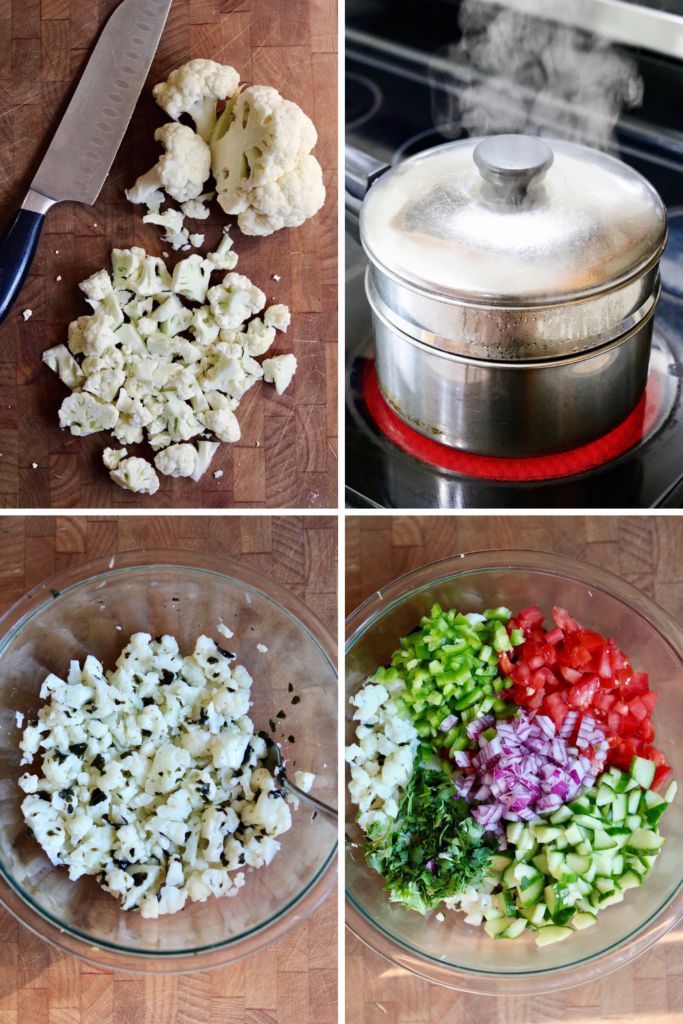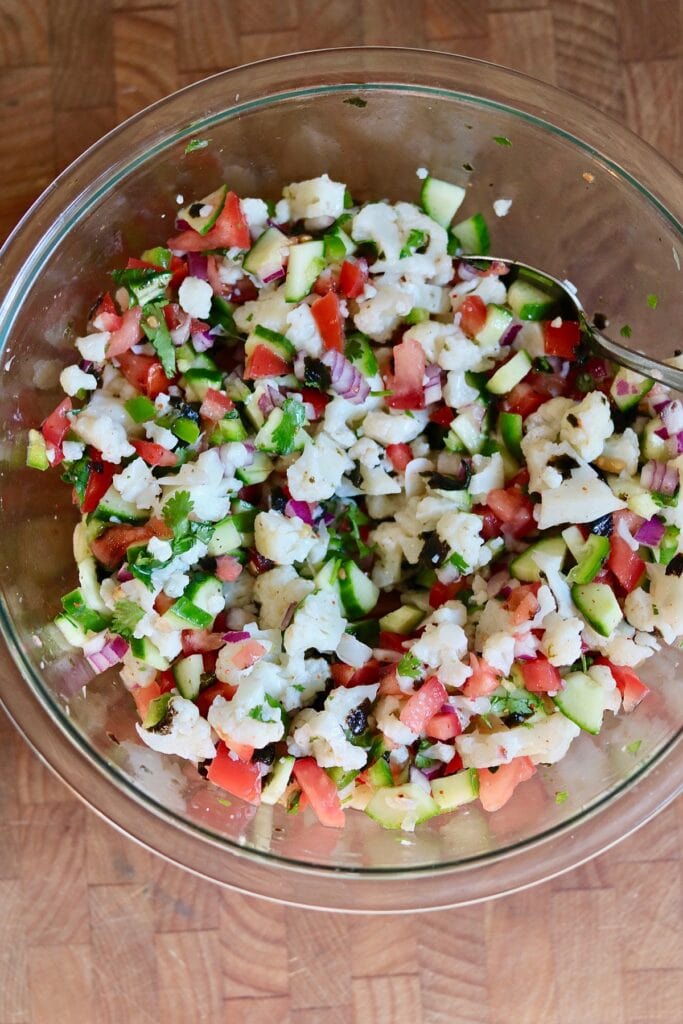 Tips for success
For a saucier ceviche, add in a ¼ cup of V8 juice (vegetable juice).
The flavor gets even better when you let the ceviche marinate and sit in the juices for 15 to 30 minutes.
Avoid the heat from the jalapeno by removing the seeds and veins beforehand.
Add even more to the ceviche, such as chopped avocado, hearts of palm, chickpeas, cold tofu, mango, coconut, pineapple, or corn.
Ways to serve vegan ceviche
Veggie ceviche can be served as an appetizer, main dish, or topping for all kinds of dishes. These are my favorite ways to use it:
Storing
Just like regular ceviche, vegan ceviche is best eaten the day it's made. However, the leftovers can be stored in an airtight container in the fridge for 2 or 3 days. The longer it sits, however, the softer and more liquidy it will become.
Hungry for more refreshing vegan appetizers?
Enjoy everyone! Happy Day! Please feel free to comment below and give this recipe a rating. Your feedback is greatly appreciated!
Follow me on PINTEREST and INSTAGRAM for more tasty Plant Based & Vegan Recipes❤️
Subscribe here for free weekly recipes delivered right to your inbox! No need to scour the internet. Your one stop shop for recipes is here😊 No spam I promise!
Print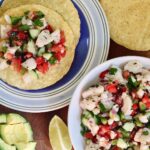 Vegan Ceviche
---
Author:

Verna

Total Time:

20 minutes

Yield:

6-8 Servings

Diet:

Vegan
Description
This ultra-fresh Vegan Ceviche features steamed cauliflower and fresh vegetables dressed in an umami-forward dressing. It's cooling, easy to make, and the most refreshing addition to tacos, lettuce cups, and more.
---
For vegan ceviche:
3 cups raw chopped cauliflower florets, small bite size pieces (approx. ½ inch)

3 to 4 tablespoons fresh lime juice

5 or more seaweed snack sheets for fishy flavor (optional)

2 teaspoons vegan worcestershire sauce

½ to 1 teaspoon salt (to taste) or tajin seasoning

½ teaspoon garlic salt (not powder)

¼ teaspoon chili powder

Pinch of cracked black pepper

1 cup diced fresh tomatoes and the juices

1 cup seeded and diced cucumber

⅓ cup diced red onion

1 jalapeno, diced small (seeded or not)

¼ cup chopped cilantro
Optional add ins:
For a saucier ceviche add in a ¼ cup V8 juice (vegetable juice)

Chopped avocado

Chopped fresh mango or pineapple

Cooked corn
For serving:
Tostadas, tortilla chips or lettuce cups

Hot sauce
---
Instructions
Steam or boil chopped cauliflower florets in salted water until just fork tender, about 4 to 6 minutes. Drain and add cauliflower back to the pot and fill with cold water. Drain well and add to a

bowl

.

Toss with the lime juice, vegan worcestershire, salt, garlic salt, chili powder and pepper and crumble in the seaweed. Set aside to marinate while you prepare everything else.

Add the rest of the ingredients to the bowl and toss to combine. Cover and refrigerate for at least 30 minutes or longer to mingle flavors. Adjust seasonings if needed, more salt, cilantro, chili powder etc,..

Serve with tostadas, tortilla chips or lettuce cups or add to a taco or wrap. Enjoy! Best eaten within the first or second day it's made. Photos, tips and more in above post.
Notes
Could sub HP sauce or tamari for vegan worcestershire

Dulse flakes

or a sheet of nori can be used in place of seaweed sheets

Store: will keep for 2-3 days in fridge.
Prep Time:

15 Minutes

Cook Time:

5 Minutes

Category:

Snacks & Sides

Method:

Mixing bowl

Cuisine:

Peruvian
Keywords: vegan ceviche, cauliflower ceviche, veggie ceviche