Tuna that is vegan? Well, the secret is that it is really chickpeas, but the flavors are perfect for making a vegan tuna pasta salad that will become a favorite lunchtime meal fast.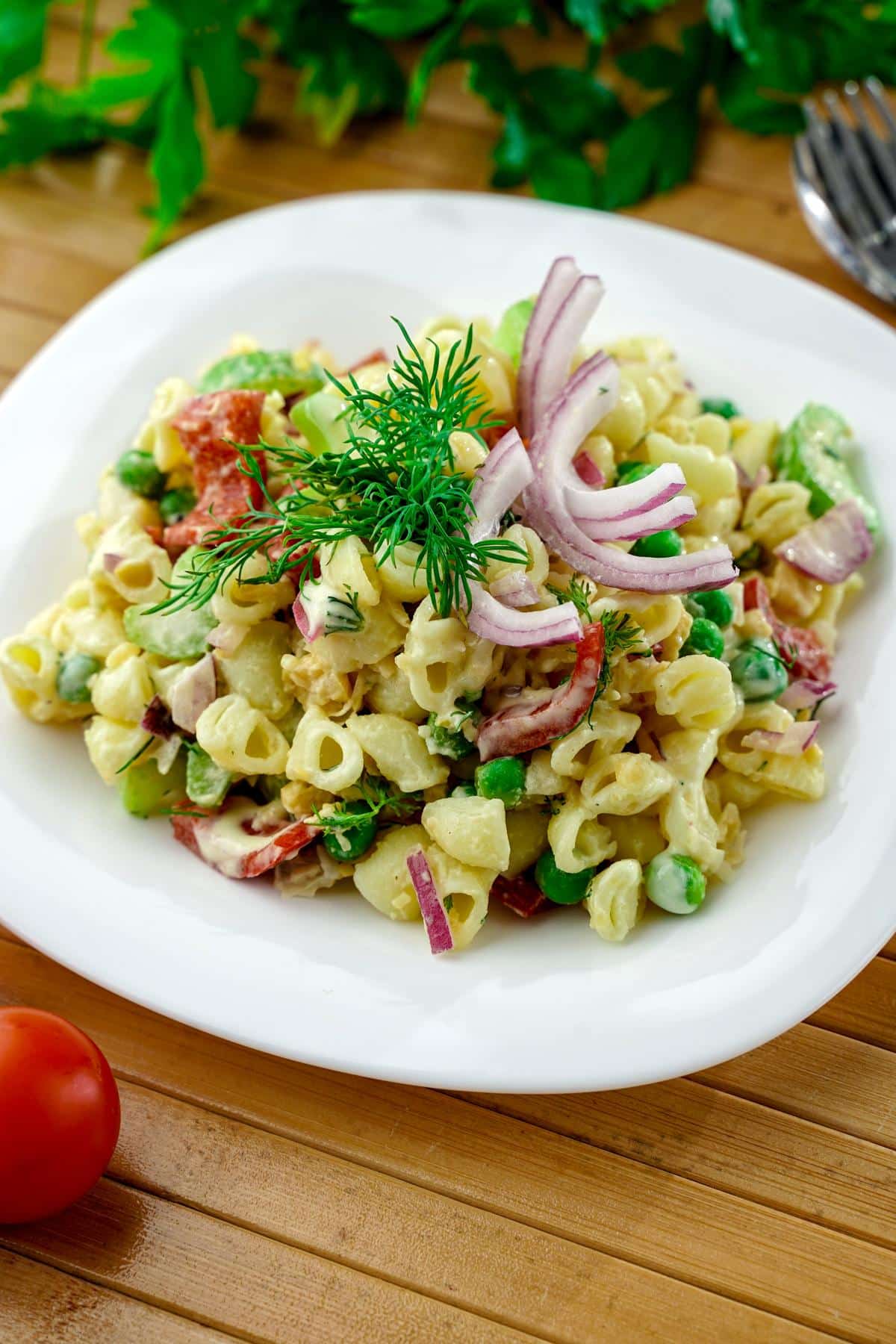 This salad is nutritious, packed with protein, bright veggies, and a simple dressing that is creamy and has just enough zesty flavor to please everyone at the table.
If you like this, you may also like our basic vegan tuna salad recipe. Add it to your menu for another easy lunch idea.
Jump to:
🥘 Ingredients
Below you will find a list of ingredients for the pasta salad and one for the dressing. Quantities for both of these can be found below in the printable recipe card at the bottom of the post.
For the pasta salad
Elbow macaroni or preferred pasta
Chickpeas
Celery
Red bell peppers
Red onion
Peas (frozen)
Fresh dill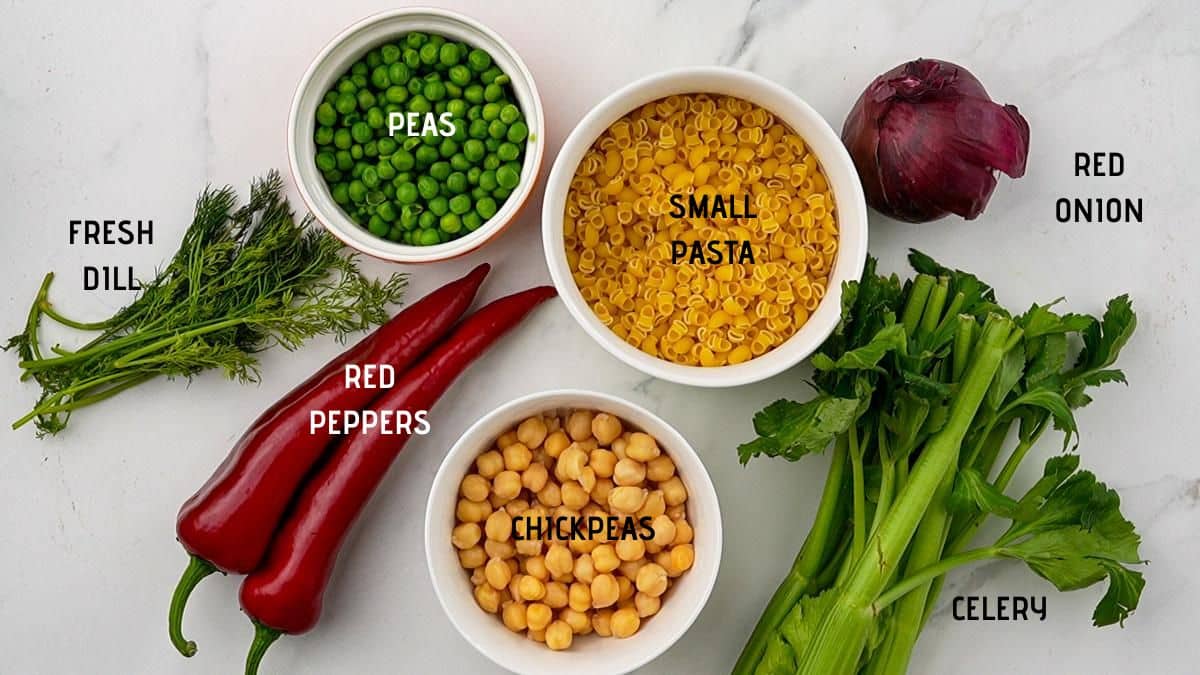 For the dressing
Dairy-free yogurt
Vegan mayonnaise
Lemon juice
Pickle brine
Dijon mustard
Garlic powder
Salt
Black pepper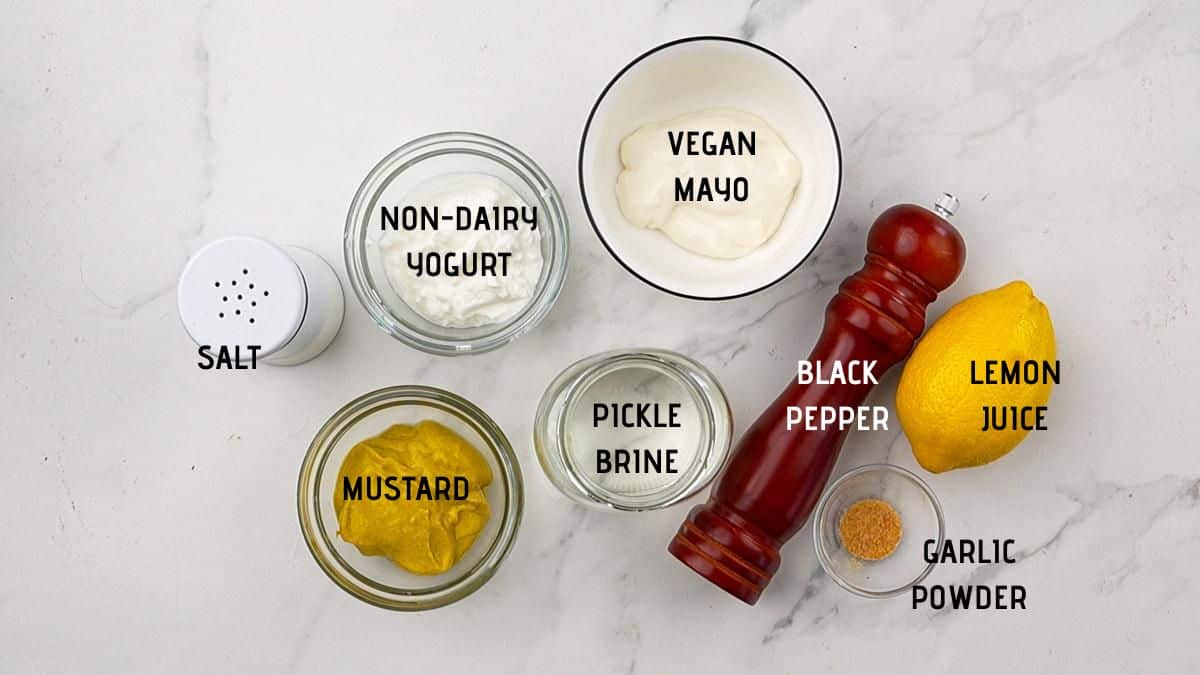 🔪Instructions
Start by preparing the pasta according to the package directions. Drain, rinse, and set the pasta aside.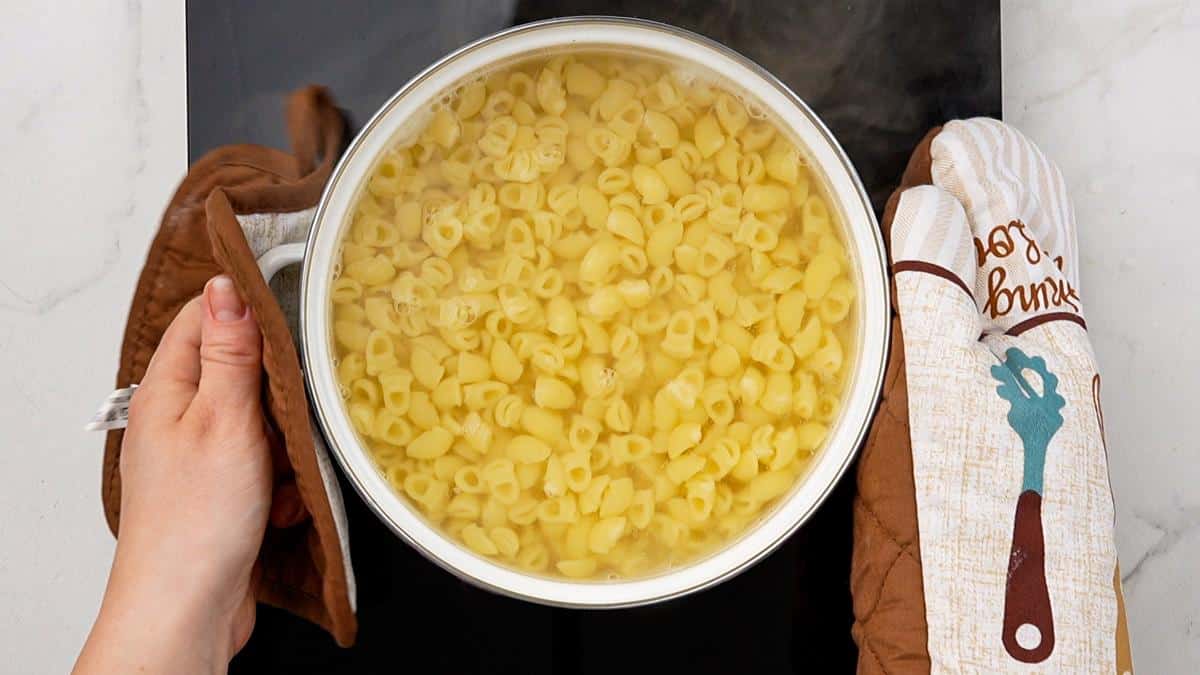 Then prepare the salad by chopping the celery, bell pepper, and onion into small pieces. Chop the dill or remove it from the stems. Set this aside.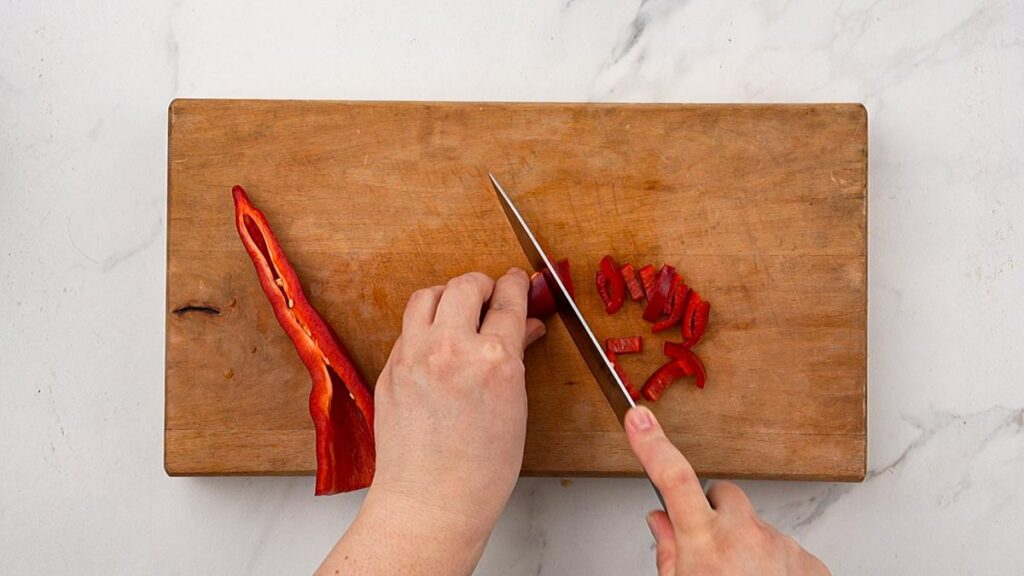 Now, rinse and drain the chickpeas and smash them with a fork until they are chunky but mostly smooth.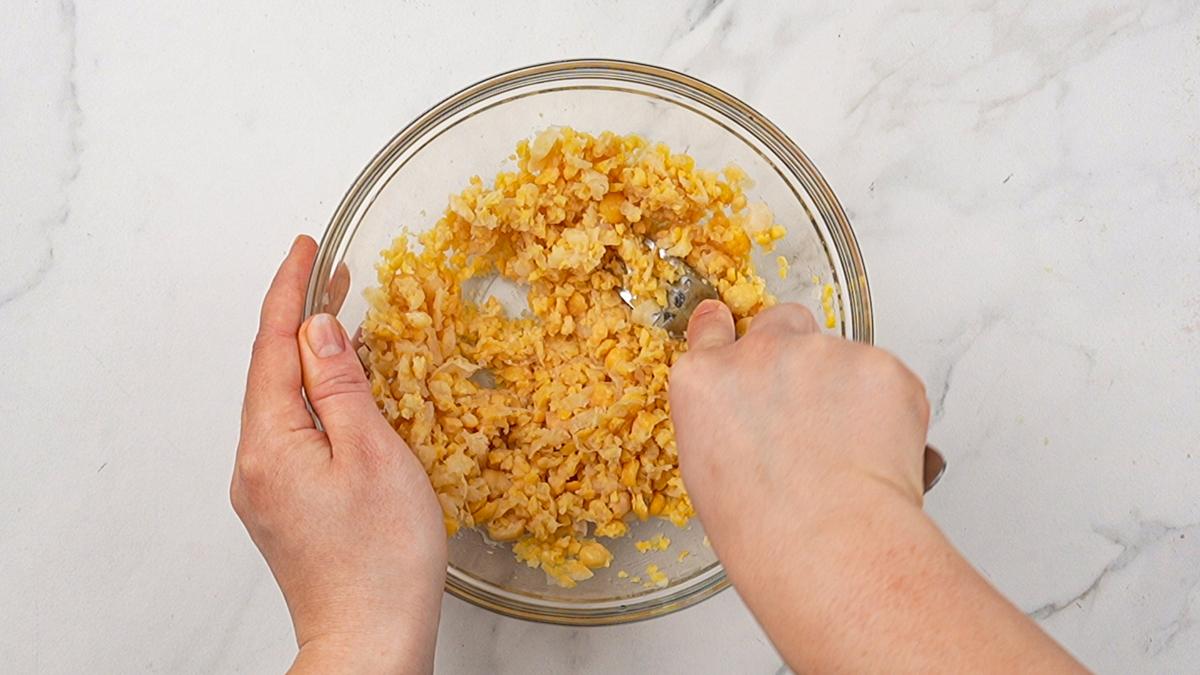 Next, you will whisk together the salad dressing. In a large bowl, add the dairy-free yogurt, vegan mayonnaise, pickle brine, lemon juice, mustard, garlic powder, salt, and black pepper. Whisk until smooth, and taste, and add additional salt and pepper if needed.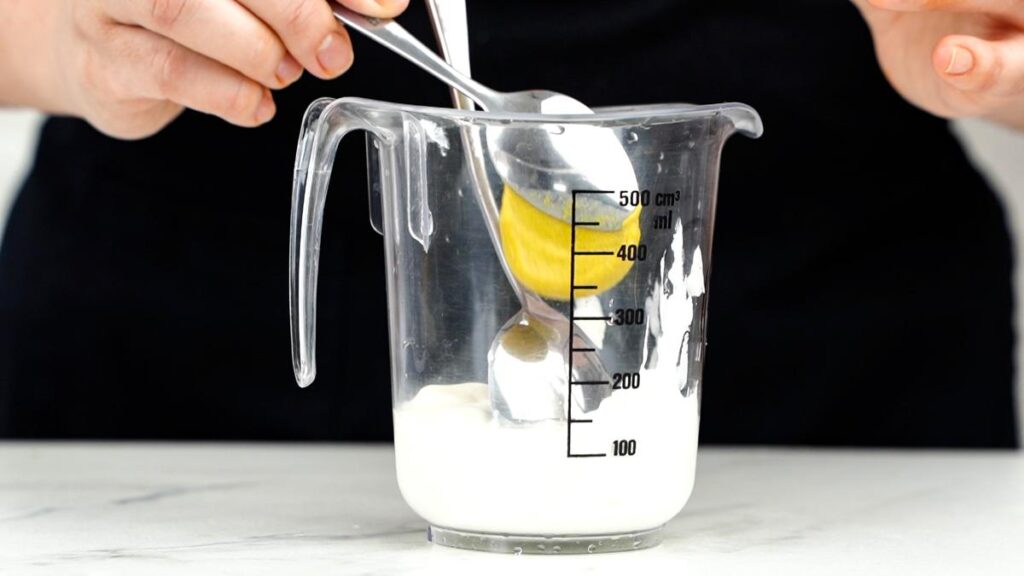 Lastly, assemble the salad by combining all ingredients together and stirring until combined.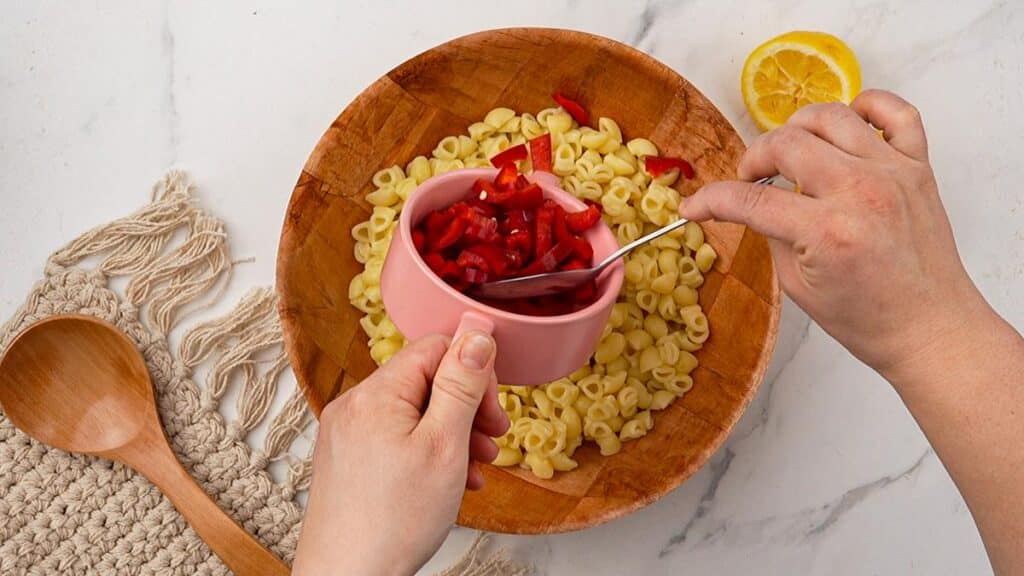 You want the pasta and chickpeas to be coated nicely in the dressing. Chill until ready to serve.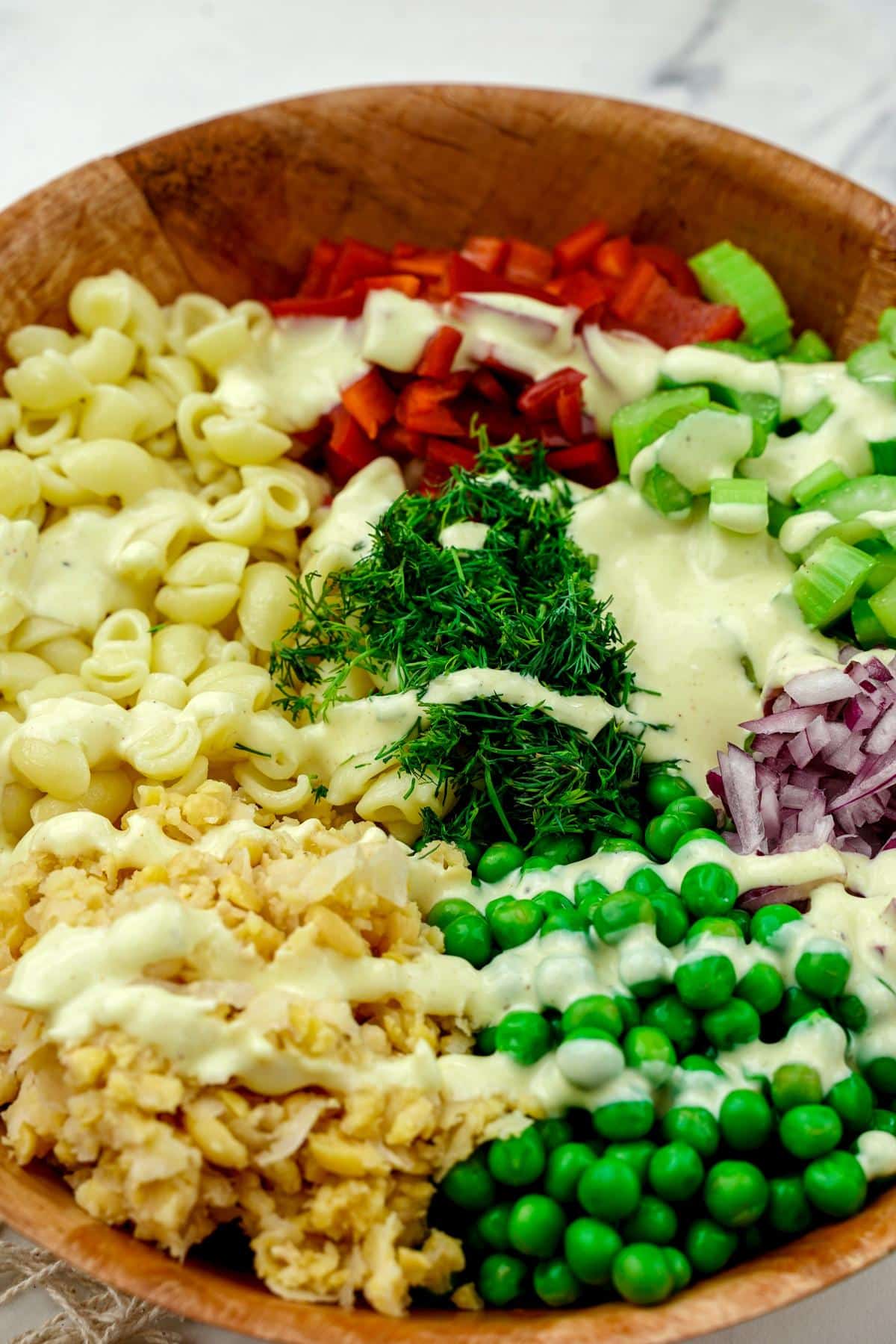 📋Substitutions
Don't have all the ingredients? No problem! Here are some easy substitutions you can make:
Instead of elbow macaroni, use any pasta of your choice. Smaller pasta such as shells, rigatoni, penne, or bowtie is preferred.
Swap chickpeas for white beans or even some marinated tofu.
Use any type of bell pepper, add jalapeno, or even chopped poblano peppers.
Substitute dill with parsley, cilantro, or basil.
📖 Variations
Looking to switch things up? Here are some variations to try:
Add sliced avocado for a creamier texture
Top with toasted breadcrumbs for added crunch
Try adding roasted garlic for extra flavor
Add roasted walnuts, almonds, or pecans for texture
Season the chickpeas with taco seasoning, barbecue sauce, or lemon pepper
Use your imagination and create a tasty treat with new fresh flavors. A mix of extra vegetables, herbs, or spices can really elevate this to new levels.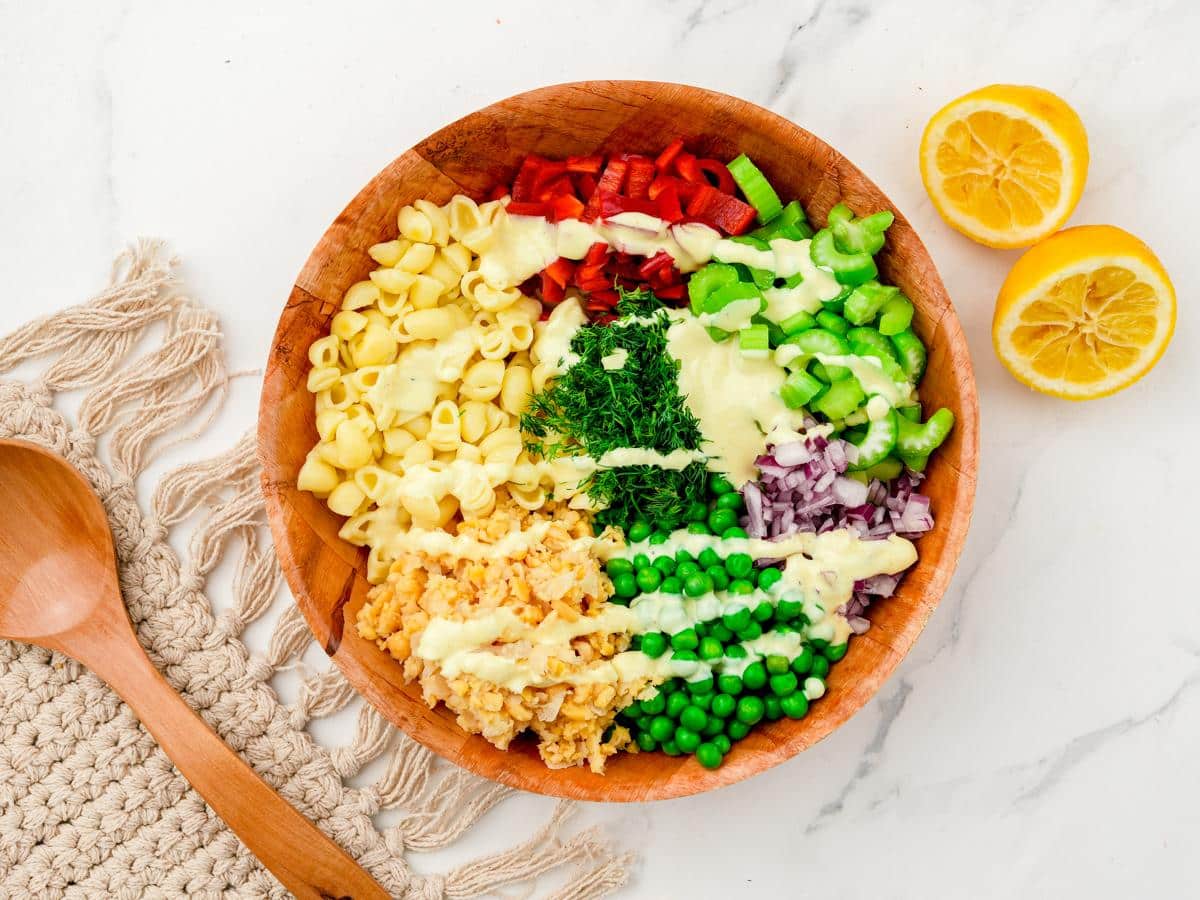 🫙Storage
This vegan tuna pasta salad is good in the refrigerator for up to 3 days. Store in an airtight container or tightly sealed bowl with a lid or plastic wrap.
While some ingredients can be frozen, the salad itself is not tasty frozen, and thawed. I recommend making just enough that you can finish in 3 days' time.
🍽 Equipment
If you are new to cooking, below are some ideas for kitchenware and tools you may need to invest in for your kitchen. These are our personal favorites that are used on a regular basis.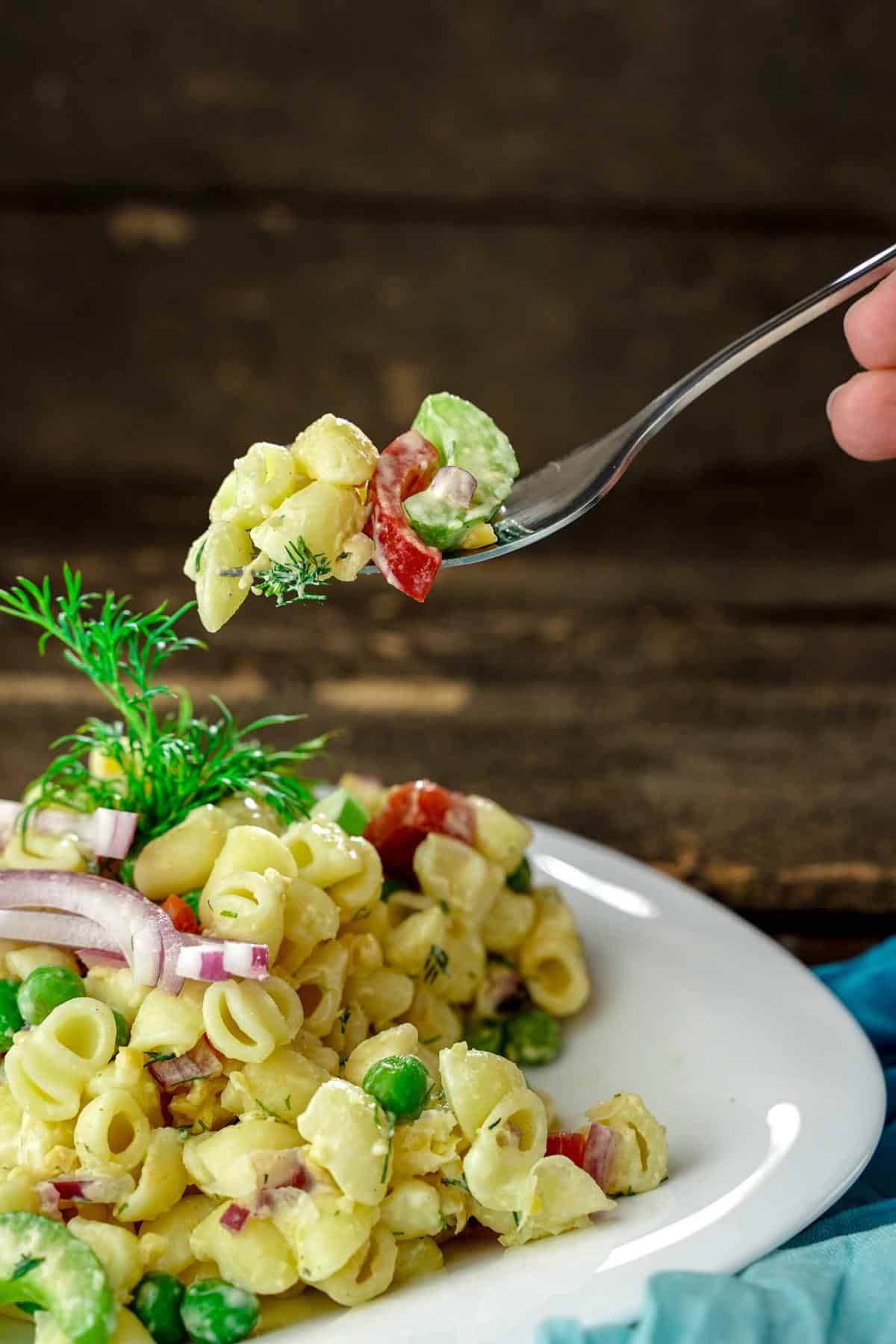 💭Top Tip
My top tip for making this pasta salad even better is to let it sit in the fridge for at least an hour before serving. This allows the flavors to meld together and makes for an even more delicious and satisfying dish.
❓FAQ
How do I make vegan tuna salad taste like real tuna salad?
The good thing about tuna is how mild of a flavor it has. That means that a focus on the dressing and additions to the salad is where you can add flavor. This particular blend has a lot of acids to pair with the creamy sauce. That is a personal favorite, but you may prefer more brightness from mustard or even additional pickles.
Is vegan tuna pasta salad served hot or cold?
This recipe is best served cold. If possible, I recommend refrigerating the mixture for at least 1 hour before serving so all ingredients are chilled.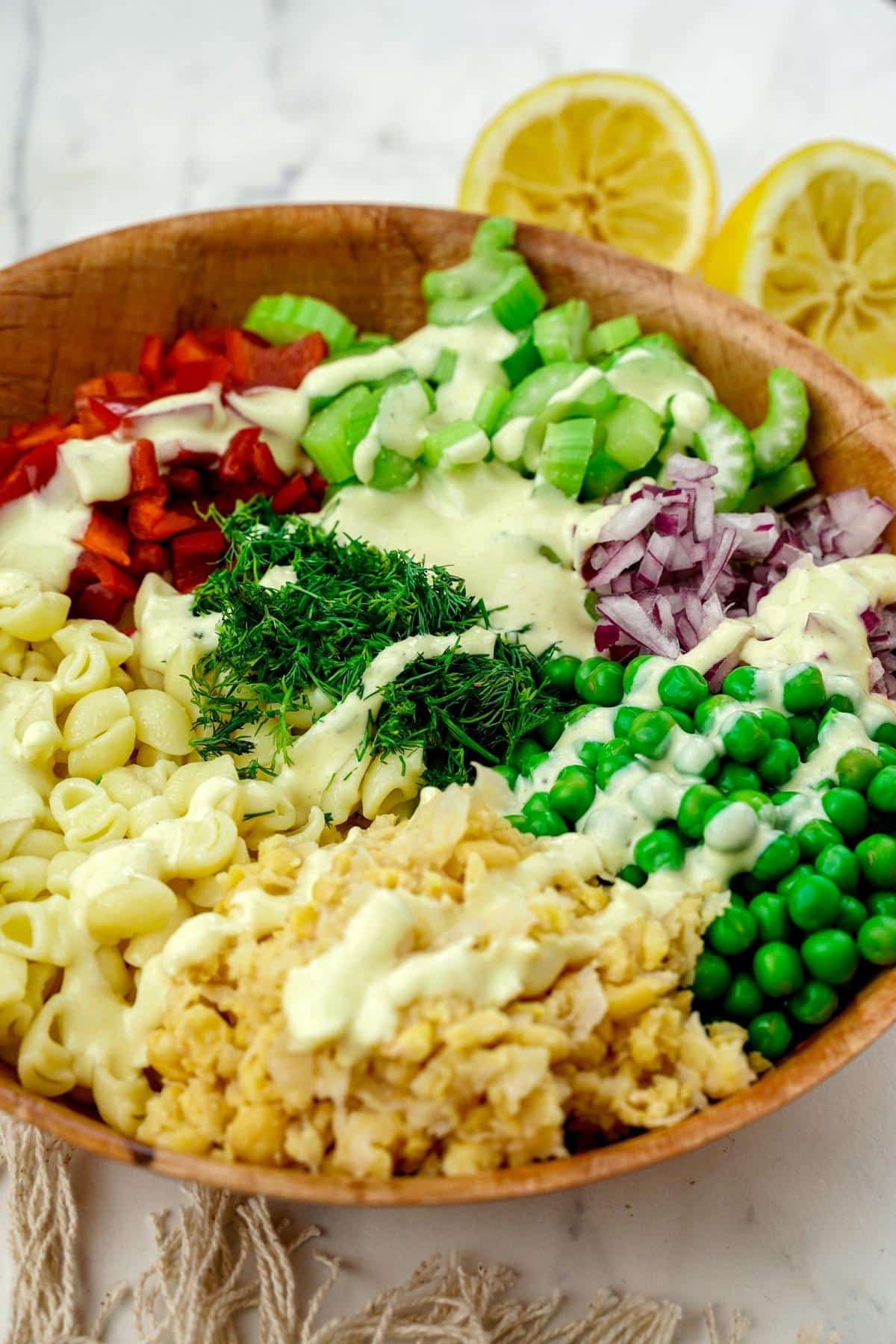 Related
I love a good pasta salad, and below are a few more that you may enjoy serving. Check them out and bookmark your favorites to make them soon.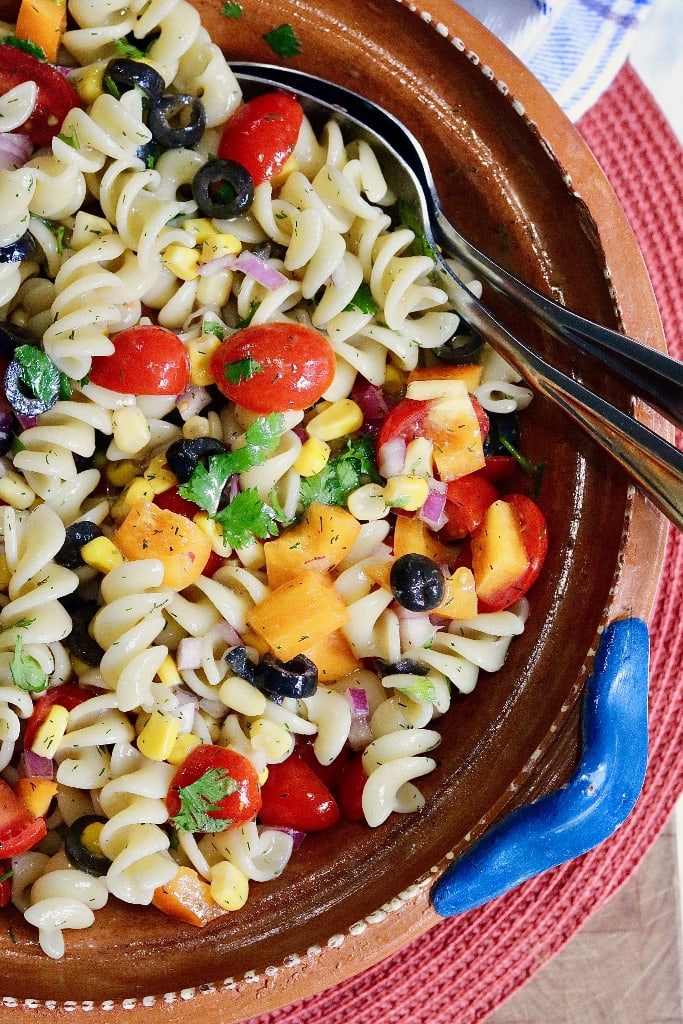 Pairing
While this is a perfect option to serve by itself for a hearty lunch, I love sharing this with a bit of soup. Below are some family favorites to pair with the vegan tuna pasta salad.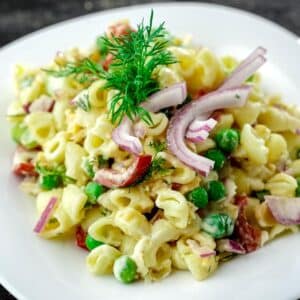 Vegan Tuna Pasta Salad
This vegan tuna pasta salad is a fresh and flavorful twist on a classic dish, perfect for a quick and healthy meal.
Ingredients
For the salad
Instructions
To begin, cook the pasta according to the instructions on the package. Once done, drain, rinse, and set aside.

Now, move on to making the salad. Cut the celery, bell pepper, and onion into small pieces, and chop the dill or remove it from the stems. Set this aside.

Next, rinse and drain the chickpeas and use a fork to smash them until they become chunky yet mostly smooth.

For the salad dressing, take a large bowl and whisk together the dairy-free yogurt, vegan mayonnaise, pickle brine, lemon juice, mustard, garlic powder, salt, and black pepper until smooth. Taste the mixture and add more salt and pepper if needed.

Finally, combine all ingredients to assemble the salad. Stir well to ensure that the pasta and chickpeas are evenly coated in the dressing. Refrigerate the salad until it's time to serve.
Notes
Season the chickpeas with additional spices before mashing for further flavor.
Fresh dill is best, but you can use dried dill in a pinch.
Chill this recipe for at least 1 hour before serving for the best flavor and texture.
Nutrition
Calories:
521
kcal
Carbohydrates:
79
g
Protein:
15
g
Fat:
17
g
Saturated Fat:
3
g
Polyunsaturated Fat:
9
g
Monounsaturated Fat:
4
g
Trans Fat:
0.04
g
Cholesterol:
10
mg
Sodium:
189
mg
Potassium:
598
mg
Fiber:
8
g
Sugar:
10
g
Vitamin A:
2596
IU
Vitamin C:
110
mg
Calcium:
89
mg
Iron:
3
mg
Food Safety
Check out our tips below to make sure you are being safe in your home kitchen when preparing food for yourself, friends, and family.
Always sanitize countertops, cutting boards, utensils, and cookware thoroughly between each use.
Wash your hands in warm soapy water, rubbing for at least 20 seconds before rinsing. Remember, "FROG" means friction rubs off germs.
After serving food, allow it to cool, then place it into the refrigerator or proper storage immediately. Food should be at room temperature for no more than 2 hours for safety.