Looking for a fresh and flavorful salad that will transport you straight to the tropics? Look no further than this avocado mango salad with creamy cilantro dressing!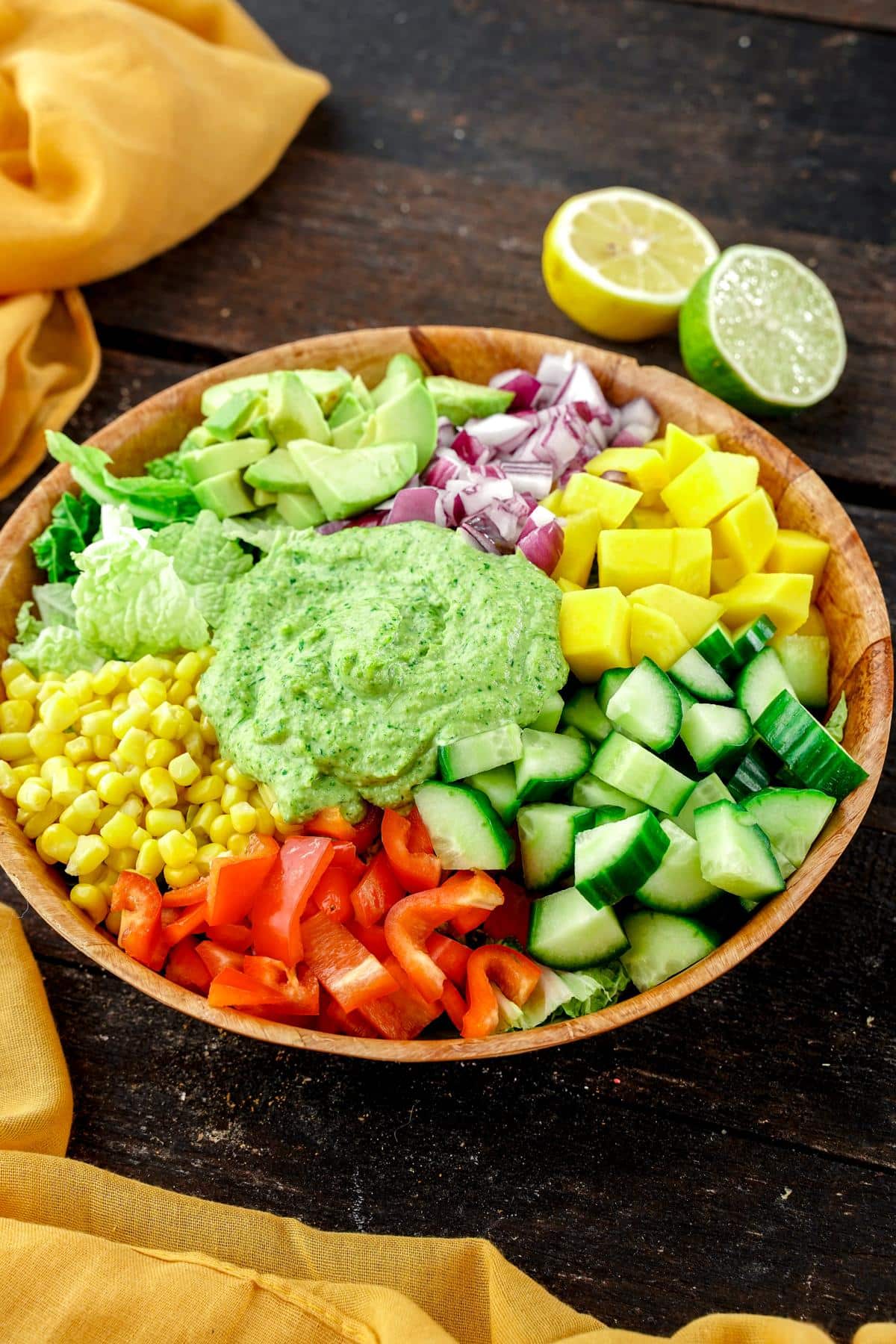 This vibrant salad is loaded with juicy chunks of mango, creamy avocado, crunchy cucumber, and sweet red pepper, all tossed together with a zesty cilantro dressing that's sure to leave your taste buds tingling.
If you like this, then you'll love our vegan jerk tacos that also feature a mango salsa.
Jump to:
🥘 Ingredients
This recipe has two sets of ingredients. First, the items needed for the salad, and second a list of ingredients for the cilantro dressing. For exact measurements, see the printable recipe card below.
Chopped lettuce
Avocado
Cucumber
Mango
Red bell pepper
Red onion
Corn - whole kernel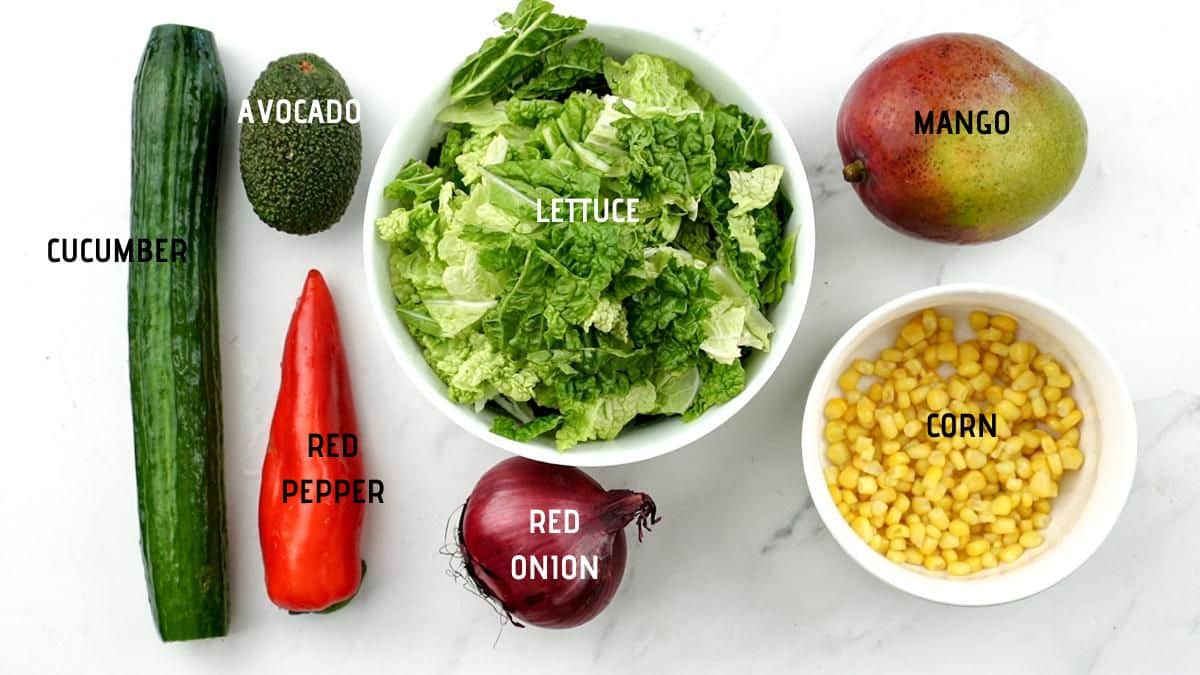 For the creamy cilantro dressing:
Raw cashews
Avocado oil
Cilantro
Lime juice
Water
Salt
Garlic powder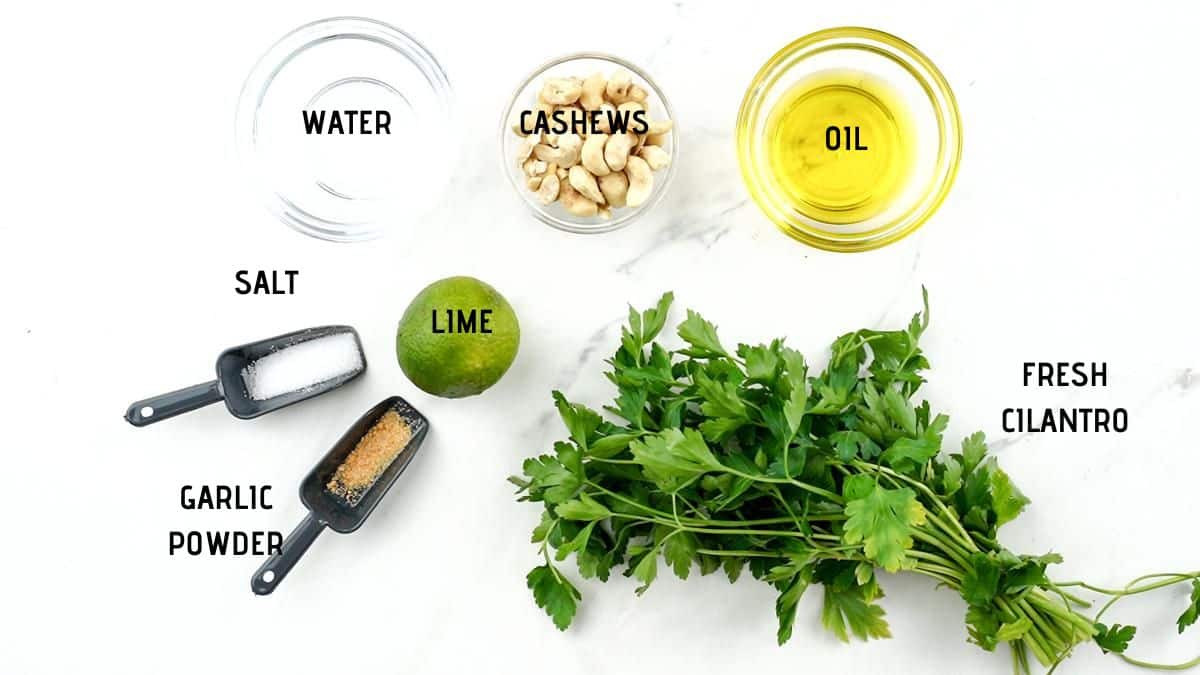 🔪 Instructions
To begin, you will prepare your vegetables for the salad. I recommend cutting everything into bite-sized pieces (1" or smaller) for this. You will need to cut the cucumber, bell pepper, onion, and then the avocado and mango.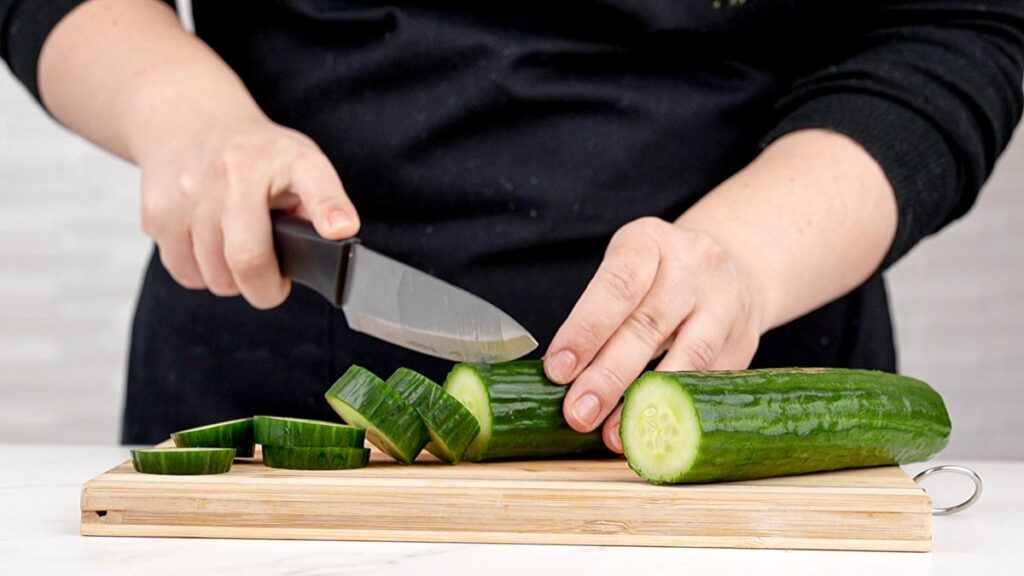 Next, if using frozen corn, steam it in the microwave for 3 to 5 minutes.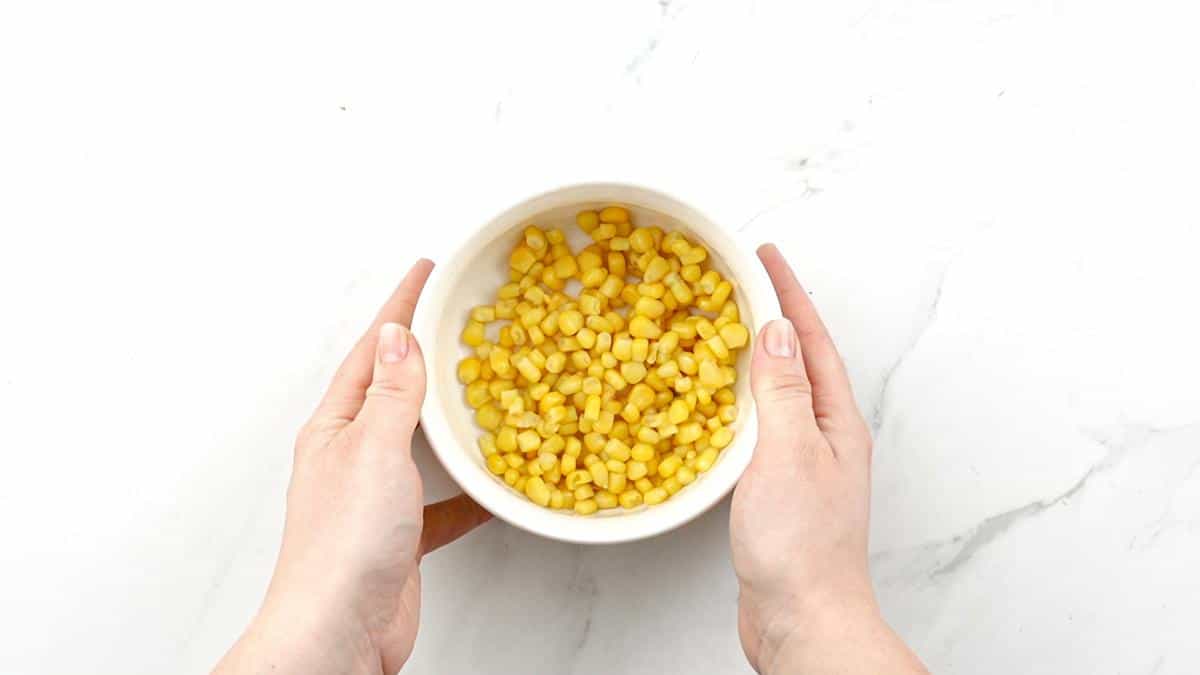 Now, you will put the dressing together. Put the cashews, avocado oil, cilantro, lime juice, water, salt, and garlic powder into a blender or food processor, and pulse until it is a creamy dressing.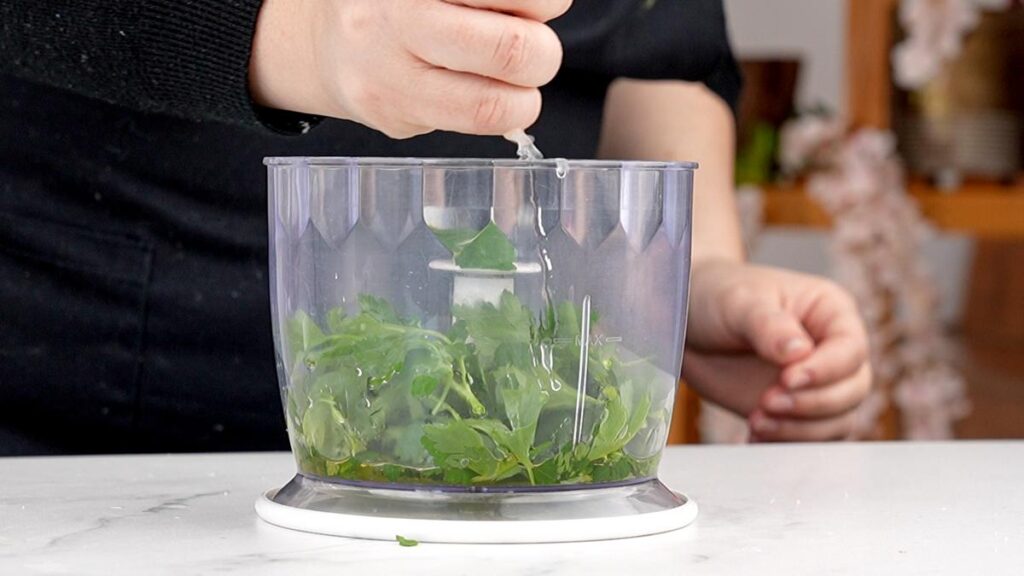 To serve, layer the lettuce with all of the fresh vegetables, avocado, and mango.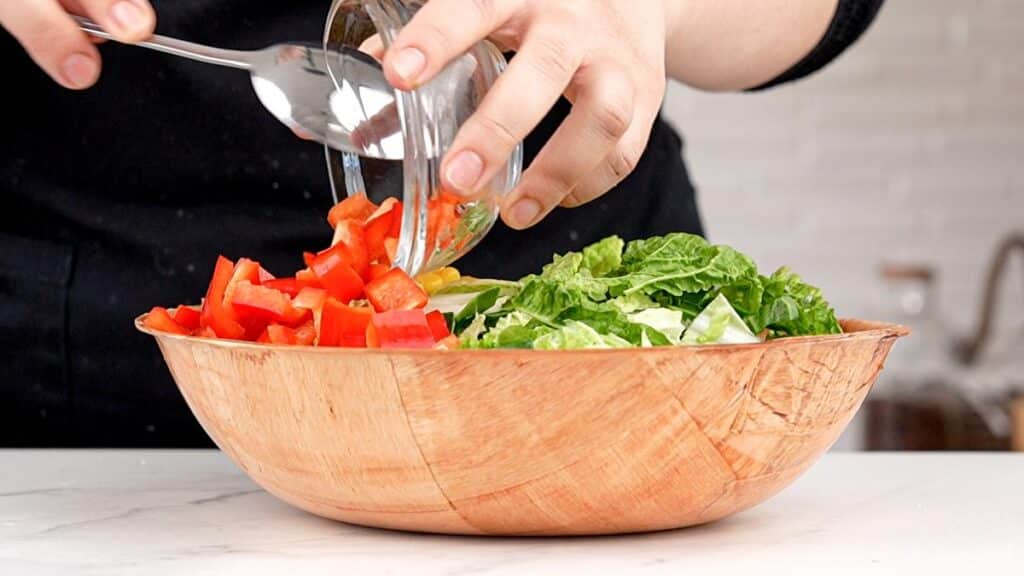 Then drizzle with the salad dressing, toss, and enjoy!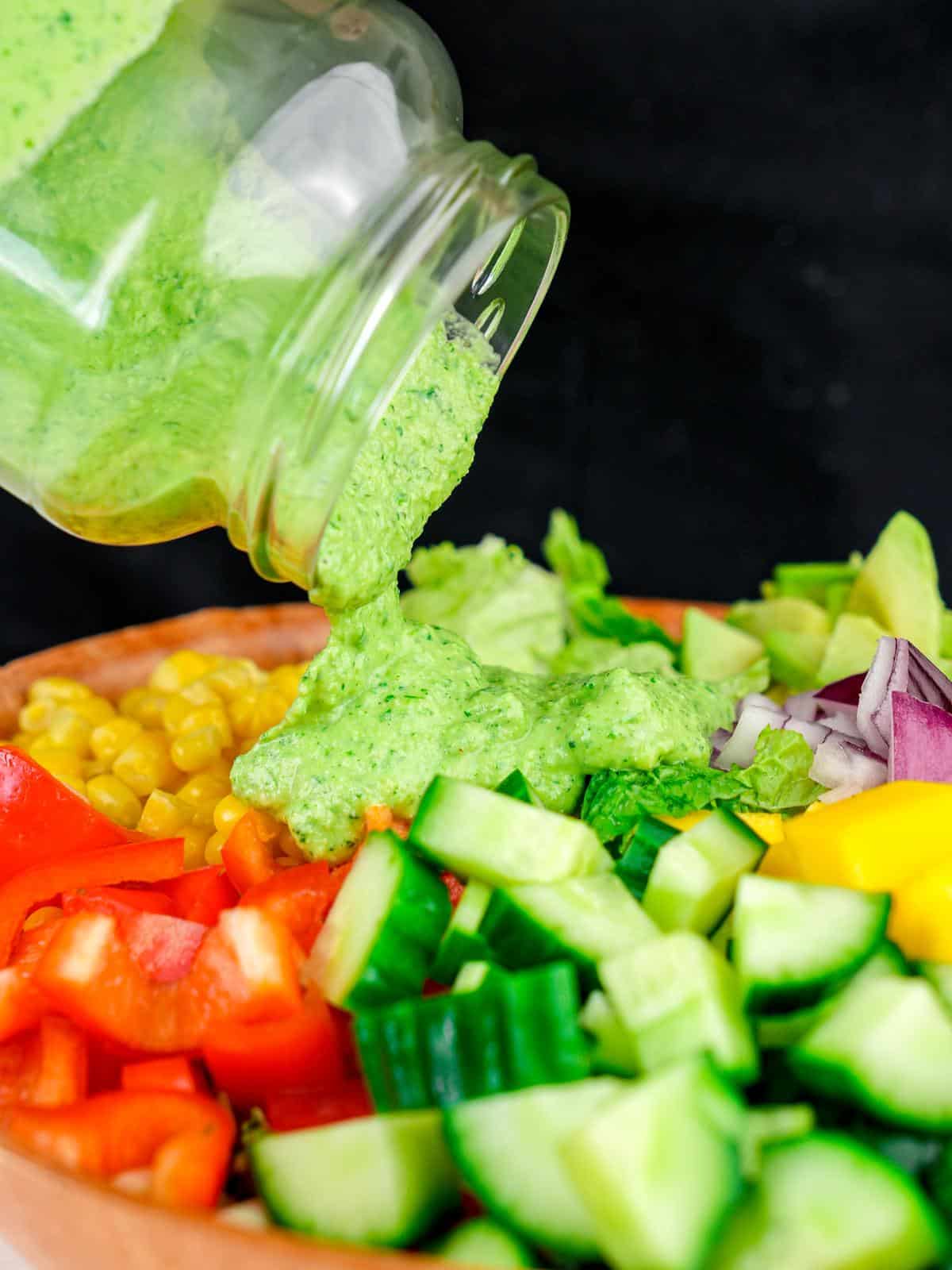 📋 Substitutions
Want or need to make a few changes? Check out the ideas below.
You can substitute the lettuce for any other leafy green such as spinach, kale, arugula, or mixed greens.
If you don't have avocado oil, you can use olive oil instead.
Try using different varieties of pepper such as yellow, green, or orange for a more colorful salad.
Swap out the frozen corn for fresh corn if it's in season, or use canned corn if you don't have frozen. Just make sure it is drained before adding it to the salad.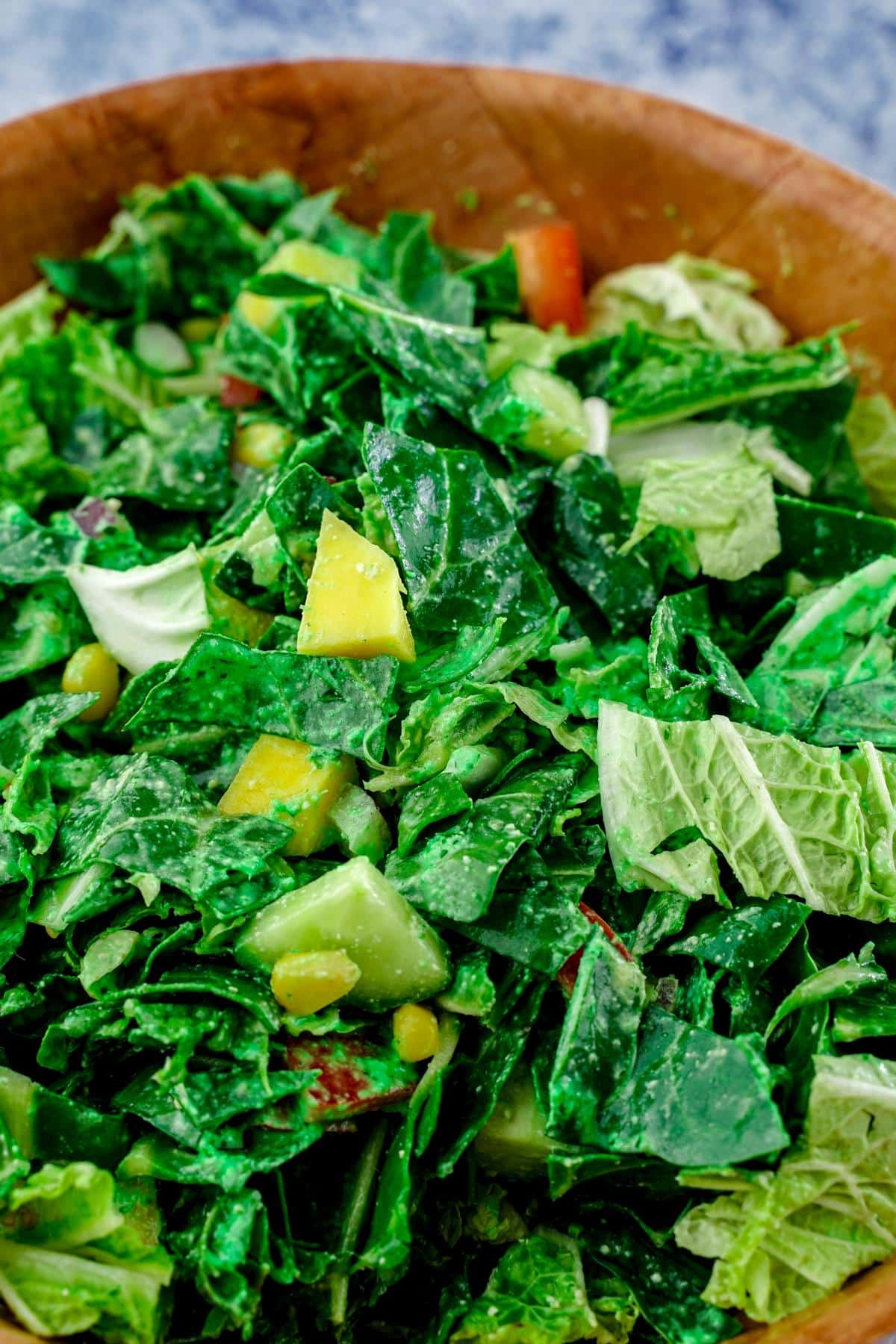 📖 Variations
Like this but want it just a bit different? You can use this recipe as a base and mix things up with some of the variations below.
Add in some extra protein by tossing in grilled tofu or drained chickpeas
For a heartier salad, add some quinoa or brown rice
Make it spicy by adding some diced jalapeño or red pepper flakes
Add some extra crunch with chopped nuts such as cashews, macadamia nuts, or almonds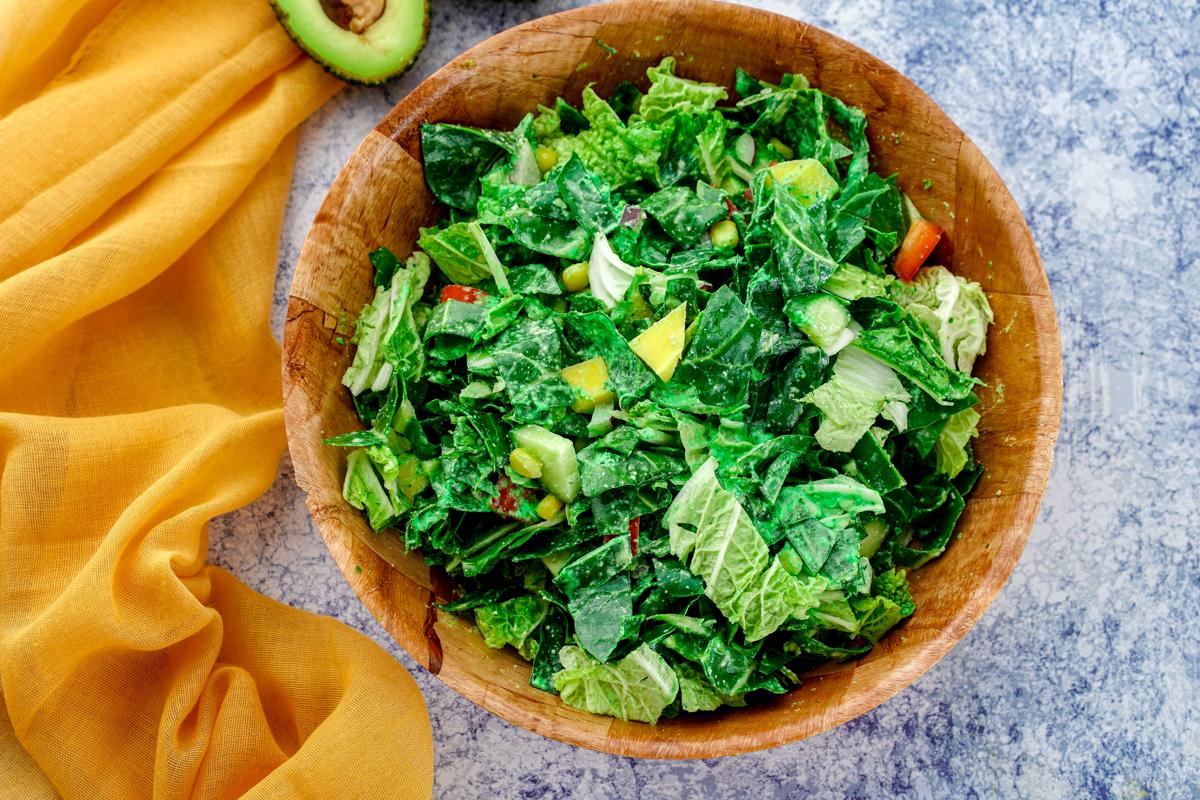 🫙Storage
This salad is best served fresh but can be refrigerated for up to 2 days. The avocado will tend to turn brown fast, so I recommend just making enough to serve that day.
If you do happen to make it ahead of time, store the dressing separately and toss it with the salad just when serving.
🍽Equipment
💭 Top Tip
Make sure to use ripe mangoes and avocados for the best flavor and texture. When choosing a mango, look for one that has a slight give when you press on it, and when choosing an avocado, it should yield slightly to pressure when you gently squeeze it.
❓FAQ
What type of mango is best for this salad?
For sweetness, I recommend honey, otherwise called Ataulfo mango. You may be more familiar with the Haden mango which is common in most markets.
What can I use if I don't like cilantro?
For those who don't like cilantro, this can also be made with basil or mint for a different but still bright flavor.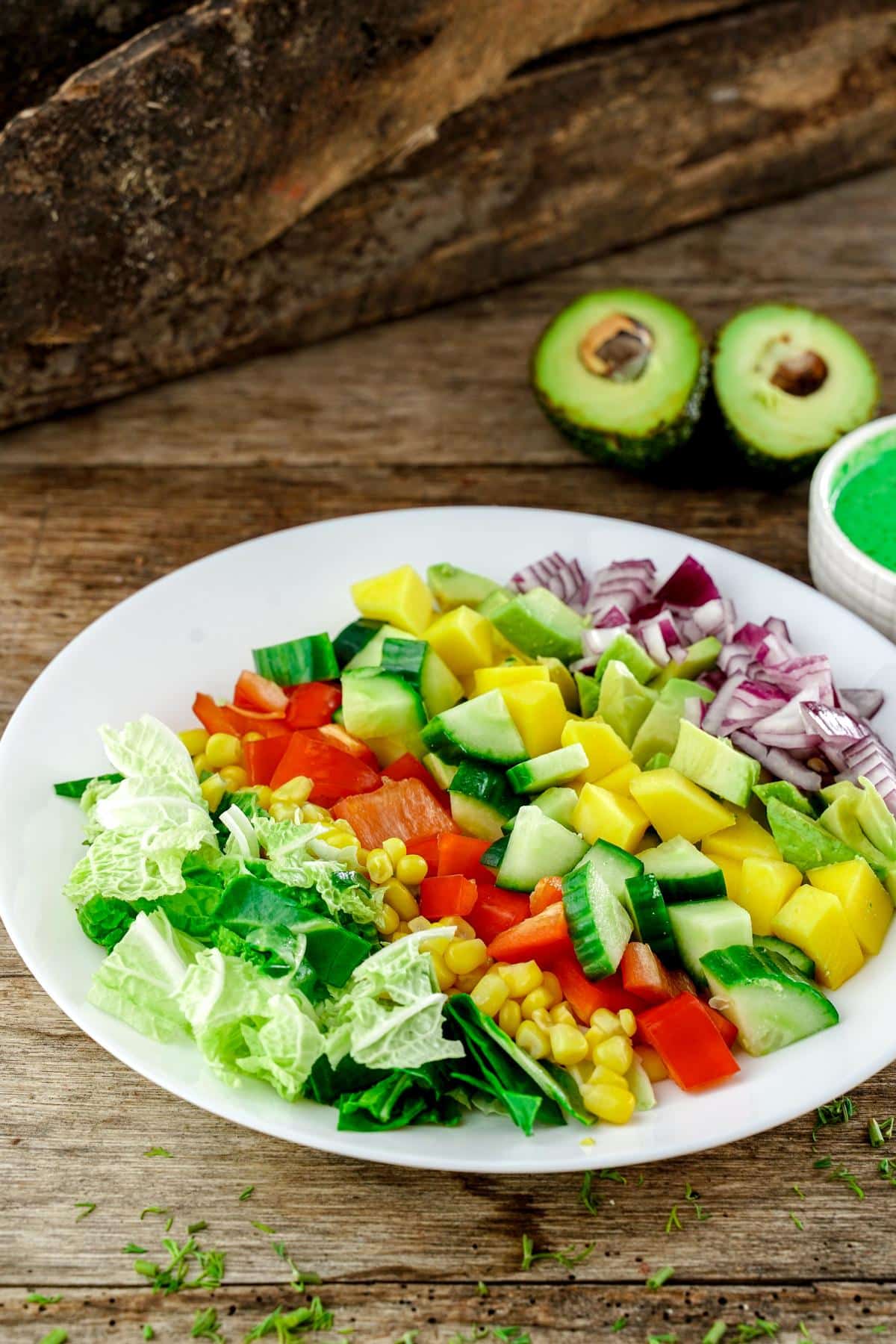 Related
If you like mango, then the recipes below should also be added to your menu soon!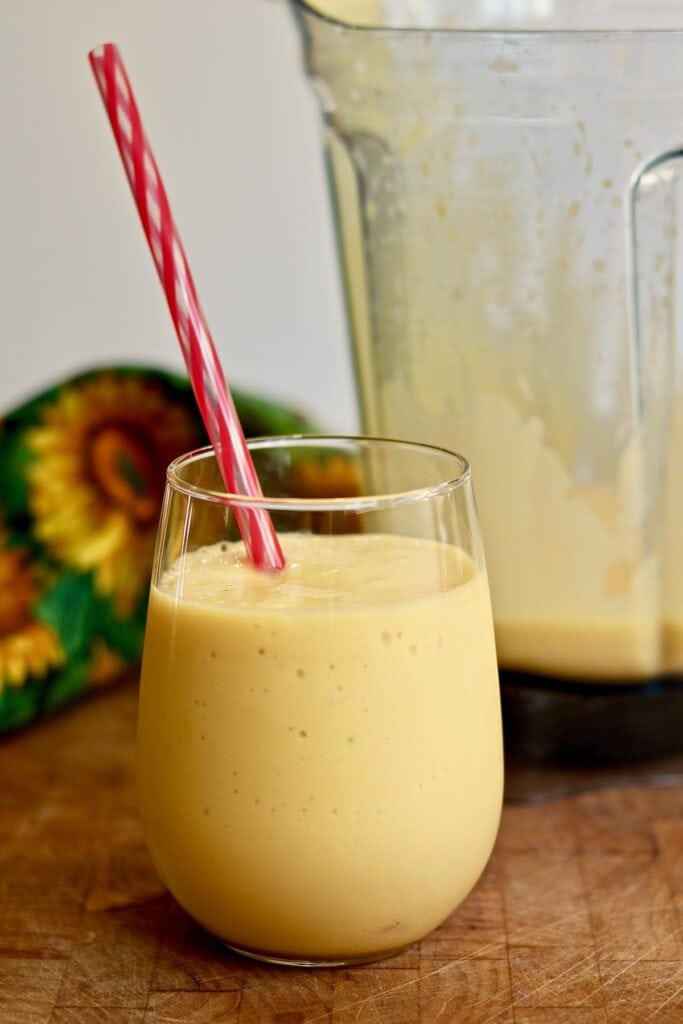 Pairing
This is the perfect side to a sandwich and below are some of my favorites to pair this with.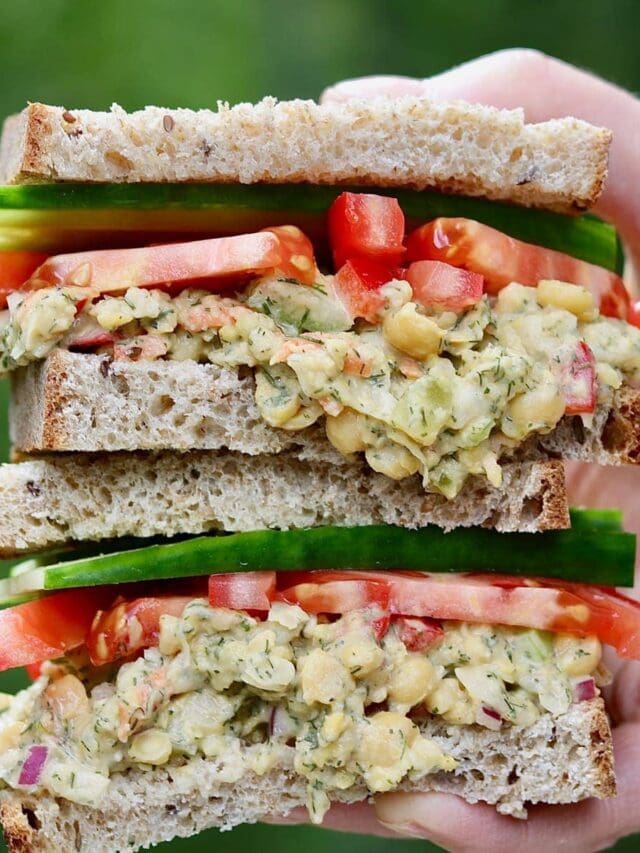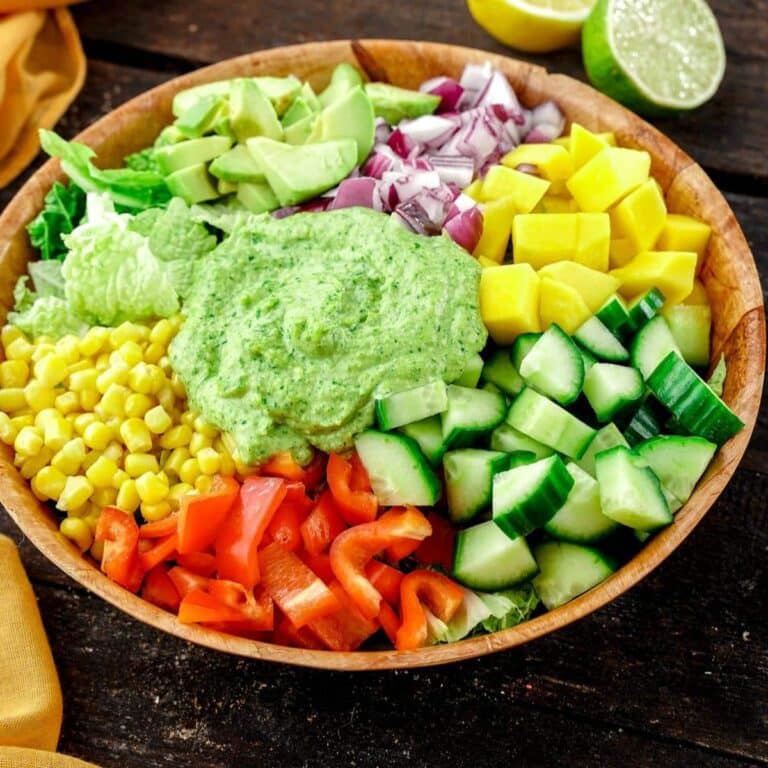 Avocado Mango Salad with Cilantro Dressing
Discover the incredible flavors of our avocado and mango salad! This recipe is packed with a variety of fresh ingredients and is a nutritious and delectable salad that is suitable for any event.
Ingredients
For the salad:
For the creamy cilantro dressing:
Instructions
To start making this vibrant salad, it's time to prep your veggies. Cut your cucumber, bell pepper, onion, and mango into bite-sized pieces, roughly around 1 inch or smaller. Make sure to do the same with the avocado as well.

1 cucumber,

1 mango,

1 red pepper,

½ red onion,

1 avocado

If you're using frozen corn, pop it in the microwave and steam it for 3 to 5 minutes.

Now, let's whip up the dressing. In a blender or food processor, combine cashews, avocado oil, cilantro, lime juice, water, salt, and garlic powder. Pulse the ingredients until you get a creamy and smooth dressing.

½ cup cashews,

⅓ cup avocado oil,

1 head cilantro,

¼ cup lime juice,

3 tablespoon water,

1 teaspoon garlic powder,

1 teaspoon salt

It's time to assemble your salad. Grab your lettuce and arrange it in a serving dish. Layer the fresh veggies, avocado, mango, and steamed corn on top of the lettuce. Drizzle the cilantro dressing over the top and toss everything together.
Notes
Use any mix of lettuce, kale, spinach, arugula, or baby greens that you prefer.
Frozen, canned, or fresh corn can be used in this recipe. Just make sure it has been cooked and drained.
To keep diced avocado from browning when refrigerated, spritz with lemon juice.
Nutrition
Calories:
864
kcal
Carbohydrates:
65
g
Protein:
14
g
Fat:
67
g
Saturated Fat:
9
g
Polyunsaturated Fat:
10
g
Monounsaturated Fat:
44
g
Sodium:
1192
mg
Potassium:
1572
mg
Fiber:
15
g
Sugar:
28
g
Vitamin A:
3885
IU
Vitamin C:
146
mg
Calcium:
90
mg
Iron:
4
mg
Food Safety
Are you being safe in the kitchen? Make sure to keep food safety as a priority. Below are some tips that we recommend considering.
Always sanitize countertops, cutting boards, utensils, and cookware thoroughly between each use.
Wash your hands in warm soapy water, rubbing for at least 20 seconds before rinsing. Remember, "FROG" means friction rubs off germs.
After serving food, allow it to cool, then place it into the refrigerator or proper storage immediately. Food should be at room temperature for no more than 2 hours for safety.