Every season is soup season, and this vegan Mexican bean soup is a family favorite. Simplicity doesn't mean boring. Instead, this recipe is loaded with nutrients and flavor, so everyone will come back for another bowl over and over again. This plant-based meal is perfect for a busy weeknight meal!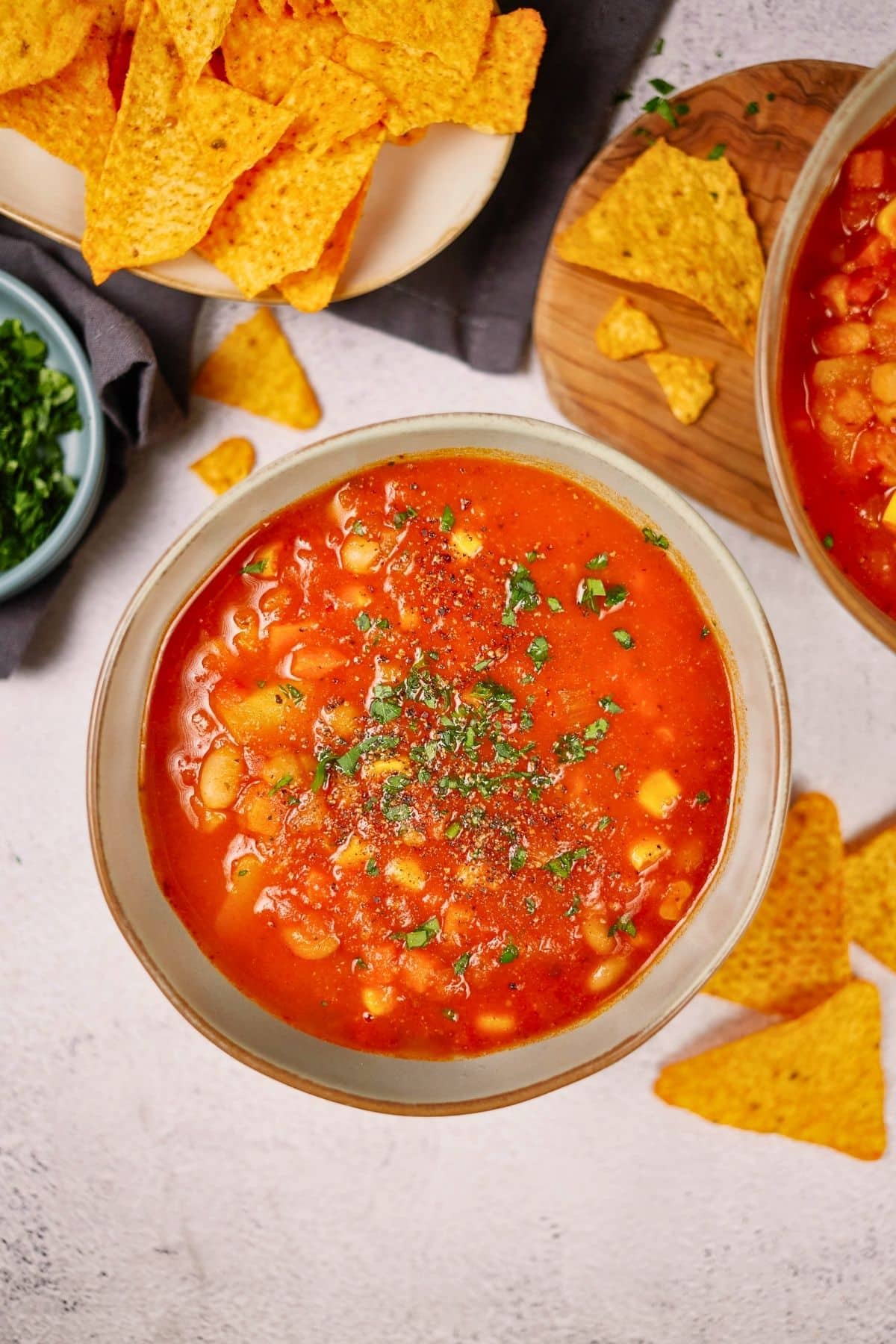 Jump to:
Vegan Bean Soup
While the spices in this recipe are simple, you can also add your own preferred heat for a Mexican soup flavor. You could add in jalapeno, a more traditional taco seasoning, or even a few dashes of hot sauce. I've even made this using RoTel tomatoes in place of plain diced tomatoes. Of course, you can also whip up some of this vegan taco meat and toss it into it for even more texture and flavor.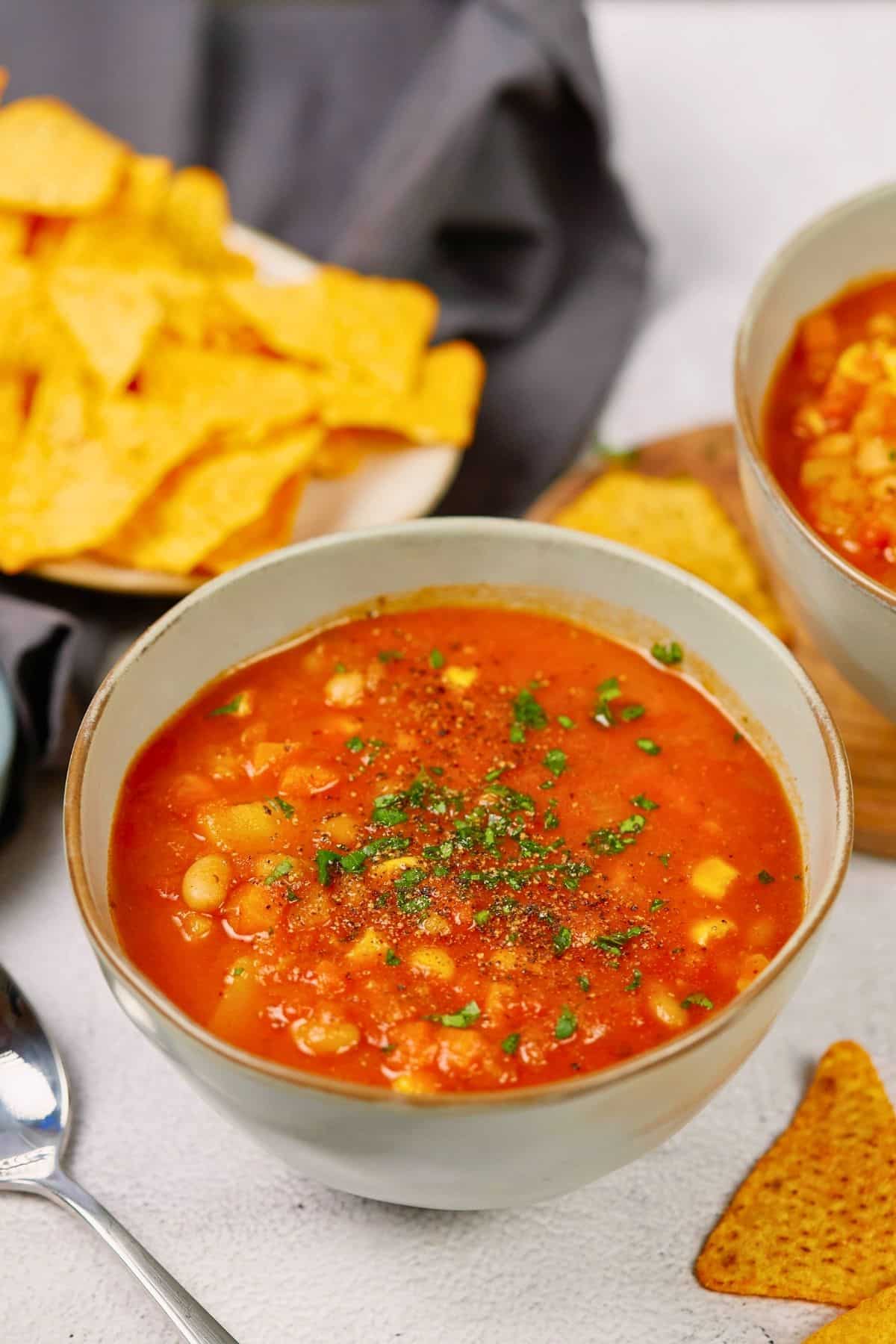 Ingredients
Serves: 6
2 tablespoon olive oil
1 medium white onion, chopped
28 oz diced tomatoes
4 garlic cloves, minced
1 carrot, chopped
14 oz cannellini beans
1 cup whole-kernel corn
2 medium potatoes, peeled and chopped
4 cups vegetable stock (homemade is best if possible)
1 cup water
2 teaspoon dried oregano
2 teaspoon smoked paprika
1 ½ teaspoon ground cumin
salt and pepper to taste
Kitchen Tools Used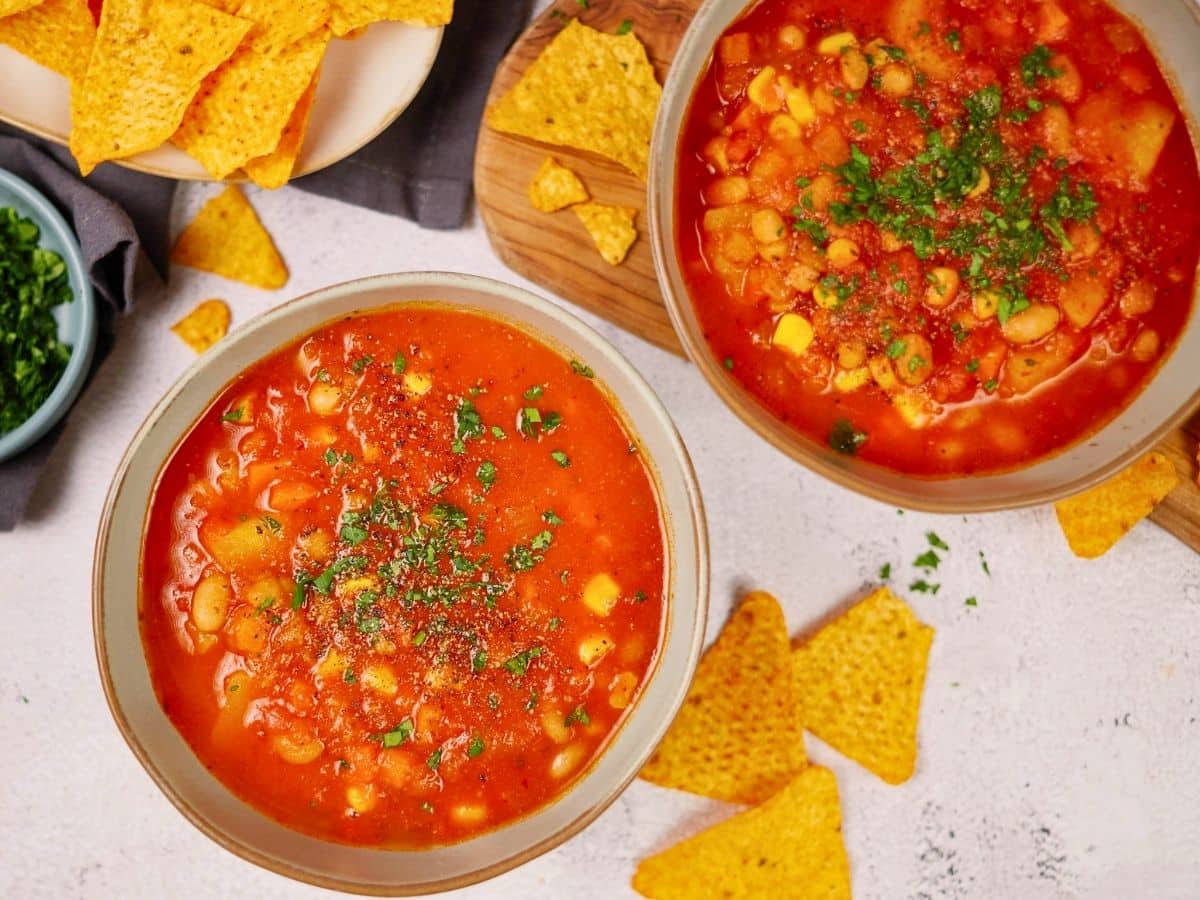 How to Make Vegan Mexican Bean Soup
Video Recipe:
In a large stockpot or Dutch oven, you will begin by cooking down the carrots and onions. Over low heat, add the olive oil, carrots, and onions. Cook these, stirring regularly, for 15 to 20 minutes. You want them to caramelize but not burn.
Once the carrots and onions are cooked down, add the corn to the stockpot and turn the heat up to medium and cook for 5 minutes, stirring regularly. Then, add in the garlic and cook for an additional 1 minute, until aromatic.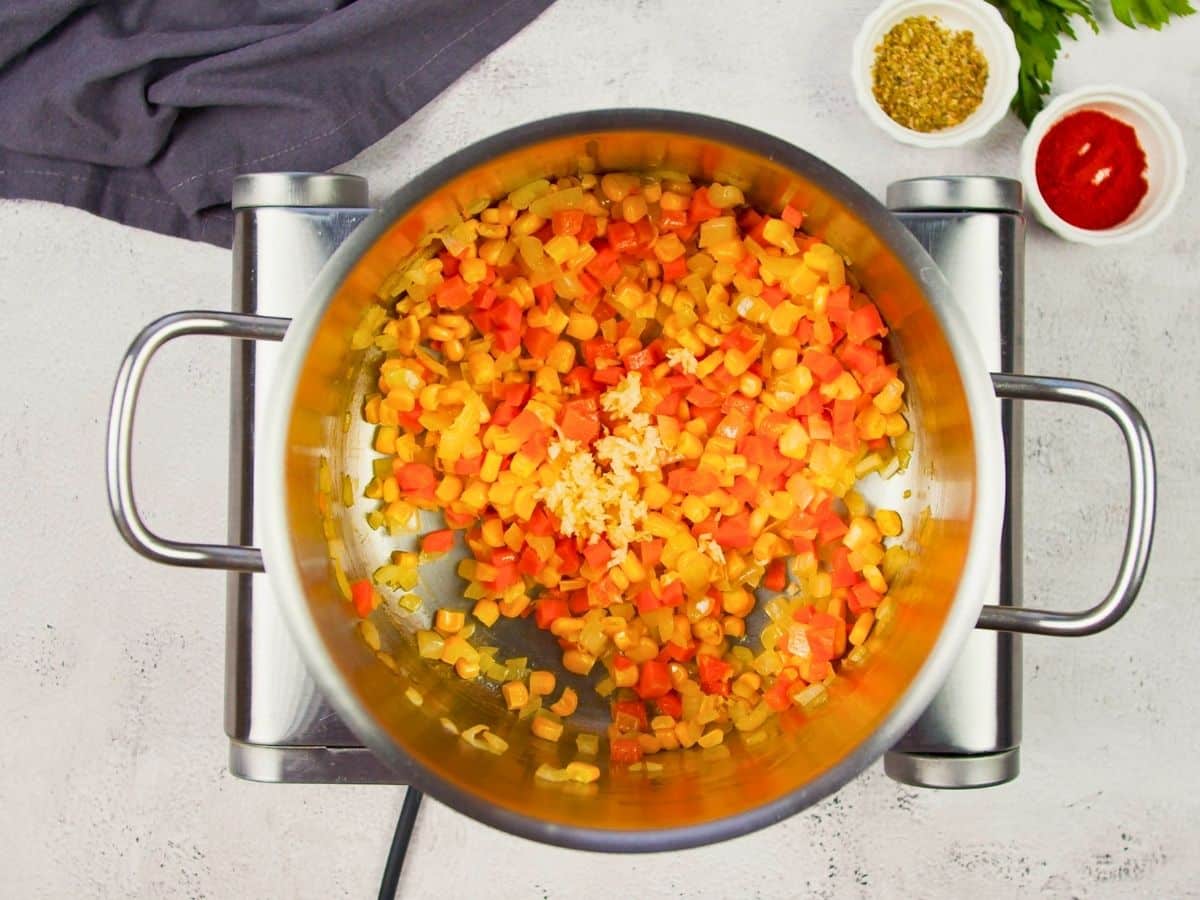 To this, add the potatoes, salt, black pepper, dried oregano, ground cumin, and smoked paprika. Stir together. You can also use any vegan taco seasoning mix or vegan fajita seasoning mix to this for a different flavor.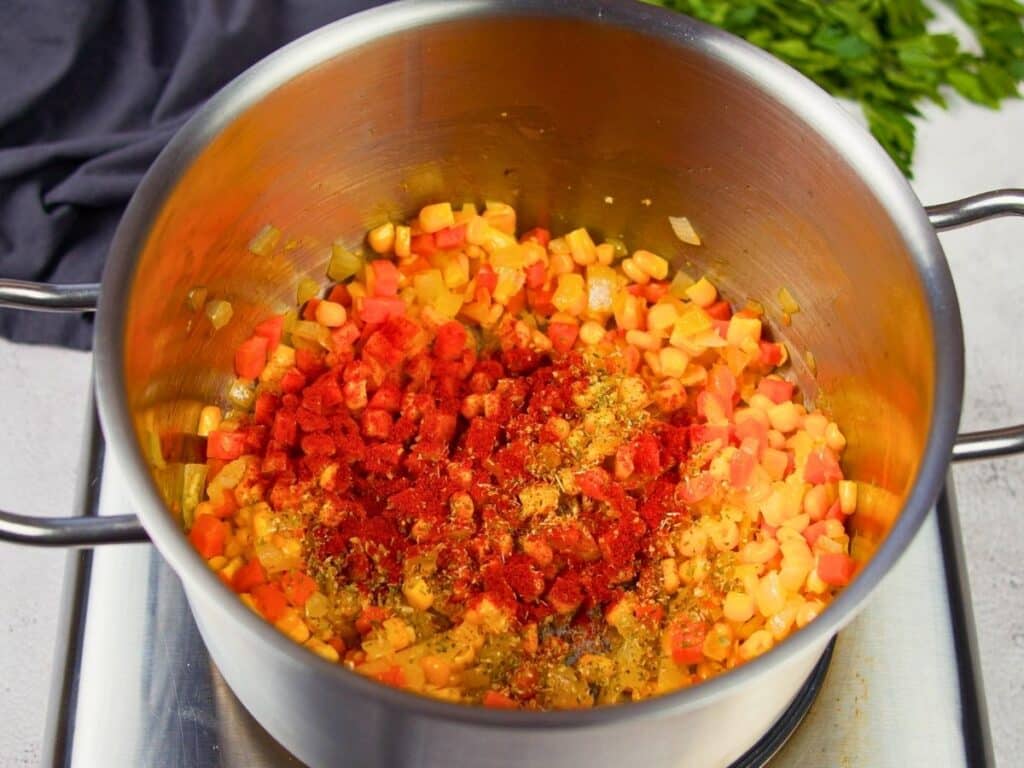 Then, add the tomatoes and vegetable stock to the stockpot. Stir it all together, then lower the heat to medium-low. Cover the pot with a lid and cook for 40 minutes, stirring frequently. Watch as it simmers and add additional water to thin it if needed.
Once the potatoes have softened, add in the beans and cook for an additional 7 to 10 minutes.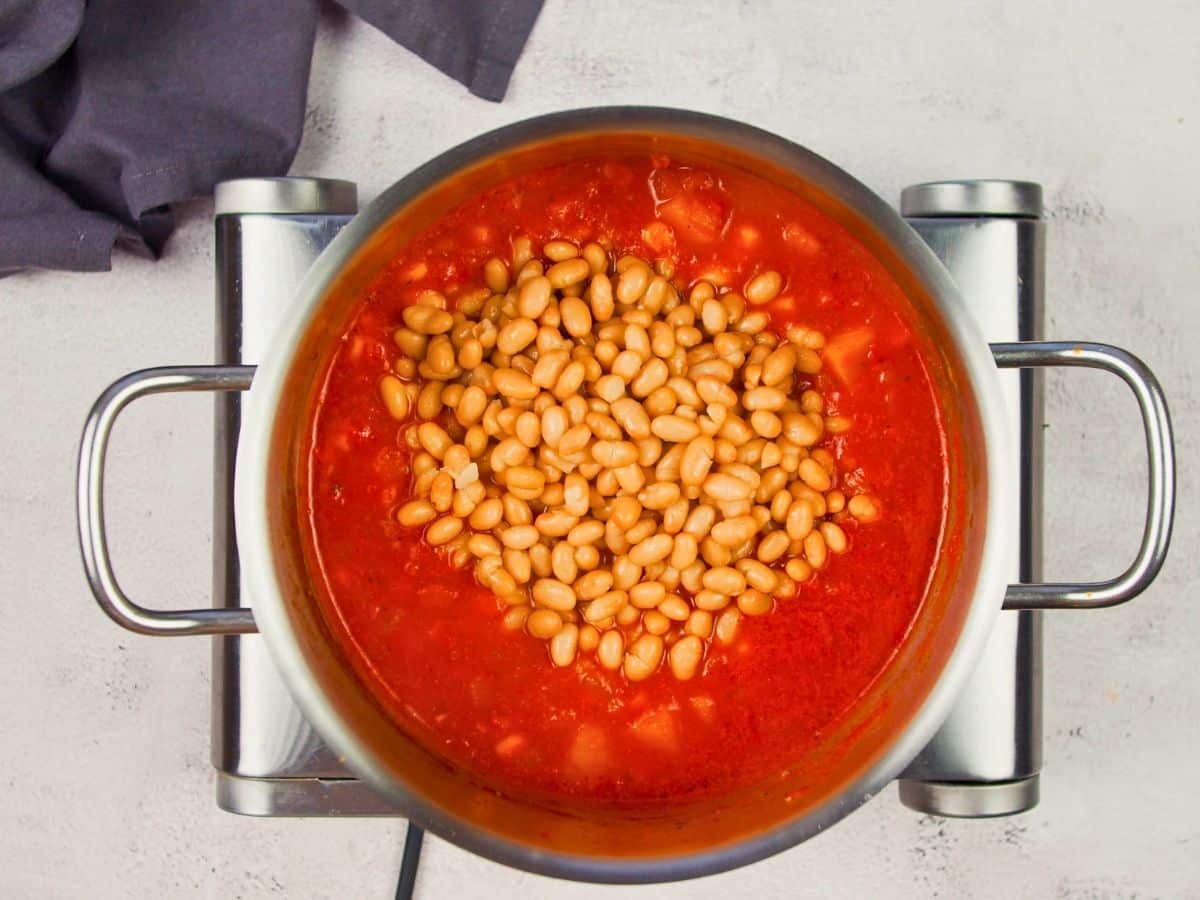 Taste the soup, then adjust the seasoning if needed. Serve with a sprinkle of fresh cilantro and your favorite vegan toppings.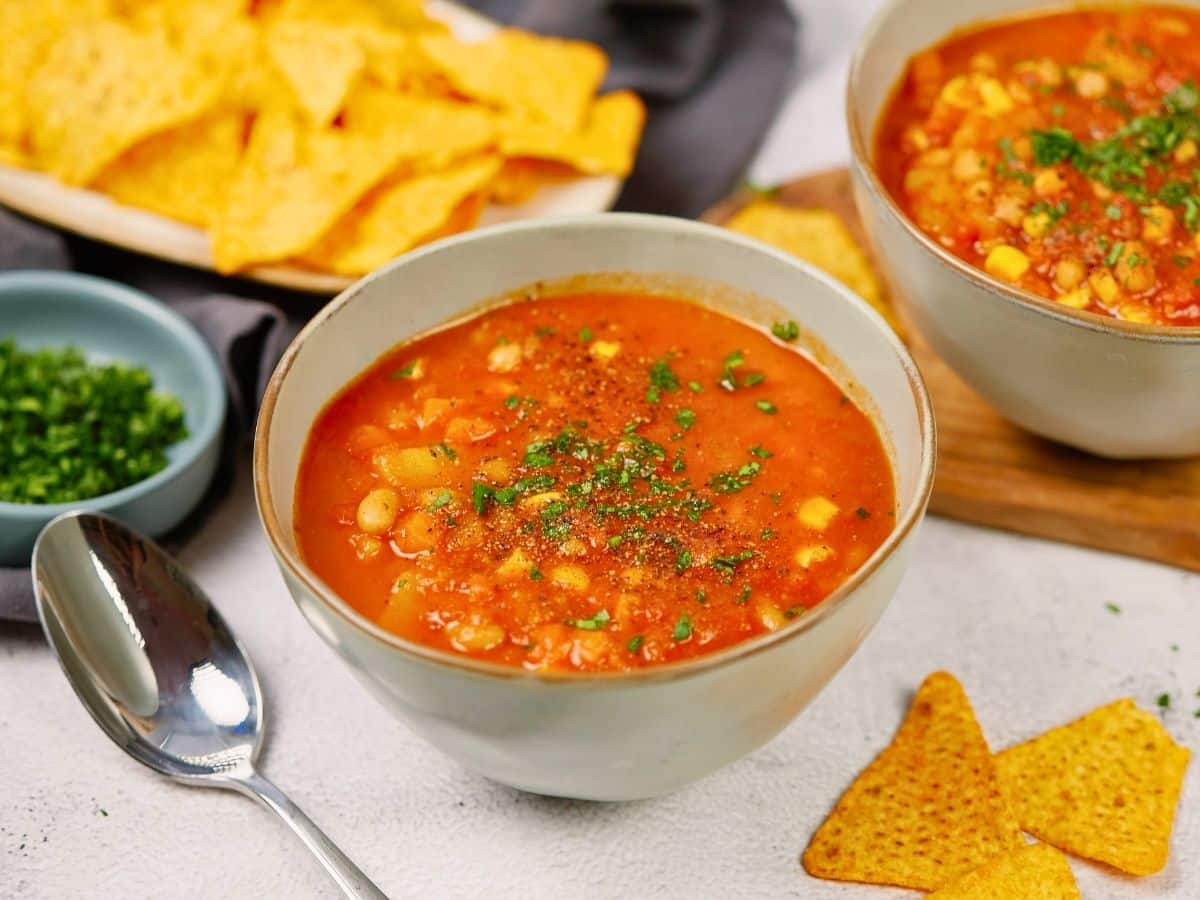 Frequently Asked Questions
Can I substitute different types of beans in this recipe?
Definitely. We use cannellini beans in this recipe, but you could use any bean you prefer. Great northern beans, black beans, pinto beans, or kidney beans would all pair great with the flavors and vegetables in this recipe.
What is the recommended serving size for this recipe?
A traditional side or starter serving of soup is 1 cup. For a meal, you will often see it served in a 1 ½ cup to 2 cups serving.
Can I make this soup in advance and reheat it later?
Absolutely. This soup can be reheated in the microwave or on the stovetop.
How long will this soup last in the refrigerator or freezer?
The vegan Mexican bean soup can be stored in the refrigerator for up to 5 days. If you do not finish it in that time frame, you can freeze it for up to 3 months.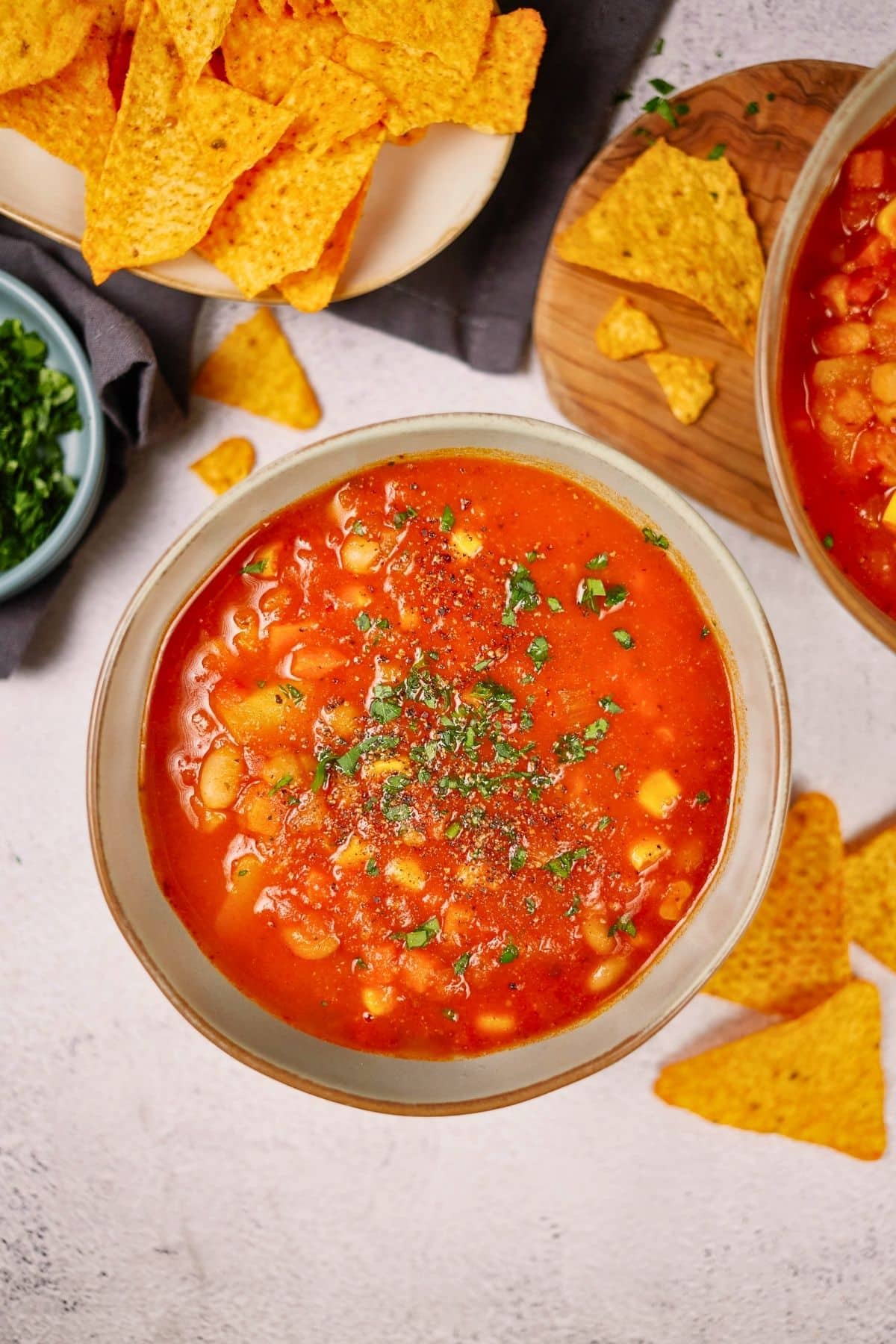 What are some good toppings to add to this soup?
As for what to serve with this soup, there are many common taco toppings that pair well with this. Below are a few of our favorites.
Fresh chopped cilantro
Lime wedges
Diced jalapeno peppers
Vegan sour cream or plain yogurt
Avocado slices or homemade guacamole
Tortilla chips, crackers, or cornbread
Mexican Bean Soup variations
While these are typical additions, you may want to make it even more unique by adding in some additional ingredients. Whether it is more vegetables, a different protein, or a different flavor of spices, you have lots of room to customize this meal.
Add in vegan "protein"meat" such as vegan meat crumbles, TVP, seitan, shredded jackfruit, vegan ground "meat", or vegan sausage
Use black beans, kidney beans, pinto beans, cannellini beans, or even lima beans for a unique addition.
Stir in broccoli, cauliflower, zucchini, or squash for more nutrients.
If you prefer a richer or thicker soup, use pumpkin puree to add sweetness and a thickening agent.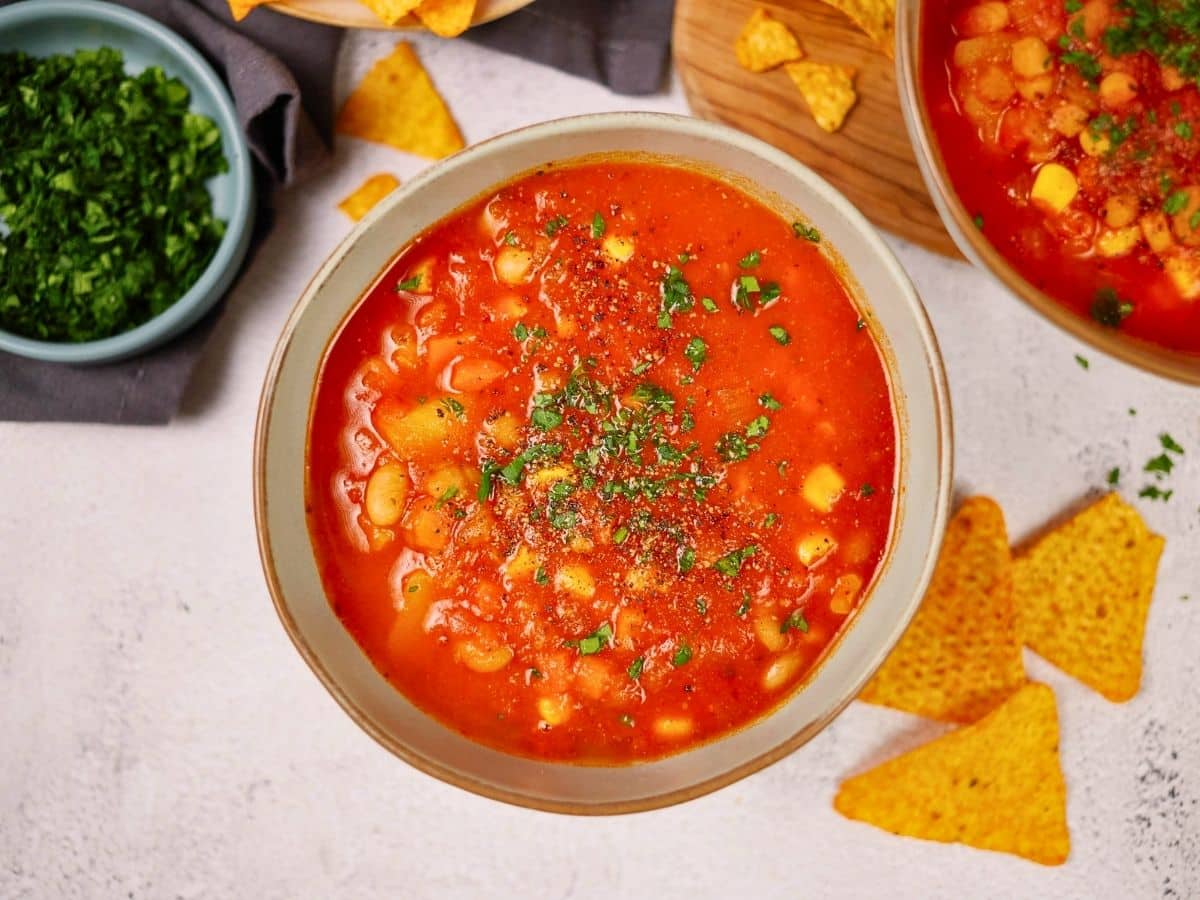 More Vegan Soup Recipes
In our house, soup is something we eat year-round. Below are some favorites for you to check out. Bookmark your favorites, print out the recipes you like, or pin them to Pinterest to make them soon.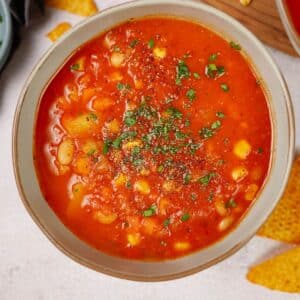 Vegan Mexican Bean Soup
Try our Mexican Bean Soup recipe! Packed with protein and flavor, it's sure to become a new favorite that everyone loves seeing at dinner!
Instructions
Begin by placing a pot with a thick bottom, measuring 3 liters or 6 cups, over low heat. Once heated, add in the olive oil, carrots, and onions, ensuring to stir frequently while cooking for 15-20 minutes. To ensure an even caramelization of the vegetables, make sure to maintain the lowest heat possible.

After the vegetables have cooked, raise the heat to medium and add in the corn. Cook for 5 minutes before adding in the garlic and mixing in the potatoes, oregano, smoked paprika, and some salt and pepper.

Next, pour the canned tomatoes and vegetable stock into the pot, lower the heat to medium-low, cover with a lid and cook for 40 minutes, stirring frequently. Be sure to keep an eye on the amount of liquid and add water as necessary to meet your desired consistency.

Once the potatoes have become soft, add in the canned beans and cook for an additional 7-10 minutes.

Take a taste and adjust seasoning as necessary before serving.
Notes
Add additional cumin, chili pepper, or even a vegan taco seasoning to bring out more flavor.
You can also add in your favorite vegan ground meat or vegan sausage or additional flavor and texture.
Serve with your favorite vegan toppings such as vegan sour cream, cilantro, vegan shredded cheese, hot sauce, or avocado.
Nutrition
Calories:
158
kcal
Carbohydrates:
25
g
Protein:
6
g
Fat:
5
g
Saturated Fat:
1
g
Polyunsaturated Fat:
1
g
Monounsaturated Fat:
4
g
Sodium:
835
mg
Potassium:
379
mg
Fiber:
6
g
Sugar:
6
g
Vitamin A:
2534
IU
Vitamin C:
15
mg
Calcium:
110
mg
Iron:
4
mg