You have probably found that at least 50% of the recipes you make require broth. Why not make your own delicious vegan chicken bouillon as a flavorful option? It's a great easy recipe that can be adjusted to your own preferences.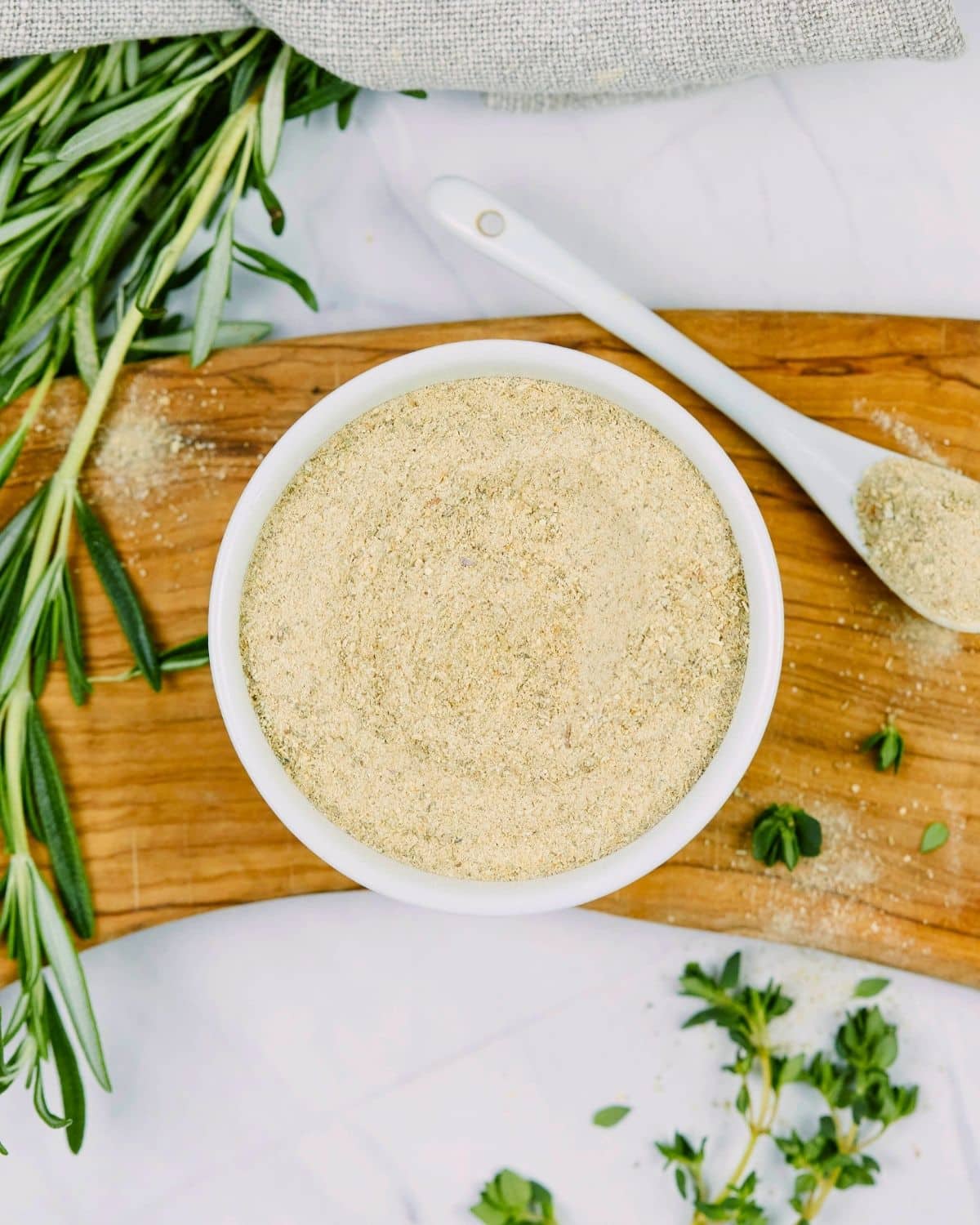 This homemade bouillon adds depth and richness to soups, sauces, and beyond. With its versatile nature, you can customize the herbs and spices to suit your palate, while its long-lasting shelf life ensures you always have a go-to flavor enhancer at hand.
Start by using this when you make our delicious vegan chicken noodle soup!
Jump to:
🥘Ingredients
For exact measurements of the ingredients below, check the printable recipe card at the bottom of the post.
Nutritional yeast
Garlic powder
Dried basil, oregano, and rosemary
Onion powder
Dried minced onion
Salt
Black pepper
Dried parsley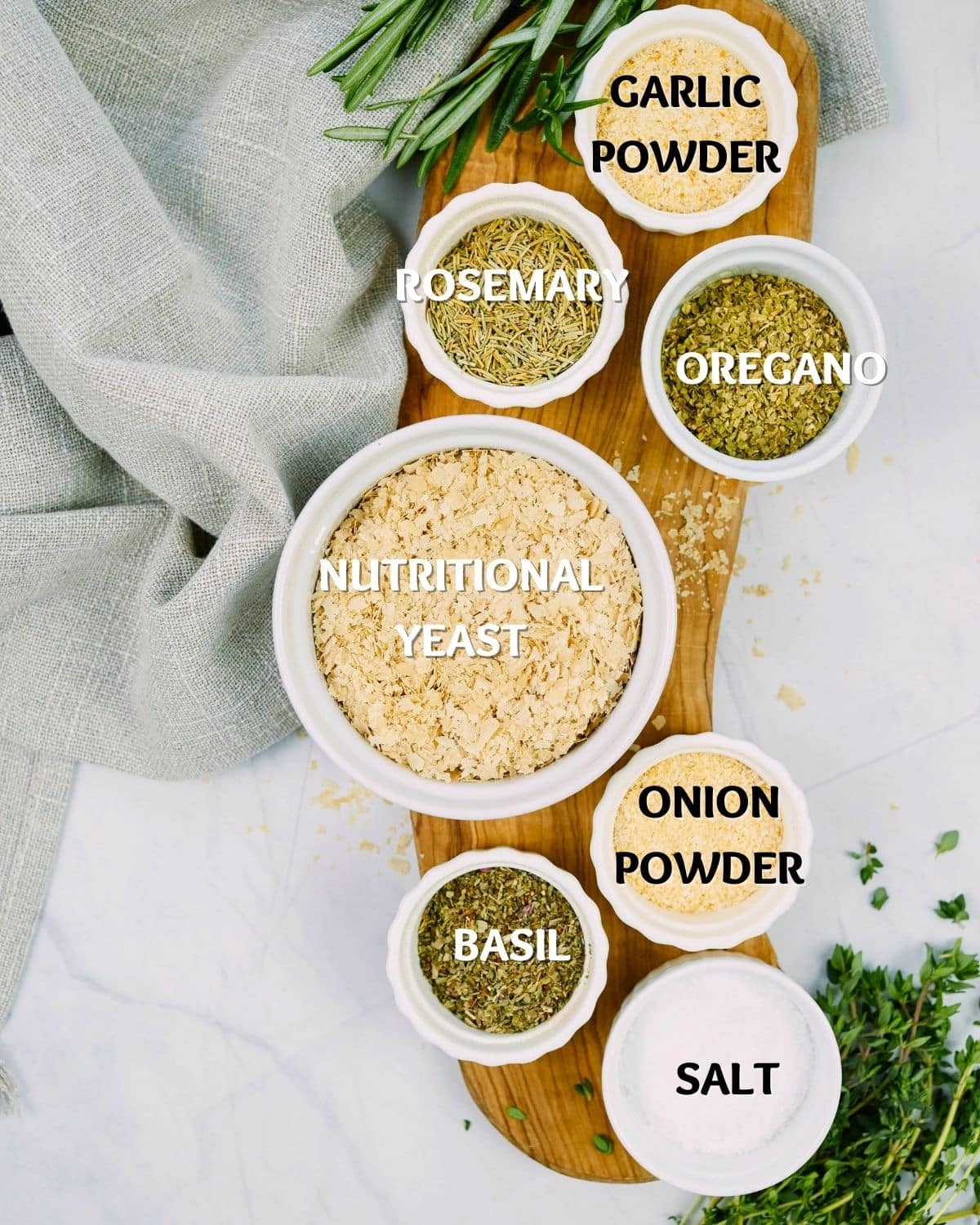 🔪Instructions
This recipe is very simple. You just need to combine the ingredients and mix or whisk them until combined.
Pour the mixture into an airtight container, bag, or jar and store in a cool dark place until ready to use.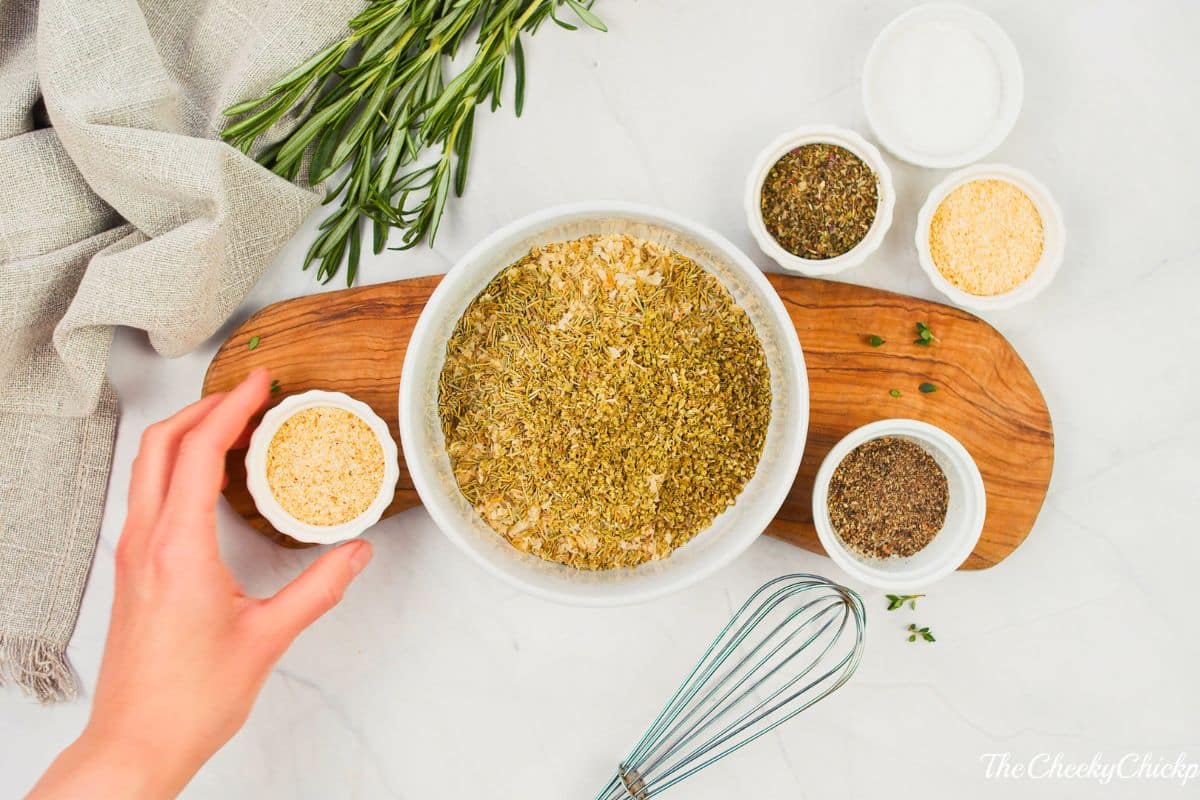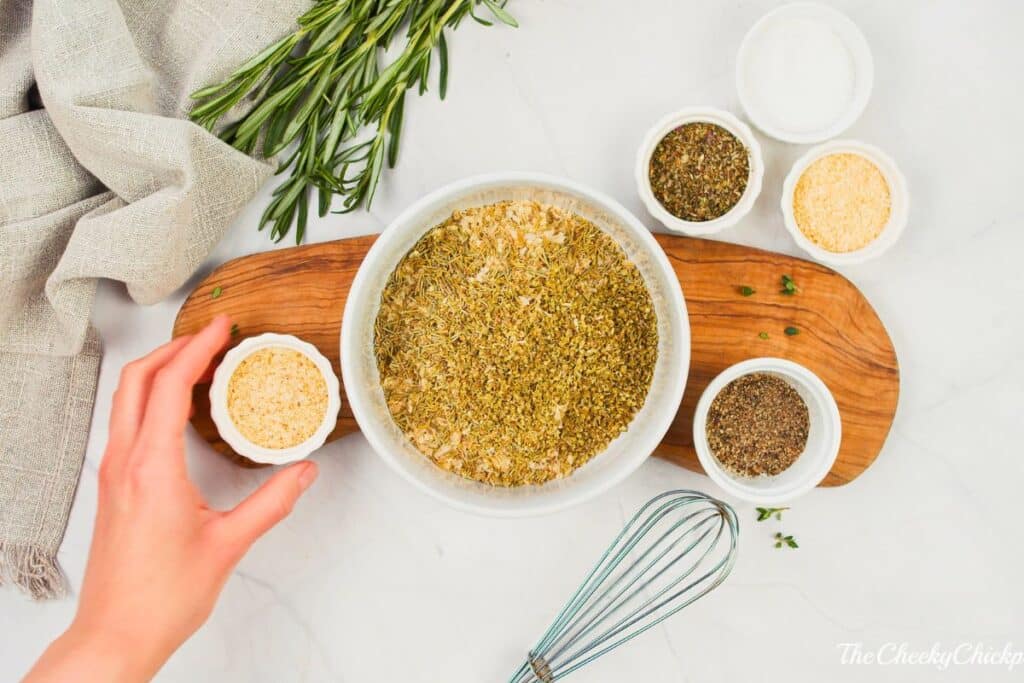 When you are using this in a recipe, 1 tablespoon of this mixture is the same as 1 tablespoon of traditional bouillon. A ratio of 1 cup of water to 1 tablespoon mix is ideal for preparing recipes.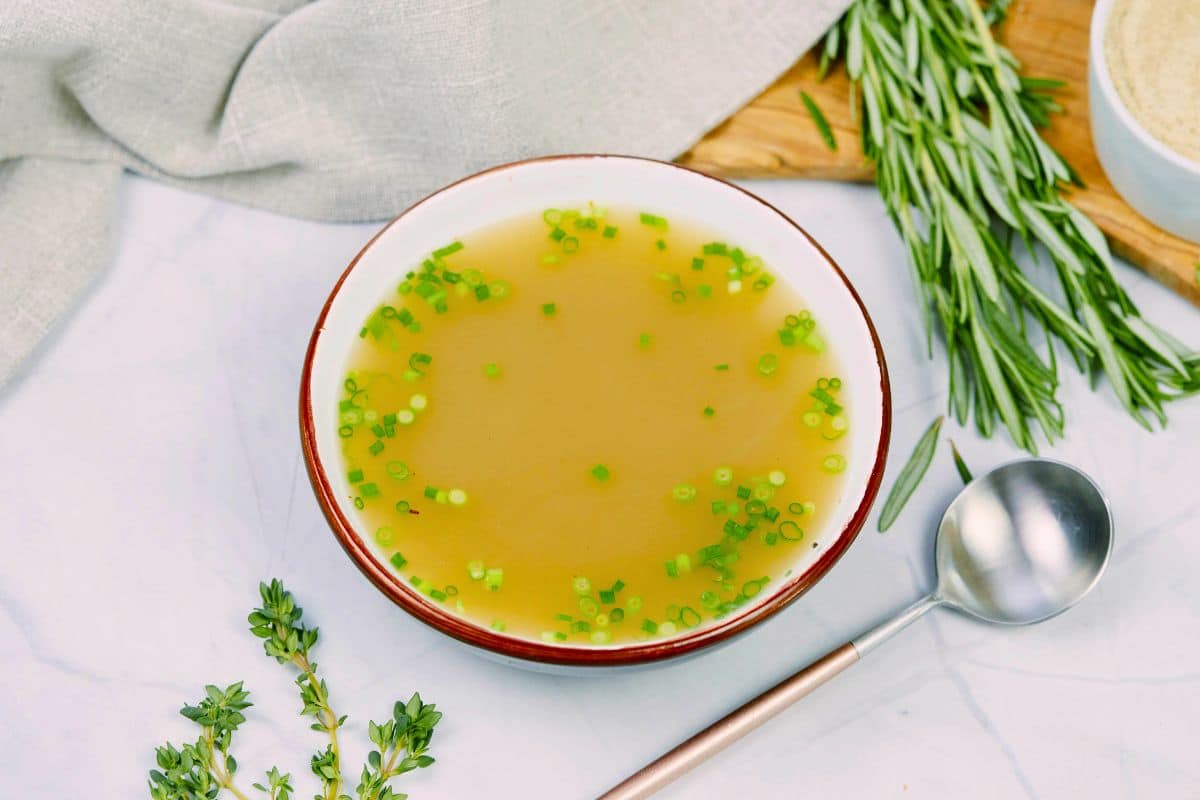 📋 Substitutions
For this recipe, there aren't a lot of substitutions. Below you will find variations that add a unique flavor. However, the one item you may not have on hand would be nutritional yeast. You can use brewer's yeast, deactivated yeast flakes, or even dried ground mushroom powder.
📖 Variations
Want to make this a bit unique? Below are some ways you can adjust this mixture to suit your needs.
Reduce the amount of salt added, or use other salt components alongside this when cooking. Soy sauce, tamari, and miso paste are all great options.
Use freshly ground white, green, or black peppercorns for more flavor.
Add more or less of any specific herb you prefer. Marjoram, thyme, sage, and rosemary are common options to increase.
Add smoked paprika for extra smokiness, or pair it with liquid smoke when cooking.
Include cayenne pepper, pepper flakes, or chili powder to add heat and spice.
Mix in a dried citrus zest for a bright flavor.
Add earthiness by mixing in ground-dried mushroom powder.
Ginger powder, lemongrass powder, or even curry powder can transform this into an Asian-inspired bouillon.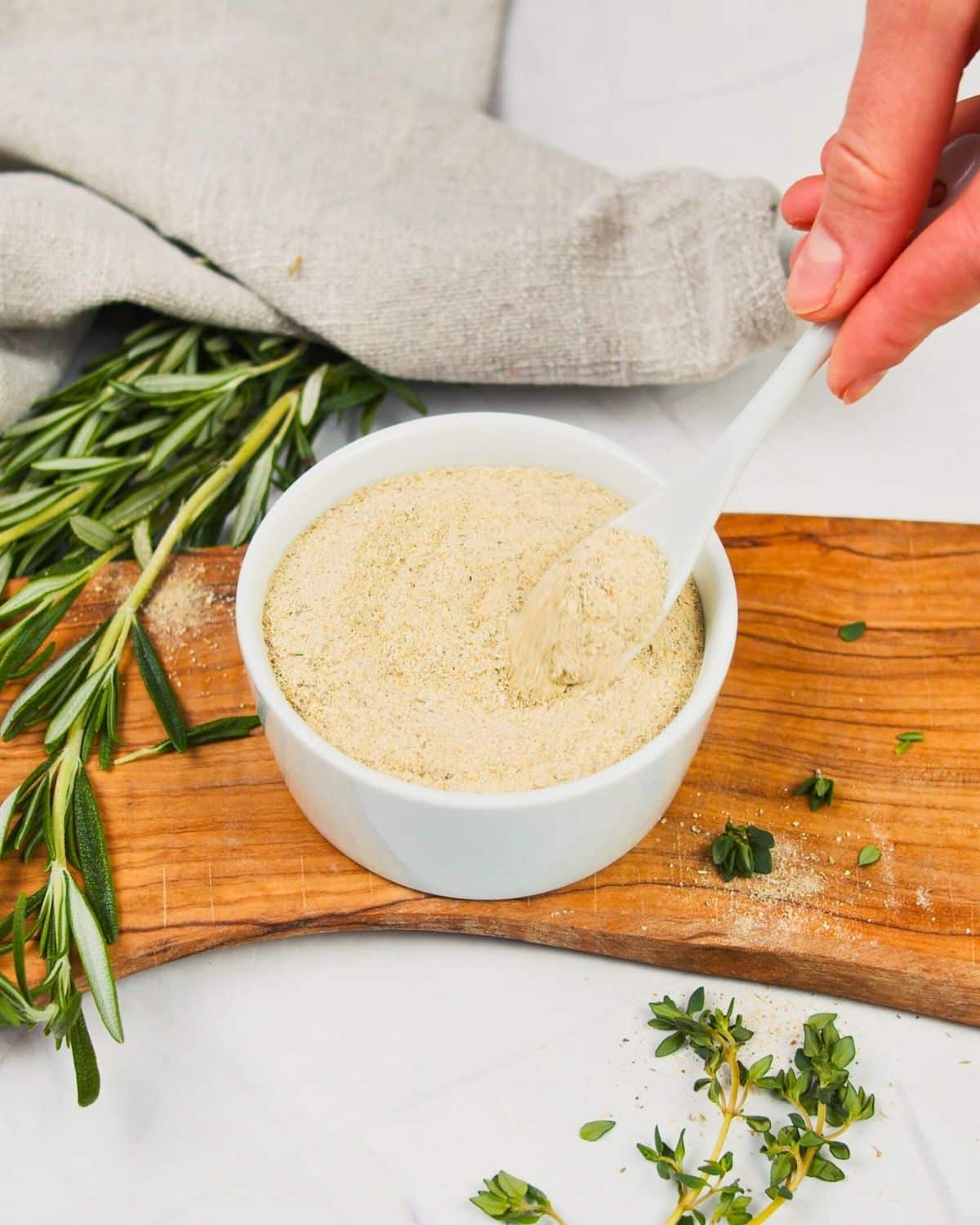 🥘 Storage Tips
Make sure to store the homemade vegan chicken bouillon in an airtight container with a tight-fitting lid. Place it in a cool dry place like a pantry or cupboard. Make sure to avoid exposure to heat or direct sunlight and moisture.
🍽 Equipment
Don't miss out on our favorite kitchen tools. Check these out and add them to your own kitchen tool arsenal.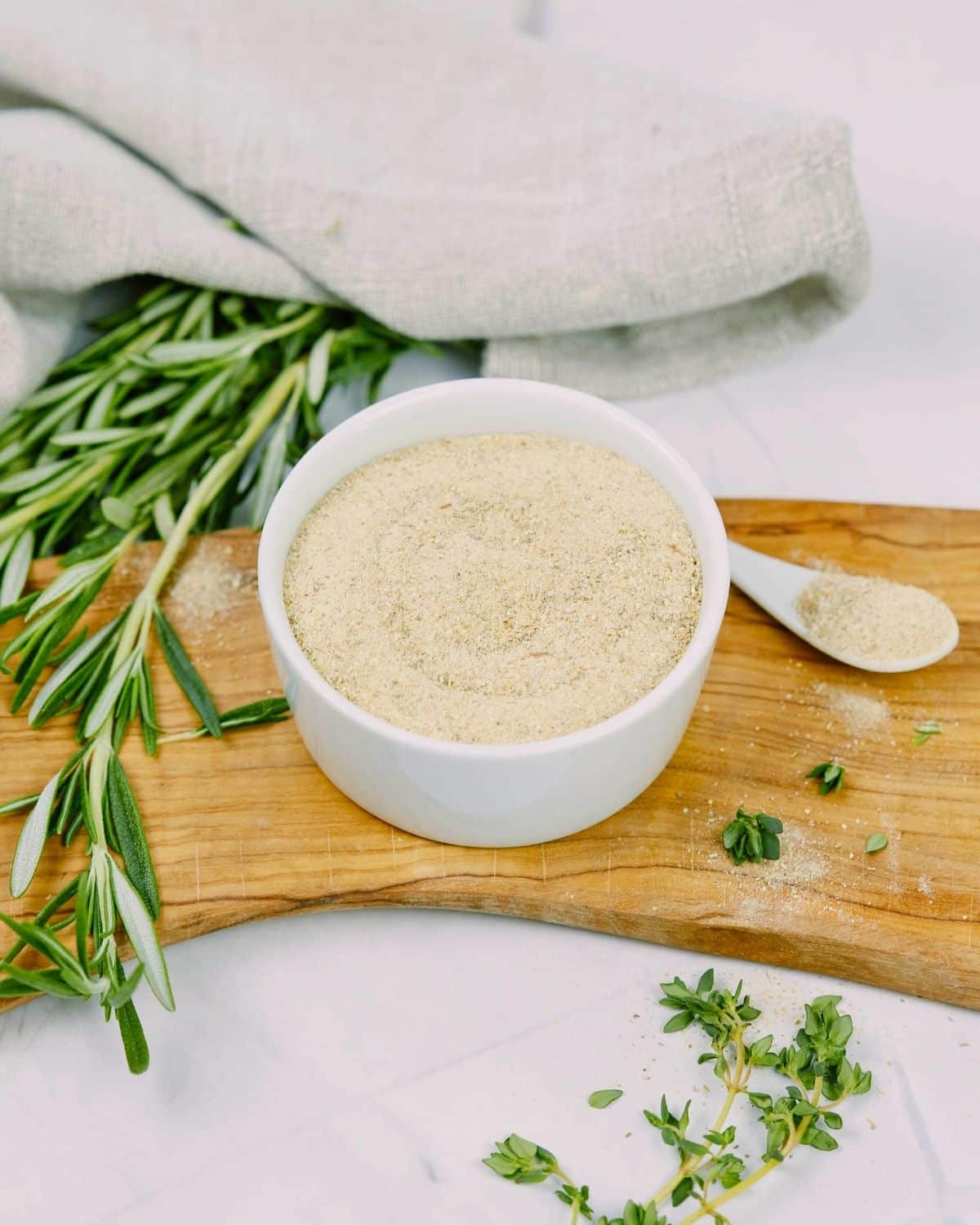 👩🏽‍🍳Top Tip
For a smoother texture and better incorporation of flavors, you can use a spice grinder or blender to grind the ingredients into a fine powder.
💭 FAQs
How long is homemade bouillon good for?
This can be stored for up to 2 years in an airtight container, but it may be beneficial to use it faster to preserve the best flavor.
How can I use vegan chicken bouillon?
Vegan chicken bouillon can be used to enhance the flavor of soups, stews, sauces, and various other dishes. Use it sparingly and adjust the quantity based on your taste preferences
Related
This is such a great basic for any vegan kitchen. Below are a few more of our favorite vegan basics to keep in mind.
Pairing
Not sure where to use this bouillon? Just add the recipes below!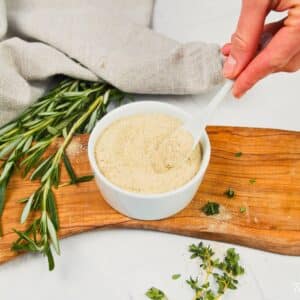 The Best Vegan Chicken Bouillon
Enhance your vegan recipes with flavorful chicken-like bouillon. A must-have ingredient for delicious plant-based dishes.
Instructions
Add all ingredients to a large bowl or jar and whisk until combined. Cover with a lid or pour into an airtight container. Store in a cool dark place.

1 cup nutritional yeast,

⅛ cup garlic powder,

⅛ cup dried basil,

⅛ cup dried oregano,

⅛ cup dried rosemary,

⅛ cup dried parsley,

3 tablespoon onion powder,

2 tablespoon dried minced onion,

3 tablespoon salt,

½ tablespoon black pepper

Use 1 tablespoon of the bouillon to 1 cup water.
Notes
This can be stored in an airtight container for up to 2 years. The older the mixture, the more you will need to use as the flavors wane.
Nutrition
Calories:
15
kcal
Carbohydrates:
3
g
Protein:
1
g
Fat:
0.1
g
Saturated Fat:
0.04
g
Polyunsaturated Fat:
0.02
g
Monounsaturated Fat:
0.02
g
Sodium:
656
mg
Potassium:
82
mg
Fiber:
1
g
Sugar:
0.2
g
Vitamin A:
15
IU
Vitamin C:
1
mg
Calcium:
31
mg
Iron:
1
mg
Food Safety
Food safety is a must, and while this recipe may not be something you consider needing to be safe when creating, any food you handle is. Below are some of our top tips to keep your kitchen safe and healthy.
Always sanitize countertops, cutting boards, utensils, and cookware thoroughly between each use.
Wash your hands in warm soapy water, rubbing for at least 20 seconds before rinsing. Remember, "FROG" means friction rubs off germs.
After serving food, allow it to cool, then place it into the refrigerator or proper storage immediately. Food should be at room temperature for no more than 2 hours for safety.