Impress friends and family this season with a delicious side dish that is inspired by the flavors of Morocco. Try our easy-to-make Moroccan couscous salad recipe, packed full of flavor.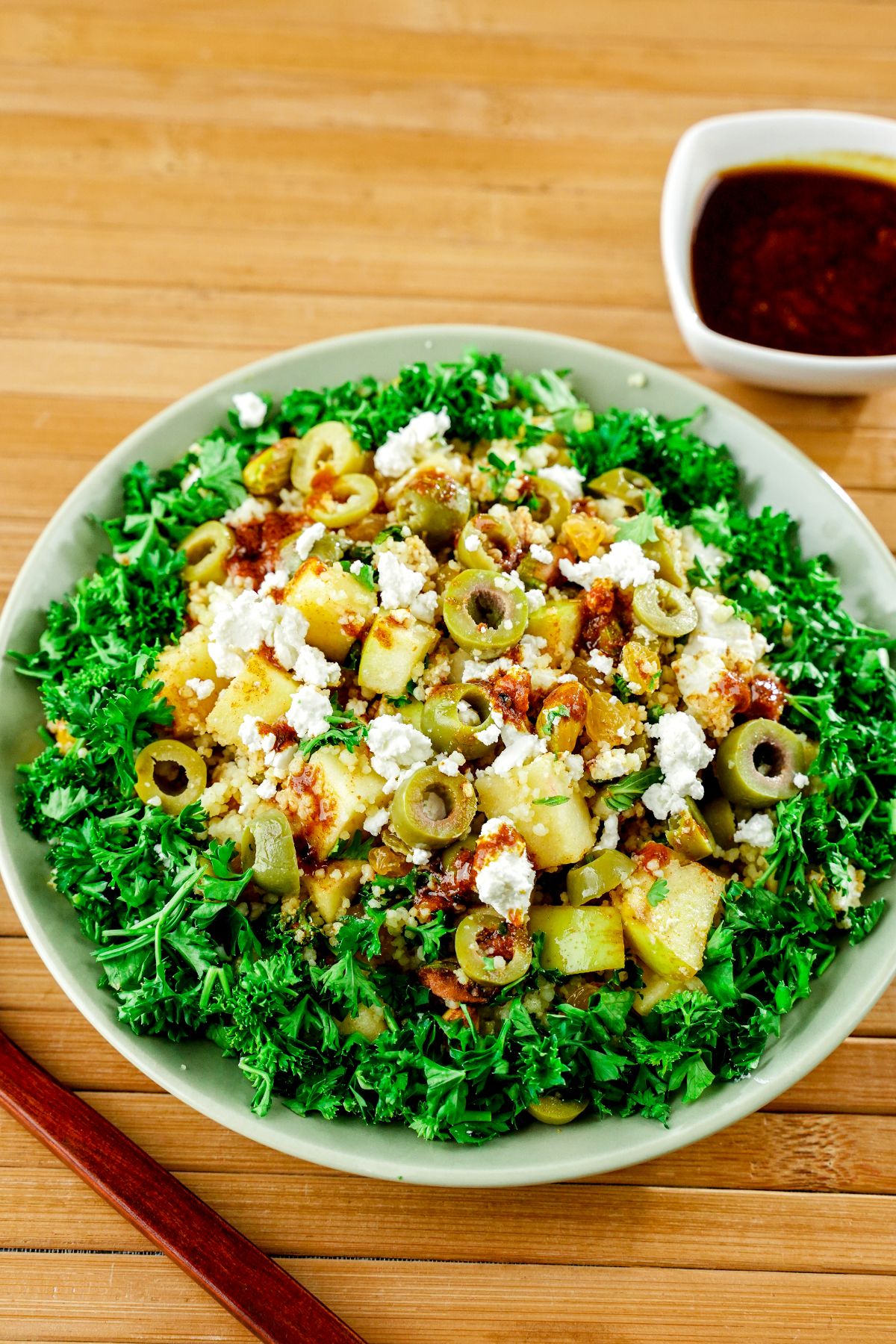 Bursting with vibrant colors, fragrant aromas, and complex yet balanced flavors, this dish will make your mouth water.
If you love the flavors in this recipe, make sure you check out this recipe for vegan Moroccan stew.
Jump to:
🥘 Ingredients
Below are two different ingredient lists. The first will be for the base of the salad and the second will be for the dressing. For exact measurements check out the printable recipe card below.
Couscous
Apples
Golden raisins
Green olives
Vegan feta cheese
Pistachios
Fresh parsley
Fresh mint
Dressing:
Olive oil
Lemon juice
Ground ginger
Ground cumin
Ground coriander
Paprika
Cinnamon
Ground turmeric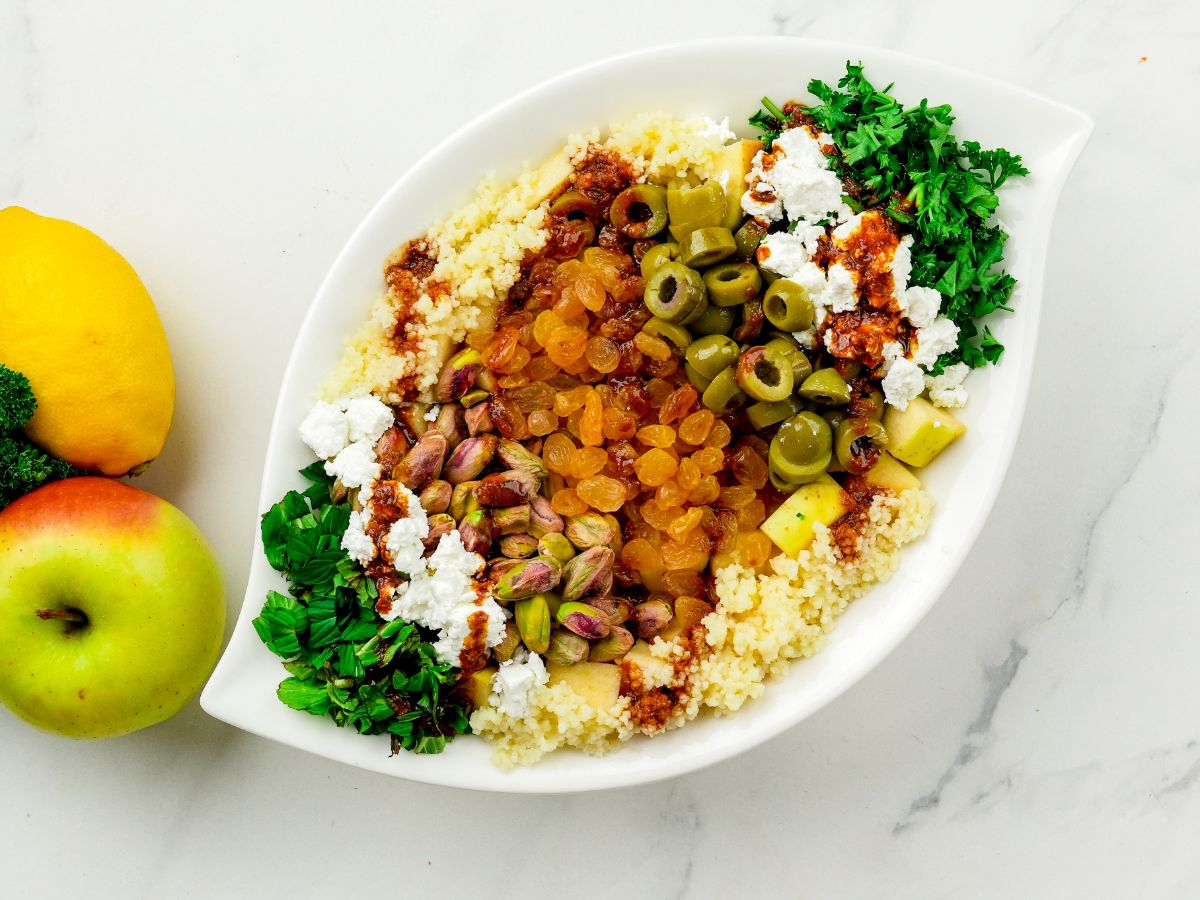 📋Instructions
In a large bowl, place the couscous, then cover with boiling water. Let it stand for 10 minutes until the couscous has absorbed all the water.
While this "cooks", slice the apples into cubes and cut the olives into small pieces. Set these aside. Then, you will chop the fresh parsley and mint. Set these aside.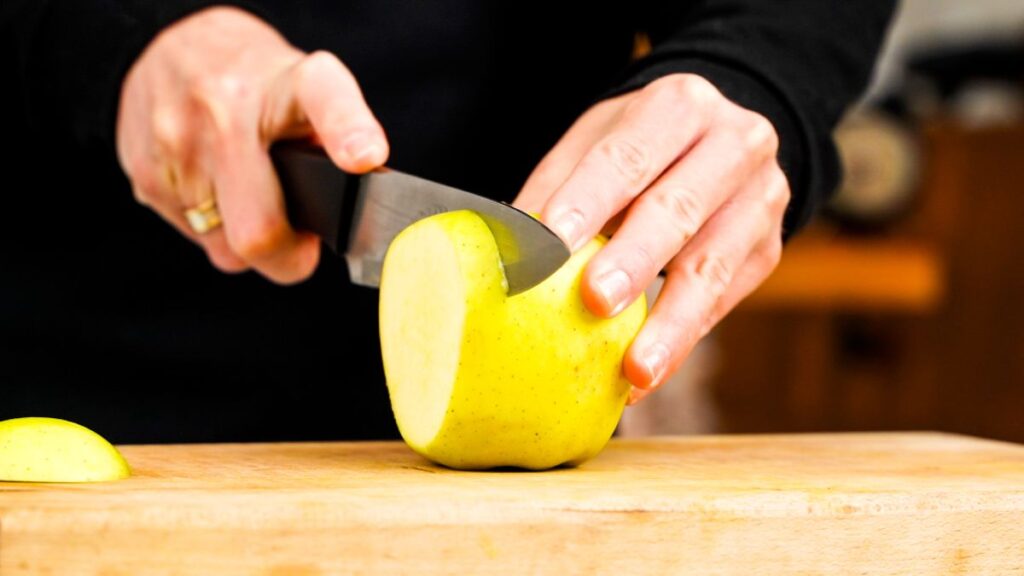 Now, you will whisk together the olive oil, lemon juice, cumin, paprika, cinnamon, ginger, coriander, and turmeric. Taste and season with salt and pepper if needed.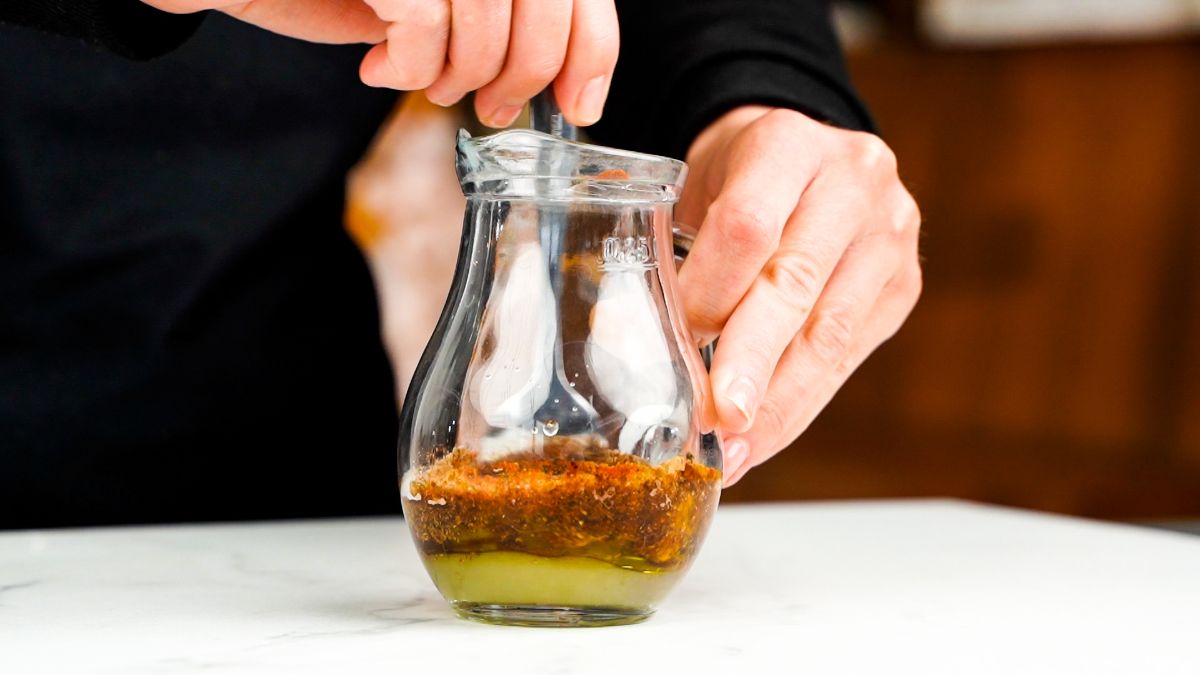 Assemble the salad with couscous, apples, raisins, olives, vegan feta, pistachios, and fresh herbs.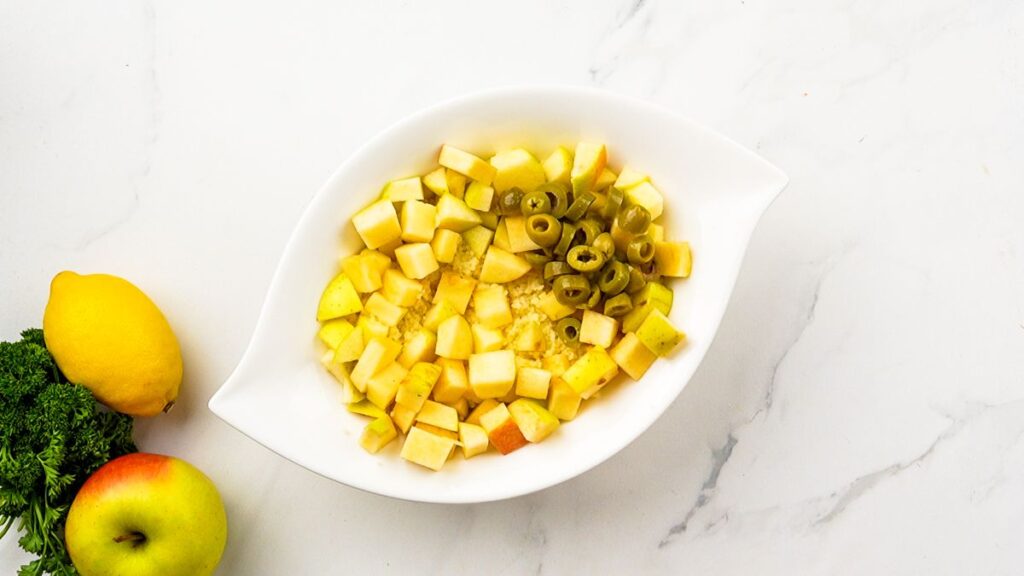 Toss with the dressing and serve.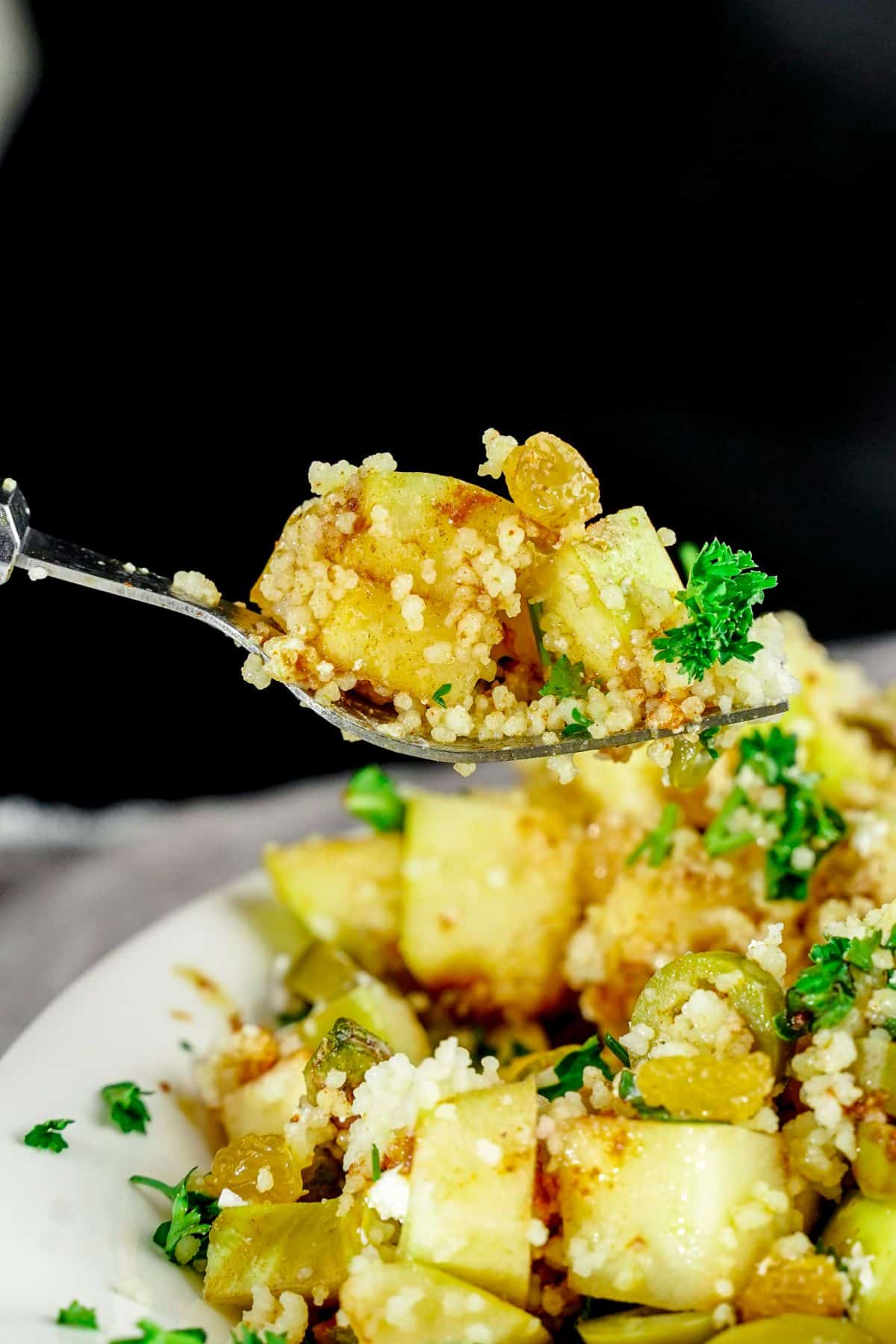 📖 Substitutions
For this recipe, you may find a few things you don't have on hand, or you might prefer different options. Below are some ideas for substitutions that work well in this instance.
Replace the couscous with quinoa, bulgar, or brown rice if desire
Use almonds, cashews, peanuts, walnuts, or pecans in place of pistachios
Replace the vegan feta with any preferred vegan cheese
Feel free to use any preferred ready-made salad dressing instead of homemade.
Replace the olives with half the amount in capers
🔪 Variations
If you want to give your salad a twist, there are numerous variations that you could try. Below are a few ideas that add flavor or variety to the salad and can be good for a unique salad.
Add dried cranberries, dried apricots, dried pineapple, or coconut flakes
Mix in roasted sweet potato cubes or butternut squash cubes
Add fresh spinach or kale for texture and nutrition
Mix in sliced red bell peppers or red onions
Add hot sauce or chili flakes to the dressing for more heat
Before mixing, roast the vegetables for a deeper flavor
For a creamy` addition, try adding some hummus or tahini sauce
Add beans such as black beans or garbanzo beans for extra protein and fiber.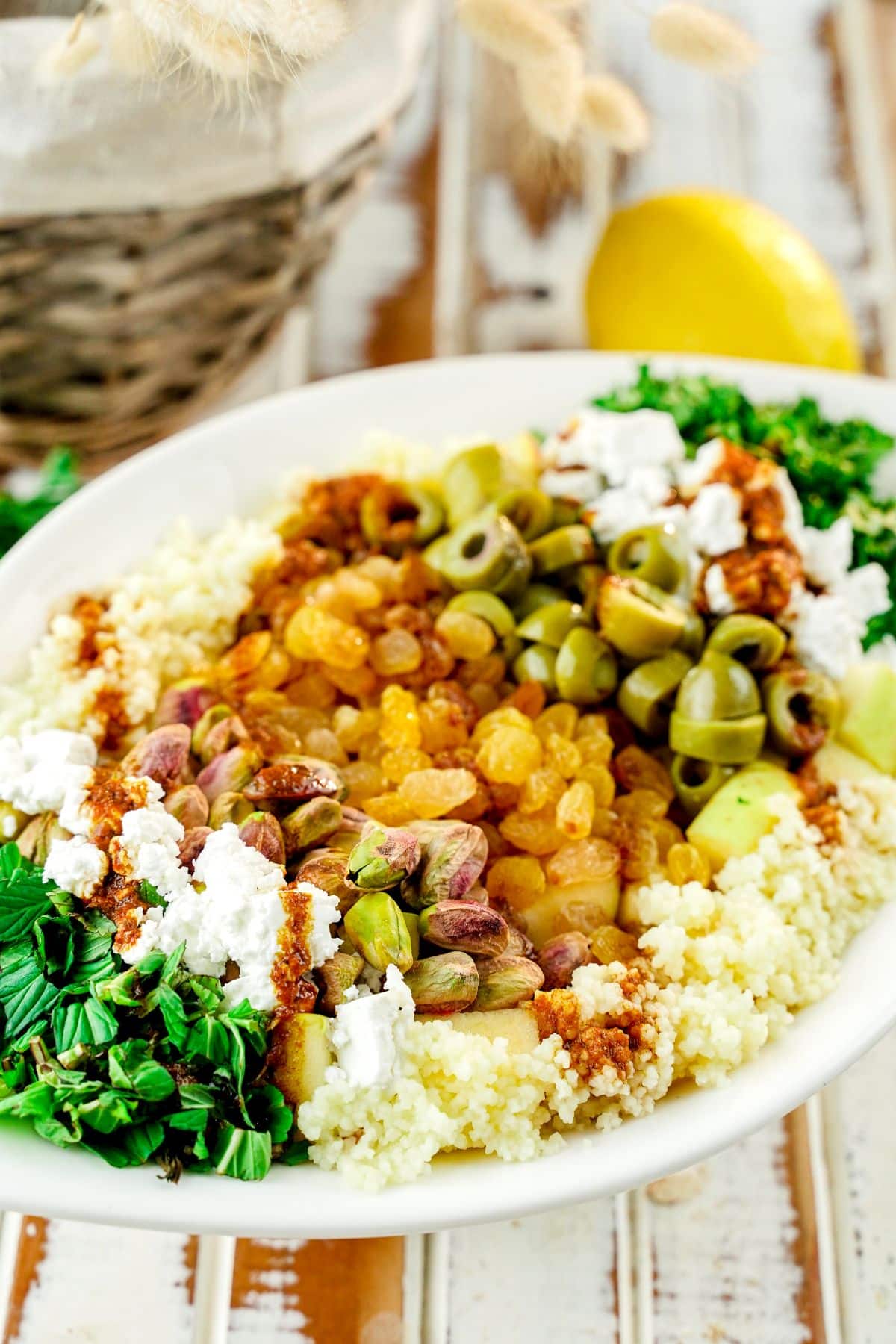 🫙Storage
Make sure the salad is at room temperature before storing it. This helps to prevent condensation in the container as well as make sure the salad is at the right temperature to prevent it from spoiling.
Keep the Moroccan-inspired couscous salad in an airtight container. You can also store it in a freezer bag or a bowl that is tightly wrapped with plastic. The key is to keep it covered tightly to prevent air exposure.
The salad will last in the refrigerator for up to 3 days. While it might be ok to eat it after that, it will taste its best when it is eaten in 3 days. This does not freeze well.
🍽Equipment
Add a few new tools to your kitchenware from the list below to make preparing meals like this easier to manage.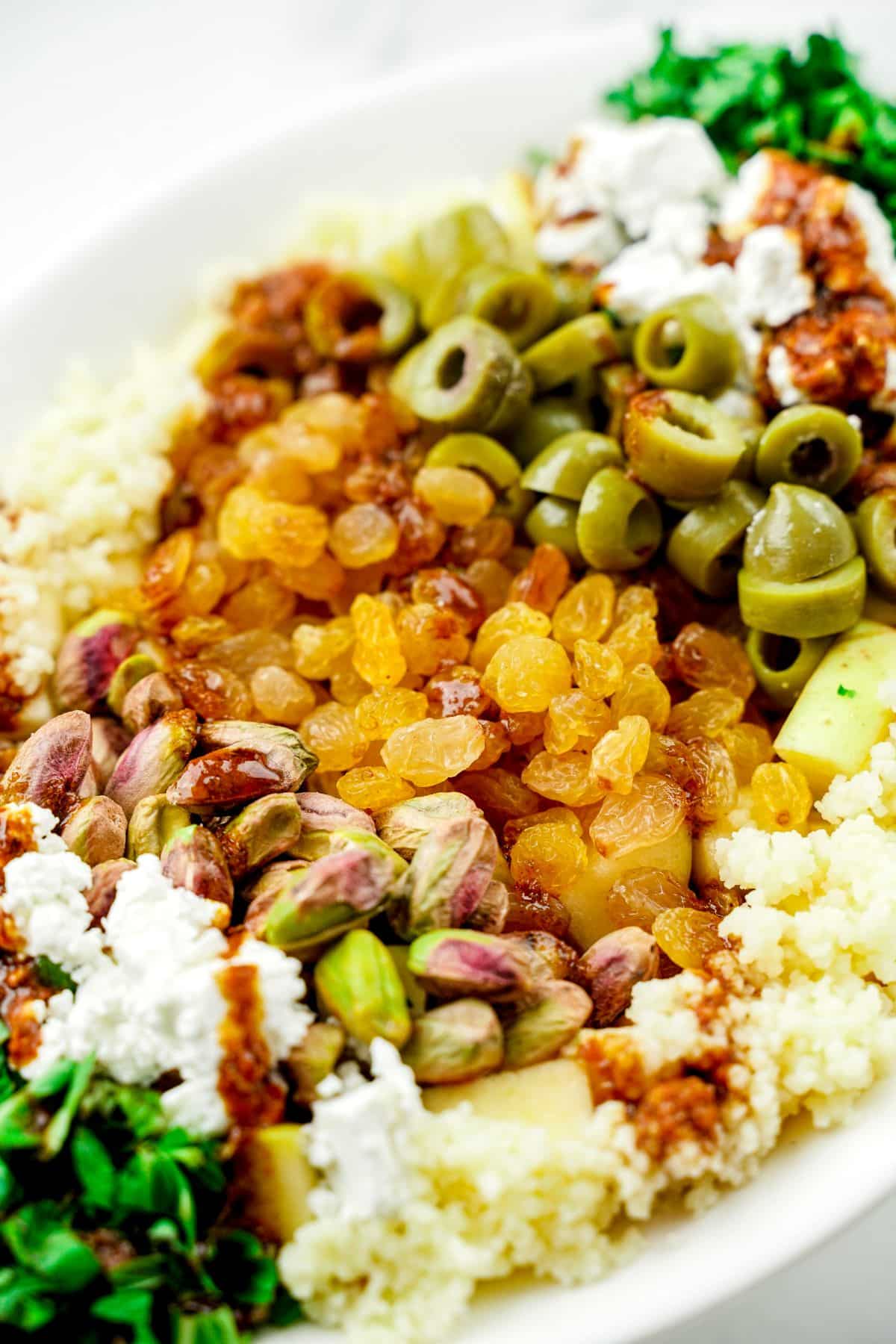 💭 Top Tip
The key to a successful couscous salad is to choose the best-quality ingredients. Use fresh herbs and vegetables, and find quality seasoning blends that are free from fillers or additives.
❓FAQ
Is Moroccan couscous healthy?
Couscous is a healthy grain that is filled with nutrients. It works well for many diet plans, and if yours is open to grains, it will be loved. The vegetables and fruit are also great choices packed with flavor.
Is this couscous salad best served hot or cold?
You will likely find this served chilled, but it can be served right after the couscous has been made if you prefer a warm element to the salad.
Related
Want more salad ideas for your menu? Check out the ones below and bookmark them to add to your menu soon!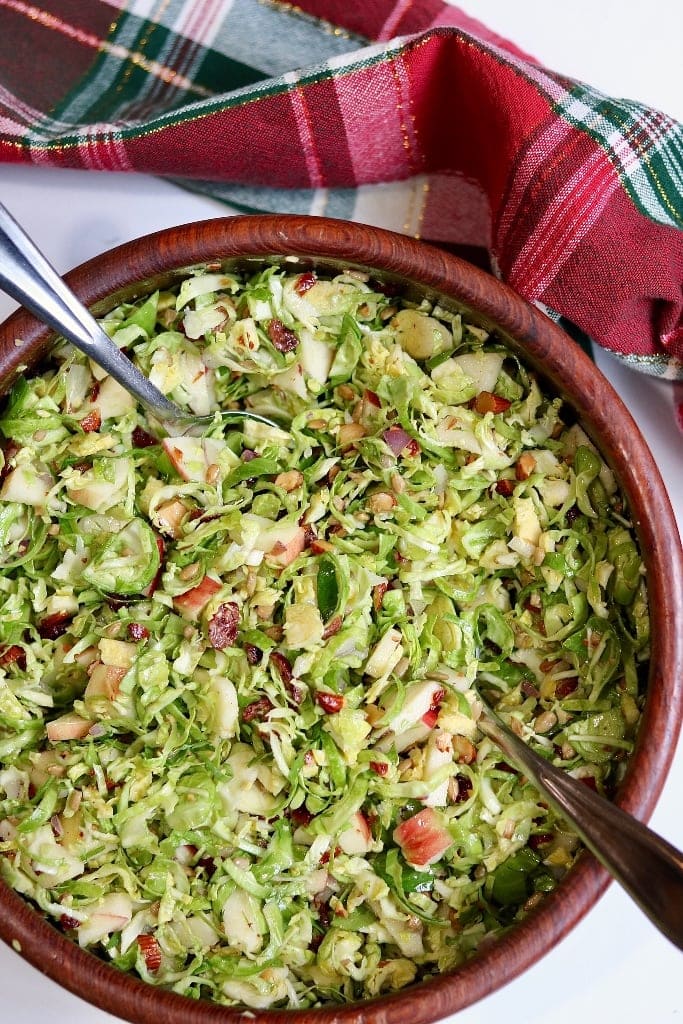 Pairing
Need a heartier meal? Check out some favorite proteins below and add to the menu.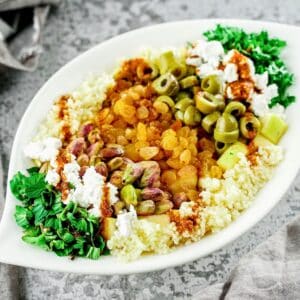 Moroccan Inspired Couscous Salad
Embark on a culinary journey with our vegan Moroccan-inspired couscous salad. Experience the freshness and flavors in this perfect dish for a wholesome lunch or dinner!
Ingredients
1

cup

couscous

2

apples

½

golden raisins

½

cup

green olives

½

cup

vegan feta cheese

¾

cup

pistachios

1

cup

fresh parsley

½

cup

fresh mint
Instructions
In a spacious bowl, place the couscous and cover it with boiling water. Allow it to rest for 10 minutes until the couscous fully absorbs the water.

While the couscous "cooks," cube the apples and cut the olives into small pieces. Keep them aside for later use.

Proceed to finely chop the fresh parsley and mint. Set them aside as well.

Prepare the dressing by whisking together olive oil, lemon juice, cumin, paprika, cinnamon, ginger, coriander, and turmeric. Adjust the seasoning with salt and pepper, according to taste.

Assemble the salad by combining couscous, cubed apples, raisins, chopped olives, vegan feta, pistachios, and fresh herbs.

Drizzle the prepared dressing over the salad and toss the ingredients together.

Serve and enjoy the delightful medley of flavors in this refreshing couscous salad.
Notes
Feel free to season the couscous as it cooks to add a richer flavor. Instead of water, cook in vegetable broth or mushroom broth.
Add any preferred vegetables or dried fruits and nuts.
Nutrition
Calories:
502
kcal
Carbohydrates:
57
g
Protein:
12
g
Fat:
27
g
Saturated Fat:
4
g
Polyunsaturated Fat:
5
g
Monounsaturated Fat:
17
g
Sodium:
281
mg
Potassium:
575
mg
Fiber:
9
g
Sugar:
12
g
Vitamin A:
1968
IU
Vitamin C:
32
mg
Calcium:
95
mg
Iron:
4
mg
Food Safety
Don't miss our top tips for staying safe when cooking at home. Keep these tips in mind.
Always sanitize countertops, cutting boards, utensils, and cookware thoroughly between each use.
Wash your hands in warm soapy water, rubbing for at least 20 seconds before rinsing. Remember, "FROG" means friction rubs off germs.
After serving food, allow it to cool, then place it into the refrigerator or proper storage immediately. Food should be at room temperature for no more than 2 hours for safety.