In vegan cooking, I am always looking for ways to elevate my dishes without compromising flavor. One of my favorite discoveries has been a vegan bechamel sauce. This creamy sauce is perfect for various dishes, including pasta, lasagnas, and gratins.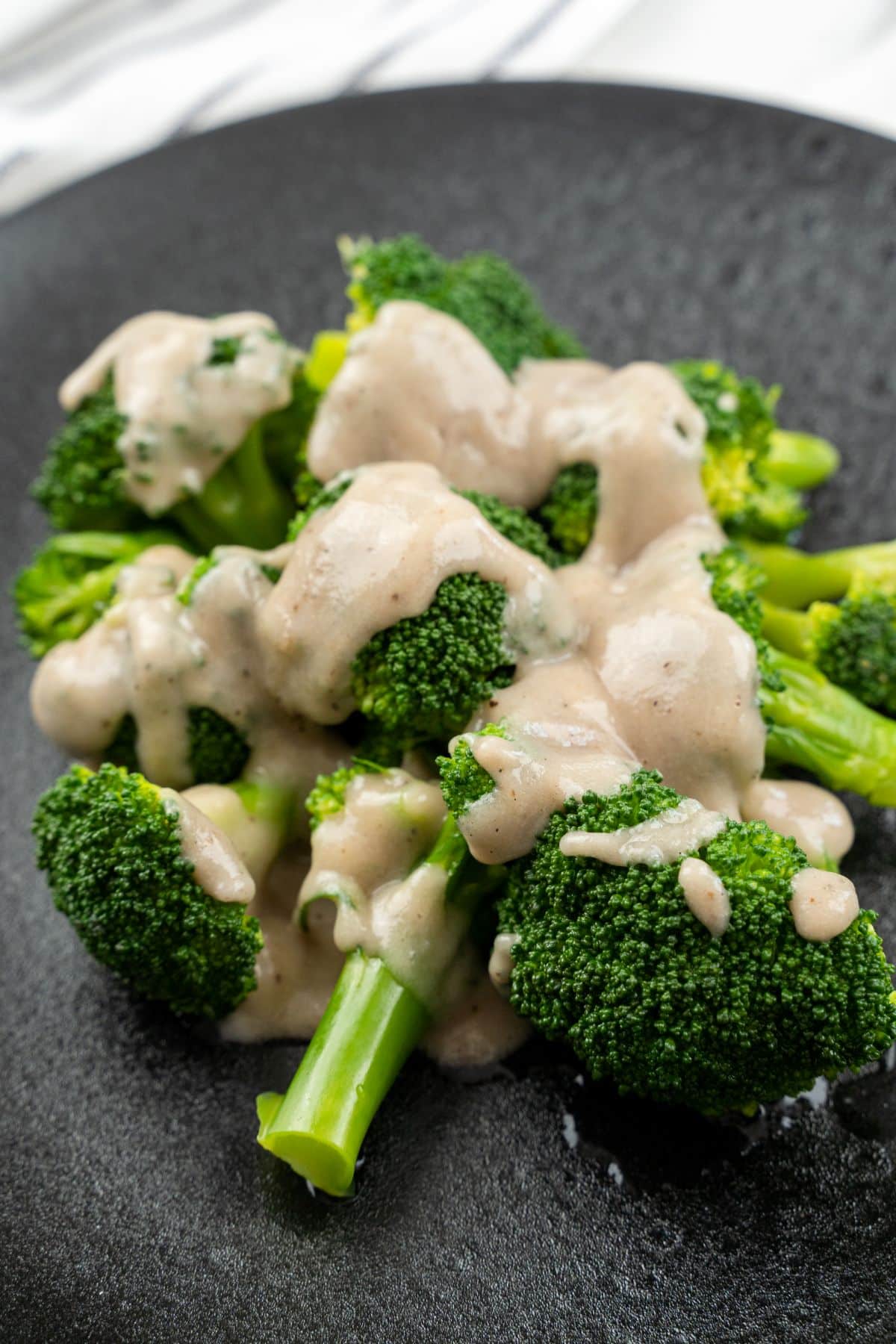 This creamy sauce is the base of many dishes, and can add a richness that takes ordinary to extraordinary.
If you like adding sauces but can't find them in a vegan form, then you might also like this vegan garlic alfredo sauce recipe or even this simple vegan peanut sauce. Both add depth of flavor to any menu.
Jump to:
Ingredients
All-purpose flour
Non-dairy milk (soy or almond work best)
Vegan butter
Salt
Black pepper
Ground nutmeg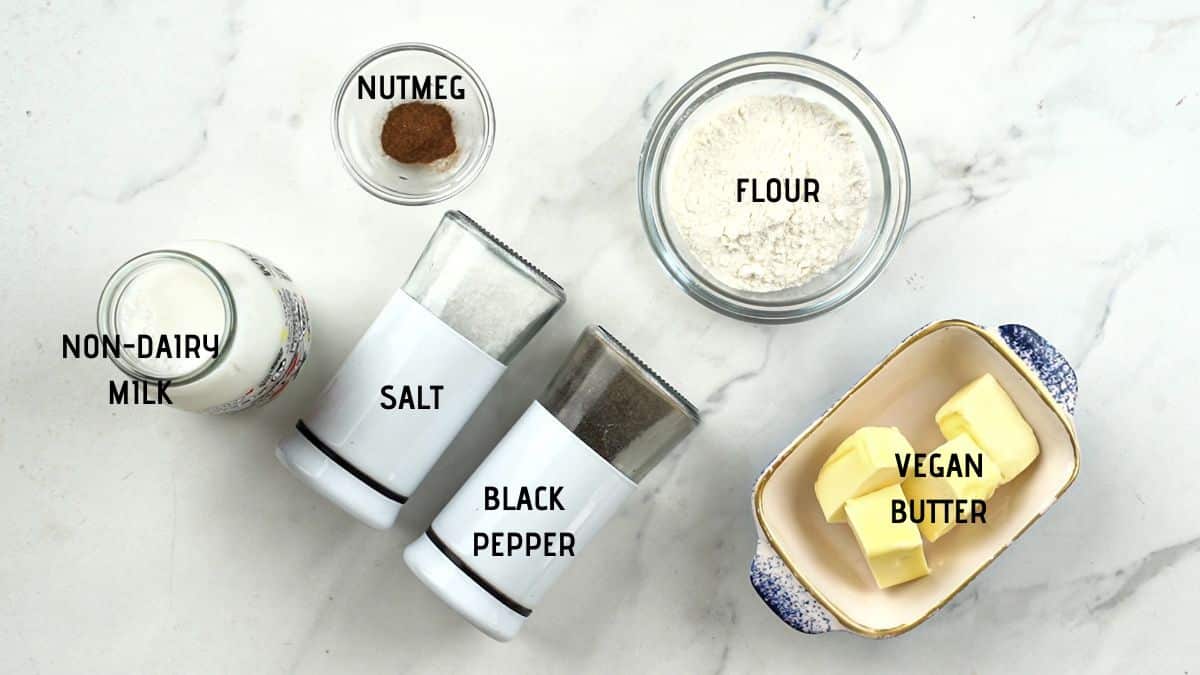 Instructions
In a heavy bottom saucepan, melt the butter over medium-low heat. Once it is completely melted, whisk in the flour. Whisk until they are combined, but do not let the flour burn.
Now, whisk in the milk, continuing to whisk the whole time to make sure no lumps remain.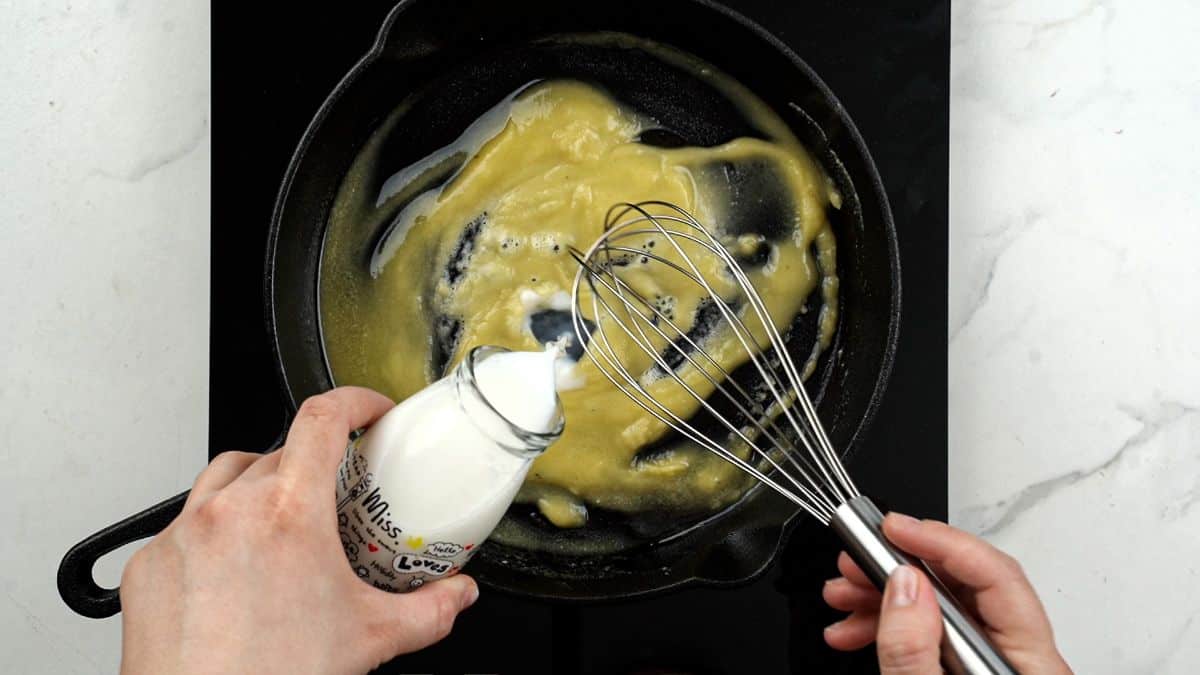 Once the milk is incorporated, add salt, black pepper, and nutmeg.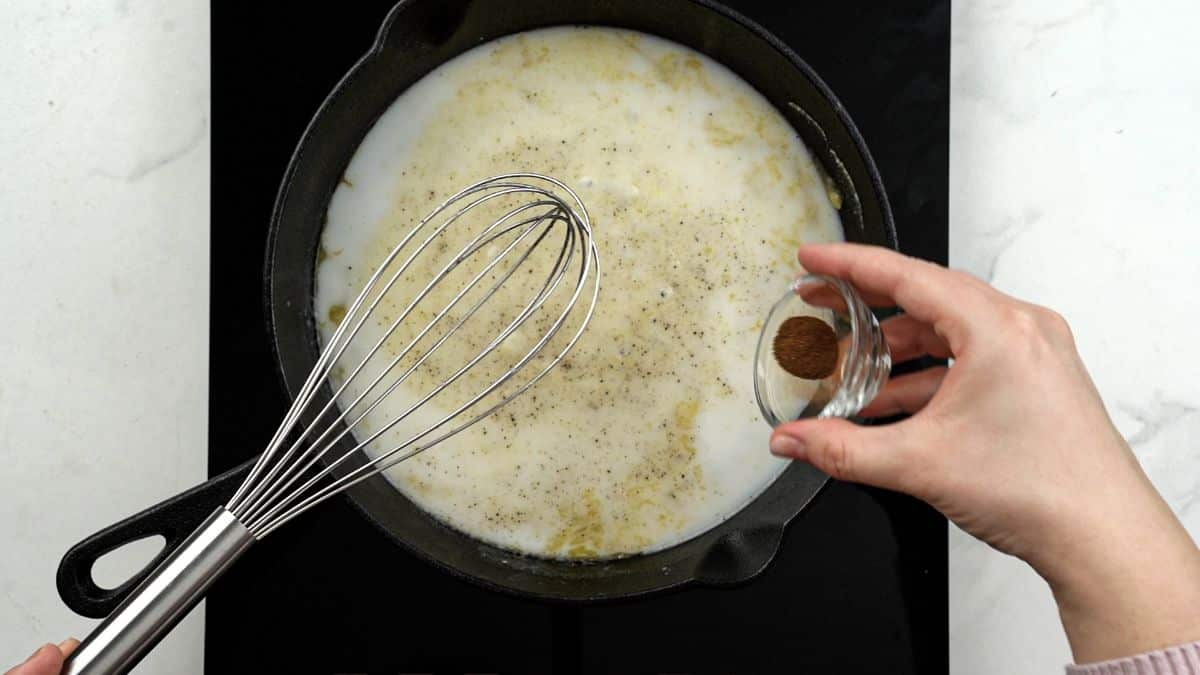 Continue cooking for 3 to 4 additional minutes, until it is at a thickness you prefer. Taste and season with additional salt if needed.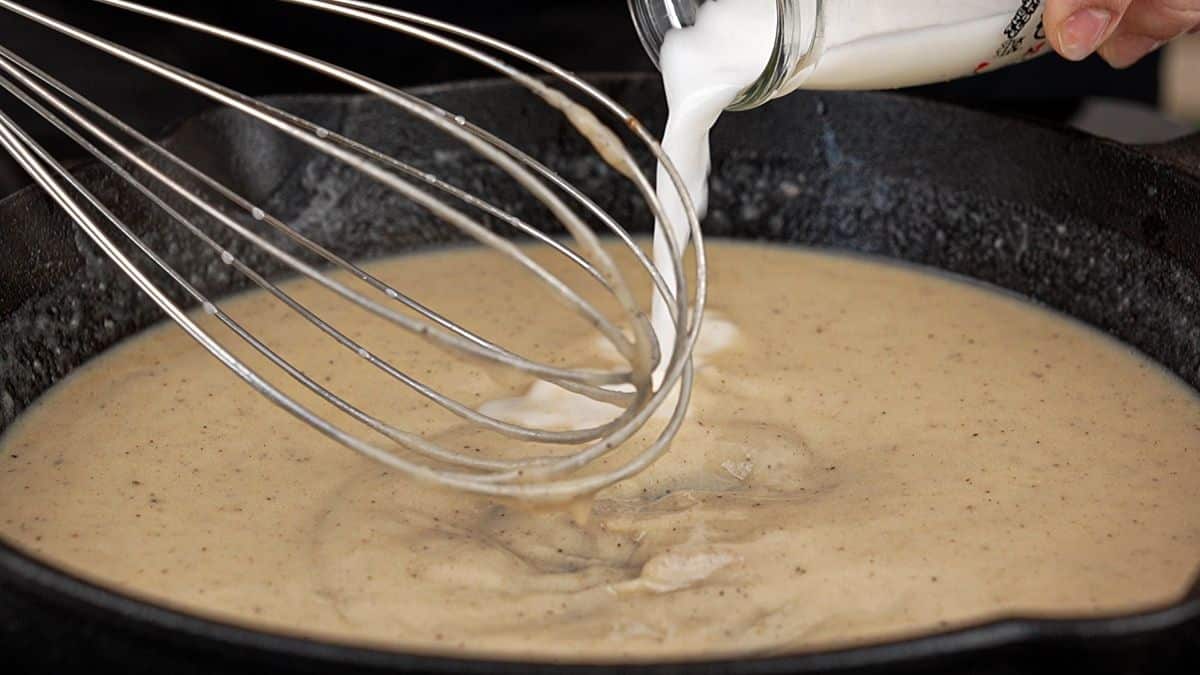 Serve this over vegetables, as part of a pasta dish, or in a gratin.
Hint: Freshly grated nutmeg adds a better flavor if available.
Substitutions
With a recipe this simple, you don't have a lot of changes to make, but two main ingredients make a difference. The butter and milk. Since this is vegan, you will need to use a vegan option, as stated. Below are a few of the choices I find work best.
Almond milk and soy milk give the creamiest result. Rice milk, oat milk, and hemp milk work but aren't as rich. Coconut milk adds a stronger flavor that doesn't work as well for this sauce.
Vegan butter, olive oil, avocado oil, or vegetable oil are best to use for the fat. Coconut oil is great but can add flavor that doesn't work well for a bechamel.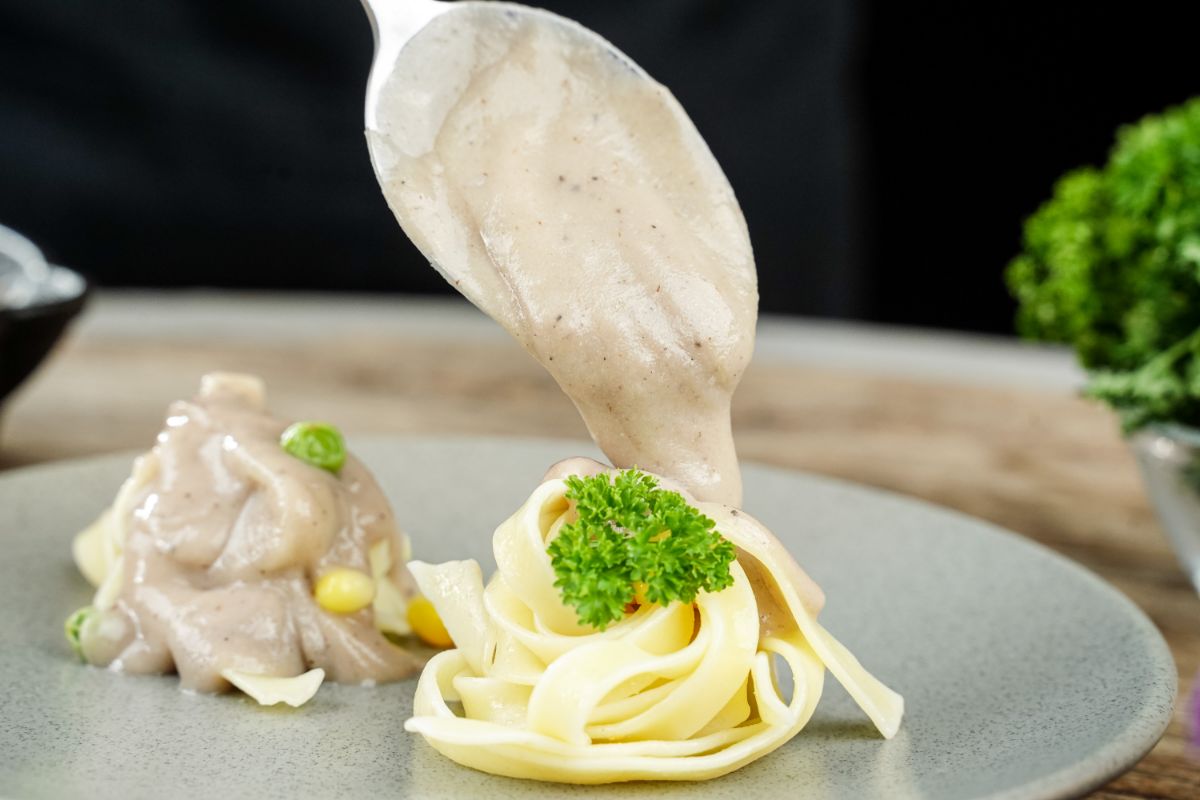 Variations
A vegan bechamel sauce is a basic white sauce that won't typically have a lot of variation. You can, however, season slightly differently depending upon the end use. Below are some spices and herbs that work well for adding flavor.
Fresh herbs such as basil, oregano, thyme, rosemary, or marjoram.
Dried herbs such as oregano, thyme, rosemary, marjoram, or basil. An Italian seasoning blend also works well.
Smoked paprika, chili powder, cayenne pepper, cumin, and curry can add heat and warmth.
Add a pinch of truffle salt, rosemary salt, or a low-sodium seasoning blend.
Equipment
This recipe is simple and only needs a few things you already have on hand in your kitchen. Below are my favorite products to have in the kitchen.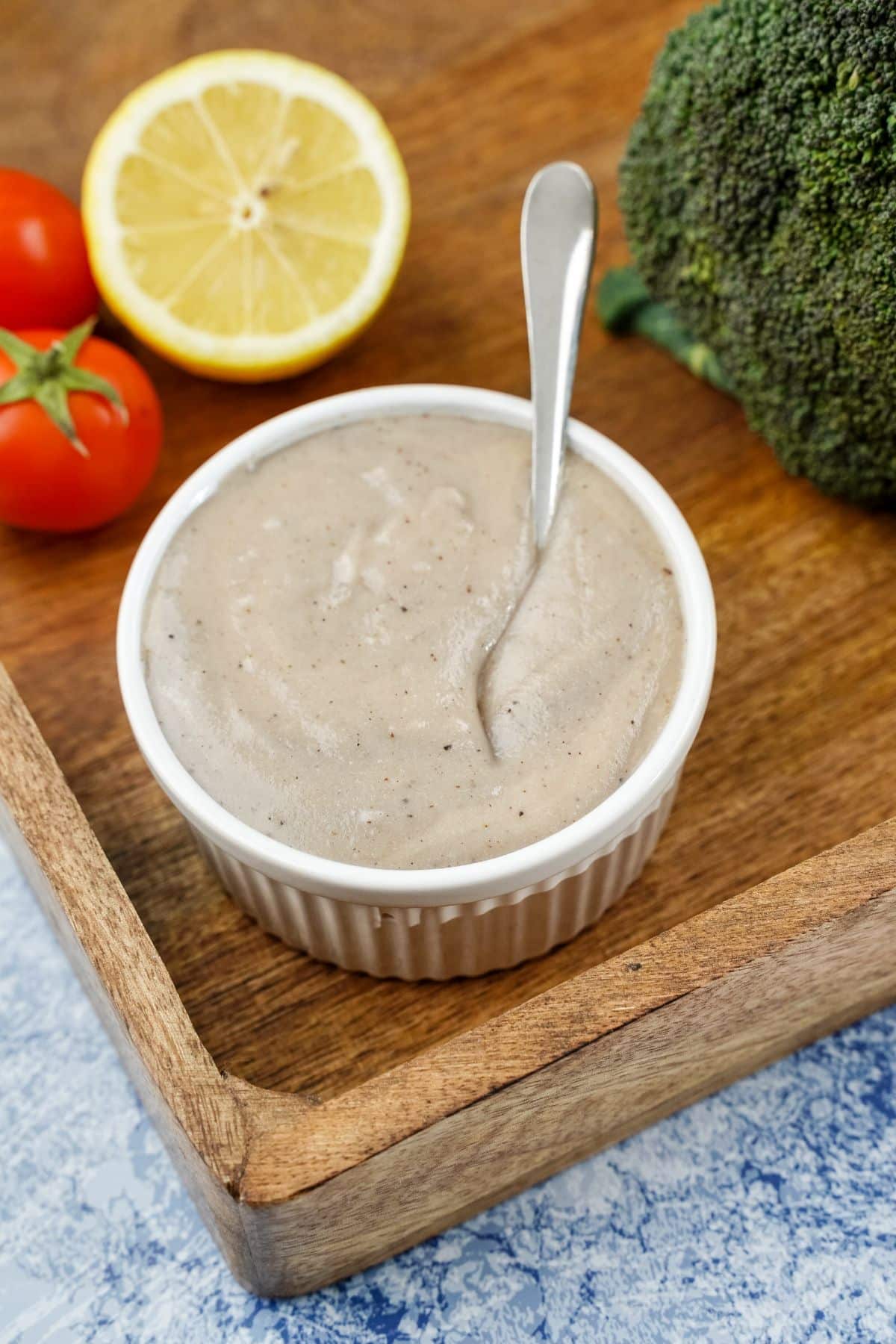 Storage
Vegan bechamel sauce is best stored in the refrigerator in an airtight container or jar for no more than 5 days.
If you make more than you can use or prefer making in larger batches, you can freeze bechamel sauce for up to 3 months.
I recommend pouring into a jar or freezer container and leaving at least 1" at the top for expansion. Thaw overnight in the refrigerator before heating on the stovetop.
Top tip
Start with less salt and add after it is done cooking. As the liquid thickens and reduces, you may find the flavor stronger than expected I recommend adding ½ of the salt needed, then adding additional salt to taste once it has thickened.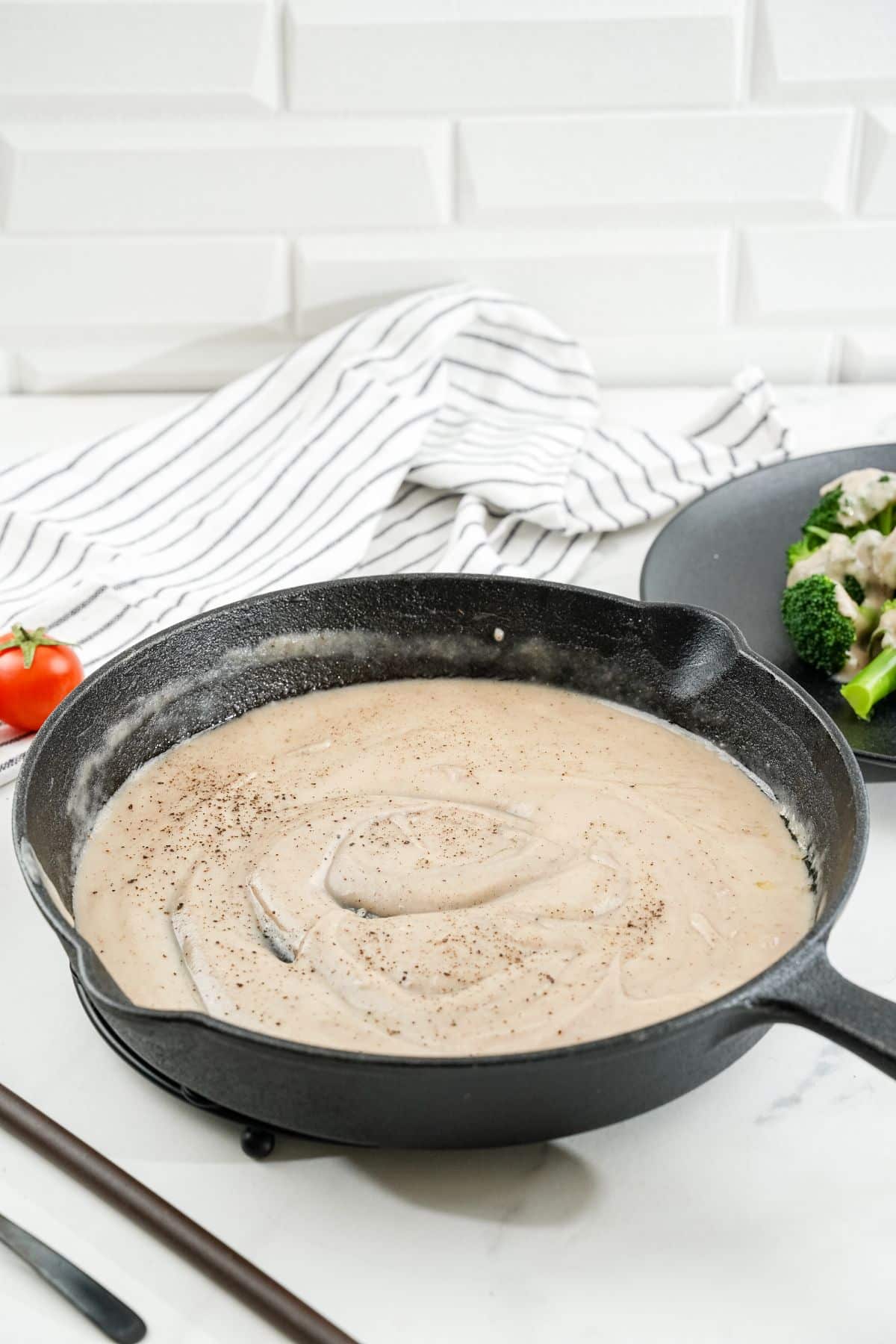 FAQ
How do I reheat vegan bechamel sauce?
While it can be reheated on a low setting in the microwave, it is best when slowly heated over low heat on the stovetop.
How do I make a thicker vegan bechamel sauce?
If your sauce doesn't thicken to your liking, you can whisk in a few teaspoons of arrowroot powder or cornstarch to sauce. This should thicken it nicely without changing the flavor.
Related
Need more vegan basics for your meal plan? Check out a few of our favorite substitute recipes. These vegan options for everyday foods are sure to be useful in your menu.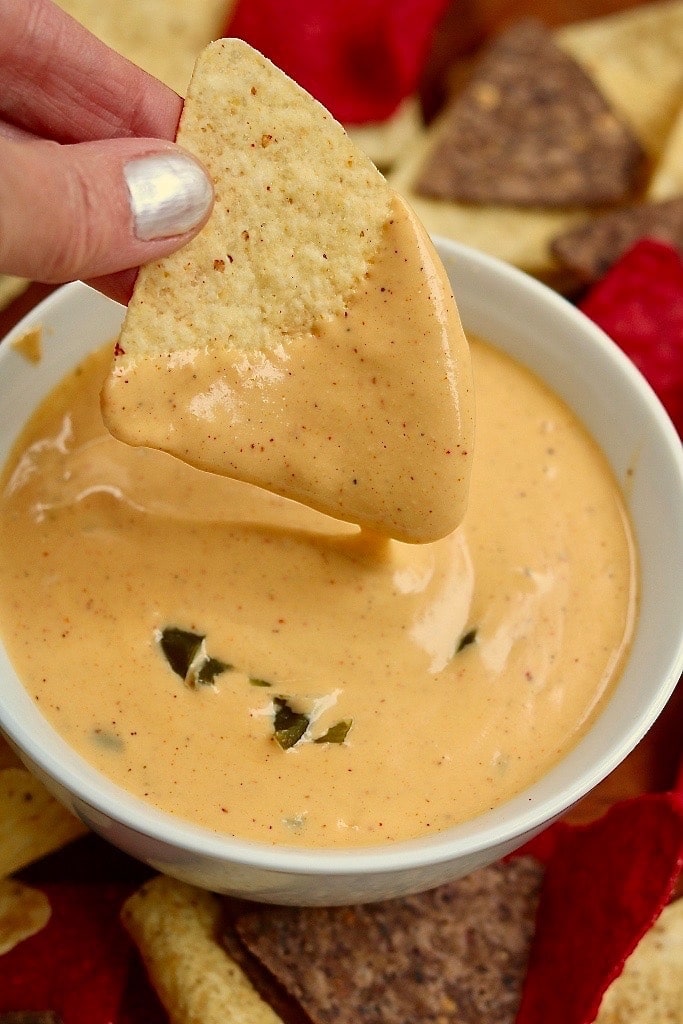 Pairing
The beauty of this vegan bechamel sauce is that it's incredibly versatile. You can use it as a base for mac and cheese, layer it in a lasagna, or pour it over roasted vegetables for a comforting side dish. The sauce adds a rich creaminess to any dish and is sure to impress even the most skeptical non-vegan eaters. Below are a few more ideas it works with.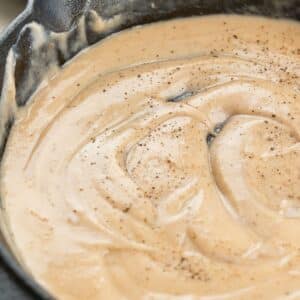 Vegan Bechamel Sauce Recipe
Indulge in a creamy and vegan bechamel sauce recipe that's perfect for your pasta and gratin dishes. Made with simple ingredients, this sauce is a game-changer.
Ingredients
2

tablespoon

flour

2

cups

vegan non-dairy milk

3

tablespoon

vegan butter

Pinch

of nutmeg
Instructions
In a saucepan, melt the butter over medium heat. Add the flour and mix continuously because you don't want the flour to burn. Also make sure that you are cooking at a low temperature.

Pour the milk in the pan and continue mixing. Add the seasonings and continue stirring and cooking for a few more minutes until you get a thicker mixture.

Serve this sauce with vegetables or your favorite pasta.
Notes
Start with ¼ to ½ teaspoon salt and add more after it is done cooking, as needed.
Let the sauce cool completely then pour into a mason jar and store in the refrigerator for up to 5 days.
Nutrition
Calories:
256
kcal
Carbohydrates:
14
g
Protein:
8
g
Fat:
18
g
Saturated Fat:
4
g
Polyunsaturated Fat:
7
g
Monounsaturated Fat:
6
g
Trans Fat:
0.1
g
Sodium:
254
mg
Potassium:
347
mg
Fiber:
1
g
Sugar:
6
g
Vitamin A:
1729
IU
Vitamin C:
17
mg
Calcium:
332
mg
Iron:
2
mg
Food Safety
When working with food, it is always important to stay safe. Below are some regular tips we remind everyone to use when it comes to preparing food at home. Keep these in mind as you prepare this and other meals.
Always sanitize countertops, cutting boards, utensils, and cookware thoroughly between each use.
Wash your hands in warm soapy water, rubbing for at least 20 seconds before rinsing. Remember, "FROG" means friction rubs off germs.
After serving food, allow it to cool, then place it into the refrigerator or proper storage immediately. Food should be at room temperature for no more than 2 hours for safety.