Put a vegan spin on your favorite recipes with this incredibly flavorful vegan cheese sauce. It's creamy, delicious and so simple to make. This sauce is so versatile that it can be used in a variety of dishes and recipes.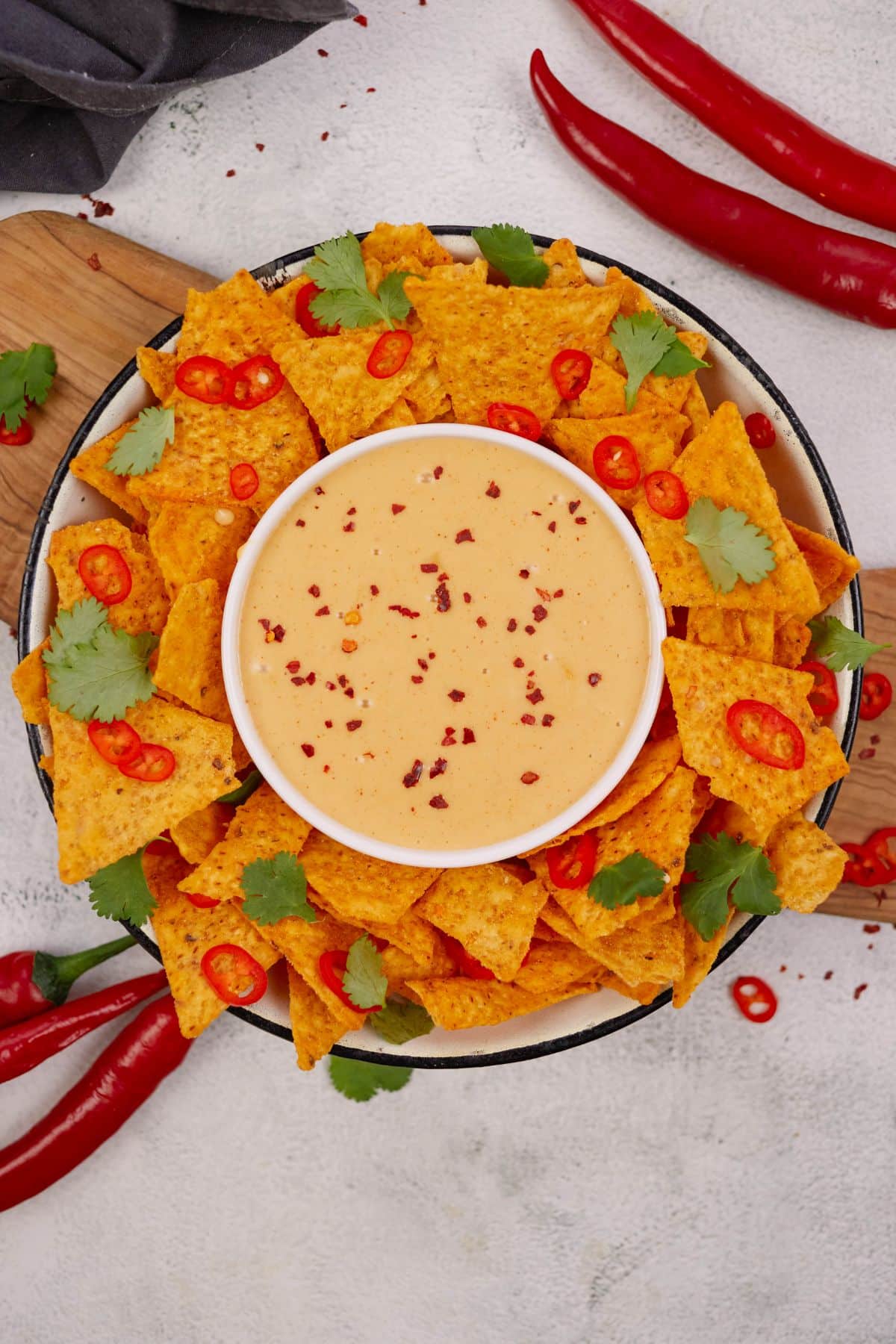 This sauce can be used as a topping for nachos, a dip for veggies or chips, or a flavorful addition to pasta dishes.
This is perfect to make and serve alongside this Mexican tater tot casserole for a creamy addition to a family favorite meal.
Ingredients
For exact measurements and quantities of these recipes, check out the printable recipe card below.
Coconut cream
Nutritional yeast
Tapioca starch
Onion powder
Garlic powder
Smoked paprika
Salt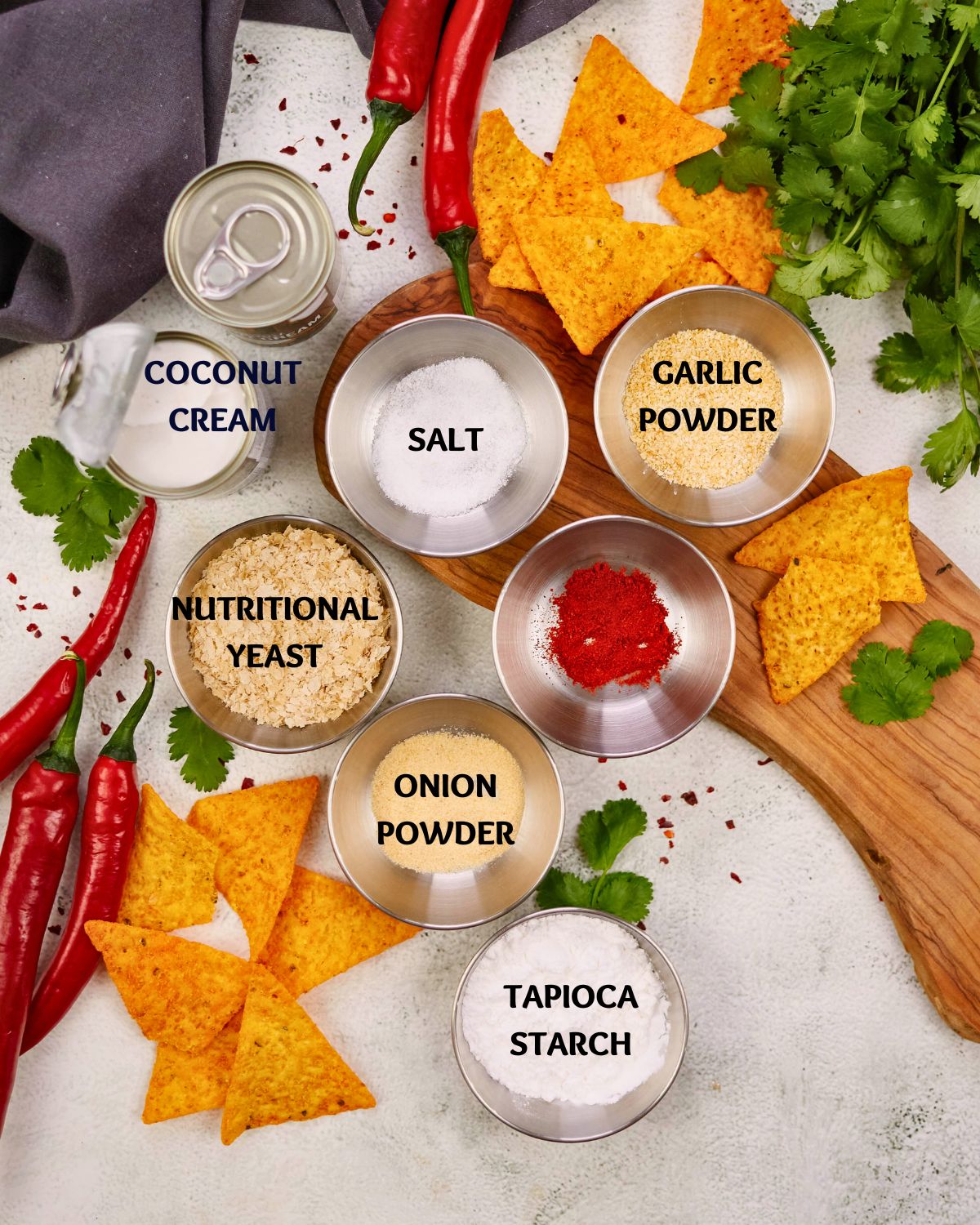 Instructions
Add the cream, nutritional yeast, tapioca starch, onion powder, garlic powder, paprika, and salt to a food processor or blender. Pulse on high for 1 minute, until combined.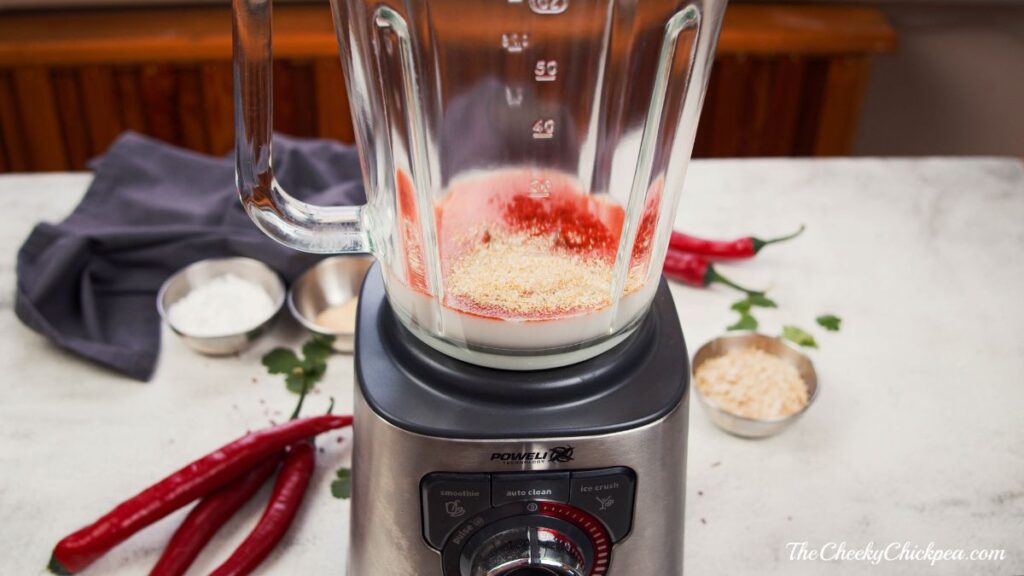 Transfer the blended mixture into a saucepan. Set the saucepan on medium-high heat and cook the cheese sauce for 2 to 3 minutes, until thickened. Stir constantly.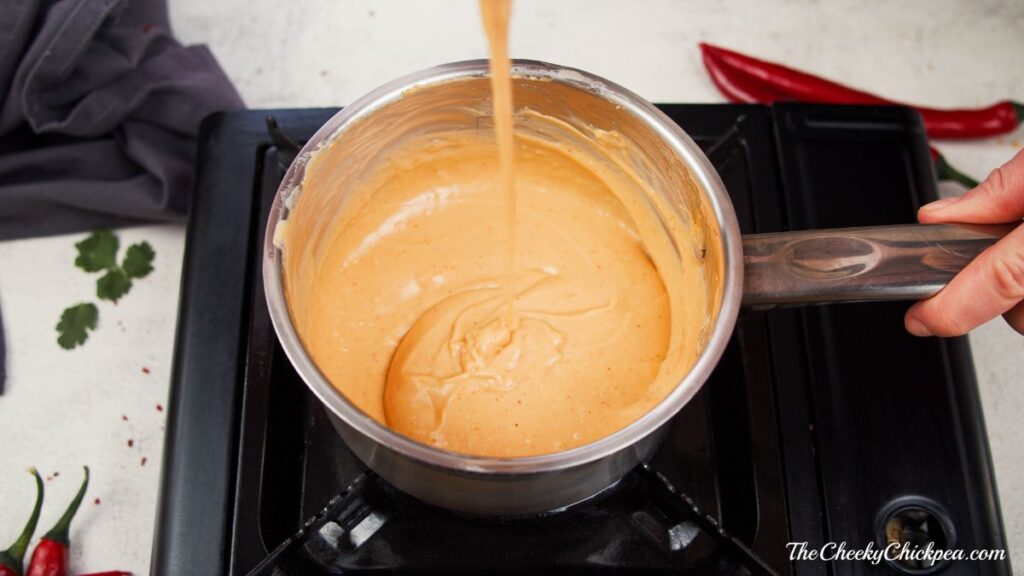 Use immediately, or let cool and portion in the refrigerator for up to 4 days.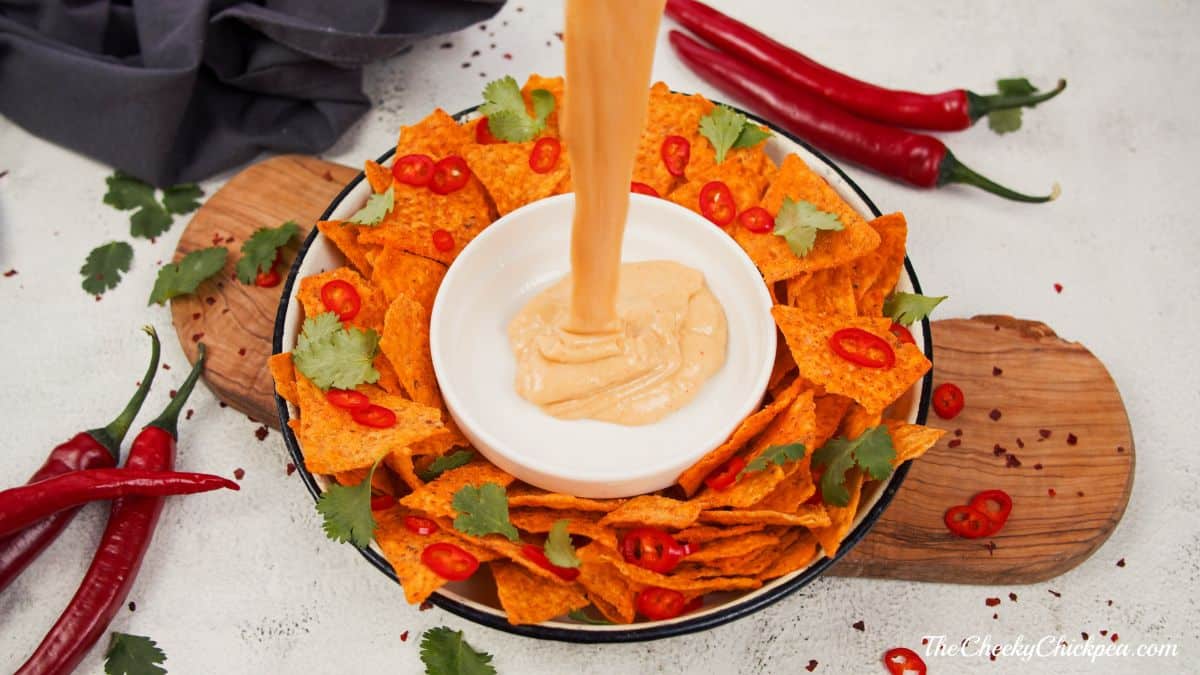 Substitutions
There are several substitutions you can make to create a delicious and flavorful sauce. Here are some ideas:
If you don't have nutritional yeast, you can substitute it with a combination of ground cashews, miso paste, and soy sauce. This will give your sauce a similar cheesy and savory flavor.
Arrowroot starch or cornstarch can be used instead of tapioca starch to thicken the sauce.
Replace the garlic and onion powder with finely chopped fresh onions and garlic instead. Just sauté them in a pan with some oil until they are softened and fragrant before adding them to the sauce. Since it is not a ground seasoning, you may have small pieces in the sauce.
If you don't have smoked paprika, regular paprika or chili powder can be used instead to add some spice and flavor to the sauce.
Variations
You can also add other ingredients to the vegan cheese sauce for a unique flavor.
Try adding roasted red peppers
Add more nutritional yeast flakes for an extra cheesy flavor
You can also add fresh herbs such as parsley, basil, cilantro, or chives for a bright and flavorful twist
If you like spice, add some crushed red pepper flakes, cayenne pepper, or jalapenos to the sauce
Storage Tips
Once you've finished making the vegan cheese sauce, it can be stored in an airtight container in the refrigerator for up to four days.
You can also freeze the sauce in an airtight container or freezer-safe bag for up to three months. When you're ready to use it, just thaw and reheat before serving.
Equipment
The right kitchen equipment makes all the difference when it comes time to prepare a meal. Below are some of my top picks to consider adding to your kitchen.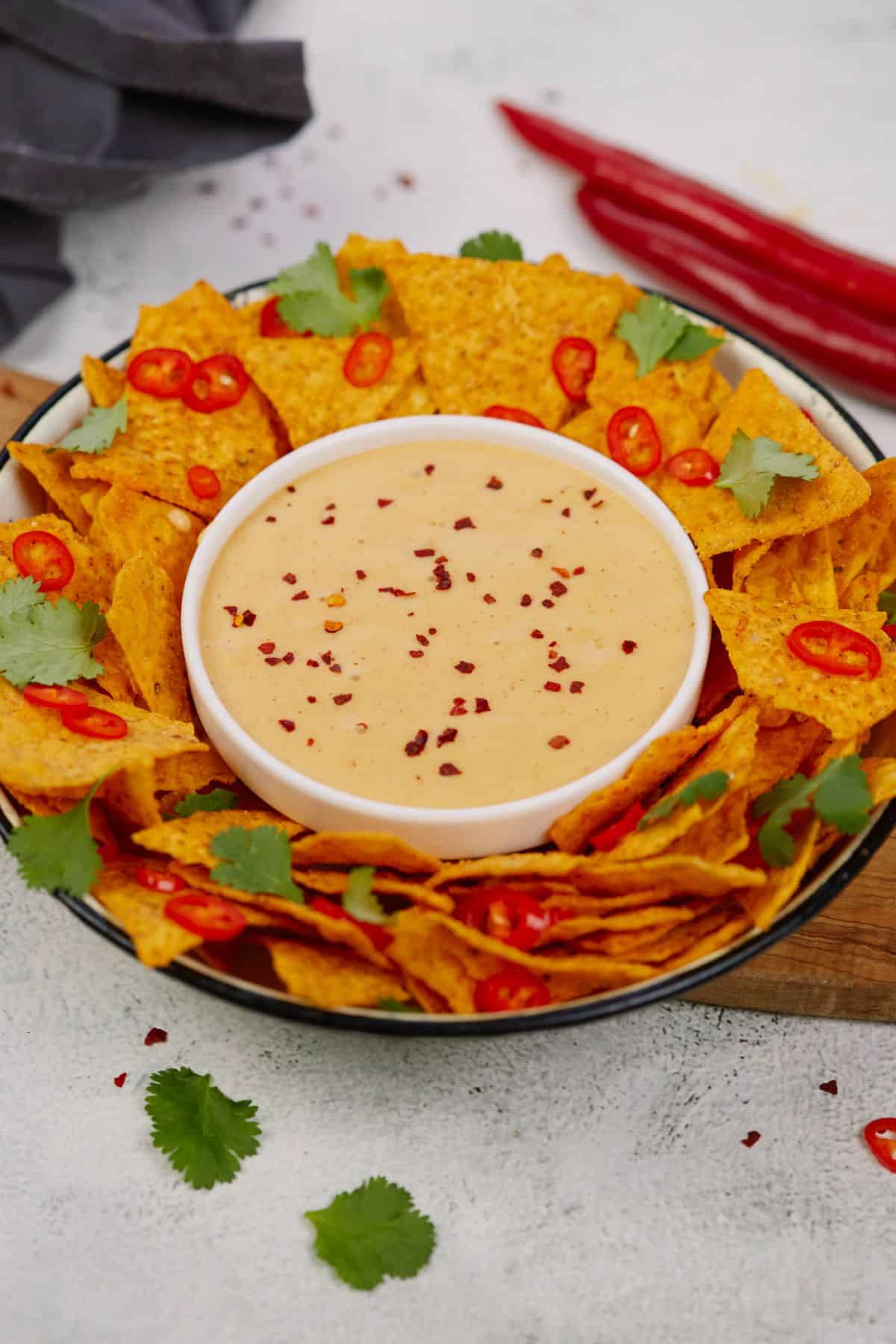 Top Tip
If the sauce is too thick, add some extra almond milk or vegetable broth to thin it out. If it's too thin, add more tapioca starch until you reach desired consistency. Start in ½ teaspoon increments.
FAQ
How can I make my vegan cheese sauce less thick?
If your vegan cheese sauce is too thick, you can thin it by adding a small amount of plant-based milk or water. Simply whisk the milk or water into the hot sauce until it reaches the desired consistency.
What can I do if my vegan cheese sauce curdles?
If your vegan cheese sauce curdles, it is likely because you added the milk too quickly or the heat was too high. To fix curdled vegan cheese sauce, simply whisk it over low heat until it smooths out.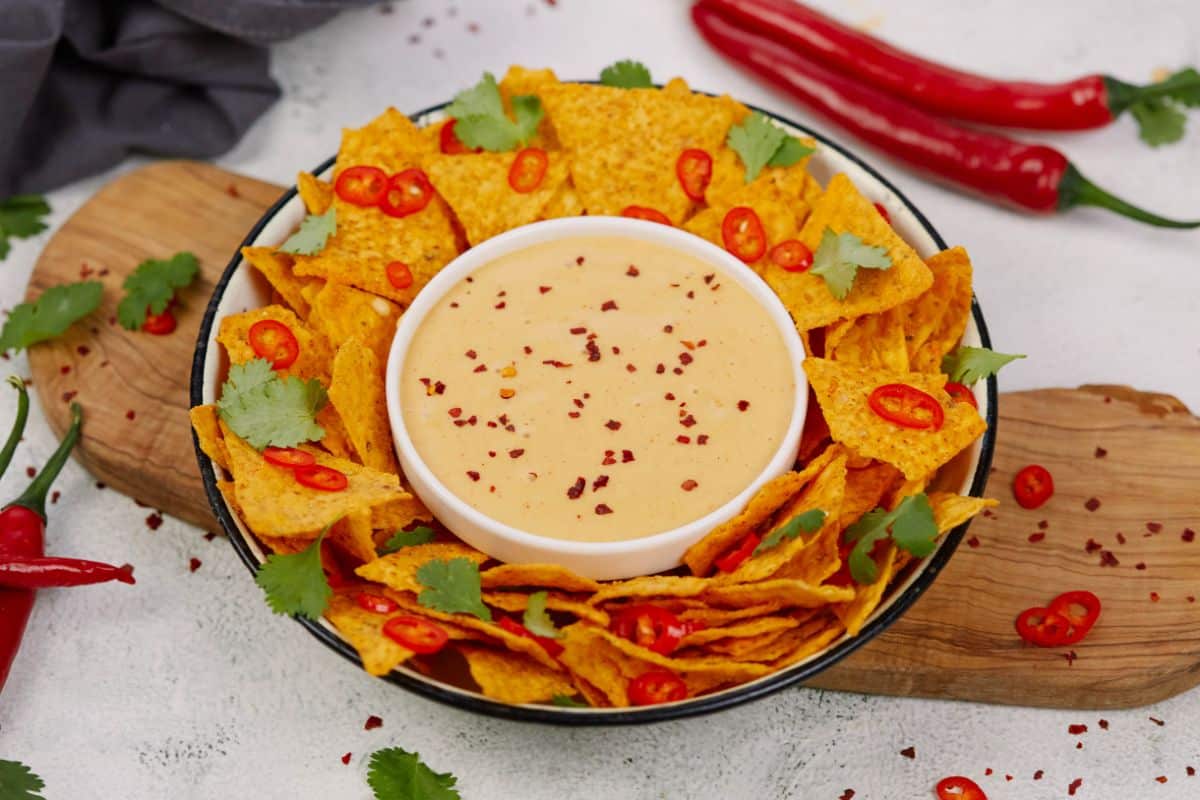 Related
This recipe is a great addition to many of our favorite Mexican and Tex-Mex recipes. Below are a few you might also enjoy.
Pairing
Not sure what to serve it with? Check out these dishes that a vegan cheese sauce pairs with wonderfully.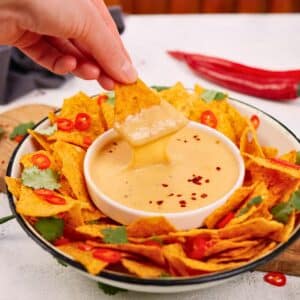 Vegan Cheese Sauce (Dairy Free)
Indulge in a deliciously dairy-free vegan cheese sauce. Elevate your meals with this creamy plant-based alternative
Instructions
Combine all the listed ingredients in a high-speed blender. Blend for 1 minute until thoroughly combined.

4 tablespoon nutritional yeast,

3 tablespoon tapioca starch,

1 teaspoon onion powder,

½ teaspoon salt,

½ teaspoon garlic powder,

⅛ teaspoon smoked paprika,

⅔ cup coconut milk

Transfer the blended mixture into a small saucepan. Heat the saucepan over medium-high heat and cook the cheese sauce for about a minute until it becomes thick.
Notes
Store any leftover cheese sauce in an airtight container in the refrigerator for up to 3 days.
Add diced jalapeno or a drained can of green chiles to the mixture for more heat.
Nutrition
Calories:
125
kcal
Carbohydrates:
10
g
Protein:
5
g
Fat:
8
g
Saturated Fat:
7
g
Polyunsaturated Fat:
0.1
g
Monounsaturated Fat:
0.3
g
Sodium:
296
mg
Potassium:
245
mg
Fiber:
2
g
Sugar:
0.1
g
Vitamin A:
31
IU
Vitamin C:
1
mg
Calcium:
9
mg
Iron:
2
mg
Food Safety
Check our top suggestions below for food safety in your home kitchen!
Always sanitize countertops, cutting boards, utensils, and cookware thoroughly between each use.
Wash your hands in warm soapy water, rubbing for at least 20 seconds before rinsing. Remember, "FROG" means friction rubs off germs.
After serving food, allow it to cool, then place it into the refrigerator or proper storage immediately. Food should be at room temperature for no more than 2 hours for safety.