A hearty vegan vegetable soup is the perfect comfort food meal. Loaded with vegetables and rich flavor, this recipe is one you will keep in rotation on a regular basis. Made creamy with a simple vegan ingredient, it never fails to be devoured!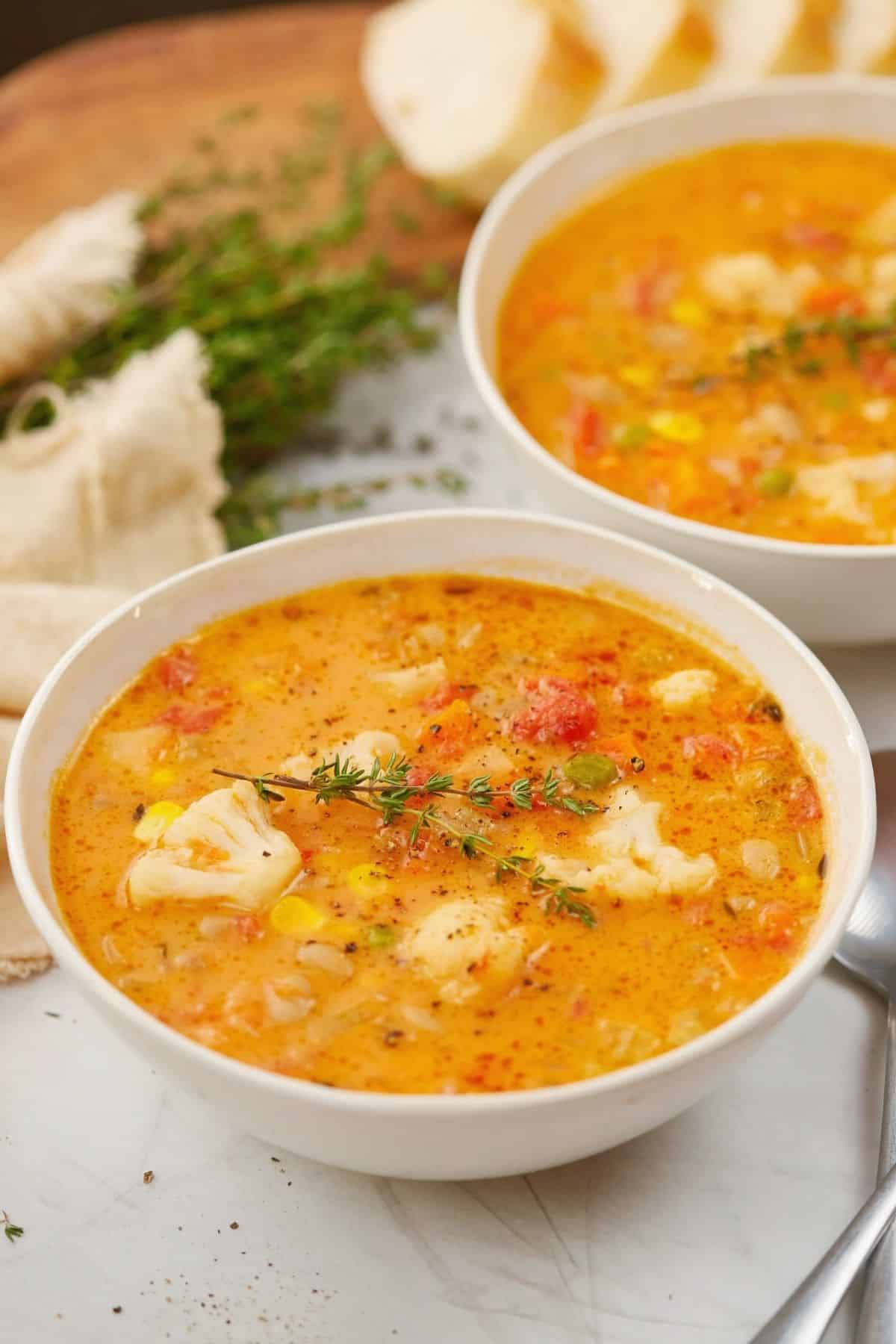 Jump to:
Vegetable Soup
Everyone has a classic vegetable soup recipe in their repertoire. It's an easy meal that is low in calories, healthy, filled with nutrients, and almost always able to fit into a plant-based diet. This recipe is no different. It includes multiple vegetables to build rich flavor, and a touch of vegan cream cheese to make it more cream soup than broth-based.
Soups are versatile meals that can serve as a starter, a lunch, or a main dish. While this recipe doesn't have a lot of added protein, it is a well-balanced meal that pairs beautifully with a slice or two of our no-knead artisan bread.
Make this soup in larger batches and let it cool before portioning it into 2-cup servings to freeze. It makes the perfect grab-and-go lunch on busy days. Just pop it into a saucepan or into the microwave to heat!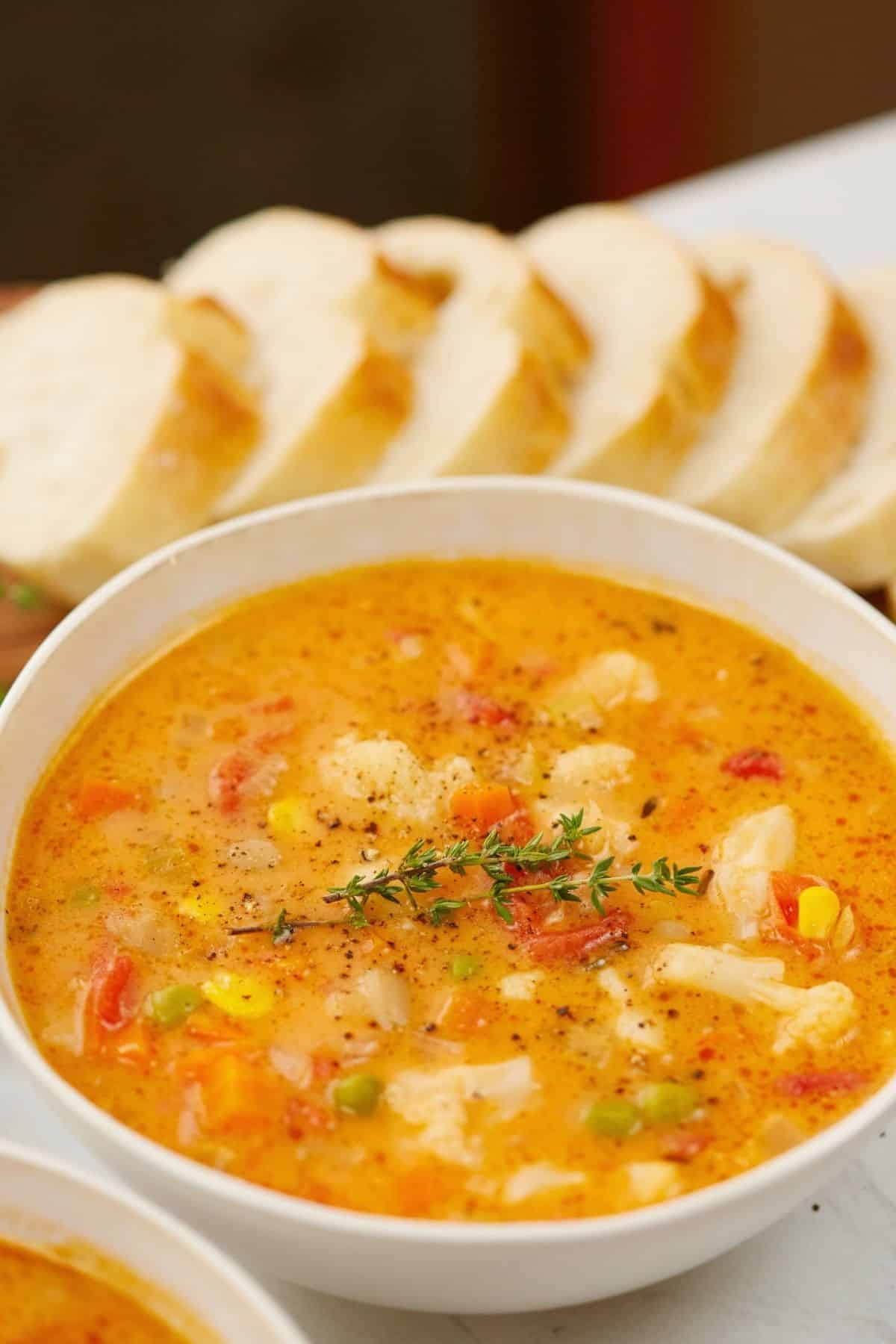 What Vegetables Go Into Vegetable Soup?
The answer is simple - any vegetables that you like can go into vegetable soup. This recipe uses onion, garlic, celery, corn, peas, carrots, cauliflower, and tomatoes. Below are some more options to consider.
Bell peppers
Jalapeno or poblano peppers
Broccoli
Zucchini or squash
Black-eyed peas
Asparagus
Green beans
Mushrooms
Turnips, rutabaga, or parsnips
Kale or spinach
You can also mix and match the type of bean you add to your soup. This uses a white bean (cannellini or Great Northern), but you could add pinto beans or even kidney beans if you prefer. For an extra kick, a chili bean could be used.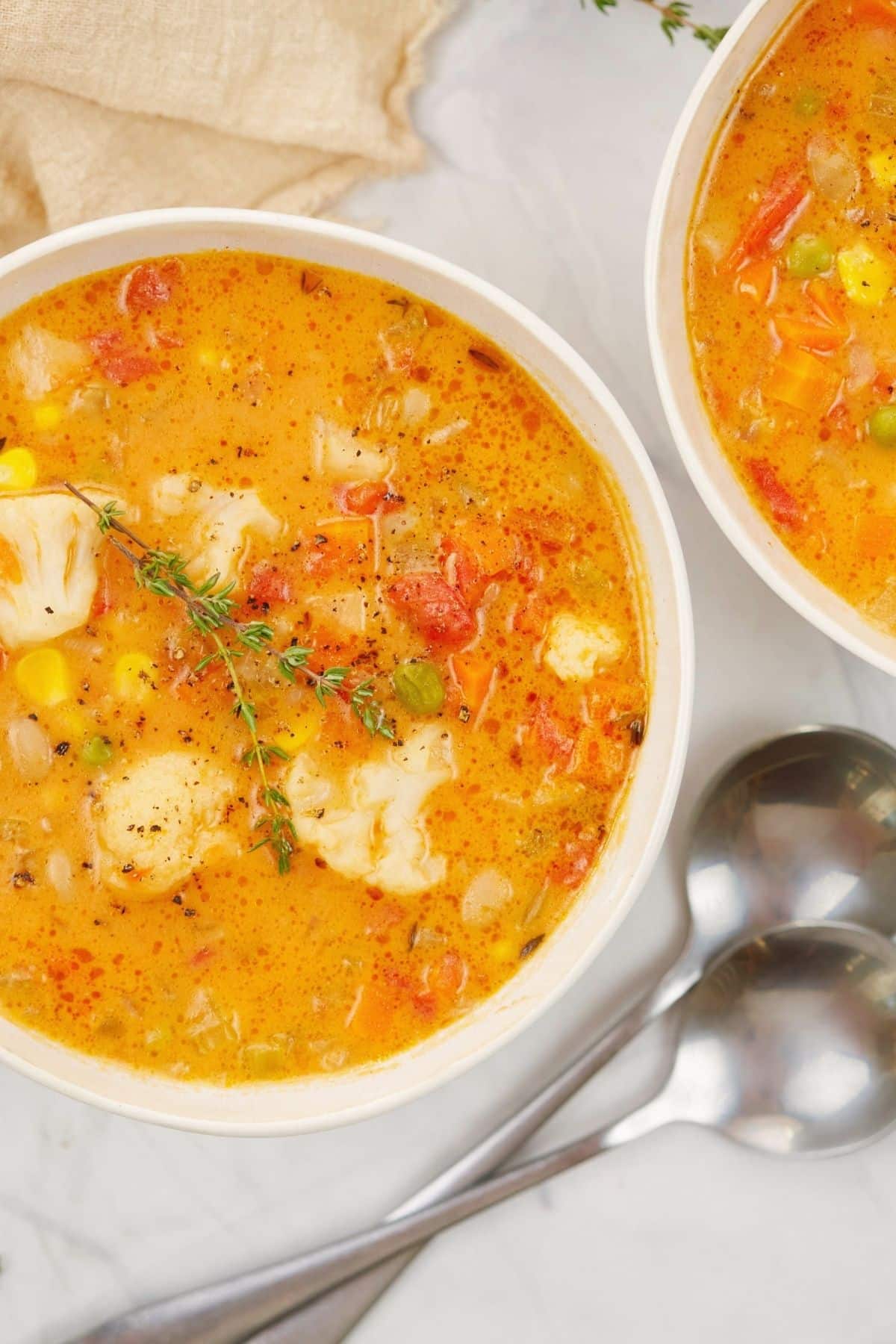 Ingredients
4 tablespoon olive oil
3 garlic cloves, minced
1 white onion, chopped
1 carrot, diced
2 celery stalks, diced
½ cup corn (80g)
½ cup peas (80g)
2 cups cauliflower florets (130g)
4 cups vegetable stock (1 liter)
1 (15.5oz) can of white beans, drained (439g)
1 (14.5oz) can diced tomatoes (411g)
½ cup vegan cream cheese (90g)
2 tablespoon all-purpose flour
3 tablespoon vegan butter
1 ½ teaspoon dried thyme
Salt and black pepper to taste
Note: Make your own homemade vegan butter and vegan cream cheese with our recipes to save money!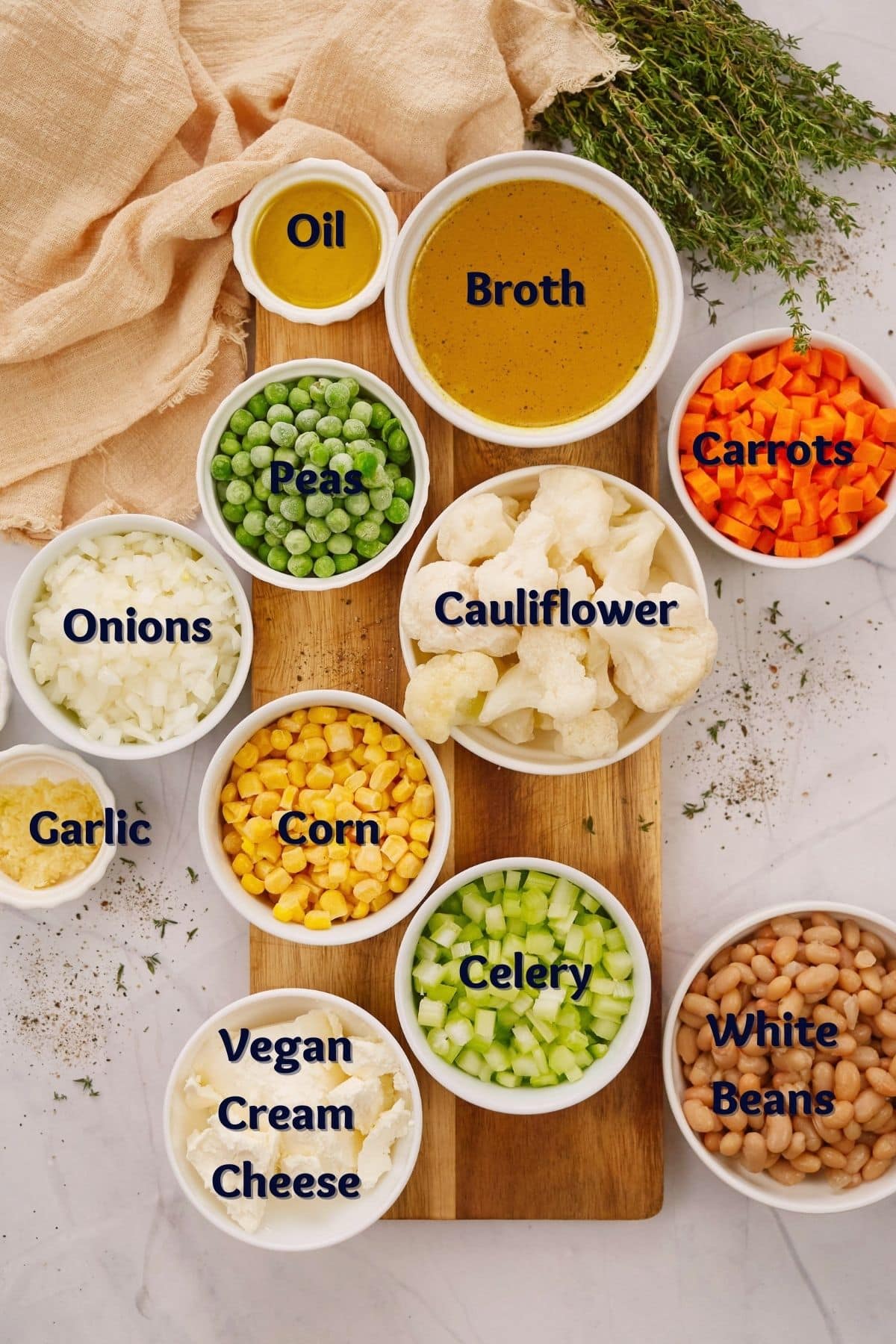 Tools Used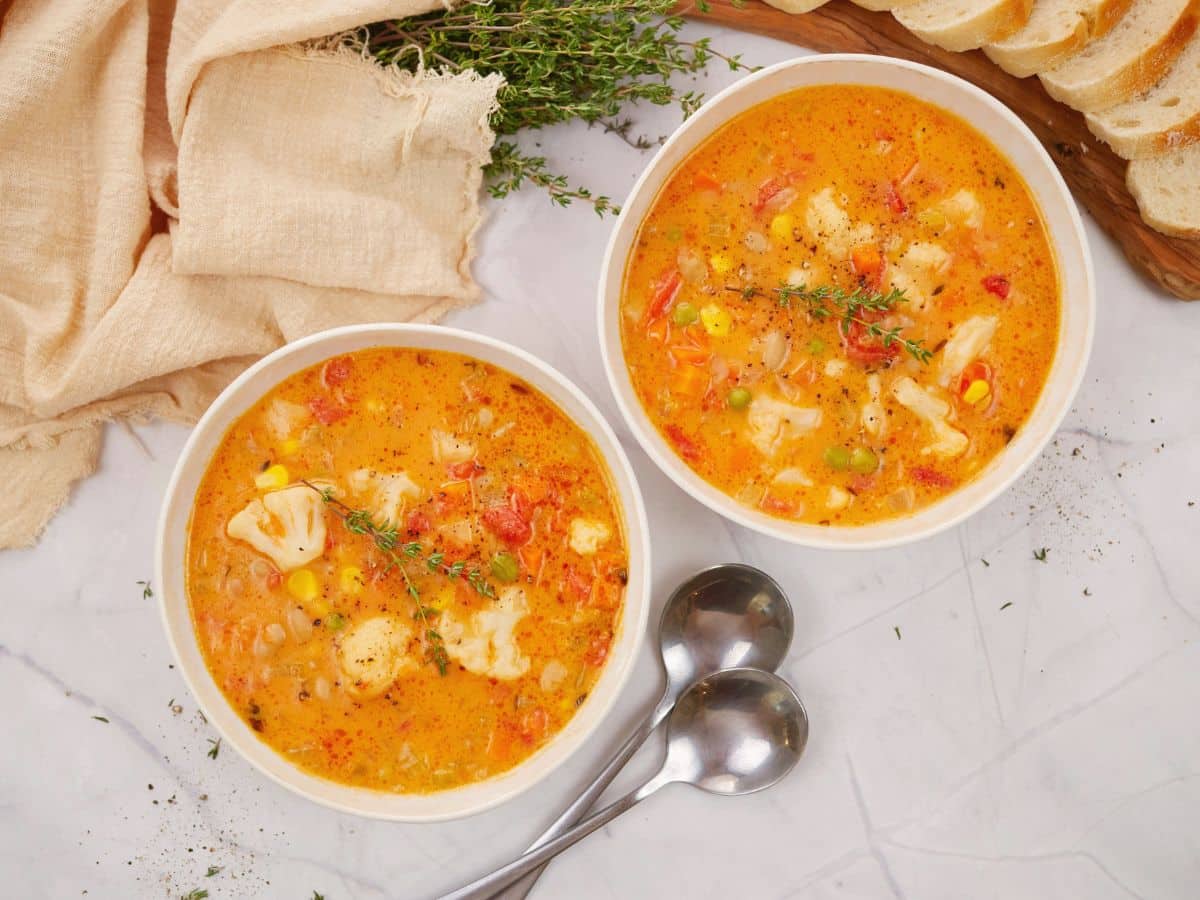 Video Recipe
How to Make Vegan Vegetable Soup
Begin by preparing all of your vegetables. If using frozen corn, peas, and carrots, you can simply measure these and set them aside. For the fresh ingredients, dice or chop as needed and then set them aside.
Now, in the Dutch oven or stockpot, add the olive oil and heat it over medium-low heat. To the hot oil, add the diced carrots, onions, and celery. Cook these, stirring regularly, for 5 to 7 minutes, until the vegetables are tender.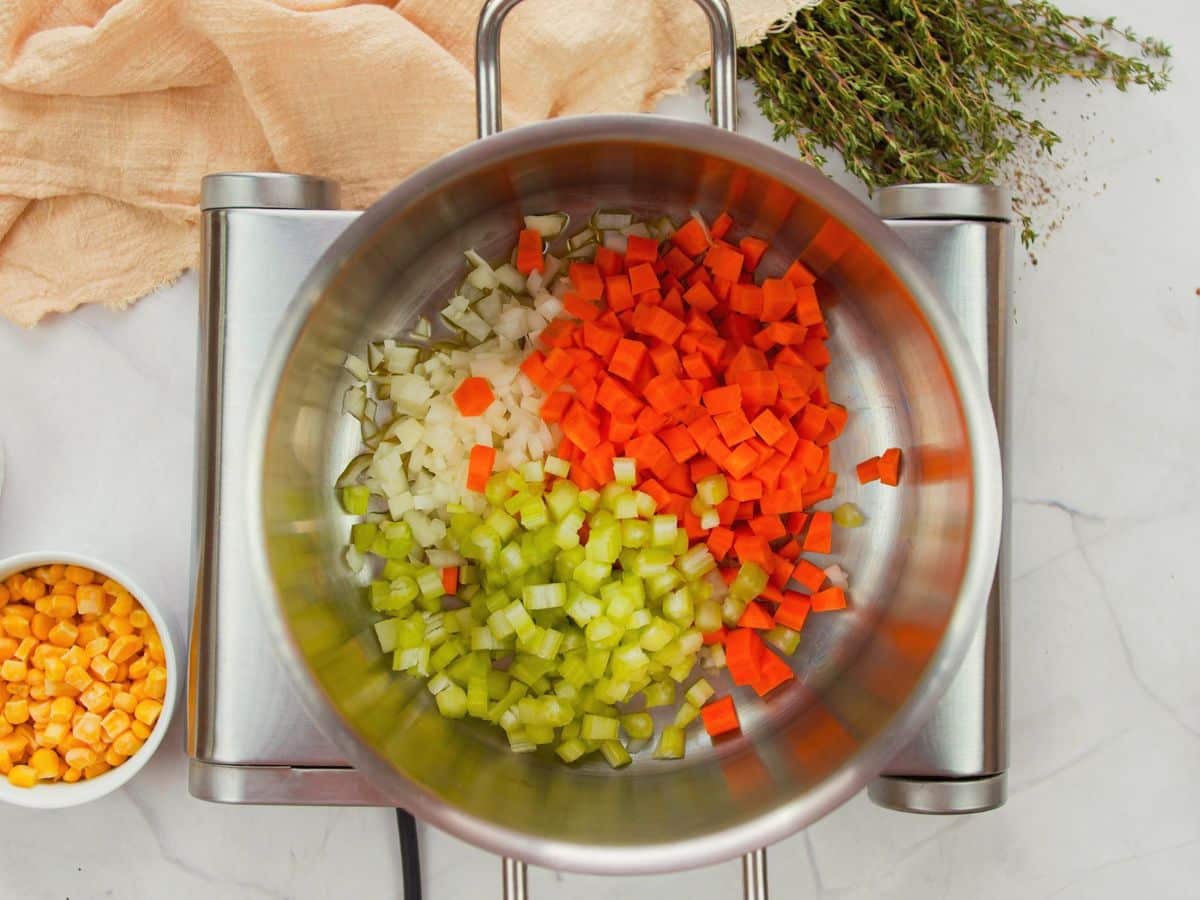 Add the vegan butter and stir until it is melted. Then, add in the thyme and garlic. Cook this for another 1 minute. Sprinkle with flour, and stir to coat, cooking for an additional 1 minute.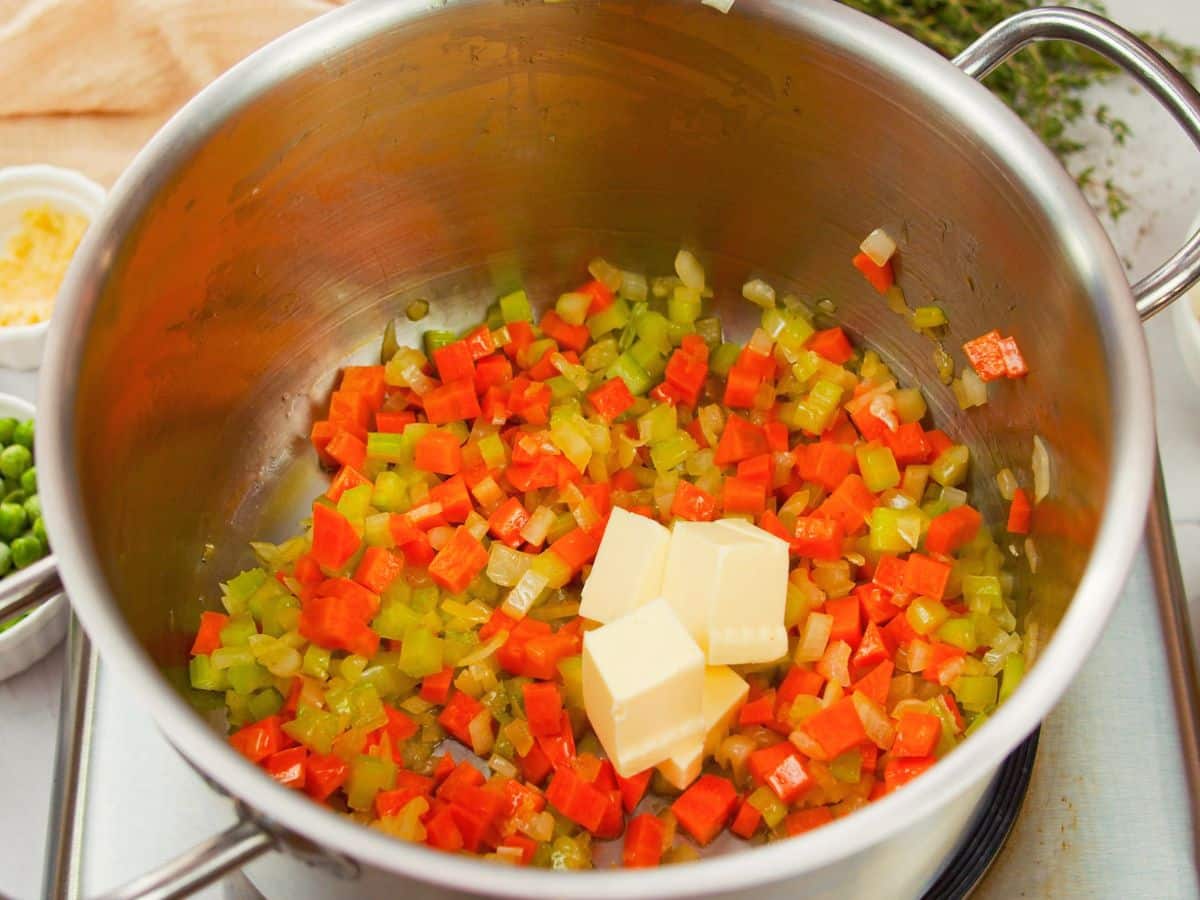 Next, add in the cauliflower, peas, and corn. Stir together and cook for 3 minutes.
Then, add 1 cup of broth, along with the vegan cream cheese. Stir this together well, until it's incorporated. Then, add in the remaining 3 cups of broth and the can of tomatoes.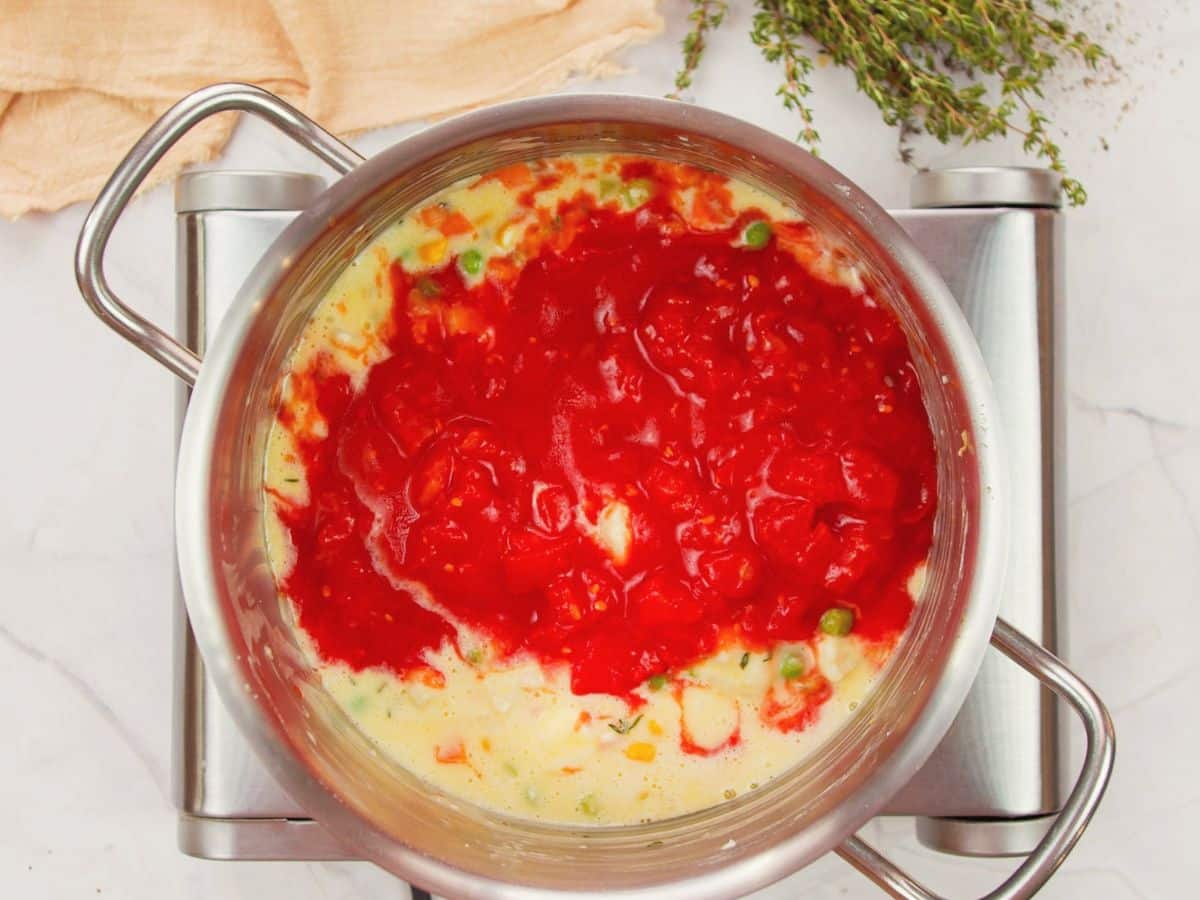 Reduce the heat to low and let it simmer for 30 minutes, stirring occasionally.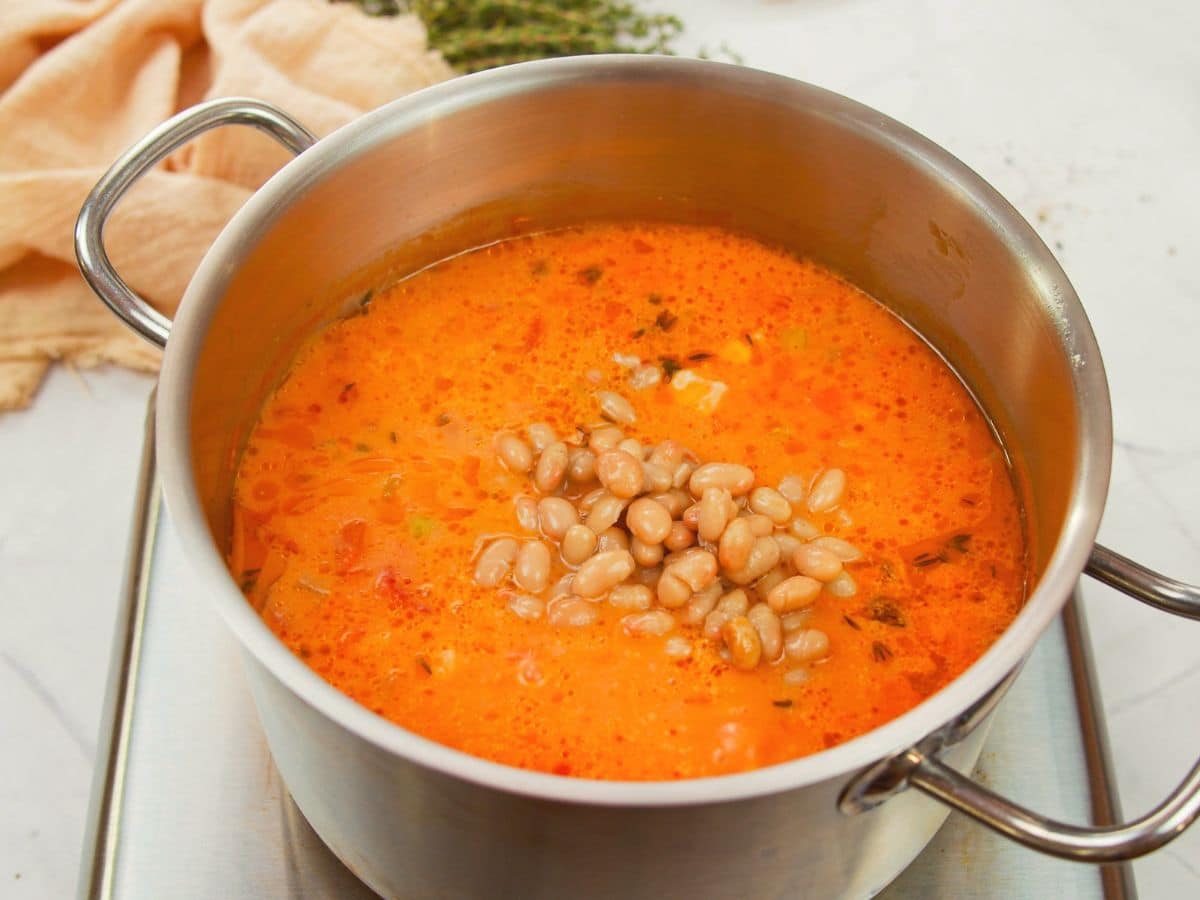 Lastly, add the drained beans and stir them into the soup. Let them heat through for another 2 to 3 minutes.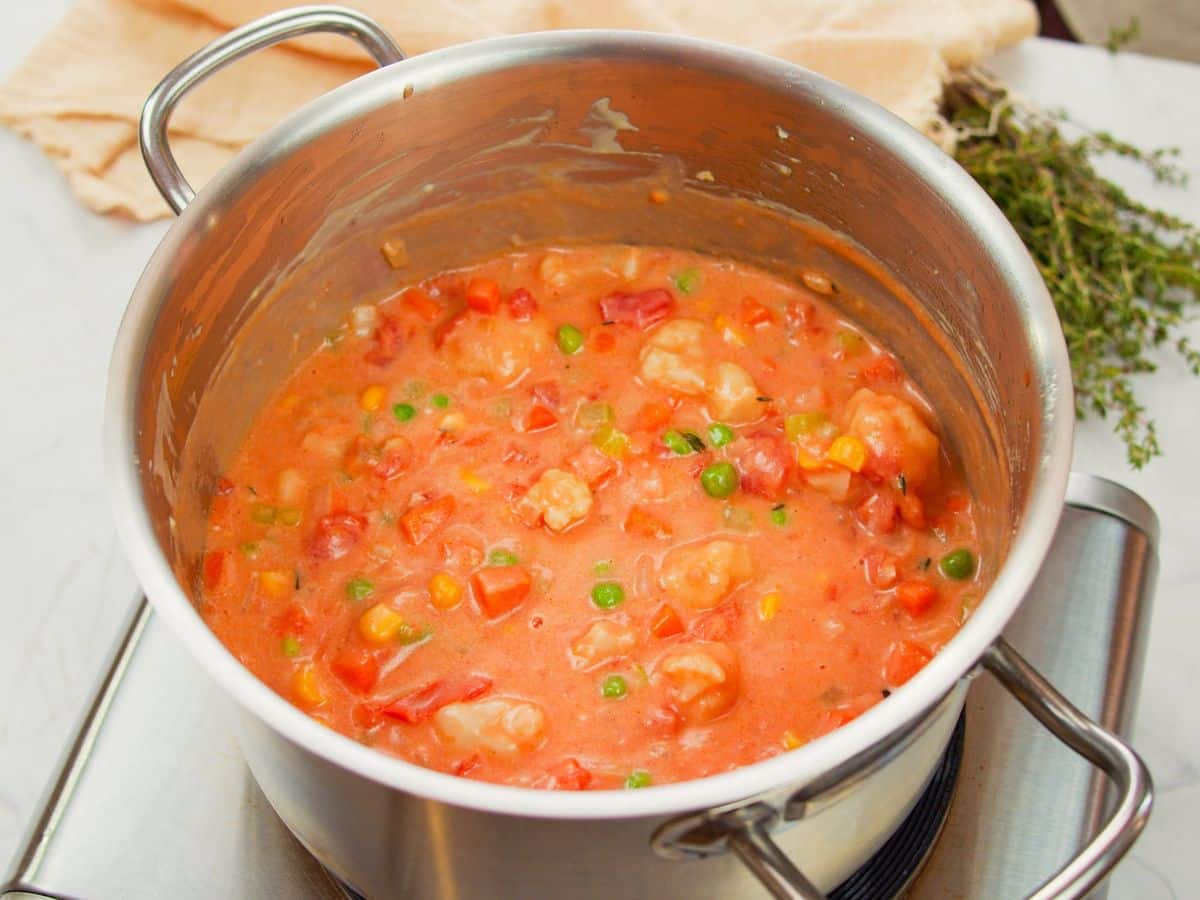 Taste, and adjust seasoning if needed, then serve.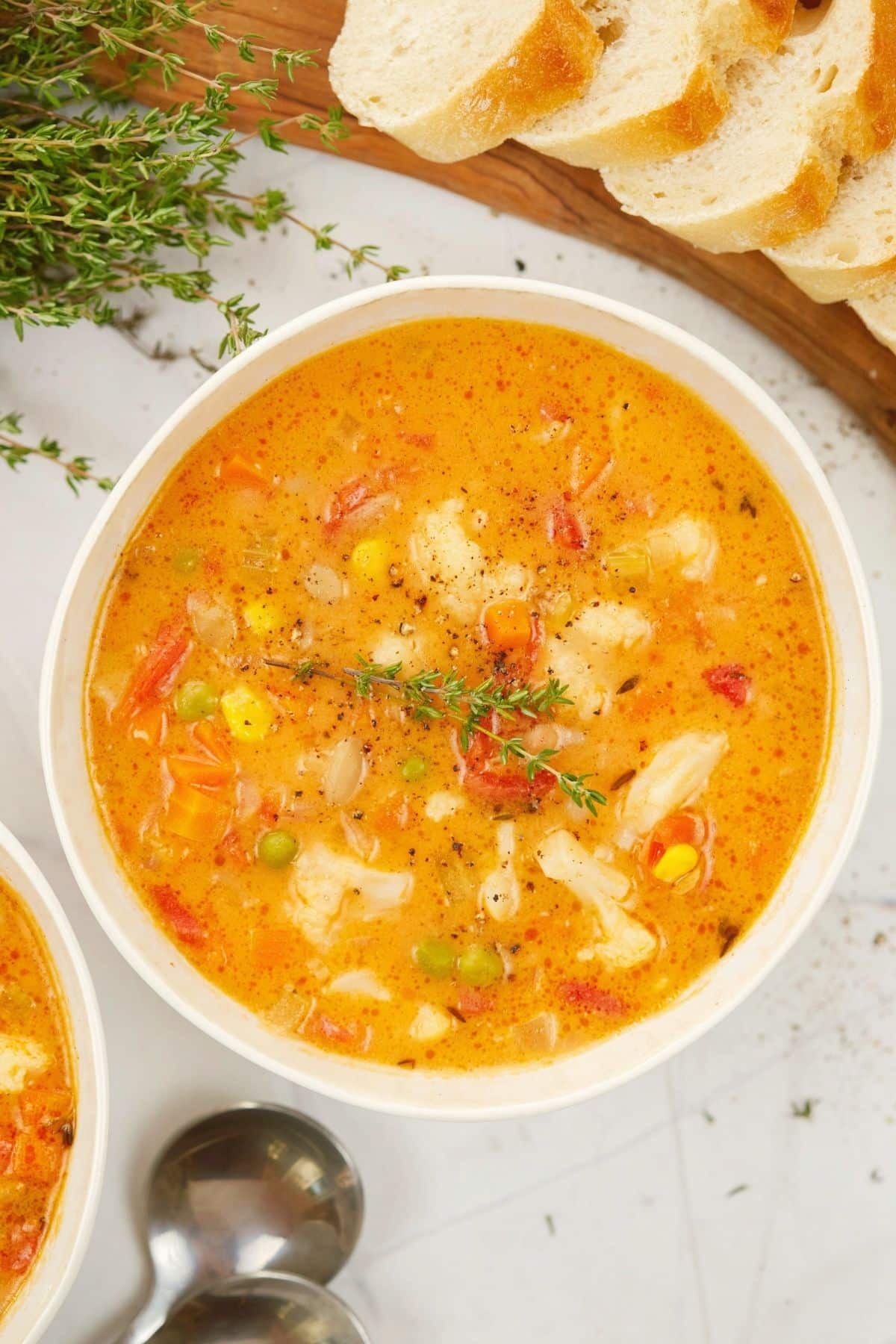 Frequently Asked Questions
What gives the vegetable soup a depth of flavor?
The combination of vegetables with just enough dried herbs brings out a nice depth of flavor. Cooking down the onions until tender and including plenty of garlic also bring a balance to the soup and increase the richness.
What broth base is best for homemade vegetable soup?
Any basic vegetable broth or vegetable stock can be used or this recipe. You can also use water with 2 bouillon cubes if you prefer.

Another great option if you like the flavor, is to use a vegan mushroom broth. This will add tons of earthy flavor and richness that a basic broth would not. In a pinch, you can even make a batch of vegan mushroom gravy and use it in the soup to thicken and add flavor.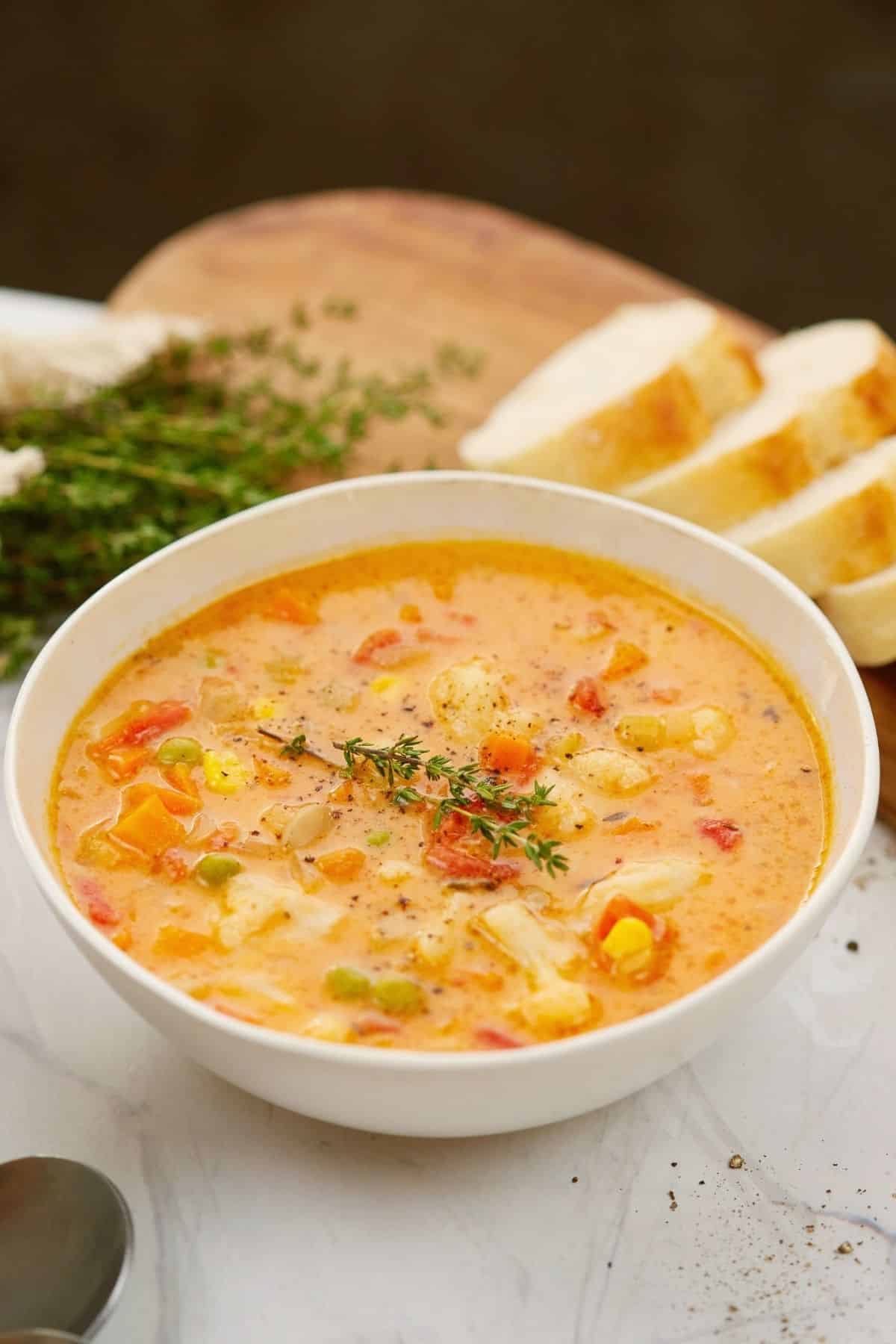 What Goes with Vegetable Soup?
Not sure what to serve alongside this tasty soup? We've got you covered with some great ideas below. While this is a meal by itself, soup is often served with a bit of something on the side, or as a starter to the meal.
For dipping into the soup, a side of freshly made no-knead vegan focaccia bread, vegan naan bread, or a slice of vegan cornbread can all work well.
If you want to create a larger meal, you can serve this as a starter for something like our vegan Salisbury steak, or our vegan ham recipe. Both are delicious and hearty, and pair great with this soup!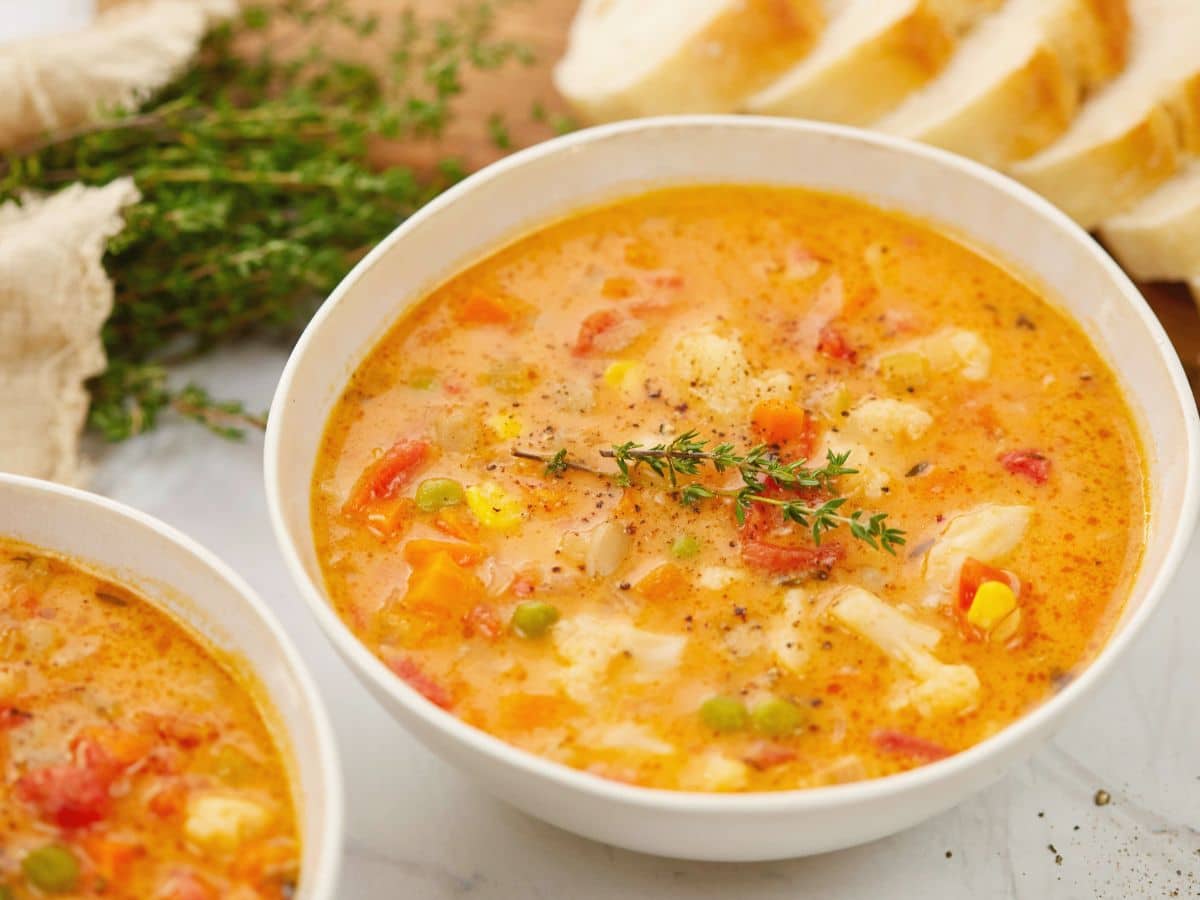 More Vegan Soup Recipes
Of course, you may want to add more soups to your menu and give it a bit of variety. Below are a few of my favorites that I know you will enjoy. Take a moment to check them out, bookmark your favorites, print out the best recipes, or even pin them to Pinterest to make soon!
Follow me on PINTEREST and INSTAGRAM for more tasty Plant Based & Vegan Recipes❤️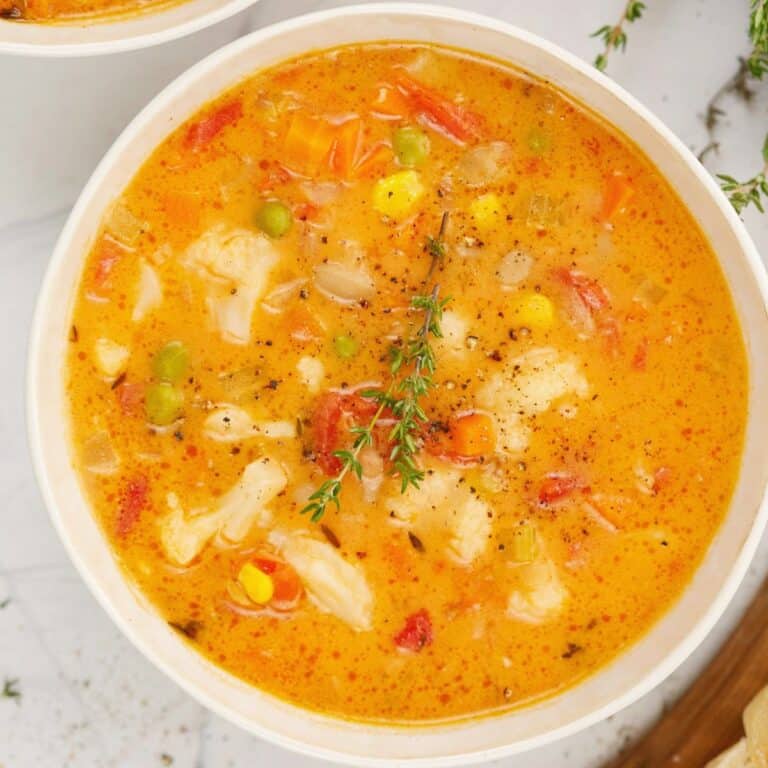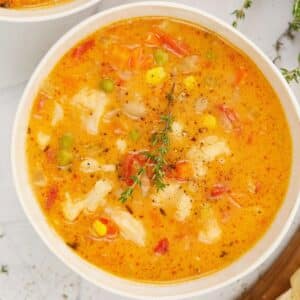 Hearty Vegan Vegetable Soup
Looking for a healthy and delicious meal? Try our vegan vegetable soup packed with nutritious veggies and perfect for any time of day!
Instructions
Heat olive oil in a large pot over medium-low heat. Add carrots, onions, and celery. Saute for 5-7 minutes.

Add 3 tablespoon of vegan butter, thyme, and garlic. Cook for 1 minute, then sprinkle everything with flour and cook for another minute.

Add cauliflower, peas, and corn. Cook for 3 minutes.

Pour in 1 cup of stock and add vegan cream cheese. Stir well, then add another 3 cups of stock and 1 can of tomatoes. Lower the heat to a minimum and let the soup simmer for 30 minutes.

Finally, add beans and let them heat through for another 2-3 minutes. Adjust the seasoning to your liking before serving the soup.
Notes
For added flavor, include 1 tablespoon of Italian herbs, ½ teaspoon curry powder, or ½ teaspoon each of onion powder and garlic powder.
Roast the vegetables in the oven before adding them to the stockpot for the soup for extra flavor.
Make your own homemade vegetable broth by boiling down vegetable peels and end pieces for 1 hour, strain, and save the remaining liquid.
Substitute the vegan cream cheese with vegan sour cream or skip for a broth-based soup.
Nutrition
Calories:
545
kcal
Carbohydrates:
58
g
Protein:
18
g
Fat:
30
g
Saturated Fat:
7
g
Polyunsaturated Fat:
4
g
Monounsaturated Fat:
13
g
Trans Fat:
0.04
g
Sodium:
1290
mg
Potassium:
1268
mg
Fiber:
14
g
Sugar:
13
g
Vitamin A:
3905
IU
Vitamin C:
47
mg
Calcium:
188
mg
Iron:
7
mg