A twist on the classic Russian beet soup, this Vegan Doukhobor Borscht Soup is full of creamy mashed potatoes, vegetables, sauerkraut, beets, and fresh dill for bright and bold flavors! The recipe originated in western Canada but can be enjoyed by all.
Chances are that if you're from the Kootenays in British Columbia, Canada, you've heard of Doukhobor-style borscht soup before. My husband and I both grew up enjoying bowlfuls of this colorful and tasty soup, slurping up every last drop of the rich and hearty flavors.
My Vegan Doukhobor Borscht Soup is just as delicious as the original, if not better! The recipe is slightly different from traditional beet borscht due to its orange color and more potato and veggie-forward nature. Of course, I still add a bright red beet for color!
It's easy to rave about this delicious soup! After all, who doesn't love mashed potatoes and roasted veggies? It's:
A tried and true family recipe.
One of the best crowd-pleasing meals. The recipe makes enough for 10-12 people!
Extremely budget friendly. You probably have most of the ingredients in your cupboard already.
Easy to store and freezer friendly.
Don't let the lengthy instructions intimidate you - vegan borscht is actually quite easy to make. Plus, there's always enough leftovers to enjoy for weekday lunches or quick dinners. Serve each bowl with fresh Artisan Bread on the side to soak it all up!
Jump to: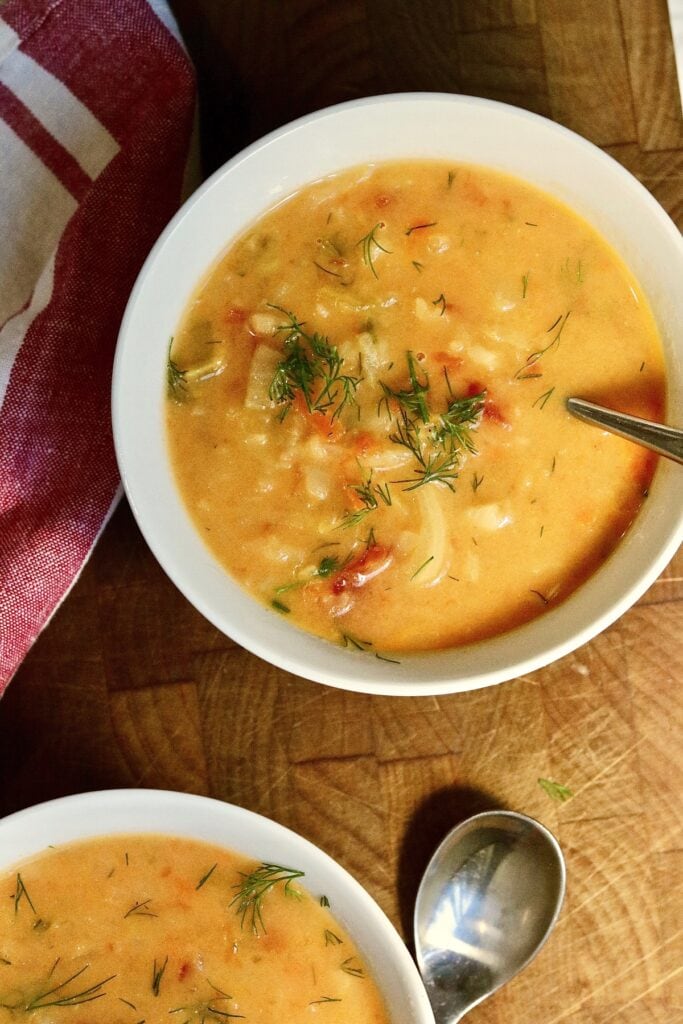 What is Doukhobor borscht?
Doukhobor borscht isn't like a traditional vegetarian borscht recipe. While classic beet soup is made with plenty of beets, vegetables, chopped potatoes, and dill, this vegan version of Doukhobor borscht features mashed potatoes and boiled vegetables instead.
This borscht recipe is named after its inventors, the Doukhobor people. This large group of Russian dissenters originally immigrated to Canada in 1899 and today, there are about 20,000 left mostly in western Canada. One of the most famous Doukhobor borscht recipes comes from the Old Yale Hotel in Grand Forks, BC, which is what inspired this recipe (along with my mother in law's borscht recipe).
Vegan Doukhobor borscht ingredients
Green cabbage - Shredded cabbage adds bulk and texture to the soup as well as vitamin C and other minerals.
Potatoes - You'll traditionally find white potatoes in borscht but this Grand Forks doukhobor borscht recipe features them as one of the main ingredients (instead of beets).
Vegan butter: add a buttery creaminess to soup
Beet - Beets are usually the star of the show in vegan borscht but this recipe only uses one for the natural red colour.
Veggies: onions, carrots, celery, green bell pepper, garlic
Tomatoes - For a slight acidity.
Sauerkraut - My secret ingredient!
Coconut cream - This will make the soup creamy without giving it a noticeable coconut flavor.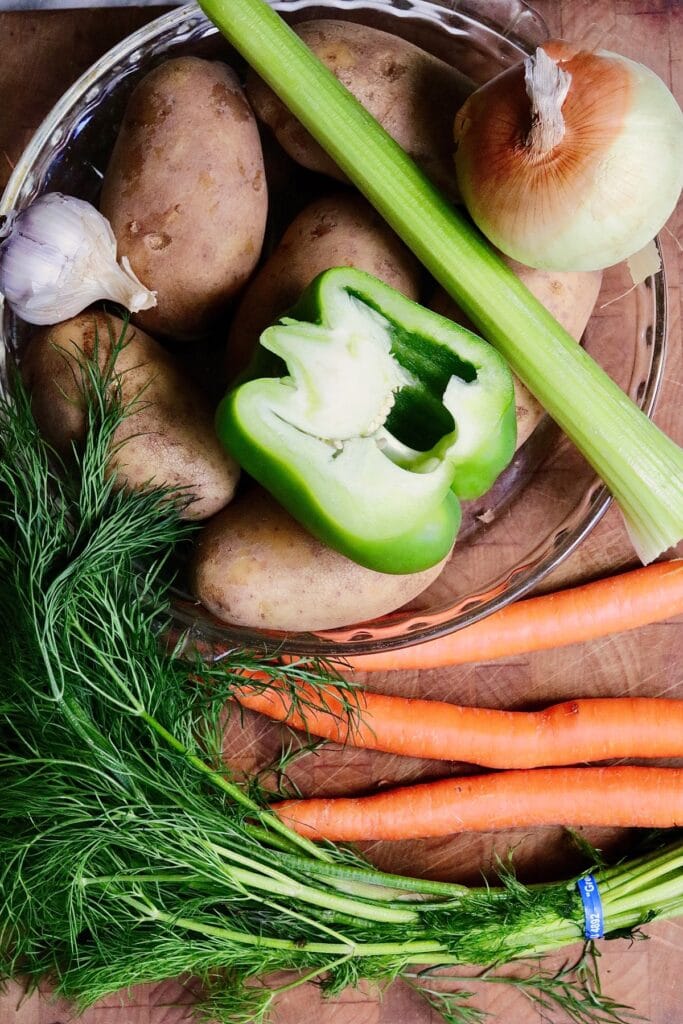 How to make vegan Doukhobor borscht soup
Doukhobor borscht is somewhat time consuming, but well worth the effort. Be sure to follow the steps in the recipe card carefully for the best results!
Add the diced tomatoes and half of the yellow onion into a large soup pot over medium heat. Once the tomatoes are simmering, mash everything together and continue to simmer until the mixture thickens.
While the tomato mixture is simmering, place the cabbage, remaining yellow onion, green peppers, and ¼ cup of vegan butter into a separate skillet. Saute over medium heat for a few minutes, then add the garlic.
Transfer the cabbage mixture and the water, salt, beet, potatoes, and remaining vegetables into the pot with the tomatoes. Cover with a lid and let it simmer until the potatoes are tender. Take the pot off the heat and scoop the potatoes into a bowl.
Add the vegan butter and coconut cream into the bowl with the potatoes and mash them all together. Add them back into the soup and simmer for a few more minutes before removing and disgarding the beet.
To finish, stir the dill and sauerkraut into the soup. Let it cool and thicken for a little while longer before adding any more seasonings. Once it's ready, serve with some cashew sour cream or dill on top and enjoy! For full ingredients and instructions see printable recipe card below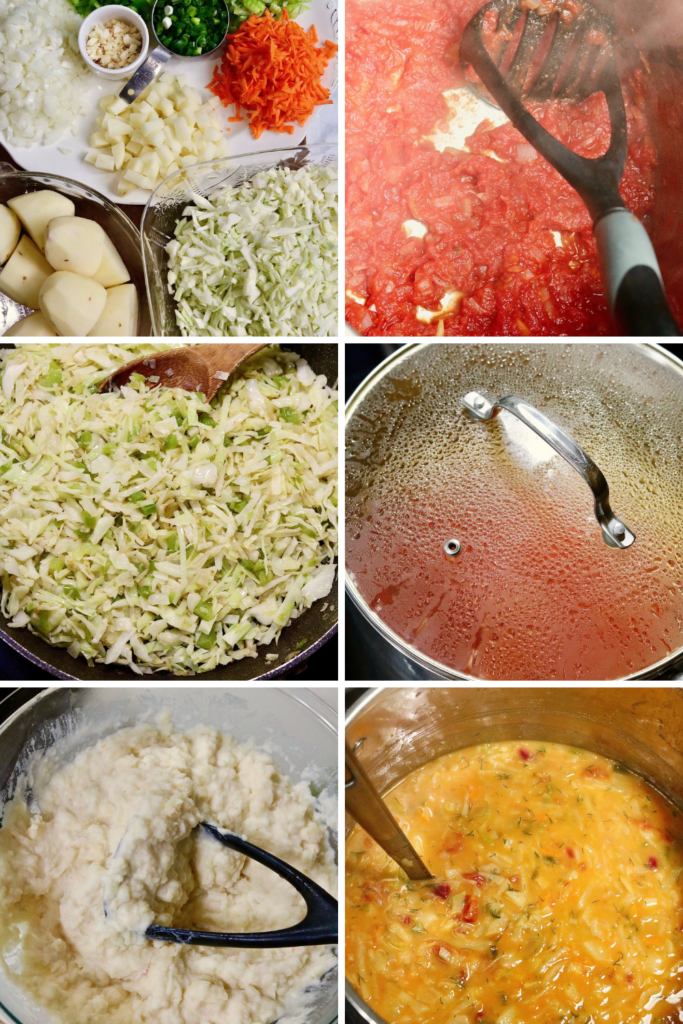 Tips for success:
I prefer to use Russet potatoes in this recipe, but yellow potatoes would also be delicious.
If you're a big fan of beets, you can slice the boiled beet and add it back into the soup when it's done.
Stir in 1 to 2 teaspoons of apple cider vinegar or lemon juice if you prefer the borscht to be on the tangy side.
No vegan butter at home? Replace it with olive oil, avocado oil, or coconut oil.
Avoid the temptation to add salt with cabbage and onions during the cooking process!
This soup is even better when reheated the next day. Make it a day or two ahead of time and enjoy the delicious leftovers for lunch!
Frequently asked questions
What goes well with borscht soup?
I like serving my borscht with a simple side of homemade bread and vegan butter. For a fancier spread, add a dollop of vegan sour cream or dill on top of each bowl. Pickles and sliced vegan cheese always complement the tangy flavours!
How long does it last?
As long as you store the leftover vegan borscht in an airtight container, this soup will last for up to 1 week in the fridge.
Can you freeze borscht?
Absolutely! This vegan borscht is a super freezer-friendly meal. I recommend storing the leftovers in a ziploc bag or airtight container in the freezer for up to 3 months. To reheat, simply place the frozen borscht into a large soup pot and heat over medium heat until it's warmed through.
Looking for more hearty vegan soup recipes?
Enjoy everyone! Happy Day! Please feel free to comment below and give this recipe a rating. Your feedback is greatly appreciated!
Follow me on PINTEREST and INSTAGRAM for more tasty Plant Based & Vegan Recipes❤️
Subscribe here for free weekly recipes delivered right to your inbox! No need to scour the internet. Your one stop shop for recipes is here😊 No spam I promise!
Print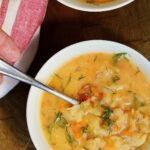 Vegan Doukhobor Borscht Soup
---
Author:

Verna

Total Time:

1 hour

Yield:

12 Servings

Diet:

Vegan
Description
A twist on the classic Russian beet soup, this Vegan Doukhobor Borscht Soup is full of creamy mashed potatoes, vegetables, sauerkraut, beets, and fresh dill for bright and bold flavors! The recipe originated in western Canada but can be enjoyed by all.
---
¼ cup plus 3 tablespoons vegan butter, divided

6 cups green cabbage, shredded

1 medium-large yellow onion, diced

½ large green pepper, diced

3-4 cloves garlic, chopped

1 large can diced tomatoes (28 oz)

6 medium potatoes, peeled (5 halved widthwise, one diced)*

1 small beet, peeled and sliced in half

3 quarts water (12 cups)

1 and ½ tablespoons salt

1 cup carrots, grated

1 celery rib, diced

½ cup green onions, chopped

¾ cup canned coconut cream

½ cup sauerkraut

¾ cup fresh dill, chopped
---
Instructions
Read through instructions before starting.
First prepare all ingredients, peel and halve potatoes, slice beet, etc,.. and have everything on the counter. Place diced vegetables and diced potato in separate piles on a

large plate/platter.

Add 3 tablespoons vegan butter and coconut cream to a

large bowl

set aside (for mashed potatoes later). Add shredded cabbage in another bowl. Keep chopped dill and sauerkraut off to the side as they are added at the end. Have water and salt measured and ready too.

On the stovetop place a large stock pot/soup pot and a large non stick skillet. Add the canned tomatoes and ½ of diced yellow onion to the soup pot. To the skillet add cabbage, rest of yellow onion, green peppers and ¼ cup butter.

Cook tomatoes over medium heat. Mash with potato masher once they are simmering. Cook for 15 minutes or so until they have cooked down and thickened. At the same time saute cabbage mixture over medium heat for 10-12 minutes. Do not brown (or very little), stir in garlic for the last couple of minutes, set aside.

Add fried cabbage to tomatoes in the soup pot with water, salt, beet, potatoes and rest of veggies - EXCEPT BUTTER, CREAM, SAUERKRAUT AND DILL - Cover with lid just slightly ajar and bring to a good boil over medium-high heat. Cook for 23 minutes (yes keep it boiling). Remove from heat. Carefully remove potatoes as they will be tender, add them to the butter and cream in a bowl and mash until smooth and creamy. Stir back into soup. Check veggies for doneness and if necessary simmer soup uncovered for a couple minutes on medium-low heat. Discard the beet.

Stir in dill and sauerkraut. Let soup sit off heat partially covered for 15-20 minutes to meld the flavours and thicken a little. Season with salt and fresh cracked black pepper to taste, add more dill if desired. Enjoy with homemade bread. This soup is even better reheated the next day. For step by step photos, FAQ, Tips and suggestions see above post.
Notes
The weight of 6 medium potatoes is approximately 2 and ½ to 3 lbs

I always use russet potatoes, yellow would be good too

Some people enjoy this soup with a side of sliced pickles, bread and cheese and or a dollop of sour cream. I prefer it straight up as is with fresh buttered bread

This is not a beet borscht the beet is used for colour and is discarded after boiling but can be diced and added back in if you like ( I prefer to discard after boiling, the flavour is better without it and that's how traditional doukhobor borscht is made)

Salt must be added when stated not after

To store and freeze:

Keep in the fridge covered for up to a week. freeze for 2-3 months in containers or ziplock freezer bags

This soup will feed 10-12 people generously
Prep Time:

20 Minutes

Cook Time:

40 Minutes

Category:

Soups, Gluten free

Method:

Stovetop

Cuisine:

Russian, Canadian
Keywords: vegan doukhobor borscht, vegan borscht