Vegan butter! My quick and easy plant based version of real butter that tastes incredible! Whips up in 1 minute to buttery perfection. Perfect to spread on toast, for baking and cooking. Add to any recipe requiring dairy butter. No Palm oil, nut free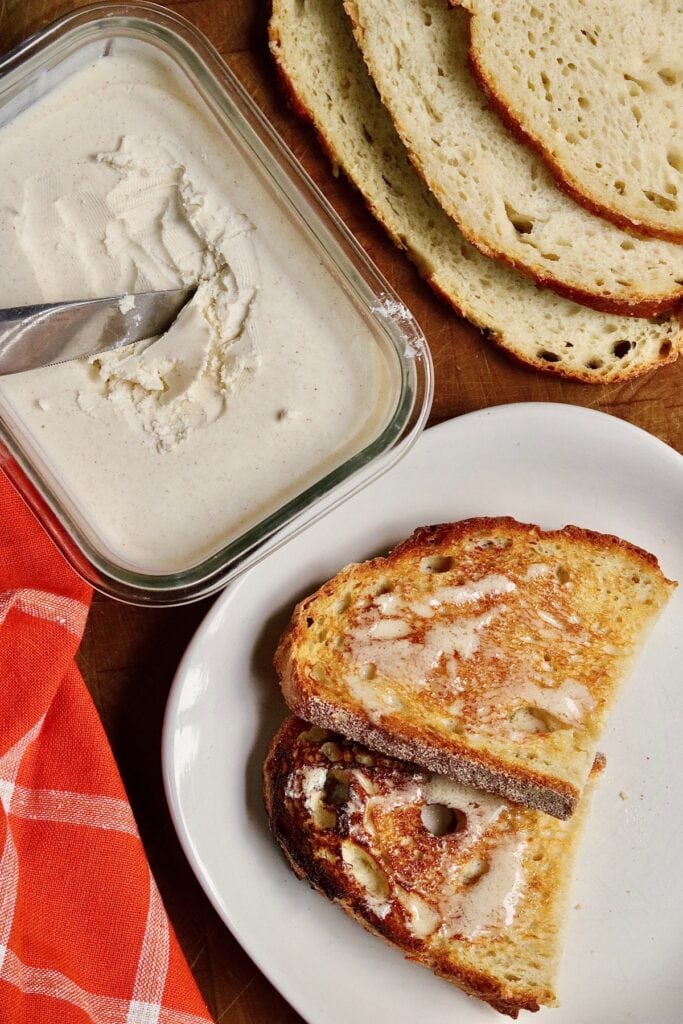 The closest you'll get to real butter…
Wait until you taste this vegan butter it tastes remarkably like real butter! so creamy and flavourful. It's essentially vegan margarine. This recipe takes minutes to make in the blender at home and is healthier than it's dairy counterpart! And budget friendly too! made with coconut oil, soy milk and a few more simple ingredients
-and the best thing -it's amazing on popcorn!! (My favourite) You'll think you're eating buttery theatre style popcorn. It's so GOOD!!
Not to mention you can use it in any baked goods recipe like muffins or chocolate chip cookies cookies or for cooking or frying and works wonderfully for vegan cream cheese frosting! .
I find this plant based butter better tasting than any store bought brands of vegan butters like earth balance and just as good as Miyoko's creamery butter for a fraction of the price
This vegan recipe is for hard stick butter. I've included spreadable in the tub whipped style soft buttery spread too. Both are awesome and simple recipes. Read on for suggestions, tips and more!
Jump to: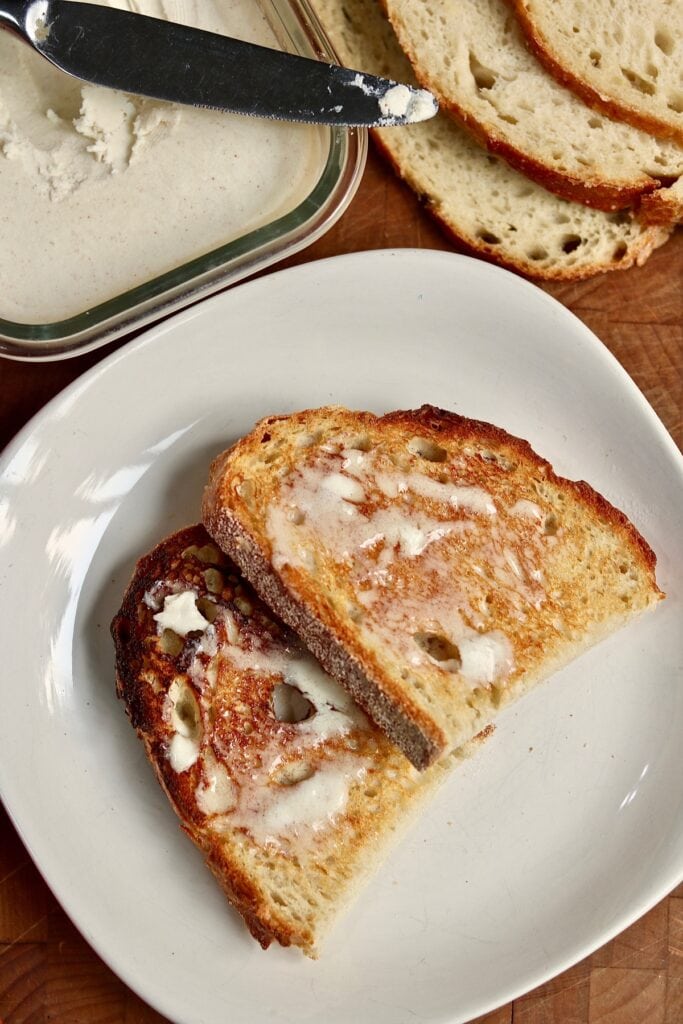 Ingredients and substitutions:
Wondering what vegan butter is made of?
Unsweetened soy milk: super creamy and high in protein. For soy free could sub plain vegan yogurt, Pea milk, hemp or oat milk. Not almond milk or cashew milk.
Apple cider vinegar: used to curdle soy milk, gives more of a cultured flavour. Have not tested with lemon juice or other vinegars
Coconut oil: use refined coconut oil as it has no coconut flavour
Sunflower oil: this is my neutral oil of choice. I do not like canola oil or olive oil for this have not tried avocado oil
Sunflower seed butter: subtle nutty rich taste, it's a must! I use Sunbutter. Can use any seed or nut butter, like tahini, almond, cashew, peanut butter or Wowbutter
Nutritional yeast: adds umami flavour
Soy lecithin: a must for emulsifying, makes the butter thick and creamy. Prevents it from separating. I buy it from my local health food store in granulated form. If you can't find it locally, here is a [link]
Salt: brings out all flavours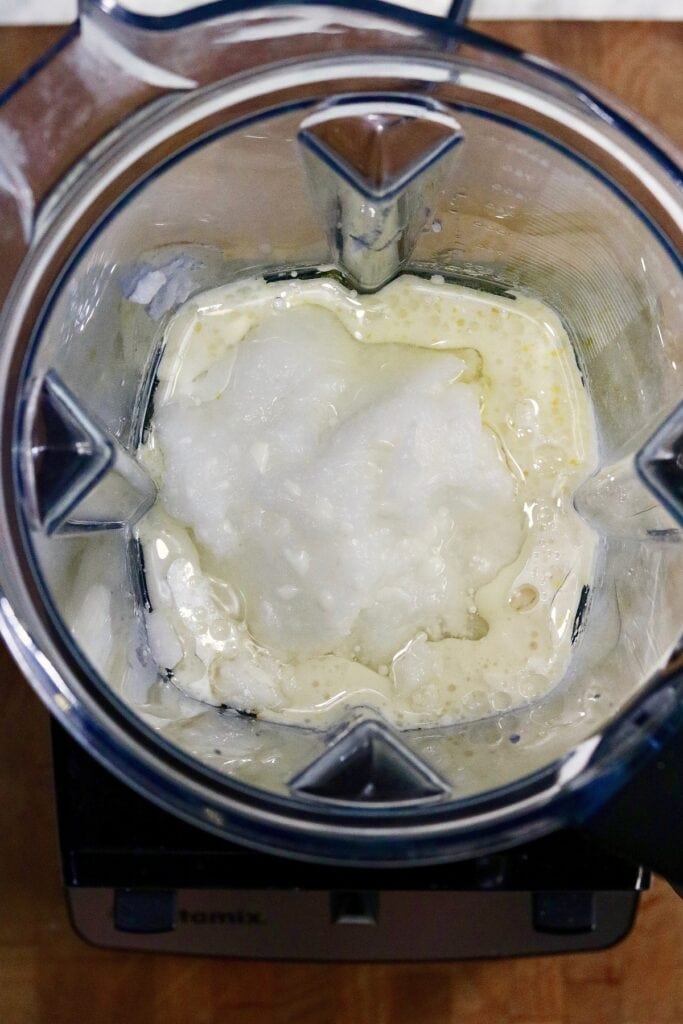 How to make vegan butter:
Have your butter molds ready: a glass container with lid, plastic or silicone molds. If using smaller molds set on a baking tray
Add soy milk to a bowl with vinegar set aside to curdle. (turns into vegan buttermilk) No need to stir
Partially melt coconut oil in microwave 25-30 seconds. It cannot be hot or warm
Add all ingredients to your blender. I use a high powered one (Vitamin blender) Blend on high for 1 minute, and yes I time it. Should be thick and creamy
Immediately pour into butter mold(s) and place in your freezer to set up. For full recipe ingredients and instructions see printable recipe card below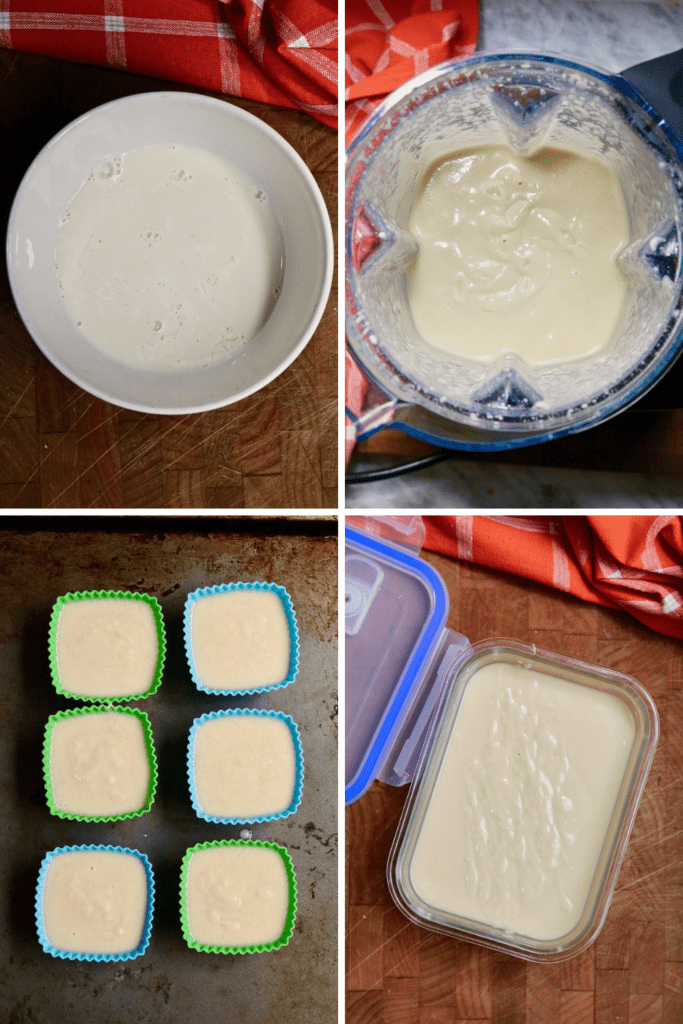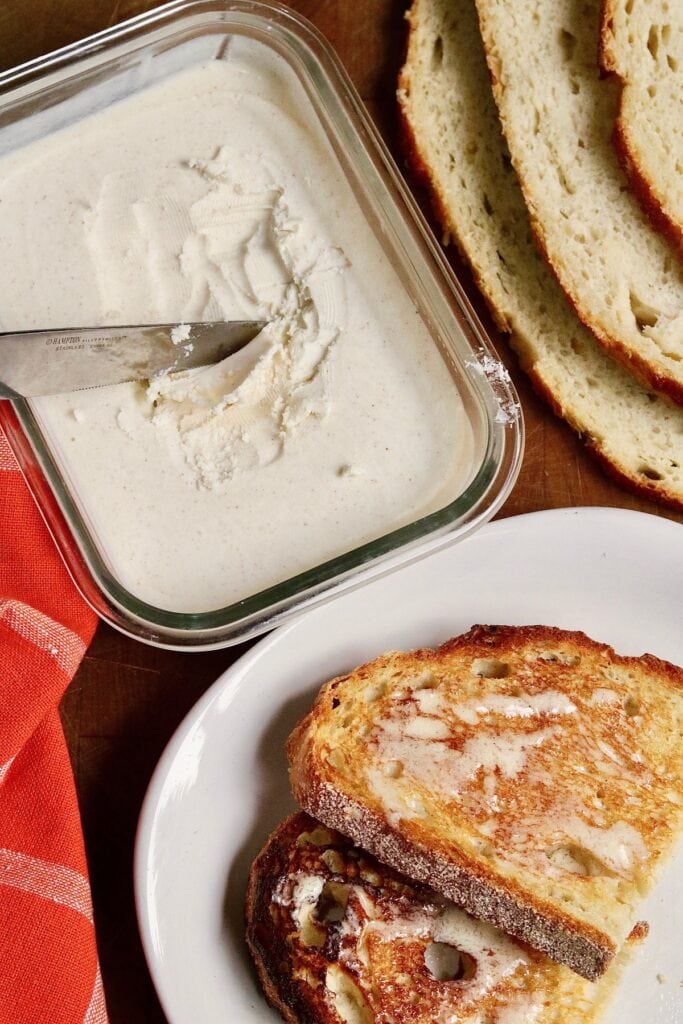 How to serve it:
Use this vegan butter in any recipe that calls for butter. Here are some ideas for you.
FAQ:
Is vegan butter healthy?
Homemade is definitely healthier than most store bought varieties and real butter too as it contains no palm oil, is cholesterol free and contains healthier coconut oil. Having said that it is still made with oil and therefor should be consumed in moderation in my opinion
What is vegan butter substitute?
It is a buttery spread that is essentially vegan margarine without any milk solids made with plant based ingredients like plant milk and vegetable oils, and or coconut oil like my recipe 😊
What is vegan buttermilk?
Adding and acid like vinegar or lemon juice to a protein rich plant based milk like soy milk causes the milk to curdle and thicken and creates vegan buttermilk
What is soy lecithin?
Soy lecithin is an emulsifying agent derived from soy beans. Used in baking and cooking. It can be purchased in granules, liquid or powder form.
Can I make vegan butter without soy lecithin?
Yes you can but there is a good chance your butter will separate. And it will not get thick and creamy. Other alternative is sunflower lecithin
Tips for success:
Make sure coconut oil is only partially melted and not warm at all as this could cause butter to separate.
Use a protein rich plant based milk. Soy milk is my first choice. Milk with less protein could cause butter to separate
Using soy lecithin is a must in my opinion as it really helps to bind oil and water, makes butter super creamy and prevents separation
Do not blend butter mixture for longer than a minute. If blender heats up this can also prevent everything from binding correctly.
It's important to use a plain unsweetened plant milk. No one wants vanilla scented butter , lol!!
I have tested this recipe with tahini, almond and peanut butter and I prefer the flavour of sunflower butter. The others were extremely tasty too though!
If using this butter for frying I recommend medium not high temperatures as it could burn at high temps do to the addition of seed butter. Or just omit the sun butter completely if using for certain recipes.
I have not tried browning this vegan butter. Let me know if you do!!😊
For soft vegan butter (spreadable tub style): use ¾ cup coconut oil and ½ cup oil.
For cultured vegan butter: use plain unsweetened vegan yogurt. My preference is Silk Coconut Yogurt.
For vegan theatre popcorn butter: use virgin coconut oil (tastes like coconut) Absolutley YUMMY!!
For soy free vegan butter: use pea milk or oat milk and replace soy lecithin with sunflower lecithin
This homemade vegan butter is:
Budget friendly
A must on popcorn!😳
So simple and fun to make!
Healthier than real butter
Dairy free
So creamy
Thick and buttery
Umami flavoured
More recipes for you:
Enjoy everyone! Happy Day! Please feel free to comment below and give this recipe a rating. Your feedback is greatly appreciated!
Follow me on PINTEREST and INSTAGRAM for more tasty Plant Based & Vegan Recipes❤️
Subscribe here for free weekly recipes delivered right to your inbox! No need to scour the internet. Your one stop shop for recipes is here😊 No spam I promise!
Print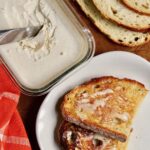 Best Vegan Butter
---
Author:

Verna

Total Time:

30 minutes

Yield:

1.5 cups

1

x

Diet:

Vegan
Description
Vegan butter! My quick and easy plant based version of real butter that tastes incredible! Whips up in 1 minute to buttery perfection. Perfect to spread on toast, for baking and cooking. Add to any recipe requiring dairy butter. No Palm oil, nut free
---
For vegan butter:
See notes section for soft butter recipe, soy free options and more substitutions.
---
Instructions
Have your butter molds ready: a glass container with lid, plastic or silicone molds. If using smaller molds set on a baking tray
Add soy milk to a bowl with vinegar. Set aside to curdle 5 minutes or so (turns into vegan buttermilk) No need to stir
Partially melt coconut oil in microwave 25-30 seconds. It cannot be hot or warm
Now add all ingredients to your blender. I use a high powered one (Vitamix blender) Blend on high for 1 minute, and yes I time it. Should be thick and creamy
Immediately pour into butter mold(s) and place in your freezer to set up. Once butter has set (20 minutes for smaller molds and and hour or more for 1 large glass one) Store covered in fridge for 2 weeks or so and can be frozen for up to 3 months.

For step by step photos, Tips, FAQ, serving suggestions see above post
Notes
For soft vegan butter (spreadable tub style): use ¾ cup coconut oil and ½ cup oil.
For cultured vegan butter: use plain unsweetened vegan yogurt. My preference is Silk Coconut Yogurt.
For vegan theatre popcorn butter: use virgin coconut oil (tastes like coconut) Absolutely YUMMY!!
For soy free vegan butter: use pea milk or oat milk and replace soy lecithin with sunflower lecithin
I have tested this recipe with tahini, almond and peanut butter and I prefer the flavour of sunflower butter. The others were extremely tasty too though!
If using this butter for frying I recommend medium not high temperatures as it could burn at high temps do to the addition of seed butter. Or just omit the sun butter completely if using for certain recipes.

I do not like canola oil or olive oil for this and have not tried avocado oil
Prep Time:

10 Minutes

Chill time:

20 Minutes

Category:

Sauces & Dressings, gluten free, 30 Minute Vegan Recipes

Method:

Blender

Cuisine:

European, American, Canadian
Keywords: vegan butter, vegan margarine