For a quick and easy vegan meal, try this delicious vegan fattoush salad recipe. Make it in under 20 minutes with simple ingredients. With crisp lettuce, juicy tomatoes, and a tangy dressing, this salad is sure to please.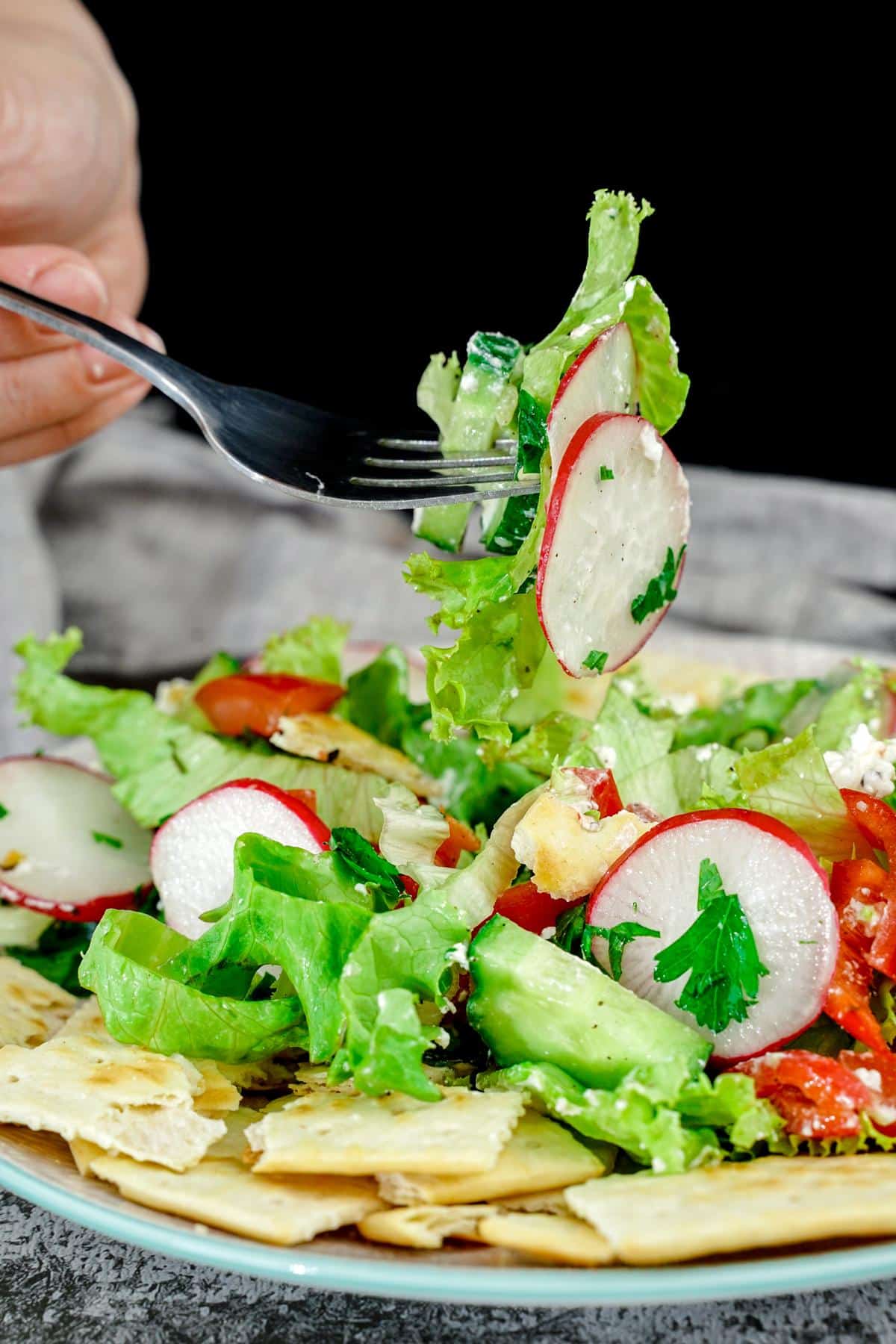 Fresh vegetables combined with a zesty dressing and crispy pita for a simple but flavor-packed salad that can be served alone or as a side to any entree.
If you enjoy this recipe, you'll love the Mediterranean orzo salad as well. Make sure to add it to your menu soon.
Jump to:
🥘 Ingredients
Below are two sets of ingredients. The first is for the dressing that brings that bright flavor, and the last is for the salad ingredients. Exact quantities can be found in the printable recipe card at the bottom of the post.
For the dressing
Olive oil
Lemon pepper
Dried mint
Lemon juice
Garlic powder
Salt
Black pepper
For the salad
Lettuce
Tomato
Red bell pepper
Cucumber
Radishes
Fresh parsley
Vegan feta
Pita chips
Note: If your grocery doesn't have vegan feta, make your own homemade vegan feta with our recipe.
🔪 Instructions
Start by preparing the salad dressing. In a large bowl, or a mason jar, add the olive oil, lemon pepper, dried mint, lemon juice, garlic powder, salt, and black pepper. Whisk or shake vigorously to combine then chill until ready to dress the salad.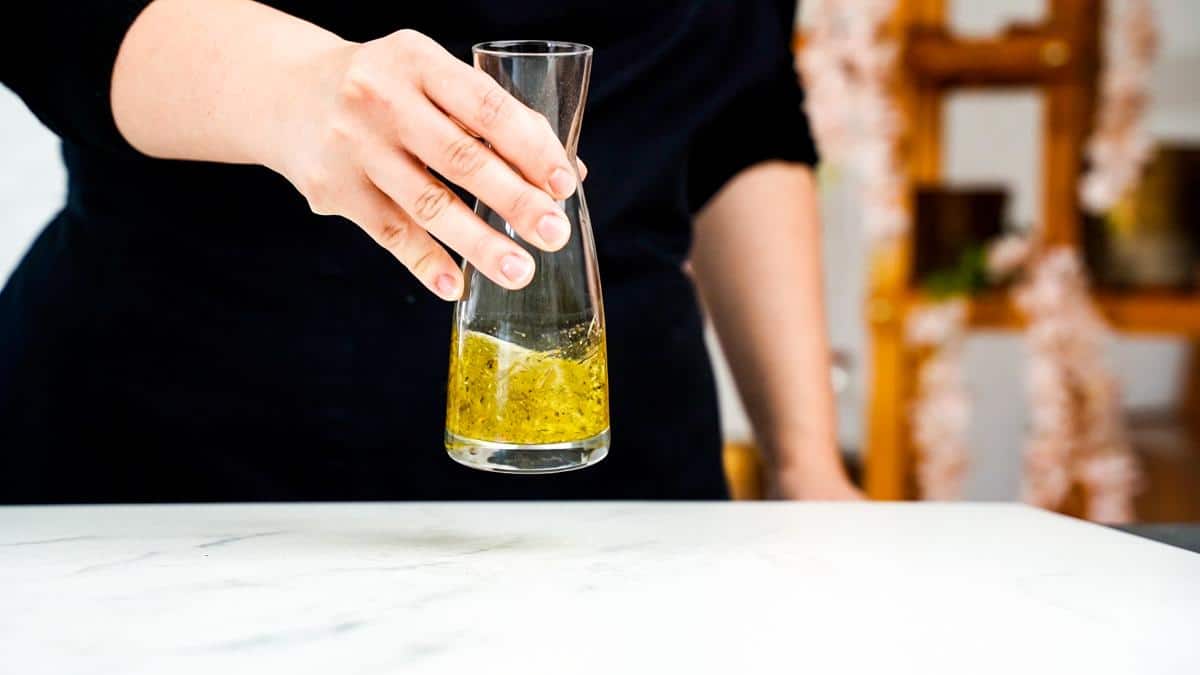 Next, you will prepare your vegetables by chopping everything into bite-sized pieces. Shred the lettuce, and dice the tomato, bell pepper, cucumber, and radishes. Finely dice the fresh parsley, then cube the feta.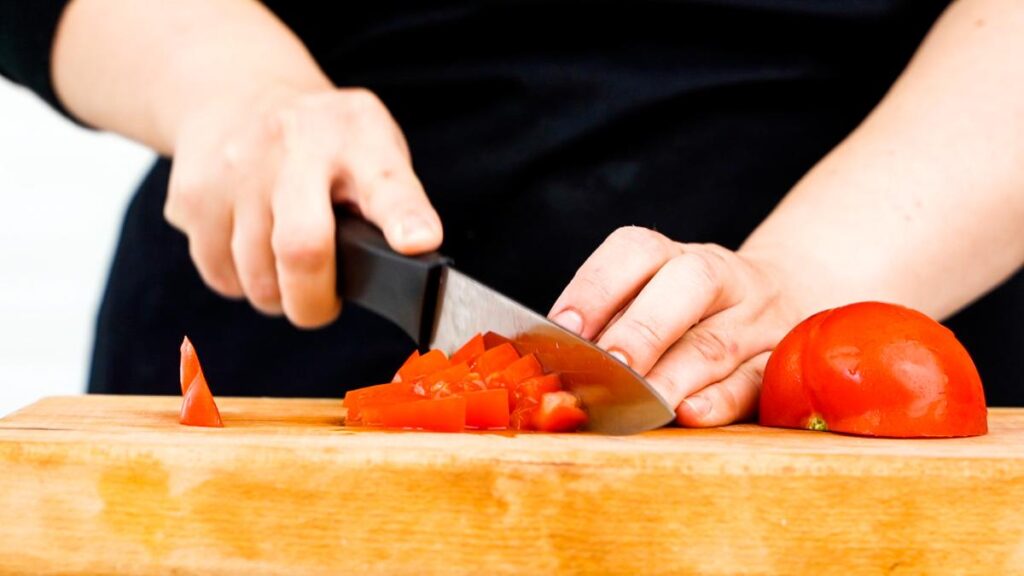 Now, layer the salad. Begin with lettuce, then add tomatoes, radishes, cucumbers, bell peppers, and parsley.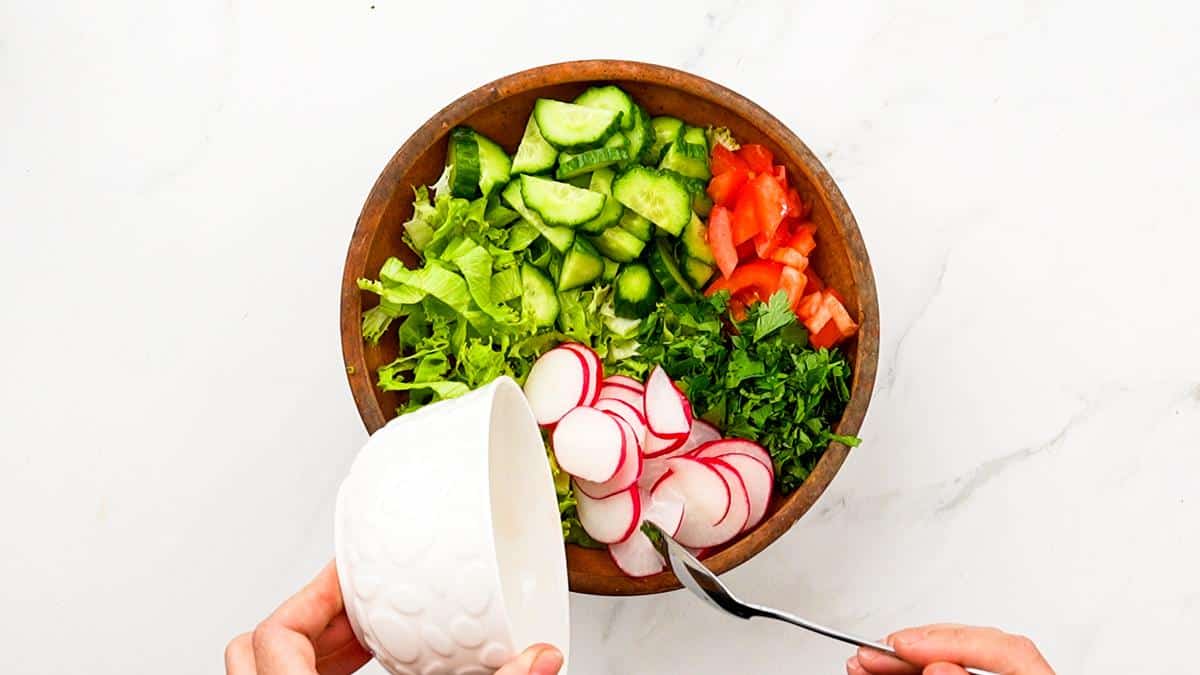 Top with feta and crumbled chips, then drizzle with dressing and toss before serving.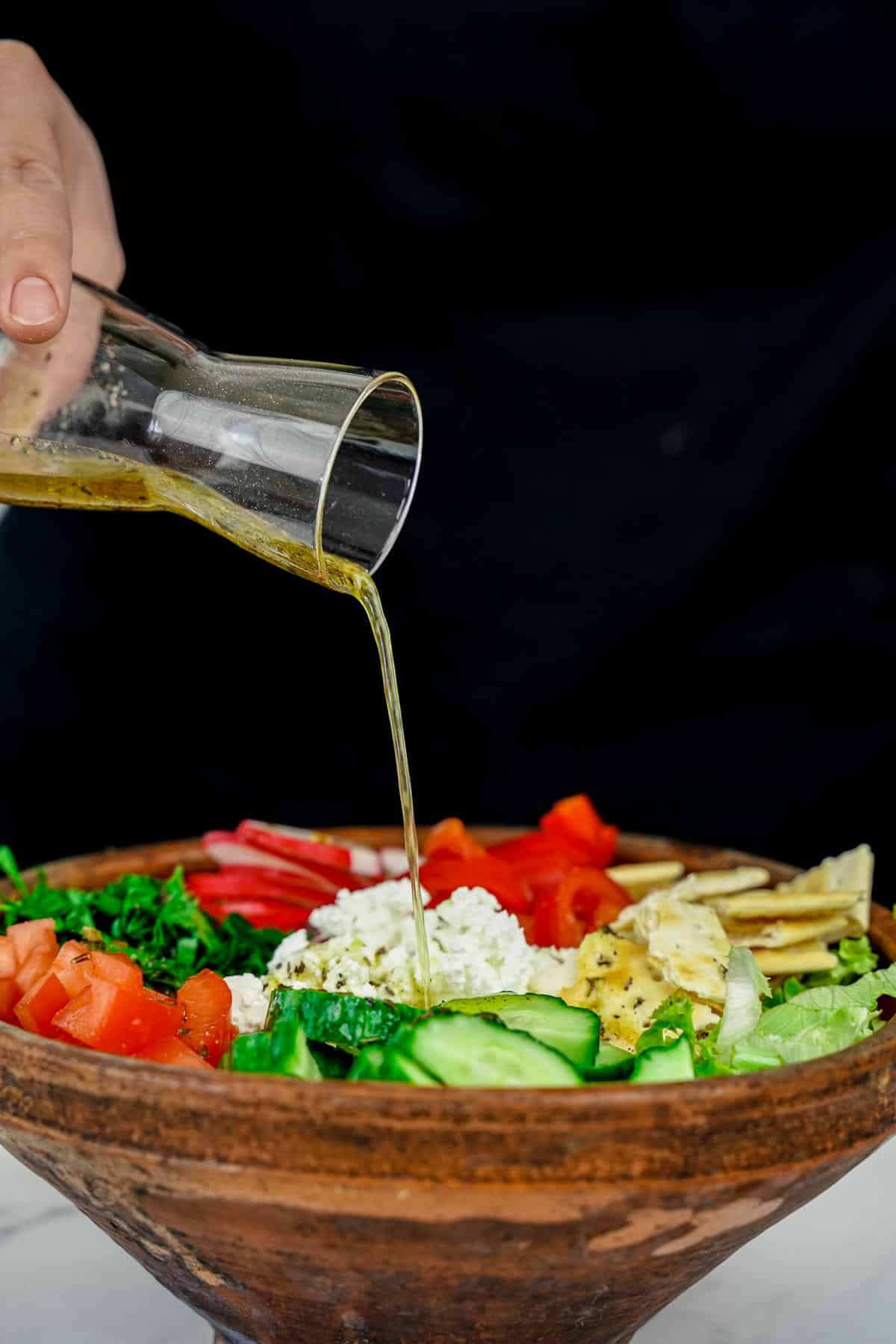 📋Substitutions
If you want to swap out the ingredients in this fattoush salad, you can feel free to do so. Some substitutions you can make include:
Instead of using lettuce, you can use arugula, spinach, kale, or other leafy greens.
You can replace fresh tomatoes with sun-dried tomatoes for a unique flavor.
Roast the bell peppers before adding them to the salad.
For a gluten-free option, replace the pita chips with your favorite gluten-free cracker or a tortilla chip.
Replace the mint with Italian parsley or cilantro for a milder, but still bright, flavor.
📖 Variations
This salad is easily customized to your preference. Feel free to change up the ingredients or omit anything you don't like. Below are some fun ideas.
If you want to give it a little more protein, try adding some cooked quinoa or chickpeas for a complete meal in one bowl.
You can also adjust the spices and herbs if desired – just taste as you go and adjust to your liking.
For a sweeter dressing, add some maple syrup.
If you'd like a bit of heat, simply add some chili powder or cayenne pepper.
Get creative and customize the salad for your own preferences.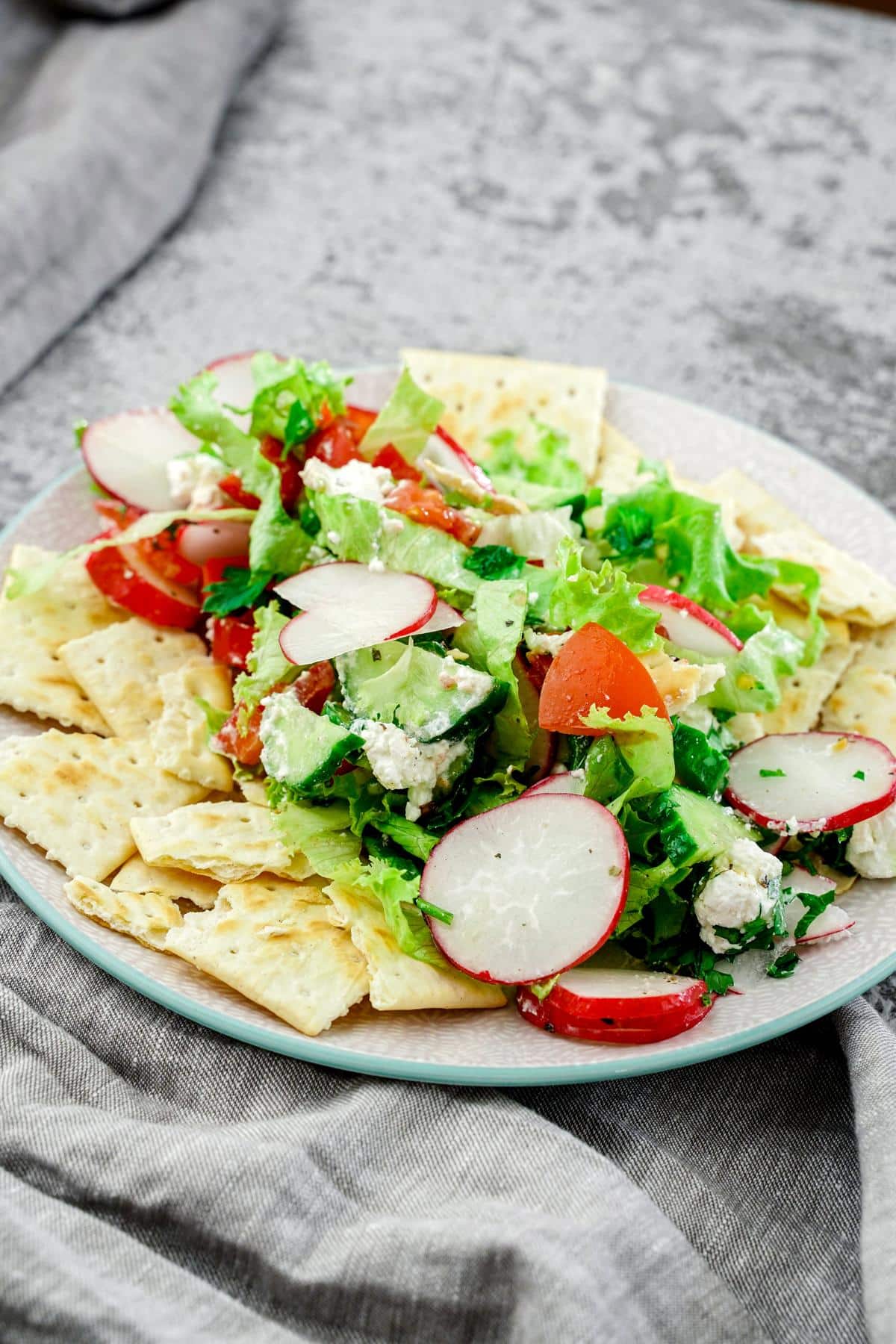 🫙Storage
This vegan fattoush salad is best served fresh, however, it will keep for up to three days in the refrigerator. Store in an airtight container and enjoy cold or at room temperature. If possible, leave the chips out until just before serving to keep the crisp texture.
If you want to make this salad ahead of time, prepare the dressing and chop all of your ingredients. Then, store them separately in airtight containers and keep them in the fridge until ready to serve. This will help keep your salad fresh and crunchy.
If you are looking for more time-saving tips when making the salad, buy pre-cut veggies
🍽Equipment
If you are still supplying your kitchen with tools, take a look at what we used for this salad for some favorite kitchenware to add to your own space.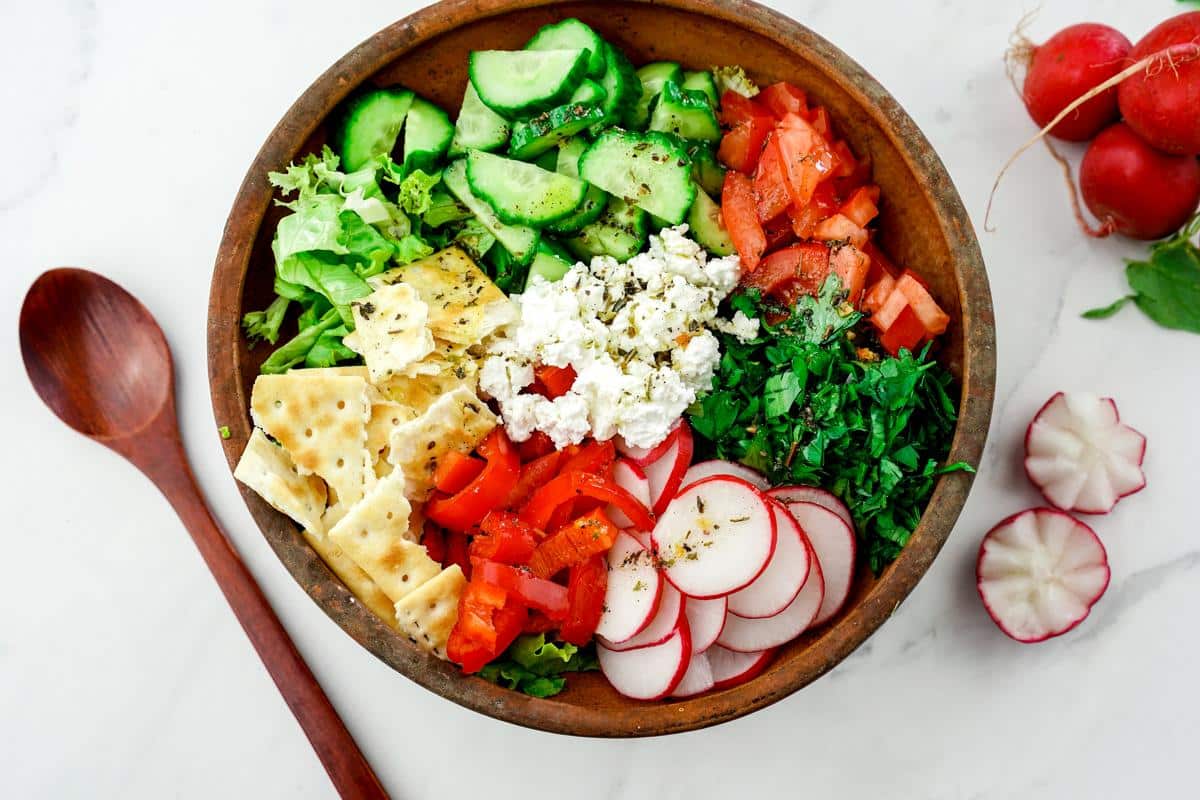 💭 Top Tip
The key to success with this vegan fattoush salad is making sure that all of the ingredients are well-combined and that the dressing is evenly distributed. My favorite way to combine the salad is by pouring the dressing over it and then gently tossing everything together. Some people like to use their hands to ensure that the dressing is evenly distributed on all of the salad.
Don't skimp on the herbs and spices. The combination of flavors gives this salad its unique flavor. Once you've added in the pita chips, toss everything together gently until all of the components are coated with the dressing.
❓FAQ
What does fattoush taste like?
This is a fresh salad that has hints of lemon and mint from the dressing. Depending upon the vegetables added, the flavor can vary some, but the punch of brightness comes from the dressing.
What is the difference between fattoush and tabbouleh?
While they both have a bright citrus and herb flavor, tabbouleh is most notably different due to the inclusion of bulgar wheat, or sometimes couscous.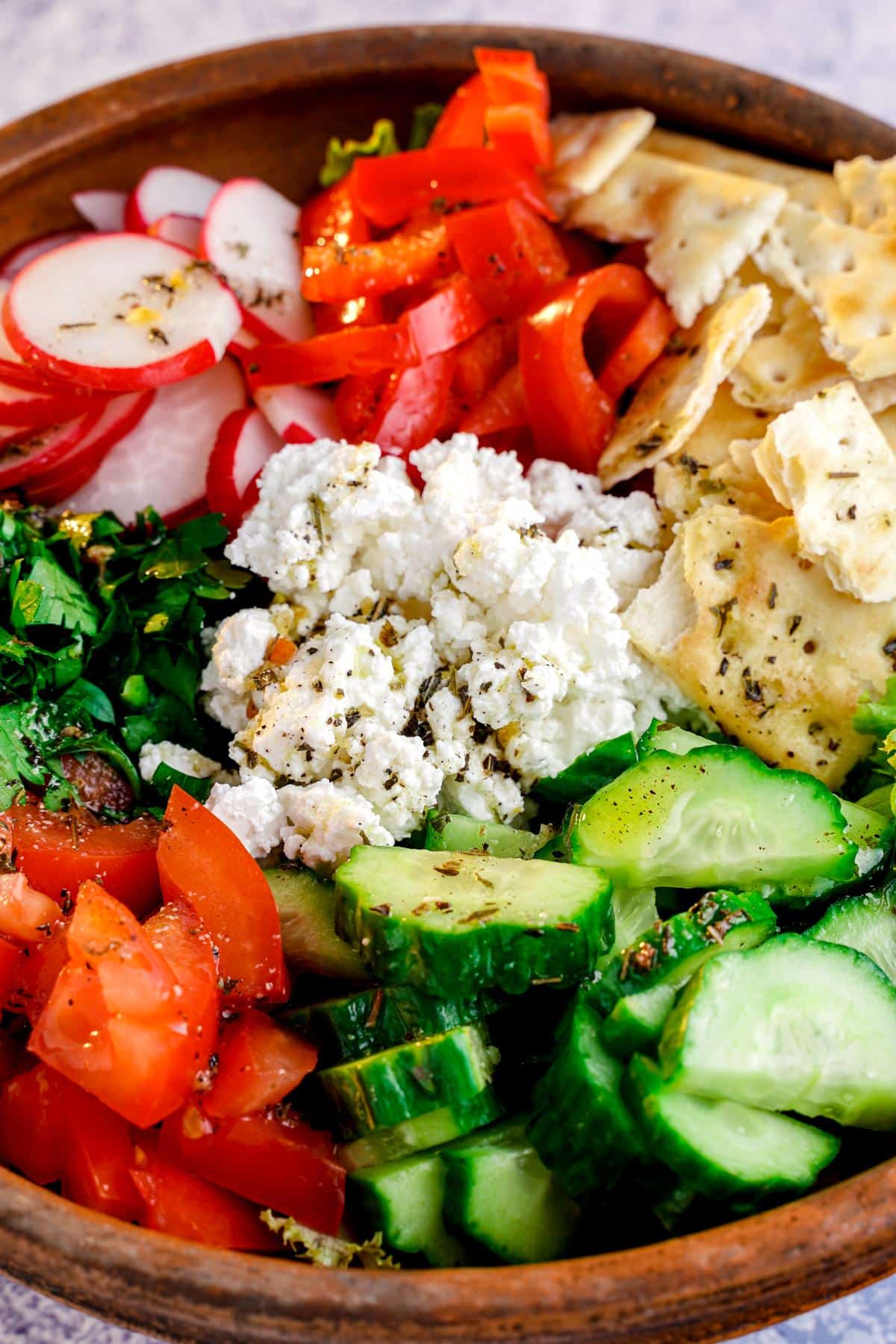 Related
Need more salads for your menu? Look below for a few of our personal favorites to add to your menu.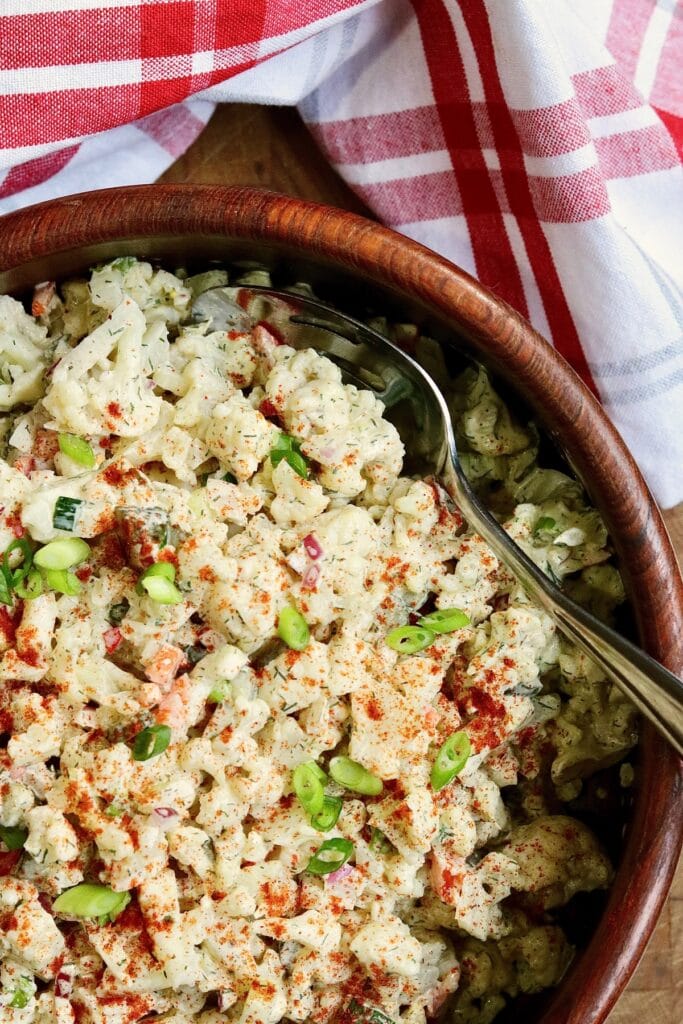 Pairing
This is a perfect dish to pair with your favorite protein. Below are my favorites for making to go on or with this Fattoush salad.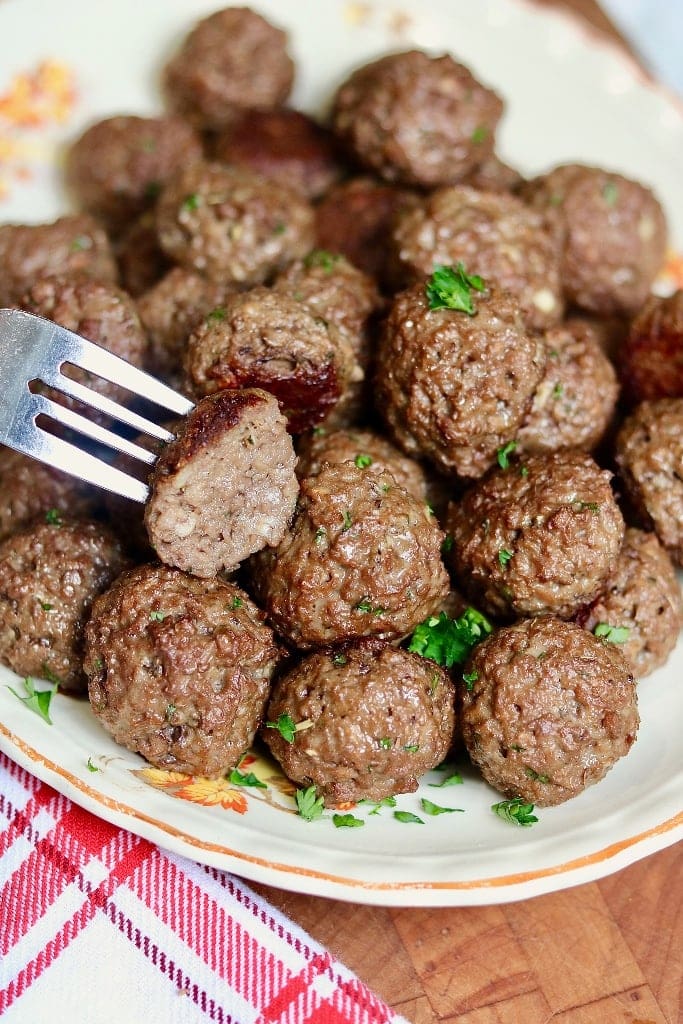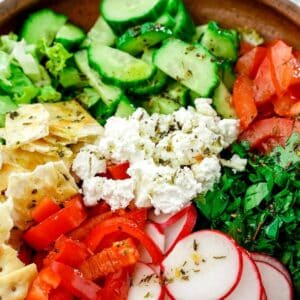 Vegan Fattoush Salad Recipe
Our vegan fattoush salad recipe is a fresh and vibrant Mediterranean-inspired dish, featuring crispy pita chips and a tangy dressing. Healthy and delicious!
Ingredients
For the dressing
⅓

cup

olive oil

1 ½

teaspoon

lemon pepper

1

teaspoon

dried mint

3

tablespoon

lemon juice

Pinch

of garlic powder
Instructions
To start, make the salad dressing by combining olive oil, lemon pepper, dried mint, lemon juice, garlic powder, salt, and black pepper in a large bowl or mason jar. Whisk or shake vigorously and chill until ready to use.

Next, chop all vegetables into bite-sized pieces. Shred lettuce and dice tomato, bell pepper, cucumber, and radishes. Finely dice parsley and cube feta.

For assembly, start with lettuce and layer tomatoes, radishes, cucumbers, bell peppers, and parsley. Add feta and crumbled chips, then drizzle with dressing and toss before serving.
Notes
Leave the pita chips until just before serving to retain the crisp texture.
Add additional vegetables as desired or roast zucchini, squash, and mushrooms for a richer flavor.
Nutrition
Calories:
197
kcal
Carbohydrates:
8
g
Protein:
2
g
Fat:
18
g
Saturated Fat:
3
g
Polyunsaturated Fat:
2
g
Monounsaturated Fat:
13
g
Sodium:
14
mg
Potassium:
370
mg
Fiber:
3
g
Sugar:
5
g
Vitamin A:
1621
IU
Vitamin C:
52
mg
Calcium:
35
mg
Iron:
1
mg
Food Safety
Make sure you are always using the right safe protocol when cooking. Below are a few of our top tips for food safety.
Always sanitize countertops, cutting boards, utensils, and cookware thoroughly between each use.
Wash your hands in warm soapy water, rubbing for at least 20 seconds before rinsing. Remember, "FROG" means friction rubs off germs.
After serving food, allow it to cool, then place it into the refrigerator or proper storage immediately. Food should be at room temperature for no more than 2 hours for safety.