Make the vegan pepperoni pizza of your dreams with layers of ​​The Best Vegan Pepperoni (Seitan Pepperoni) on top. Easy to make in a steamer basket, Instant Pot, or oven, this tasty homemade vegan pepperoni tastes just like the real thing!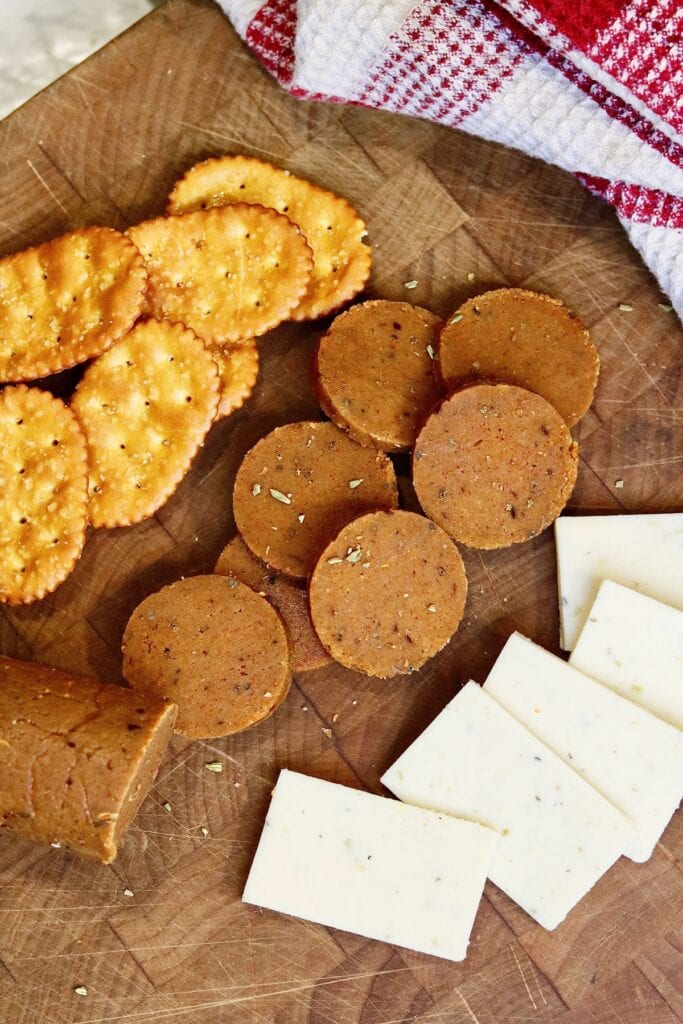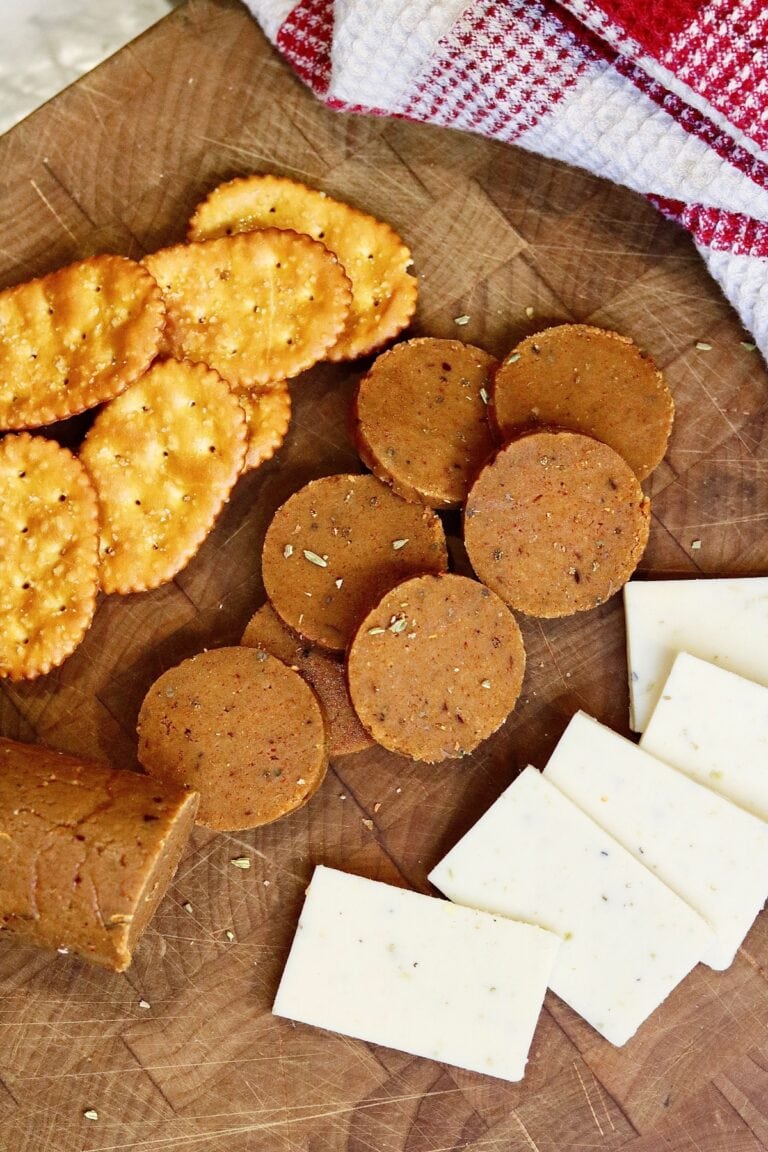 Who knew you could make vegan pepperoni at home, let alone a version that tastes just as meaty and chewy as the real thing? It's exactly why this is The Best Vegan Pepperoni recipe ever!
This seitan pepperoni recipe is surprisingly easy to make using chickpeas, vital wheat gluten, and simple condiments and spices. Slice it up for pizzas, calzones, vegan charcuterie platters, sandwiches, and more! There's never a bad time for smoky, spicy, and tender vegan pepperoni.
Keep a batch in your fridge or freeze for months on end! This vegan pepperoni recipe is:
Completely irresistible, meaty, and chewy
Smoky, savory, and just spicy enough
Soy free
Freezer-friendly
Sliceable
Perfect for vegan pizza
Just as delicious as real pepperoni!
Jump to: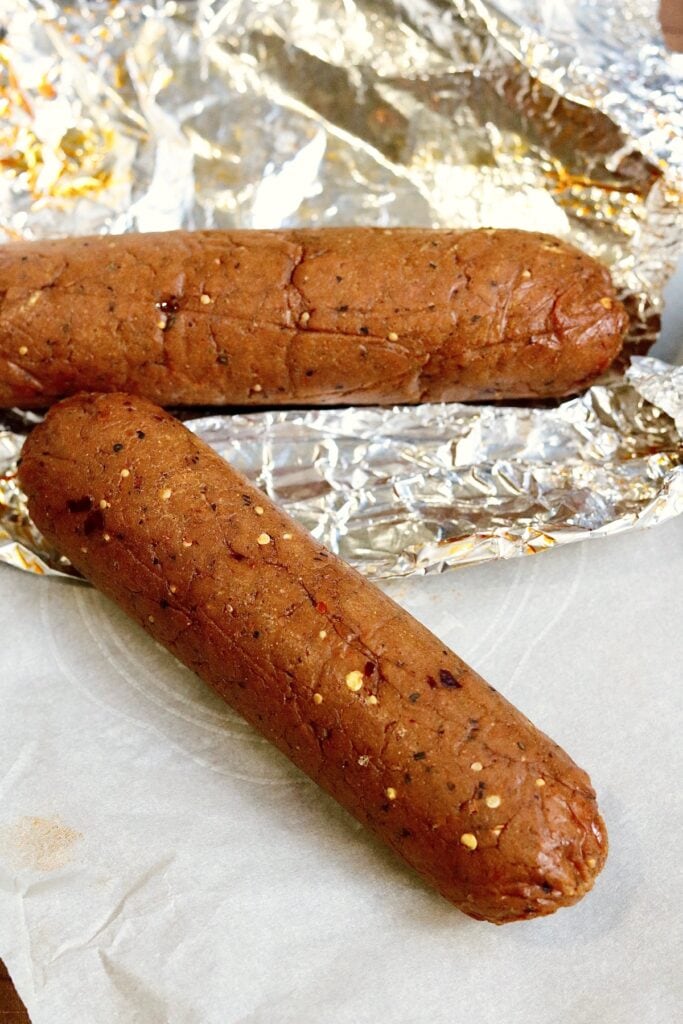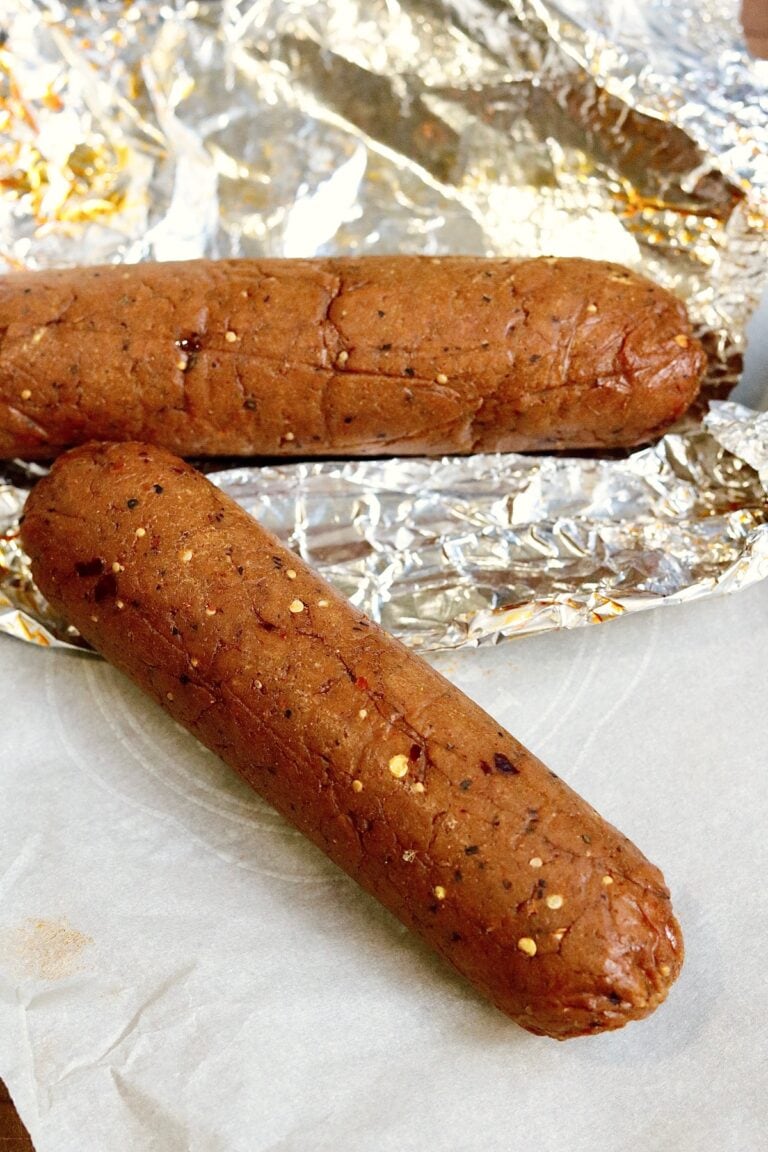 What is vegan pepperoni made of?
Seitan! Just like vegan roast beef and steak, it's quite easy to make a realistic vegetarian pepperoni recipe using the vegan meat substitute known as seitan.
What is seitan?
Seitan is a tender and meaty vegan meat substitute made using vital wheat gluten flavored with simple spices and sauces. It's sometimes referred to as "wheat meat".
Seitan pepperoni ingredients
Canned chickpeas - Blended along with the other seitan ingredients, chickpeas help the pepperoni's texture turn out tender and chewy while adding plenty of protein.
Vital wheat gluten - Vital wheat gluten is made by washing wheat flour with water until all of the starch has been removed. It has the same texture as flour but when it's kneaded with bouillon, sauces, and spices, it transforms into a stretchy and tough dough.
Vegetarian bouillon - I use the no beef bouillon but use whatever you have at home. Unfortunately, liquid veggie broth doesn't work as a substitute.
Condiments - A mixture of gluten free tamari, ketchup, mustard, and liquid smoke gives the pepperoni realistic flavors and colors.
Spices - Like nutritional yeast, paprika, chili powder, black pepper, garlic powder, fennel seeds, and red pepper flakes. You can adjust these as needed to achieve the perfect flavor.
How to make vegan seitan pepperoni
All you need are a few simple ingredients and a food processor (or blender) to transform seitan into homemade meatless pepperoni! Once it's ready, the seitan is steamed to perfection in under 1 hour:
Make the seitan dough: Add all of the ingredients except for the vital wheat gluten, red pepper flakes, and fennel seeds to a food processor. Pulse until smooth. Add the vital wheat gluten, red pepper flakes, and fennel seeds and blend for 1 minute.
Knead the dough: Transfer the seitan dough to the kitchen counter and knead until you see strands of gluten forming and the dough feels tough.
Shape the pepperoni: Cut the dough into two pieces and roll them into log shapes. Don't worry about them looking perfect! Wrap each log tightly in aluminum foil and twist the ends shut.
Steam the seitan: Place the logs in the steamer basket of a steamer pot, cover, and steam for 45 minutes.
Chill, then slice and enjoy: Once it's cool enough, unwrap the vegan pepperoni and leave it to cool completely. Either serve right away (although it won't be as firm) or wrap it up again and leave it to chill in the fridge for 2 hours or overnight. Slice and enjoy the next day! For full ingredients and instructions see the printable recipe card below.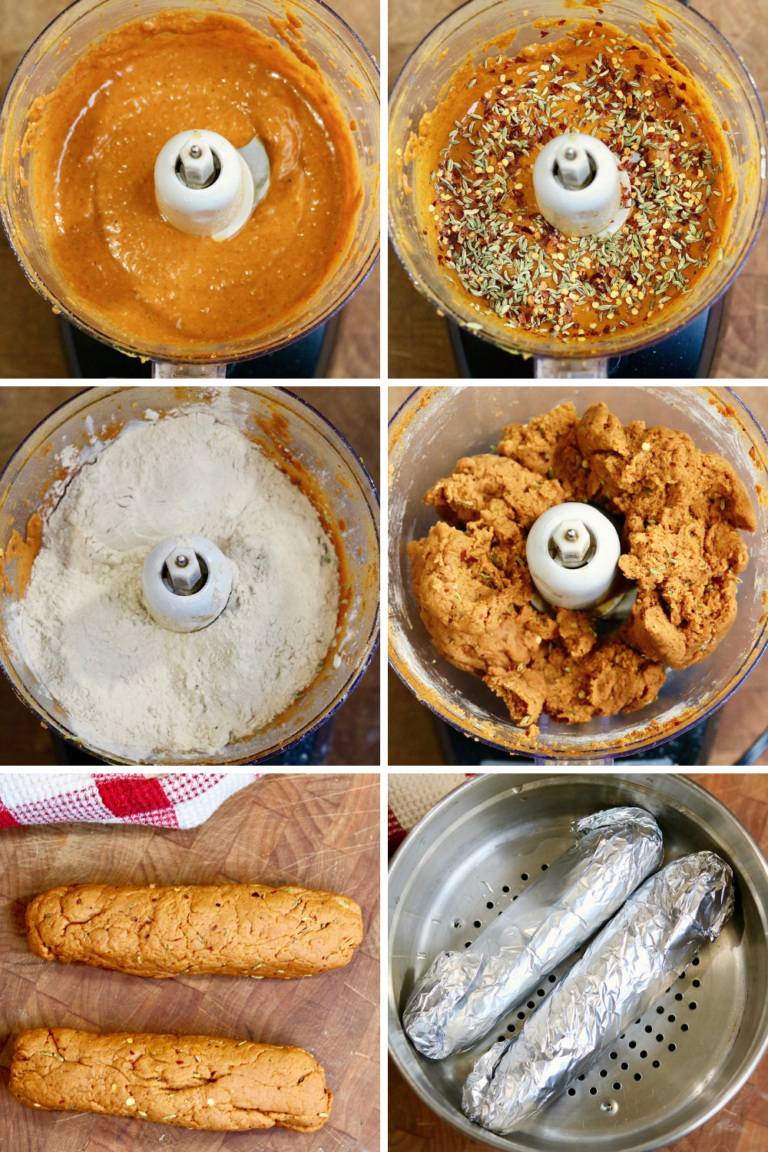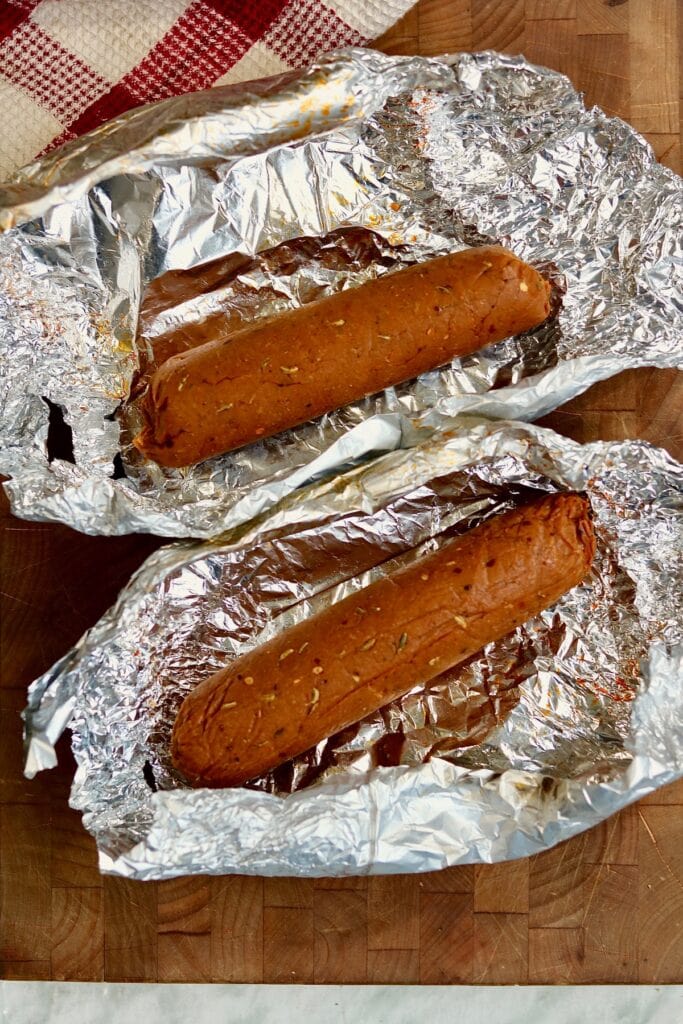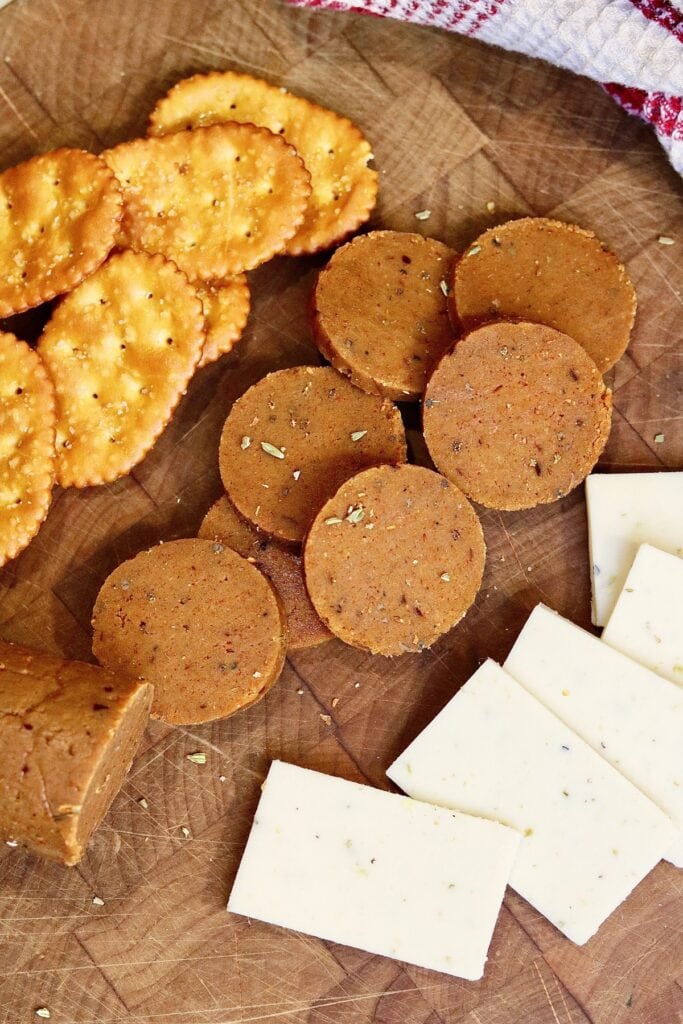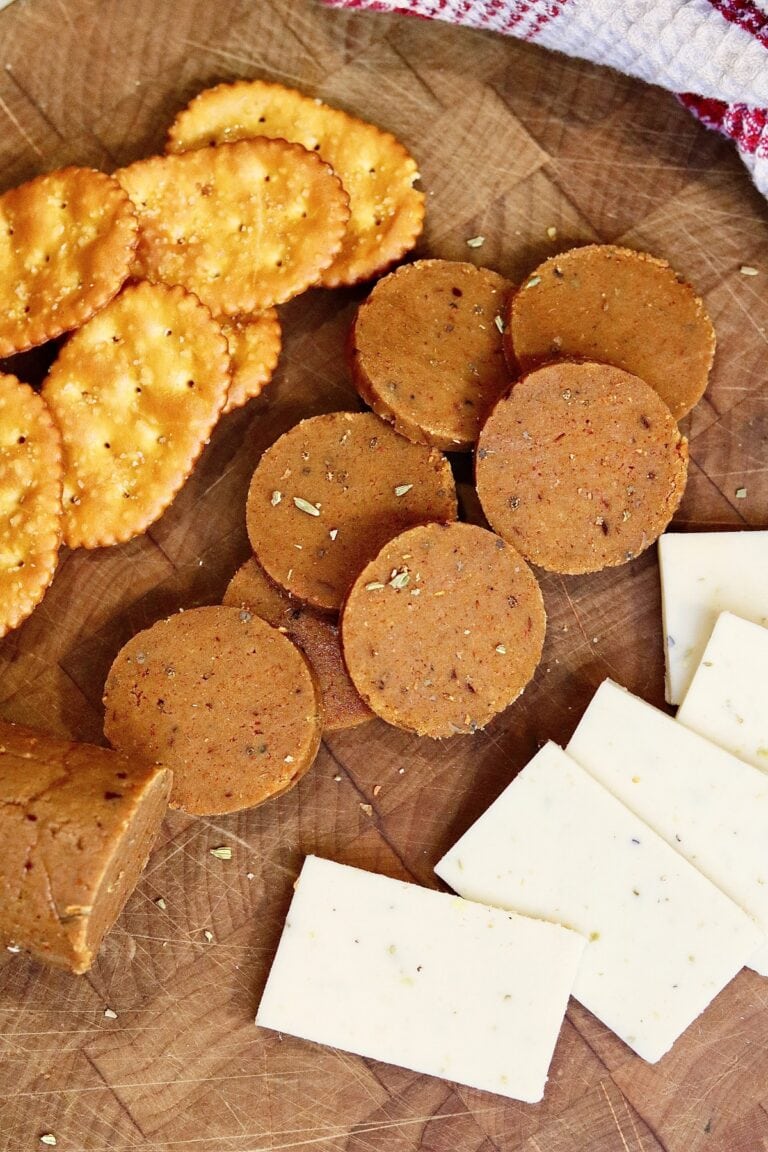 Instant Pot vegan pepperoni
Once your pepperoni logs are formed, wrap and place them on a trivet in your Instant Pot with 1 ½ cups of water. Seal the lid and cook on high pressure for 30 minutes. Quick release the pressure, then let them cool completely and firm up in the fridge.
Oven method
Preheat the oven to 325°F and place the wrapped pepperoni on a baking sheet. Bake for 1 hour, flipping halfway through.
How to use vegan pepperoni
It never hurts to have vegetarian pepperoni slices ready to go in your fridge at all times to use on everything, like:
On a vegan pizza with vegan mozzarella and pesto
Baked onto flatbread with tomatoes, basil, and cheese
Layered into spicy deli meat sandwiches
Baked with cheese and dried herbs on a portobello mushroom cap
On crackers with vegan cheese for an easy snack
In a vegan calzone
Crumbled and stirred into mashed potatoes or on top of a baked potato
On a vegan charcuterie board with a vegan cheese ball, crackers, fruit, and dips
Tips for success
Feel free to adjust the spices to achieve your perfect flavor. For example, add more red pepper flakes for more heat or even a pinch or two of cayenne to make hot and spicy pepperoni.
You can stop kneading the seitan dough when you can see strands of gluten forming. It should also feel firm and spring back slightly when you stretch it out.
For the meatiest and most flavorful vegan pepperoni, let it rest in the fridge for at least 2 hours or overnight before slicing.
If using for pizza, oil the pieces of pepperoni lightly first before placing them on the pizza so they don't dry out.
Frequently asked questions
Is vegan pepperoni gluten free?
Unfortunately, the base of vegan pepperoni is made from vital wheat gluten. Therefore, it cannot be made gluten free.
How do you store vegan pepperoni?
Vegan pepperoni stores well in an airtight container in the fridge for up to 5 days.
Can you freeze it?
Yes! Wrap the pepperoni roll or individual slices really well in foil before freezing.
Hungry for more seitan recipes?
Enjoy everyone! Happy Day! Please feel free to comment below and give this recipe a rating. Your feedback is greatly appreciated!
Follow me on PINTEREST and INSTAGRAM for more tasty Plant Based & Vegan Recipes❤️
Subscribe here for free weekly recipes delivered right to your inbox! No need to scour the internet. Your one stop shop for recipes is here😊 No spam I promise!
Print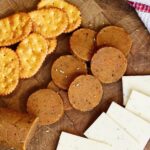 The Best Vegan Pepperoni (Seitan Pepperoni)
---
Author:

Verna

Total Time:

1 hour

Yield:

8

-

10

servings

1

x

Diet:

Vegan
Description
Make the vegan pepperoni pizza of your dreams with layers of ​​The Best Vegan Pepperoni (Seitan Pepperoni) on top. Easy to make in a steamer basket, Instant Pot, or oven, this tasty homemade vegan pepperoni tastes just like the real thing!
---
½ cup

canned chickpeas, rinsed and drained well

¼ cup water

1 teaspoon vegetarian no beef bouillon

3 tablespoons tamari (see notes*)

3 tablespoons ketchup

2 tablespoons oil

1 tablespoon yellow mustard

2 cloves garlic

1 teaspoon liquid smoke

¼ cup nutritional yeast

1 tablespoon paprika

1 teaspoon chili powder

1 teaspoon granulated garlic (powder)

½ teaspoon cracked black pepper

½ teaspoon salt

1 tablespoon fennel seeds

1 teaspoon red pepper flakes

1 cup vital wheat gluten
---
Instructions
Make seitan dough:

Add all ingredients to

food processor

-(except vital wheat gluten, pepper flakes and fennel)- Blend until smooth, scraping down sides as needed. Sprinkle fennel and red pepper flakes evenly over the top followed by the gluten flour. Process for 1 minute until all flour has been incorporated

Pour dough onto the counter and knead for 2 minutes. You will see strands forming in gluten and the dough will get tougher which is good. We want the pepperoni to be chewy.

Divide the seitan dough into two pieces and form into log shapes, approx 2 x 7 inches or so. Does not have to look perfect, once steamed the dough expands to fit snugly in foil.

Wrap each pepperoni log tightly in foil, rolling it up tootsie roll style and twisting the ends (wrap in parchment first if you do not want foil to touch the food)

Steam: Place in a steamer basket of steamer pot, cover and steam for 45 minutes flipping halfway through. Add water if needed.

Serve: Place on the counter and let cool in foil for a few minutes before unwrapping. Cool completely then wrap and store in the fridge for a couple of hours or overnight for firmer texture. Slice and enjoy! Can serve right away but won't be as firm. For instant pot and oven method see notes section* For FAQ, Tips, suggestions and more see above post.
Notes
Feel free to adjust spices, add more red pepper flakes for more heat, could add a pinch or two of cayenne pepper also

Tamari: for a brighter flavour sub 1 tablespoon of the tamari for balsamic vinegar or vegan Worcestershire sauce.

If using for pizza, oil the pieces of pepperoni lightly first before placing on pizza so they don't dry out

Instant pot method:

add 1 and ½ cups water to instant pot, place wrapped pepperoni logs on trivet and cook high pressure for 30 minutes. Quick release

Oven method:

Preheat oven to 325° place wrapped pepperoni on baking sheet and cook for 60 minutes flipping halfway through.

To store and freeze:

will keep covered in fridge for up to 5 days and freezes well
Prep Time:

15 Minutes

Cook Time:

45 Minutes

Category:

Snacks & Sides

Method:

Stovetop, Instant pot or oven

Cuisine:

American, Canadian, Italian
Keywords: vegan pepperoni, seitan pepperoni